Austin has such an amazing food scene! I was so impressed when I got the chance to visit as part of the Bold Food: Austin Tour. In the four days I was there, I was literally full the entire day everyday! Though BBQ and Food Truck culture here are so prominent, Austin also has strong fine dining restaurants offering farm to table dining and modernist cuisines.
During my time there, I got the chance to try a wide range of food in different restaurants. Here are 15 Places To Eat in Austin (two of which are in Greater Austin)!
1. Barley Swine
Website: Barley Swine Restaurant
Location: 6555 Burnet Rd #400, Austin, TX 78757, USA
What To Get: Tasting Menu
This farm to table restaurant was my favourite during my trip. The tasting menu with wine pairing was such a unique experience showcasing creative seasonal dishes based on the availability of ingredients – like this pig skin noodles with hot sauce, almond and shrimp.
2. Boteco
Website: Boteco Food Truck
Location: 1403 E 7th St, Austin, TX 78702, USA
What To Go: Picanha Grelhada
This was one of my favourite food truck stops that we did. The steak was tender and perfectly cooked. The combination of all the ingredients was just mindblowing – the crunch from farofa, sourness from the pico de gallo, the sweetness of caramelized onions and the bite of rice and beans.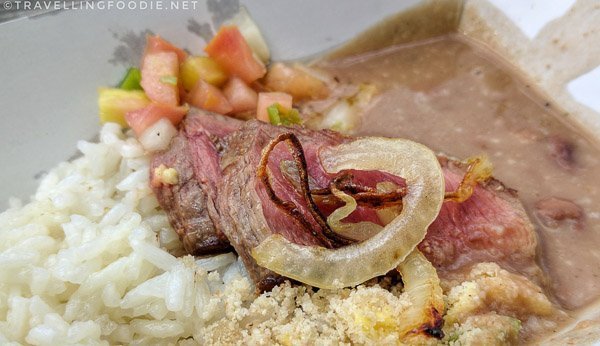 3. East Side King
Website: East Side King Food Truck at Liberty
Location: 1618 E. 6th Street, Austin, TX 78702 USA
What To Get: Pork Belly Meshi, Poor Qui's Buns, Fried Kimchi
The pork belly is melt in your mouth tender and so flavourful. With the Meshi, the touch of furikake and spicy chili paste just elevated the pork, and goes so well with beer! The steamed buns in the Poor Qui's Buns soak up that delicious pork belly juices, which combined with the hoisin sauce and cucumber kimchi taste gives a unique flavour profile.
The Fried Kimchi was very unique as I've never had it fries. It goes amazing with beer and the million dollar sauce that comes with it is so good!
4. Franklin Barbecue
Website: Franklin Barbecue Restaurant
Location: 900 E 11th St, Austin, TX 78702, USA
What To Get: Brisket and Pork Ribs
Definitely not a trip to Austin without checking out Franklin Barbecue, right? The Brisket was the best quality out of all I tried. Very fatty and melt in your mouth tender just how I like them. The pork ribs was very juicy and well seasoned.
5. Gourdough's
Website: Gourdough's Big. Fat. Donuts. Food Truck
Location: 1503 S 1st St., Austin, TX 78704 USA
What To Get: Miss Shortcake, ODB
The donuts are just plain amazing and, as their description says, Big. Fat. The dough had the perfect combination of crispy on the outside, and soft and moist on the inside. The Miss Shortcake has a great combination of sweet and fruity with generous amounts of fresh cut strawberries. The strawberries were great in balancing the sweetness. The ODB are fun bite sized snacks – it uses doughnut holes instead and the bite from coconut flakes added more to the fun.
6. La Barbecue
Website: La Barbecue Food Truck
Location: 1906 E Cesar Chavez St, Austin, TX 78702, USA
What To Get: Brisket and Pulled Pork
I found La Barbecue had the most flavourful brisket. Smoked perfectly, it's very addicting because you just want the smokey flavour lingering in your mouth forever. The pulled pork is one of the best I've had – moist, fatty and very savoury. It's also not the tough stringy ones that get stuck in between your teeth.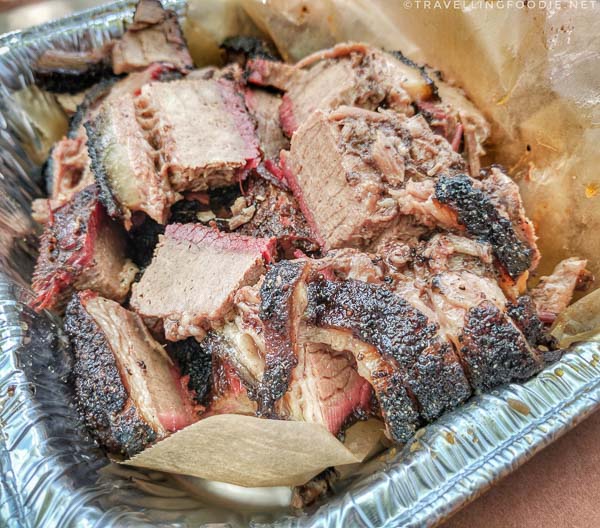 7. Louie Mueller Barbecue
Website: Louie Mueller BBQ Restaurant
Location: 206 W 2nd St, Taylor, TX 76574, USA
What To Get: Beef Ribs and Jalapeno Sausage
Definitely one of the best beef ribs I've had. It's massive, fall of the bone, well-marbled and melt in your mouth tender with a perfect balance of flavour and seasoning. I loved the Jalapeno Sausage because it was very meaty and juicy… and spicy – I love spicy and I found theirs was the spiciest out of the BBQ places in this list.
8. Lucky's Puccias and Pizzeria
Website: Lucky's Puccias Restaurant
Location: 1611 W 5th St #175, Austin, TX 78703, USA
What To Get: Lucky's Puccia
It was my first time having Puccia, which are Italian sandwiches where the bread is made in the traditional fashion using wood fired oven. The bread was just amazing – freshly made, crispy crust and light and airy on the inside with smoky flavour. Mix that with the fresh prosciutto, mozzarella, tomato, arugula, chipotle aioli and you get one memorable sandwich.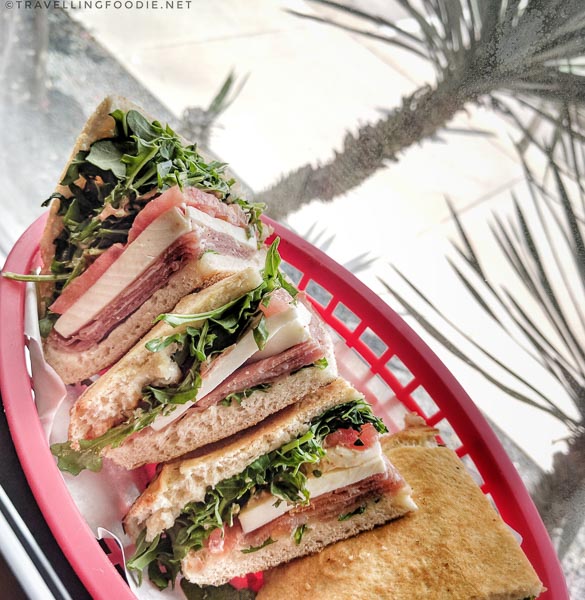 9. Olamaie
Website: Olamaie Southern Food Restaurant
Location: 1610 San Antonio St, Austin, TX 78701, USA
What To Get: Buttermilk Biscuits, FL Red Snapper, Carolina Gold Rice Hush Puppies, Kil't White Button Mushrooms, Strube Ranch 16oz Wagyu Ribeye
This farm to table restaurant specializes in Southern Food, and the first thing that comes to mind is biscuit. Seriously the best buttermilk biscuits I've had – perfectly flaky and buttery outside with moist, airy and soft inside. It comes with a side of honey butter with sea salt, which you have to try as well as it just elevates the biscuit even more.
Another eye opener for me here was the use of Carolina Gold Rice in both FL Red Snapper and Hush Puppies. I've never had them before, and they were amazing. It was the first American-made rice and has a unique flavor. For the FL Red Snapper, the fish was delicious and cooked to perfection. But what really won in this dish is the herb fumet and with hickory smoked roe mixed with the Carolina Gold Rice.
Now imagine that in a deep fried ball. The hush puppies were an amazing starter to highlight the Carolina Gold Rice. After that crunchy hush puppy exterior is the gummy bite of flavourful Carolina Gold Rice, which goes so well with the charred garlic and chive onion dip.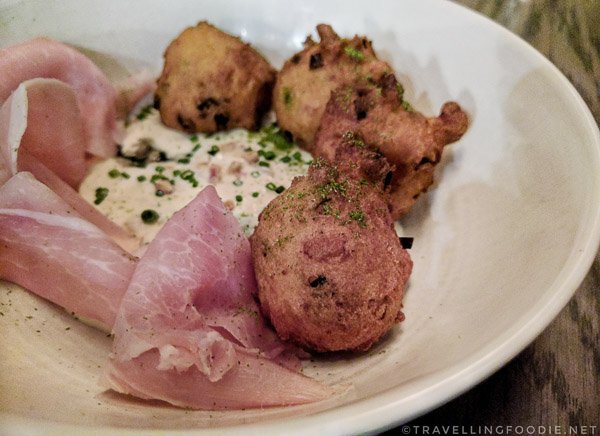 10. Prohibition Creamery
Website: Prohibition Creamery Restaurant
Location: 1407 E 7th St, Austin, TX 78702, USA
What To Get: Tiramisu Boozy Ice Cream
They really mean boozy here. The Tiramisu Ice Cream is boozier in taste than it is sweet. It is very creamy and had a strong taste of rum without overpowering the tiramisu flavour.
11. Roaring Fork
Website: Roaring Fork Downtown Restaurant
Location: 701 Congress Ave, Austin, Texas 78701, USA
What To Get: Slow-Roasted Pork Shoulder Carnitas
The pork shoulder carnitas was very soft and moist like a fall off the bone ribs. The salsa verda on top goes so well with it and helps to balance the fat.
12. Southside Market & Barbeque
Website: Southside Market Restaurant
Location: 1212 US-290, Elgin, TX 78621, USA
What To Get: Homemade Original Elgin Hot Sausage and Lamb Ribs
There's a reason why Southside Market sells 3 million pounds of these Homemade Elgin Sausages per year. It's amazing – very meaty, juicy and well seasoned! And I love the spicy kick.
Perfectly seasoned, very tender and fatty, the lamb ribs are a must eat here, especially since lamb ribs are not easily found in other BBQ joints to begin with.
13. Terry Black's Barbecue
Website: Terry Black's BBQ Restaurant
Location: 1003 Barton Springs Rd, Austin, TX 78704, USA
What To Get: Brisket, Pork Ribs and Beef Ribs
I got to try a bit of everything here, and they were all consistently good. The moist brisket was the maybe the fattiest from all the briskets I had and just melts in your mouth. The pork ribs were perfectly seasoned, juicy and falls of the bone – and so was their beef ribs!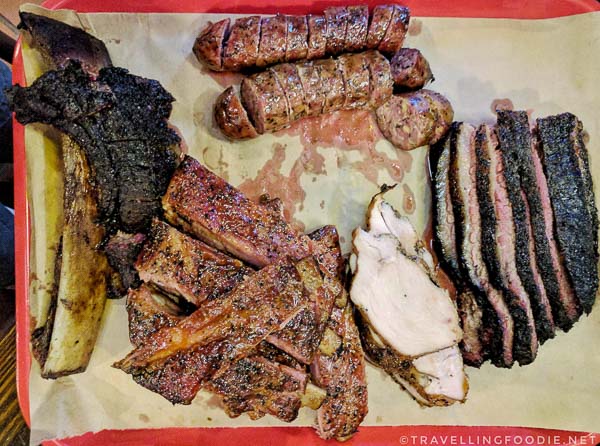 14. Torchys Tacos
Website: Torchy's Trailer Park
Location: 1311 South First St., Austin, Texas 78704 USA
What To Get: Chips and Salsa
Their homemade chips and salsa are a must! The salsa is very fresh and addicting!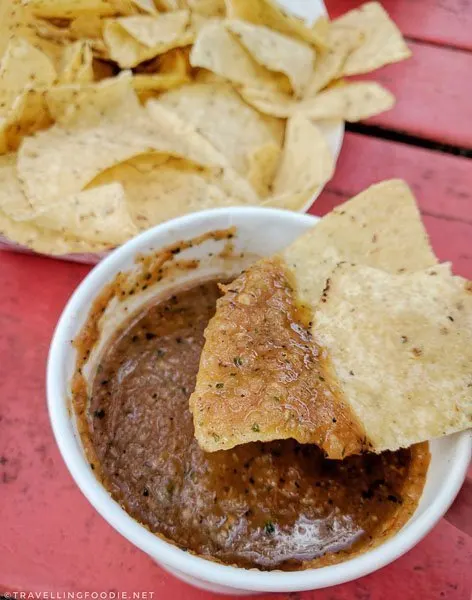 15. Veracruz Tacos
Website: Veracruz All Natural Food Truck
Location: 1704 E Cesar Chavez St, Austin, TX 78702, USA
What To Get: The Fish Taco Especiales and Migas Tacos
The Fish Taco Especiales tasted very fresh. The grilled tilapia was cooked perfectly and very flavourful with the grilled taste. The Migas Tacos here was the best I had with its warm fresh tortilla, crunchy tortilla chips, moist melting monterey jack cheese and fresh avocado.
---
---
Updated: