Looking for an Ontario weekend getaway? Here's how you can spend a two day trip in Norfolk County!
Called Ontario's Garden, Norfolk County flourishes with nature and agriculture. Its farmers and producers supply the most fruits and vegetables in the country including peanuts, strawberries, sweet corn, asparagus and cucumber.
Did you know? They have $519 million annual farm gross receipts from 1,307 farms totaling 196,403 land acres in crops.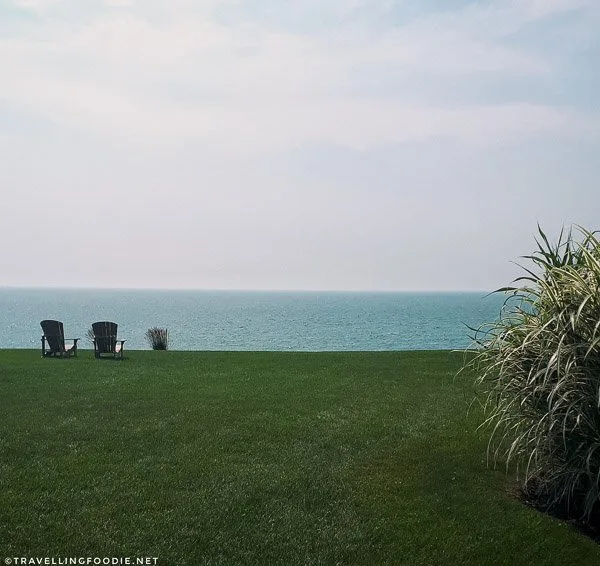 Because of its inherent surrounding and being along Lake Erie, Norfolk County is a popular tourist destination not just for its beaches and outdoor adventures like cycling, camping and birding, but also for its culinary offerings.
Agri-tourism is growing here for its wineries and craft breweries. In fact, Norfolk County is one of emerging regions in Wine Country Ontario.
Also Read: Wineries on Niagara-on-the-Lake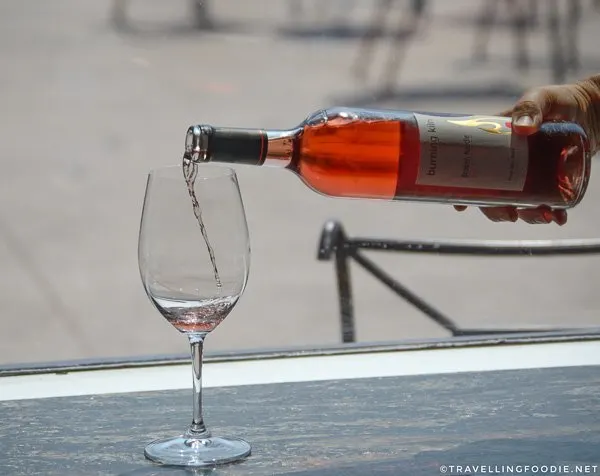 I explored Norfolk County in 3 days and, believe me, it is NOT enough! There are so many things to do and places to eat in Norfolk County that I barely scratched the surface.
What I love most about Norfolk County is, though they are so diverse and have something for everyone, all their offerings tie back to their roots as being Ontario's Garden.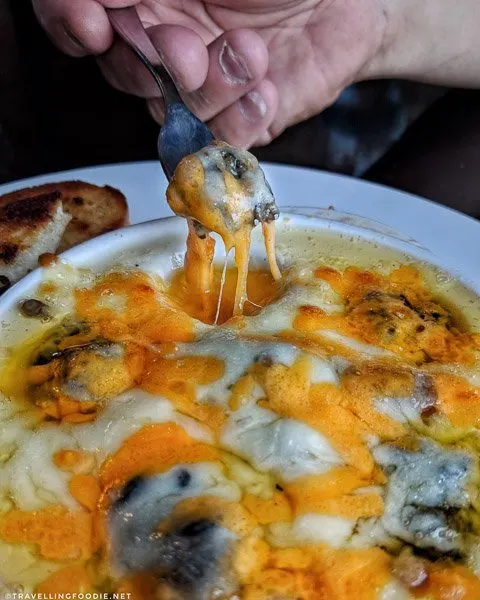 In this travel guide, you'll find an itinerary for a 2 day trip in Norfolk County with things to do, where to eat and stay in Port Dover, St. Williams, Simcoe and Waterford.
It's only about a 1.5-hour drive from Toronto and London, so get driving and have a weekend getaway!
Follow on Instagram @TravellingFoodie for more food inspirations
---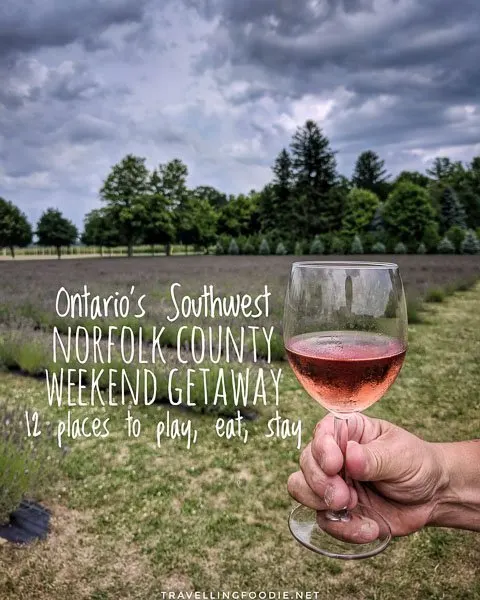 Watch the full YouTube video of the 2 Day Trip in Norfolk County here.
---
2 Day Trip in Norfolk County, Ontario Itinerary
Day One Trip Itinerary in Norfolk County
The first of your two day trip in Norfolk County will be filled with adventures in Port Dover, St. Williams and Simcoe.
Red Apple Rides
Skip breakfast and arrive at Port Dover in Norfolk County around 10:45AM to do the Lunch and Leisure Ride with Red Apple Rides.
This guided scenic, historic, and culinary bike tour is one of the best things to do in Port Dover and Norfolk County.
You won't miss the Big Red Truck in the parking lot! This 3-hour tour gets you food tripping for lunch across 3 different locations to taste a seasonal appetizer, lunch feature, and dessert.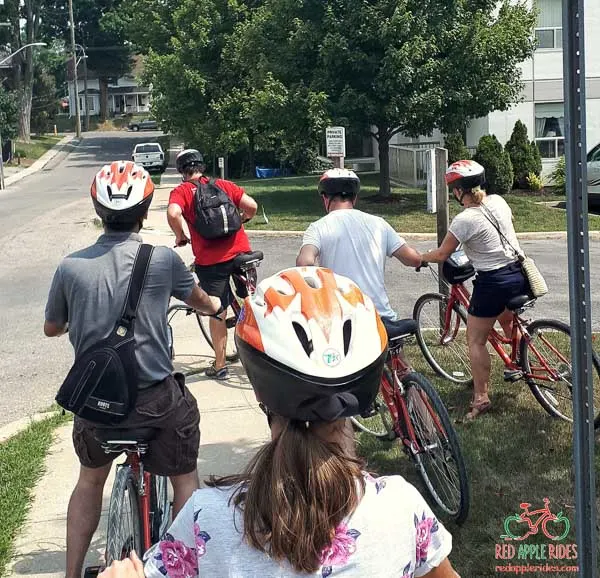 To give that initial energy boost, they actually provide you with a Norfolk red apple to enjoy before the first food stop. Hence, Red Apple Rides.
I find this tour is a great representation of Norfolk County because it combines everything about Ontario's Garden in one: culinary farm-to-table offerings, nature and outdoor adventures including views of Lake Erie.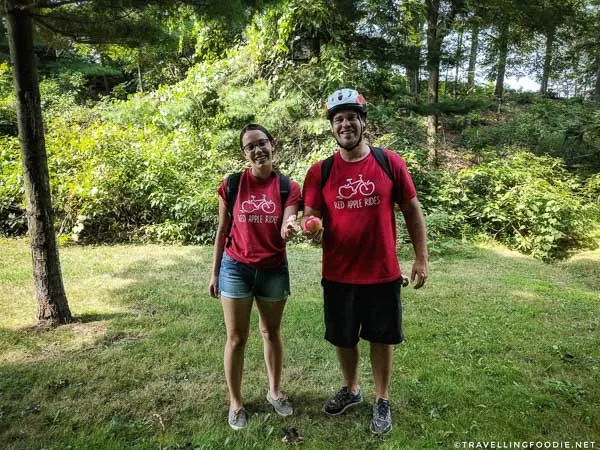 If you're new to cycling, or haven't cycled in a while, this tour is a great way to learn cycling since it's a leisure ride.
Don't be afraid to be slow or make mistakes as the guides are very helpful and will assist you with any issues.
Also Read: Where To Eat in St. Thomas, Ontario
Our first stop was David's Restaurant for appetizers. We enjoyed beautiful views of Lake Erie while having some amazingly tender and flavourful beef tenderloin skewers!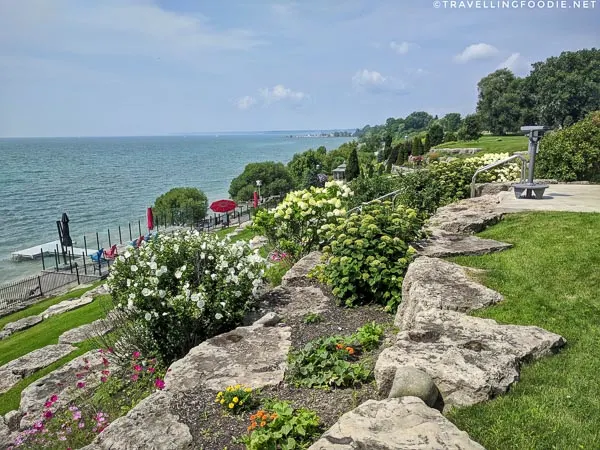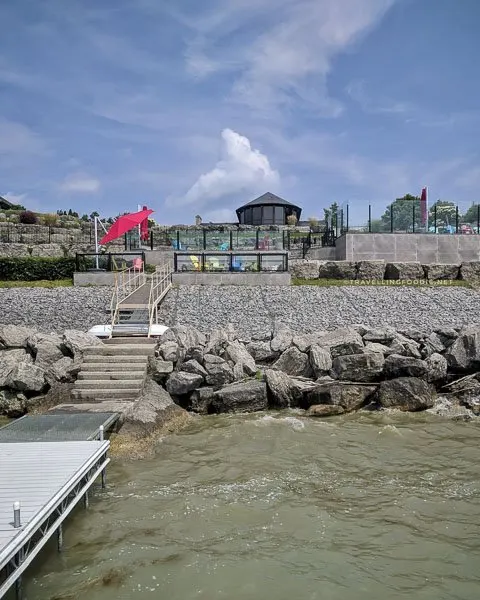 I love how everything is sourced locally, at least in Ontario! The beef came from Norpac Beef in Norwich (Oxford County).
Vegetables were sourced from Matz' Fruit Barn in Port Dover. The red wine pairing was the 2016 Strip Room from Burning Kiln Winery in Turkey Point.
Learn more about David's Restaurant here.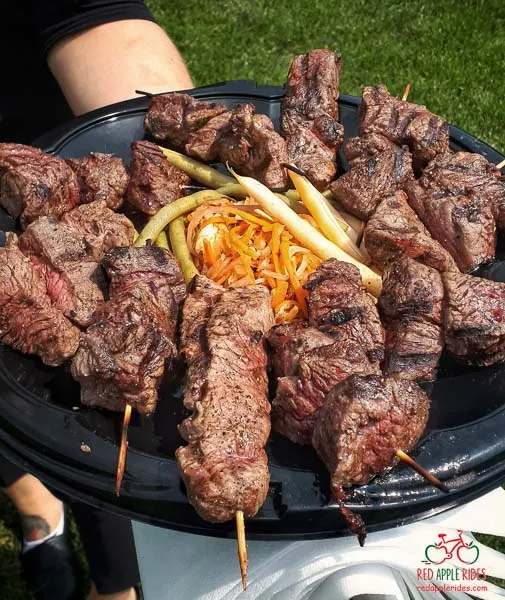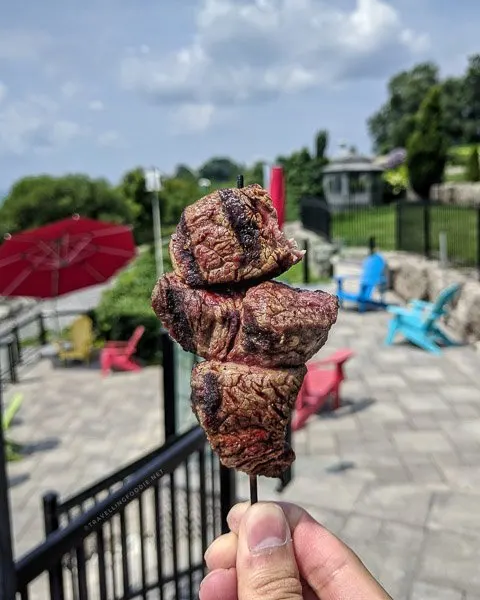 Next stop on Red Apple Rides was at Clonmel Castle for lunch.
We had an assortment of homemade sandwiches and desserts with ice frappe coffee in this authentic Georgian revival Heritage Mansion. Learn more about Clonmel Castle here.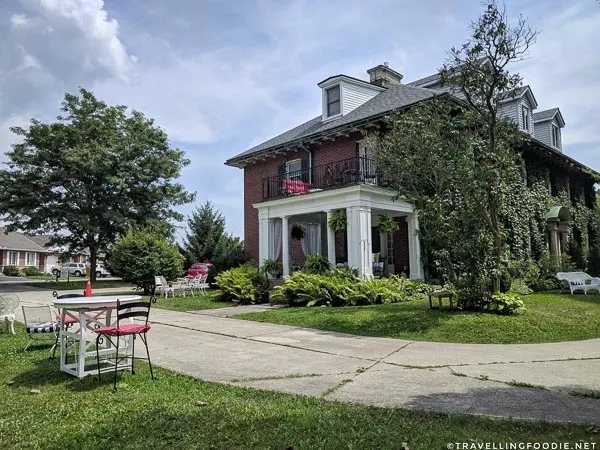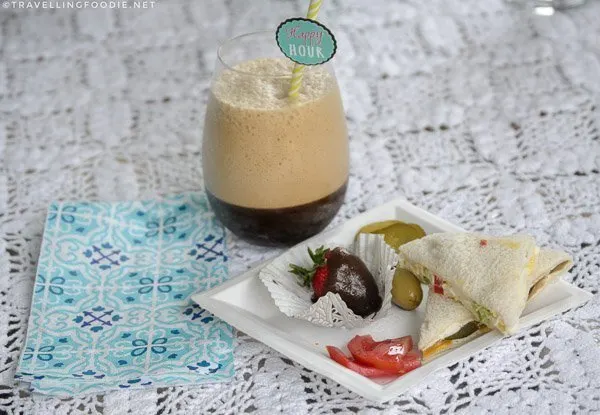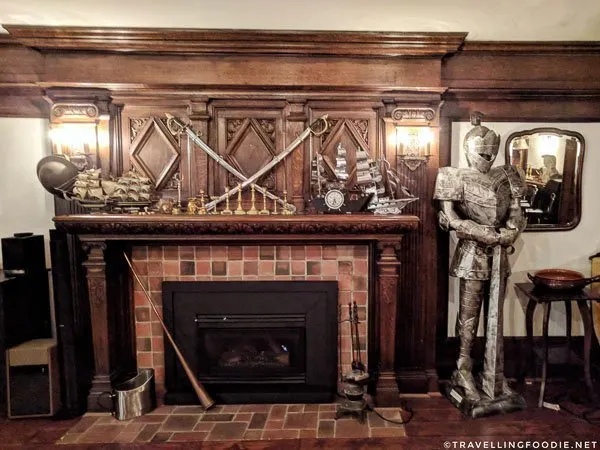 Our last stop was dessert at Urban Parisian, an authentic French bakery.
Here we had the Pistachio Macaron, Cream Puff, Dark Chocolate Rocher and Mini Key Lime Bite to end the tour on a sweet note. Learn more about Urban Parisian here.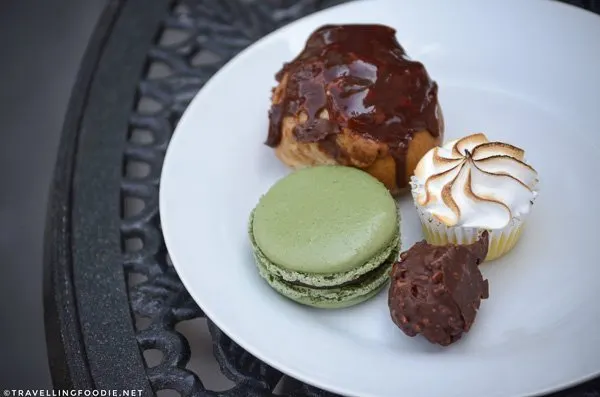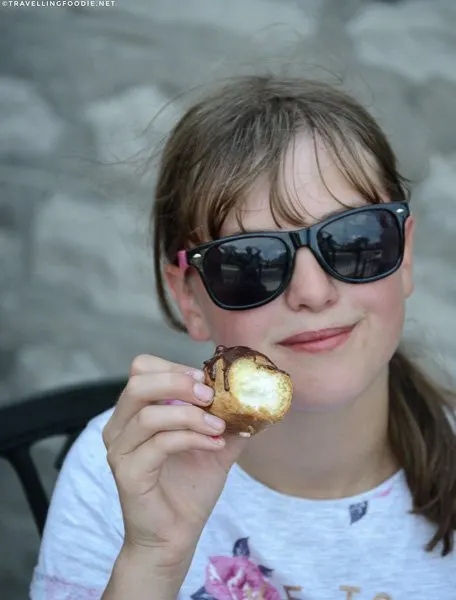 During the Red Apple Rides tour, you'll be stopping in between food stops. The guides will point out some scenery or unique history about the spot… or simply to get some rest.
Website / Address: 3 Main St, Port Dover, Ontario N0A 1N0
Price: Lunch and Leisure Ride – $59.99/person
Also Read: Oxford County Cheese Trail in Ontario
---
Long Point Eco Adventures
After Red Apple Rides bike tour, head over to Long Point Eco Adventures for unique outdoor adventure experience and one of the best places to stay in Norfolk County!
Check-in to your Wilderness Suite, a luxury glamping experience inspired from Long Point Eco-Adventures owners' own experience in Africa climbing Mount Kilimanjaro.
This was only my second time glamping, the first time being in Timmins, Ontario.
I was very impressed with the Wilderness Suite at Long Point Eco Adventures because it has everything you need in one suite, including private flush toilet and outdoor shower, a mini-fridge, and a private covered deck.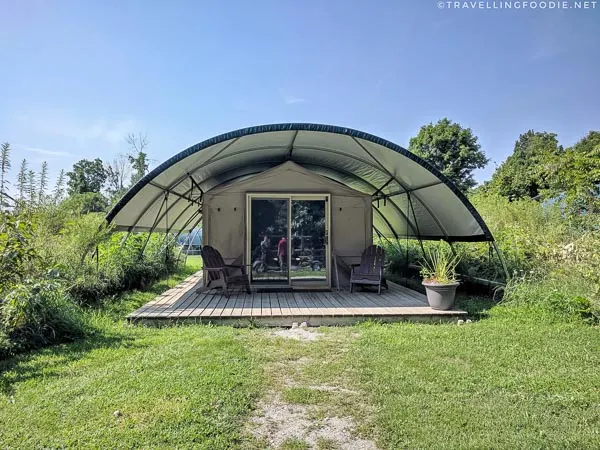 If you're not used to camping like me, having your own washroom and shower in the suite is definitely a relief! The first glamping experience I did didn't have washroom inside.
Travelling Foodie Tip: Use the outdoor shower at night so you can enjoy the shower under the starry sky!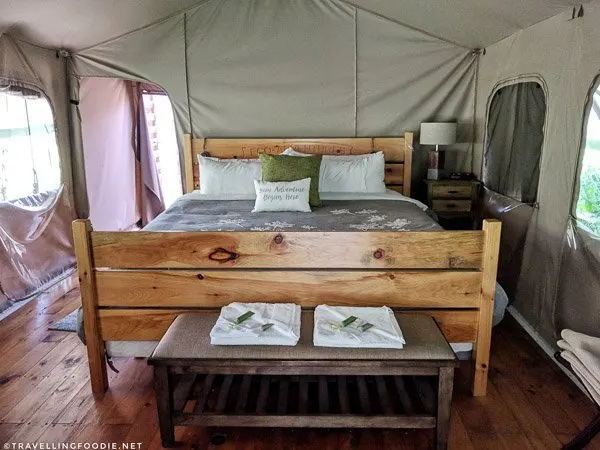 Check availability and pricing of Long Point Eco Adventures on Booking.com / Agoda
As you explore Long Point Eco Adventures, you'll realize there's so much to see and do on-site! Walking along the grounds, you can't miss this view of Turkey Point Marsh.
It's the view you see while enjoying the complimentary breakfast during your stay.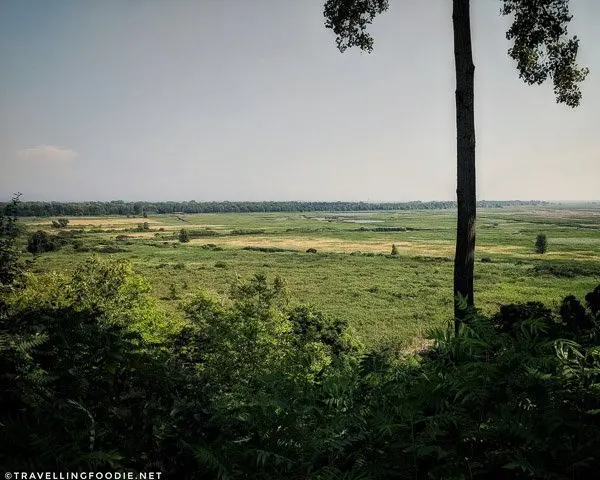 While you're at Long Point Eco Adventures, you must do the Axe Throwing, and Zip Line and Canopy Tour. You can do the Axe Throwing after breakfast since it starts at 10AM and runs for 2 hours.
An instructor is there to teach you. Then, you get to practice and compete with others after.
Towards the end, you'll get to try advanced techniques: throwing backwards, or with one arm, or two axes at the same time.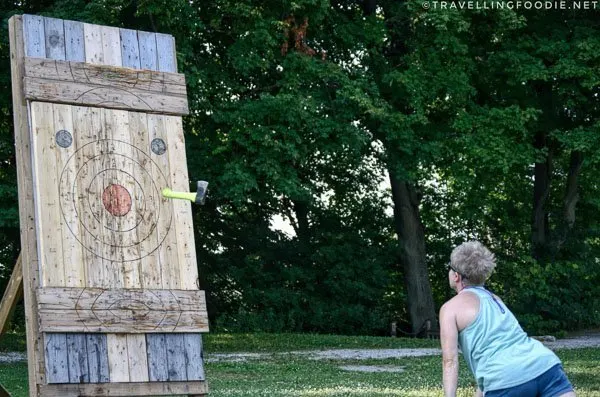 You can't imagine the excitement and rush you feel the first time you land the axe on the board. It's not as easy as it looks.
You get another jolt of excitement when you hit your first bullseye. I was very happy that, mid-way through, I was consistently landing the axe at the bullseye, or at least 1-2 rings closest to it.
Axe Thrower for hire, anyone?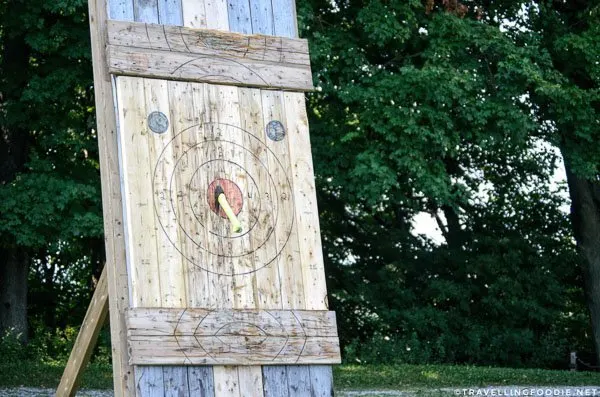 The Zip Line and Canopy Tour is available at various times throughout the day (10am, 11am, 2pm, 5pm) and runs for 2.5 hours.
They even have a nightly one that goes at 9pm, which would be quite an experience!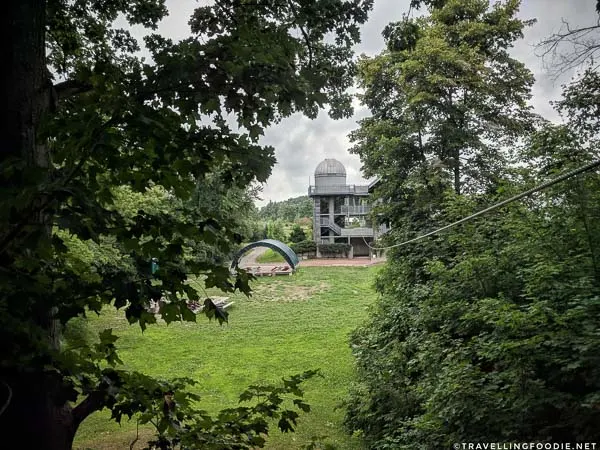 I've done zip lining before, but it was my first time doing a Zip Line and Canopy Tour. Canopy means being on top of the tree.
This is definitely one of the most unique things to do in Norfolk County, especially for new people. This tour is a guided one where the guides do all the work hooking you up on each course.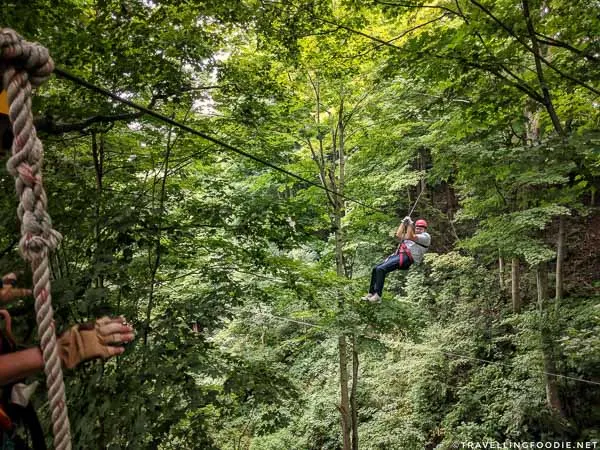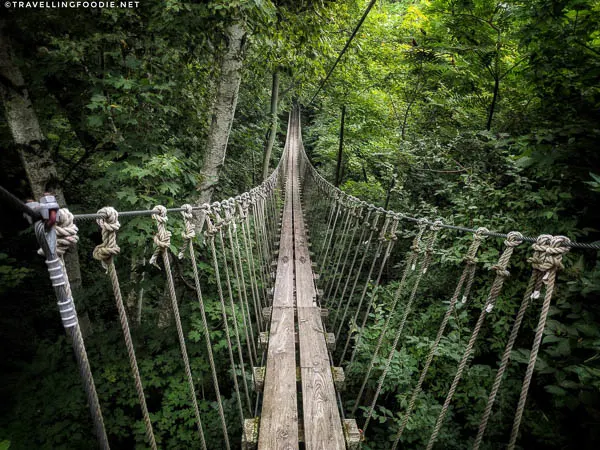 If you want to test your fears, one of the scariest thing you can do here is to go hands-free falling at the edge of the platform.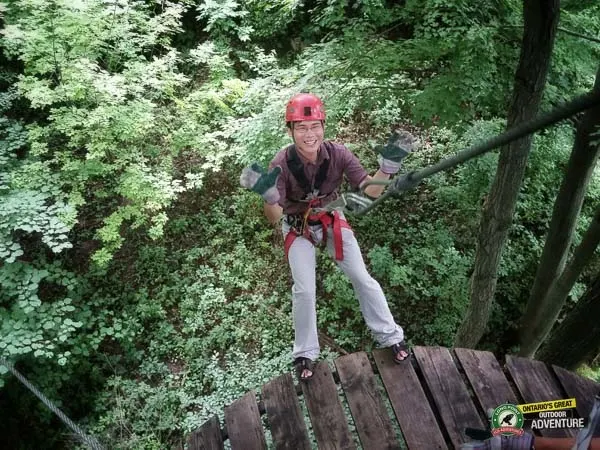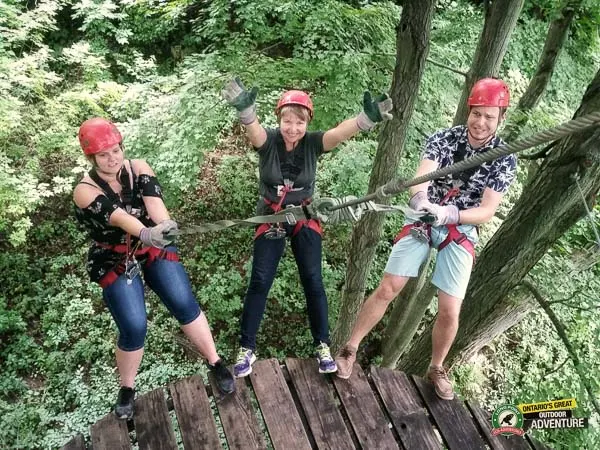 The guides are very knowledgeable about the forest including the types of trees available.
This particular tree they named Grandma has withstood the test of time as you can see how its long branches have twist and turned.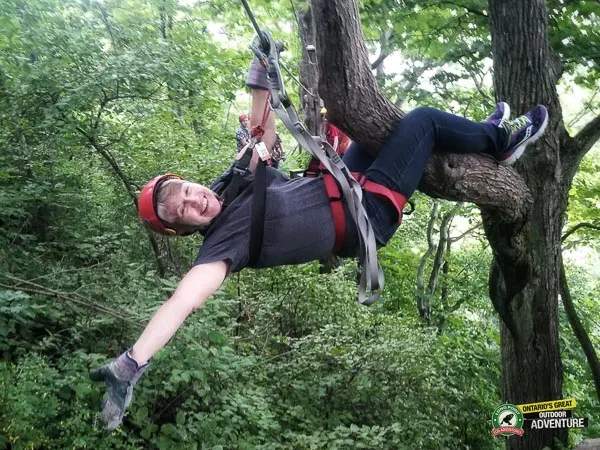 Various photo opportunities are to be had during the tour since there are 14 platforms!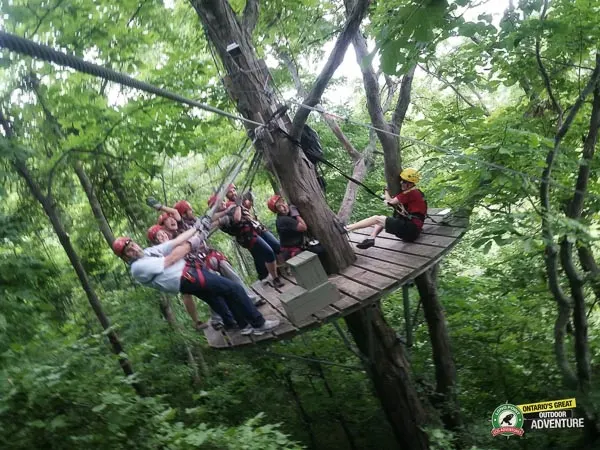 The last thing you do in the Zip Line and Canopy tour is do a 40-foot rappel down a tree. It's scary when you're getting into position, but not so scary while you're rappelling down.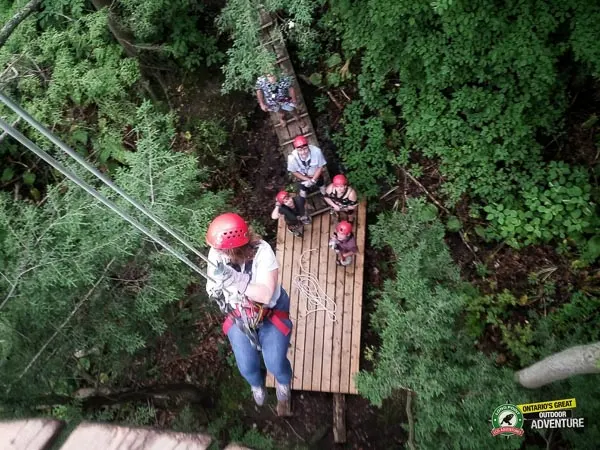 The Zip Line and Canopy Tour at Long Point Eco Adventures is very popular for corporate retreats. When I did it, the other people I'm with were a team of instructors from McMaster University out on a teambuilding activity.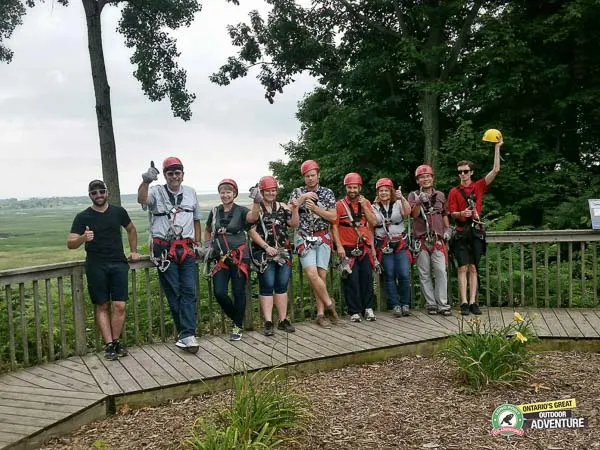 Website / Address: 1730 Front Rd, St. Williams, Ontario N0E 1P0
Prices: Axe Throwing (18+ Adult: $50, 10-17 Youth: $40); Zip Line and Canopy Tour (18+ Adult: $95, 10-17 Youth: $75); Wilderneess Suite Glamping ($199-299)
Also Read: A Summer Day Trip in Port Hope, Ontario
---
Charlotteville Brewing Company
After checking-in at Long Point Eco Adventures, get hoppin' to Charlotteville Brewing Company, the newest craft brewery and one of the best places to drink in Norfolk County set in a rustic 1867 barn.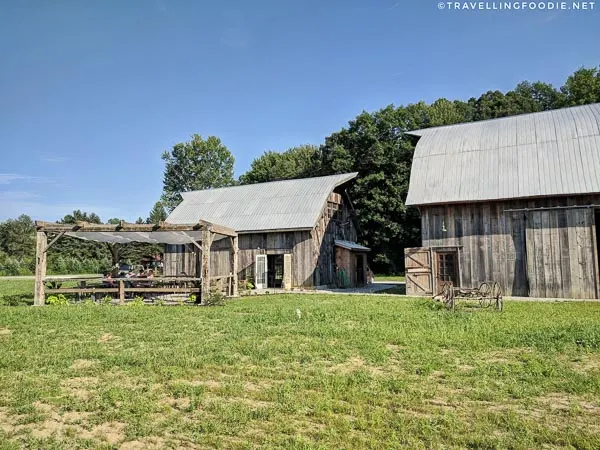 The brewery opened in May 2018, and the taproom opened shortly after in July.
Travelling Foodie Tip: Check out the attic at Charlotteville Brewing Company where there are various board games you can play while enjoying your beer.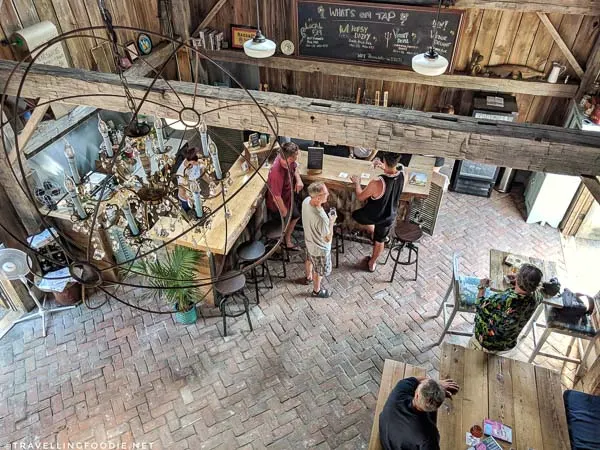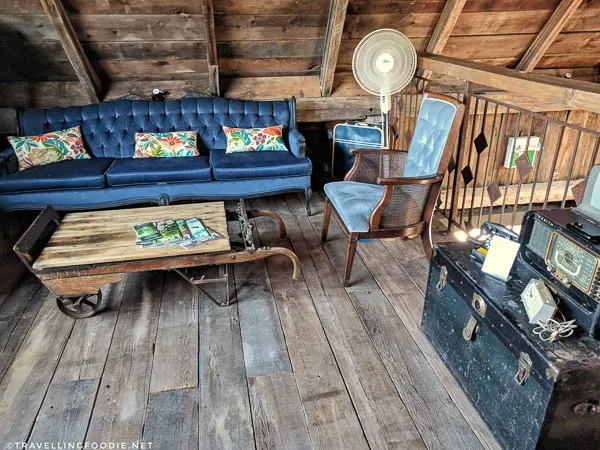 Their brewery is a 10-barrel system, producing 3000 liters for one production.
Since Charlotteville Brewing Company wants to maintain being a small-batch brewery, they only retail on-site, plus some licensed restaurants that serve their beer in Port Dover, London and Kitchener.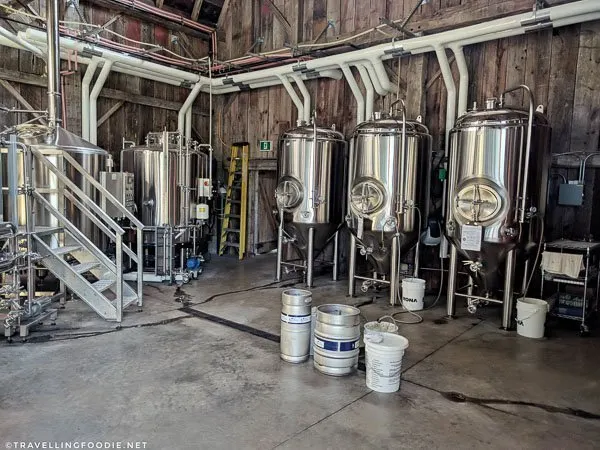 They offer 4 or 5 beers, with the most popular being the Local 519. They use heritage grains, interesting yeasts, local hops and Norfolk's water for their brews.
My favourites were the Velvet Devil and Wedgie Delight. You can tell the bartender "Can I get a Wedgie?".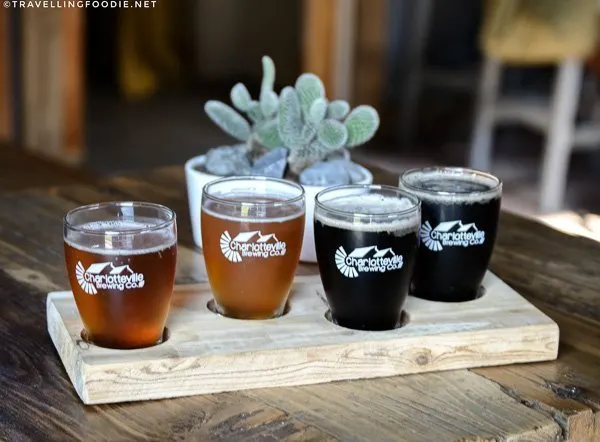 Did you know? The owners started as hop farmers. Before the brewery, they bought half of the farm in 2010 to grow hops.
In fact, London Brewing Co-operative used their hop for 6 years. Now, the hops are solely used for the beers.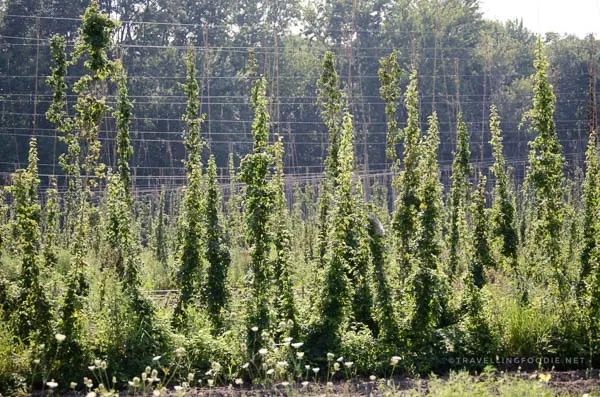 Website / Address: 1207 Charlotteville West Quarter Line, Simcoe, Ontario N3Y 4K1
---
Schofields Bistro
End your day trip by heading back to Port Dover for dinner at Schofields Bistro, one of the best restaurants in Norfolk County.
This farm-to-table restaurant serves French and Italian cuisine in a renovated historical space with art deco inspired with local art work.
Start your dinner with the cheesy escargot with garlic butter! You'll want to dip the toast on the butter too.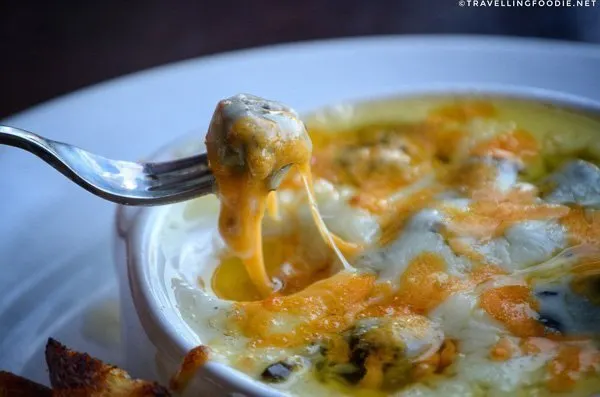 If you're feeling meaty, the Beef Tenderloin Medallions at Schofields Bistro were well-seasoned and perfectly tender.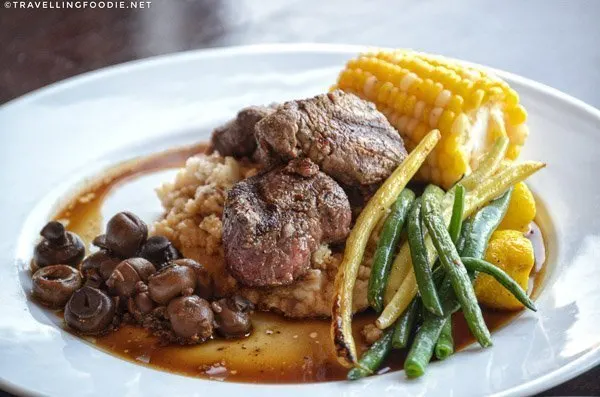 When you're in Ontario's South Coast, you'll definitely want to try the popular Lake Erie fishes, and you can get the Lake Erie Pickerel here. Just be careful about the bones.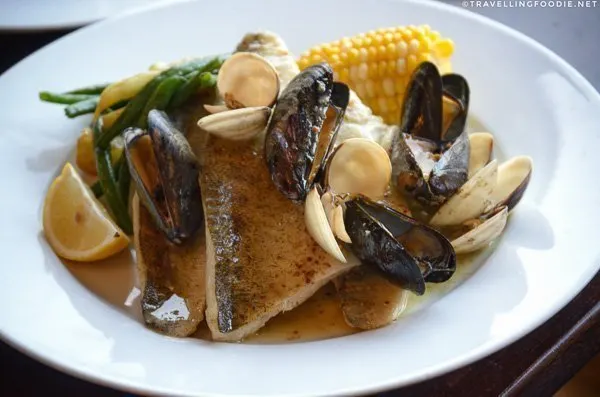 For dessert, you must try the Pecan Butter Tart which are warm, gooey and not too sweet! It's one of the better ones I had!
Schofields Bistro also offers a rotating selection of cheesecakes from the Little Cheesecake Company.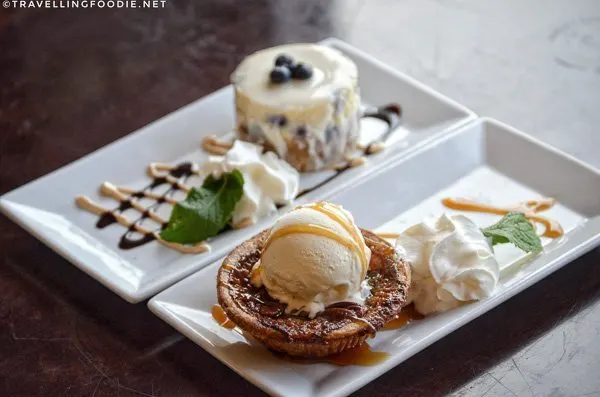 After dinner, you can walk around Port Dover Beach before heading back to Long Point Eco Adventures.
Then, you can either do the Night Zip Line and Canopy Tour at 9PM, or just relax and unwind on your Wilderness Suite or enjoy stargazing by the campfire.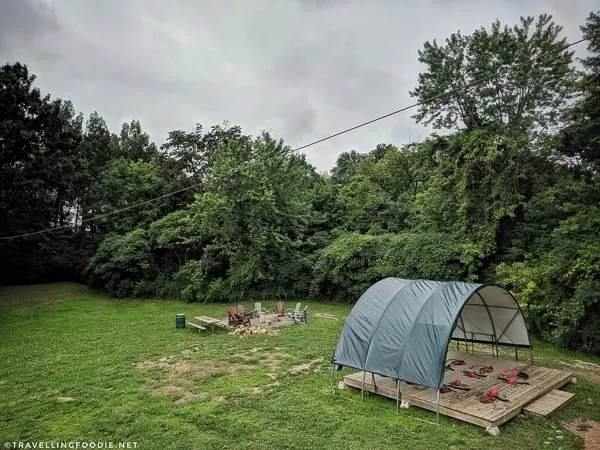 Website / Address: 243 Main St, Port Dover, Ontario N0A 1N0
Also Read: Best of Windsor-Essex County, Ontario
---
Day Two Trip Itinerary in Norfolk County
In the morning of your second day of your trip in Norfolk County, you can enjoy the complimentary breakfast and do the 10AM Axe Throwing or Zip Line and Canopy Tour at Long Point Eco Adventures.
This is then followed by a day trip of winery hopping around Ontario's Garden.
Burning Kiln Winery
One of the best things to do for wine lovers is to explore Norfolk County as a wine region. Head to Burning Kiln Winery which is just across the street from Long Point Eco Adventures.
The winery is owned by 7 partners including the owners of Long Point Eco Adventures.
Did you know? The winery is named Burning Kiln because the site was originally a tobacco pack barn.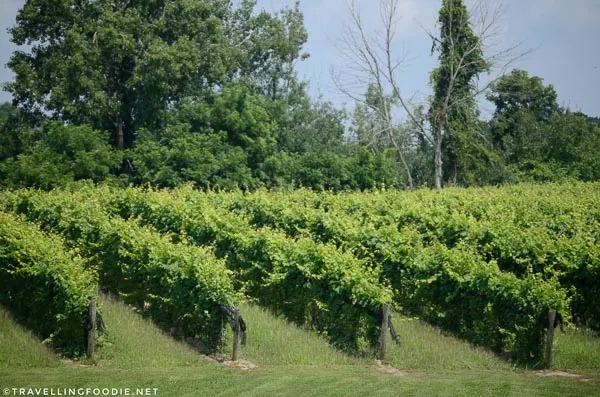 All red wines at Burning Kiln Winery use the appassimento method, an old Italian way of drying grape by harvesting them at the end of the growing season then drying on plastic crates in specialized rooms from days to months.
In their case, they use tobacco kiln instead of plastic crates!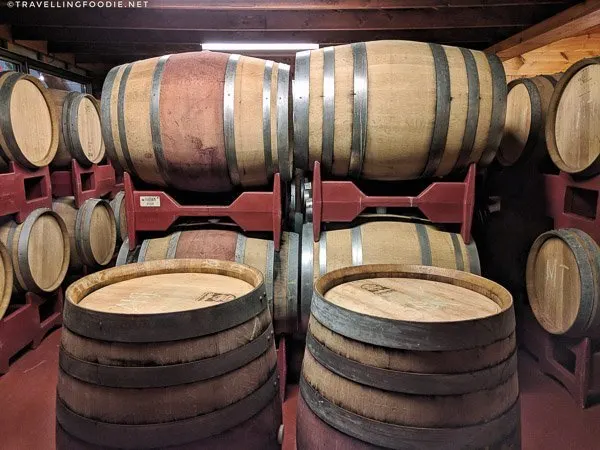 The names of their wines are very interesting. They are named after a particular part of the tobacco farming process to pay homage to their history.
You'll see the description behind each wine displayed all over the taproom.
My favourite and a must-try wine at Burning Kiln Winery is their Kiln Hanger, a 2013 Cabernet Franc with a very smokey taste and aroma of cigar.
This vintage wine is kiln dried for 14 days, then aged for 27 months in Maldivian, American and finally in French oak barrels.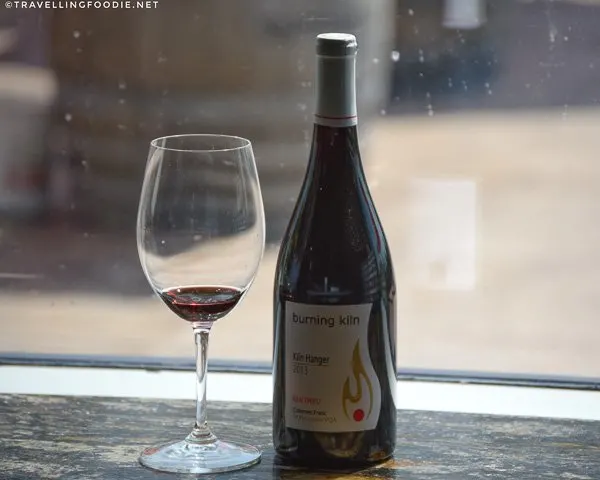 If you prefer white wine, try the Stick Shaker, their most luxurious white wine made with 100% kiln dried, appassimento grapes.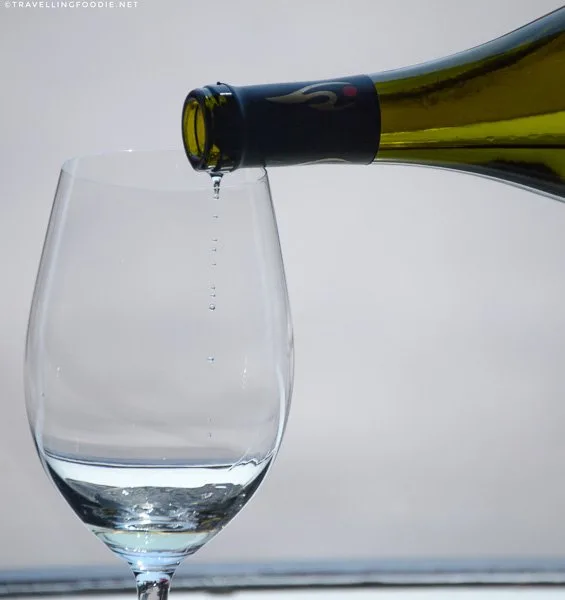 From May to September, the winery's patio opens as a restaurant showcasing ingredients from Ontario's Garden with corresponding wine pairing suggestions on the menu.
I highly recommend the Woolley's Braised Lamb with its fall-off-the-bone tender lamb shank.
The lamb comes from Norfolk local, Woolley's Lamb, known for their 100% grass fed lamb. Pair this with the suggested Prime Pinot Noir.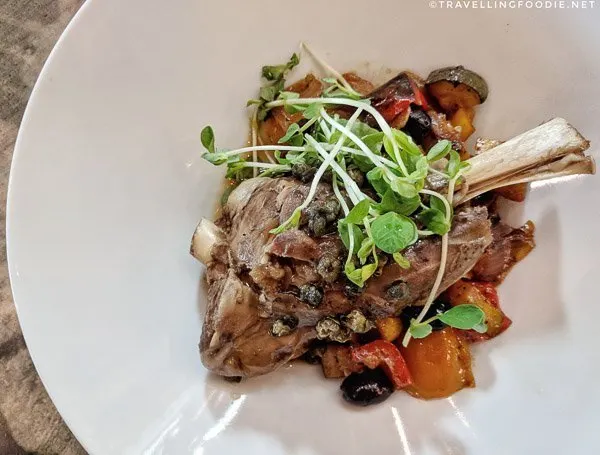 Website / Address: 1709 Front Rd, St. Williams, Ontario N0E 1P0
---
Inasphere Winery and Farm Market
Next stop is Inasphere Winery and Farm Market, a small farm winery that started out as a quality-based vegetable farm but has expanded with a winery in Spring 2016.
Owned by Ryan and Shantel Bosgoed, who are 3rd generation farmers, the working farm offers field tomatoes, potatoes, onions, kale, cucumbers that are sold on grocery stores and on-site.
Inasphere Winery is most known for their riesling. If you like your wine dry, crisp and easy to drink, try the Dry Riesling!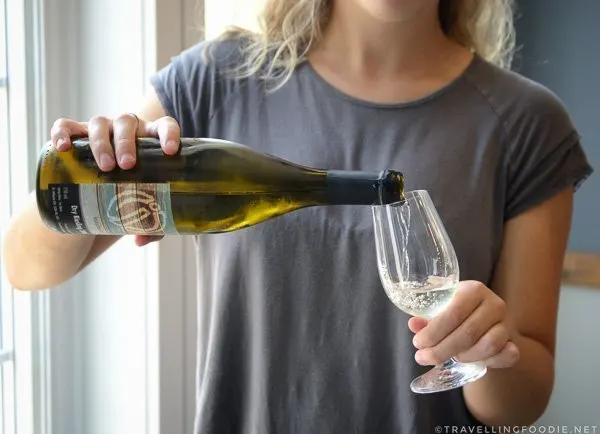 They're a small batch winery, offering 5 wines. If you're into red wine, try the 2015 Cabernet Franc Reserve in which the remainder of the 2015 Cabernet Franc was left in the oak barrel to age, giving a rich sophisticated oaky red!
Website / Address: 1454 Front Rd, St. Williams, Ontario N0E 1P0
Also Read: Malibu Wine Hikes in Conejo Valley, California
---
Blueberry Hill Estates
Your next stop is Blueberry Hill Estates, a converted farmhouse that's now a rustic winery and seasonal farm market.
This oldest commercial high bush blueberry farm in Ontario offers three kinds of libations: fruit wines, grape wines and ciders.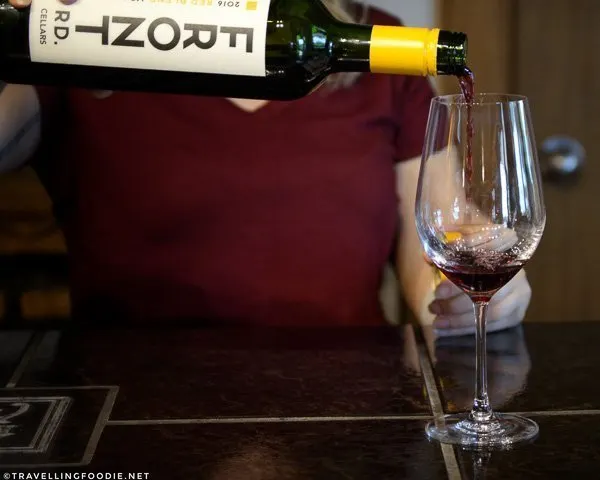 Blueberry Hill Estates are rebranding their grape wine label to Front Road Cellars, producing both red and white grape wines.
Though they are a blueberry farm, they do have an on-site 6-acre vineyard that's in its early years of production. For the time being, they source their grapes from Inasphere Winery (Norfolk County) and Quai du Vin (Elgin County).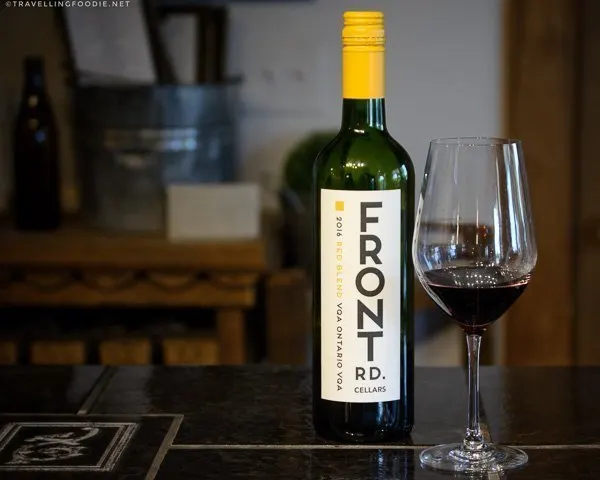 Blueberry Hill Estates started winemaking in 2013 before offering cider. Their ciders are made with 100% pure apple grown in Norfolk County orchards and other fruit juices.
The must-try is their Fighter Cider which is a combination of three fruits, including their blueberries.
Blueberry Hill Estates only offers the cider on-site so you definitely have to try it when you visit.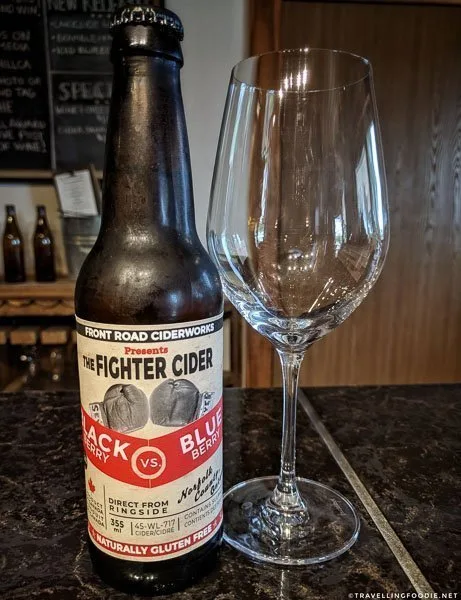 Being a blueberry farm, you definitely have to try their fruit wines which are done similarly as grape wines but using their blueberries.
I definitely recommend their Iced Blueberry which is their version of Iced Grape Wine.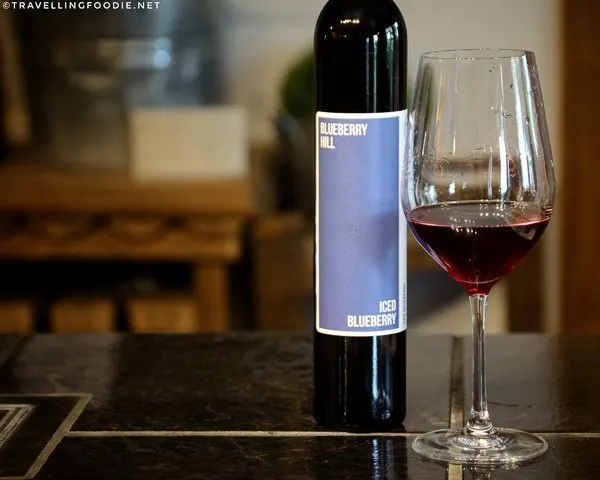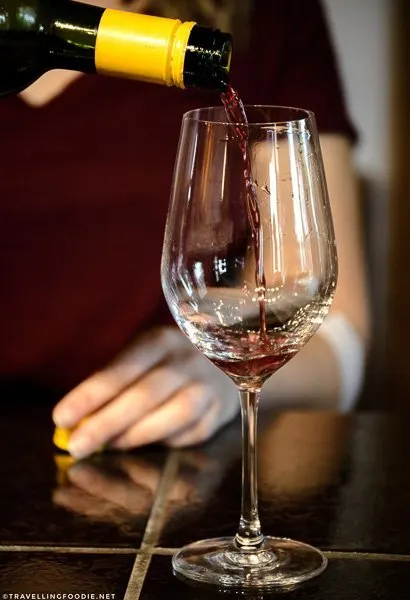 Website / Address: 1195 Front Rd, St. Williams, Ontario N0E 1P0
---
Bonnieheath Estate Lavender and Winery
Last stop of winery hopping in Norfolk County is Bonnieheath Estate Lavender and Winery.
Did you know? The estate was originally a farmhouse producing fruits owned by Colonel William Heath at the turn of the 20th century, then became a tobacco farm from 1950s-2008 until apple production began in 1982.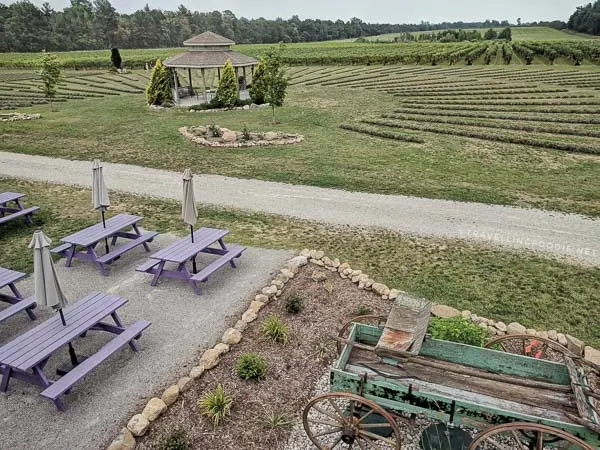 Because of the farm's well-draining, sandy loam soil, several 'English'-type lavender (Lavandula angustifolia) varieties and a 'French' type cultivar of Grosso (or Lavandin) are grown in the farm.
The lavenders are in bloom from mid-June until the end of July.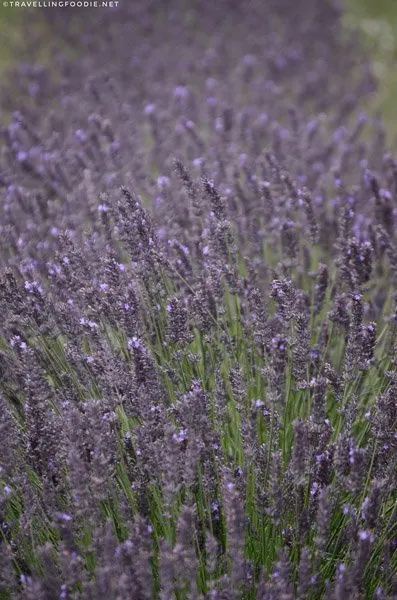 With the growing popularity of lavender fields in Ontario along with lavender ice cream to boot, Bonnieheath Estate Lavender and Winery steps up the experience by having lavender wine and cider.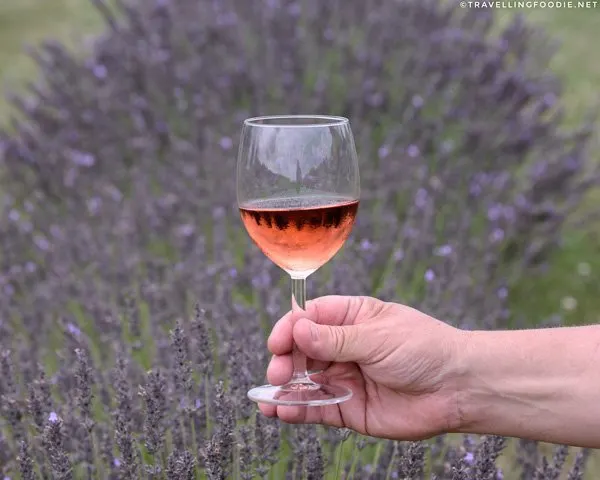 Because of their apple production, Bonnieheath Estate offers hard apple ciders. Their Folkin' Hard Ciders use all Norfolk County ingredients making it a 100% Nor'Folk' product.
Their "True Blue" Folkin' Hard Cider combines the best of both worlds: Norfolk's blueberries and their own lavenders.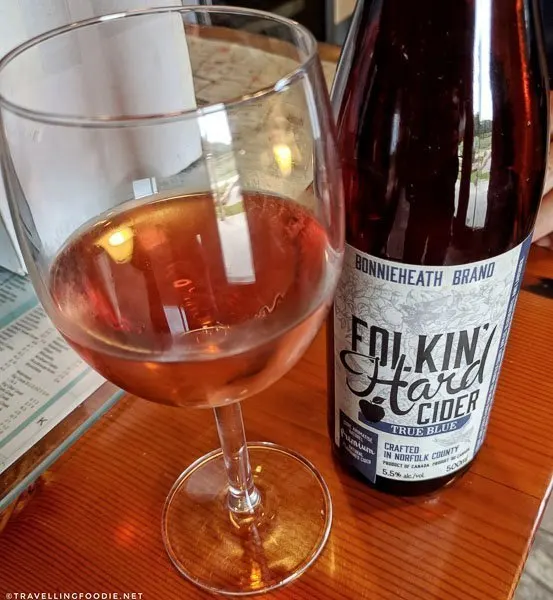 Similar to Blueberry Hill Estates' Iced Blueberry, you'll want to try their Lavender Ice, their vidal dessert wine infused with the essences of Bonnieheath Estate lavender.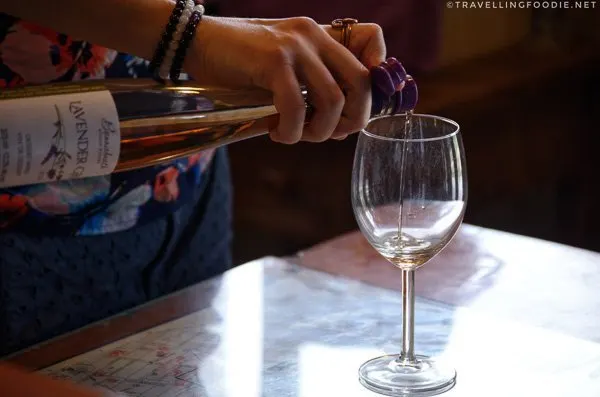 Website / Address: 410 Concession 12 Townsend, Waterford, Ontario N0E 1Y0
Also Read: Nova Scotia Food Guide
---
Perch Patio at Erie Beach Hotel
After the winery hopping, it's time for dinner at one of Port Dover's best restaurants, Erie Beach Hotel, located just steps from Port Dover Beach.
Did you know? Aside from two existing dining areas, this family-run business has opened new dining area called the Perch Patio, a rooftop patio overlooking Port Dover Beach.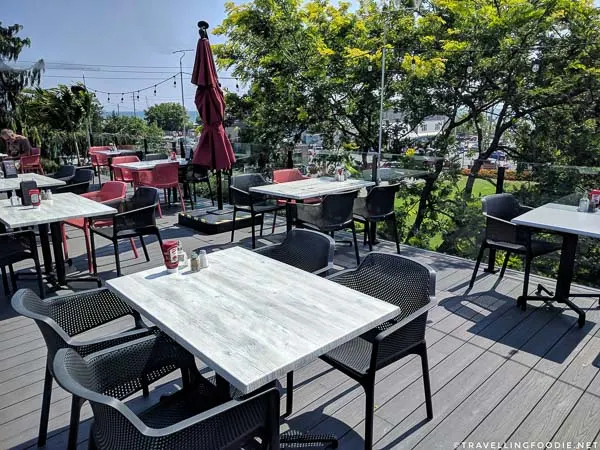 Perch Patio is most known for their Lake Erie Perch and Pickerel which they've been serving for over 70 years.
You can't end your Norfolk trip without having their Lake Erie Perch. These snack-sized pieces of perch are so fresh and juicy!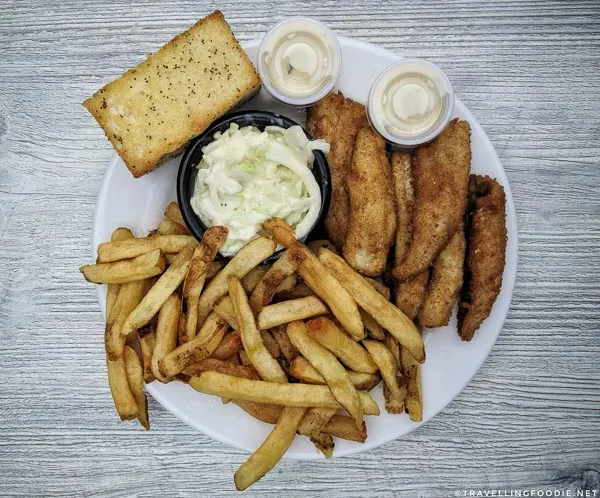 You cannot dine here without trying their celery bread as well. Good thing is that the Perch Dinner comes with them.
I was hesitant at first when I heard about it, but it was so good that I would ask to replace the fries for the celery bread going forward!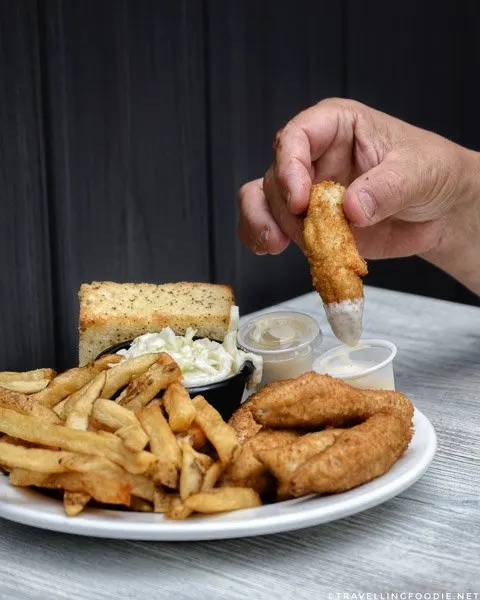 They also offer a variety of craft beer local to Norfolk County so be sure to try them if you don't get to visit the actual breweries.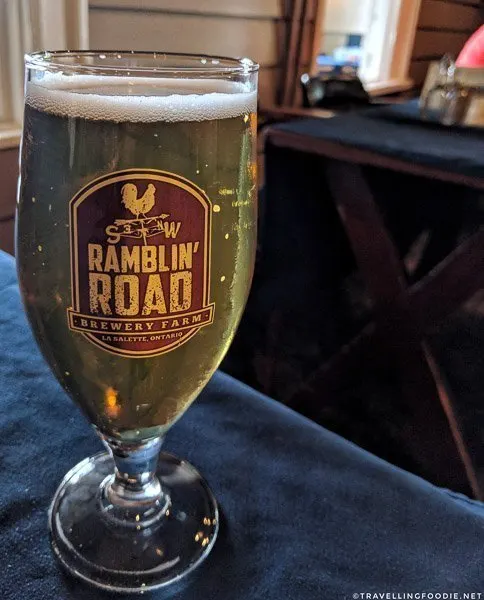 Website / Address: 19 Walker St, Port Dover, Ontario N0A 1N0
---
MAP: 2 Days in Norfolk County
Here's the map of all the places to eat, play, stay for 2 days in Norfolk County covered in this travel guide and itinerary.
---
Hope this travel guide gives you an idea on how to spend two days in Norfolk County with things to do, where to eat and stay for that perfect weekend getaway!
Seriously, this area in Southwest Ontario is such a gem, you will come back for more. Being such a big county, I've barely scratched the surface.
I would love to know more on what you find are the best attractions, accommodations, and places to eat & drink in Norfolk County!
---
Huge thanks to Ontario's Southwest and Norfolk County Tourism for sponsoring this post. As usual, reviews and opinions are entirely my own.
You can learn more about Ontario's Southwest thru their website, or find them in Facebook, Twitter and Instagram.
… and about Norfolk County thru their website, or find them in Facebook, Twitter and Instagram.