Planning a trip to Richmond, VA? In this guide, we're showing you a 2 day trip itinerary in Richmond.
The Richmond Region (or RVA) is a vast 2,165-mile region with seven unique destinations: City of Richmond, Town of Ashland, Chesterfield County, Colonial Heights, Hanover County, Henrico County and New Kent County.
Being one of the oldest cities in the United States, Richmond is definitely the top on everyone's list when travelling in Virginia or the Richmond Region, especially for first time visitors.
There's something for all interests here with amazing combination of city life and nature, an impressive art scene and historic red brick buildings.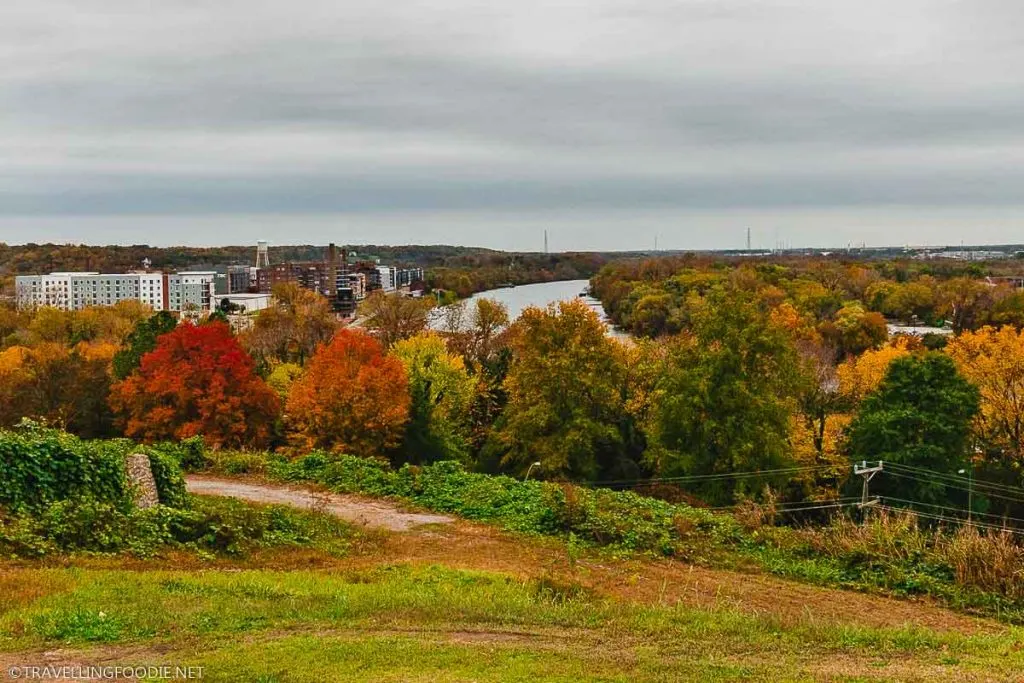 And of course, a vibrant food scene dubbed one of The South's Best Food Cities 2020 by Southern Living Magazine!
So if you want a weekend getaway to Virginia's capital city, this RVA itinerary is for you.
In this 2 day trip, we're covering some of the best things to do, restaurants and accommodation in Richmond!
---
---
How to get to Richmond, VA
Richmond is a year-round destination, making it a great destination for your vacation whether you're doing a day trip, a weekend getaway or a Virginia road trip.
Here are some driving times to Richmond, VA:
If you don't want to drive, Richmond also has the Richmond International Airport (RIC) with eight major airlines offering non-stop flights to major domestic destinations like Denver, Chicago, Atlanta, New York and Boston.
Welcome to RVA!
---
Weather in RVA
Depending on the time of the year you visit Richmond, you want to be prepared for the weather.
Here's a quick guide on what the temperature in Richmond is like across seasons:
Winter: Under 55°F (13°C)
Spring: 55°F to 70°F (13°C to 21°C)
Summer: 69°F to 88°F on average (20.5°C to 31°C), going as high as 90°F to 100°F (32°C to 37°C)
Fall: Low 60°F to Low 80°F (15.5°C to 27°C)
RVA Weather Facts:
Coldest month: January
Hottest month: July
Wettest month: July
I have visited Richmond in the Fall (in late-September and late-October), and it was really pleasant without rain and a light jacket sufficed (sometimes not even needed during the day).
---
Richmond, VA 2 Day Trip
Here's how you can spend 2 days in Richmond with 9 things to do, places to eat, drink and stay.
Richmond Day 1 Trip Itinerary
Your first day itinerary will be spent enjoying downtown Richmond.
Mama J's Kitchen
Start your day in Richmond by feeding your soul!
Located in Historic Jackson Ward, Mama J's Kitchen is a family-owned restaurant and one of the best restaurants in Richmond for Southern and Soul food.
They don't take reservations so be prepared to wait at this local hot spot. (P.S. We waited for 30 minutes for Friday lunch to give an idea.)
Expect delicious homecooked Southern comfort food like going to grandma's house.
I highly recommend enjoying dishes tapas-style where you order a bunch to share instead of an entree to yourself.
Top picks include Catfish (fried and flaky), Fried Chicken (crispy and juicy) and Pork Chops (get it fried with smothered gravy and thank me after).
Don't sleep on the Signature Cocktails, Mac & Cheese and Candied Yams too!
Mama J's Kitchen Information
Website
Address: 415 N 1st St, Richmond, Virginia 23219
Riverfront Canal Walk
After a hearty meal, it's time to enjoy the beauty of downtown Richmond!
This 1.25-mile urban walk along the James River is one of the best ways to experience and learn about downtown Richmond.
You can literally spend the entire day here if you wanted!
It has something for everyone from nature, art and history to biking and canal cruises to places to eat & drink.
If you're an avid cycler or hiker, the Canal Walk is actually connected to the Virginia Capital Trail, a 51.7-mile dedicated, paved bicycle and pedestrian trail crossing four counties.
I loved taking my time walking and enjoying the views, especially in Virginia fallhttps://travellingfoodie.net/virginia-fall-attractions/ with the colors.
You cannot miss the Haxall Power Plant murals, which had fresh artworks made by local artists on Sep 2022.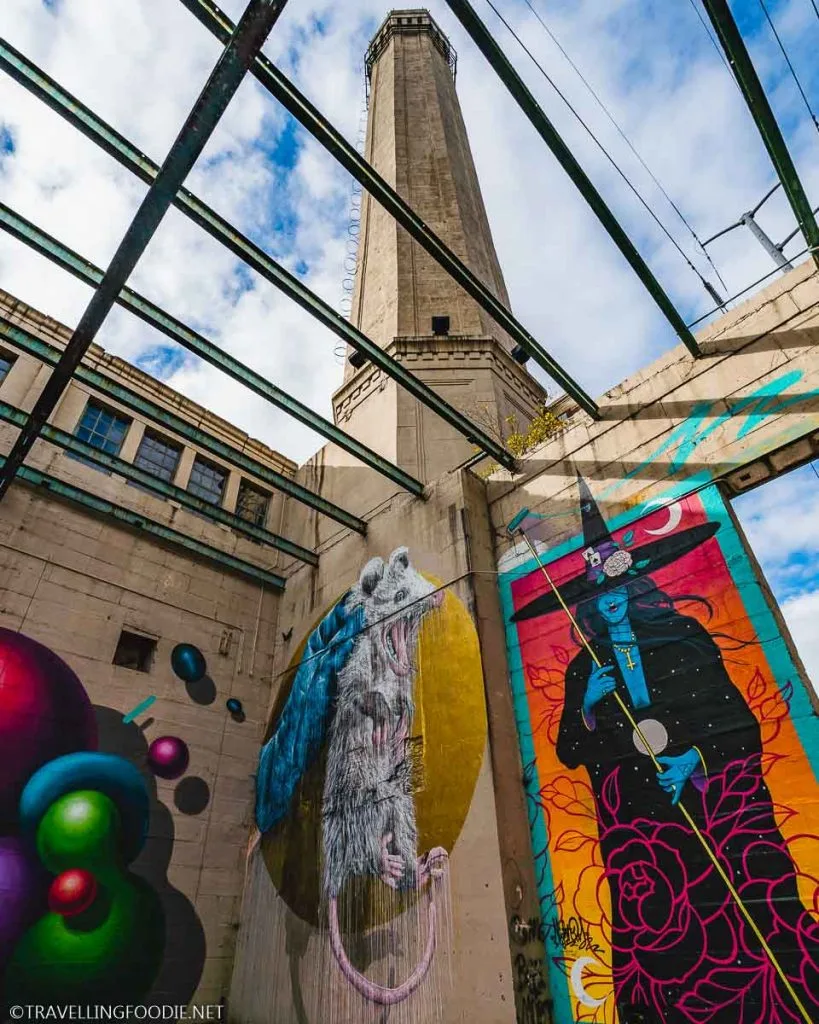 There are many photo opportunities when doing the Canal Walk, including panoramic and skyline views on pedestrian bridges.
On the west of the Canal Walk, you can connect to Brown's Island, an artificial continental island on the James River.
Here, you can walk on the T. Tyler Potterfield Memorial Bridge for epic skyline views of Richmond.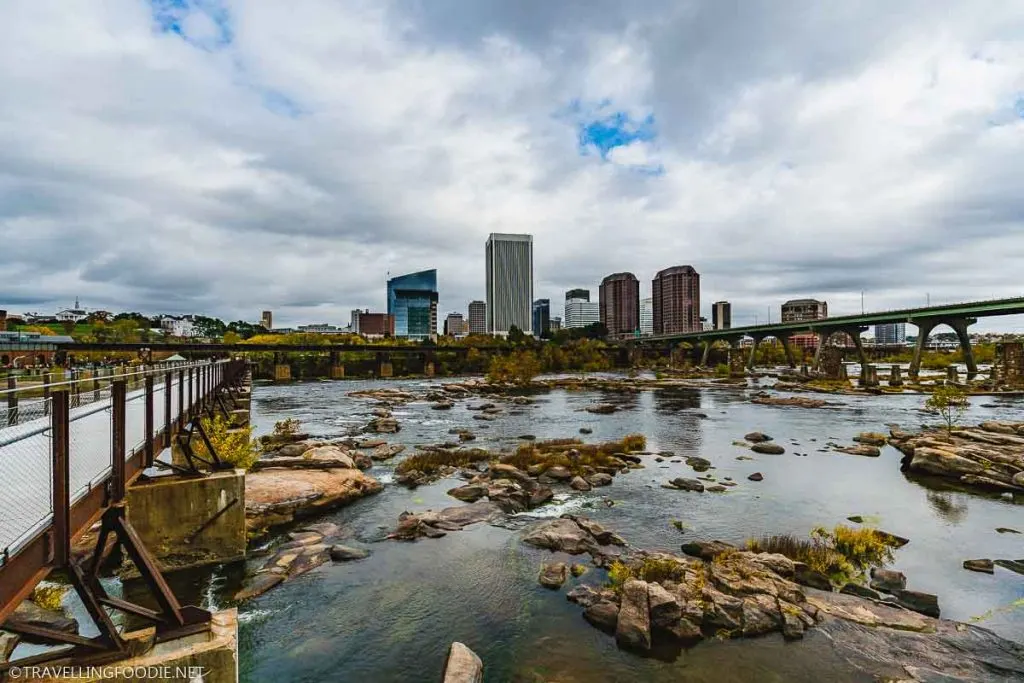 The west-end of the Canal Walk connects to Belle Isle.
Travelling Foodie Tip: There is a free parking lot east of the bridge on Tredegar Street called Belle Isle Parking Lot.
Be sure to check out the Belle Isle Suspension Bridge which is a sight to behold.
This curvy pedestrian bridge is underneath the Robert E. Lee Memorial Bridge and offers panoramic and skyline views as well.
Riverfront Canal Walk Information
Website
Lemaire Restaurant
End your first day in Richmond with a memorable dinner at Lemaire Restaurant, one of Richmond's best restaurants, located inside the historic Jefferson Hotel.
This Forbes Travel Guide Four Star restaurant specializes in elevated New American cuisine with local and seasonal ingredients from farms and purveyors, most of which are within the Lemaire's 90-mile radius.
Did you know? The restaurant is named after the maitre d' to President Thomas Jefferson, Etienne Lemaire.
Inside Lemaire is a luxurious and intimate dining room decked with white table cloths and crystal chandeliers.
But don't let this intimidate you as it is a relaxed and casual atmosphere with a come as you feel most comfortable environment.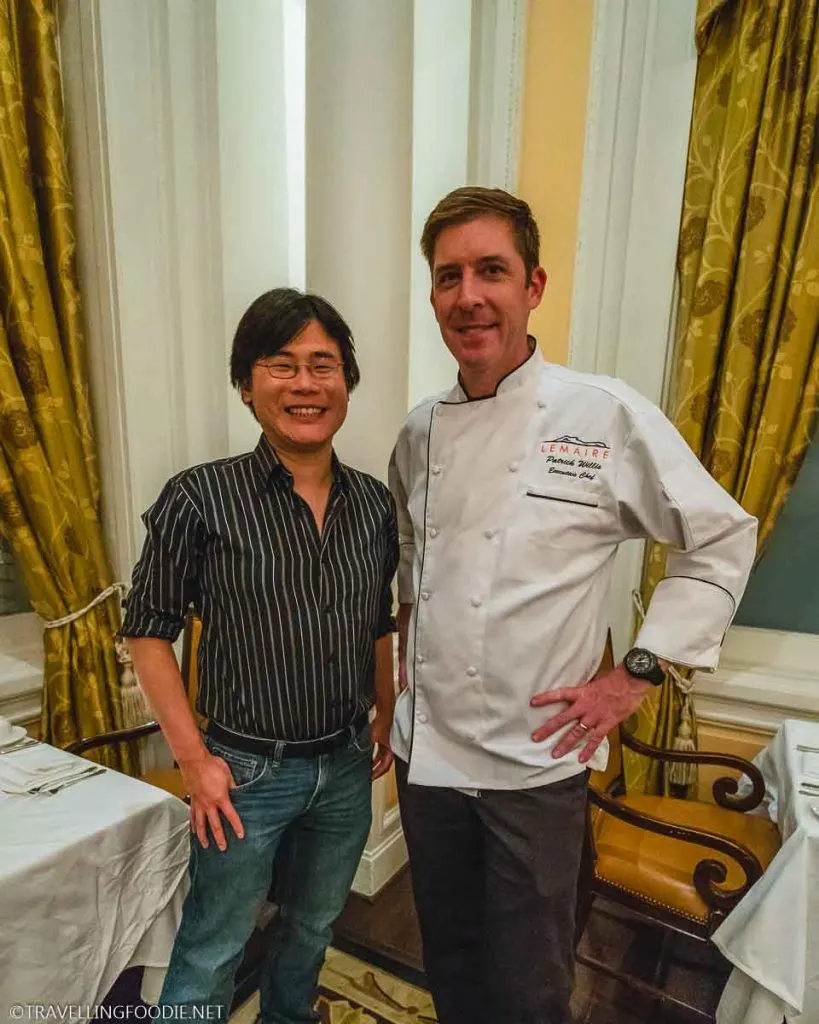 Lemaire's iconic Virginia Peanut Soup is a must!
Think cream of mushroom but using Virginia peanuts instead of mushroom with a nice balance of saltiness from the Madison County ham and sweetness from spiced grapes.
Seafood lovers would enjoy the perfectly cooked caramelized sea scallop while meat lovers would enjoy the fork-tender lamb shank.
A must-try dish in the fall menu is the Toasted Chestnut Fettuccine with black truffle, Twenty Paces cheese and pumpkin veloute.
A unique creative dish that reflects fall flavours and unlike any fall pasta dish I've had!
Make sure to leave room for Lemaire's thoughtfully crafted desserts.
The Roasted Pumpkin Cremeux is a nice fall dessert and, if you love black sesame, you'll want to get the Black Sesame Financier.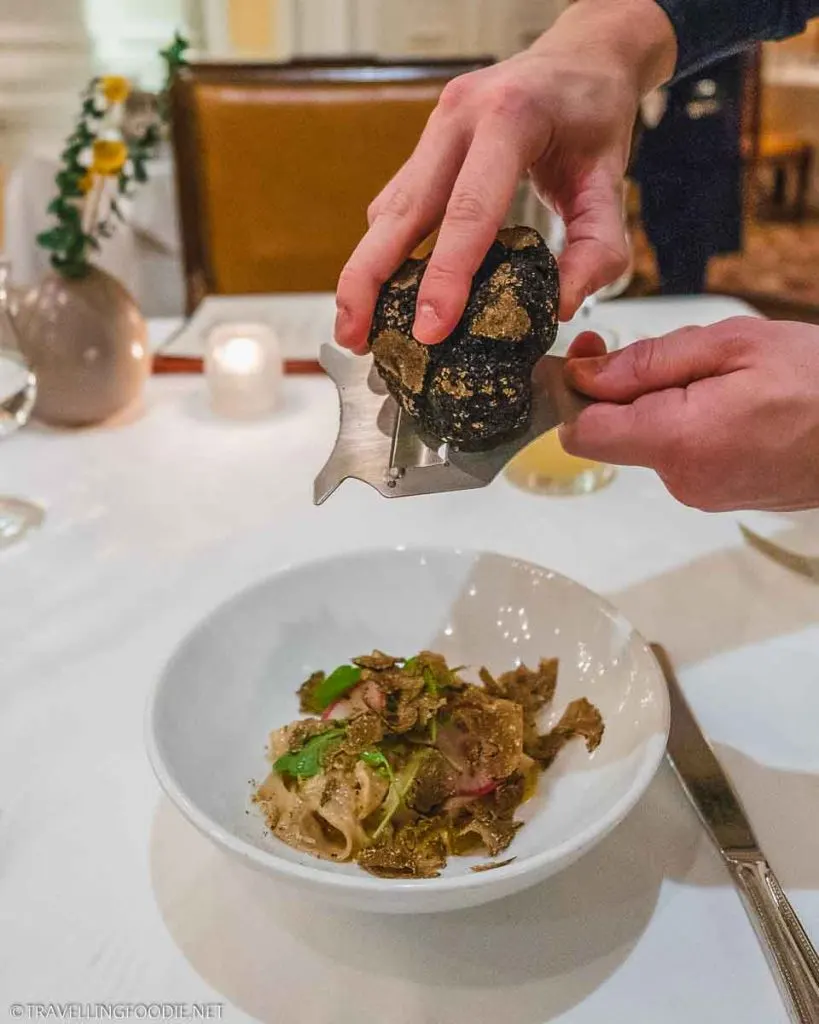 Lemaire Restaurant Information
Website
Address: 101 W Franklin St, Richmond, Virginia 23220
Where To Stay in Richmond, VA for the Weekend
After an amazing day trip in Richmond, it's time to have a good rest for the next day.
The Jefferson Hotel
Looking for where to stay in Richmond? The Jefferson Hotel is one of the best hotels in Richmond and the most iconic!
Opened in 1895, this Forbes Travel Guide Five Star hotel is listed on the National Register of Historic Places.
The architecture is so grand and luxurious with marble columns and a grand marble staircase, which is said to be the inspiration for the classic movie Gone with the Wind.
Keep an eye out for alligator statues that are odes to these reptiles that used to live in the hotel as gifts from locals and hotel guests.
I stayed in the Grand Premier King Room, a spacious 500-600 sq. ft. room that felt like an upscale apartment.
Modern elegant yet classic feel at the same time.
When you enter, you find a foyer then the bedroom with seating area, then a dressing room and sit-down vanity, followed by a large bathroom with a tub and separate toilet and shower stalls.
And after dinner at Lemaire, staying at The Jefferson Hotel is the best way!
Plus, you can sleep-in knowing you can have breakfast just downstairs at Lemaire the next morning.
The Jefferson Hotel Information
Website
Address: 101 W Franklin St, Richmond, VA 23220
Richmond Day 2 Trip Itinerary
Your second day itinerary will be spent exploring outside Downtown Richmond.
Note: This assumes you have breakfast at your accommodation.
Hollywood Cemetery
Start your morning by strolling one of the most visited cemeteries in the US!
Established in 1847, Hollywood Cemetery is a historical garden cemetery and outdoor museum.
This popular Richmond attraction is the burial site of 2 US presidents, James Monroe and John Taylor.
Being located on the banks of the James River, you can enjoy beautiful views of the river and even spot the Belle Isle Suspension Bridge in the distance.
Hollywood Cemetery is one of the best cemeteries I've ever been to.
Hollywood Cemetery Information
Website
Address: 412 S Cherry St, Richmond, Virginia 23220
Peter Chang Richmond
For lunch, head over to Richmond's trendy neighborhood, Scott's Addition.
Peter Chang is one of the best Chinese restaurants in Richmond from James Beard nominated chef Peter Chang.
Here you can enjoy a wide range of Chinese cuisine from noodles and fried rice to dim sum and hot pot.
You can't go wrong with their Bamboo Fish, and the hot pot and stone pot dishes are staples (with meat or seafood options).
A must-order at Peter Chang is their iconic Scallion Bubble Pancake.
Think Chinese Scallion Pancake version of the Indian street food, Poori/Bhatura. Delicious!
Peter Chang Richmond Information
Website
Address: 2816 W Broad St A, Richmond, Virginia 23230
Maymont
Ask locals which Richmond attraction can't be missed and you'll most likely hear Maymont.
Virginia's top attractions by travelers and locals alike, Maymont is a 100-acre Victorian estate and public park.
Maymont has a 19th-century mansion, farm, massive grounds with an Italian Garden, Japanese Garden and Arboretum, petting zoo, nature centre and a carriage collection.
You can spend the entire afternoon exploring this grand estate.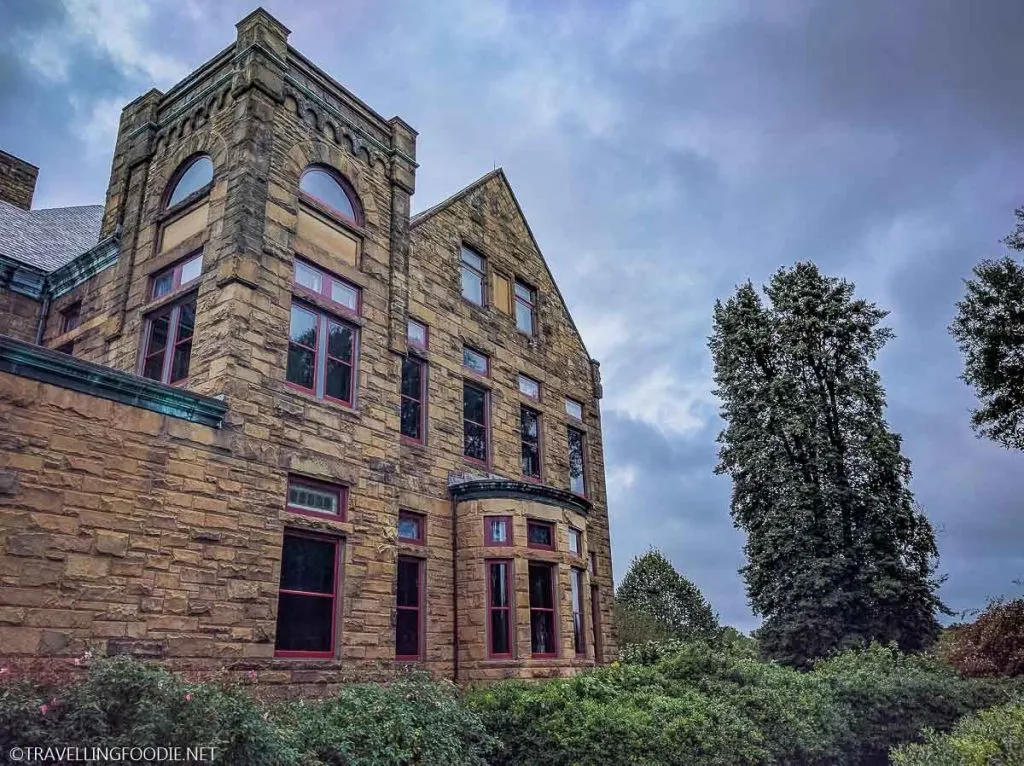 Best of all, admission is free on the grounds.
You only need to pay for indoor attractions like the mansion and The Robins Nature Centre.
If you're visiting in the fall, Maymont has an event called Garden Glow where they light up the Japanese and Italian Gardens into beautiful glowing gardens at night.
Maymont Garden Glow is one of the best events in Richmond for fall!
So magical!
Maymont Information
Website
Address: 1700 Hampton St, Richmond, Virginia 23220
End the day in Richmond with a delicious dinner.
L'Opossum
A small restaurant in a residential neighborhood outside downtown, L'Opossum has become a destination restaurant for locals and foodies alike.
Inside is intimate and interesting when you walk in.
Whimsical and funky setting!
The same is true for their menu names as well, which they have become famous for. Some names might make you search in Google.
At the helm of one of the best French restaurants in Richmond is James Beard nominated Chef David Shannon.
You can get adventurous with Venison Carpaccio, or get fancy with Butter Poached Maine Lobster Mac & Cheese in a rich Truffled Mornay Cream.
You can enjoy classic dishes like the delicious Seared Foie Gras as well as Escargot with Ham Biscuit in Sweet Garlic Butter Sauce, which I highly recommend.
When black truffle is in season, L'Opossum lets you make any dish bougie with truffle service, in which they grate fresh black truffles over your dish while wearing a sparkly bejeweled glove.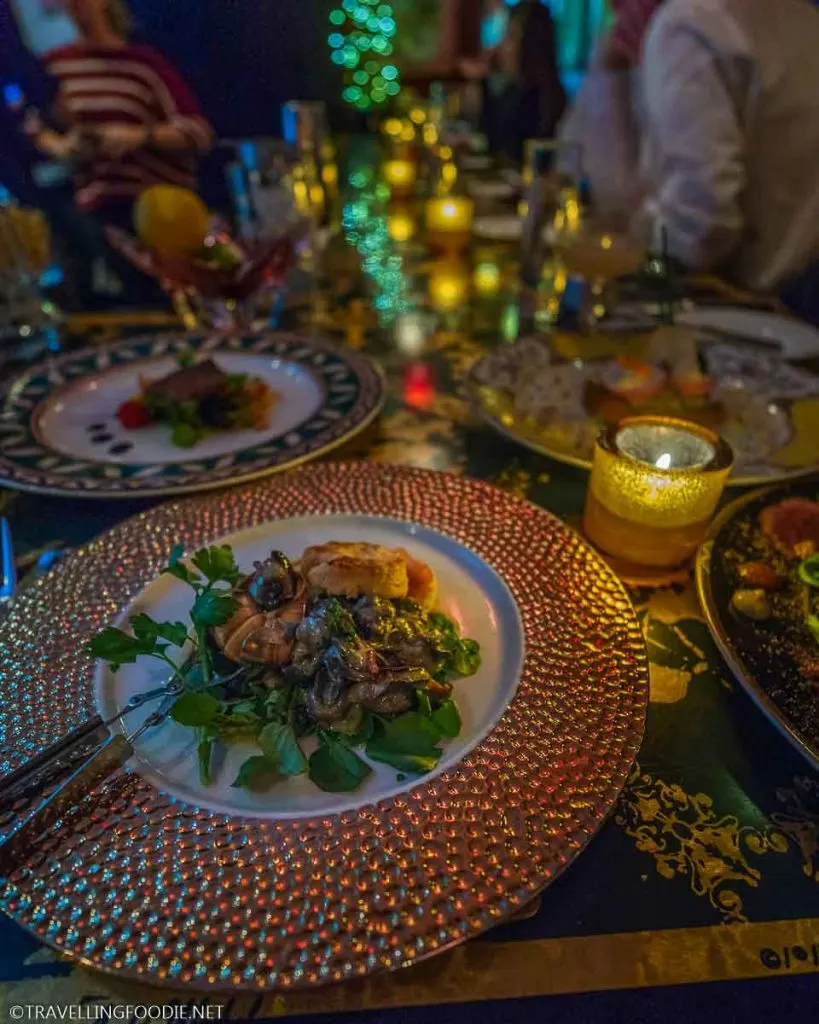 L'Opossum Information
Website
Address: 626 China St, Richmond, Virginia 23220
Rappahannock Restaurant
If you're looking for a downtown dinner option, or in the mood for cocktails before/after dinner, Rappahannock Restaurant is a great casual yet chic spot!
Rappahannock Restaurant is a must for seafood in Richmond with a huge raw bar that also serves some mean craft cocktails.
I highly recommend the Shape of Curiosity cocktail which has a VA distillery company cider cask whisky and house apple spiced honey.
A must-try is definitely their own farm-raised Rappahannock oysters, which are fresh, creamy with a light briny taste.
Elevate these oysters up a notch by getting the Oysters & Pearls in which the Rappahannock oysters are topped with trout caviar and a unique nori granita.
But if oysters aren't your thing, the arctic char crudo hits the spot with the freshness of fish and burst of flavours.
They also do wood-grilled seafood, and the octopus was made to perfection.
Rappahannock Restaurant Information
Website
Address: 320 E Grace St, Richmond, Virginia 23219
That's a wrap on the amazing weekend getaway in Richmond!
---
SHORT VIDEO: Weekend Getaway in RVA
SAVE this short video on how to spend a weekend getaway in Richmond, VA with 9 places to eat, play, stay as a quick handy guide!
---
VIDEO: Richmond, VA Trip Instagram Story Highlights
Watch my full trip in Richmond, VA on Instagram here!
This will help give you an immersive view on the restaurants, attractions and accommodation in this itinerary.
---
MAP: Weekend Trip in RVA
Here's a map with all the best restaurants and places to eat & drink in Richmond mentioned in this RVA travel guide.
---
I hope this Richmond, VA Travel Guide helps you plan for your trip to RVA.
This RVA itinerary is useful not just for a weekend trip, but also if you're only looking to do a day trip in Richmond.
One or two days in Richmond is definitely not enough especially when covering other areas of the region.
There are so many amazing things to do, places to eat and stay in Richmond so I'm always looking for recommendations.
If you are a local or you've been here before, please let me know what you find are the best attractions, restaurants and accommodations in Richmond so I can check them out for my next visit.
---
If you enjoyed this Richmond Guide and Itinerary, you might also enjoy these:
---
Huge thanks to Visit Richmond VA for hosting me and sponsoring this post! As usual, all thoughts and opinions are 100% my own.
You can learn more about Visit Richmond VA on their website here.