Kingyo Izakaya is celebrating it's 4th year anniversary on December 18, 2016 in Toronto! They have been serving up a variety of tapas style Japanese fusion food and drinks from the bar in Cabbagetown.
They will be celebrating for a whole week, from December 12th up to the night of the 18th with raffle prizes happening all week until the night of the 18th. Customers will have a chance to win big prizes including a $300 gift card, sake, beer and so much more!. On December 18th, the final day of the celebration, there will be a special menu available for dinner featuring Kingyo Izakaya's classic dishes from four years ago, as well as a sake barrel ceremony at 9pm where customers will all get to enjoy a glass of sake in celebration of their 4 year anniversary.
To prepare for the upcoming celebration, I was invited by @pekopekolife to the Four Year Anniversary Media Tasting Event on November 28, 2016.
Tasting Menu
The menu was broken down into:
– Grand Menu – showcasing their popular dishes: Tako Wasabi, Beef Tataki salad with Ume Dressing, Famous-O-Sho Restaurant Karaage with Magic Powder, Stone Bowl Mushroom Tofu, Ebi-Mayo, Stone Grilled Beef Tongue, and A Big Kingyo's Short Rib.
– November Special Menu – popular dishes for the month that is also available for the next month: Roasted Duck, Stone Grilled Beef Tenderloin, Stone Bowl Eel Unagi Don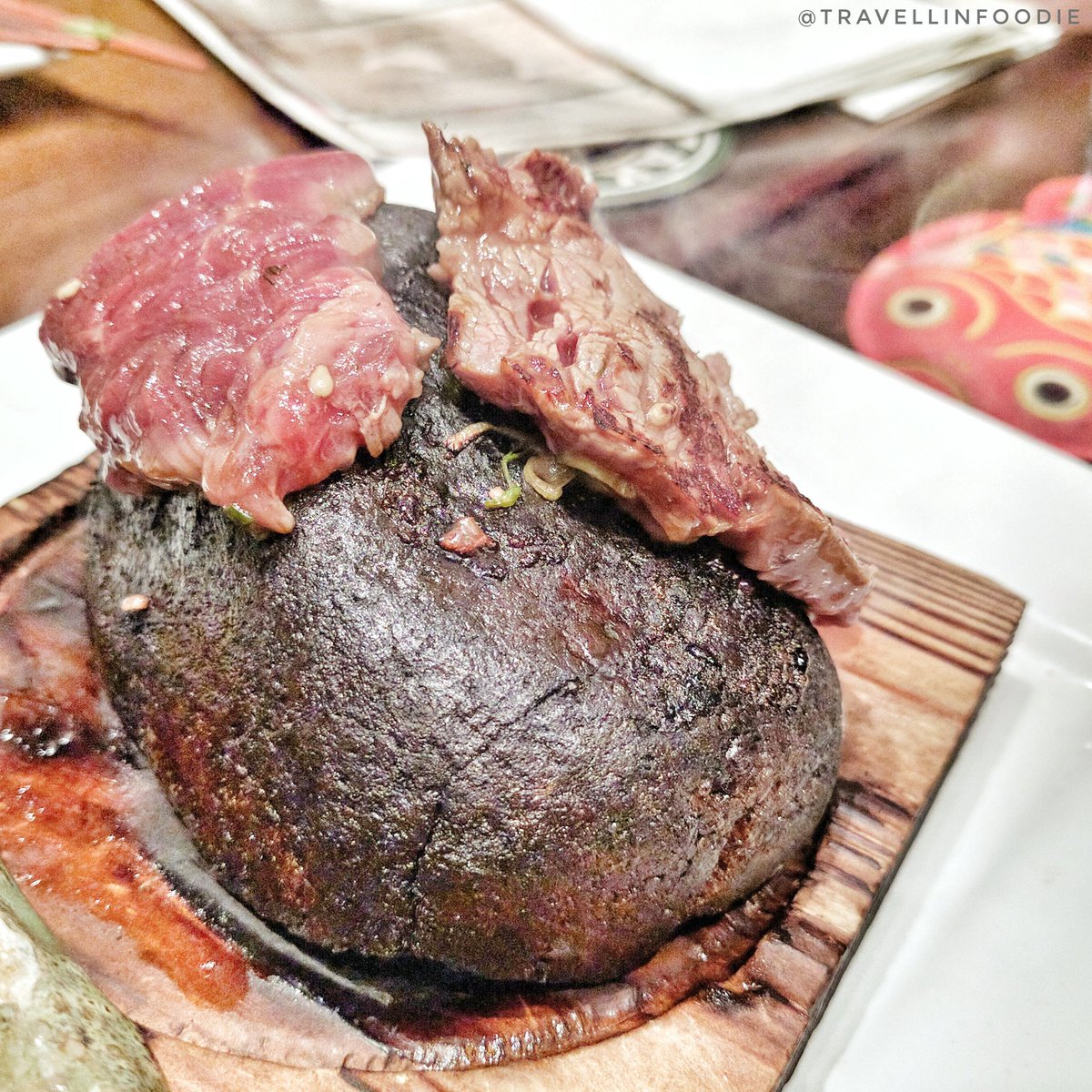 – December Special Menu – a sneak peek of what's appearing for the next month: Kaisen Sashimi Salad, Kakipi Bell Pepper & Oyster Skewers, Tantan Hot Pot with Ramen, Osaka Style Okonomiyaki
– Drinks Menu – two sake bottles (Kingyo Premium Reserved Sake and Kingyo X Izumi Special Collaboration Sake) and two from a list of drinks: I chose the Sake Bomb and Yuzu Orange Mojito
– Dessert Menu – showcasing Kingyo's new dessert
Travelling Foodie Favourites
I really love Kingyo's dishes so it's very hard to select just one, but I'll break it down based on the tasting menu.
From the Grand Menu, my most favourite is the Stone Grilled Beef Tongue. Beef tongue served with a hot stone for grilling, with cut lemons, coriander sauce & yuzu pepper on the side. I am a big lover of beef/ox tongue so this definitely is a must on my list. It's very hard to find places that offer this let alone have the option for stone grilling. The beef tongue was very tender and delicious, and goes so well with the various sauces they give. I suggest trying it without the sauce first, then trying each sauce individually after so you can really taste the difference.
From the November Special Menu, you'd think I'd say the Stone Grilled Beef Tenderloin but, since it's very much similar to the Stoned Grilled Beef Tongue, I'd rather choose something else. My most favourite was the Stone Bowl Eel Unagi Don – BBQ Eel, seasoned kelp, pickled mustard leaf, diced eggs, and diced cucumbers, topped with scallions served with a hot-stone bowl. I also love eel and this one sort of reminds me of the Korean Dolsot Bibimbap but with Eel. I like to mix everything up including the eel.
From the December Special Menu, my favourite is the Kaisen Sashimi Salad. A healthier take on their sashimi bowl, this item is 5 Kinds of Sashimi (salmon, scallop, botan ebi, tuna, and hamachi) and Salmon Caviar, Tobiko on Salad. What makes this dish even better is the sauce that comes with it!
For drinks, it was my first time trying the Sake Bomb, and it was so much fun! To make the experience authentic, Yuki and Sissi (the manager) sang the Sake Bomb song!
---
RESTAURANT:
Kingyo Izakaya Toronto
51B Winchester Street, Toronto, Ontario, M4X 1A8
Disclaimer: Although the food was complimentary provided by Kingyo Izakaya, the opinions expressed here represent my own and not those of the companies.