Planning a trip to Kerala, India? This travel guide features how you can spend a 4 day trip in Kerala.
One of the best ways to explore a new country is by going on a road trip, and that's exactly what I did for my trip to South India which included a 4 day trip in Kerala.
Did you know? Kerala is often called God's own country. Based on Hindu mythology, Hindu god Lord Parasurama created Kerala by throwing his axe across the sea to create new land.
I visited India for the very first time, and it was a memorable 12-day tour of South India with Travel XS, starting from the west end of Kochi in Kerala all the way to the east end of Chennai in Tamil Nadu.
If you're looking to visit India, here's an ultimate guide to 4 days and 3 nights in Kerala with some of the best things to do, restaurants and accommodations in Kochi, Alleppey and Thekkady.
Also Read: 4 Indian Recipes For An Authentic 3 Course Indian Meal
---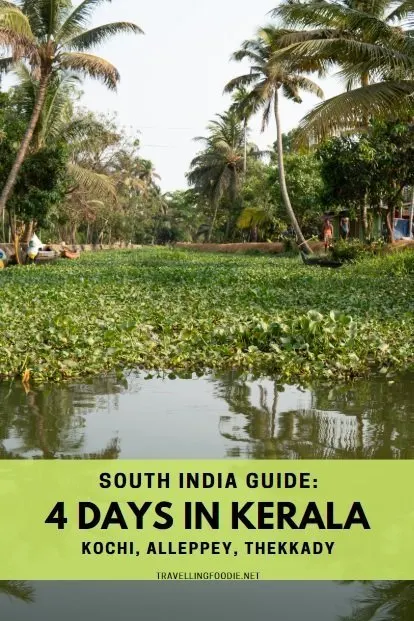 ---
Planning A Trip To India
Things You Should Know When Going To India
Do I need a Visa to visit India?
Visa is required for all foreign nationals visiting India. Luckily, you can apply online for an eVisa (USD$81.99), which is very convenient.
Once you submit the application, it only takes a few days to get the result.
When approved, you'll receive a PDF document for your eVisa to print and show at customs in India.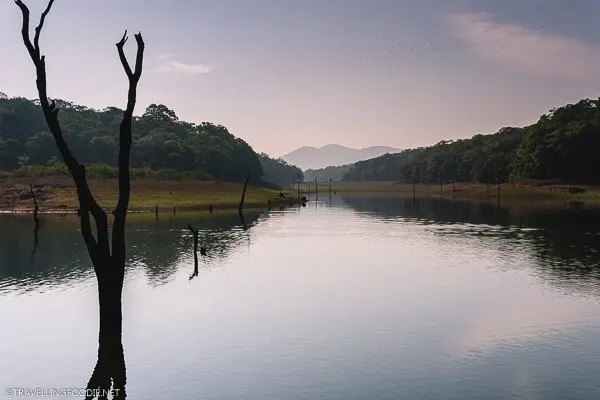 What currency is used in India?
Indian currency is Indian rupee (INR or Rs). Most hotels/resorts can exchange currency, but check with them prior to make sure your foreign currency is accepted.
Most accommodations also accept credit cards.
You'll need cash for any street food, buying from local vendors, or tipping.
Can I drink tap water in India?
Unfortunately, tap water in India is not drinkable.
You'll need to find bottled water, or at least filtered water, to make sure you won't have any problems.
Even the locals don't drink tap water. Hotels would typically provide bottled or filtered during your stay.
I highly recommend bringing a reusable water bottle when you're going on a road trip, and carrying it around in your bag.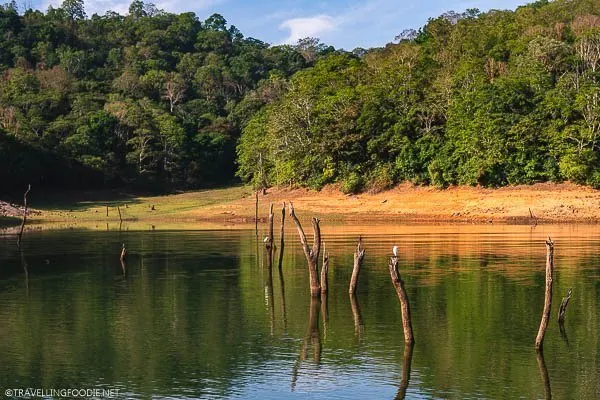 Will I be able to stay connected online while in India?
Surprisingly, Wi-Fi signal is pretty good in India. All the hotels I stayed in had Wi-Fi.
You can use a local SIM Card so it includes calls, texts and data.
Alternatively, I used a pocket wifi for the entire trip and was surprised that I had Wi-Fi signal majority of the time, even in very remote places like my overnight stay on a boat!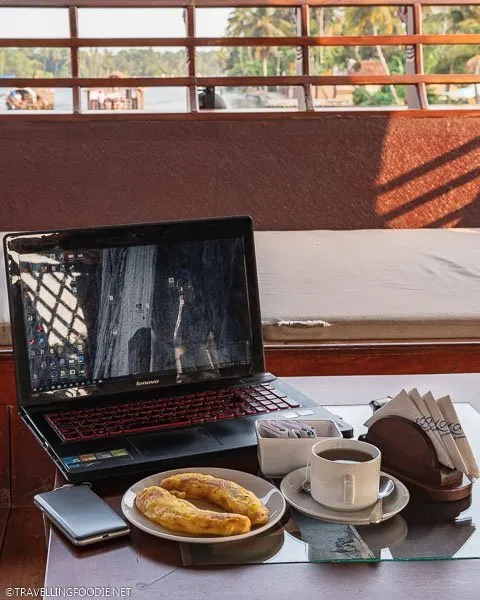 What's the weather like in India?
The weather in India depends on which region you're visiting (North or South), and the time of the year. From what I learned, South India is generally hotter than North.
The best time to visit is September to February where the temperature is cooler.
I visited in April and temperatures went as high as 40Cs (104Fs) with humidity.
During summertime, be sure to pack properly for hot weather: Bring a change of clothes because you will sweat a lot.
Bring sunscreen and lots of water.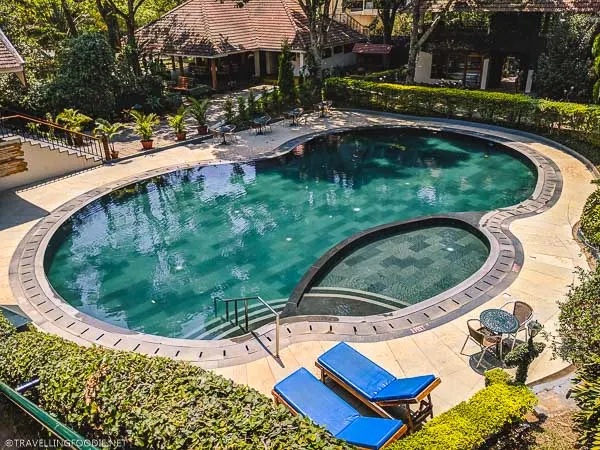 Should I tip in India? How much?
Tip at your discretion. Tip culture is quite ambiguous in India. From what I learned, back in the day, tipping wasn't expected.
However, due to foreigners from strong tipping culture like North America, the locals have started expecting tips from tourists.
No-Footwear Zones in India
Certain attractions, usually temples, don't allow footwear inside.
Unless you're fine leaving your footwear outside or paying for storage/security to locals, here are some tips:
Make sure you bring a bag to put your shoes in before going inside.
Bring old footwear that you're ready to lose and is less prone to being stolen.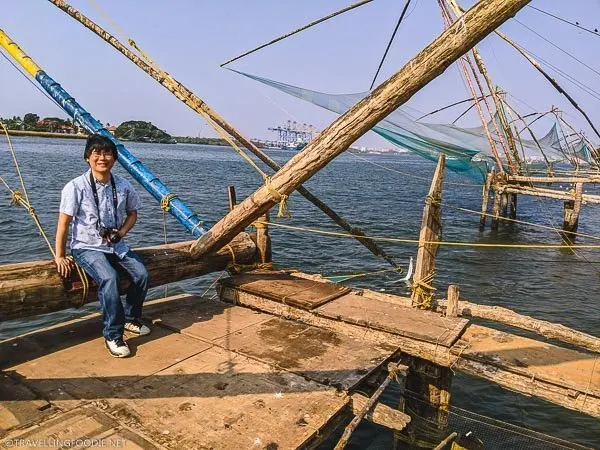 Do people speak English in India?
Yes, English is the second official language in India after Hindi.
Literacy is a high priority in India so almost all locals can speak English even in remote areas.
However, though people speak English, things around the city may sometimes be in Hindi only like signs, menu, etc.
Is it left- or right-side driving in India?
It is left-side driving in India. This means the driver sits on the right side of the car.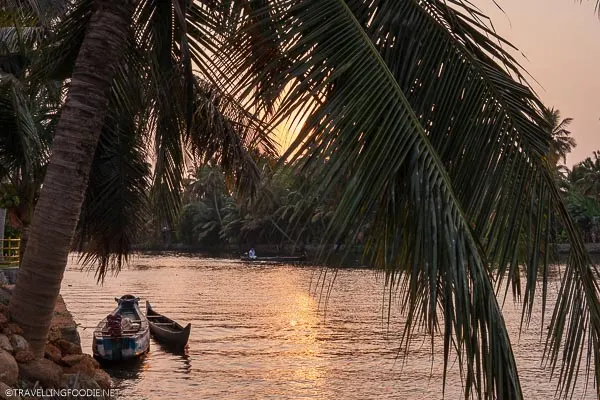 Do I need to get vaccinated before going to India?
The Government of Canada provides a list of vaccinations to consider when travelling to India.
Note though that this is only for consideration – it is not a requirement.
It is really up to you if you think you should get it. I had friends who went to India and took the vaccinations.
They can be costly, adding up to at least $1000 in total.
Personally, I didn't take the vaccinations.
Why? Coming from the Philippines, I checked what the recommended vaccinations are to travel to the Philippines and they were exactly the same as India's.
Since I never had any problems in the Philippines without the vaccinations, I just assumed I'd be fine in India.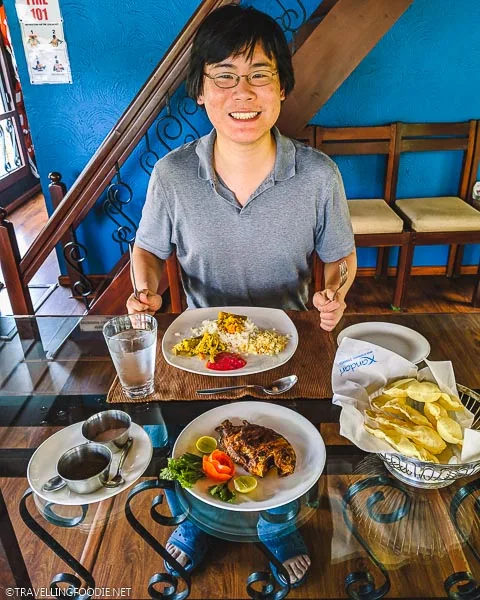 Why You Should Do A Tour Package in India
When going to an exotic destination like India, especially for the very first time, I highly recommend going on a tour package.
Why? Doing a tour package helps alleviate the stress of trip planning and the nitty-gritty details of being in the destination including accommodations, transportation, food, attractions, language-barriers, etc.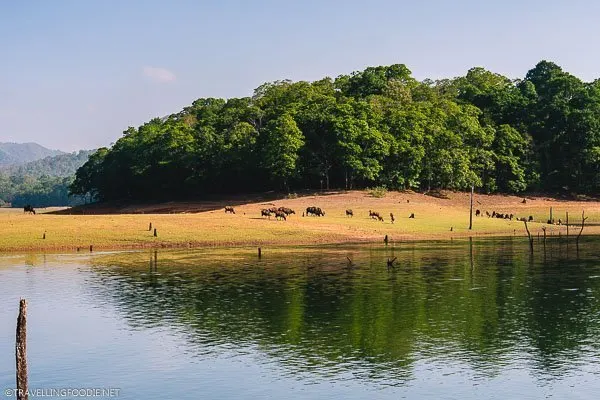 I did the 12-day Splendid South India Tour with Travel XS, one of the best tour companies in India, having operations and tour packages worldwide.
I decided to go with an Indian company because they would know India and be the best people to design a tour of India.
They are locals after all.
During and after the trip, I knew I made the right decision.
Maybe if you are just visiting one city, then it's fine to plan it on your own.
But, doing a road trip like I did is definitely much better and stress-free with a tour package.
I didn't have to worry about transportation to/from the airport, and all throughout the road trip.
Since India is left-side driving, having not to drive is a big relief!
Also Read: Group of Monuments at Mahabalipuram, a UNESCO World Heritage Site in India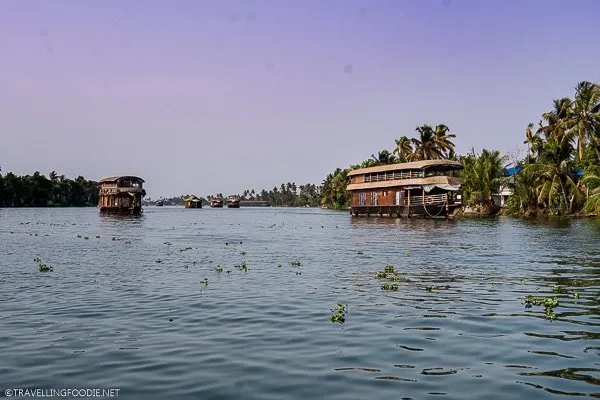 You'll be with one driver/guide throughout the tour and he speaks English.
I recommend asking for Mr. Mahesh, who made my tour extra special.
The driver also doubles as a local guide, being knowledgable of the history, culture, and places you're visiting on the tour.
He made extra stops en route for points of interests.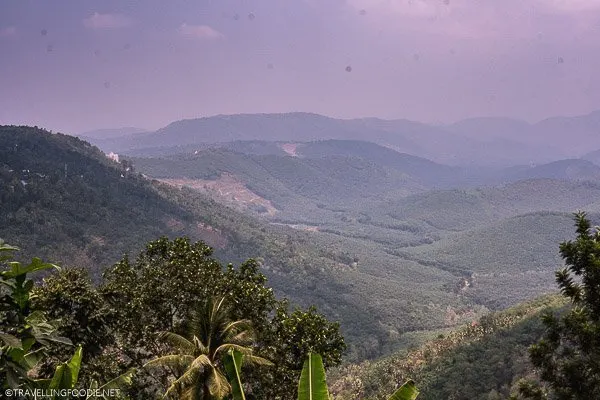 With so much driving throughout the trip, you will learn a lot from the guide which makes the drive less boring.
Trust me, you and the guide will become friends after the tour.
There was always water handy in the car as well as an umbrella if you want shade from the heat or rain.
The tour is flexible and the guide will accommodate necessary changes in itinerary.
When he drops you off for the night, he will confirm schedule and timing with you for the next day.
For example, we shifted some of the activities to before lunch or after afternoon to avoid the extreme heat in the afternoon.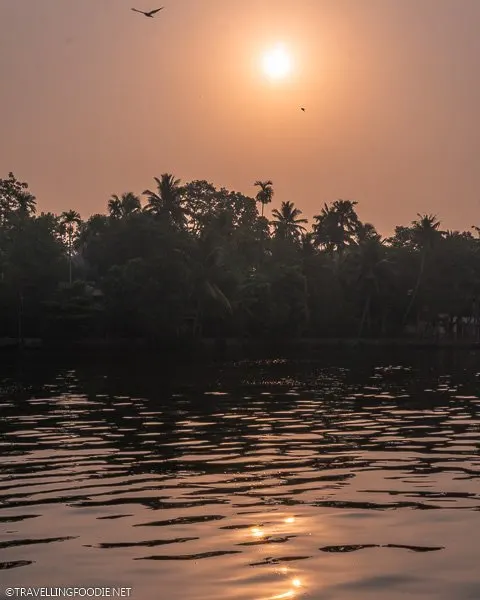 Everything is just more convenient and smooth because he would pick you up and drop you off in all the places in the itinerary.
You won't worry about getting lost or being late.
With the No-Shoe attractions, I would often leave my shoes in the car then walk to the place.
Because you're with a trusted local tour company, they have deep ties to the communities and their partners are very accommodating and helpful.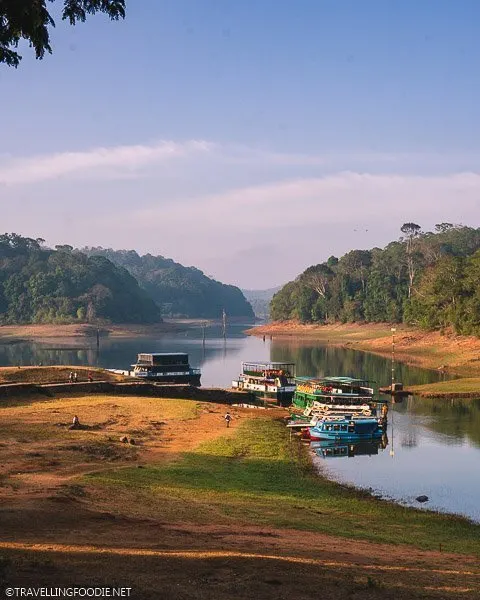 There was an incident where I left behind some clothing after checking-out at Brunton Boatyard in Kochi.
The resort actually called Travel XS about it and they shipped the clothing for me to pick-up in Mamallapuram on my last night of the trip.
Lastly, a really important thing is that Travel XS tours are private and highly customizable.
It's not one of those big group tours where you are with strangers and dependent on their travel habits.
Since it's a customizable tour, they can design the tour to fit any budget and to help you find the activities you want to experience that suits your travel style.
Also Read: 4 Day Food Trip in Saint John & Fredericton, New Brunswick
Common Misconceptions about India
We all have preconceived notions about destinations we haven't been to.
I find this is even more so for India, where mainstream media has depicted a bad picture in news.
Here I'll shed some light on the top 3 misconceptions about India that I noticed from news and what people told/asked me.
India is dangerous
Perhaps the most prevalent misconception about India is it's dangerous, and that's because of the news we see or read online that mainly talks about terrorism, fights and rapes in India.
As a traveller, I strongly believe danger can happen anywhere you go.
Throughout the India tour, I never felt that safety was a concern, and this includes wandering around the streets at night for street food with just myself and a guide.
It's the precautions you take that makes the difference.
You'll always want to research places known for crimes, or make sure to lock your doors, or not leave important belongings behind.
India is a rather conservative country, and that includes clothing.
Though the weather can be hot, I highly recommend as a precaution that women not wear revealing clothes.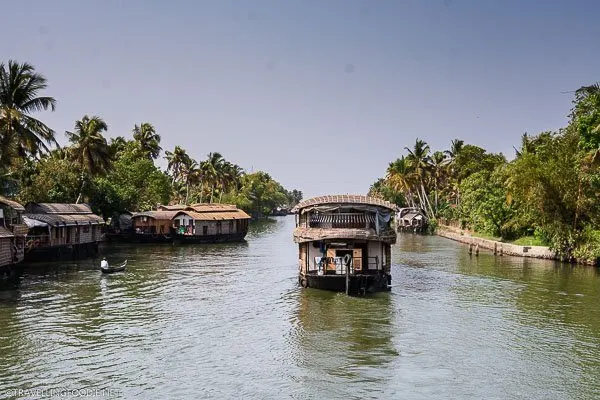 Indians are all Hindus and they discriminate other religion
Though Hinduism is the largest religion in India at 80%, other religions exist and are widely accepted like Islam, Judaism and Catholicism.
Unlike what is widely portrayed in media, people with varying religion live harmoniously together.
In Kochi alone, you'll find Catholic Churches, Jewish Synagogues and Muslim temples.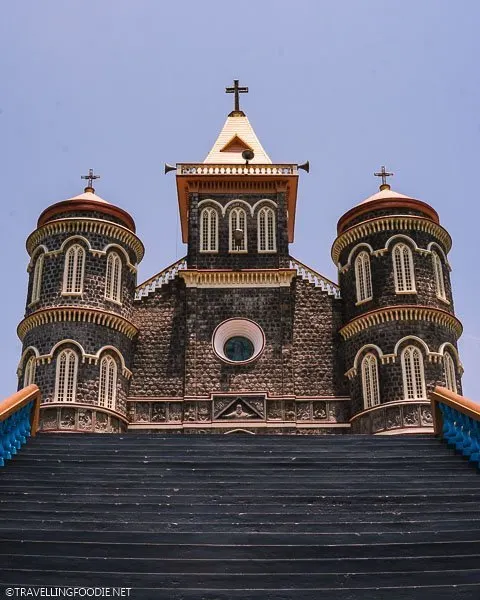 India smells
After my trip, a lot of people asked me if it smells in India.
Honestly, it wasn't.
Obviously, depending on the places you visit, it might be, but this is true for any other country.
There is no lingering scent of curry or anything that's prevalent.
If you go to busy market streets with food/trash on the ground or cows walking amok, then you might smell something.
But I never felt the need to cover my nose or wear a gas mask.
I felt the smell was mostly amplified due to the heat and humidity.
If you go on cooler times, then it probably won't even be evident.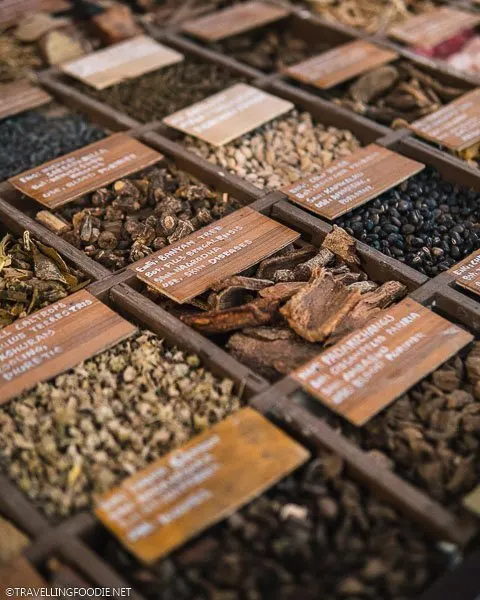 ---
South India Travel Guide: 4 Day Trip in Kerala
For the 4 day trip in Kerala with Travel XS, we visited Kochi (Cochin), Alleppey and Thekkady before heading to Tamil Nadu.
Did you know? Kerala actually means Land of Coconuts Trees. "Kera" means coconut tree, and "Alam" means land.
Kerala is one of the largest producers of coconut in India so you'll commonly find the use of coconuts in Kerala cuisine, mostly for curries.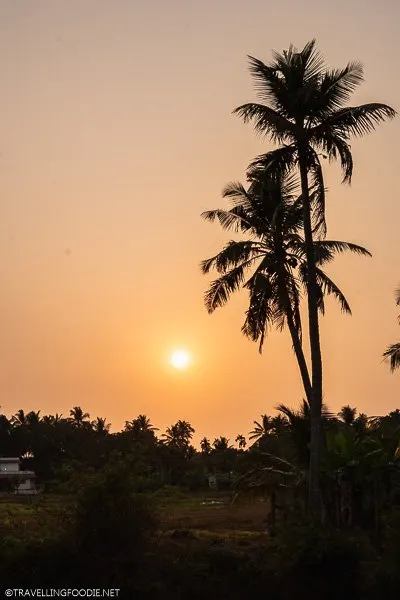 Aside from coconuts, Kerala's industries involve exporting seafood (especially fishes and prawns from the river and sea), tourism, and steel and aluminum production.
From here, you'll learn a detailed itinerary on how to spend 4 Days in Kerala with what to do, where to eat and stay in Kochi, Alleppey and Thekkady!
Everything covered in this guide was part of my Travel XS South India Tour. I also made a YouTube video here.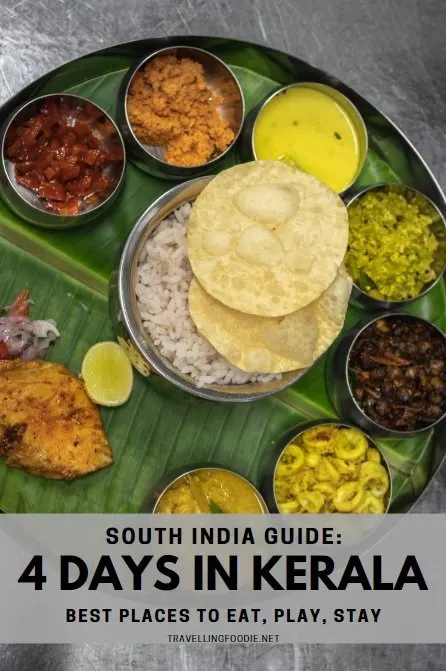 Kerala Itinerary Day 1: Kochi
Welcome to Cochin, South India! Kochi is a colonial port town of Kerala since 1341 when a flood carved out its harbour.
Kochi's population is 3 million out of the 33 million in Kerala.
Did you know? The Cochin International Airport is 100% solar-powered since 20 years ago.
From the Cochin International Airport, it takes 1.5 hours by car to Kochi Proper.
The city of Kochi has 3 parts: Ernakulam, Willingdon Island and Fort Kochi.
The district of Ernakulam is the business district of Kochi and considered to be the commercial capital of Kerala.
The Willingdon Island is the largest artificial island in India, made by British harbour engineer Robert Bristow in 1930s.
It is fully owned by the government: half of which is used for the navy and the other for business.
Fort Kochi is a sea-side neighbourhood with a mix of residential and businesses. It is the oldest European settlement in India.
You'll find Portuguese, Dutch and British influences are evident in the architecture, a reminder of the foreign traders who came over the centuries to buy spices.
Here's the Kerala guide with 11 of the best things to do, restaurants and accommodations in Kochi for one night!
One Night in Kochi
Do a tour Fort Kochi by wandering the old districts of Mattancherry and Fort Cochin.
Dutch Palace
Also known as Mattancherry Palace, the 16th-century Dutch Palace was built and gifted by the Portuguese to the King of Kochi Veera Kerala Verma in 1555.
During the 15th century AD, the Kochi Royal family shifted their capital from Mahodayapuram to Kochi as a precaution against the attacks of Zamorin of Kozhikode.
The Portuguese who landed in Kochi were permitted by the rulers to build factories in Kochi for their trade activities and in return sought military assistance against Zamorin of Kozhikode.
Did you know? Though it was built by the Portuguese, it is called Dutch Palace because of the major repairs made by the Dutch.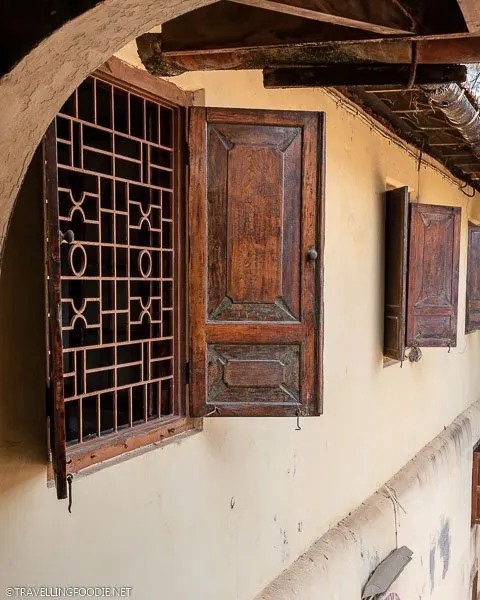 Inside one of the best attractions in Kochi, you'll find a vast collection of life-size portraits, various artifacts and murals depicting popular Indian stories like the epic Ramayana and Mahabharata.
Note: Photography and videos are not allowed inside.
Website / Address: Mattancherry, Kochi, Kerala 682002, India
Hours: 10am-5pm on all days except Friday
Price: 2 Rs/person at least 15 years old
---
Paradesi Synagogue
Built in 1568 by the Jewish community of Cochin, the Paradesi Synagogue is the oldest synagogue in India as well as the entire British Commonwealth.
One of Fort Kochi's best things to do, the Paradesi Jewish Synagogue is the only functioning synagogue in Kochi, located in Jew Town next to the Dutch Palace.
Did you know? In most Indian languages, "Paradesi" means foreigner.
From the entrance, you'll find a museum on the right where you'll find historical artifacts and artwork.
Straight from the entrance is the synagogue where you'll find rare antiques, 19th-century glass chandeliers, hand-painted blue willow patterned tiles (each tile is unique), and the famous carved teak art that contains the four scrolls of the Torah encased in silver and gold.
Note: Photography and videos are not allowed inside. No shoes are allowed inside the Cochin Synagogue.
Website / Address: Synagogue Ln, Jew Town, Kappalandimukku, Mattancherry, Kochi, Kerala 682002, India
Hours: 10am-1pm, 3pm-5pm on Sunday to Thursday. 10am-1pm on Friday. Closed on Jewish Holidays.
Price: 5 Rs/person above 5 years old
Dhobi Khana Public Laundry
One of the most unique things to do in Kochi is to check out the Dhobi Khana, a historic community laundry space run by Tamils in the Vannan Community.
Here you'll learn about natural washing and drying for laundry.
You'll find washing "cells" with concrete washbasin and a stone slab to clean the fabric by slapping.
You'll also find a big field of clotheslines made with braided coir fiber to hang the clothes for drying.
Did you know? This Dhobi Khana in Veli Road in Kochi was built in 1976 .
They use heavy charcoal irons for ironing. It's quite interesting to see them heat the charcoal with fire before ironing.
Quite a big difference from today's electric irons.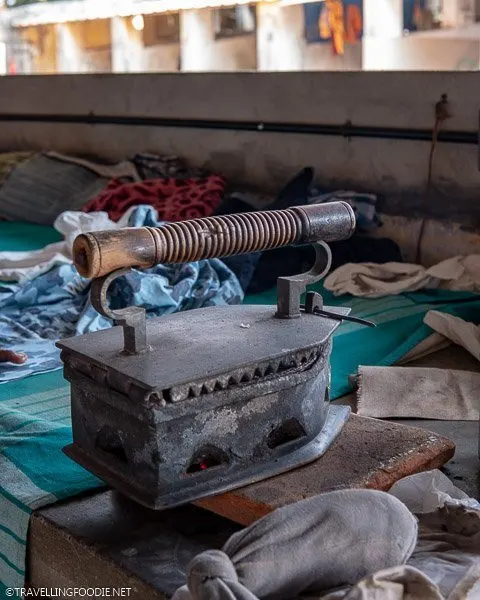 This laundry service is an extensive operation: there are about 40 families in the community who use the Dhobi Khana to wash for houses, hospitals, hotels and government firms.
Address: Veli, Kochi, Kerala 682001, India
---
Armoury Restobar at Brunton Boatyard
Head to lunch at Armoury Restobar inside the Brunton Boatyard in Fort Kochi, where I also stayed the night.
Decked with guns and various weaponry inside, the Armoury restaurant offers both continental and South Indian options.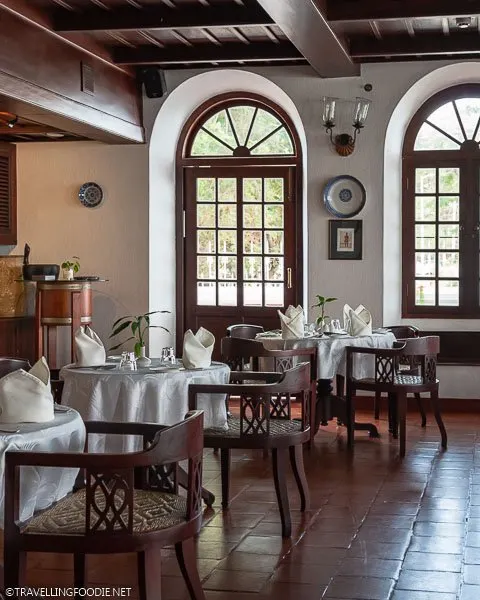 It was my first time having spicy version of papadum (thin crispy Indian flatbread/cracker) and it's highly addicting if you love spicy.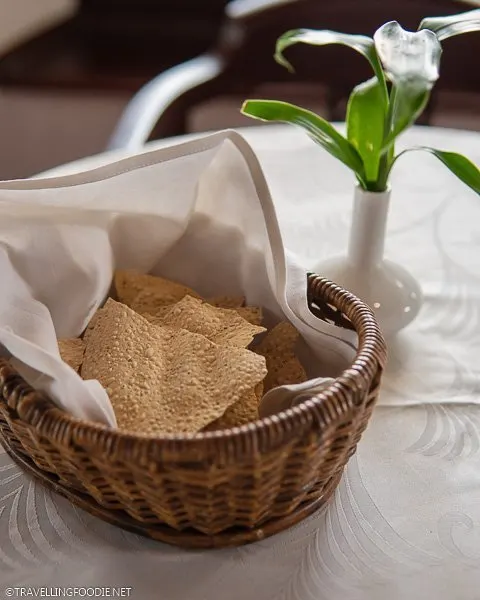 I really enjoyed the Kerala Seafood Meal, which has a good sampling of Kerala cuisine served as a Thali.
Going clockwise from the first bowl on the left, you've got the following:
Mango pickle
Coconut chutney
Pulissery (yogurt yellow curry)
Thoran (vegetable with crushed coconut)
Ularthiyathu (clams cooked in thick gravy)
Calamari cooked with crushed coconut
Konju curry (tiger prawns cooked with raw mango gravy fished with coconut paste)
Fish fillet (with salad)
Rice and Papad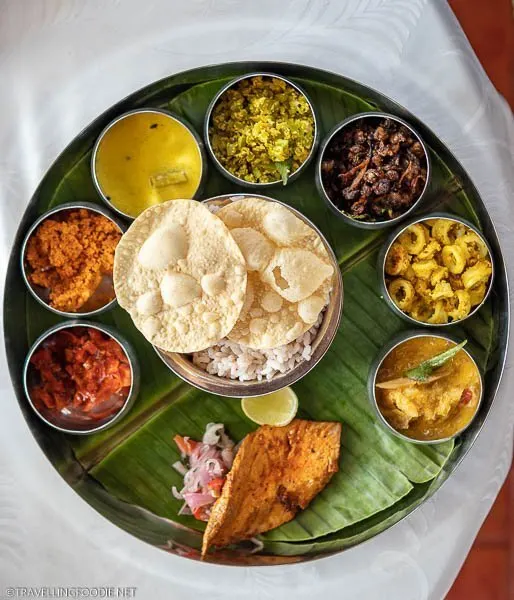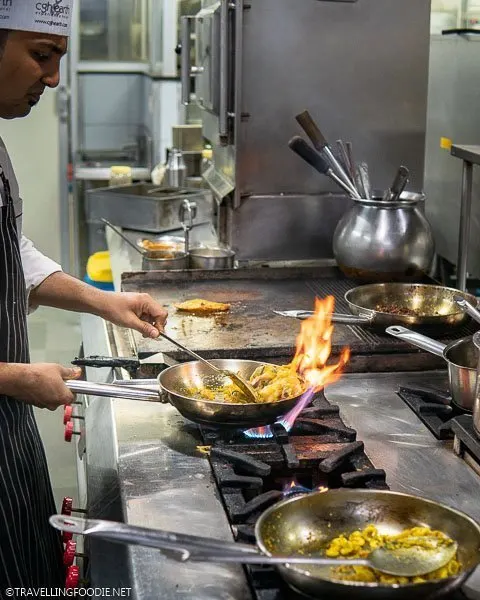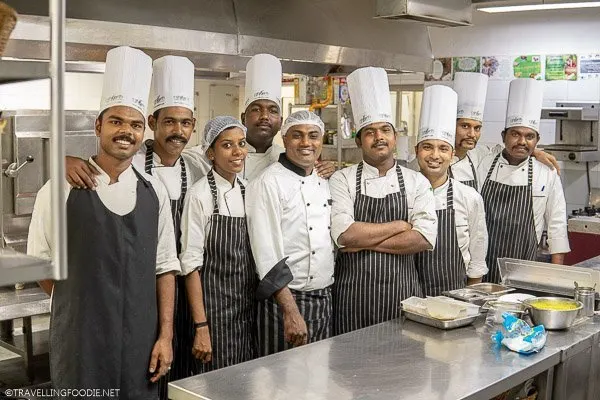 Address: 1/498, Calvetty Road, Fort Kochi, Kochi, Kerala 682001, India
Also Read: Instant Pot Beef Biryani
---
Santa Cruz Cathedral Basilica
One of eight Basilicas in Kerala, the Santa Cruz Cathedral Basilica is one of the heritage edifices of Kerala, serving as the cathedral church of the Diocese of Cochin.
Did you know? The Santa Cruz Cathedral Basilica's history begins with the arrival of Portuguese missionaries when the first Portuguese Viceroy Dom Francisco de Almeida got permission from the Cochin Raja to build a church.
The interior has Gothic style architecture with ceilings that have paintings depicting scenes from the Via Crucis of Christ (Stations of the Cross).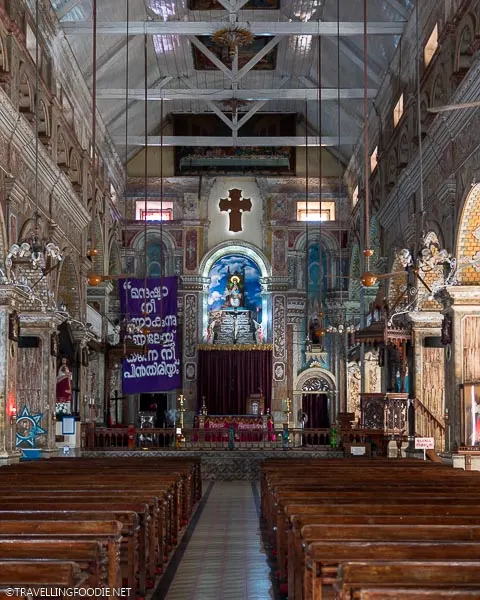 Address: Bastian St, Fort Nagar, Fort Kochi, Kochi, Kerala 682001, India
---
Fort Kochi Beach
The Fort Kochi Beach, often known as "Queen of the Arabian Sea", is a scenic beach frequented by both tourists and locals.
Certain points of interests can be found near the beach like the Chinese Fishing Nets, the Vasco da Gama Square and a lighthouse.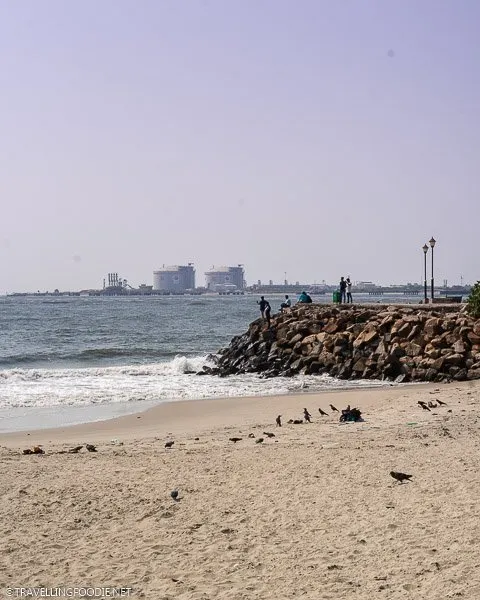 On New Year's Eve, the Cochin Carvinal, one of the best festivals in Kochi, is held at Fort Kochi Beach.
Did you know? You cannot swim on Fort Kochi Beach because the waves are so strong.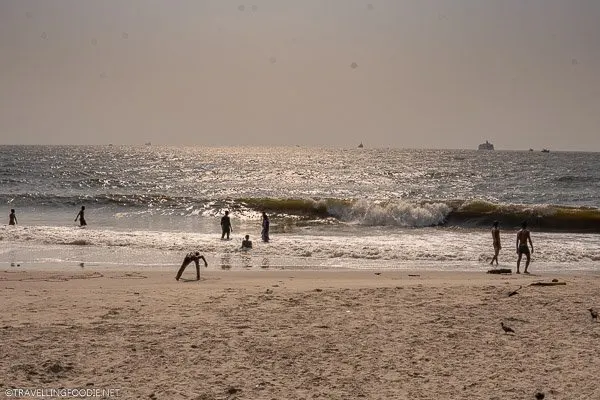 If you enjoy beaches, you might also like Daytona Beach in Florida!
Address: Fort Kochi Beach, Kochi
---
St. Francis Church
One of Fort Kochi's best attractions is St. Francis Church, the first and oldest European church in India and a centrally protected monument under the control of Archeological Survey of India since 1923.
This major landmark was built in the 16th-century AD, reflecting the struggle of the European powers in India from 15th to 20th centuries.
The east-facing St. Francis Church has a frontage that reflects the typical Portuguese style: arched opening, one of the tiers has flanking windows between the pilasters, a belfry over the gabled front and stepped pinnacles on the sides.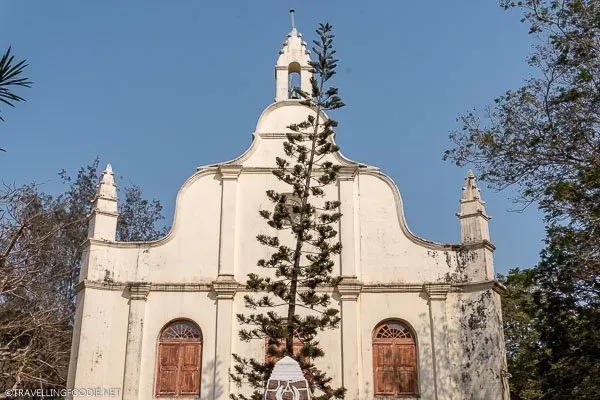 Did you know? The first Portuguese explorer and the first European to reach India, Vasco da Gama's mortal remains was buried in St. Francis Church.

Later on, his son, Pedro da Silva da Gama took his remains back to Portugal in 1538 AD.
Website / Address: Saint Francis Church Road Opp, Head Post Office, Fort Kochi, Kochi, Kerala 682001, India
---
Chinese Fishing Nets
One of the most photographed attractions in Kochi is the Chinese Fishing Nets, also called Cheena Vala.
They are stationary fishing nets that are on fixed land installations that go up and down to catch fish and crustaceans.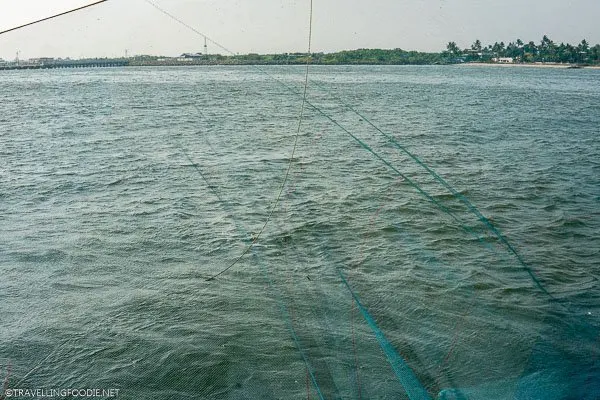 The Chinese Fishing Nets are aptly named because they were introduced by Chinese explorers in the 14th century since these nets are used throughout coastal southern China and Indochina.
Travelling Foodie Tip: When a local asks if you want to go up-close with the Chinese Fishing Nets, you are expected to pay.
When I was walking around the Chinese Fishing Nets, a local who owned one called me down and asked if I wanted to see the nets up close.
There was no sign for fees or anything so I thought it was just a nice gesture for tourists.
After I finished checking it out, he then asked me for money.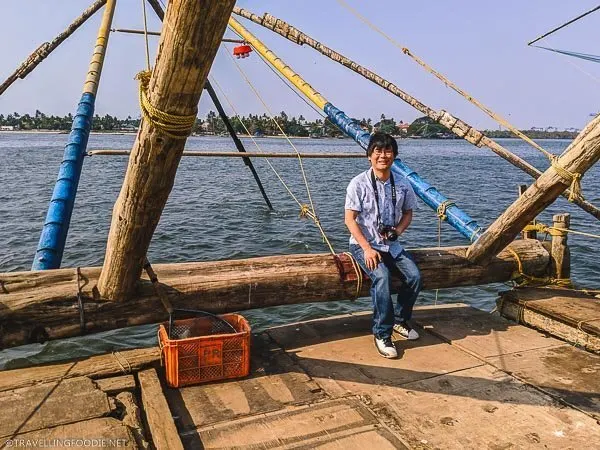 Address: Fort Kochi, Kochi, Kerala 682001, India
---
Kathikala Show at Greenix Village
One of the best cultural things to do in Kerala is to watch the Kathakali, the famous dance drama of Kerala.
In the evening at 6PM, head to the Greenix Village to watch the hour-long dance that's characterized by storytelling of Hindu epic stories, elaborate costumes and colorful make-up.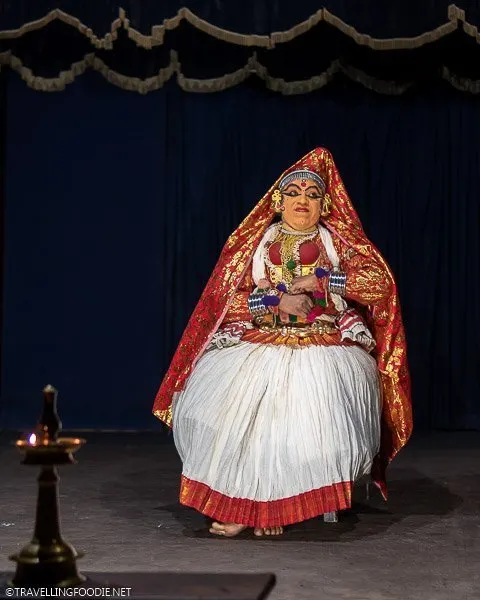 Did you know? It takes the artists years to prepare for their roles before they can go on stage.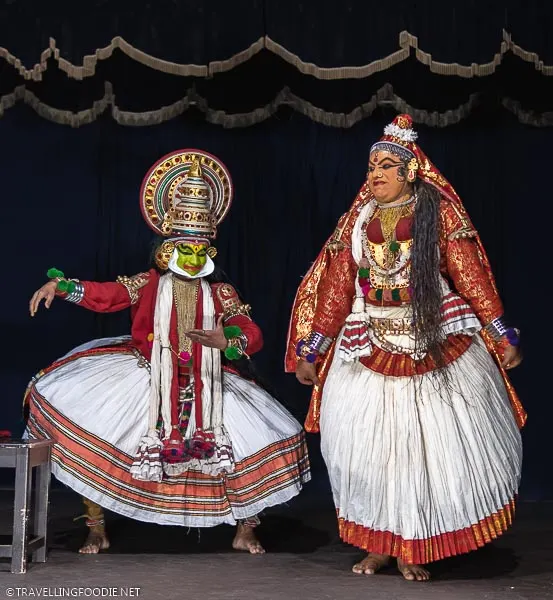 If you're interested to see the Kathakali Make-up session, head over at 5PM where you'll see the actors preparing, applying make-up and posing for some photos.
Travelling Foodie Tip: I feel that coming between 5:30-5:45pm is good enough so you get a sense of how the make-up is done without having to wait long for the actual show.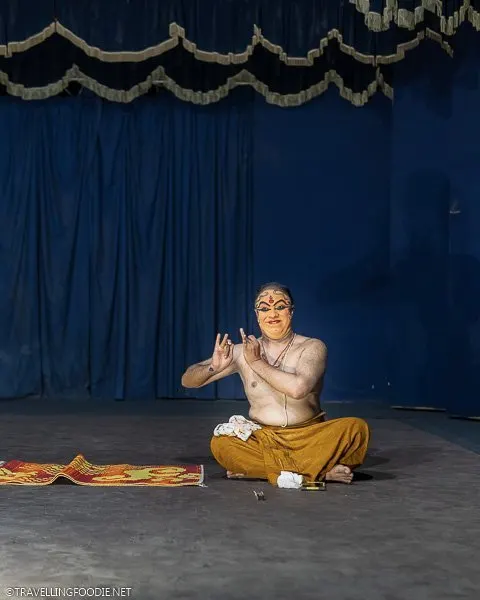 Make-up is a huge factor in Kathakali as each color denotes a particular quality.
For example, green denotes godliness and red denotes turmoil.
On top of that, the usage of each color represents specific types of characters e.g. male or female, good or bad.
For example, Taadi, or beard, makeup is for both godly and demonic characters. Red Taadi is for evil characters like Sugriva and Baali.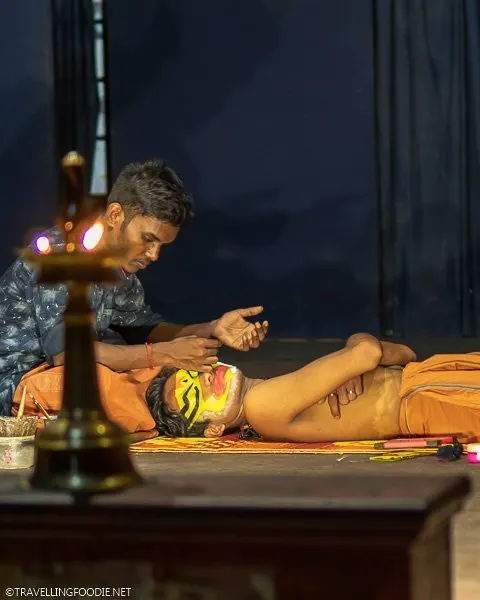 Website / Address: C.C. 2/481, Calvathy Rd, Calvathy, Aspinwall Junction, Kunnumupuram, Fort Kochi, Kochi, Kerala 682001, India
---
Fort House Restaurant at Fort House Hotel
For dinner, walk across the street to Fort House Restaurant which specializes in seafood dishes, a hallmark of the Kerala Latin Christian cuisine.
Fort House Restaurant is one of the best restaurants with waterfront views in Fort Kochi.
And since Kochi is a colonial port town, dining with views of the Arabian Sea is not to be missed!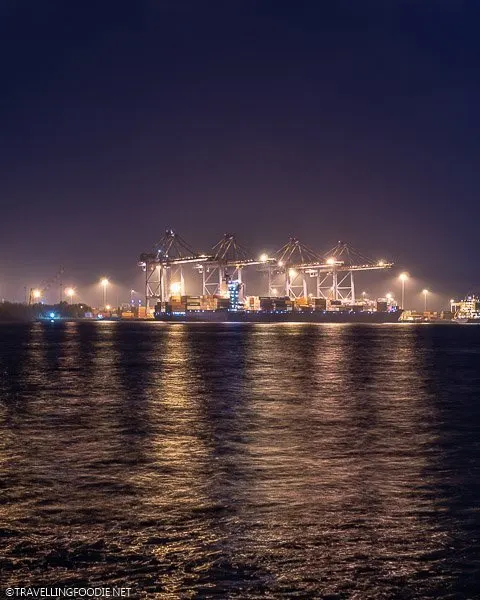 Aside from coconuts, both mango and jackfruit are also commonly used in Kerala cuisine due to their abundance.
Definitely try a bit of Kerala curry and mango curry while you're here and you won't be disappointed!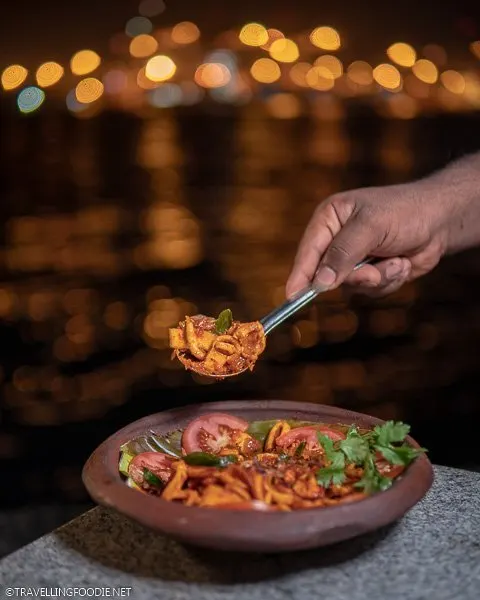 They even have Kerala Pancakes which is really more liked crepe stuffed with shaved coconut.
Website / Address: No.2/6A, Calvathy Rd, Fort Kochi, Kochi, Kerala 682001, India
---
Brunton Boatyard
Where to stay in Kochi? Stay the night at one of the best hotels in Kochi, the Brunton Boatyard, which overlooks the Arabian Sea.
This five-star hotel is a former shipyard in British times and restored as a colonial building with wooden high ceilings, terracotta floors, lime plastered walls and old teak wood furniture.
Did you know? The name Brunton Boatyard came from the erstwhile boatyard started by Geo Brunton in the 19th century.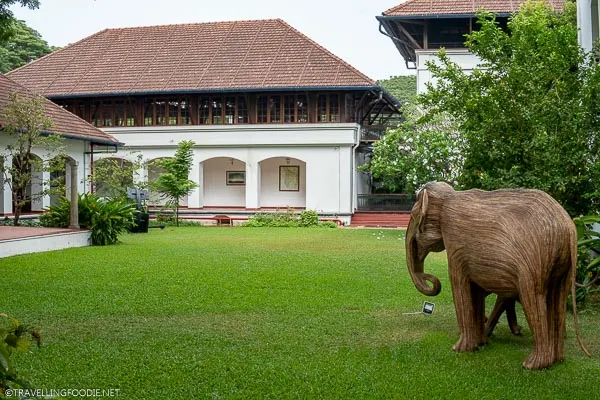 On the courtyard, you'll find a rain-tree (Samanea saman) that was brought to Cochin by the Europeans. This tree is native to South and Central America.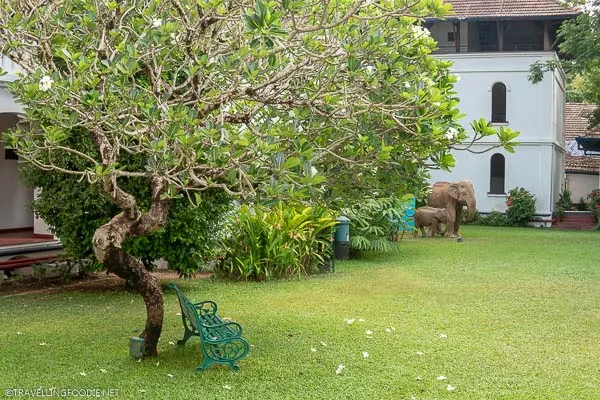 I stayed at the Sea Facing Room which has a balcony and bathtub with views of the sea.
Perfect to watch the sunrise or sunset.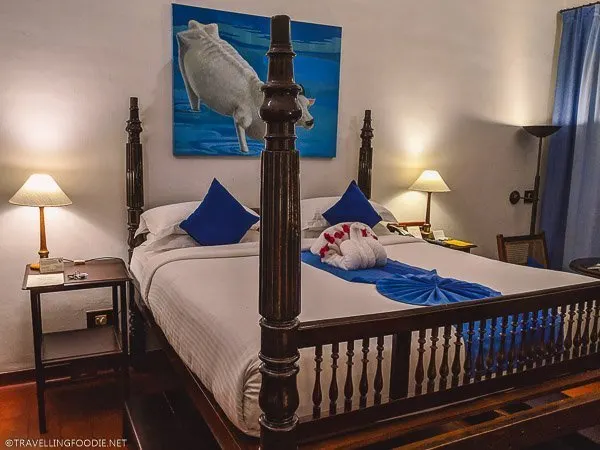 You're also provided with complimentary tea and pure bottled rainwater.
The bottled rainwater is a nice touch to reduce plastic waste and also conserve water.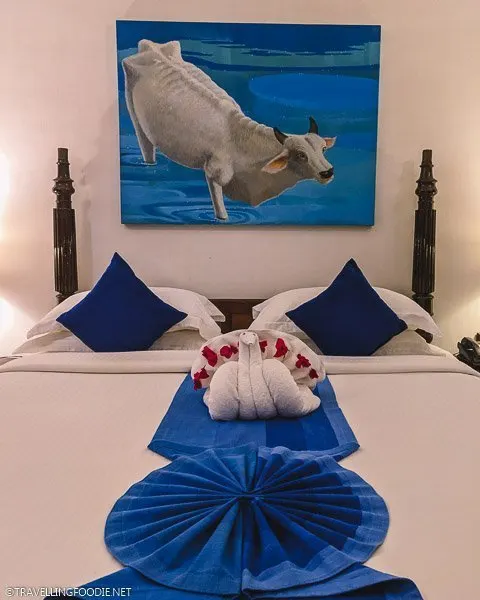 The stay comes with breakfast which includes continental breakfast, sugar-free breakfast and local breakfast.
Obviously being in India, I highly recommend going with the local breakfast.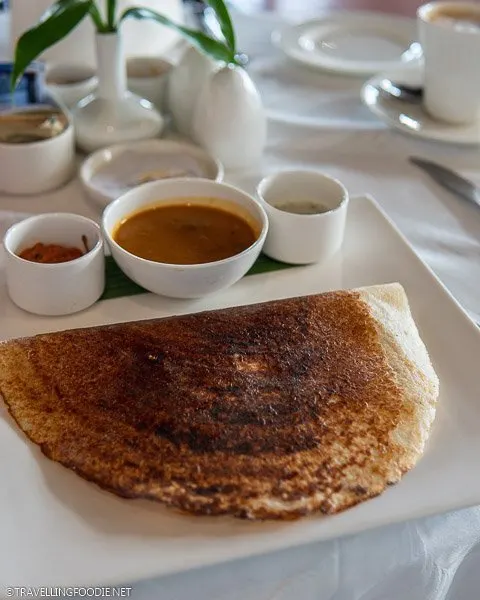 Their local breakfast is either a daily changing Mattancheri breakfast choice or Dosa, crispy pancake-like preparation made of fermented rice and lentil batter that's a popular Indian street food.
I love dosa but don't get to eat it much in Toronto so I opted for Masala Dosa, which is stuffed with potato and onion, and cooked in mild spices.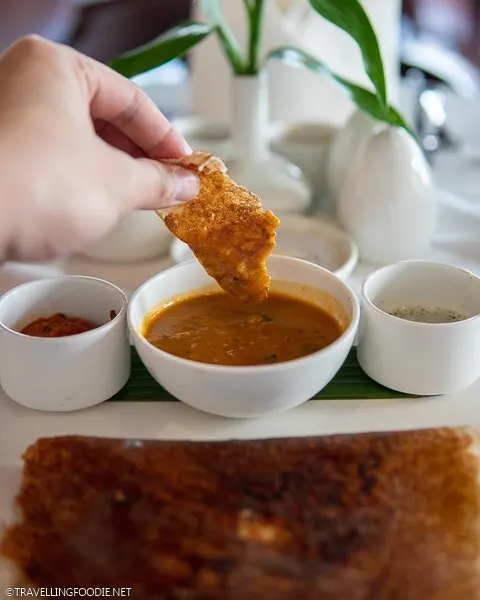 Check for prices and availability on Booking.com / Agoda
Website / Address: 1/498, Calvetty Road, Fort Kochi, Kochi, Kerala 682001, India
---
Kerala Itinerary Day 2: Alleppey
After breakfast, you are headed to Alleppey (Alappuzha) which takes 1.5 hours from Kochi.
Alleppey is a very unique city because the population's whole life takes place on the waters.
Did you know? With its 900-km of canals, backwaters, beaches, and lagoons, Alleppey is known as the "Venetian Capital" of Kerala.

It was called the "Venice of the East" by Lord Curzon, a British statesman and Viceroy of India.
The best thing to do in Alleppey is staying overnight in a houseboat (or kettuvallam) which takes you on a tour through the backwaters, a splendid area full of canals, lakes and coves.
One Night in Allepey
Your entire time in Alleppey will be on the houseboat.
Seriously, this is one of the best things to do in Kerala and India.
Did you know? There are around 3,000 houseboats in Alleppey and its neighbor across, Kumarakom.
This is definitely one of the most unique experiences I've done in my travels, and I'm so glad I got to do it! Watch the video below to see what I mean.
Check out this unique experience I did in California!
Xandari Riverscapes
Xandari Riverscapes is one of the best houseboat tour operators in Alleppey.
I stayed in one of their ten hand-stitched traditional houseboats, built with wood harvested from local jackfruit tree plantations.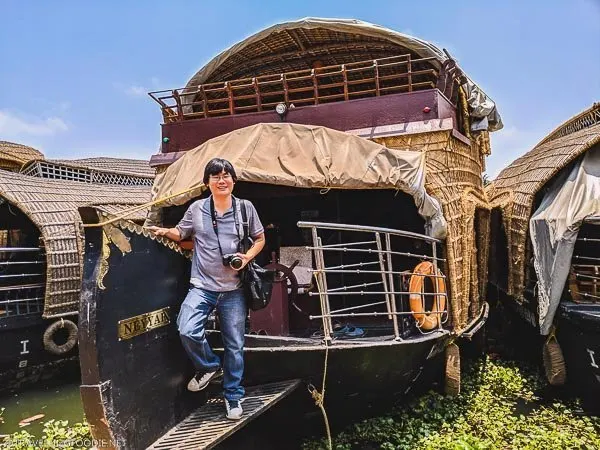 Throughout the tour, there were 3 staff members with me the entire time: the captain, the chef and the engineer.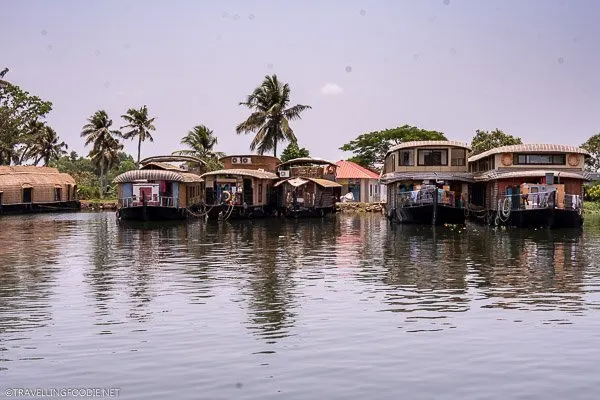 My houseboat had one bedroom, an upper deck and dining room.
The common areas are all open air to enjoy the fresh air of the backwaters.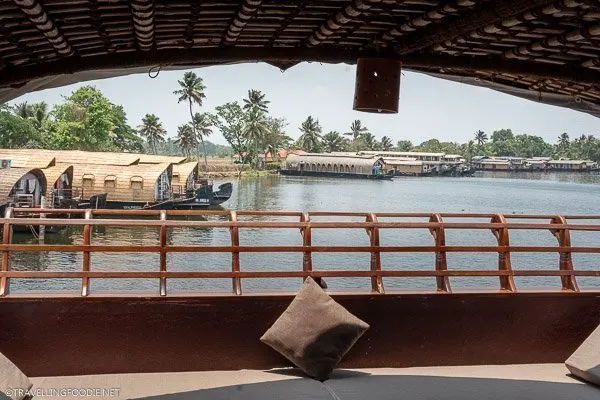 The tour takes you through areas full of palm trees, rice fields and floating water plants that surround the boat.
Lunch, dinner and next day's breakfast are all included in the stay.
The meals are all authentic local cuisine made fresh by the chef on board.
Food is farm-to-table as all produce, seafood and meat are supplied by local farmers and fishermen.
Beautiful dining with a view here!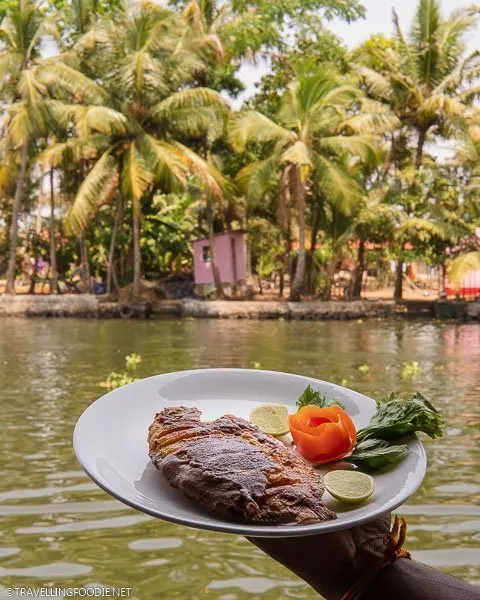 You'll get to try their famous local fresh water whitefish called Karimeen (pearl spot in English).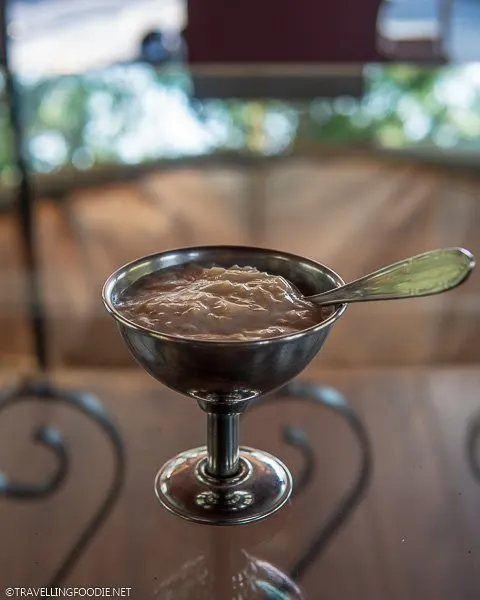 After lunch, you'll be going on a one-hour wooden canoe excursion exploring the backwater canals where you'll see how the locals live life on the waters.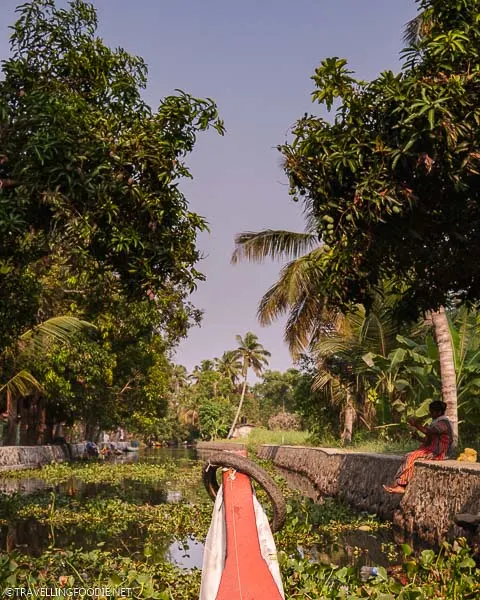 The people sail, fish, swim and bathe here. They do their washing and their washing up too.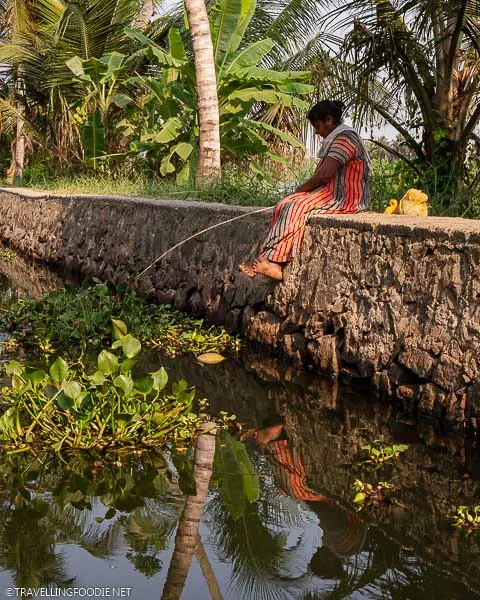 By sunset, you'll be docking for the night at a village which you're free to explore.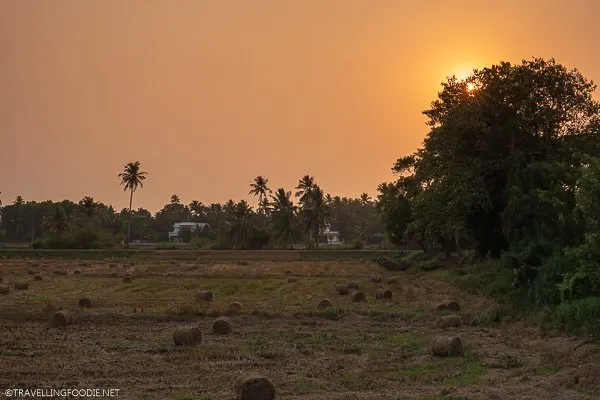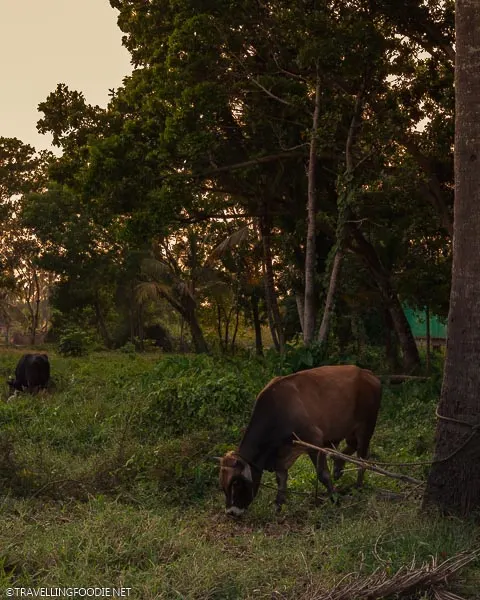 Dinner had more variety of food.
You'll also get to try traditional Kerala rice that's grown exactly in the location where the houseboat ply the waters.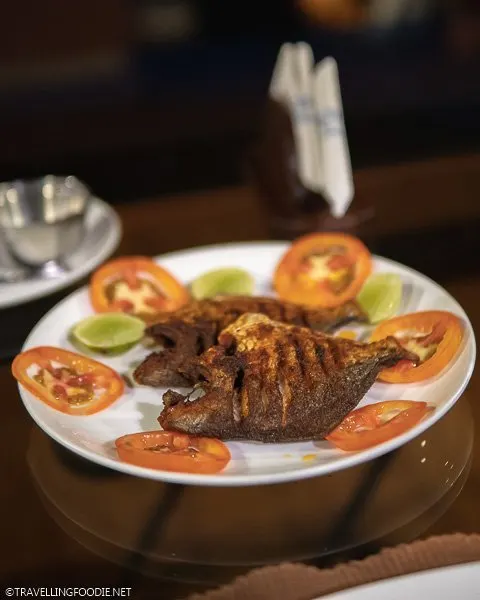 The bedroom is 14 square-meters and has a bathroom and shower. Only the bedroom is air-conditioned.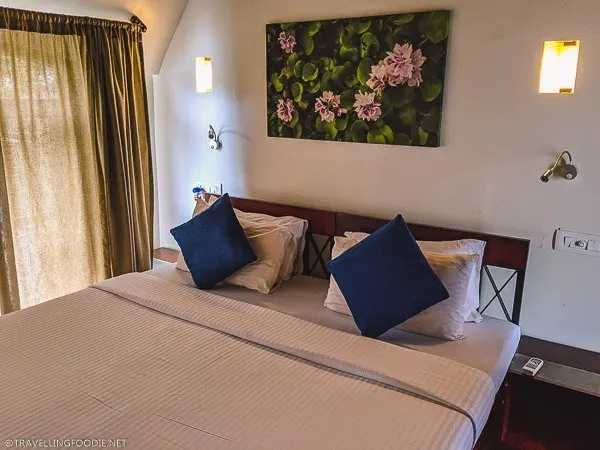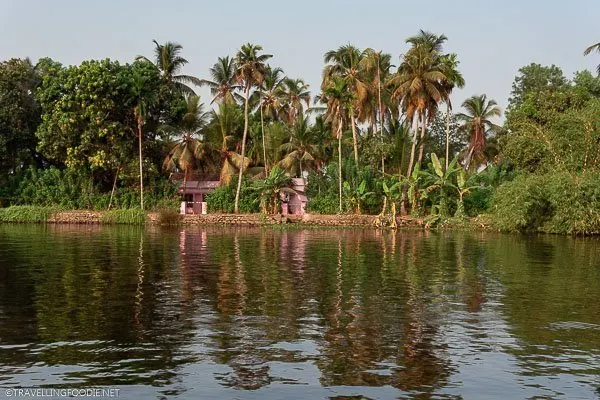 Breakfast was toast and fruit platter.
Their fruit and vegetable produce comes from plots of land that farmers tend to throughout these waters.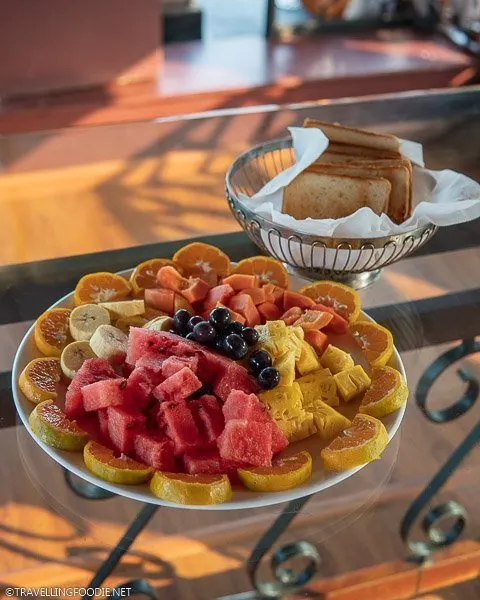 Check for prices and availability on Booking.com / Agoda
Website / Address: Pallathuruthy Bridge, Pallathuruthy, Alappuzha, Kerala 688003, India
---
Kerala Itinerary Days 3-4: Thekkady
After breakfast, you are headed on a 4.5-hour drive to Thekkady, where you'll be spending the last two days of your 4 day trip in Kerala.
Did you know? Thekkady is also called Periyar or Kumily. The local name is Kumily, and both Thekkady and Periyar are "tourist names".
The drive to Thekkady goes high up in the Cardamom Hills mountain range to an elevation of 4,500-ft above sea level.
Cardamom Hills is known for spice and tea plantations because the elevation is better for their growth.
Did you know? The name Cardamom Hills comes from the cardamom spice grown in much of the hills' cool elevation.
Here are 6 of the best things to do, restaurants and accommodations in Thekkady for two days.
One Night in Thekkady
Since the drive is quite long, you'll be stopping at two of the best attractions in Pambanar before Thekkady.
Pattumala Matha Church
Built entirely of granite, the Pattumala Matha Church is dedicated to Our Lady of Good Health.
Did you know? This popular Roman Catholic church is nestled on top of a mountain surrounded by tea plantations.
Address: मार्केट मार्ग, Peermade, Pambanar, Kerala 685532, India
---
Parunthumpara Hill Viewpoint
The Parunthumpara Viewpoint is located in one of the beautiful mountain top near Peermade.
Did you know? Parunthumpara is also known as Eagle Rock: Parunthu means Eagle and Para means Rock.
The Parunthumpara Hill Viewpoint provides a spectacular 360-degree eagle's eye view of Peerumedu hills and the surrounding plains.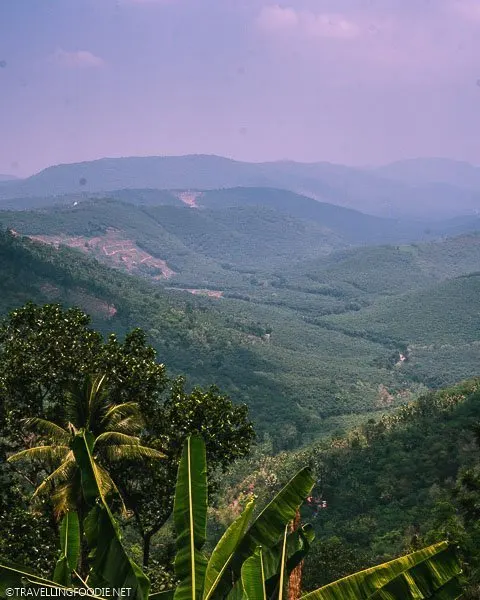 Address: Parunthumpara, Pambanar, Kerala 685532, India
---
All Spice Restaurant at Cardamom County
When you arrive at Thekkady, head to Cardamom County Resort for lunch at their All Spice Restaurant.
This all-day restaurant has a menu focused on flavours and spices comprising of Continental, Chinese, South Indian and North Indian dishes.
Obviously, I would recommend going with South Indian dishes like this Kerala Style Pepper Chicken, which was quite different from the usual coconut-based curry.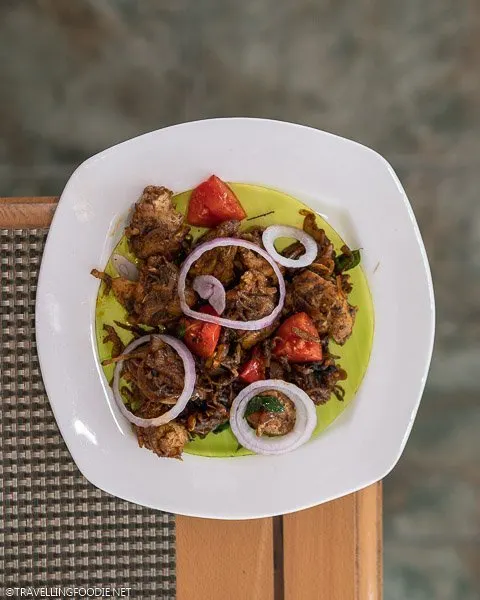 You'll want to try their Prawn Moilee which is a different kind of curry dish, where curried prawn is stewed in coconut milk.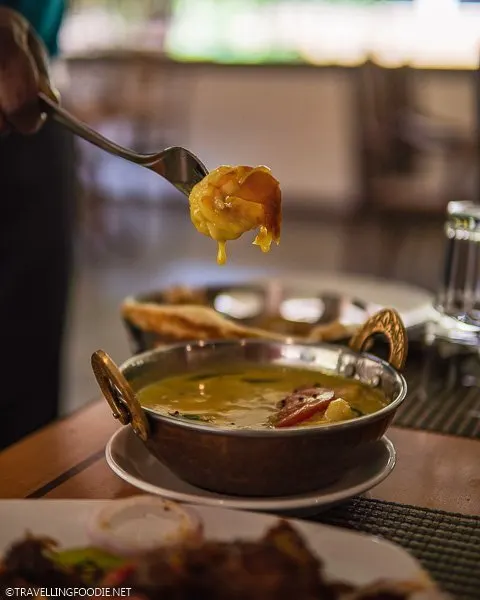 My favourite Indian dessert is Gulab Jamun, fried sweet balls which are made of dried milk soaked in rose syrup with cardamom.
Address: Kumily Thekkady Road, Thekkady, Periyar, Kerala 685536, India
Follow on Instagram @TravellingFoodie for more food inspirations
---
Green Land Spice Garden
One of the most educational things to do in Kerala is a Spice Plantation Tour.
Note, all the tours are included in the Travel XS Splendid South India Tour.
Kerala is often called the Land of Spices after all.
And Thekkady is the best place to do it since it is surrounded by tea and spice plantations!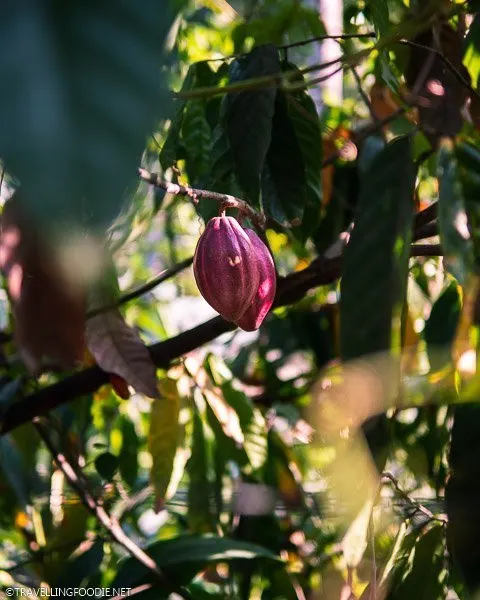 After lunch, you'll be heading to Green Land Spice Garden for a spice plantation tour.
I learned so much about herbs, spices and flowers from experienced naturalist, Prasad.
In the tour, you'll be exploring the 3-acre family garden that grows all sorts of things like cardamom, pepper, clove, all spice, vanilla, turmeric, banana.
All 100% organic.
Did you know? The ink used for Hena tattoos come from crushing the leaves from a Hena tree.
Not only will you learn what it looks like and how to grow them, but you'll also get the chance to smell them fresh and even get to taste some.
It's a great way to better understand the things we use in our food.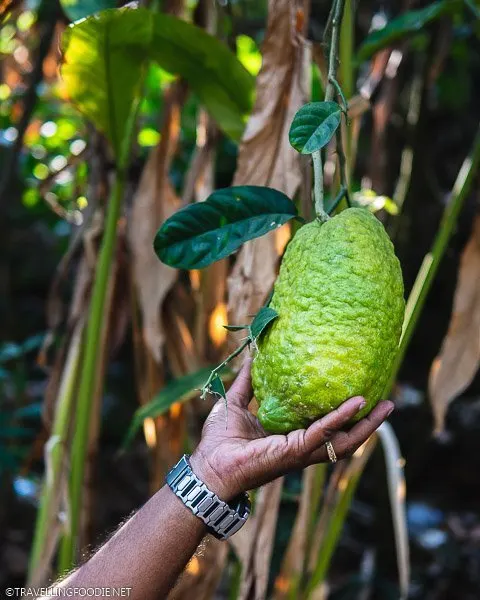 Heliconia is also known as lobster-claw, wild plantain or false bird-of-paradise because of its appearance.
Did you know? Heliconia is the National Flower of Bolivia.
Green, black, red and white peppers all come from the same pepper tree. Its color is based on its maturity harvested and how it is dried.
Green peppers are harvested before maturity and dried in a dark room, whereas black peppers are dried the sun instead of the dark room.
White peppers are dried in the sun without their skin, and red peppers are dried in dark room after maturity (unlike green pepper).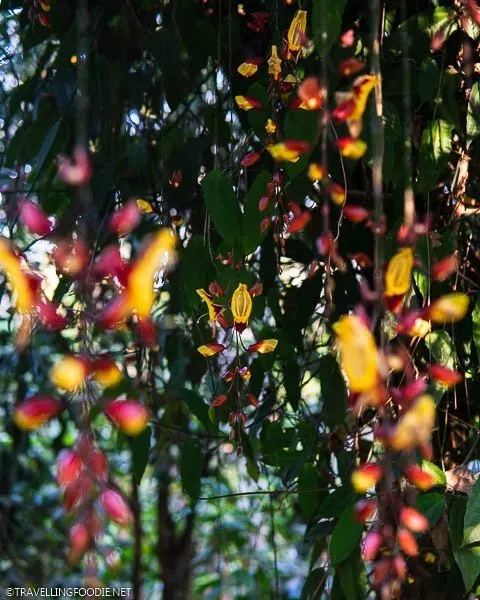 Unlike other flowers that gets pollinated by bees, vanilla requires self-pollination by hand.
And every day for 45 days, they are dried for four hours before taken into the dark room.
Did you know? Vanilla is the second most expensive spice in the world, after Saffron.
The bird's eye chili, or piri piri chili, is 60 percent spicier than big chilis we normally see. It is the spiciest chili in India.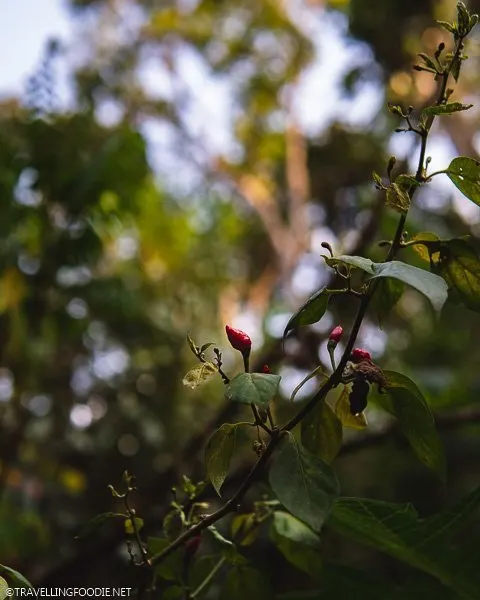 It was my first time seeing rose apple. They are much smaller than the regular apples we're used to.
You can only harvest it once a year. The redder it is, the sweeter.
And it is also used to make wine in India.
Website / Address: Kottayam-Kumily Rd, Springvalley Springvalley Periyar, Kerala 685533, Springvalley, Periyar, Kerala 685509, India
---
Cardamom County
Where to stay in Thekkady? One of the best luxury resorts is Cardamom County situated on a hill overlooking the Periyar Hills.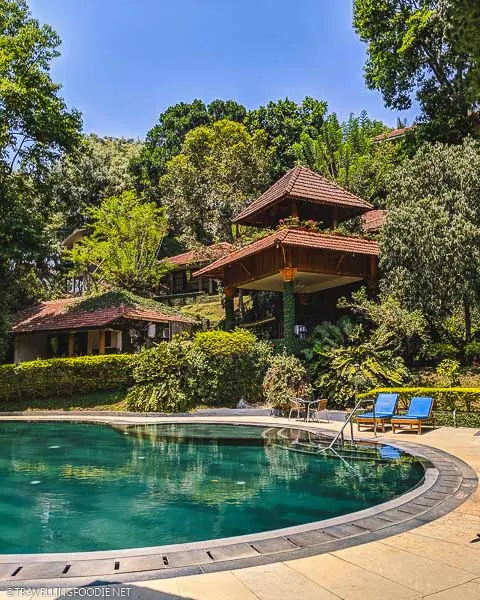 You can have dinner at the All Spice Restaurant.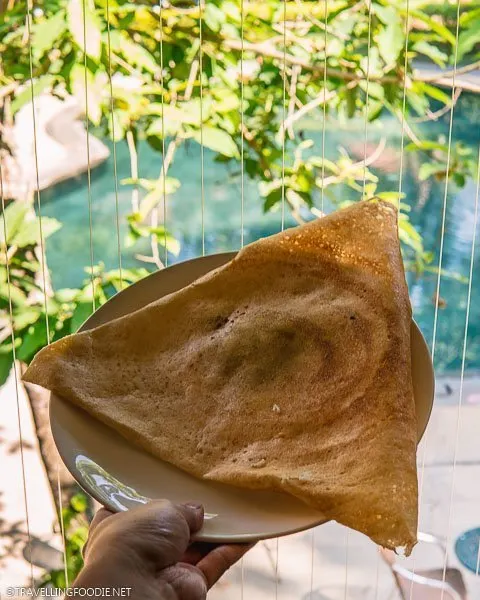 I stayed at the 33 square-meter Periyar Cottage Bedroom with a private verandah facing the bamboo forest.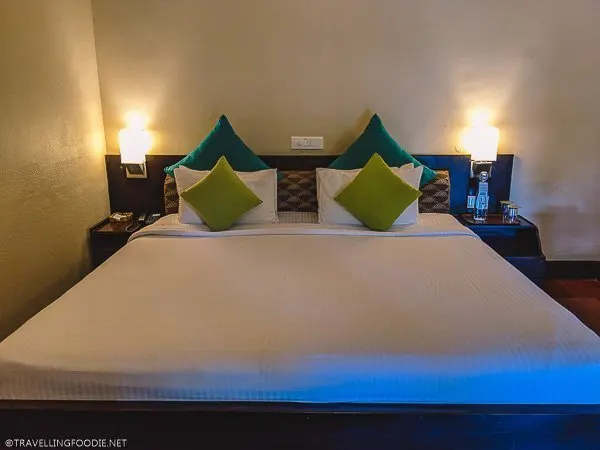 The room is fully furnished and has air conditioning.
Travelling Foodie Tip: Don't leave your bedroom door open as monkeys may tend to go in and grab things. They have warning signs for that.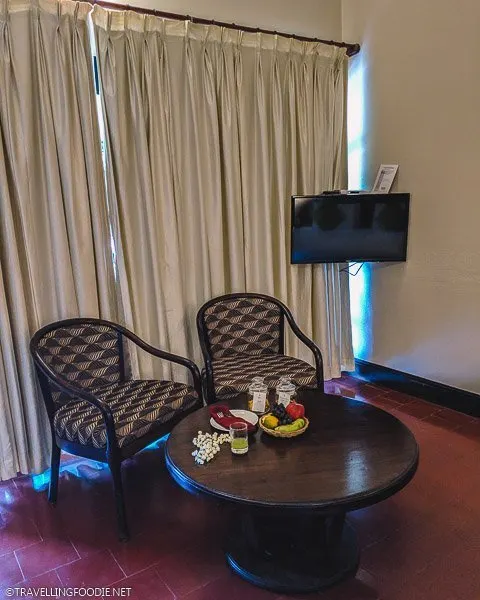 Visit the Ayur Spa where you'll find this Spice Chest with over 65 pockets of different herbs and spices for different uses in medicine, ayurvedic massage therapy and cooking.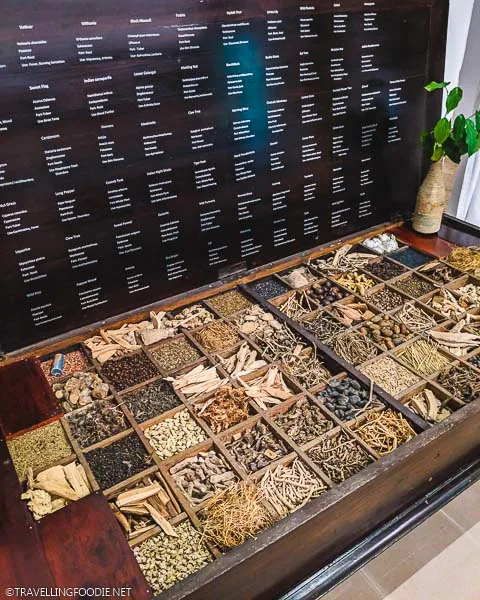 Check for prices and availability on Booking.com / Agoda
Website / Address: Kumily Thekkady Road, Thekkady, Periyar, Kerala 685536, India
---
One Day in Thekkady
The 4 day trip in Kerala has finally come to an end.
On your last day, you'll be doing the most popular attraction in Thekkady and also a cooking demonstration on some of the most popular food in Kerala.
Periyar Wildlife Sanctuary
Cardamom Hills is home to the Periyar Wildlife Sanctuary, a reserve on the Kerala/Tamil Nadu border.
It's also referred to as Periyar National Park or Periyar Tiger Reserve.
Periyar actually means big river.
And the aptly named Periyar River is the longest river in Kerala at 244-km!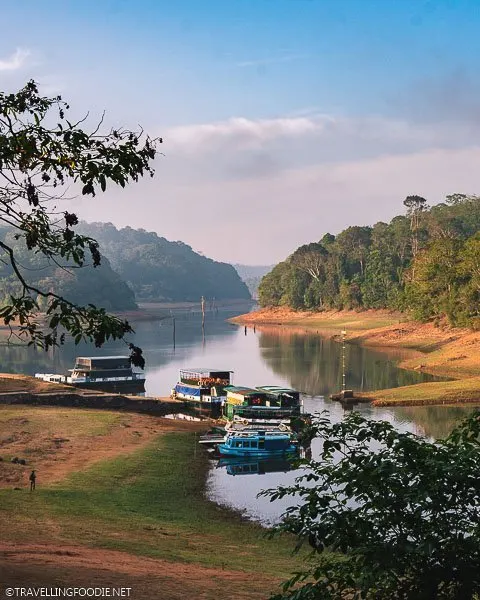 In the morning, you'll be going on an early boat cruise on Periyar Lake at the heart of the Periyar Wildlife Sanctuary.
Travelling Foodie Tip: At the waiting area, be sure to secure your belongings. Wild monkeys are quick to grab things it sees in plain sight.

When you hear the roof rumbling, monkeys are coming.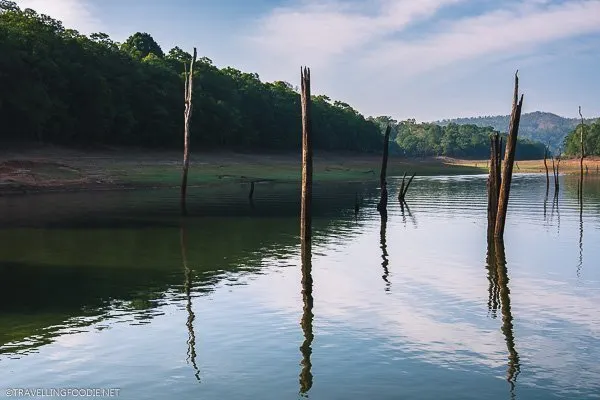 You'll enjoy the tranquility of the lake with lush greenery and wildlife abound.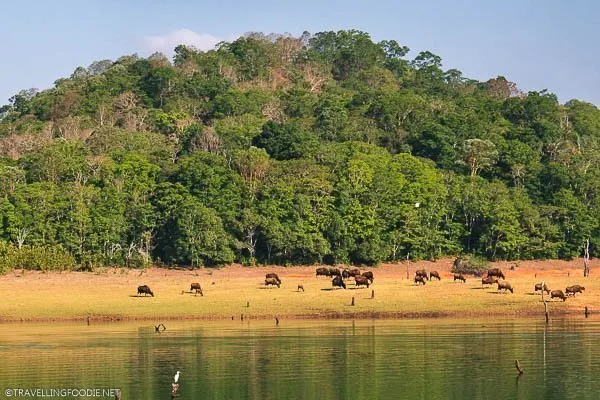 The tour guides are knowledgeable and quite keen on spotting wildlife.
They can even help you take photos with your phone or camera.
Unless animals are on the water near you, most of the animals will be quite far.
Bring binoculars or a zoom lens if you want to see them up close.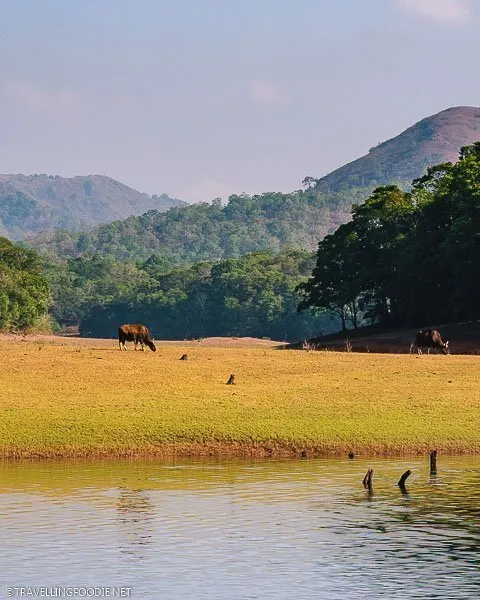 Note: You need to pay extra to bring an actual camera or a backpack.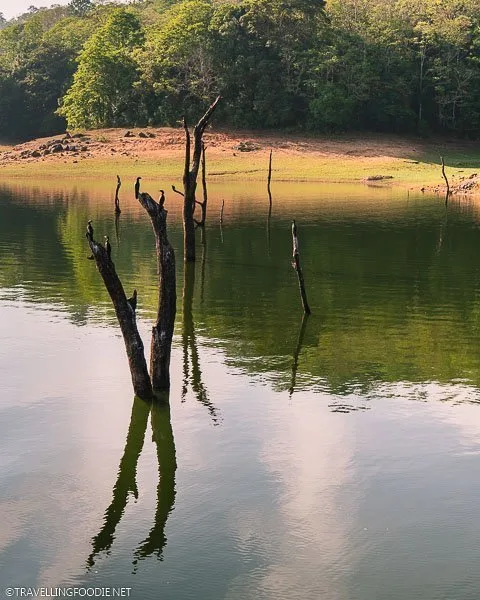 Address: Kumily Thekkady Road, Thekkady, Kumily, Kerala 685536, India
---
Tamarind Restaurant at Spice Village Resort
After the cruise, you'll be heading over to Spice Village Resort for cooking demonstration and lunch at Tamarind Restaurant.
A great benefit of the Travel XS Tour is you get VIP arrangements.
The scheduled cooking demonstration at Spice Village usually happens at night (6:45pm), but, with the tour, you get the private cooking demo along with your lunch.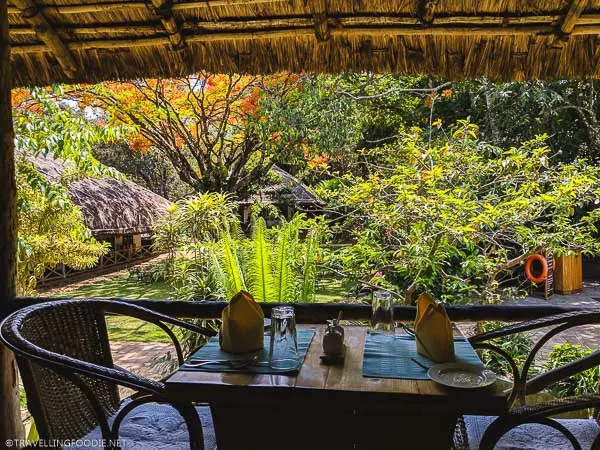 At the cooking demo, you'll learn the intricacies of the Indian spices and the secrets of traditional Kerala cuisine.
It's eye-opening to see how much fresh herbs and spices are used here. A typical masala is made of at least 10 ingredients.
In North America, most Indian curry dishes are made using curry powder.
You might also like the only Michelin star Indian restaurant in Singapore!
I learned how to make Coriander Chicken Curry (Malliyila Chicken Curry) and Avial (Kerala mixed vegetable curry). You'll get the recipes for these after too.
Watch the full video of the cooking demonstration here.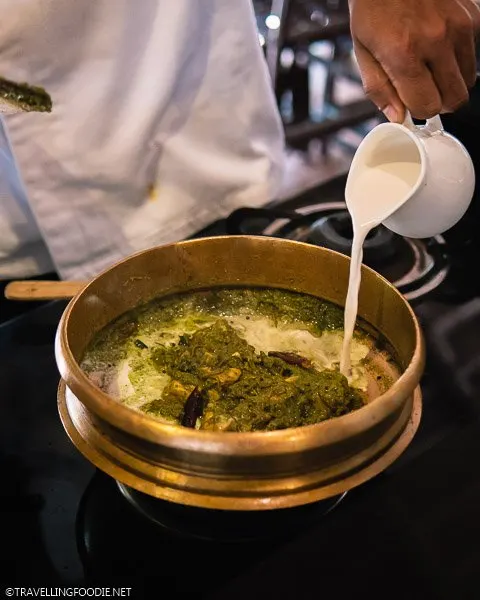 Lunch is buffet at Tamarind Restaurant along with the dishes made on the cooking demo.
In India, locals eat bread more than rice. They typically dip the bread in some sauce.
One of the most common bread is chapati, an unleavened flatbread made of wheat flour, salt and water.
Did you know? chapat means "slap" or "flat" in Hindi.
Luckily, the Tamarind Restaurant at Spice Village has live open cooking of roti and chapati so you can see how they're made and can taste it fresh.
Watch how the chapati balloons here.
Following lunch, I recommend going on a property tour of Spice Village Resort.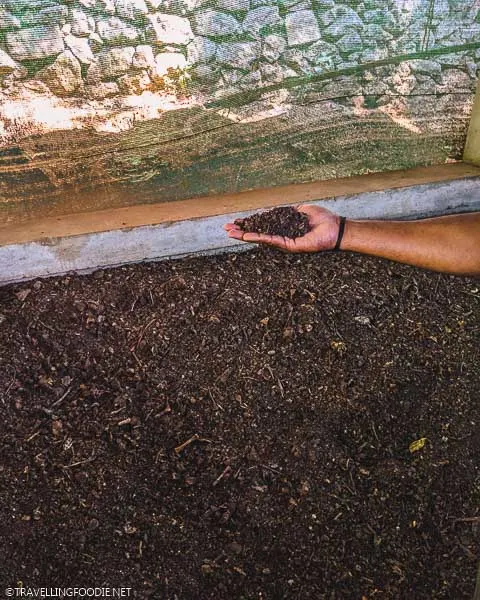 Built since 1991, Spice Village focuses on sustainability in everything they do from serving treated drinking water in bottles instead of plastic to creating paper from bio-waste (old newspaper and magazines) and utilizing solar energy for 75% of their power.
They are also converting waste as nutrient-rich compost for their soil.
Check for prices and availability on Booking.com / Agoda
Website / Address: Kottayam-Kumily Rd, Thekkady, Kumily, Kerala 685509, India
---
Elephant Court
For dinner, head over to the restaurant at Elephant Court Resort for a multi-cuisine menu with extensive flavours.
Be sure to get dosa! They have a dosa stove in the dining room so you can see how it's made fresh. Watch the video here.
They also have dinner buffet with an array of popular South Indian dishes like Aloo and Curd Rice.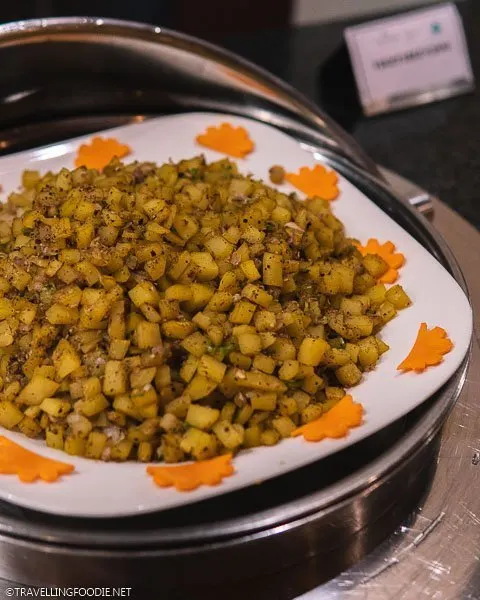 Interestingly, the only non-Indian dish I had in Kerala was pretty good!
This beef teriyaki, though targeted for non-Asians, is quite delicious!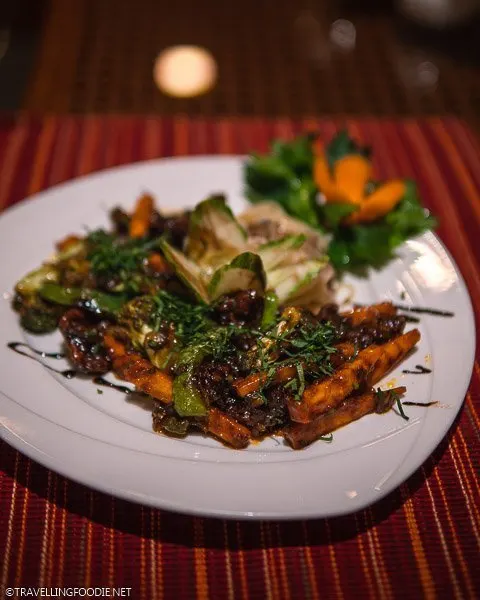 They have different chutneys to accompany the dosa, or opt for a curry dish instead like the shrimp coconut curry which came wrapped in pandan leaves.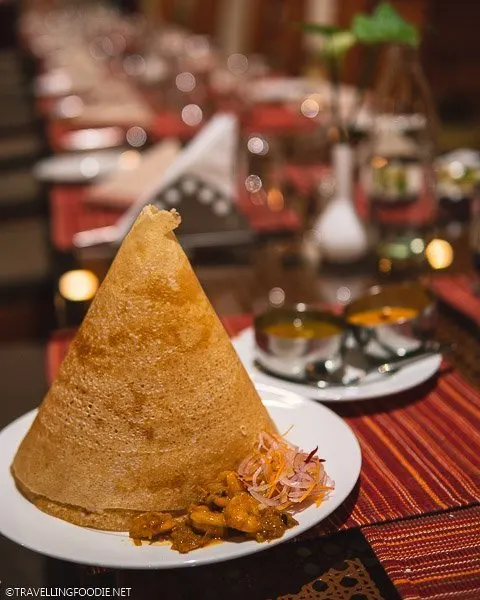 End the meal on a sweet note with the Ice Cream Brownie Sandwich, which is uncommon to find since it's typically with cookies instead of brownies.
It's my first time seeing it served on a sizzling plate.
And they use Indian cashews instead for the brownies which were deliciously sweet.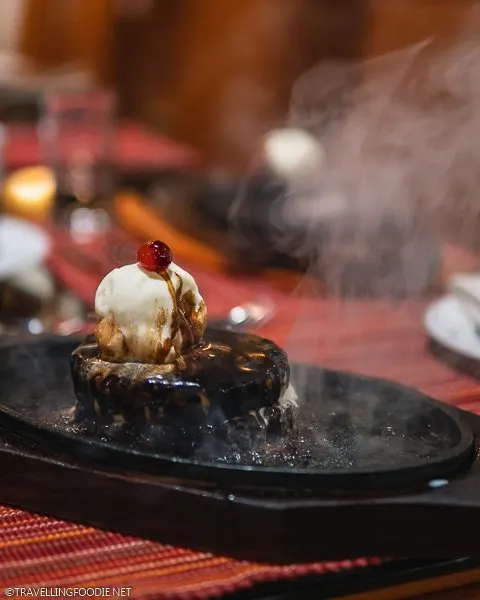 Website / Address: Thamarakandam Rd, Thekkady, Kumily, Kerala 685509, India
---
MAP: 4 Day Trip in Kerala, India Guide
Hope this South India Travel Guide helps give you an idea on the best things to do, places to eat and stay in Kerala for a 4 day trip!
There is so much to discover in this vast state. Please let me know what you find are the best attractions, restaurants and accommodations in Kerala.
---
Huge thanks to Travel XS for hosting me on the Splendid South India Tour. As usual, 100% of reviews and opinions are entirely my own.