Some posts on this site contain affiliate links. If you book or purchase something through one of these links, I may earn a small commission at no extra cost to you. Read the full disclosure policy here.
Checking out Niagara Parks' culinary scene and attractions? That's perfect for Travelling Foodie! I had the opportunity to join the Feast On The Parkway through Niagara Parks, where we got to enjoy a taste of Niagara, crawling through the 56-kilometre outdoor adventure museum to sample locally sourced dishes at Niagara Parks Culinary's five full-service restaurants which are all Feast On certified by the Culinary Tourism Alliance.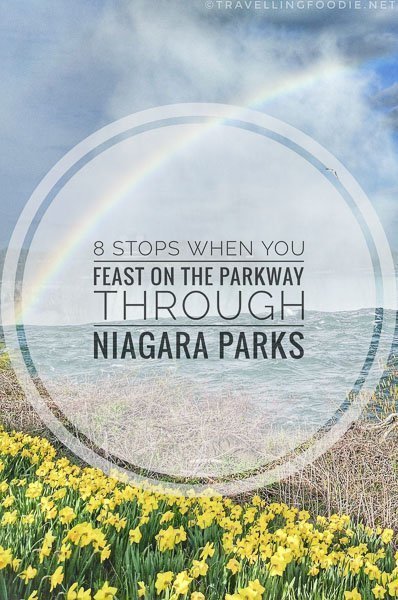 Established in 1885 as a self-funded agency of the Government of Ontario, Niagara Parks Commission has been maintaining the Niagara River Corridor in its entirety – nature, culture, flavours and history. Niagara Parks has been a popular first travel touchpoint for many tourists visiting Canada, so showcasing flavours rooted in local growers, brewers and providers was a natural step forward.
What's beautiful about this crawl is it's actually a great day trip itinerary with 8 things to do and places to eat in Niagara Parks. We took the Niagara Air Bus from Toronto and away we went on these 8 stops for the Feast On The Parkway through Niagara Parks…
Legends on the Niagara Restaurant
Queen Victoria Place Restaurant
WildPlay Niagara Falls
Niagara Whirlpool
Whirlpool Restaurant
Queenston Heights Restaurant
Elements on the Falls Restaurant
Journey Behind the Falls
Legends on the Niagara Restaurant
Our first stop was at Legends on the Niagara Restaurant where we also met up with the Niagara Parks team of Chelsey, Ryan and Chris. Niagara Parks Executive Chef Paul Pennock was also there to give a brief introduction about what Niagara has to offer in culinary as well as give us a brief tour of the kitchen and function room.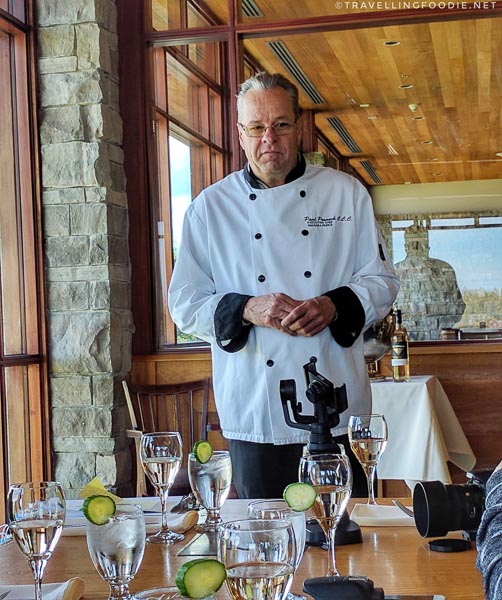 Legends on the Niagara has 1,000 acres of natural landscape giving wonderful views especially when playing on the three golf courses or 360-degree driving range.
Executive Chef Chris Brown introduced the dish we're having: Pan-seared Lake Erie Yellow Perch Salad with Sleger Greens, Crispy Onions and Wild Blueberry Vinaigrette paired with Inniskillin Pinot Grigio.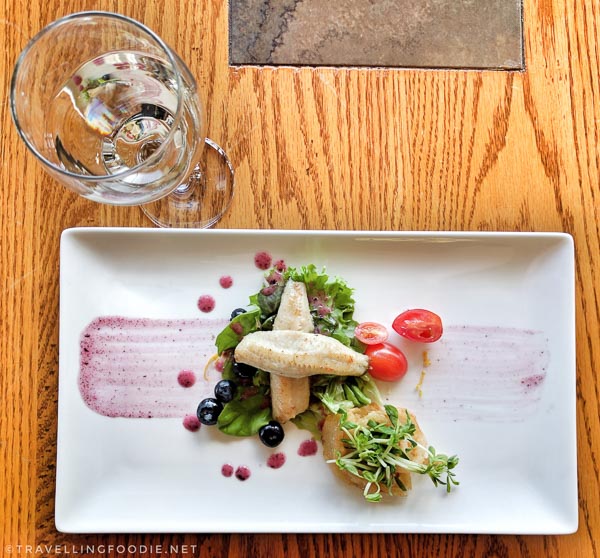 This was a great start of the crawl with fresh and perfectly cooked perch with the dry and light pinot grigio. Adding to the bite was the amazing crunch from the crispy onions.
Queen Victoria Place Restaurant
Second stop was Queen Victoria Place Restaurant headed by Niagara-born Executive Chef Sidney Krick and Manager Sarah Morse. We sat at the very corner of the outdoor seating where you have a beautiful view of the falls while eating. Travelling Foodie Trivia: Queen Victoria Place opened in 1904, making it the oldest restaurant in the region.
Here we got to try my favourite dish in the crawl: Panko Crusted Atlantic Scallops with Roasted Corn and Roma Tomato Salsa with Tarragon Shallot Aioli paired with Oast Barnraiser Country Ale. The light and subtle flavours of scallops was interestingly contrasted by the medium hoppiness of the ale.
Behind the restaurant, you'll get a wonderful view with the Skylon Tower.
WildPlay Niagara Falls
At Queen Victoria Place Restaurant, I sat across Rich Merlino who turned out to be General Manager of WildPlay Niagara Falls, which was our next stop in the crawl.
WildPlay lets your fear out to play on the Niagara Parks thru its high adrenaline aerial adventures:
MistRider Zipline – fly 2,200-ft high at over 70 kph amid the Niagara Falls, dangling 220-ft above the river gorge.
Whirlpool Adventure Course – play through suspended obstacles and ziplines up high in the sky, above the world-famous whirlpool and Niagara gorge.
What's To Fear Jump – plummet all the way down as you jump from 40-feet high off the ground.
This is something I definitely want to try when I visit Niagara as I've done skydiving and ziplines before.
Whirlpool Aero Car has been soaring over since 1916. We didn't do the Whirlpool Aero Car but went to a viewing point to see the breathtaking view of the Niagara Whirlpool.
Whirlpool Restaurant
Since we built up an appetite walking around the WildPlay site, we obviously had to eat for our next stop which was at Whirlpool Restaurant which offers panoramic views of the tree-lined Niagara Parkway.
We had the Duo of Sweet Potato and Yukon Gold Potato Soup with Beet and Carrow Slaw, Dill Yogurt Dressing and Spicy Kale Chops by Executive Chef Tim Vandelaar paired with Chateau Des Charmes Unoaked Chardonnay.
The soup was a great change from the solid dishes we were having. The sweet and earthy taste of the potato soup went really well with the fruity notes of apple from the chardonnay.
Queenston Heights Restaurant
We're finally getting meat at our next stop, Queenston Heights Restaurant. The restaurant is located at the foot of Brock's Monument National Historic Site, and inside has views of the winding Niagara River.
Executive Chef Bill Greenan has prepared for us a Grilled Chimichurri Marinated Flank Steak with Napa Cabbage, Baby Arugula, Bean Sprouts with Heirloom Carrots, Scallions and Maple Sesame Vinaigrette paired with Reif Estates Cabernet Sauvignon.
The flank steak had a Asian flavours because of the hint of sesame oil in the vinaigrette. The medium bodied cabernet sauvignon paired well with the steak to bring out the berry flavours and spicy notes which balances the maple sesame vinagrette.
Elements on the Falls Restaurant
Our final restaurant stop was at Elements on the Falls Restaurant which is right next to Horseshoe Falls. This was my first time being on this side of the falls, above the waterfalls where the Niagara River bends. It was such a sight that I couldn't just go inside the restaurant right away without admiring the beauty… and, of course, taking some shots and videos.
We sat by a corner of the restaurant with amazing views of the falls as our backdrop. Executive Chef Elbert Wiersema made us an amazing platter of Grilled Ontario Lamb Sirloin, Murgez Sausage and Fried Goat Cheese with Roasted Fennel, Ice Syrup Glazed Carrot, Zucchini Flower with Blueberry Baco Noir Drizzle paired with Colaneri Corposo. My other favourite for the day!
The lamb sirloin was placed on top of a hot stone fetched from the Niagara River by the Chef himself. You can hear the sizzle as the hot stone sears in the juices of the sirloin. It paired wonderfully with the Corposo's earthy aroma and intense dark flavours bringing out the lamb juice flavours and hiding the lamb taste that a lot of people avoid (I'm not one of them though).
For desserts, Pastry Chefs Dave Thai and Hening Sun satisfied our sweeth tooth with Warm Maple Butter Tarts and Niagara-made Cranberry Gelato paired with Inniskillin Vidal Ice Wine. I capped it off with an Americano to balance the sweet endings.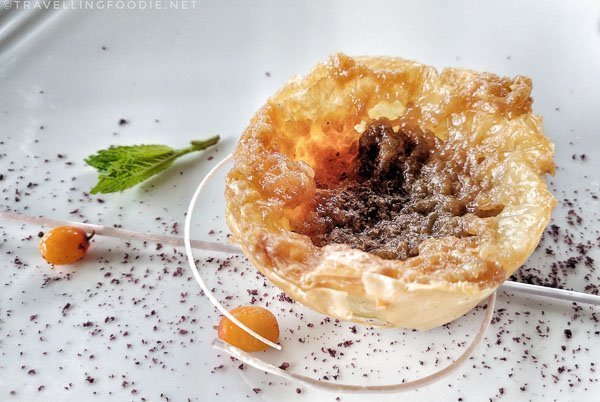 Journey Behind the Falls
But hold on, we're not done yet. Though we didn't do the Whirlpool Aero Car, we were in for a treat as we did the
Journey Behind the Falls
. I've only done Maid of the Mist before, which I found out that day has been replaced by
Hornblower Niagara Cruises
, so I was so happy I got to do the Journey Behind the Falls finally.
We descendeed 150-ft to explore 130-year-old tunnels. And then there it was… the observation deck that will leave you breathless, standing at the heart of Niagara's 13-storey-tall wonder. There are also viewing portals that shows the falls crashing down. What a way to end the trip!
Hope this helps give you an idea on what to do and where to eat in Niagara!
Austin Texas Food Tour
---
Niagara Parks
Website | Instagram | Twitter | Facebook
---
---
DISCLAIMER: Though was a complimentary trip provided by Niagara Parks Commission, all opinions are my own.
Updated: