Opened in late 2016, 98 Aroma is a Chinese restaurant in Toronto that offers fine dining Northern Chinese cuisine at the heart of Toronto's downtown Chinatown.
Unlike Southern Chinese cuisine where rice is the staple, Northern Chinese cuisine brings wheat and corn to the table in the form of noodles, buns and cornbread.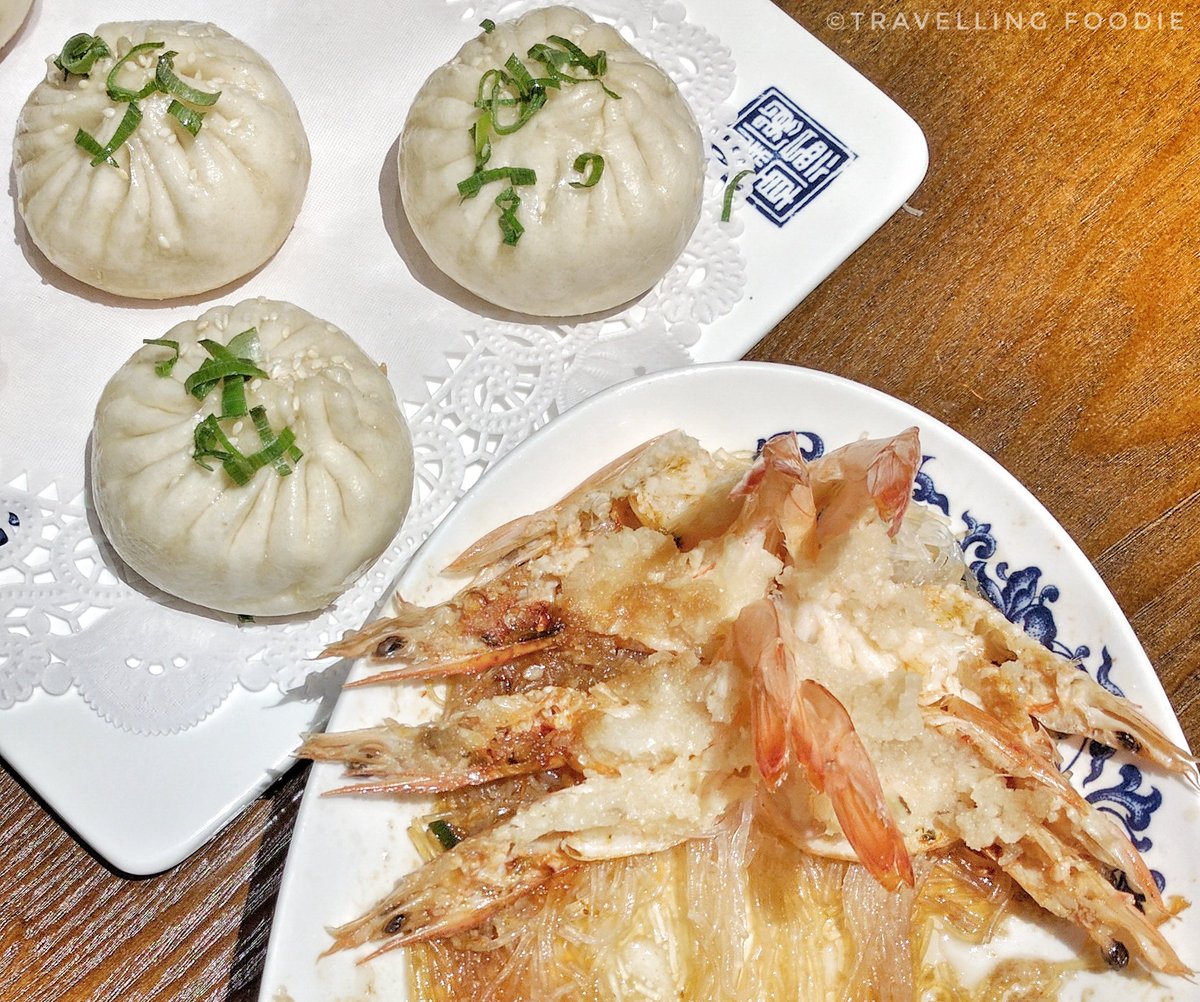 Also, note the emphasis on fine dining as 98 Aroma delivers something more upscale than the cheap run-down Chinese restaurants you would normally see around the area. The interior is very clean and has romantic lighting that makes it great for a date spot.
Travelling Foodie Tip: They have free parking at the back of the restaurant!
Also Read: Where To Eat in Toronto
---
Cocktails at 98 Aroma
Long Island Iced Tea
Sex On The Beach
I liked the Long Island Iced Tea here because you can actually taste how strong the alcohol is and it's not overly sweet like in other places.
This was unfortunately not the case for Sex On The Beach which was overly sweet that you can't taste the alcohol.
---
Food at 98 Aroma
Appetizers
Summer Breeze Salad – $9.99 – sweet potato noodles, leeks, carrots, purple cabbage, bell peppers topped off with crispy taro shavings with a sweet vinaigrette to mix the salad.
Assorted Delicate Veggies – $14.99 – carrots, king mushrooms, broccoli and jelly fungus
Pan Fried Pork Buns – $9.99
Steamed Pork Chives Dumplings – $8.99
Signature Handmade Pancake – $5.99
98 Aroma really shines with the appetizers as I enjoyed everything I tried.
I'm generally not a veggie person but I was quite impressed by both veggies dishes that I actually ate more than I usually would. The Summer Breeze Salad, which is their signature salad, was very refreshing in taste especially when mixed well.
I learned that the vegetable selection in the assorted delicate veggies signifies treasure. All the vegetables tasted very fresh and the sauce it was sauteed had a really good flavour to it.
Since 98 Aroma specializes in Northern Chinese, you MUST order their buns/dumplings. The Pan Fried Pork Buns were amazing and I highly recommend.
They remind me of Xiao Long Bao but using buns with a crispy exterior and chewy interior. The pork was very flavourful and the soup was just wafting with flavour after getting mixed with the pork.
You cannot go wrong with the dumplings as well as the flavour of the pork mixed with the chives bring so much taste!
Another must-order for me here is their Signature Handmade Pancake! It's so simple yet highly addicting!
---
Mains
Steamed Tilapia Fish – $29.99 – with chopped bell chili
Steamed Garlic Shrimp – $19.99 – with vermicelli
Steamed Lion Head Meatball – $16.99
Fried Salt & Pepper Calamari – $15.99
Steamed Mussel – $15.99 – with garlic and vermicelli
I found the mains at 98 Aroma to be delicious overall. It can be a little salty depending on your salt tolerance.
I'd say my most favorite here was the Steamed Tilapia Fish. Perfectly steamed and slathered in chili sauce, the tilapia was very fresh and juicy.
The hotness level depends on your tolerance as I love spicy food so I found it enjoyable, but my friend who can't take spicy wasn't able to eat more than her first bite.
I wished that they deboned the fish for you as well because there were a lot of bones that we had to be careful of.
The Lion Head Meatball was something I found unique because of the fact that it's made of pork and not beef, though I found it tasted like beef.
Between the steamed mussels and shrimp, I preferred the steamed mussels as the shrimp tasted much saltier and it was so much harder to eat because the meat stuck to the skin.
Though I enjoyed the crispiness of the Fried Salt & Pepper Calamari, I found it a bit misleading. This isn't your typical fried salt & pepper calamari as the calamari wasn't dry batter.
There was actually chili sauce in it which might surprise customers who aren't looking for spice.
Desserts
Coconut Milk with Sweet Rice – $4.99
Blueberry Mashed Chinese Yam – $5.99
Rice Dumpling in Osmanthus Sauce and Fermented Rice Wine – $3.99
Desserts at 98 Aroma were the most underwhelming for me, especially after the enjoyable appetizers and mains. From what I learned about Northern Chinese cuisine, they don't like things sweet so they don't add sugar to desserts.
The Coconut Milk with Sweet Rice was a bit off for me. I didn't really taste much coconut flavour, which is what I was looking for, nor was the sweet rice particularly sweet.
I found the Blueberry Mashed Chinese Yam to be very conflicting – the sweetness of the yam was clashing with the blueberry instead of mixing together.
Out of the three, I liked the Rice Dumpling the most as it is as I expected it to be. And the Rice Dumpling was really good.
Overall Thoughts of 98 Aroma
Being new to the scene, there is so much potential to 98 Aroma especially being one of the more unique Chinese restaurants in Chinatown.
Service was pretty good here which is generally uncommon for Chinese restaurants. Consider this, they were packed when we went on a Friday night and there were only two servers, but the food came out pretty fast, though we had to call them to clear empty plates.
Food is well deservingly good. I have issues with the desserts but, mind you, I'm not too familiar with Northern Chinese cuisine especially on their desserts so they may very well be perfectly made and I'm just not familiar with it.
---
Hope this Toronto restaurant review of 98 Aroma helps you decide if this is a place for you to eat! I would love to know your thoughts if you visited, or if you have other recommendations on the best Northern Chinese restaurants in Toronto to compare.
---
98 Aroma
Website / Address: 440 Spadina Ave, Toronto, Ontario M5T 2G8
---
Disclaimer: Although the food was complimentary provided by 98 Aroma, the opinions expressed here represent my own and not those of the companies.