Love crispy bacon? This Air Fryer Bacon recipe makes them perfect all the time!
We make bacon in air fryer because it's so quick and easy (under 10 minutes!), and it's much healthier than cooking in the stove-top or in the oven.
---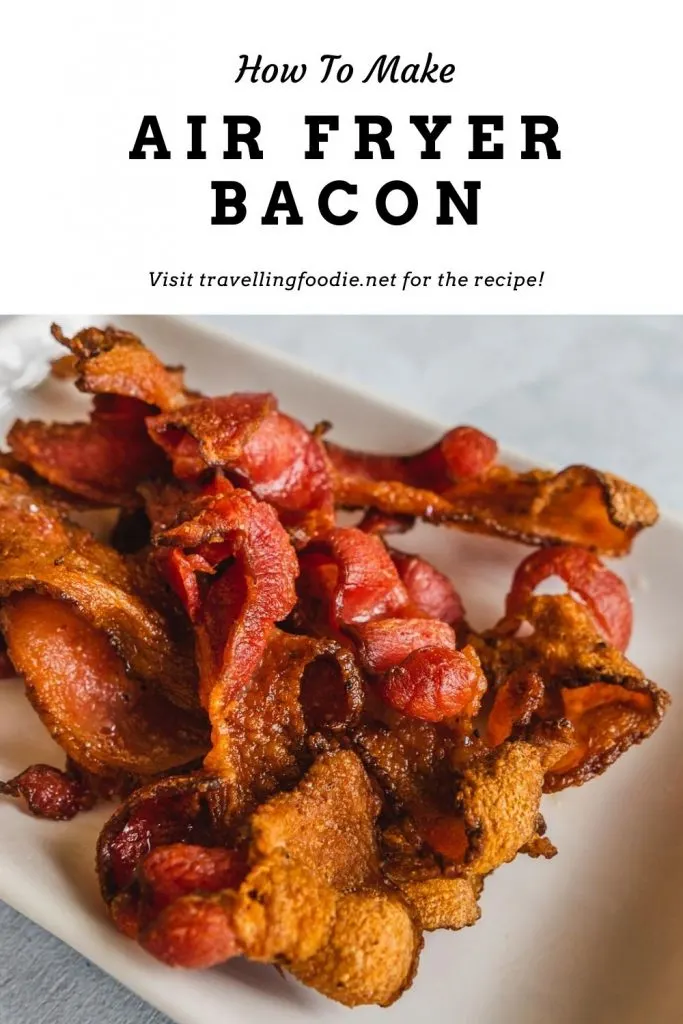 ---
What is Bacon?
Bacon is a type of salt-cured pork usually made from the belly, but can also be made from other parts like the loin and ribs.
Though bacon is typically associated with pork, you might also find turkey bacon which is a great alternative for people who don't eat red meat.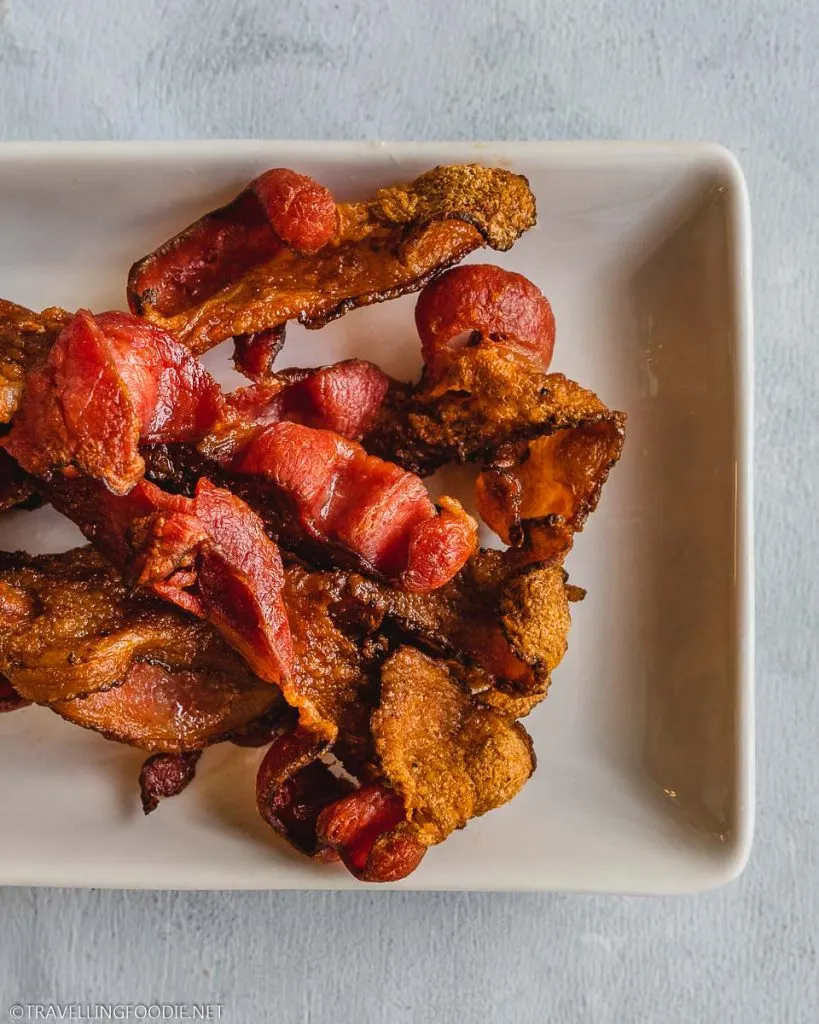 Why Air Fryer Bacon?
Ever heard the saying, Everything's Better With Bacon? It's true!
A lot of people wonder if you can put raw bacon in an air fryer.
YES, you can and YOU SHOULD!
I personally love bacon and used to pan-fry them in batches to eat as snacks. But now, I just air fry them!
It's so much easier because you just set and forget, and it reduces your cooking time by a lot!
Plus you don't have to worry about it splattering on you or all over the stove.
So if you need a quick snack or topping for your burger or meal like Bacon Cheese Tater Tots, you can just make air fryer bacon!
I honestly enjoy just having these air fried bacon with some beer. It's why I love Stratford's Bacon & Ale trail!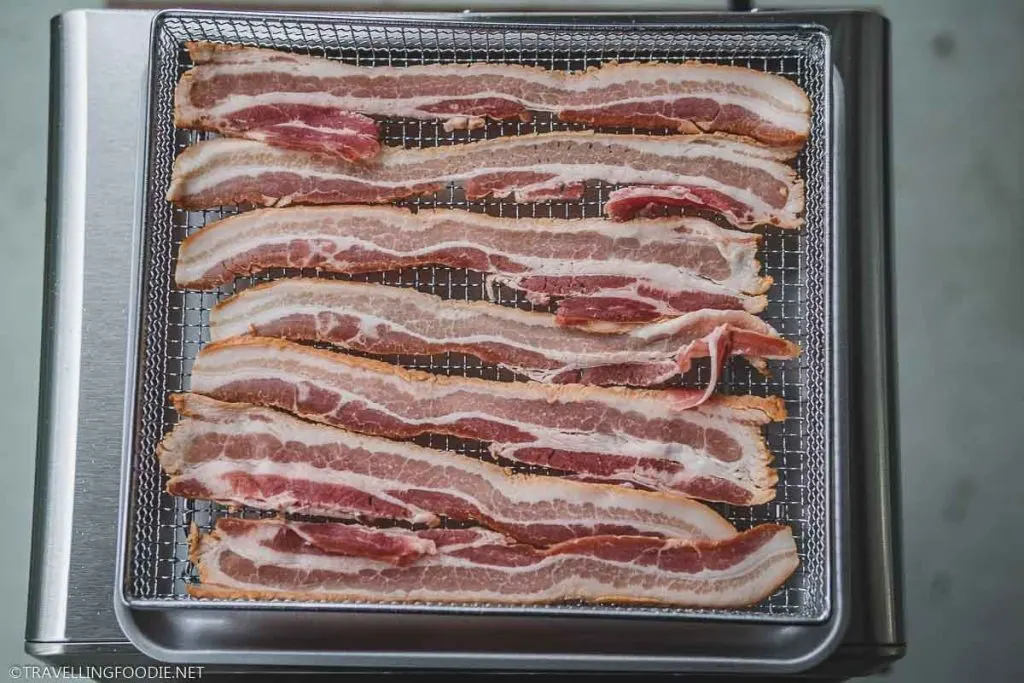 ---
Is Bacon Healthier in Air Fryer?
You may be wondering, is it healthier to cook bacon in air fryer?
Though air frying bacon won't make the bacon healthy per se, it's somewhat healthier than cooking on a pan or in the oven.
Why?
Because when you air fry bacon, all the oil and excess fat falls to the tray automatically so you're eating less of those.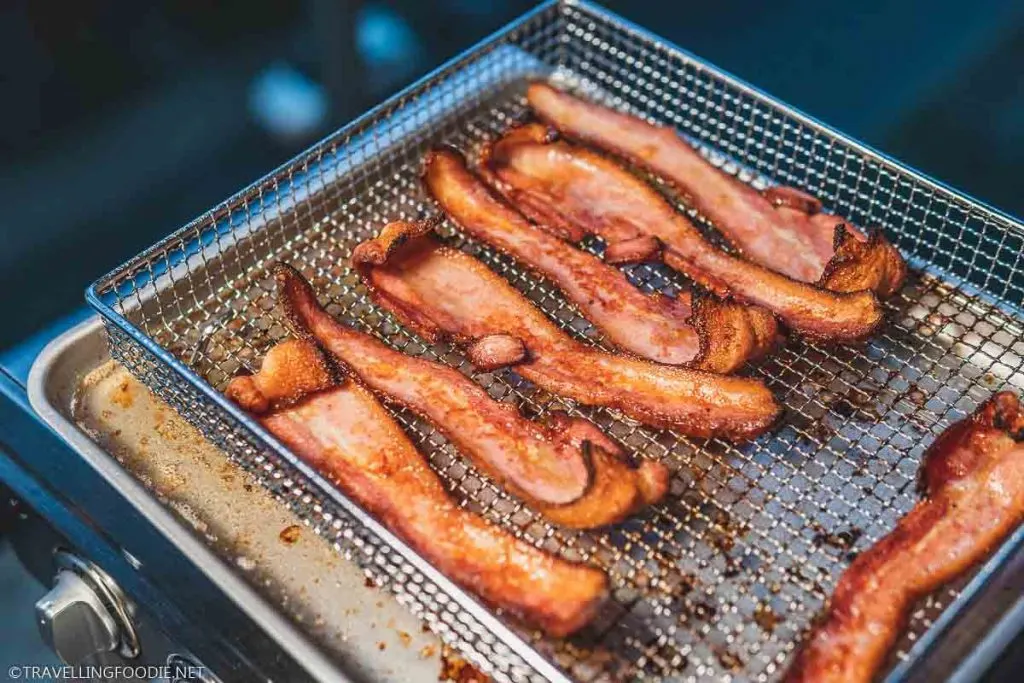 ---
What You Need For Air Fryer Bacon
Equipment
Ingredients
Bacon – that's it! I used the smoked bacon because I love the added flavour of Maplewood on the bacon.

You can use thin or thick-cut bacon or even your own homemade bacon for this recipe.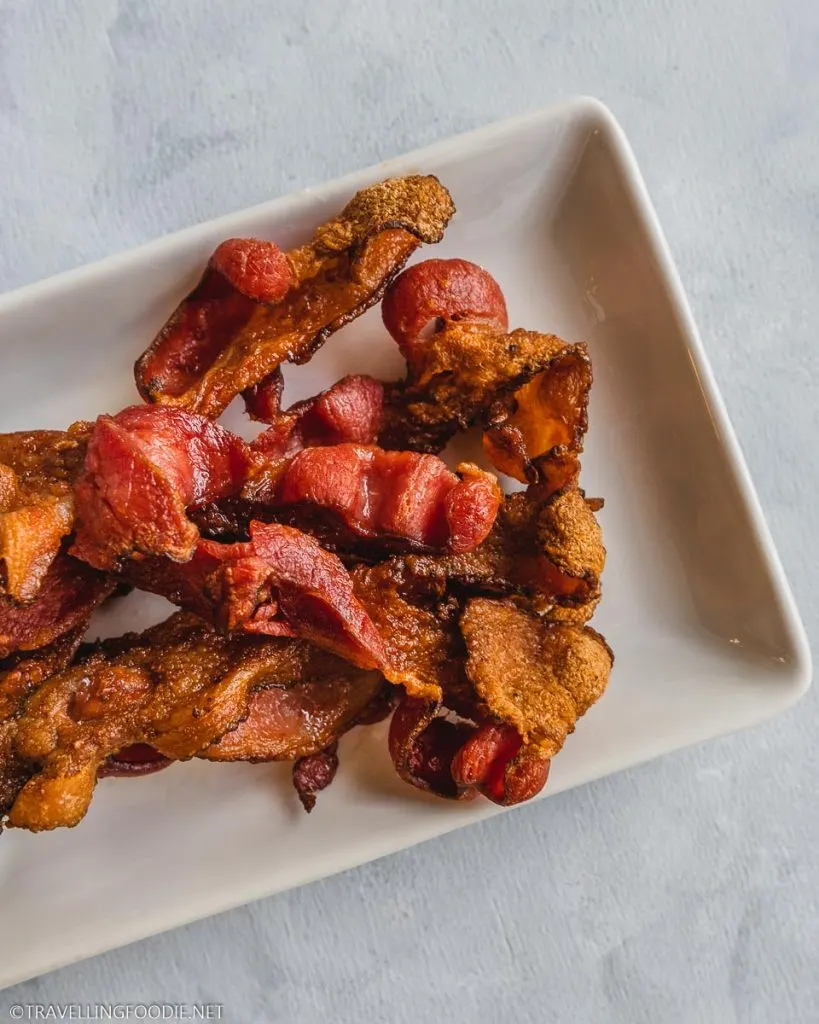 ---
How To Cook Bacon In Air Fryer
Air fried bacon is so simple to make!
Place strips of bacon on the air fryer basket in a single layer without overlapping.
You don't need to oil the basket because the bacon produces enough oil.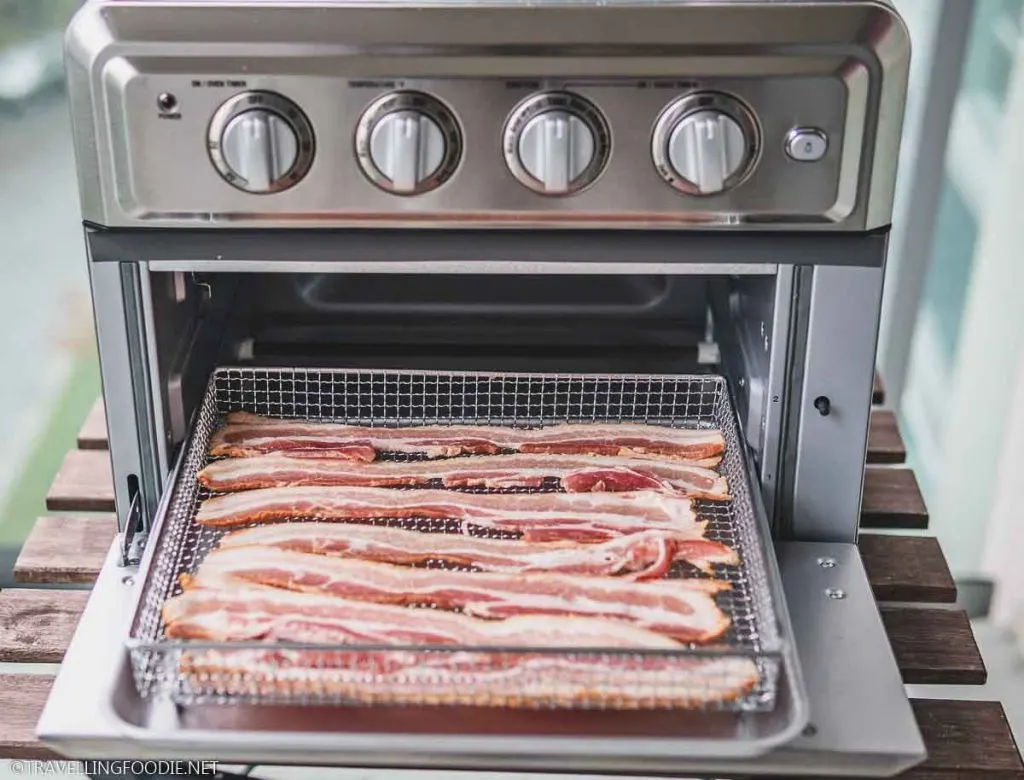 How long to cook bacon in air fryer? It only takes 8 minutes at 400F (204C) to air fry bacon strips.
This has been tested with the Cuisinart Air Fryer Toaster Oven TOA-60. If you use a different Air Fryer, be sure to consult the manual on proper timing.
Some things to consider:
If you don't want it crispy, you can reduce the time or the temperature.
If you are using thick-cut bacon, you'll need to increase the time (9 minutes) or temperature (450F) to make it crispy. Vice-versa for thin strips of bacon.
Make some Air Fryer Garlic Bread, add some lettuce and tomatoes and you can have yourself a BLT!
---
Air Fryer Bacon Tips & Tricks
Can you reheat bacon in air fryer?
I get this question a lot, and the answer is:
YES!
I usually air fry the entire package of bacon and then just reheat after, which is a great strategy when the bacon is reaching expiration date.
To reheat the bacon, air fry them at 400F for 3-4 minutes.
Help! How can I prevent it from splattering and smoking in the air fryer?
One of the most annoying thing about cooking bacon is the smoke and oil splatters from the high heat.
No matter if you cook it on a pan, in the oven or air fryer, oil will splatter.
Unless you do this trick!
Add a thin layer of water on the drip tray/pan, enough to cover the surface.
The oil drips on the water as your air fry and it will not smoke or splatter anymore.
Travelling Foodie Tip: Cover the drip tray/pan with aluminum foil before adding water on top for easy clean up after!
This has been the best way I've found to avoid smoke and splatters in the air fryer while cooking bacon.
Some other tricks I heard were:
Put a slice of bread on the tray/pan – I find this a waste of food since you are most likely throwing away the bread after… unless you think it's good enough to eat.
Put a wet paper towel on the tray/pan – I personally feel this can be a potential fire hazard. Also, the oil and water would still go through the paper towel making the drip tray/pan wet and oily after.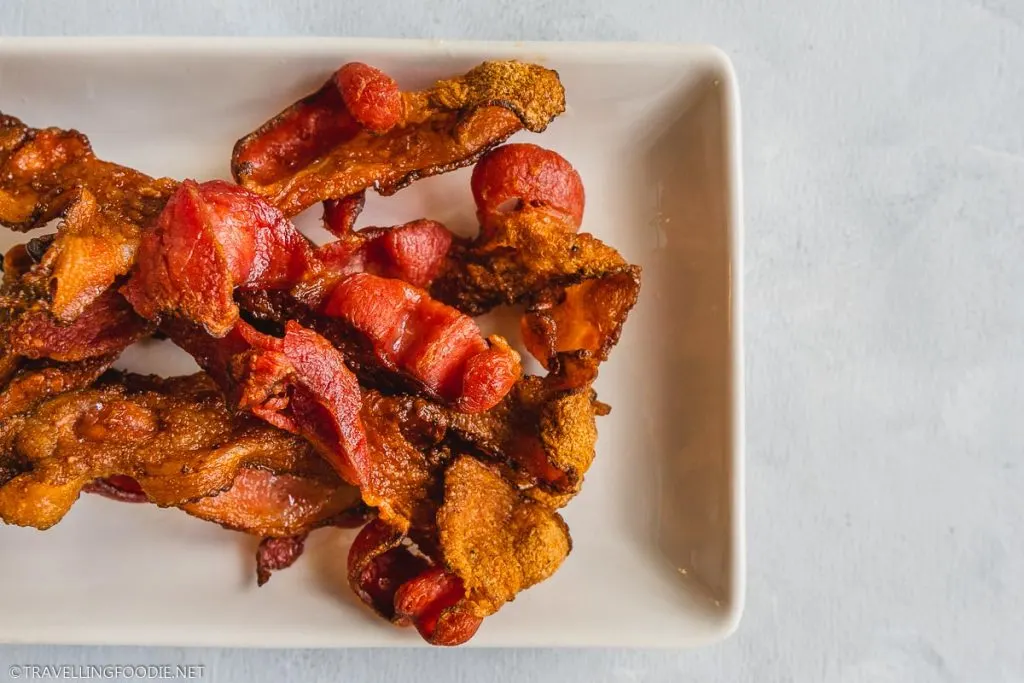 ---
Other Air Fryer Recipes You'll Love
---
Bacon in Air Fryer Recipe
Be sure to bookmark/save/pin this post so you can easily make perfectly crispy bacon in air fryer!
I would love to see how this recipe worked for you! Please share your creations with me on social media and tag me so I can check them out: @TravellingFoodie on Instagram & Facebook and @TravellinFoodie on Twitter.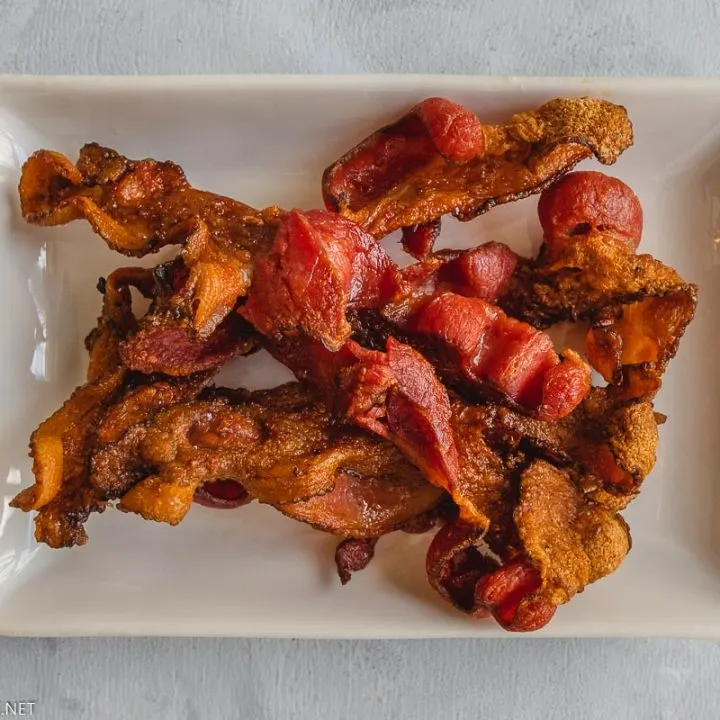 Air Fryer Bacon
Perfectly crispy bacon all the time! All. The. Time! You will love this quick and easy air fryer bacon recipe that's great for a quick snack, side dish, topping or even a main dish.
Instructions
Lay the strips of bacon on the air fryer basket
Cook the bacon in air fryer for 8 minutes at 400F
Notes
Do not overcrowd and overlap the bacon strips so they get evenly air fried.
If you prefer a more tender bacon, you can reduce the temperature or the time.
If you are using thicker cut of bacon, you might need to increase the time or temperature in your air fryer.

Travelling Foodie Tips:
For easy clean-up, cover the drip tray/pan with aluminum foil.
To prevent smoke and splatters all over your air fryer, add a layer of water just enough to cover the surface of the drip tray/pan.
Recommended Products
As an Amazon Associate and member of other affiliate programs, I earn from qualifying purchases.
Nutrition Information:
Yield:

7
Serving Size:

1
Amount Per Serving:
Calories:

54
Total Fat:

4g
Saturated Fat:

1g
Trans Fat:

0g
Unsaturated Fat:

2g
Cholesterol:

11mg
Sodium:

194mg
Carbohydrates:

0g
Fiber:

0g
Sugar:

0g
Protein:

4g
Please note that nutrition information you see is provided and automatically calculated by Nutritionix. This may vary depending on the specific ingredients that you use. To ensure the most accurate information, I suggest entering your specific ingredients into a nutrition calculator.
---
Hope this Air Fryer Bacon recipe gives you an idea on what to make with your air fryer!
It's such a great way to make perfectly crispy bacon all the time!