Looking for air fryer chicken recipes? Air Fryer BBQ Chicken is a delicious barbecue meal without a grill!
This quick and easy air fryer recipe only takes 20 minutes to cook, making it great for big groups and meal preps.
---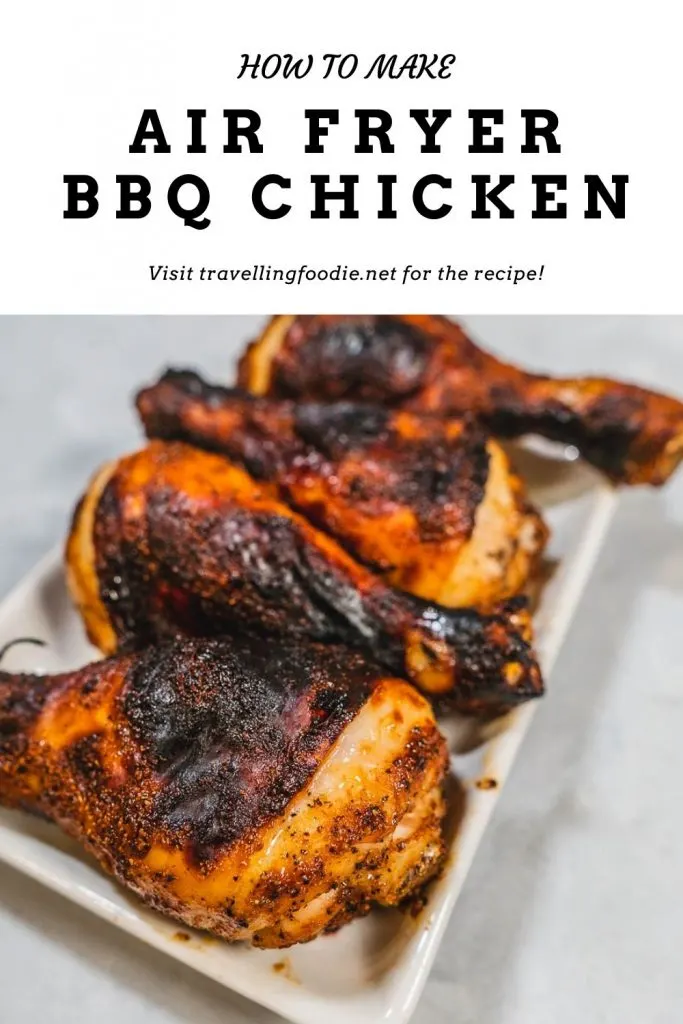 ---
Why Air Fryer BBQ Chicken?
Who's ready for BBQ season? If you're a foodie, you know one of the reasons to love summer is summer barbecue or grill!
Traditional BBQ chicken uses chicken parts or whole chicken that is coated in a dry rub and/or bbq sauce and then cooked in a grill either low-and-slow with the lid closed or on a high heat with the lid open.
Growing up in the the Philippines, BBQ and grilling reminds me of Filipino Pork Barbecue.
But being in North America, it reminds me of Texas BBQ like brisket and ribs.
Since I live in a condo, I don't have a grill and am not allowed to have one in my unit.
With the success of my Air Fryer BBQ Pork Tenderloin and Instant Pot BBQ Ribs, I wanted to make another bbq recipe using different meat.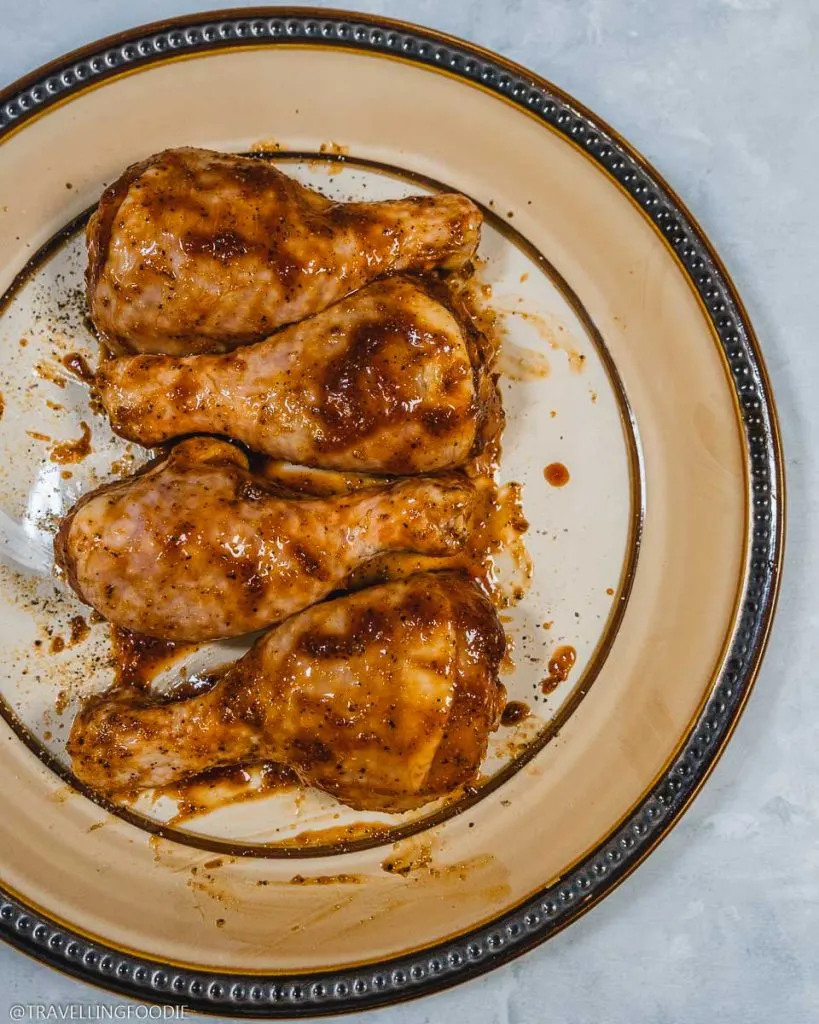 Now you can make delicious barbecue chicken without using a grill at home.
The result was amazing.
The bbq chicken came out tender and juicy!
Best of all, because of the heating power of the air fryer, the barbecue sauce actually caramelizes on the chicken giving it the look and taste we want when grilling.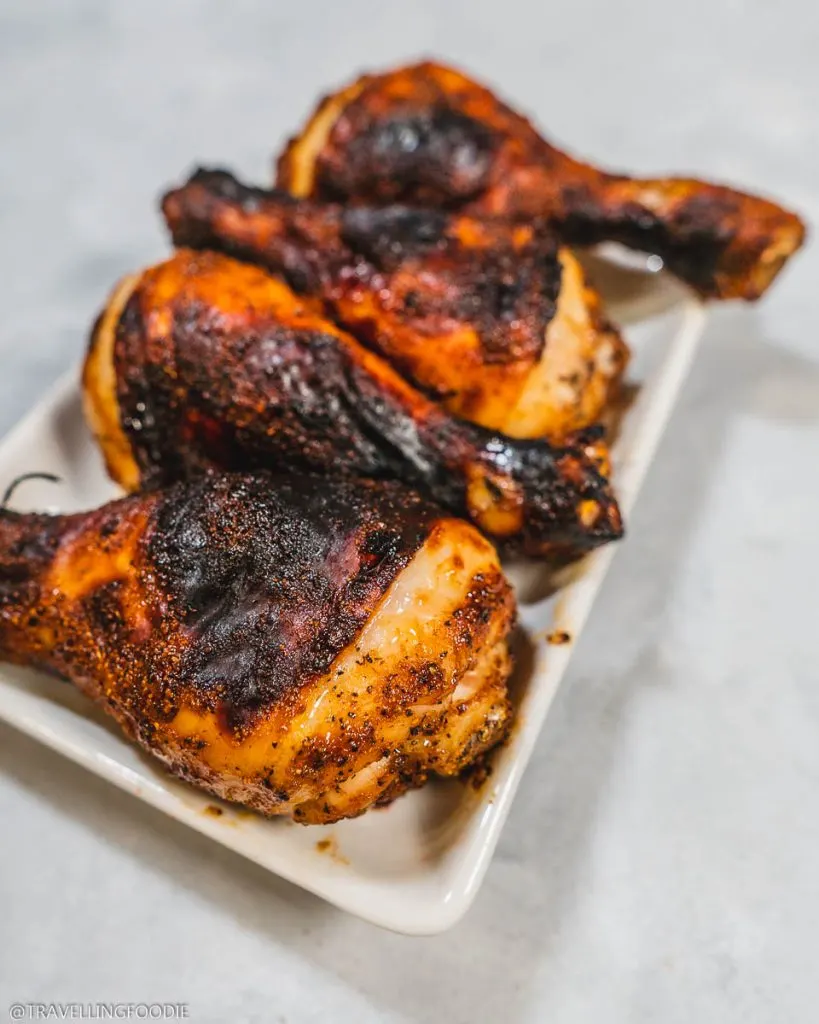 ---
What Makes This Air Fryer Recipe So Good?
Quick. One batch of BBQ Air Fryer Chicken Drumsticks only takes 20 minutes of cooking time.
Simply and Easy. I made sure the ingredients are very simple, mostly pantry items.

And there's not much work involved to make this dish.

No Grill Barbecue Recipe. This air fryer recipe gives you similar bbq results without a grill.
Flexible. You can use any sauce you want. Or if you don't want sauce, you can just use a dry rub.

You can also use your choice of chicken part like legs, breast or thighs.
Also Read: Easy 30-Minute Recipes: Meals and Snacks in 30 Minutes or Less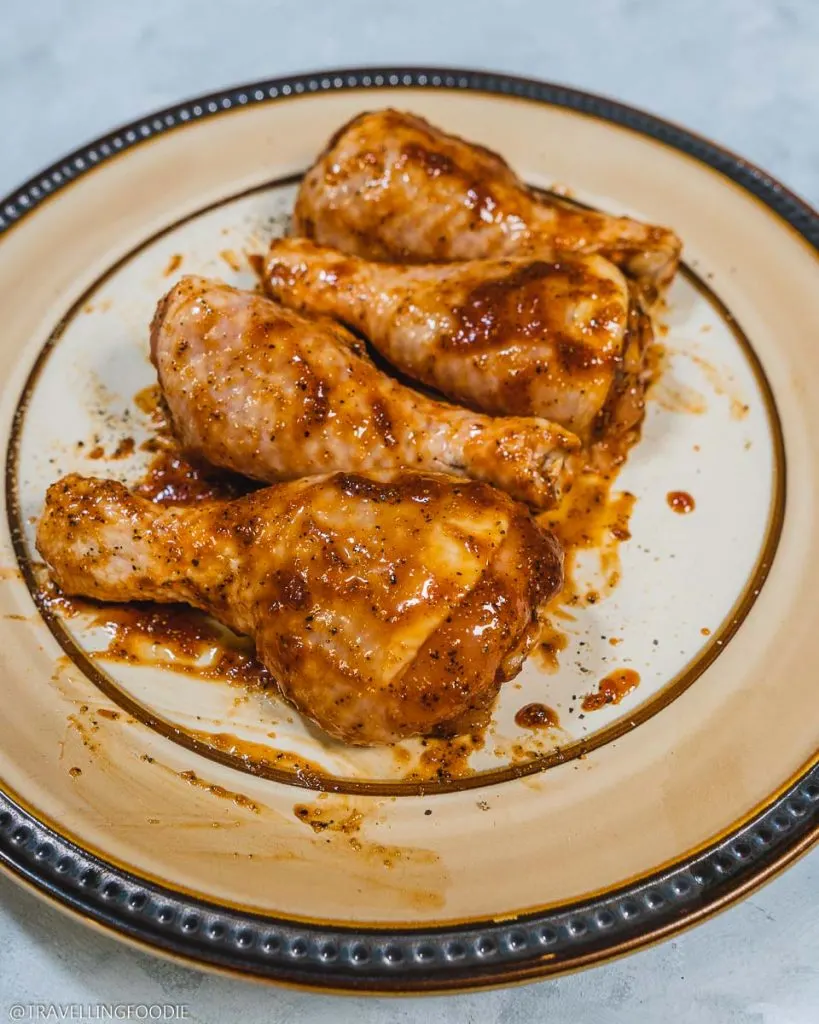 ---
What You Need For Air Fryer BBQ Chicken
Equipment
I used the Cuisinart Air Fryer Toaster Oven TOA-60 for this recipe. The size is good enough to make a good batch of bbq chicken in air fryer.
This recipe will still work with other air fryers but you might need to adjust timing for best results.
And depending on capacity, you might need multiple run it in batches.
If your air fryer is bigger, you probably need to increase temperature or air frying duration. And vice-versa for smaller air fryers.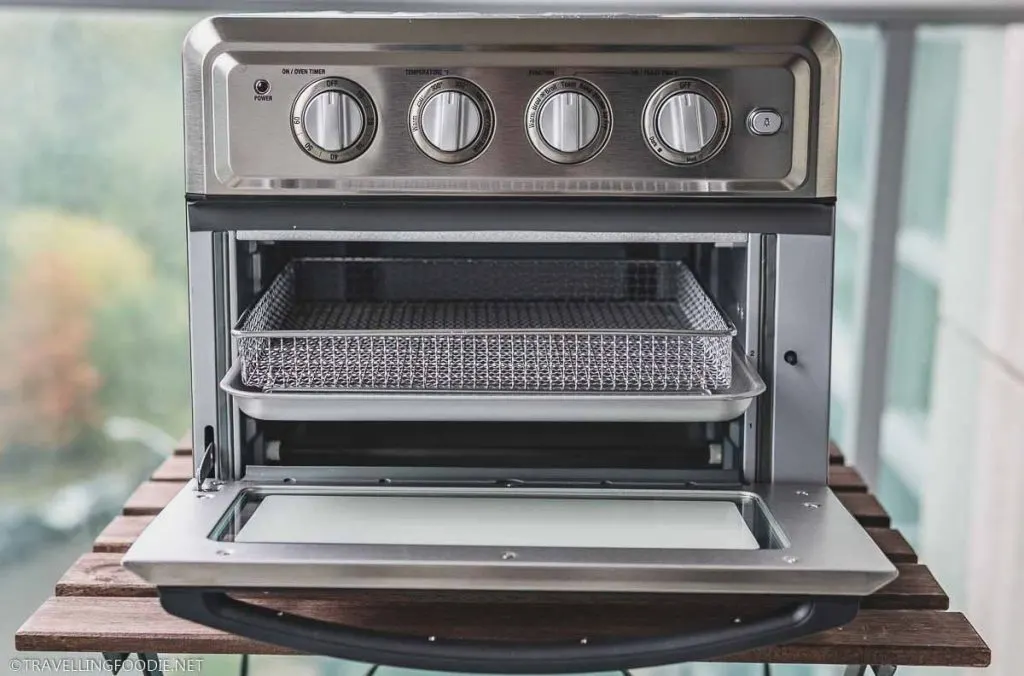 Barbecue Chicken Ingredients
Chicken – I used chicken drumsticks because it is one of the most tender cuts of chicken so it doesn't become too tough in the air fryer.

It is also one of the fattier chicken parts so you don't really need to use oil.

If you prefer leaner or healthier cut, you can use chicken breast, and look at my recipe for Air Fryer Chicken Breast for tips/settings for this cut.

BBQ Sauce – you can use favourite brand of Barbecue sauce or homemade sauce. I included an easy homemade BBQ sauce recipe on my Air Fryer BBQ Pork Tenderloin.
Garlic Salt – Since BBQ sauce is on the sweeter side, garlic salt adds a layer of garlicky salty taste.
Black Pepper – To add a spicy kick to this barbecue chicken.
---
How To Make BBQ Chicken in an Air Fryer
Here's how to make this quick and easy air fryer barbecue chicken.
Coat the raw chicken with the garlic salt and black pepper.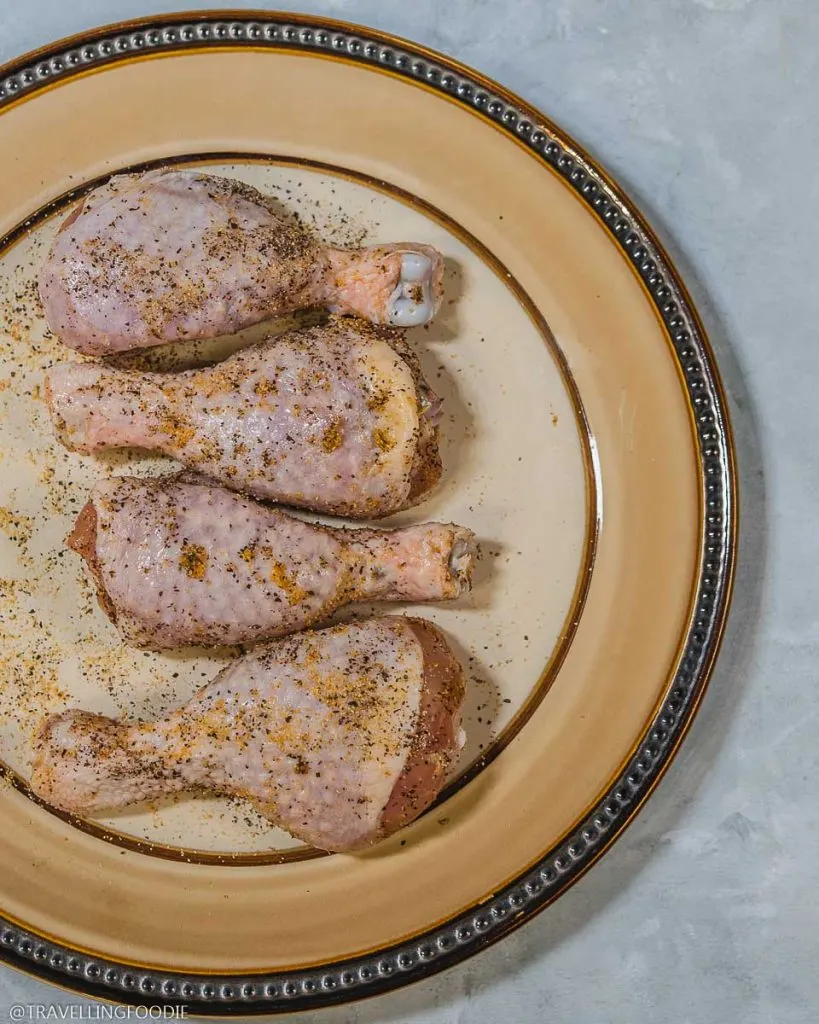 And yes! You can definitely air fry raw chicken, as long as it reaches an internal temperature of 165F so you know they are fully cooked.
If you're cooking with skin-on, try to also put seasoning underneath the skin so it penetrates the meat.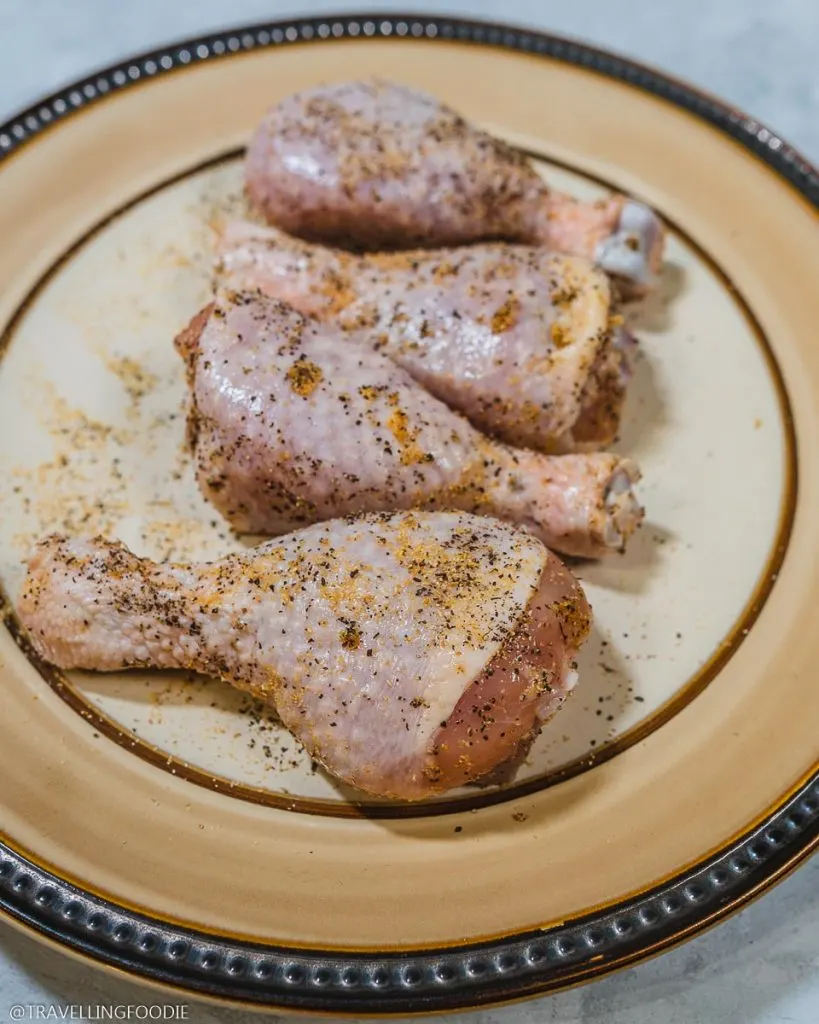 Coat the seasoned chicken with barbecue sauce.
Using bbq sauce in an air fryer is awesome because it caramelizes with the chicken!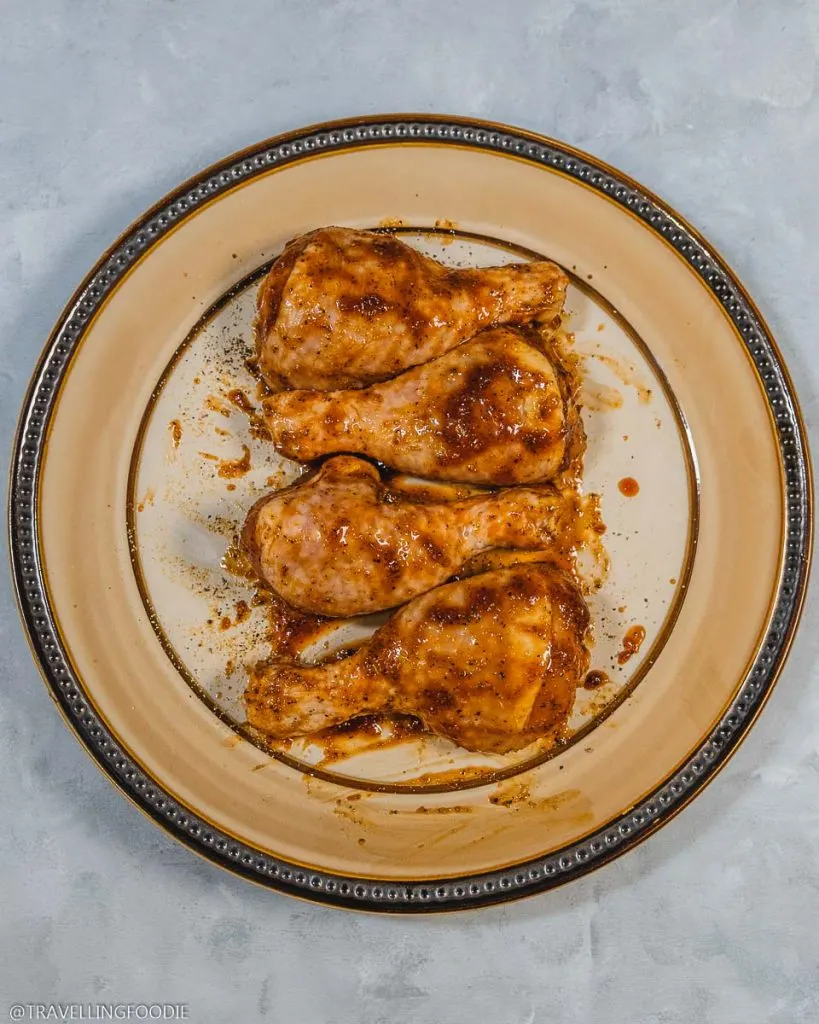 Place the marinated chicken on the air fryer basket and air fry at 350F for 20 minutes without crowding and overlapping.
Note: This setting was tested on the Cuisinart Air Fryer Toaster Oven. And it came out crispy and caramelized.
If you prefer "fried" chicken, try our air fryer fried chicken!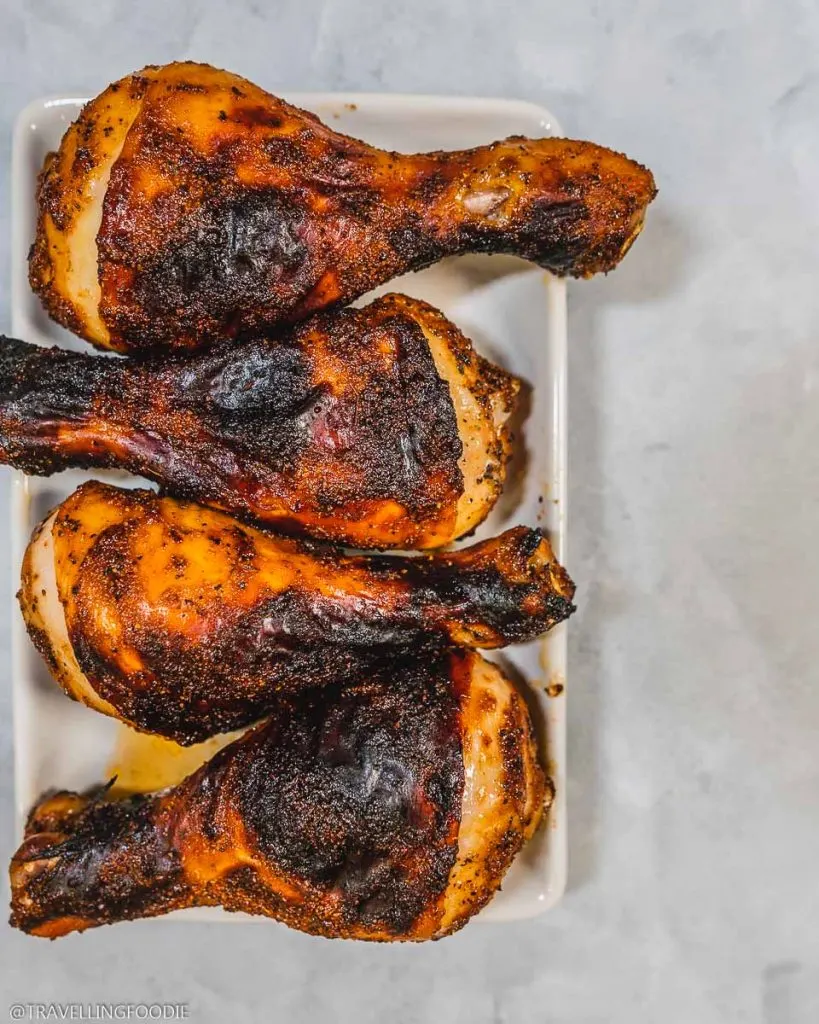 ---
What Dishes To Serve With Air Fryer BBQ Chicken
---
BBQ Air Fryer Chicken Tenderloin Recipe
Be sure to bookmark/save/pin this post so you can easily make Barbeque Chicken Drumsticks in the air fryer!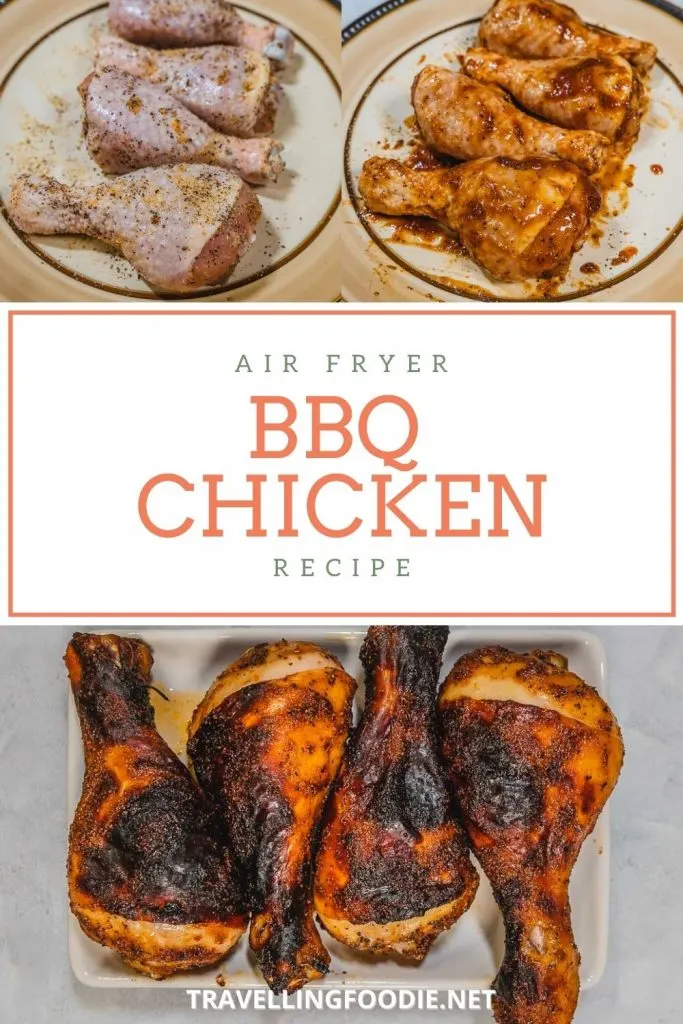 I would love to see how this recipe worked for you! Please share your creations with me on social media and tag me so I can check them out: @TravellingFoodie on Instagram & Facebook and @TravellinFoodie on Twitter.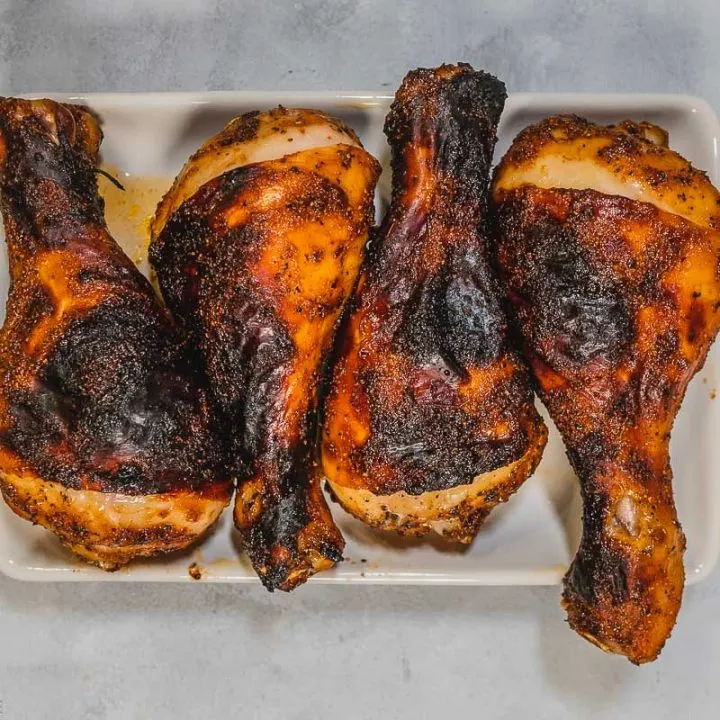 Air Fryer BBQ Chicken
Make BBQ Chicken without a grill using the air fryer! This Air Fryer BBQ Chicken is so easy to make and comes out juicy and delicious like it was grilled. Perfect for dinner and meal preps.
Instructions
Coat chicken drumsticks with garlic salt and pepper.
Coat chicken drumsticks with BBQ sauce.
Air Fry for 20 minutes at 350F (177C). Make sure you reach an internal temperature of 165F.
Notes
You can use store bought or homemade BBQ sauce.
To have the most flavour, leave the BBQ sauce, garlic salt and pepper on the chicken for at least 30 minutes to marinate.
I used the Cuisinart Air Fryer Toaster Oven TOA-60 for this recipe.
Depending on your air fryer, you may need to adjust temperature and time. E.g. higher heat/shorter time for smaller air fryers, and vice-versa.
Recommended Products
As an Amazon Associate and member of other affiliate programs, I earn from qualifying purchases.
Nutrition Information:
Yield:

4
Serving Size:

1
Amount Per Serving:
Calories:

205
Total Fat:

8g
Saturated Fat:

2g
Trans Fat:

0g
Unsaturated Fat:

5g
Cholesterol:

116mg
Sodium:

1453mg
Carbohydrates:

9g
Fiber:

1g
Sugar:

6g
Protein:

22g
Please note that nutrition information you see is provided and automatically calculated by Nutritionix. This may vary depending on the specific ingredients that you use. To ensure the most accurate information, I suggest entering your specific ingredients into a nutrition calculator.
---
Hope this Air Fryer BBQ Chicken recipe gives you an idea on how to make chicken barbecue without the grill! It's a main dish or appetizer to serve family style!