This quick and easy Air Fryer Chicken Breast recipe makes for tender and juicy boneless chicken breasts all the time in under 20 minutes!
These are great for a simple lunch or dinner, and even for meal preps.
---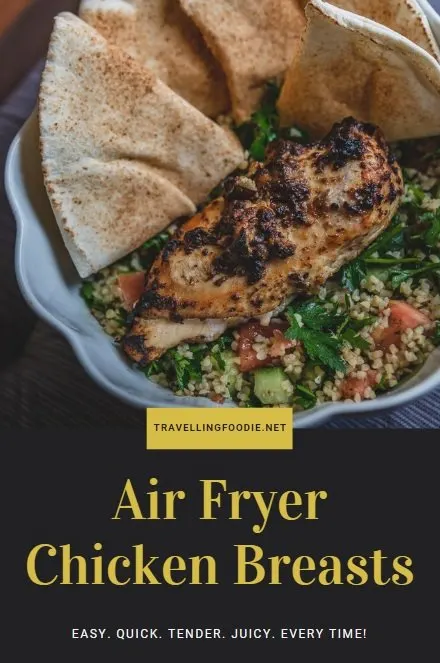 ---
This Air Fryer Chicken Breast Recipe is so easy to make!
When it comes to chicken, I prefer dark meat (thighs and drumsticks/legs) than white meat (breast), except for chicken wings!
A lot of people prefer chicken breast because it is leaner and healthier than dark meat.
Similarly, using an air fryer is a much healthier alternative to frying because it uses less oil.
Air frying is also better than baking in an oven because it cooks much faster.
Having received some chicken breasts, I wondered how easy it is to make Chicken Breasts in Air Fryer.
Turns out, it's so easy! And it ended up really tender and juicy!
Also Read: Air Fryer Bacon Cheese Tater Tots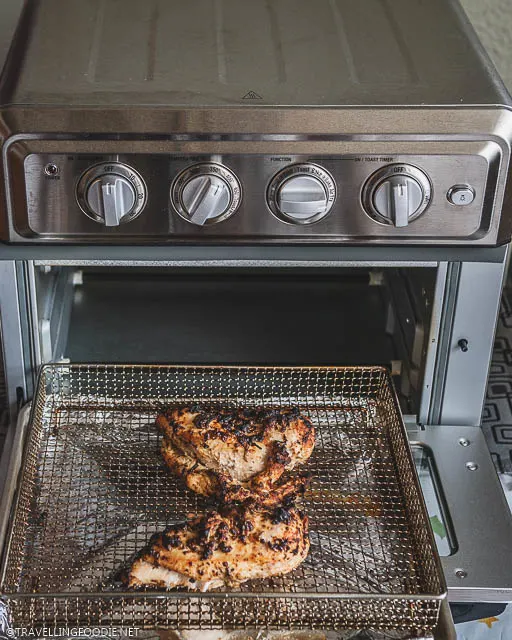 ---
What Is The Cook Time For Air Fryer Chicken Breast?
The cook time for this Air Fryer Chicken Breast recipe is 15 minutes using the Cuisinart Air Fryer.
Depending on the thickness of the chicken breasts and the brand of Air Fryer, cook times might vary.
You just need to make sure the chicken reaches an internal temperature of 165° Fahrenheit.
---
What Temperature To Cook Chicken Breasts In The Air Fryer?
I used a temperature of 375° Fahrenheit to cook the chicken.
This ensures that the Air Fryer is hot enough to fully cook the chicken breasts all the way through without burning the outside.
This temperature also was perfect in browning the outside first so the juices are retained inside as it cooks.
This is why the Air Fried Chicken Breast remains so juicy!
Despite the chicken being skinless, this temperature adds exterior crisps as it browns the outside.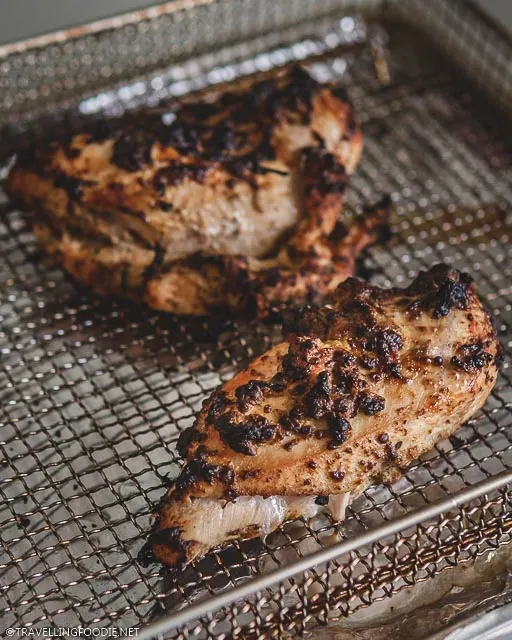 ---
Should I Brine or Marinate The Chicken Breasts?
The Air Fryer Chicken Breasts already comes out super juicy so there is really no need to brine beforehand.
However, you may still brine first if you wish to do so.
To make the brine solution, add 1/4 cup salt to 4 cups warm water in a large bowl.
Place the chicken breasts and let sit for at least 20 minutes.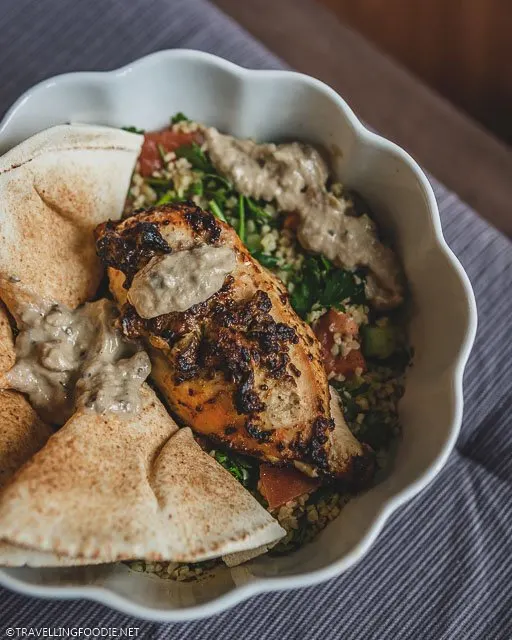 Instead of brining, this Air Fryer Chicken Breast recipe marinates the chicken with Baba Ganoush to give it a Mediterranean twist.
Do season the chicken with some salt and pepper first so that the Baba Ganoush gets absorbed to the chicken.
This air fryer recipe is very flexible and versatile so, if you don't want to use Baba Ganoush, you can switch it with a different marinade of your choice.
Also Read: Air Fryer BBQ Chicken – Easy BBQ Chicken without a Grill Recipe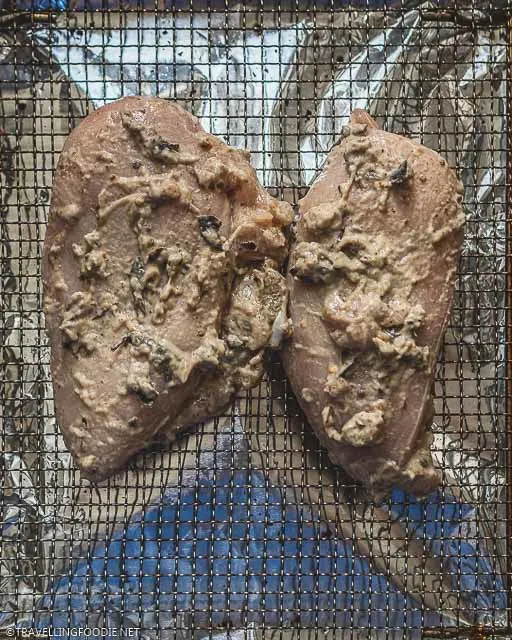 ---
How To Make Marinated Chicken Breast In Air Fryer With No Breading
This air fryer recipe for making boneless skinless air fried chicken breast is a quick method that guarantees delicious chicken breasts that are simple, healthy, and can be prepped in advanced.
Season and Marinate the Chicken Breasts
Air Fry the Chicken Breasts
Let the chicken rest then enjoy!
Rest Time is optional but helps the chicken retain heat, moisture and juices.
If you want it battered or breaded, try this Air Fryer Fried Chicken!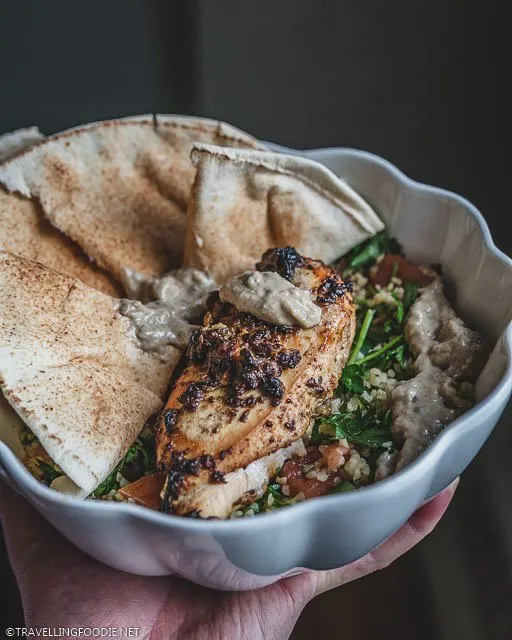 ---
Why Use Baba Ganoush As The Marinade?
Baba Ganoush is a very popular appetizer in Mediterranean and Middle Eastern cuisine.
However, this Levantine dish is mostly known as a dip for warm pita and bread.
What most people don't realize is Baba Ghanoush also makes for a great marinade because of its ingredients: typically eggplant, tahini, olive oil, lemon juice, garlic and salt.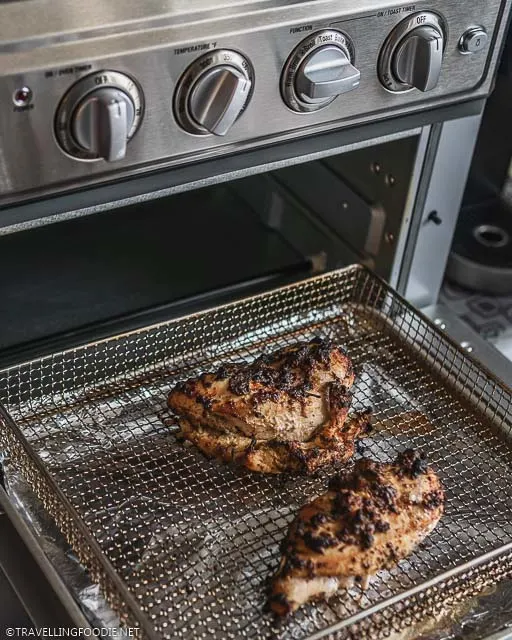 The herbs and spices already make for great flavours but adding to that is the smokiness of the roasted eggplant and you have yourself a wonderful tasting chicken breast.
Technically, since Baba Ganoush has salt already, you don't even need to season the chicken with salt and pepper first!
For the Air Fryer Chicken Breast, I used a store bought Baba Ghanoush, but you can definitely make your own homemade Baba Ghanoush instead.
You can buy baba ganoush online here, or use online recipes like this one from the Minimalist Baker here.
If you're looking for another Middle Eastern dish, try our Air Fryer Kofta Kebab!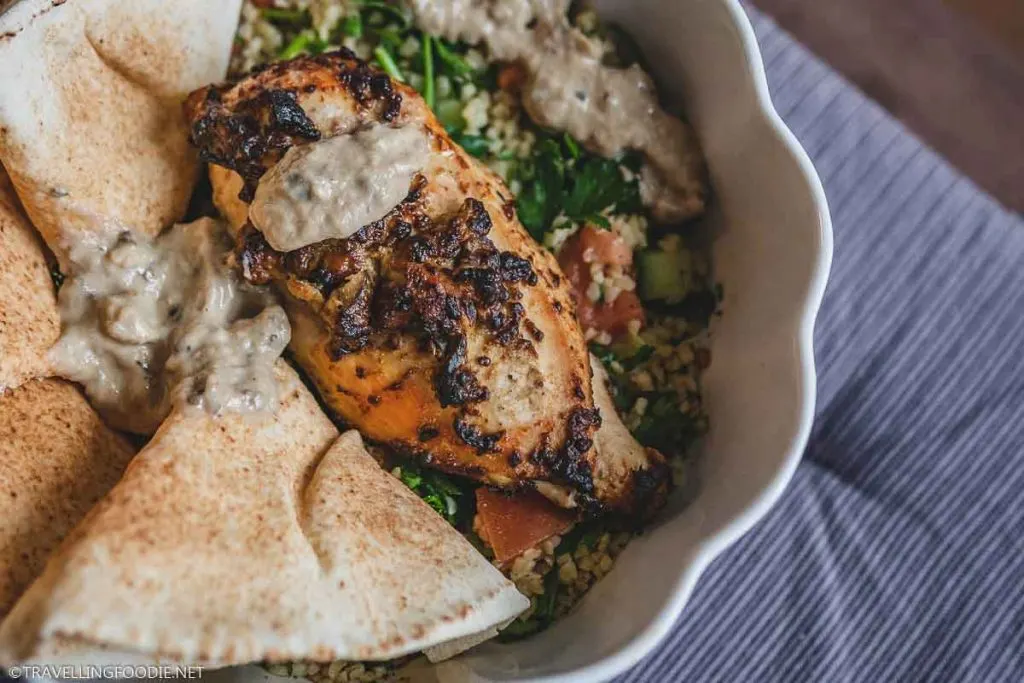 ---
Do I Need To Use Oil To Air Fry Chicken Breasts?
Since chicken breasts are lean meat, typically you would need to add oil when cooking them. Most Air Fryer Chicken Breast recipes ask you to coat oil on the chicken breast or spray the air fryer basket with cooking spray oil.
BUT the beauty of this Air Fryer Chicken Breast recipe is you don't need to use oil at all. This is because Baba Ganoush already has oil in it already so you don't need to use any extra oil.
---
Can You Stack Chicken Breasts In An Air Fryer?
No, you should not stack or overlap the chicken breasts in an air fryer. This would make the cooking uneven.
The heat will also not circulate properly which might not fully cook the chicken breasts and make the chicken stick together.
Check pricing of Air Fryer on Amazon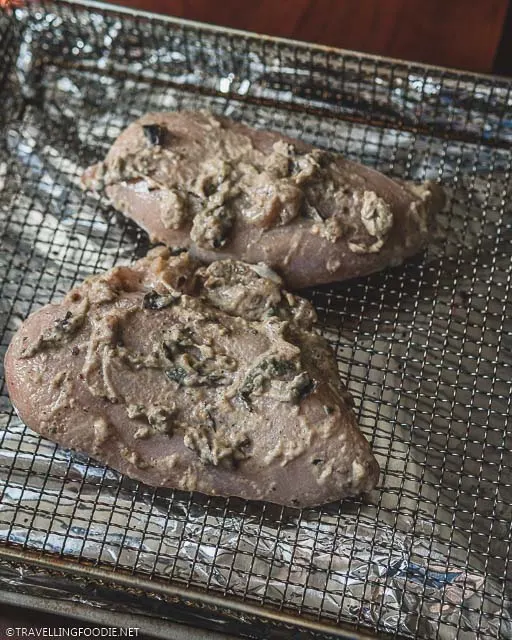 ---
What Dishes To Serve With Air Fryer Chicken Breasts?
Warm Pita and Baba Ganoush. You can buy extra Baba Ganoush, or you should have some leftovers. Most Baba Ganoush in the store comes in a 227g container so you should have extra to serve with some warm pita.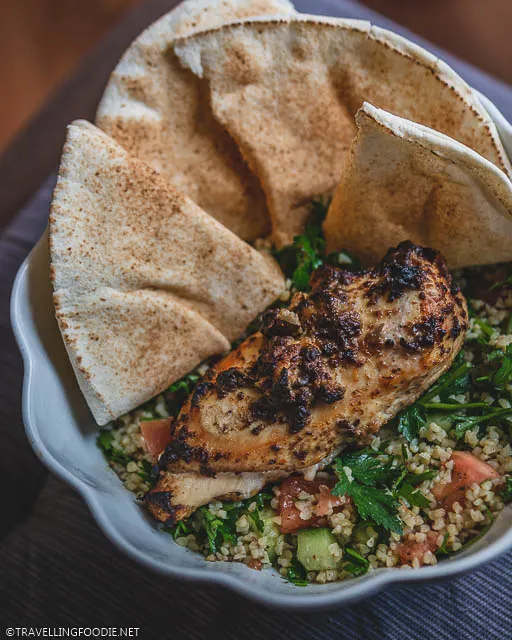 Tabbouleh. If you want something healthier while keeping up with the Mediterranean theme, Tabbouleh is a great accompaniment instead of rice or bread.
Avial. Another healthy alternative is this delicious Indian vegetable curry.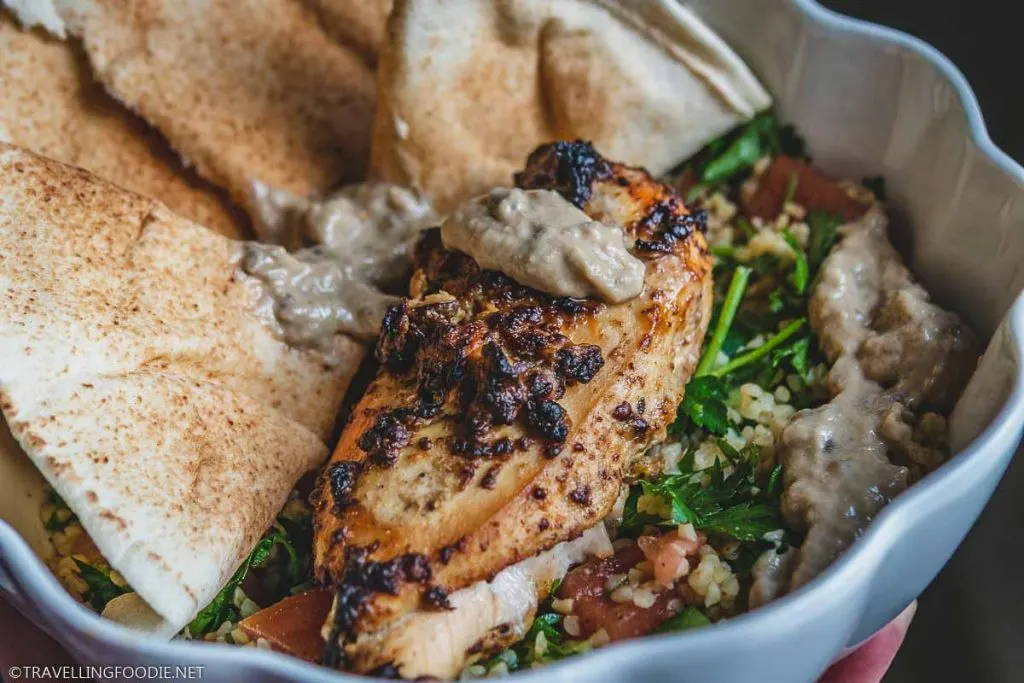 ---
Chicken Breast in Air Fryer Recipe
Here is the recipe for the Air Fryer Chicken Breast.
Be sure to bookmark/save/pin this post so you can easily make the Air Fryer Mediterranean Chicken Breast marinated in Baba Ganoush in the future.
I would love to see how this recipe worked for you! Please share your creations with me on social media and tag me so I can check them out: @TravellingFoodie on Instagram & Facebook and @TravellinFoodie on Twitter.
Air Fryer Chicken Breast
This quick and easy Air Fryer Chicken Breast recipe makes for tender and juicy boneless chicken breasts all the time! These are great for a simple lunch or dinner, or for meal preps. All you need are skinless boneless chicken breast and a marinade.
Ingredients
2 pieces Boneless, Skinless Chicken Breasts, mine were 340 grams
55 grams Baba Ganoush, mine was store bought
1/4 teaspoon Sea Salt, 1/8 tsp per chicken breast
1/4 teaspoon Black Pepper, 1/8 tsp per chicken breast
Instructions
Pat the chicken breasts dry with paper towel and place in a small bowl
Season chicken breasts with salt and pepper
Coat the chicken breasts with baba ganoush
Place the chicken breasts on the air fryer basket without overlapping
Cook chicken breasts for 15 minutes on 375 degrees Fahrenheit
(Optional) When done, remove the air fryer basket and let the chicken breasts rest for 5 minutes.
Notes
Cook time may vary based on thickness of Chicken Breast as well as Air Fryer used. Find the right balance as long as the Chicken Breast has internal temperature of at least 165 degrees Fahrenheit.
Make sure Chicken Breasts have the same thickness to evenly cook in Air Fryer.
You can use other marinades instead of Baba Ganoush.
Recommended Products
As an Amazon Associate and member of other affiliate programs, I earn from qualifying purchases.
Nutrition Information:
Serving Size:

340g
Amount Per Serving:
Calories:

317
Total Fat:

9g
Saturated Fat:

2g
Trans Fat:

0g
Unsaturated Fat:

6g
Cholesterol:

145mg
Sodium:

427mg
Carbohydrates:

3g
Fiber:

1g
Sugar:

1g
Protein:

54g
Please note that nutrition information you see is provided and automatically calculated by Nutritionix. This may vary depending on the specific ingredients that you use. To ensure the most accurate information, I suggest entering your specific ingredients into a nutrition calculator.
---
Hope this Air Fryer Mediterranean Chicken Breasts recipe helps give you an idea on how you can cook chicken breasts with an Air Fryer! It's seriously so simple and love the use of baba ganoush on the chicken.