Love French Fries? You will love this air fryer french fries recipe!
Air Fryer French Fries is enough reason to get an air fryer. This addicting homemade crispy French fries recipe is easy to make in less than 20 minutes.
---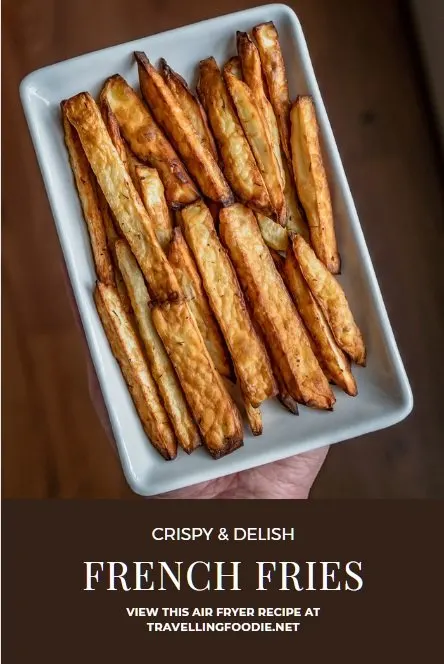 ---
Crispy French Fries
No joke – french fries is the reason I wanted an air fryer. They are one of my favourite comfort food and something I usually can't help ordering in restaurants.
Wanting to make french fries at home before, I bought a deep fryer which I rarely used because it was a pain to clean and uses a lot of oil. I found it wasteful especially if you only wanted to make a single serving of fried food.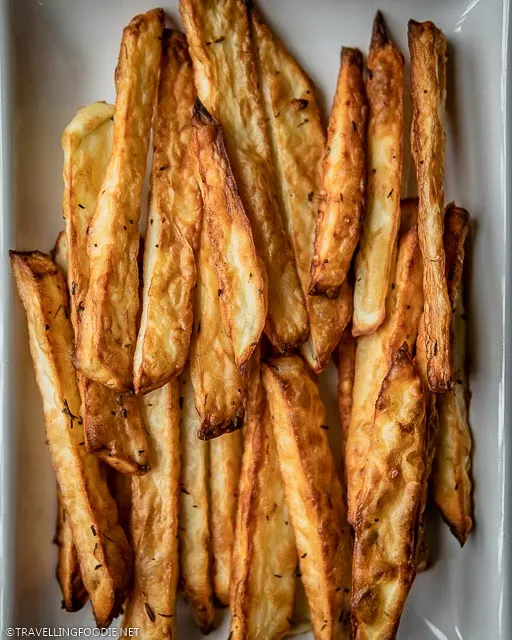 When I learned air fryers work for french fries and required little to no oil, it's not surprising you're seeing this recipe.
I used to only buy frozen french fries but, in this recipe, I want to show you how to make french fries from scratch with an air fryer.
Crispy. Delicious. Addicting.
I was hooked. Once you know how easy it is to make homemade french fries, you'll forget about frozen fries!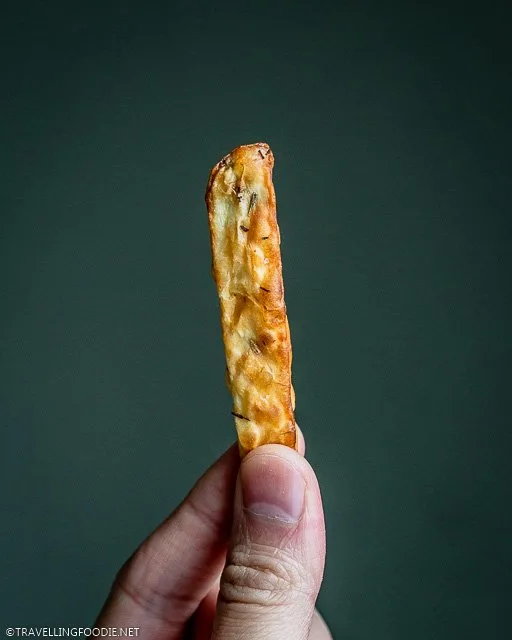 Also Read: Sea Grapes – All About Umibudo Green Seaweed Algae
---
What Makes This Air Fryer Recipe So Good?
If the fact that it's FRENCH FRIES! is not enough, here are other great reasons:
Easy: There's not much effort involved in the recipe. The most effort needed is slicing the potatoes.
Quick: Air frying makes French fries at a shorter amount of time than baking in the oven.
Healthy: Compared to having a deep-fried French fries or using frozen fries, these homemade fries are air fried with very little oil.
Cheap: Buying your own potatoes to make homemade French fries is much cheaper than buying frozen fries.
Flexible: You can use this French fries recipe and adjust the ingredients to your liking. You can make it plain without anything, or with herbs, or make it fancy as garlic parmesan or truffle fries!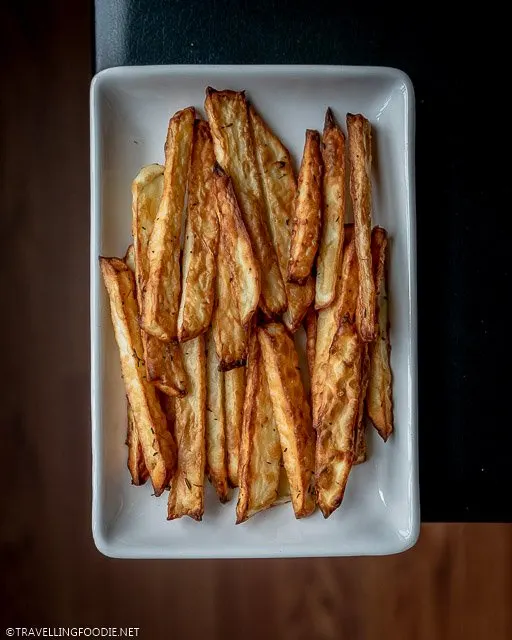 ---
What You Need For Air Fryer French Fries
Equipment
I used the Cuisinart Air Fryer Toaster Oven TOA-60 for this recipe. Other brands will work but you might need to adjust timing. Here are other popular brands: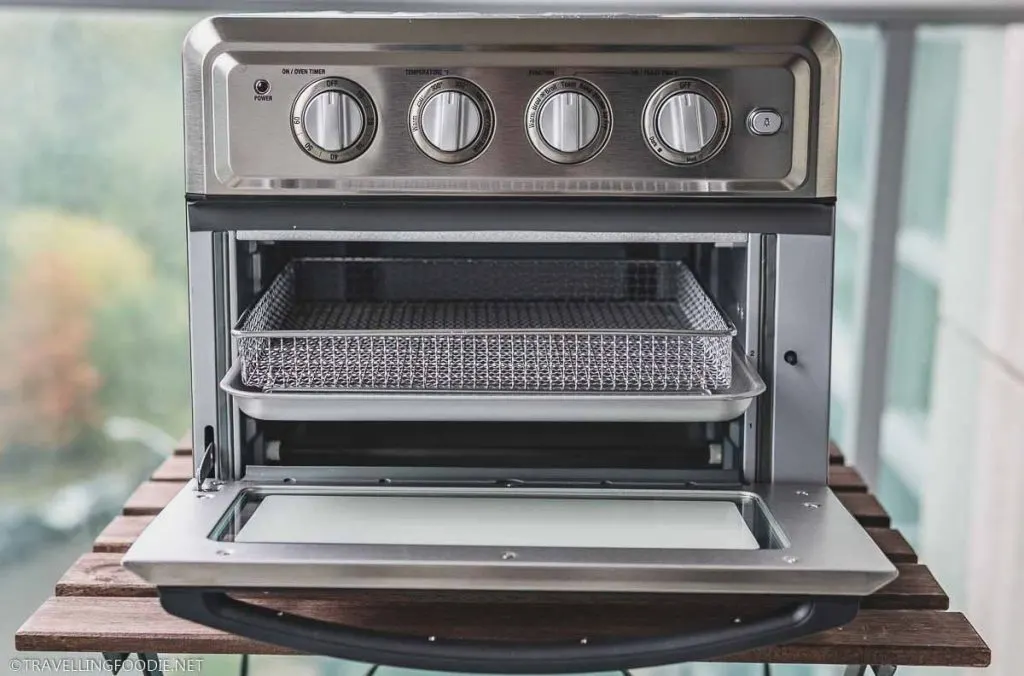 Ingredients
Russet Potato
Salt
Thyme – You can also use other herbs you prefer for fries.
Oil – I used olive oil so that it's healthier.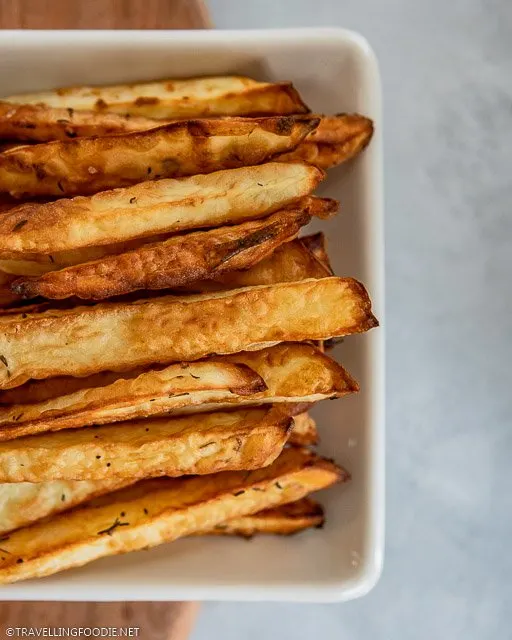 ---
How To Make French Fries in an Air Fryer
Peel and cut the russet potato into 1/4-inch sticks. Pat them dry.
In a small bowl, toss the potatoes on 1 tsp oil to coat. Sprinkle 1 tsp salt and 1 tsp thyme to coat the potatoes.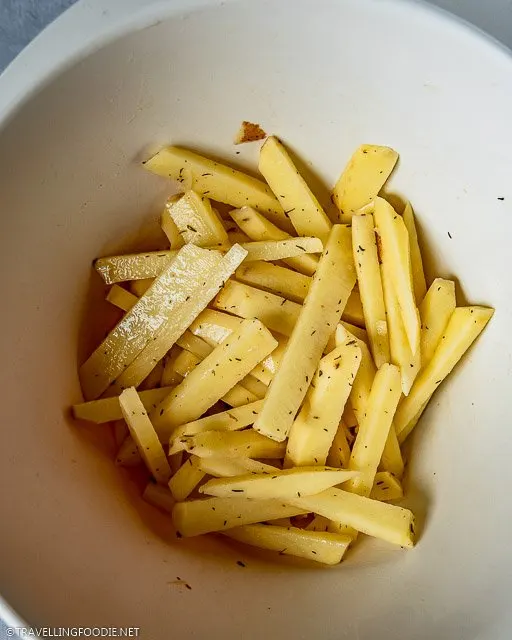 Layer the potato sticks on the air fryer basket without overlapping and crowding.
Run the air fryer at 400F for 12 minutes. Cooking time may vary depending on your air fryer.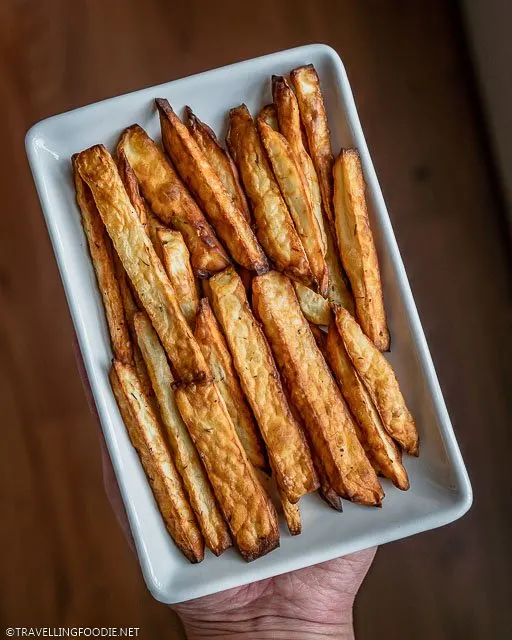 With the Cuisinart Air Fryer Toaster Oven, I tested with two batches using the same temperature of 400F but with different durations: 12 minutes vs 10 minutes.
Here's the photo comparison. This batch of herb french fries was air fried for 10 minutes.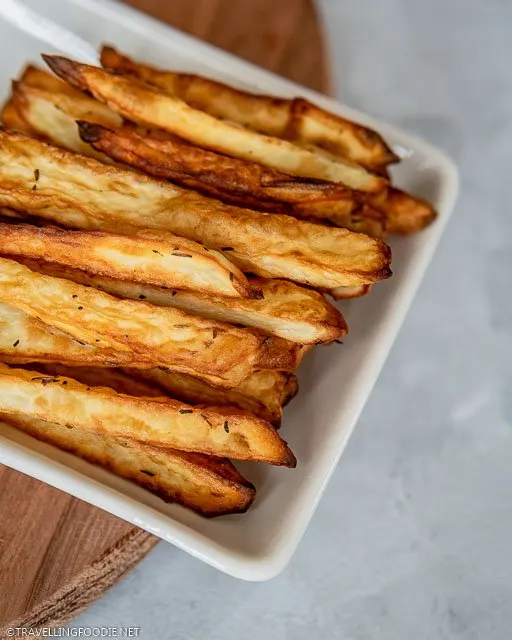 These fries were done 12 minutes. I found they were crispier and are more thoroughly air fried.
If you prefer sweet potatoes, I also made a recipe for Air Fryer Sweet Potato Fries.
---
Tips On Making The Perfect Air Fryer French Fries
Soak the potato in cold water – this removes the excess starch from the potato. This trick helps the fries from sticking to each other or the surface.
Pat the potato dry – this makes the oil coat better and makes the fries crisp better.
Cut the potatoes evenly – this ensures that all the fries are air fried evenly. If some are bigger or smaller then those pieces might end up getting under-cooked or overcooked.
Don't crowd nor overlap the fries on the air fryer basket – this ensures the heat is properly circulating and cooking all sides of the fry.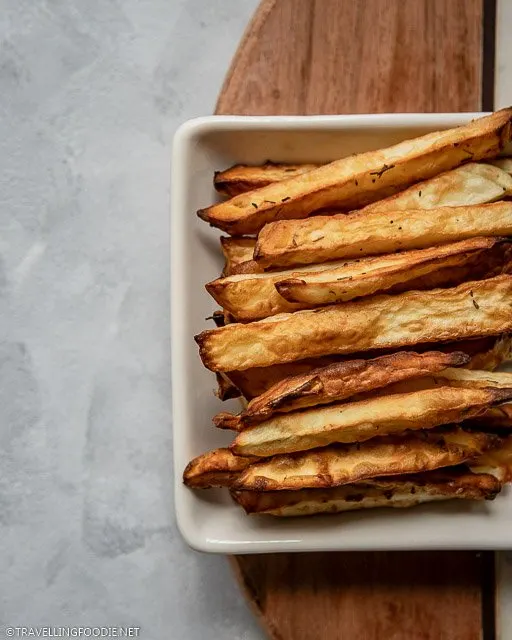 ---
Can You Cook Frozen French Fries Instead?
You most certainly can! I have cooked frozen french fries and tater tots in an air fryer.
All you need to do is put the frozen fries on the basket and run it.
How long it takes to cook frozen french fries depends on your air fryer brand. It usually takes a couple minutes longer than homemade ones because it starts from frozen.
With the Cuisinart Air Fryer, it takes 15 minutes to cook frozen french fries.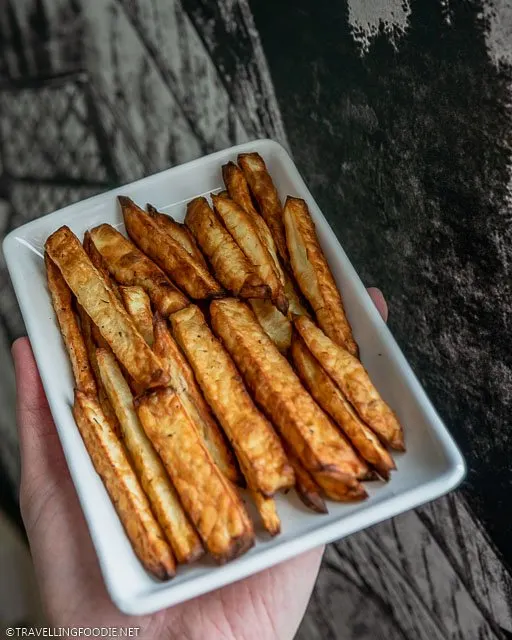 ---
What To Serve With Air Fryer French Fries
---
Air Fryer French Fries Recipe
Be sure to bookmark/save/pin this post so you can easily make these Crispy French Fries!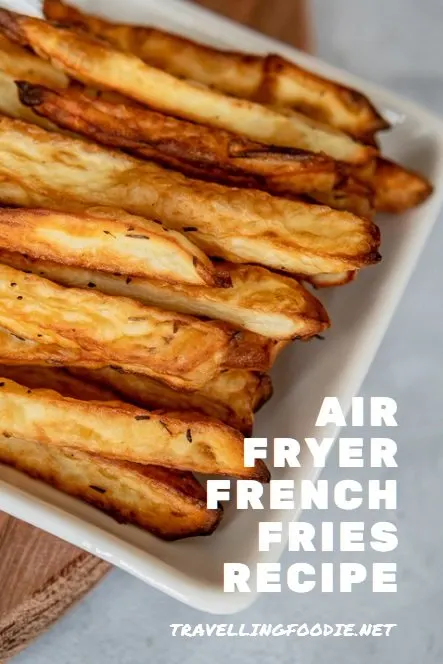 Here is the recipe for Air Fried French Fries!
I would love to see how this recipe worked for you! Please share your creations with me on social media and tag me so I can check them out: @TravellingFoodie on Instagram & Facebook and @TravellinFoodie on Twitter.
Air Fryer French Fries
Crispy homemade french fries made with an air fryer in less than 20 minutes! Addicting snacks and great as side dish, you'll never want to do frozen fries again with this recipe.
Instructions
Peel and cut potato into 1/4-inch sticks.
Toss the potatoes in olive oil, sea salt and thyme to coat.
Place them in the air fryer basket and run at 400F for 12 minutes.
Recommended Products
As an Amazon Associate and member of other affiliate programs, I earn from qualifying purchases.
Nutrition Information:
Yield:

1
Serving Size:

1 grams
Amount Per Serving:
Calories:

208
Total Fat:

5g
Saturated Fat:

1g
Trans Fat:

0g
Unsaturated Fat:

4g
Cholesterol:

0mg
Sodium:

2350mg
Carbohydrates:

37g
Fiber:

4g
Sugar:

2g
Protein:

5g
Please note that nutrition information you see is provided and automatically calculated by Nutritionix. This may vary depending on the specific ingredients that you use. To ensure the most accurate information, I suggest entering your specific ingredients into a nutrition calculator.