Love crispy battered fish? This Air Fryer Fried Fish recipe makes them perfect all the time!
We make fried fish in air fryer because it's so quick and easy (under 20 minutes!), and it's much healthier than frying!
---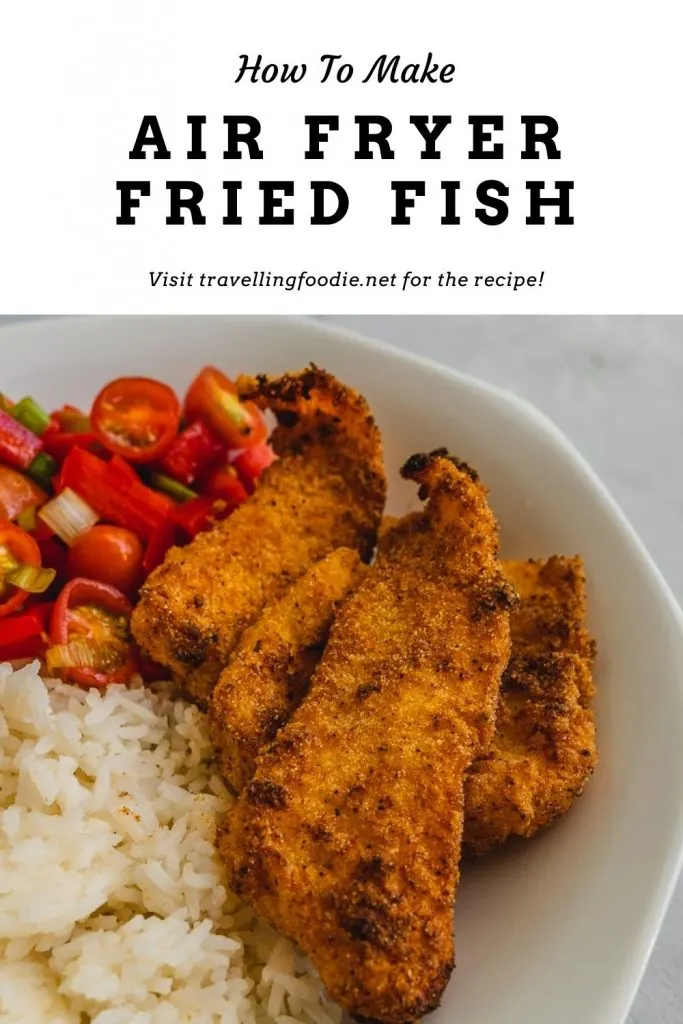 ---
Why Air Fryer Fried Fish?
How do you like to eat fish? I enjoy them steamed, grilled and especially fried!
Since fish is moist and flaky, having a crispy element just adds a nice texture and bite to it.
Whenever I'm in a restaurant ordering fish, I love getting Fish and Chips (like my favourite British spot in Toronto) and Fried Fish Tacos (like this awesome Mexican joint in Ocala)!
Making fried fish at home is usually bothersome because of all the oil you have to use.
Air Fryer changes all this!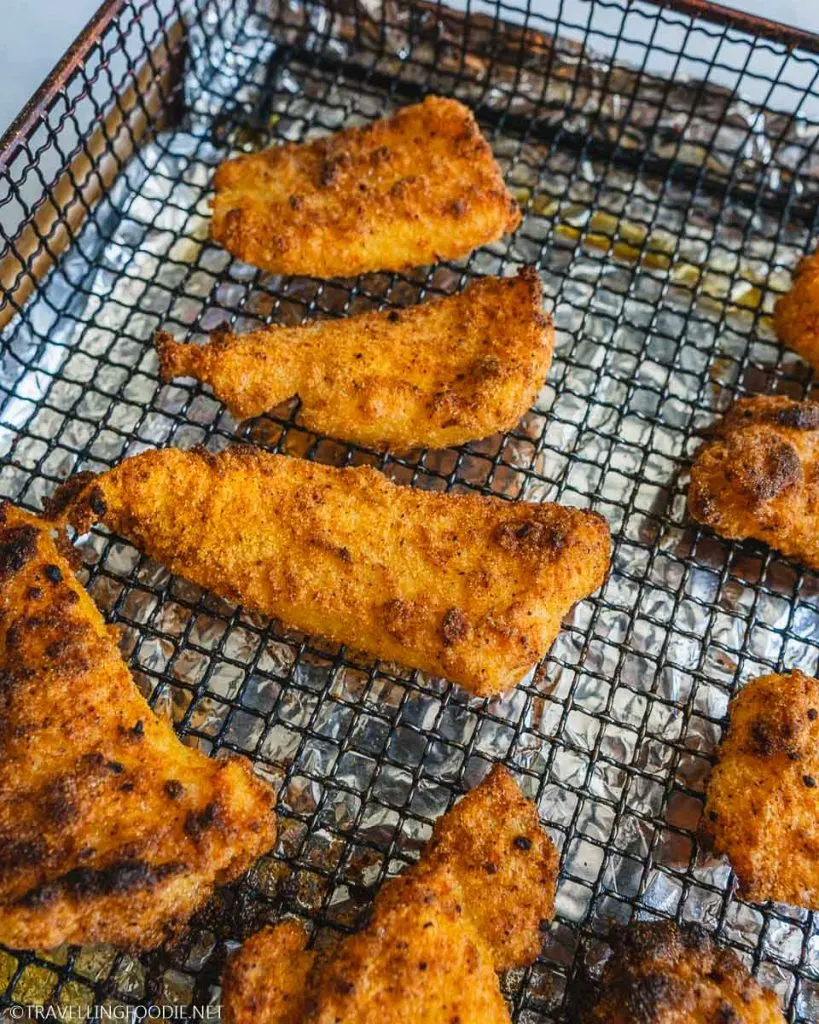 Air fryer is so good for frying fish.
The fish is moist and flaky, and it comes out crispy!
Plus, you can do it so quickly and not have to worry about oil splatters or monitoring the fish.
Now you can make this crispy battered fish in air fryer at home!
And it's so quick and simple!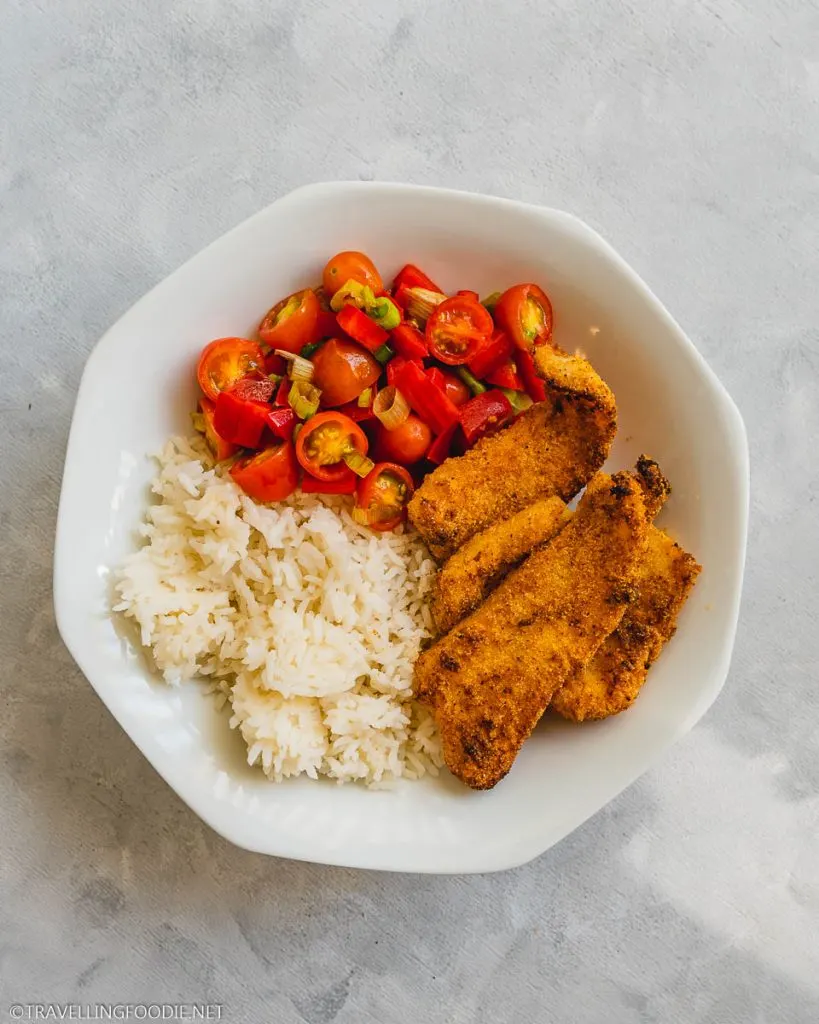 ---
Is Air Fried Fish Healthier?
You may be wondering, is it healthier to cook fried fish in air fryer?
Fish in general is healthy because of the protein, fats and nutrients.
Air Fryer fried fish is definitely healthier than deep fried fish because there is very little oil used, removing the extra fat and calories.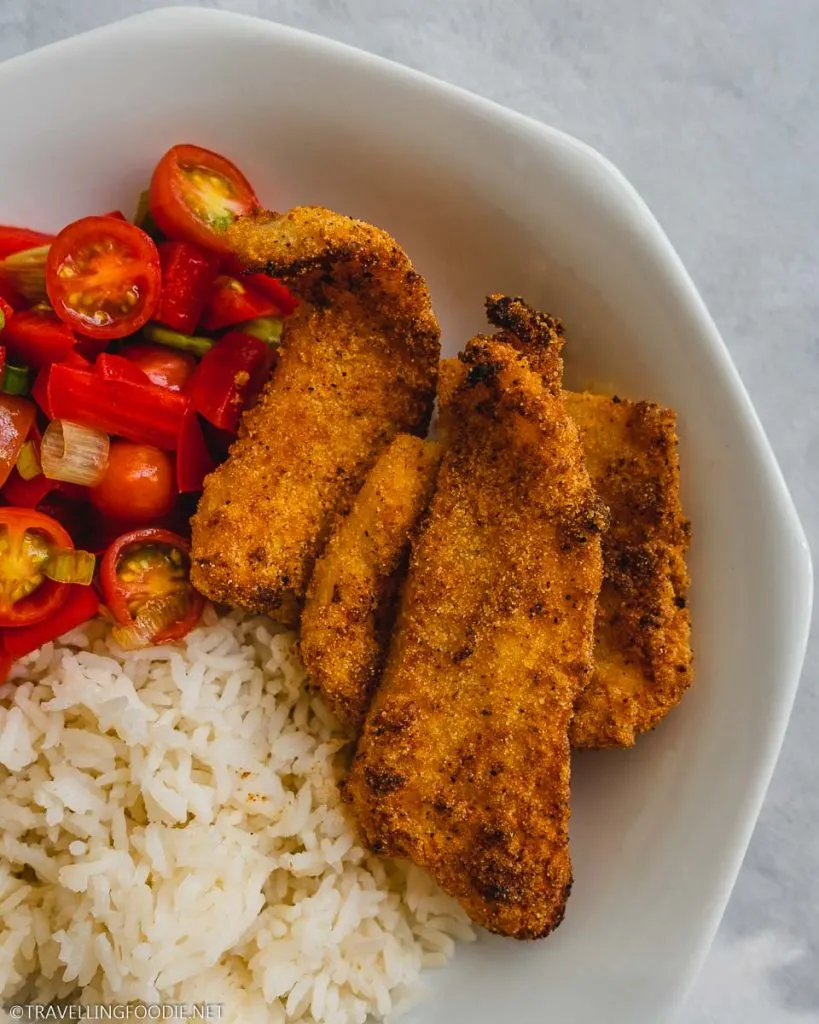 ---
What You Need For Air Fryer Fried Fish
Equipment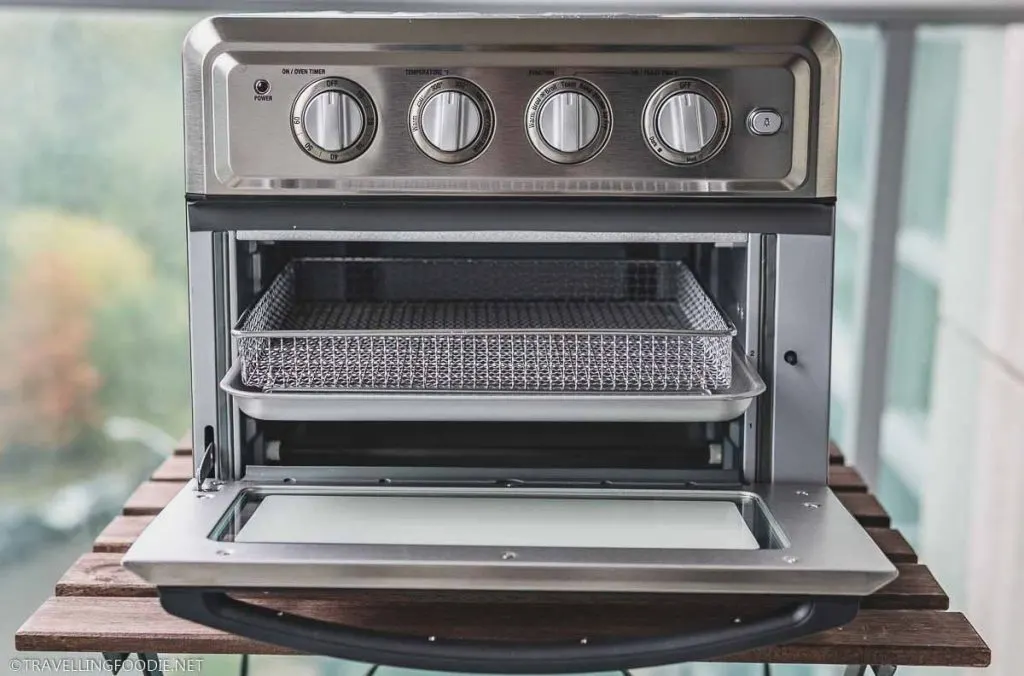 Ingredients
Fish Fillets – You want fillets so it's deboned already and you can cut into strips. I used Basa fillets because they're cheap and common. You can also use cod, tilapia, haddock, catfish, and other kinds of white fish.
Mayonnaise – I LOVE using mayonnaise for breaded/battered air fryer recipes. Why? It makes an amazing binder! Usually you need oil and/or beaten eggs for batters and dredging but mayonnaise does both for you.
Flour – I used All-Purpose Flour for my batter, but you can also use cornstarch (rice flour).
Garlic Salt – I usually prefer garlic salt over regular salt to have that extra garlic taste, but you can definitely use regular salt or sea salt.
Black Pepper
Paprika – Gives it an extra heat.
---
How To Cook Battered Fish In Air Fryer
Air fryer fried fish is so easy to make that it's one of my most popular air fryer recipes.
Pat the fish dry. You can slice into strips to have more pieces, or just do one big air fried fish fillet.
I personally prefer them in smaller strips so they cook more evenly and you get a better batter-to-fish ratio.
For the dry mix, combine the flour (or breading), garlic salt, black pepper and paprika.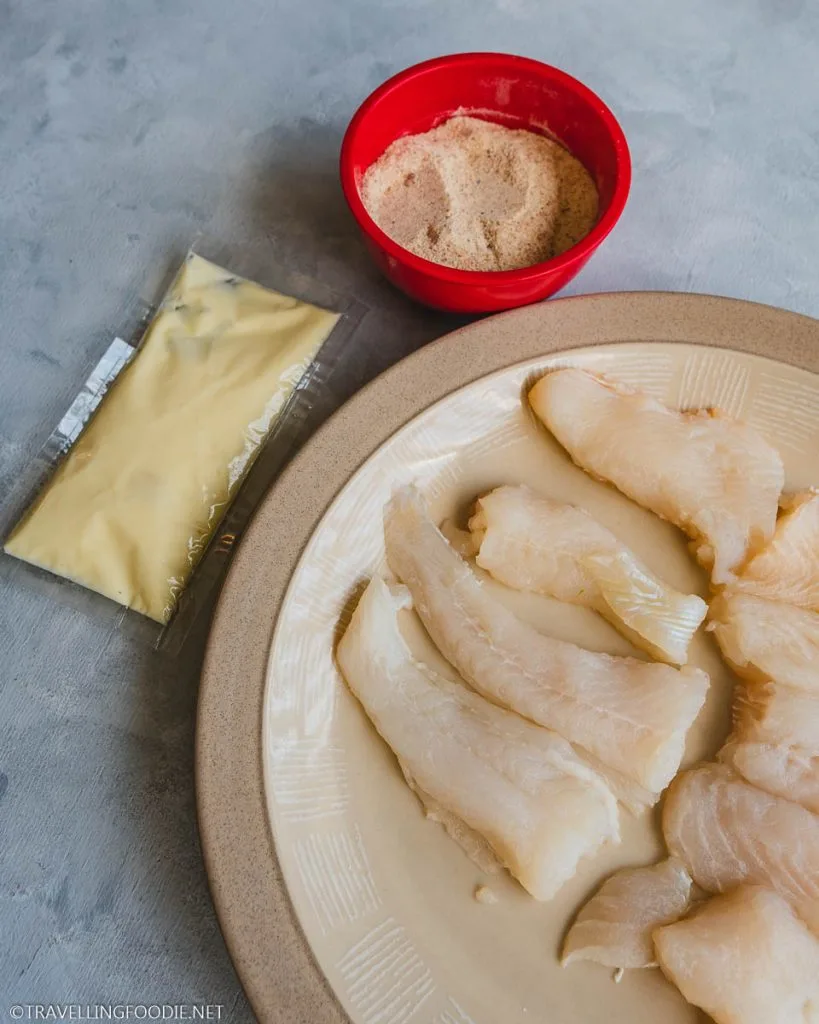 Coat the fish with mayonnaise.
Then dredge the fish on the dry mix.
Layer the fish on the air fryer basket.
Do not overlap and overcrowd so it cooks evenly.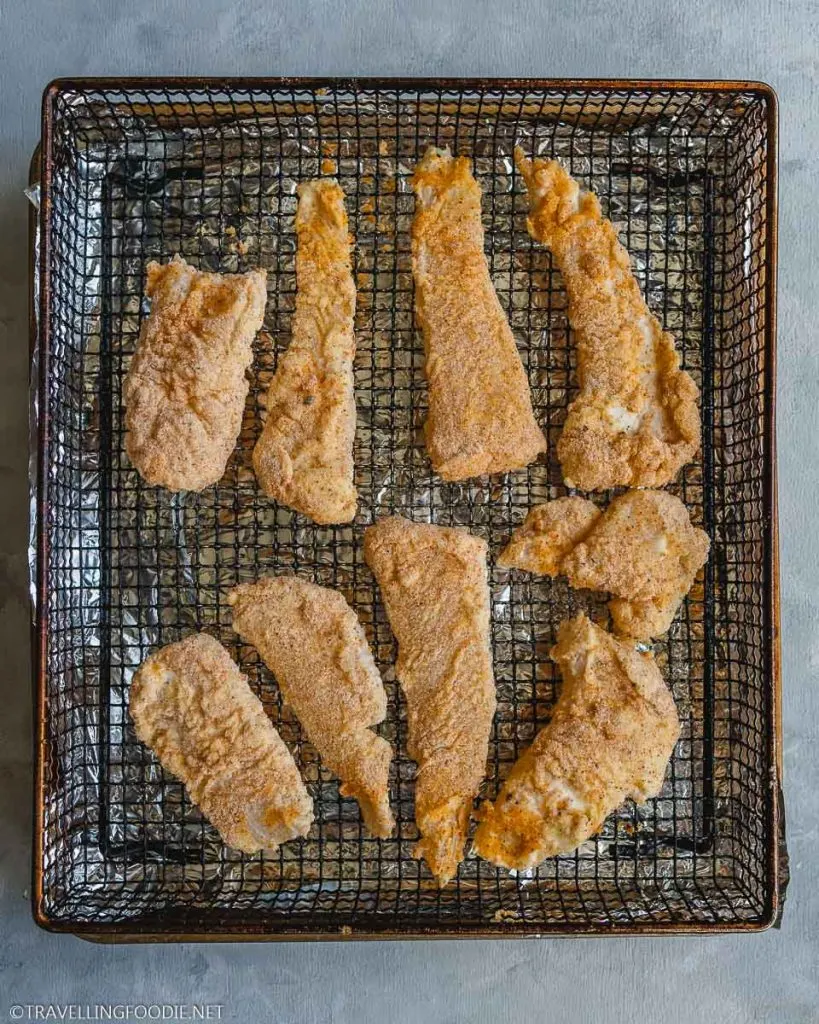 How long do you cook battered fish fillets in an Airfryer?
Run the battered fish in air fryer for 12 minutes at 400F (205C).
You don't need to oil the basket nor the fish because the mayonnaise has oil already.
This has been tested with the Cuisinart Air Fryer Toaster Oven TOA-60. If you use a different Air Fryer, be sure to consult the manual on proper timing.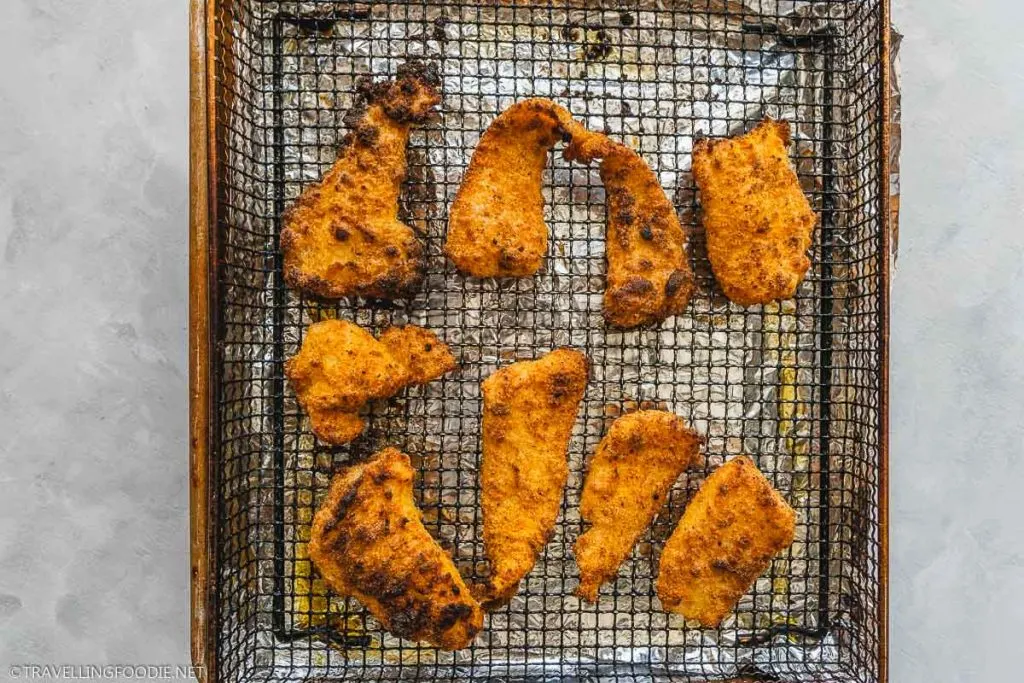 Enjoy them on its own as a snack, side dish, appetizer or a main dish!
P.S. Make this Air Fryer French Fries to turn it into Fish and Chips!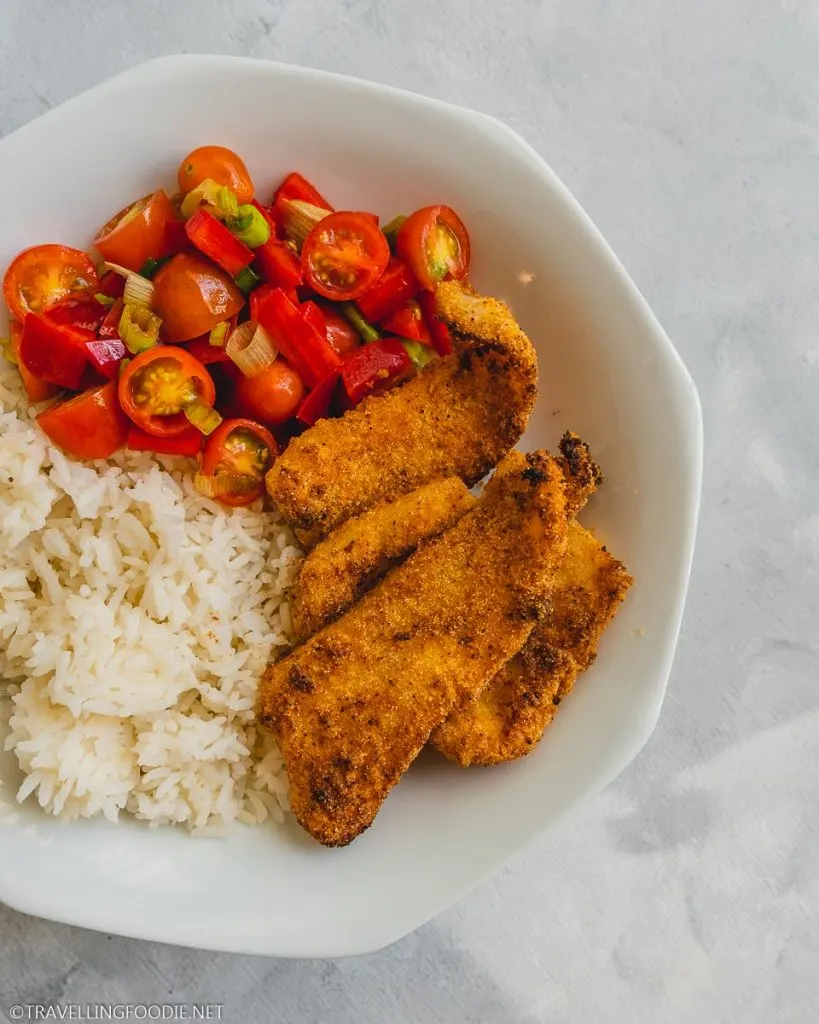 ---
Air Fryer Fried Fish Tips & Tricks
What can I use instead of mayonnaise?
If you don't have or don't want to use mayonnaise, you can replace mayonnaise with:
Oil only – coat the fish with oil then dredge with flour mix.
Egg and oil – beat the egg and dredge with the flour mix. Grease the air fryer basket with oil before air frying, or spray both sides of fish with cooking oil.
Can you make the air fryer fish breaded instead of battered?
YES! The beauty of this air fryer fried fish recipe is how flexible it can be.
To make it breaded, you can use panko bread crumbs or tempura crumbs to make it into air fryer breaded fish.
What if I want air fryer fish without breading or batter?
Simply skip the flour or breading in the recipe. It'll be like oven or stove-top fish in air fryer.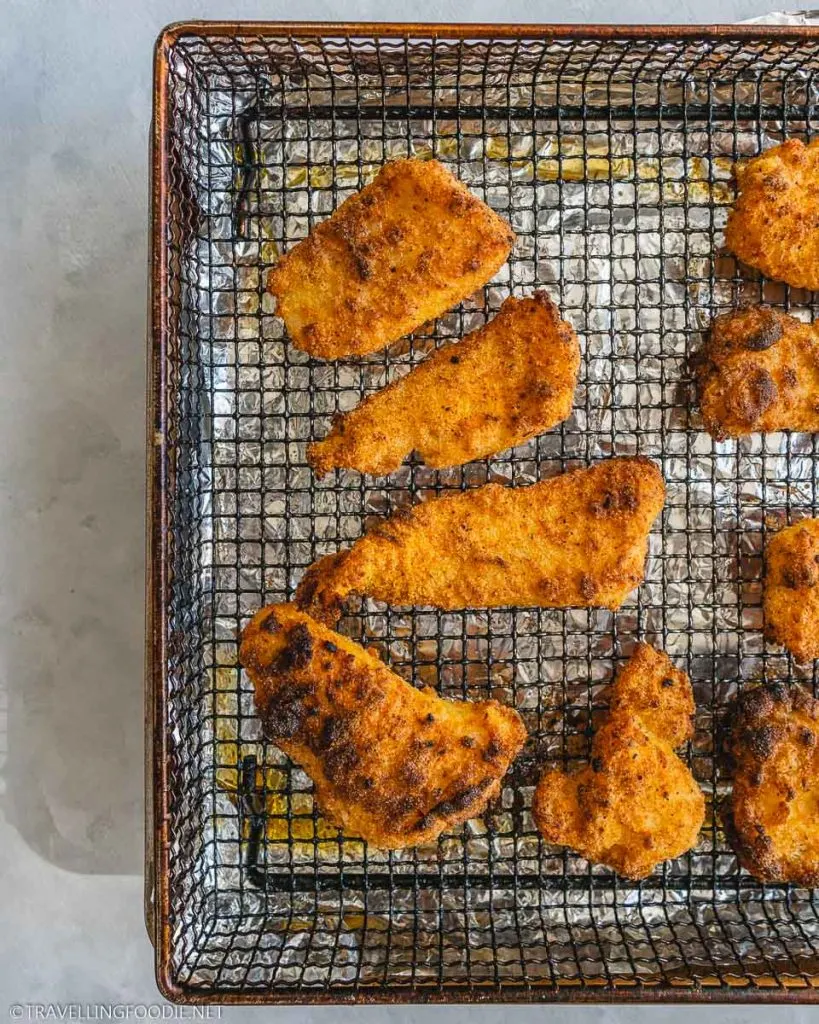 ---
Dishes To Serve With Air Fried Battered Fish
---
Fried Fish in Air Fryer Recipe
Be sure to bookmark/save/pin this post so you can easily make perfectly crispy battered fish in air fryer!
I would love to see how this recipe worked for you! Please share your creations with me on social media and tag me so I can check them out: @TravellingFoodie on Instagram & Facebook and @TravellinFoodie on Twitter.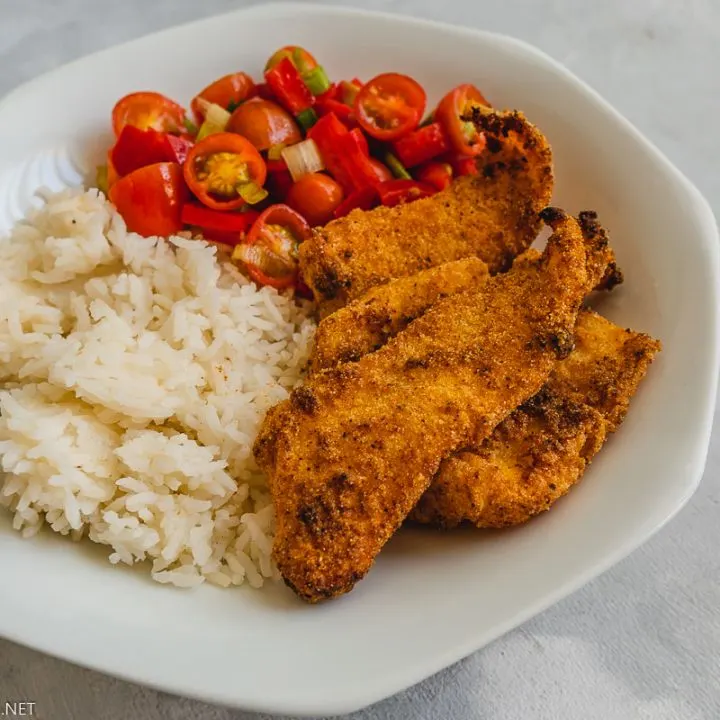 Air Fryer Fried Fish
Easy air fryer fried fish is one of the best ways to eat fish! Make crispy and delicious fried fish in air fryer under 20 minutes that's perfect for snacks, appetizers and main dish!
Instructions
Pat fish dry and cut into 8 strips
Mix flour, black pepper, garlic salt and paprika
Coat fish with mayonnaise
Coat fish with flour mix
Place battered fish on air fryer basket without overlapping and overcrowding
Cook battered fish in air fryer for 12 minutes at 400F (205C)
Notes
If you prefer breaded than battered, use panko bread crumbs instead
Recommended Products
As an Amazon Associate and member of other affiliate programs, I earn from qualifying purchases.
Nutrition Information:
Yield:

2
Serving Size:

1
Amount Per Serving:
Calories:

270
Total Fat:

21g
Saturated Fat:

3g
Trans Fat:

0g
Unsaturated Fat:

17g
Cholesterol:

12mg
Sodium:

2556mg
Carbohydrates:

18g
Fiber:

3g
Sugar:

1g
Protein:

3g
Please note that nutrition information you see is provided and automatically calculated by Nutritionix. This may vary depending on the specific ingredients that you use. To ensure the most accurate information, I suggest entering your specific ingredients into a nutrition calculator.
---
Hope this Air Fryer Fried Fish recipe gives you an idea on how to make battered or breaded fish in air fryer!
It's such a great way to make perfectly crispy fish all the time that's healthier and without deep frying!