Love crispy potato chips? This Air Fryer Potato Chips recipe makes them perfect all the time.
Such addicting snacks!
We make potato chips in air fryer because it's so quick and easy (under 30 minutes!), and it's so delicious when made fresh!
---
---
What Are Potato Chips?
Potato Chips are thin slices of potato that has been deep fried until crunch, although baked and air fried works as well.
Typically served as a snack, side dish or appetizer, potato chips in its basic form are salted.
Nowadays, there's a myriad of flavours and seasoning for potato chips from common ones like barbecue and sour cream to country-specific ones like ketchup in Canada and ume (pickled plum) in Japan.
Legend has it that the potato chip was invented by Chef George Crum in 1853 in Saratoga Springs, New York at the Moon Lake Lodge resort because a customer kept complaining and sending back the fries for being too thick and soggy.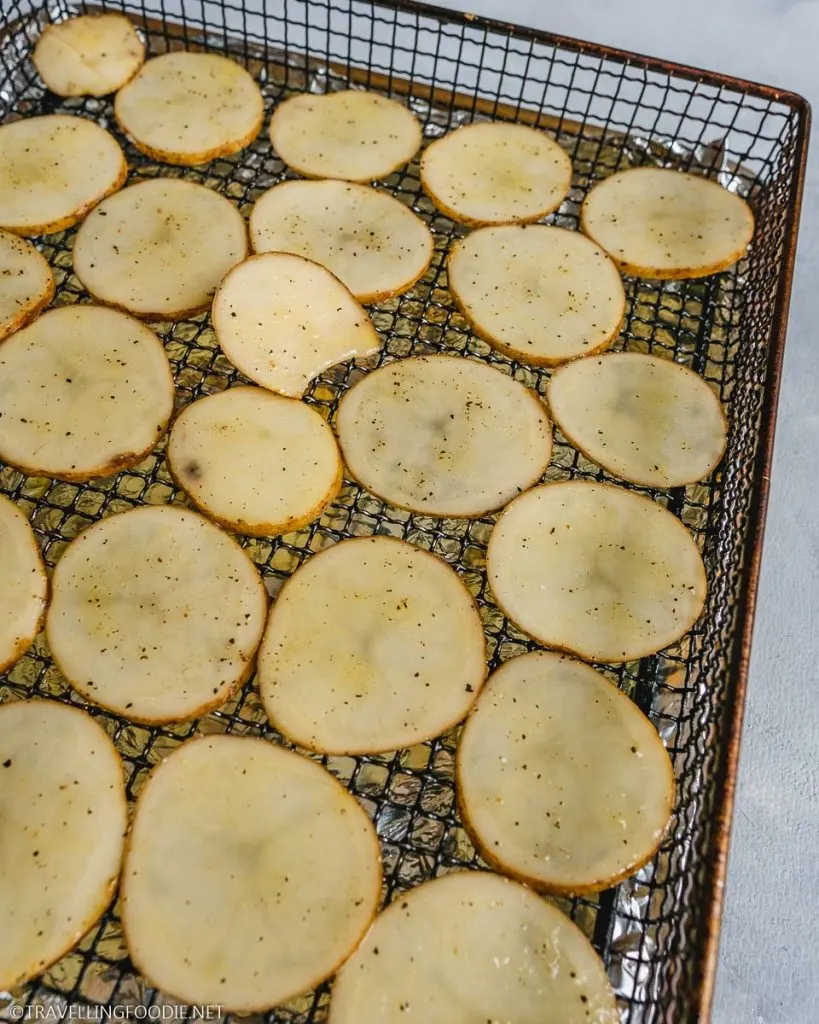 ---
Why Air Fryer Potato Chips?
What's your favourite junk food? Not gonna lie. I'm a junk food junkie.
And my weakness are potato chips!
I can eat at least one entire bag in one sitting if I'm watching a show or movie.
After learning to make Air Fryer French Fries, which are so addicting and delicious, I knew I wanted to try potato chips next!
Air Fryer make great potato chips!
Tastes deep fried but with very little oil compared to deep frying
Much quicker than baking in the oven
Less calories due to less oil
You can make smaller batches without feeling guilty of wasting oil
Now you can make this crispy potato chips in air fryer at home! And it's so quick and simple!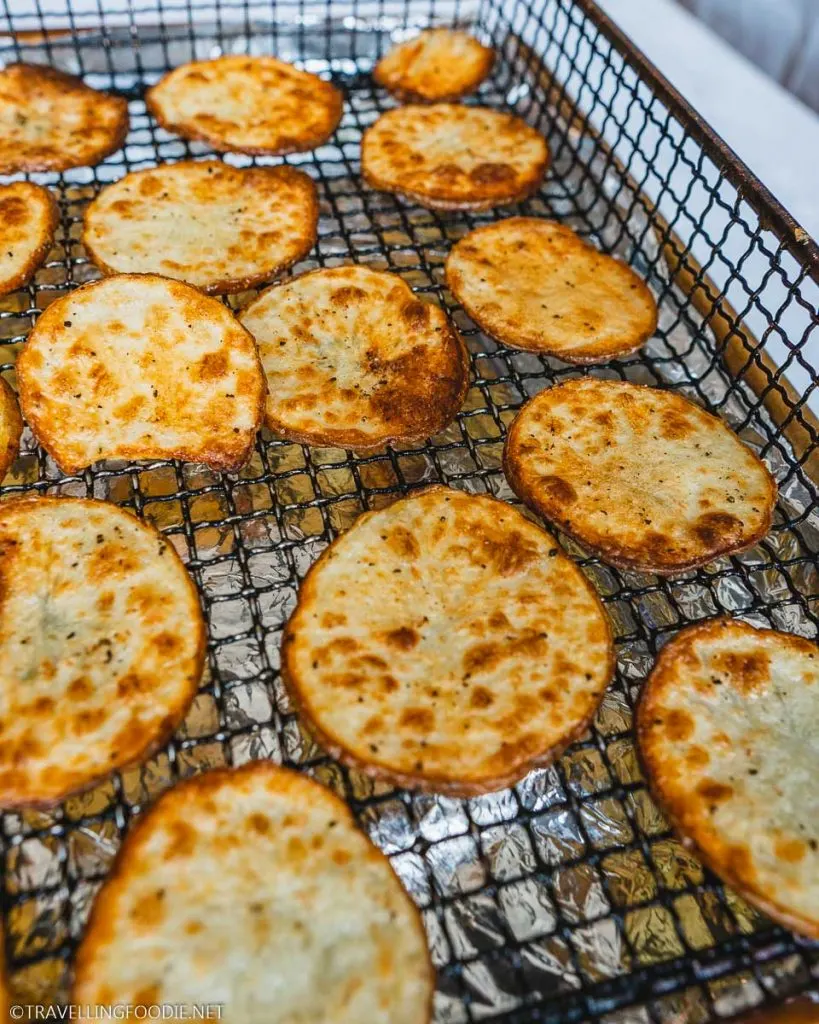 ---
What You Need For Air Fryer Potato Chips
Equipment
Air Fryer – I used the Cuisinart Air Fryer Toaster Oven TOA-60 for this recipe. Other brands will work but you might need to adjust timing/temperature.

Here are other popular air fryer brands:
Mandoline – I used a mandoline slicer so that it's easier to slice and they come out with consistent thickness.

If you don't have a mandoline, you can still slice the potato with a sharp knife.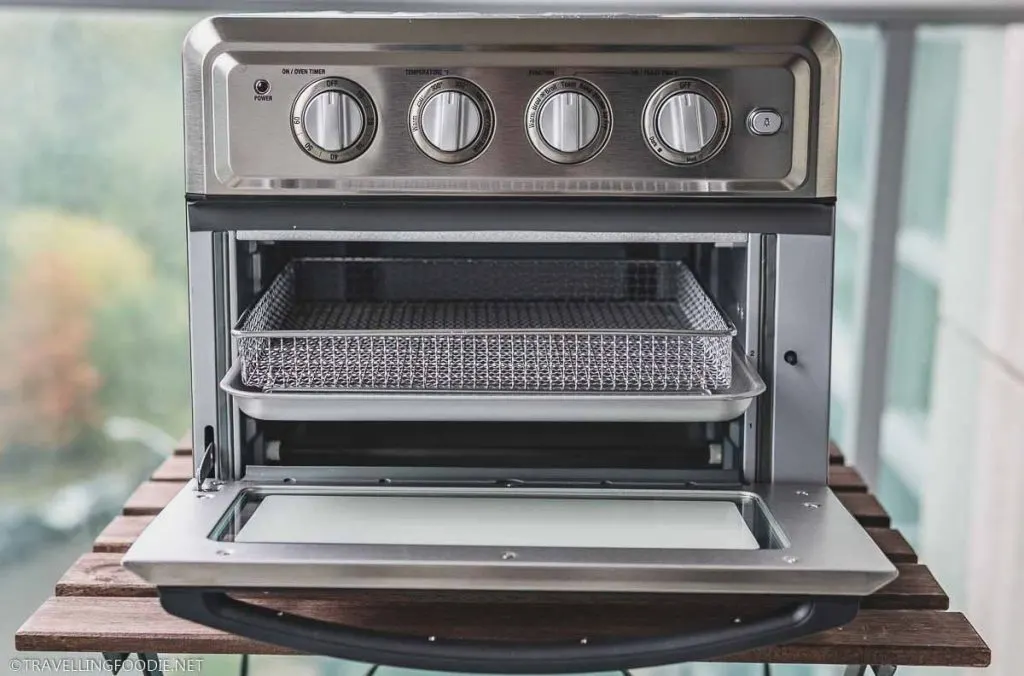 Ingredients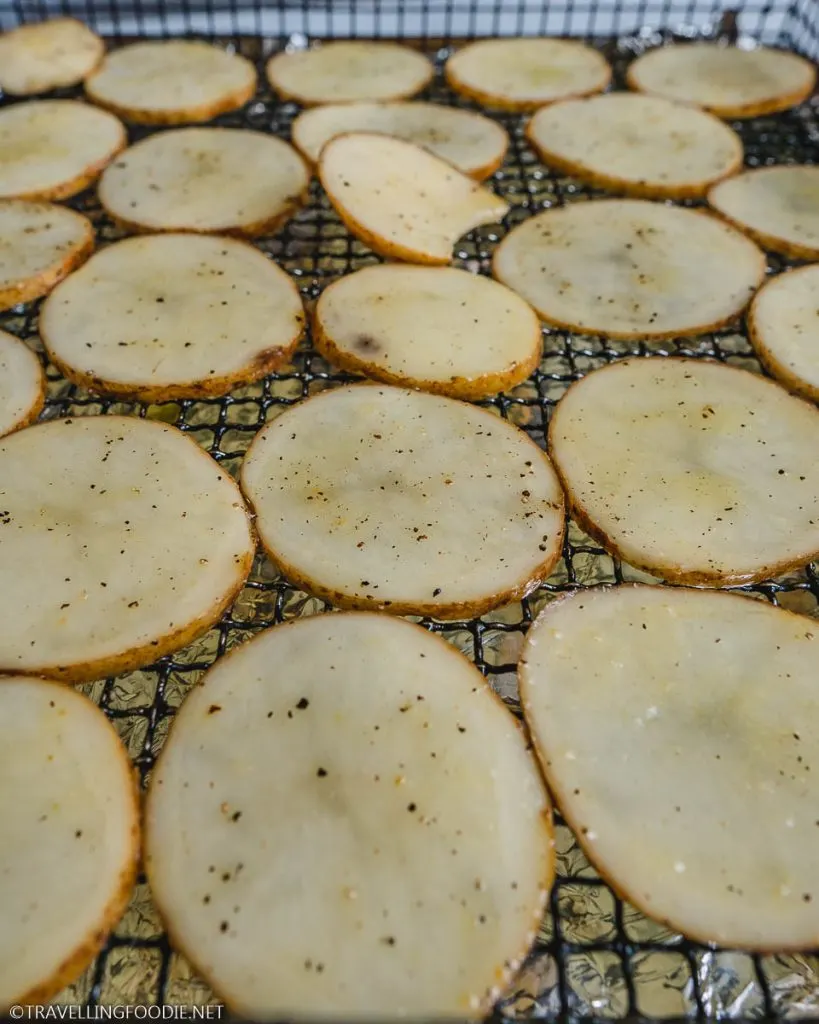 ---
How To Cook Potato Chips In Air Fryer
Air fryer potato chips are so easy to make!
Slice the potato into thin slices using the mandoline or a sharp knife.
Try to have consistent thickness on your slices.
Pat the potato slices dry to remove moisture.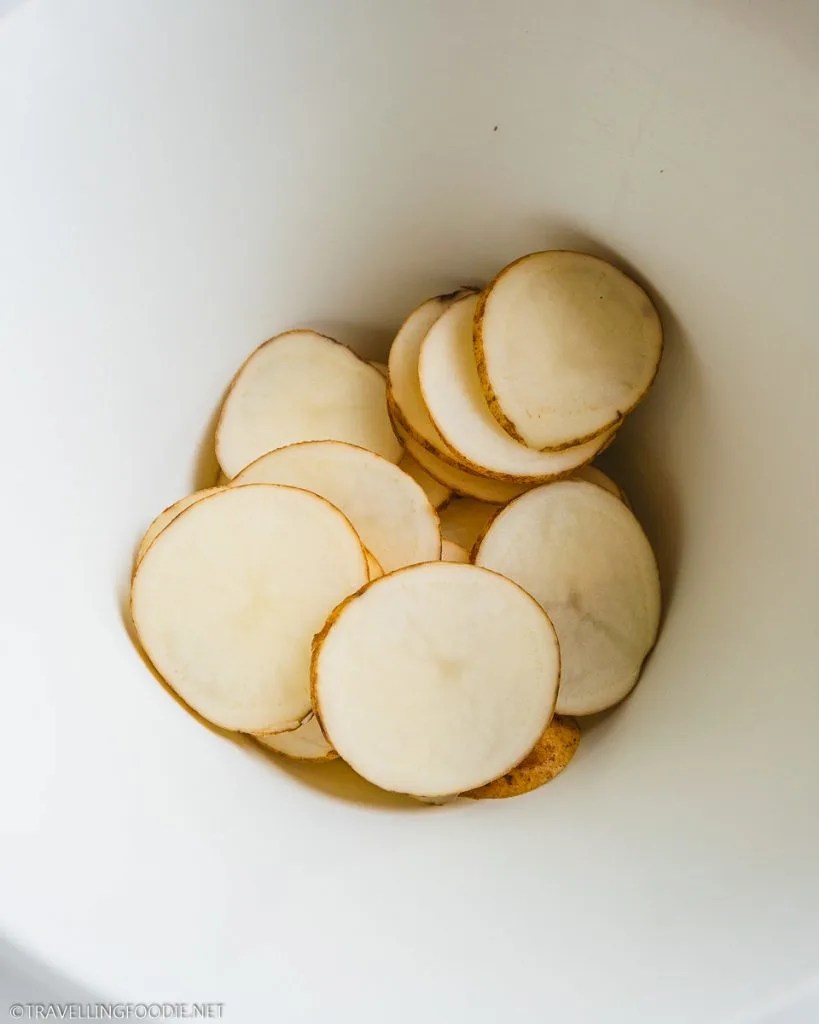 Coat sliced potatoes with oil and toss with garlic salt, black pepper and paprika.
In a single layer, place the potato on the air fryer basket.
Make sure the slices do not overlap.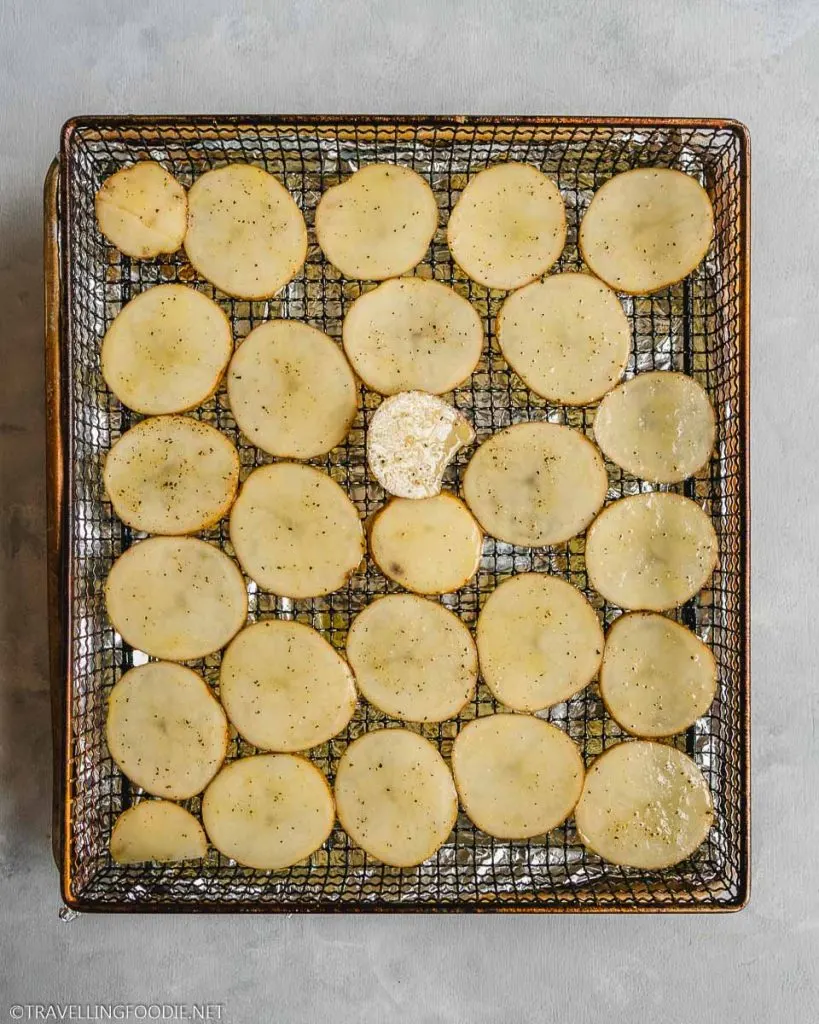 How long do chips take in an air fryer?
Make the potato chips in air fryer by running at 300F (149C) for 20 minutes.
This has been tested with the Cuisinart Air Fryer Toaster Oven TOA-60.
If you use a different type of air fryer, you might need to adjust the time or temperature.
Enjoy air fryer potato chips on its own as a snack, side dish or appetizer!
P.S. Make this Air Fryer Fried Fish for some delicious Fish and Chips!
---
Air Fryer Potato Chips Tips & Tricks
Why are the potato slices flying in my air fryer?
Depending on your air fryer, the potato slices might fly because it's too thin and the air fryer fan is blowing it all over.
Make sure to slice the potato thick enough that it has some weight in it.
1/4-inch to 1/5-inch is a good thickness for air fryer potato chips.
Why are my air fryer chips soggy?
Make sure the potato is dry before adding oil. The moisture of the potato can make it soggy.
Also, do not put too much oil because it also makes the potato too wet to become crispy.
What are my potato chips not crispy?
Be sure to try the above steps to make sure the potato is not wet before air frying.
If that didn't work, another thing you can do is giving the potato slices a cold water bath for at least 15 minutes.
Soaking the potato in cold water removes the excess starch so that it cooks crispier.
If you have time, the best is soaking them for 15 minutes then replacing the cold water and running it for another 15 minutes.
Be sure to dry the potato after the cold water bath!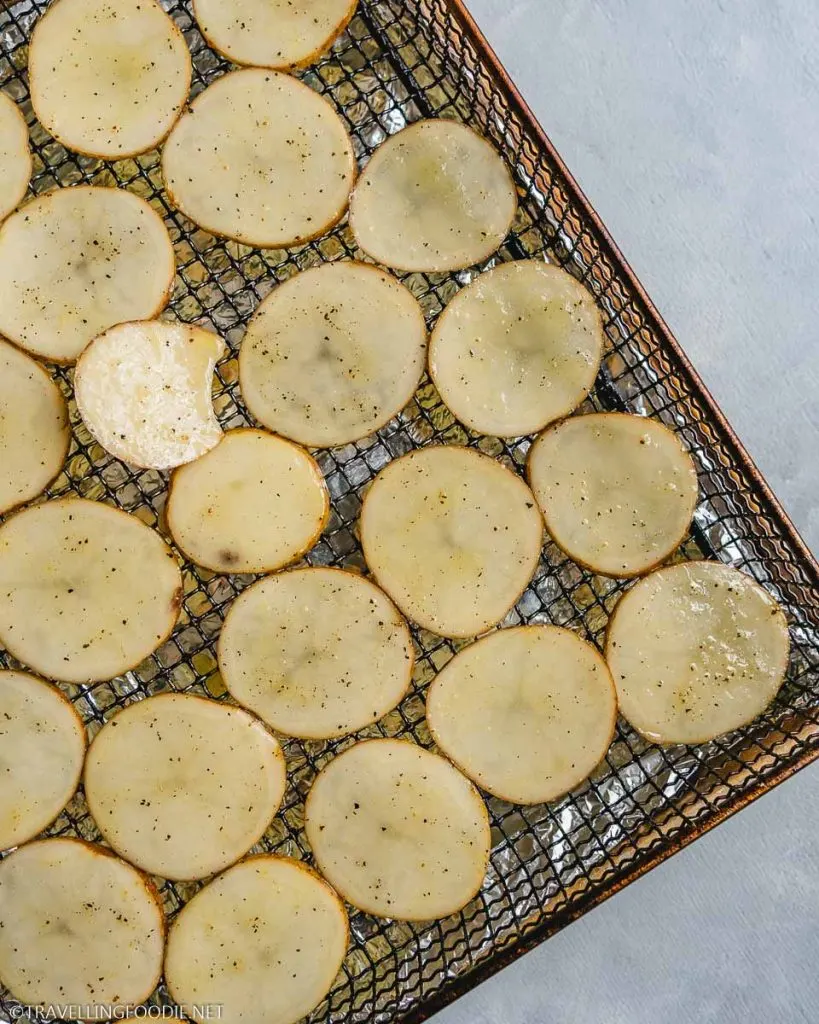 ---
Other Easy and Delicious Recipes
---
Potato Chips in Air Fryer Recipe
Be sure to bookmark/save/pin this post so you can easily make perfectly crispy battered fish in air fryer!
I would love to see how this recipe worked for you! Please share your creations with me on social media and tag me so I can check them out: @TravellingFoodie on Instagram & Facebook and @TravellinFoodie on Twitter.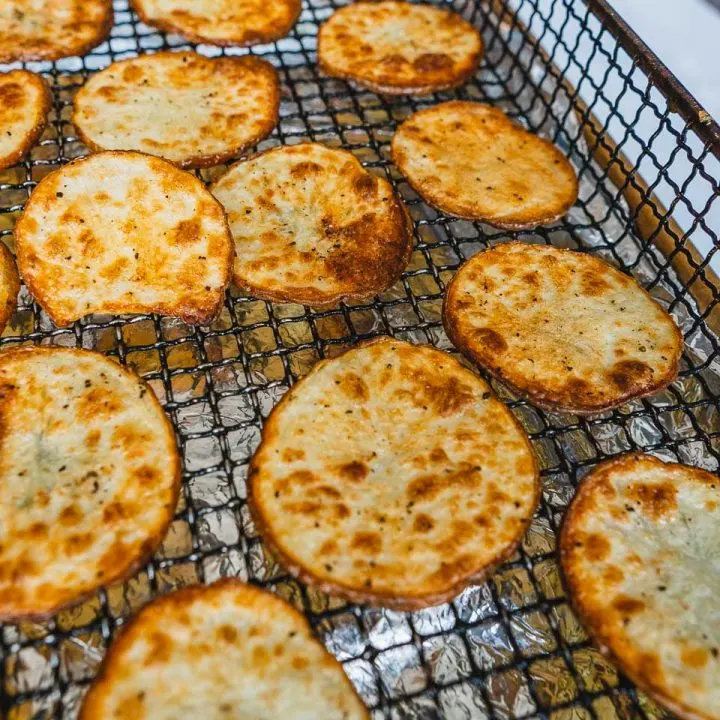 Air Fryer Potato Chips
Air fryer makes great potato chips! Air fryer potato chips are crispy and addicting snacks, plus it's vegan!
Instructions
Cut the russet potato into thin even slices using a knife or mandoline.
Dry the potatoes with paper towel.
Coat sliced potatoes with oil and season with garllic salt, black pepper and paprika.
Place sliced potatoes in a single layer on the air fryer basket without overlapping
Cook potato slices in air fryer for 20 minutes at 300F (149C)
Notes
Slice potatoes 1/4 or 1/5-inch thick, or at least thick enough so it doesn't fly around while air frying.
If you want the air fryer potato chips crispier, soak the sliced potatoes in cold water for at least 15 minutes.
If you potato chips doesn't come out crispy, air fry it a little more at 350C but monitor to make sure it doesn't burn.
Recommended Products
As an Amazon Associate and member of other affiliate programs, I earn from qualifying purchases.
Nutrition Information:
Yield:

1
Serving Size:

1
Amount Per Serving:
Calories:

298
Total Fat:

14g
Saturated Fat:

2g
Trans Fat:

0g
Unsaturated Fat:

12g
Cholesterol:

0mg
Sodium:

1605mg
Carbohydrates:

41g
Fiber:

5g
Sugar:

2g
Protein:

5g
Please note that nutrition information you see is provided and automatically calculated by Nutritionix. This may vary depending on the specific ingredients that you use. To ensure the most accurate information, I suggest entering your specific ingredients into a nutrition calculator.
---
Hope this Air Fryer Chips recipe gives you an idea for some delicious snack, appetizer and side dish!
It's such a great way to make perfectly crispy potato chips all the time that's healthier and without deep frying!