Alo Restaurant is a one Michelin Star French restaurant in Toronto that opened in July 2015, known for its tasting menu served in stylish, serene surrounds atop a Victorian building.
Did you know? Alo was one of the best restaurants in Toronto: No. 2 in Canada's Best 100 Restaurants 2022 (No. 1 from 2016-2020), and No. 98 in The World's 50 Best Restaurants 2022.
On September 13, 2022, Alo Restaurant was awarded One Michelin Star in Toronto's Michelin Guide, the first Canadian edition, making it one of the first Michelin restaurants in Canada.
On September 27, 2023, Alo Restaurant returned as one of the One Michelin Star restaurants in Toronto in the 2023 Michelin Guide.
Also Read: Top Restaurants in Toronto
---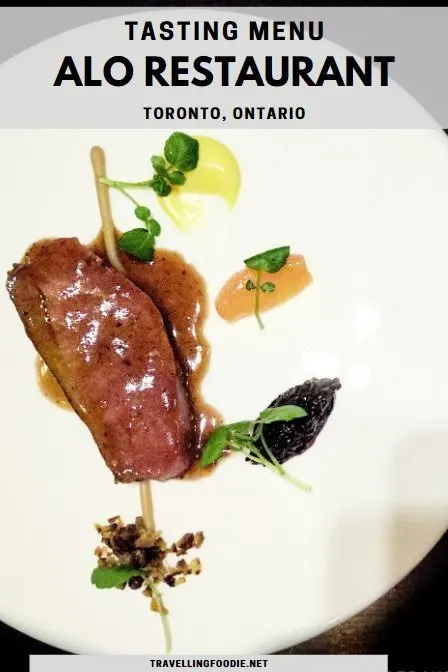 ---
Inside Michelin Star Alo Restaurant in Toronto
It's very hard to spot Alo Restaurant as it is sort of tucked away among the other establishments with bright lights and big signs.
The Alo sign is very small and is quite easy to miss, which we did actually.
When we entered the building, there's a host beside the elevator door who checked our reservations.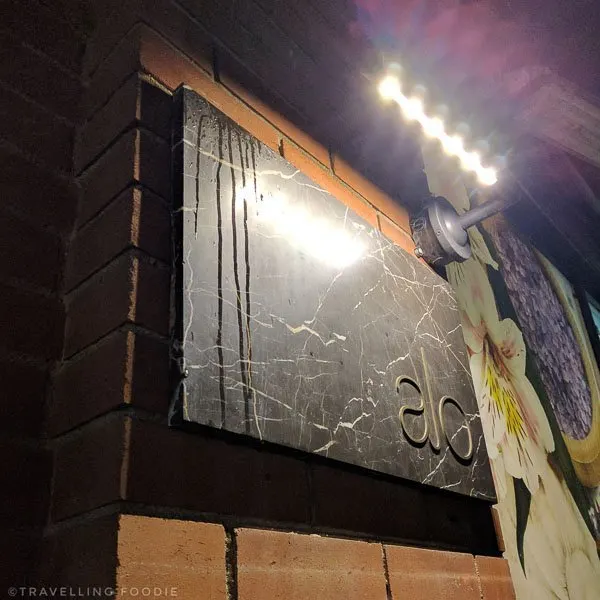 Once confirmed, she called the upstairs to tell them we're heading up and then led us to the elevators.
There are two parts to Alo Restaurant: The Bar at Alo and the main dining room.
The Barroom at Alo is a 20-seater area when you exit the 3rd floor elevator and has its own menu mostly in the $15-20 shareable plates and its own tasting menu as well.
The main dining room of Alo Restaurant is a tasting restaurant that offers a blind multi-course tasting menu.
Once we reached 3rd floor and exited the elevators, the General Manager Amanda Bradley and Executive Chef Patrick Kriss were already waiting to greet us.
Another person was there to take out coats as well.
We were then led to our table at the furthest end of the floor by the windows.
Lighting is very dim here so I'm sorry about the photos.
Travelling Foodie Tip: If you want to see the kitchen action or have good lighting for photography, be sure to book the Kitchen Counter Tasting Menu, a bar counter with six seats looking into the open kitchen.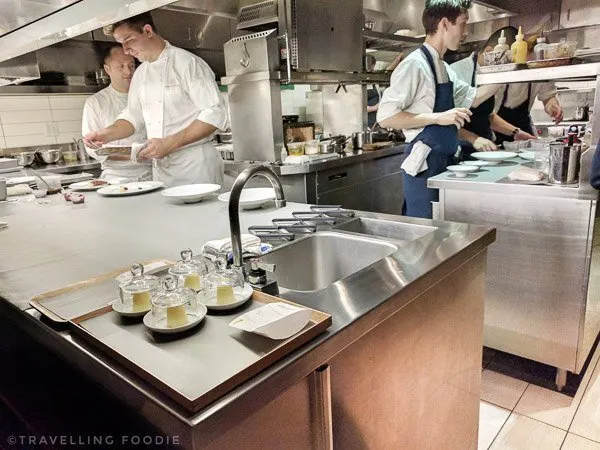 I dined at Alo Restaurant with my sister on December 2016 for a (second) celebratory dinner on her new job in Seattle, which was a good excuse for us to check this place out as it's been in our list for a long time.
In case you're wondering, for the first celebratory dinner, we went to Kaiseki Yu-zen Hashimoto, another one of the Michelin Star restaurants in Toronto.
---
Alo Restaurant Price
When I dined at Alo Restaurant back in December 2016, the price was $105 for the 10-course tasting menu and $65 for the optional wine pairing.
As of September 28, 2023, Kitchen Counter Tasting Menu and Dining Room Tasting Menu at Alo Restaurant both cost $225 (from $185 in May 2022), not including drinks, taxes and tips.
Wine pairings are available in the Dining Room and Kitchen Counter for $135 per person (from $90 in May 2022)
The 6-course tasting menu at Alo's Barroom is $120 per person (no increase since May 2022).
---
Tasting Menu at Michelin Star Alo Restaurant
Having dined at Michelin restaurants and World's 50 Best Restaurants like n/naka, El Celler de Can Roca, Oud Sluis, Robuchon au Dôme, we were obviously doing the tasting menu at Toronto's Alo Restaurant.
We also shared a wine pairing.
Alo Restaurant don't really allow splitting a wine pairing into two glasses unlike other places I've been to.
They said we can just share the same glass from one wine pairing.
This ended up to be better actually since they do give generous pours. I suggest doing this at Alo.
Here's what you can expect with the tasting menu at Alo Restaurant.
Canapes
French gougères with caramelized onions, fermented jalapeño and fontina cheese baked inside of it.
It looked like a simple bread ball from the outside, but, when you pop one in your mouth, you are greeted with a mix of flavours that combined to one mindblowing delicious treat.
The dough had a crunchy shell but warm and moist dough inside, but then inside is mostly hallow with the tasty baked cheese inside.
The fermented jalapeno added a bit of kick and was good in cutting the saltiness of the cheese, and the caramelized onion added a bit of sweetness. Just perfect!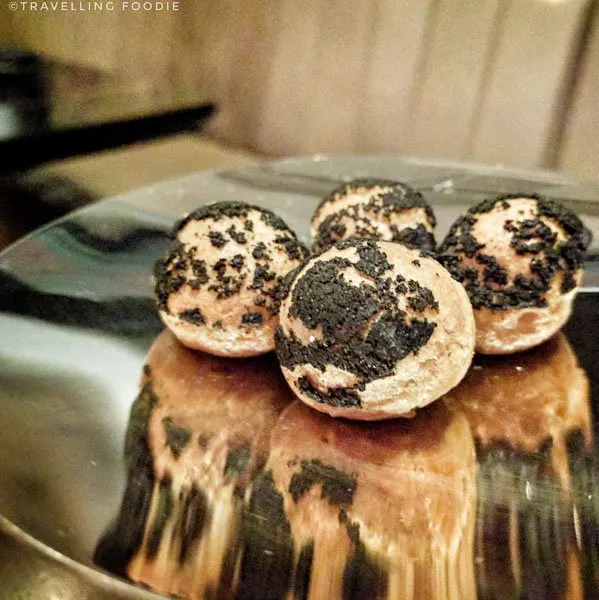 The second canapé just under the gougeres is Foie Gras with hearts of palm, passion fruit meringue and coconut.
I'm a big sucker for foie gras, so this was definitely a treat at Alo.
Though it was just plain foie gras, the addition of passion fruit meringue and coconut added a nice touch and actually changed the overall taste of the foie!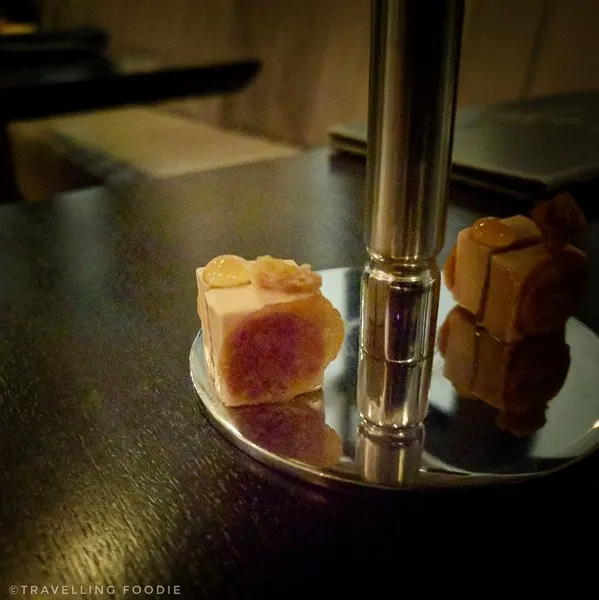 I thought to myself, if the canapés were this good already, you know you're in for a treat the rest of the night at Alo Restaurant.
Also Read: Restaurant Pearl Morissette in Jordan Station, Ontario
Courses
First Course
Foie Gras, celery, ginger – paired with Domain Baud 'Blanc de Blanc Cremant de Jura n/v' (France)
I was so happy to see Foie Gras again!
And this course at Alo Restaurant reminds me of Molecular Gastronomy with its pureed foie gras, pureed celery and foie gras foam.
The celery helped balance the creaminess of the foie gras.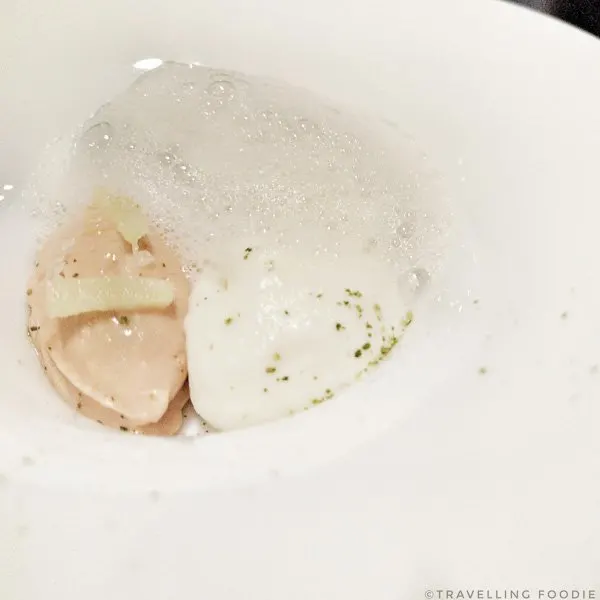 Second Course
Hearts of Palm, Pear, Coconut, Finger Lime – paired with Bernard Fouquet Vouvray 'Cuvee de Silex' 2015 (France)
This course was a really good palate cleanser as foie gras items and gougères can actually linger in your taste buds.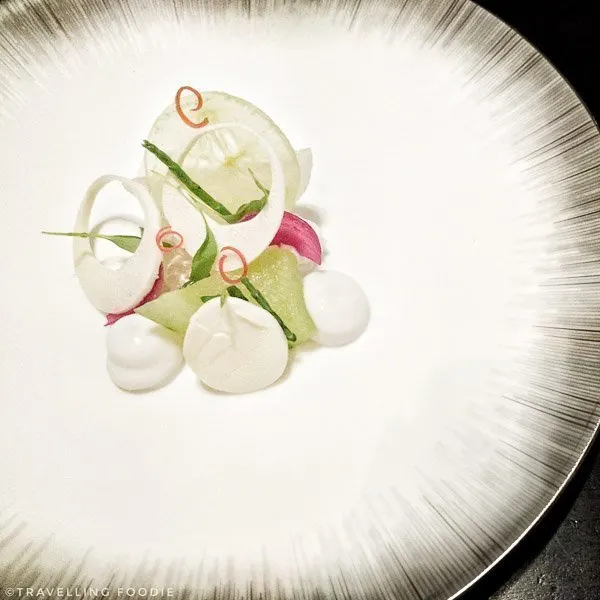 Third Course
For the third course at Alo Toronto, we got a choice between Steelhead Trout, Creme Fraiche, Sorrel, Cavier, OR Hokkaido Sea Scallop, Sea Urchin, Meyer Lemon, Fennel.
We both got the Sea Scallops and Sea Urchin course because we're both big fans of them.
It was paired with Anselmo Mendes 'Muris Antigos' Alvarinho 2015 (Portugal).
It was amazing and one of my favourite dishes that night at Alo Toronto!
The creamy umami taste of the uni went well with the scallop as it gave the dish a bite.
The Meyer lemon added a nice citrusy touch and balances the creaminess of the uni.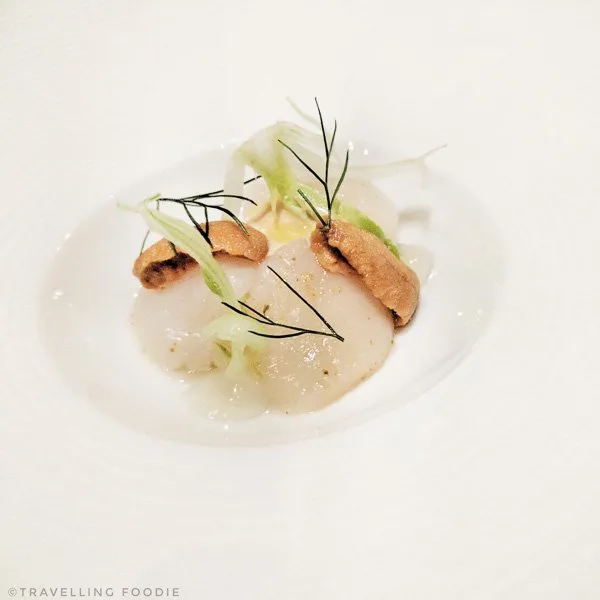 Fourth Course / Bread
Pain au Lait (Milk Bread) – The bread was so fresh and warm, topped with sea salt, and you can see the intricacies clearly seen from the layers in the bread.
It was already good in its own, but also great with the house churned butter.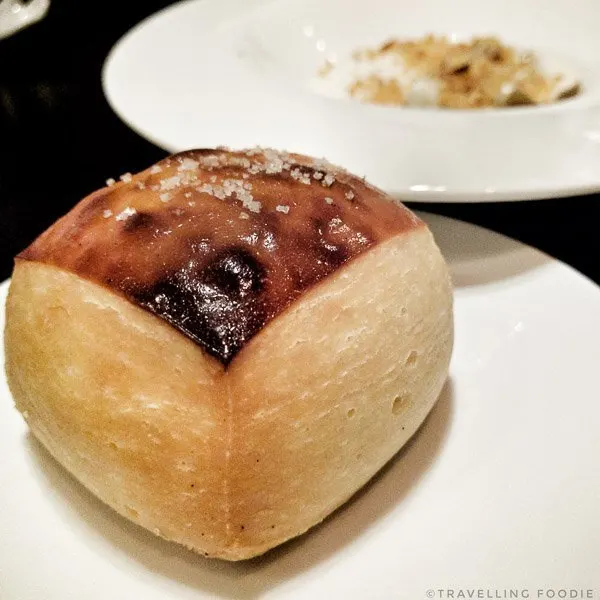 Also Read: Frilu Toronto, Michelin Star Tasting Menu Restaurant
Fifth Course
Vacherin Mont D'Or, Lintzer Potato, Burgundy Black Truffle – paired with Domaine Baud 'Cuvee Tradition' Cotes du Jura 2012 (France)
This was pretty much the soup course: cream of potato with black truffle puree topped with Vacherin Mont D'Or cheese.
I love Alo Restaurant's use of specific seasonal ingredients here.
Lintzer Potato is considered a mid-season specialty potato.
Burgundy black truffle only appears in fall.
And Vacherin Mont D'Or is a seasonal cheese which is available from October through until April.
The potato balanced the saltiness of the cheese and the earthy taste of the truffle, the mix of which gives a whole new flavour profile that one may only get during fall.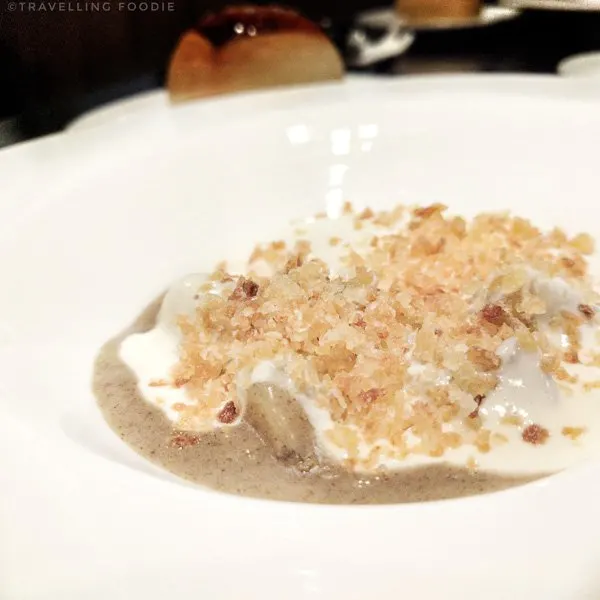 Sixth Course
For the sixth course at Alo Restaurant, we got to choose again.
However, we both decided to do one each so we can try both since they were both interesting.
Muscovy Duck, Cara Cara Orange, Coco Nib, Chestnuts – This was my course and, since we were only doing one wine pairing, the wine was paired with my sister's course.
This was actually the course I was most disappointed in.
Though the doneness was done perfectly, the duck itself was tough and hard to chew because there was quite a bit of sinew.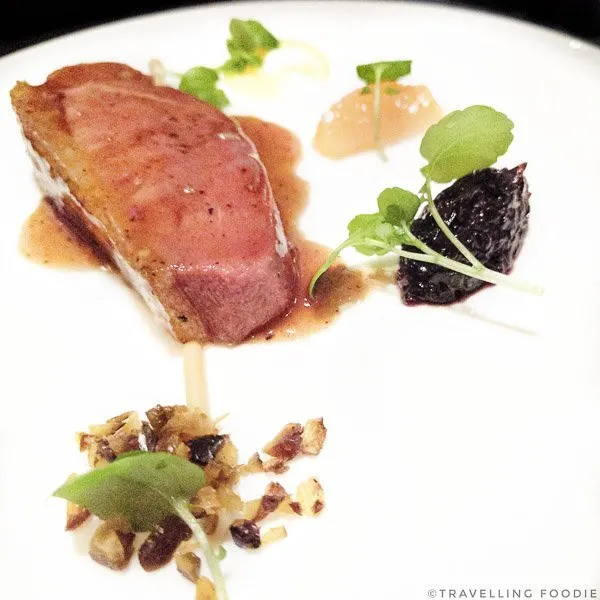 Hamachi, Cauliflower, Olives, Piquillo Peppers – paired with Garofoli 'Podium' Verdicchio 2013 (Italy).
I preferred this over the duck.
The hamachi was very fresh and love that it was grilled with some charring on the sides but was still raw on the inside.
The charring heightened the taste of the hamachi and added a crunch to the light and fatty inside.
Seventh Course / Main Course
For the main course at Alo Restaurant, we got the choice of St. Canut Rack of Pork, Walnuts, Cranberry, Five Spice, OR Beef Ribeye, Cipollini Onion, Spinach, Bearnaise.
There was no debate on this one that we'd both be getting the Beef Ribeye, which was paired with Brusset 'Le Grand Montmirail' Gigondas 2014 (Italy).
I loved the ribeye.
It was very tender, marbled and melt-in-your-mouth!
The touch of bearnaise sauce added a richness to the steak and a hint of acidity that cuts thru the ribeye fat.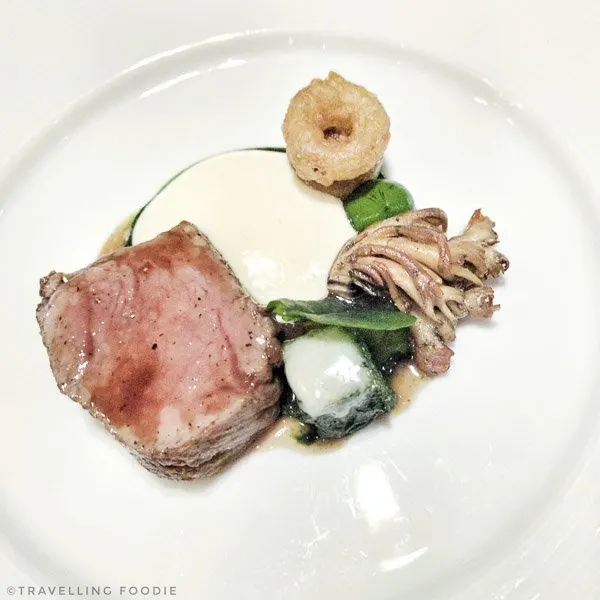 Also Read: George Restaurant, Unique Blind Tasting Menu in Toronto
Eighth Course / Palate Cleanser
Grapefruit, Elderflower, Vanilla – A sort of dessert palate cleanser for the main dessert course.
Ninth Course / Main Dessert
For the main dessert course at Alo Toronto, we were given choices again, but we ended up doing one of each.
Honey Crisp Apple, Puff Pastry, Calvados – This was my order so it didn't come with the wine. It sort of reminded me of a deconstructed apple pie.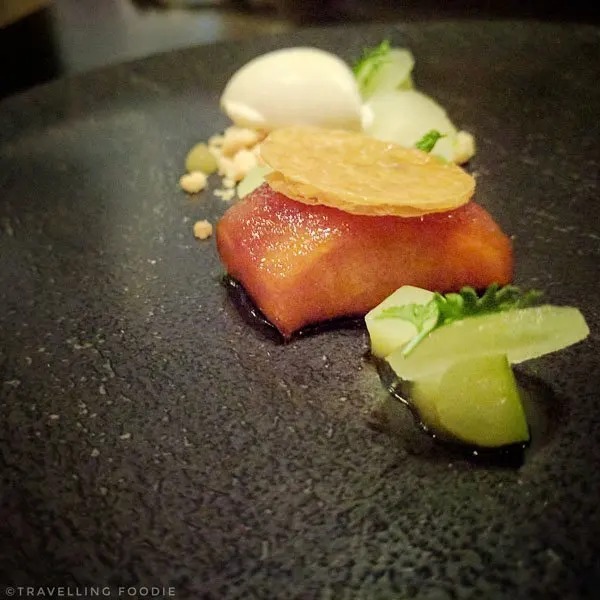 Butternut Squash, Sudachi, Caramel – paired with Bera Moscato d'Astil 2015 (Italy).
I actually ended up liking this more as well because there were more things in this dessert and I love the meringue that came with it.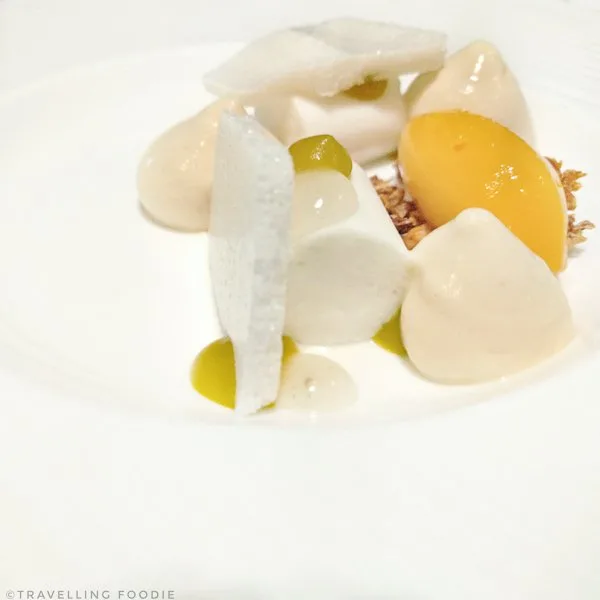 Tenth Course
The last course for the night at Alo Restaurant was Dark Chocolate, Coffee paired with Dona Matilde Colheita Port 2008 (Portugal).
This was my favourite dessert of the night! Not too sweet because it's dark chocolate and coffee, but not too bitter as well.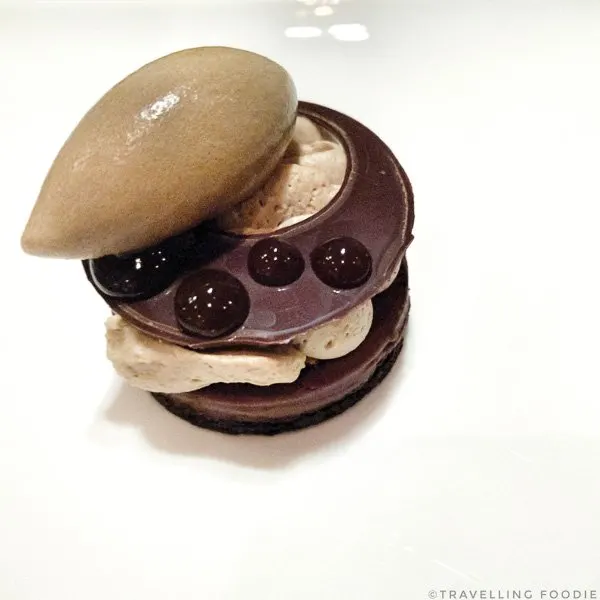 ---
Alo Restaurant Service, Best in Toronto
When I dined there in 2016, I've been telling people that Alo Restaurant deserves a Michelin Star the most out of all Toronto restaurants along with Kaiseki Yu-zen Hashimoto.
Service here was like dining at a Michelin Star restaurant like n/naka.
The servers explained each dish properly.
Alo's sommelier explained the wine paired with the course: where it's from, the character of the wine, and why it's good with the course.
Crumbs were cleared after each course using a tool.
Waters were refilled when the glass was half full.
When you leave your seat, Alo staff along the path actually go to the side to make way for you.
When you come back, the staff would pull the chair for you.
And you'll find your napkins folded on the table and utensils properly stowed on the side.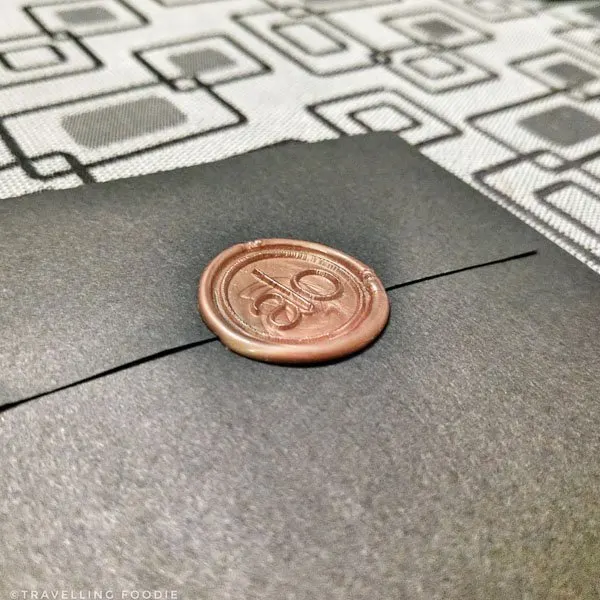 The bill came in an envelope with a waxed seal of the Alo logo.
This contained the menu of all the courses that night including the wine that was paired for each course.
After you've paid and are leaving for the elevators, you'll find Alo Chef Patrick Kriss and GM Amanda there to say goodbye and thanks, and also a staff already with your coat.
What an impressive service at Alo Restaurant!
They actually exceeded my expectations in this aspect as it was better than some 3-Michelin restaurants I've been to.
Now you know why I was so shocked and disappointed by the service we got at, similarly ranked, Edulis in Toronto, which didn't even come close to this kind of service from my experience.
And, as of September 2022, it's official!
Alo Restaurant is one of the first Toronto Michelin Star Restaurants!
---
How To Make Reservations for Alo
If you want to dine at Alo Restaurant, you most definitely need to make reservations because they are usually fully booked and have a long waiting list.
Alo's reservation booking system open in two month blocks which are made available on the first Tuesday of every other month, at 10:00 am EST.
For example, March and April reservations open on the first Tuesday of February.
You can only make reservations via Tock.
And from experience, you need to be available right at 10AM when the portal opens.
---
Michelin Star Chef Patrick Kriss, Alo Restaurant's Head Chef and Owner
Obviously, I wanted to get a photo with Chef Patrick Kriss himself!
I was sort of star-struck the times he greeted at the beginning and the end, that I didn't ask for a photo at that time.
But I decided to ask when we already had our coats by the elevator, and they actually had to get him out of the kitchen.
One funny thing that Alo GM Amanda told me was to tell him that I'll only take a photo with him if he smiles because he rarely smiles in photos.
So I actually did tell him that when he came out. And he… smiled a little.
A WIN! 🙂
A brief background, Chef Patrick Kriss went to train at George Brown's Culinary Arts program.
He first began his career at Auberge du Pommier, then moved to New York where he worked under French chef Daniel Boulud at Michelin-rated Daniel Restaraunt.
When he came back to Toronto, he worked for nearly two years at Splendido then went to Acadia restaurant before opening Alo Restaurant.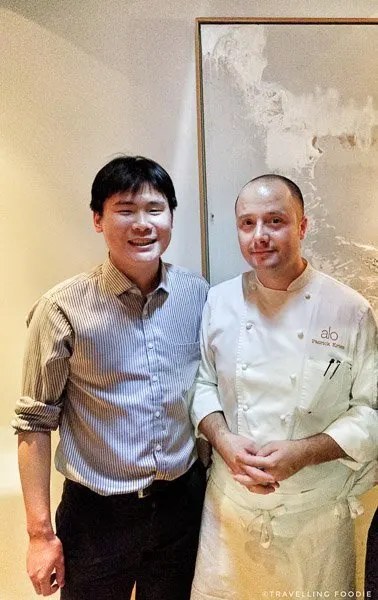 ---
Overall Thoughts on Alo Restaurant
I highly recommend Alo Restaurant!
Amazing food with exceptional service at a reasonable price.
I say reasonable because 10 courses, plus 2 canapes, for the price is quite good on a course/price basis.
The Tasting Menu at Alo changes regularly, at least once every month, so you will most likely never get the same menu, which makes it fun to repeat visits here and see the new offerings.
Considering how high-quality the ingredients were being used along with the creativity with the dishes (and I reiterate the amazing service), this is definitely a winner in my books!
Though it wasn't a Michelin starred restaurant back in 2016 when I went, Alo was one of the very few Toronto restaurants that I felt deserved Michelin Stars because the experience is really on par with other Michelin restaurants I've tried, or even better!
And it all starts with an unassuming ride in a basic elevator.
I definitely want to do the Kitchen Counter Table next time at Alo Restaurant!
---
Hope this restaurant review of Alo Toronto gives you an idea on what it's like to dine here and do a tasting menu. If you do, be sure to make reservations!
---
Alo Restaurant
Website / Address: 163 Spadina Avenue, 3rd Floor, Toronto, Ontario, Canada M5V 2L6
---