Some posts on this site contain affiliate links. If you book or purchase something through one of these links, I may earn a small commission at no extra cost to you. Read the full disclosure policy here.
One of the best things to do in Austin, Texas is a food tripping, and that's what I did on my first time in Texas, the Lone Star State. I did an Austin Food Trip with Bold Food Tour for a 4 day trip of non-stop eating as we devoured Austin's culinary scene. Here's Day 1!
Did you know? Austin is on track to be the best BBQ city, with over 700 food trucks and a progressive food scene!
---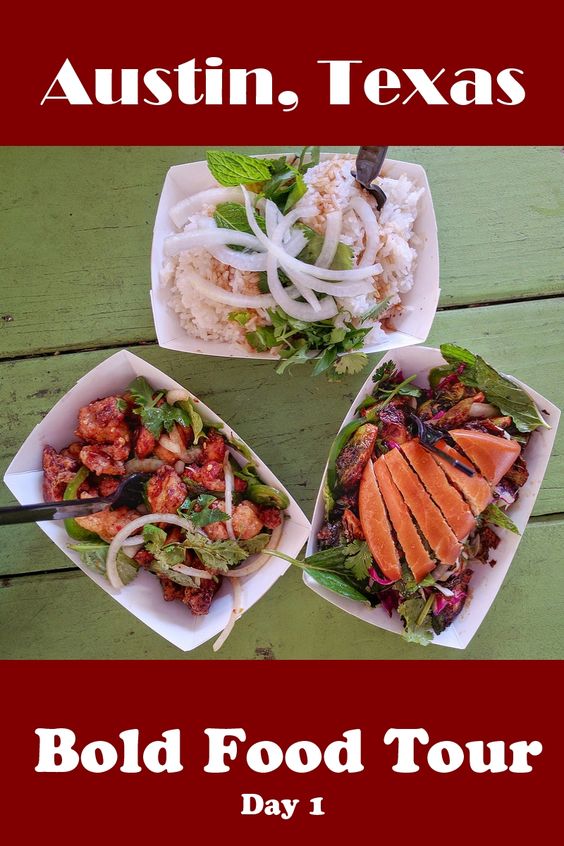 Watch the full YouTube video of Austin Food Trip Day 1 with Bold Food Tour here.
---
Austin Day 1 Food Trip Itinerary
InterContinental Stephen F. Austin Hotel
For Day 1 of the Austin Food Trip, we all arrived in Austin and checked-in at the InterContinental Stephen F. Austin, one of the best hotels in Austin.
This four-star luxury hotel is located right at the heart of downtown near the Texas State Capitol, the Convention Center and right next to the Paramount Theater.
When you check-in, you get a welcome gift bag from Bold Food with a bunch of goodies, some of which are Texas-related.
I stayed in one of their Classic Rooms which was very spacious. The Queen-sized bed and pillows were all so comfortable, I had such deep sleeps in the 3 nights I stayed.
Four events were happening during our visit: Moontower Comedy Festival, MotoGP, Ob/gyn convention and the Statesman Cap 10K.
The hotel was very busy indeed especially since it was the Moonlight Comedy Festival's homebase for actor interviews, after parties, etc. We got to see popular comedians like Patten Oswolt, Brian Posehn, Margaret Cho at the lobby.
Check availability and pricing for InterContinental Stephen F. Austin Hotel on Booking.com / Agoda
Website / Address: 701 Congress Ave, Austin, Texas 78701, United States
---
East Side King at Liberty
Everyone met at the lobby of InterContinental Stephen F. Austin Hotel at 6PM. If you haven't met Muffie during check-in, you'll meet her here.
Muffie is a neuroscientist turned culinary instructor, now, tour host and one of the most legit foodies I know. In her foodie resume is deciding to go on a last minute trip to Copenhagen when a friend scored extra seat for Noma.
Once everyone was ready, we headed outside to meet Michael Lawsage of Texas Hill Country Charter and Limousine who took us around in a tour van for the rest of the tour.
With Austin's food truck scene, it has become quite popular to have food trucks in the back patio of restaurants or bars. That's how we kicked off the Austin Food Trip!
Our first night's dinner was at East Side King at Liberty, an Asian fusion food truck owned by Top Chef winner Paul Qui. East Side King is a food truck parked on the back patio of Texas style bar, Liberty.
We got to try 8 of the 12 items on the menu, and it was quite a feast! This was just a precursor to how much food we'll be having for the rest of the tour!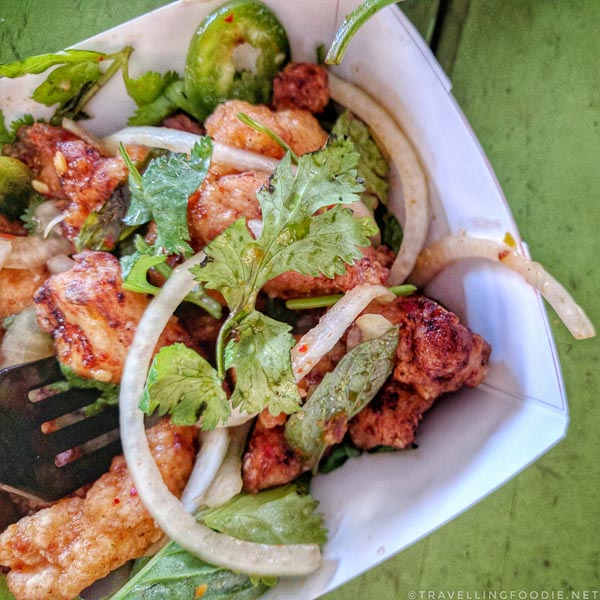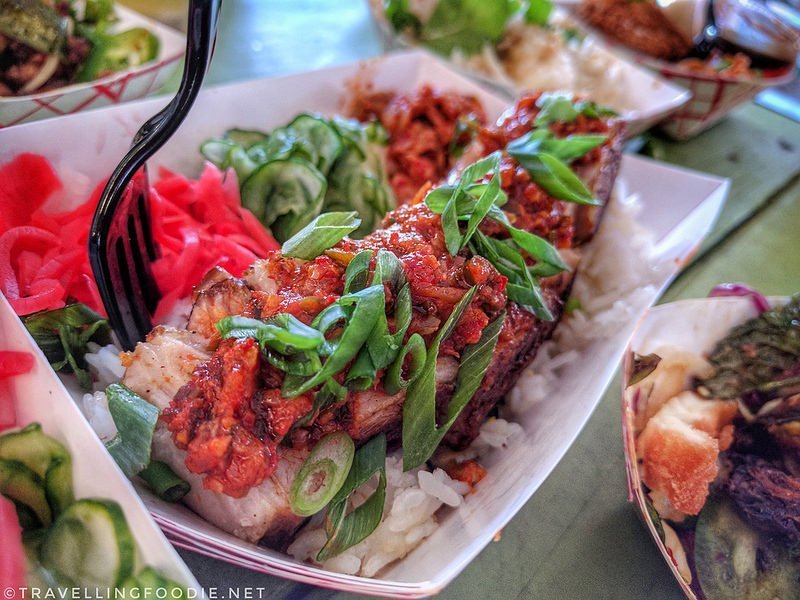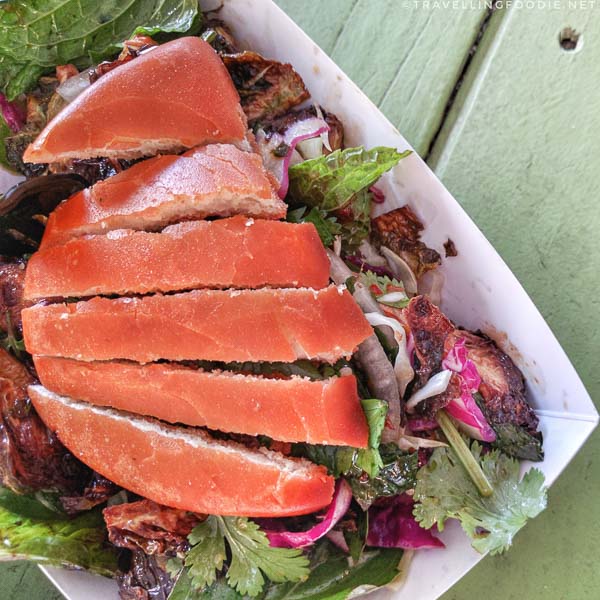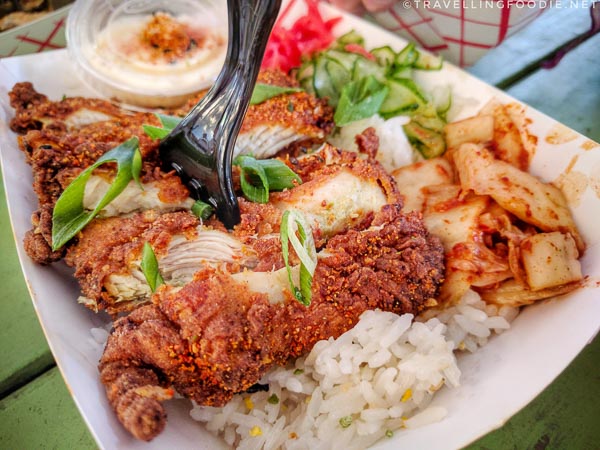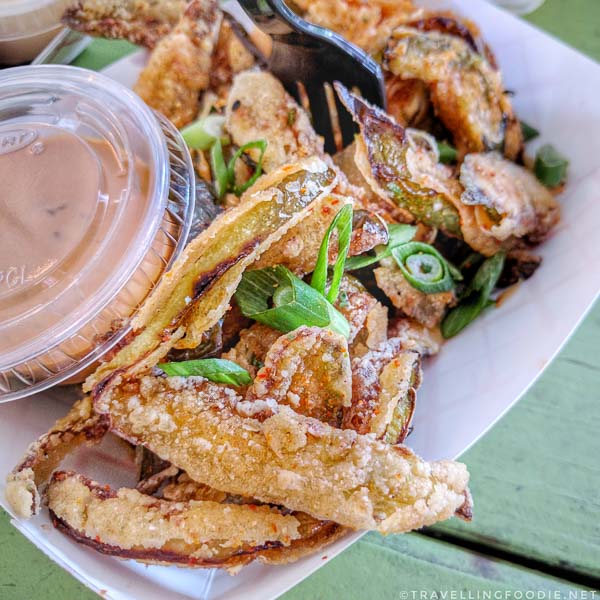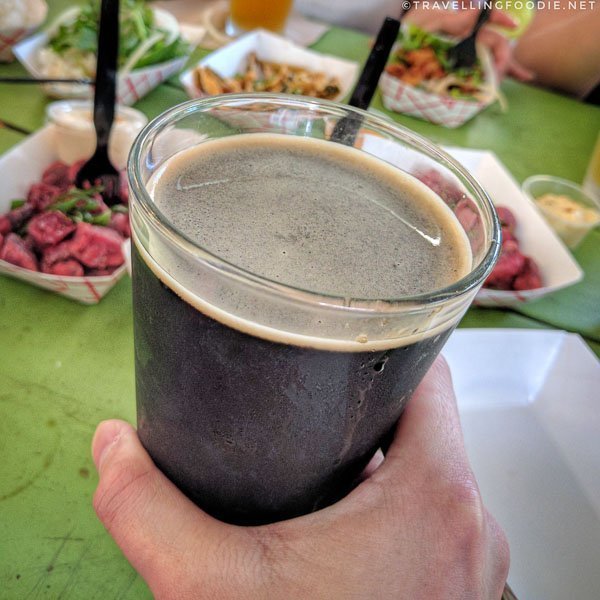 Website / Address: 1618 E 6th St, Austin, Texas 78702, United States
Also Read: Best Restaurants in Austin, Texas
---
Small Victory Bar
We were so full after East Side King, but the night was young so we decided to check out a cocktail bar recommended by Brandon Watson of the Austin Chronicle, who also joined us for the Austin Food Trip.
We headed to a small cozy bar, Small Victory Bar, located right next to the InterContinental Stephen F. Austin Hotel. Inside is very dark and intimate.
When you enter, the left side is the bar with a row of bar seats and on the right side is a line of 7 tables good for 2-4 people each. At the end of the bar to the left is a round table good for 7-8 people.
One thing that's interesting in the bar is you'll find liquids stored in beakers which are used in making the cocktails.
Website / Address: 108 E 7th St, Austin, Texas 78701, United States
---
MAP: Day 1 of Austin Food Trip
Bold Food Tour Day 1 definitely was a great way to kick off the Austin Food Trip!
---
Huge thanks to Bold Food Co. for sponsoring this post! As always, all thoughts/opinions are 100% my own.
You can learn more about Bold Food Co on their Website, Instagram and Facebook
Updated: