Looking for an authentic Indian vegetarian recipe? Avial is one of the most popular dishes in Kerala with mixed vegetables and coconut curry!
Travel to India at home by creating this traditional Indian side dish recipe that was provided to me during my trip to India.
---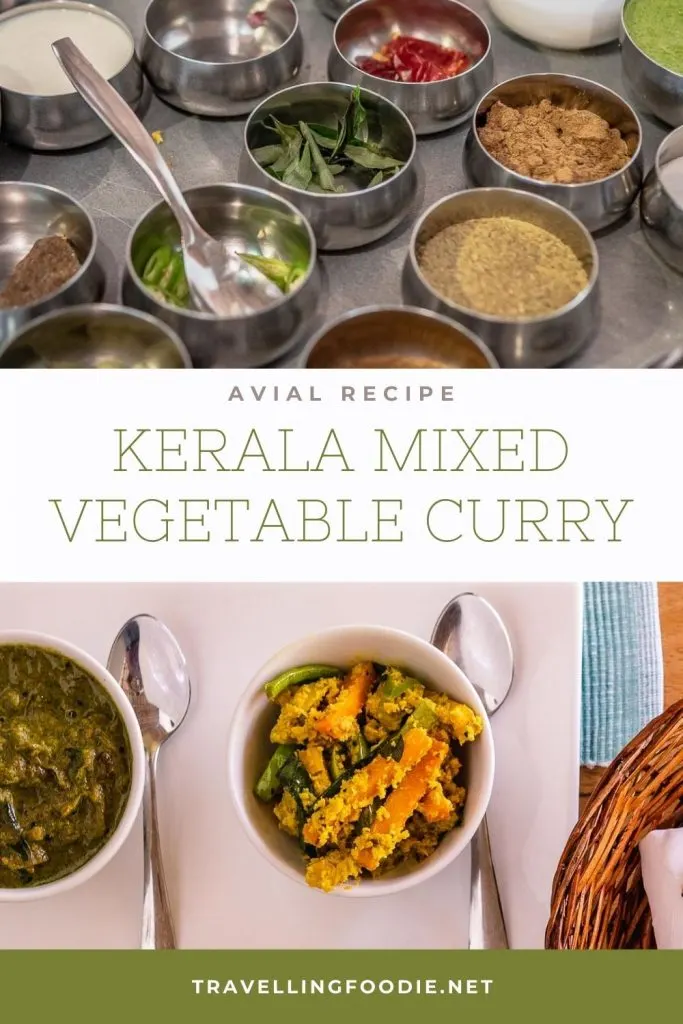 ---
What Is Avial?
Avial, or aviyal, is a traditional mix vegetable side dish in Kerala cuisine with flavours of aromatic curried vegetables, yogurt and grated coconut in coconut oil.
It was said to be invented by Bhima, one of the five Pandava brothers in which the Pancha Rathas at the Group of Monuments at Mahabalipuram are created from.
According to the legendary story of Mahabharata, Bhima invented the dish during his 14-year exile while he was serving as the cook for the royal kitchen of King Virata.
Did you know? The term avial means "boiled" or "cooked in water."
You can easily find Avial in other parts of South India as well where you'll find regional variations in the recipe.
This South Indian dish is an important part of Sadya (or Sadhya), a traditional Kerala vegetarian feast served on a banana leaf.
During the Kerala festival, Onam, the Sadya can be so elaborate with over 64 dishes where you'll find dishes like aviyal, boiled rice, pickles and desserts.
What is avial eaten with? On its own, avial is often enjoyed with rice (jeera rice is even better), sambar, pickles, papadoms and Indian street foods like appams and dosa.
Because of its ingredients using vegetables, coconut, curry and yogurt, Avial is good for the health so you should try to make this at home. It's easy too!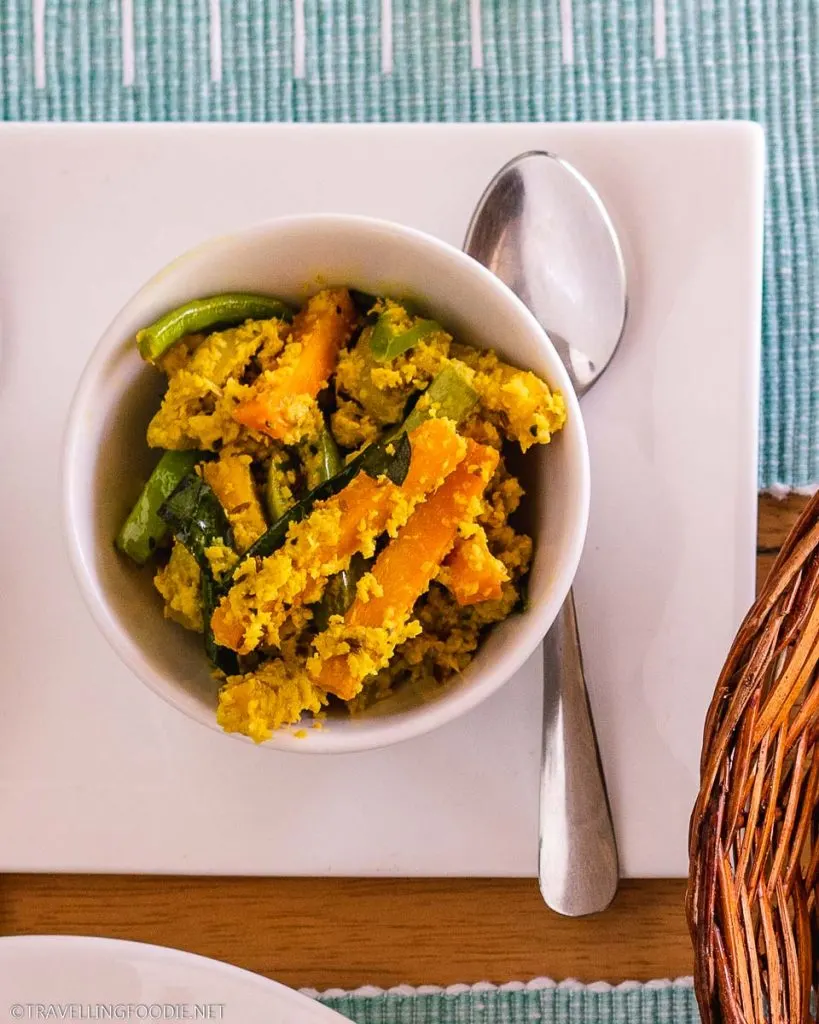 ---
Avial Ingredients – What You Need For Indian Mixed Vegetable Curry?
Here are the ingredients that goes into this avial recipe.
Banana (Raw)
Carrot
Coconut (grated)
Coconut Oil
Cucumber
Cumin
Curd (or Dahi/Indian Curd)
Curry Leaf
Green Chili
Long Beans
Shallot
Snake Gourd
Turmeric Powder
What's great about this classic South Indian vegetable curry recipe is it's very flexible. You can add more veggies of your choice and availability.
You can even make it vegan by using non-dairy yogurt or curd!
---
How To Make Aviyal – Kerala Vegetable Curry
During my trip to Kerala, I had the great opportunity of watching a Indian cooking demonstration at Spice Village Resort, where they showed us how to make Avial (Kerala mixed vegetable curry) and Indian Coriander Chicken Curry (Malliyila Chicken Curry).
This authentic Avial recipe is made by Chef Jerry Matthew, the executive chef of their Spice Village resort in Periyar, so you know it's a super authentic and traditional Indian recipe.
Lucky for us, he shared this Kerala mixed vegetable curry recipe with me so we can travel to India at home by making this tasty Indian side dish. Hope you enjoy the video:
---
Other Recipes To Go With Aviyal
---
Indian Vegetable Curry Recipe – Aviyal
Be sure to bookmark/save/pin this authentic South Indian recipe so you can easily make Avial!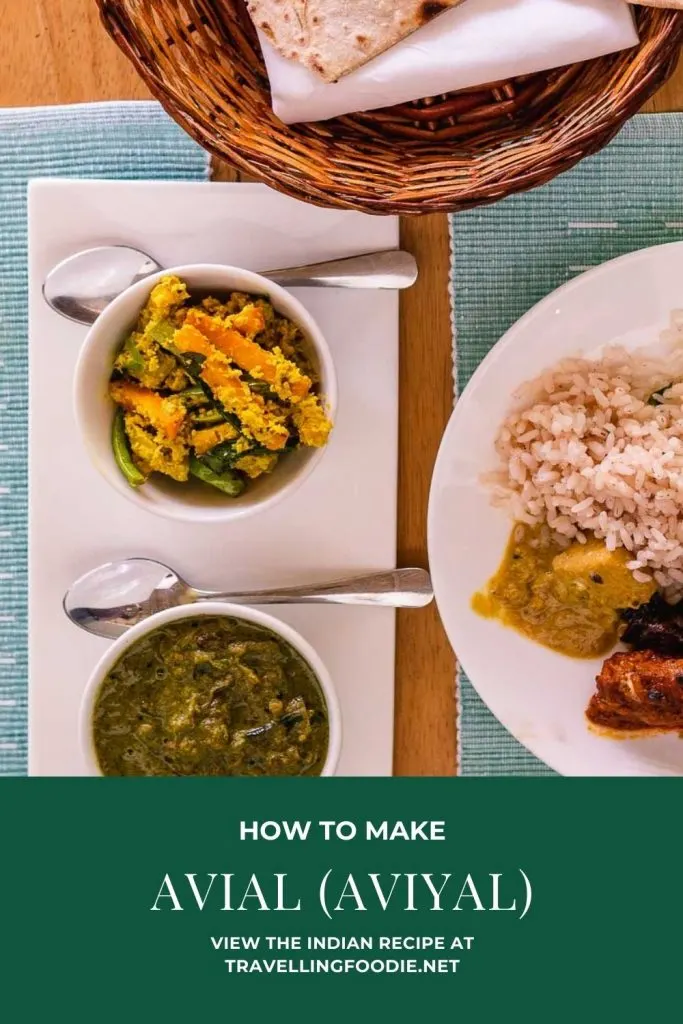 I would love to see how this recipe worked for you! Please share your creations with me on social media and tag me so I can check them out: @TravellingFoodie on Instagram & Facebook and @TravellinFoodie on Twitter.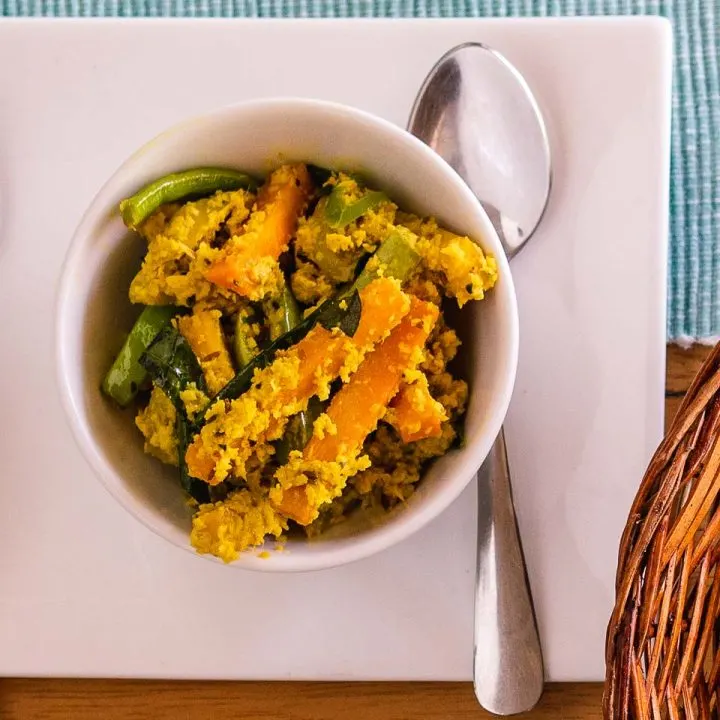 Avial - Kerala Mixed Vegetable Curry
Avial is the favourite dish of Kerala with mix vegetables and coconut. Chef Jerry Matthew of Spice Village in Thekkady shares how to make Kerala Mixed Vegetable Curry, a popular vegetarian dish in Kerala.
Ingredients
50g Carrot
50g Raw Banana
50g Snake Gourd
50g Cucumber
50g Long Beans
1 piece Green Chili
1 sprig Curry Leaf
1/2 tsp Turmeric Powder
100g Coconut (grated)
1/2 tsp Cumin
10g Shallot
1/2 tbsp Coconut Oil
1 tbsp Curd
Instructions
1. Grind together the coconut, shallots, cumin seeds and half of turmeric powder to make a rough paste, by adding very little water.

2. Peel and cut all the vegetables into 2-inch length sticks.

3. Cook the vegetables with curry leaves, green chilli, salt (to taste) and turmeric powder adding very little water in a heavy-bottomed vessel.

4. When cooked, add the rough paste of coconut, curd and cook for a minute.

5. Finish with the coconut oil by mixing it into the vegetables.

6. Serve hot.
Recommended Products
As an Amazon Associate and member of other affiliate programs, I earn from qualifying purchases.
Nutrition Information:
Yield:

2
Serving Size:

1
Amount Per Serving:
Calories:

335
Total Fat:

18g
Saturated Fat:

16g
Trans Fat:

0g
Unsaturated Fat:

1g
Cholesterol:

1mg
Sodium:

539mg
Carbohydrates:

43g
Fiber:

8g
Sugar:

26g
Protein:

4g
Please note that nutrition information you see is provided and automatically calculated by Nutritionix. This may vary depending on the specific ingredients that you use. To ensure the most accurate information, I suggest entering your specific ingredients into a nutrition calculator.
---
Hope this Avial recipe gives you an idea on what to have for a vegetarian side dish for lunch or dinner! This authentic Kerala mixed vegetable curry definitely hits the spot.