Barbadoes Room is the restaurant at The Mills House Wyndham Grand Hotel in downtown Charleston, South Carolina.
We visited the restaurant during my trip to Woodstock, Georgia where we did a road trip to Charleston for the holidays.
Located on the foodie street (Queen Street between Meeting and King Streets) along with Husk and Poogan's Porch, the Barbadoes Room serves fine American cuisine with Southern hospitality on a relaxed Caribbean atmosphere.
---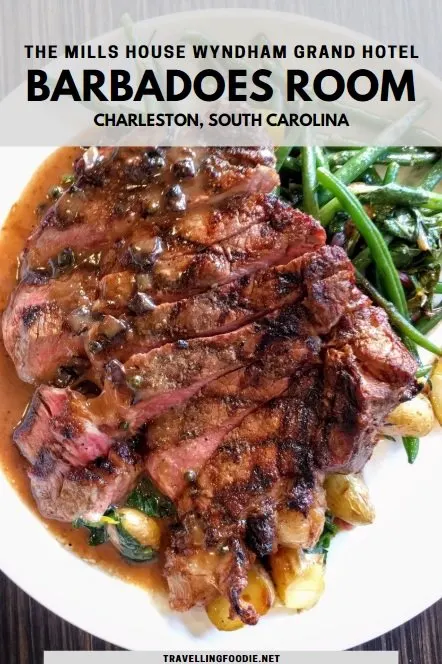 ---
Inside the Barbadoes Room
You can enter the restaurant from the inside of the Mills House Hotel or outside through the beautiful Fountain Courtyard, where you can also enjoy your food.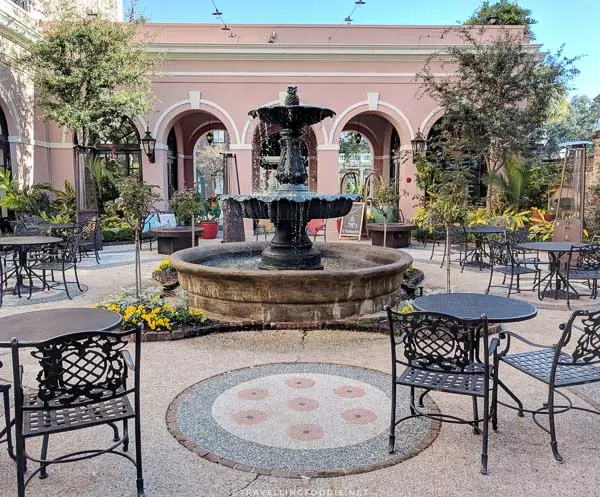 The inside is spacious and brightly lit with natural light from the glass walls separating the fountain courtyard.
Also Read: Where To Eat & Drink in State College, PA
---
Dining Experience
The menu is not overwhelming, a simple one-pager broken down into sections: shared, soups and salads, and entrees.
Portions are generous and prices are very reasonable.
When you're trying the culinary creations of Executive Chef Justin Hunt, who has worked in places like Celebrity Chef Bobby Flay's Bar American and Thomas Keller's The French Laundry, you know you're in for a treat!
This is why the Barbadoes Room Restaurant is known to be one of the best restaurants in Charleston!
When in Charleston, you must try She Crab Soup, a regional specialty that's a cross between chowder and bisque using the region's famous blue crab.
The soup had a good amount of sweet blue crab meat on flavourful creamy soup.
Our fresh oysters came from Rhode Island.
I kind of wish we were served local oysters instead since Charleston has an abundance of oysters.
If you've been following my food journey on Instagram, you know how much I love scallops!
Also Read: BC Seafood Festival in Comox Valley
The scallops here are a must-order!
Four pieces of perfectly seared scallops with caviar and black garlic brings a burst of umami in your mouth.
With scallops this good, you might want to get shellfish with it. 🙂
If you like pasta, their tagliatelle is made in-house and cooked al dente with generous portions of clams and black truffle, though I would've loved it more with less salt.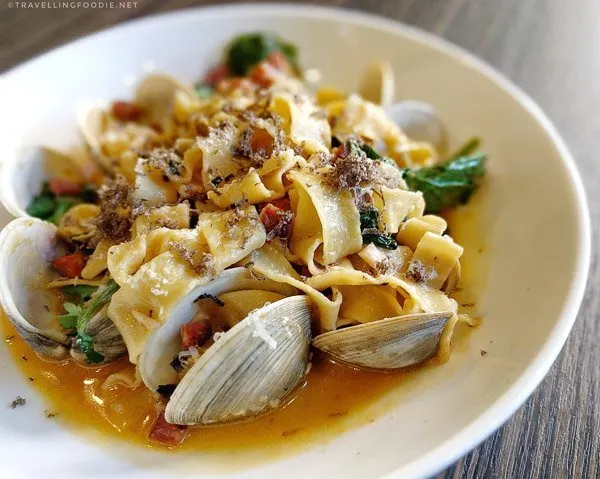 If you're looking for quick and simple, or want a #foodporn photo for Instagram, you'll want to try the Mills House Burger with its thick Rosewood Farms American wagyu.
You can really taste the difference in meat quality here unlike other wagyu burgers I've tried where the patty tastes just like normal burgers.
The applewood bacon was also made perfectly crispy that it's actually hard to not eat it on its own.
My 16-year-old cousin, who's very picky with food and would choose not to finish something he didn't like, devoured the burger in record time!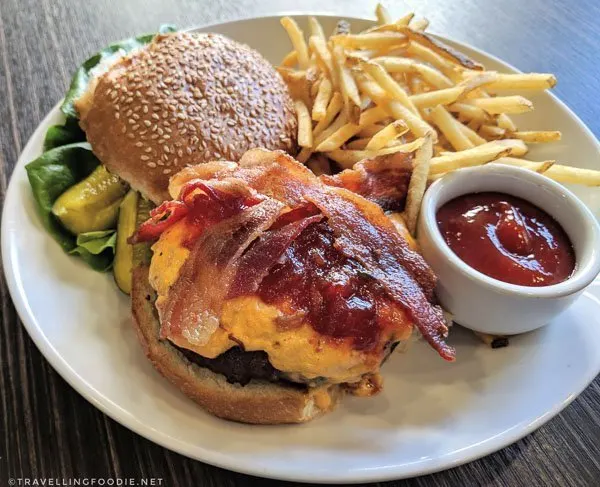 Another must-order here is their Pork Shank.
It was fall-off-the-bone tender and very meaty.
As I mentioned, the prices here are very reasonable and the portions are good.
This $22 pork shank is a clear example.
We went to another restaurant the night before and tried the Pork Osso Bucco, which is also pork shank.
For $26, the size was much smaller, and the quality was nowhere near as close as this one.
Also Read: A Day Trip in Jacksonville, Florida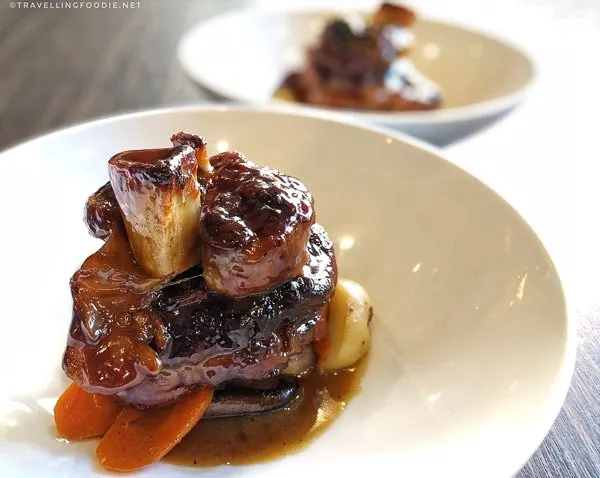 If there's only one thing you can order here, it's the Delmonico Ribeye.
It's seriously one of the best ribeyes I've had.
Perfectly cooked to my doneness, the steak was tender and very marbled all the way through.
An important thing to note here is that this is 20oz of pure ribeye unlike other steakhouses where a big bone is part of the weight.
Travelling Foodie Tip: Ask for the sauce to be on the side instead. I find with this quality of meat, little to no sauce is needed but it's still good to try the sauce to get a different flavour.
As we were there during the holidays, we were surprised to learn that their dessert menu changes.
Since we went during the Christmas season, they had Eggnog Cheesecake to celebrate the festive season.
It's my first time having Eggnog Cheesecake and it was definitely a sweet way to end the meal.
Also Read: Cheesecakes in a Blanket: Prosciutto & Cheese Cupcakes Recipe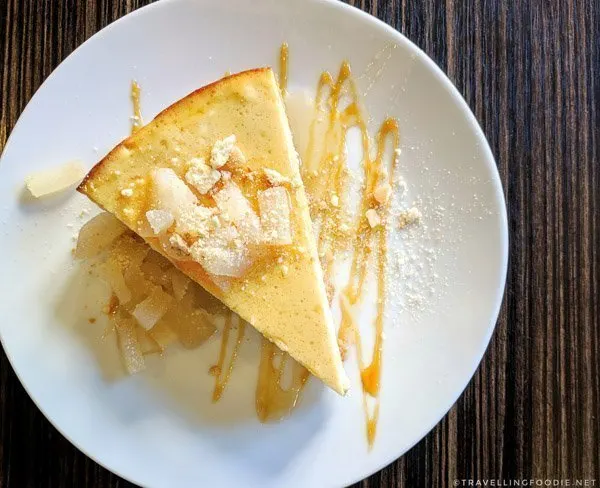 The Barbadoes Room is definitely one of the rare hotel restaurants where we enjoyed every dish that we tried.
Even my 10-year-old cousin, who barely cares about restaurants, remembers The Barbadoes Room Restaurant because it was one of the best restaurants in Charleston during our trip, and said I should recommend it to my audience.
---
Hope this restaurant review of the Barbadoes Room Restaurant at The Mills House Wyndham Grand Hotel helps you decide where to eat in Charleston!
I'm always looking for restaurant recommendations for my next visit. Please let me know what you find are the best restaurants in Charleston for me to try.
---
This post was made in partnership with The Mills House Wyndham Grand Hotel. As usual, all thoughts and opinions are entirely my own.
---
The Barbadoes Room Restaurant at The Mills House Wyndham Grand Hotel
Website / Address: 115 Meeting St, Charleston, South Carolina 29401, USA
---