Baro is Toronto's Latin American restaurant at King West from Chef Steve Gonzalez, the same team that brought you the former popular restaurant, Valdez.
Derived from the word "Barrio" which means "neighbourhood", its aim is to bring traditional Latin culture and cuisine reimagined with a distinct modern flair to become something entirely unique and new.
Also Read: Top Restaurants in Toronto
---
Inside Barro
The 4,000-sq. ft. Baro is a three-level establishment with a reception desk at the first level.
First floor is the Dining Room floor.
Second floor is the Raw Bar.
Third floor is The Loft.
Plus a roof-top patio in the fourth floor for the upcoming summer.
Travelling Foodie Tip: There's a hidden bar in the upper floor called Escobar and you need a daily password to get in.
We dined on the first-floor dining room. The atmosphere was dark and intimate with a very hip vibe.
There is an open kitchen concept in the middle of the floor and diners can actually sit by the kitchen counter to eat while watching the Chef Steve and his team in action.
Also Read: Alo Restaurant, Michelin Star Tasting Menu Restaurant in Toronto
---
Must-Try Food at Baro
For food, my favourites at Baro were the Chori Papa, Mixto and Nikkei Ceviche, CGS, and OG Duck Chaufa.
The Ceviche Flight comes with a smaller portion of each of the Ceviche.
The Nikkei was such an inventive take on hamachi ceviche bringing Japanese influence (nori, edamame and lotus root) into such fresh hamachi.
I'm a sucker for squid ink so the Mixto won a place in my happy belly as it's a seafood medley of octopus, scallops and calamari with squid ink. Pure heaven for me!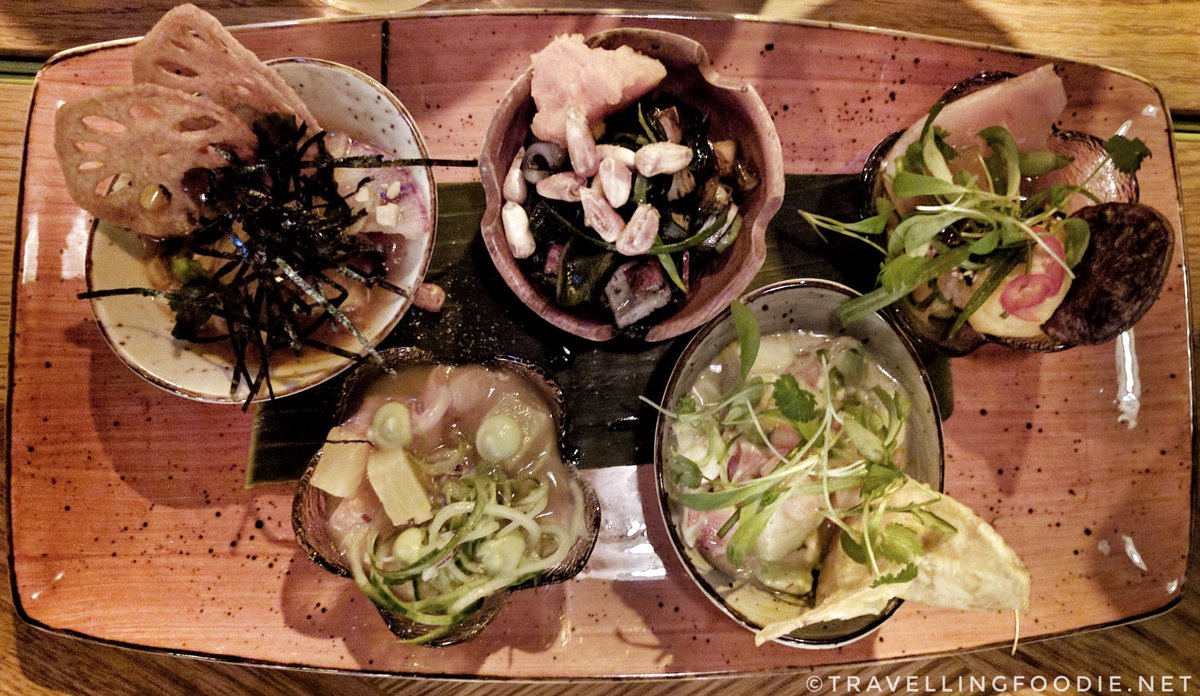 The Chori Papa, which actually came from Valdez, was served fajita style where the chorizo mix was on a sizzling plate and tortillas were served warm on the side.
The chorizo was very flavourful and enhanced even more with the goat cheese.
Everything just mixed well in this dish and went so well after wrapping it with the warm tortilla.
The CGS is a great item to share. I love that it comes with five different types of chips (plantain, corn tortilla, purple pot, taro, yucca) so it doesn't get boring.
Make sure you try each one on its own so you can taste the difference, then try it with the fresh guac and salsa to see how the chips get enhanced.
The purple pot is the most uncommon among the five and the one that I enjoyed the most.
The OG Duck Chaufa, another favourite coming from Valdez, sort of gives a Latin-Japanese spin on Korean dolsot bibimbap.
Delicious fried rice that's slightly crispy from the stone bowl with thin strips of duck confit. The chaufa is mixed table-side.
Also Read: Best of Windsor-Essex County, Ontario
---
Must-Try Drinks at Baro
For drinks, my favourite was the Baro Sour. Their signature Baro Sour puts a spin on the classic pisco sour by using two piscos, Chilean (Gobernador) and Peruvian (Pancho Fierro).
It is highly refreshing with its tangy taste, and pairs well with the CGS to balance the chips earthiness.
---
Food & Drinks at Baro
Food
CGS – $15 – chips + guacamole + salsa
CHORI PAPA – $15 – chorizo + potato + peppers + chipotle golf + goat cheese + 4 tortillas
EMPANADAS – $7 – corn meal + beef + potato + peas + aji 3pcs
OG DUCK CHAUFA – $35 – duck confit + rice + edamame + egg + papi kung fu + chile + tobiko
FRIED WHOLE FISH – $42 – branzino + rice + avocado + maduros
CHURROS – $7 – fried dough + cinnamon + salted dulce de leche 3pc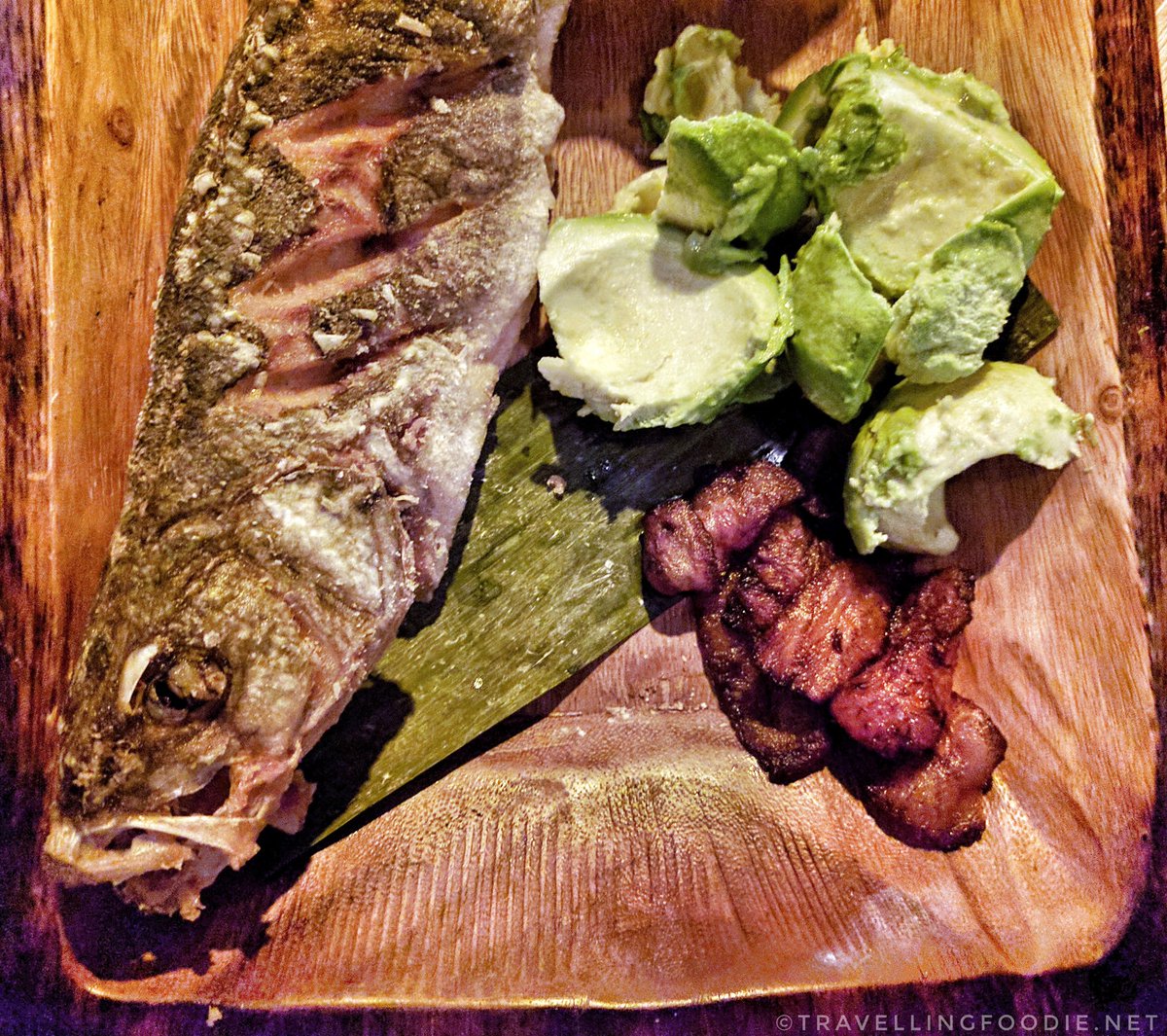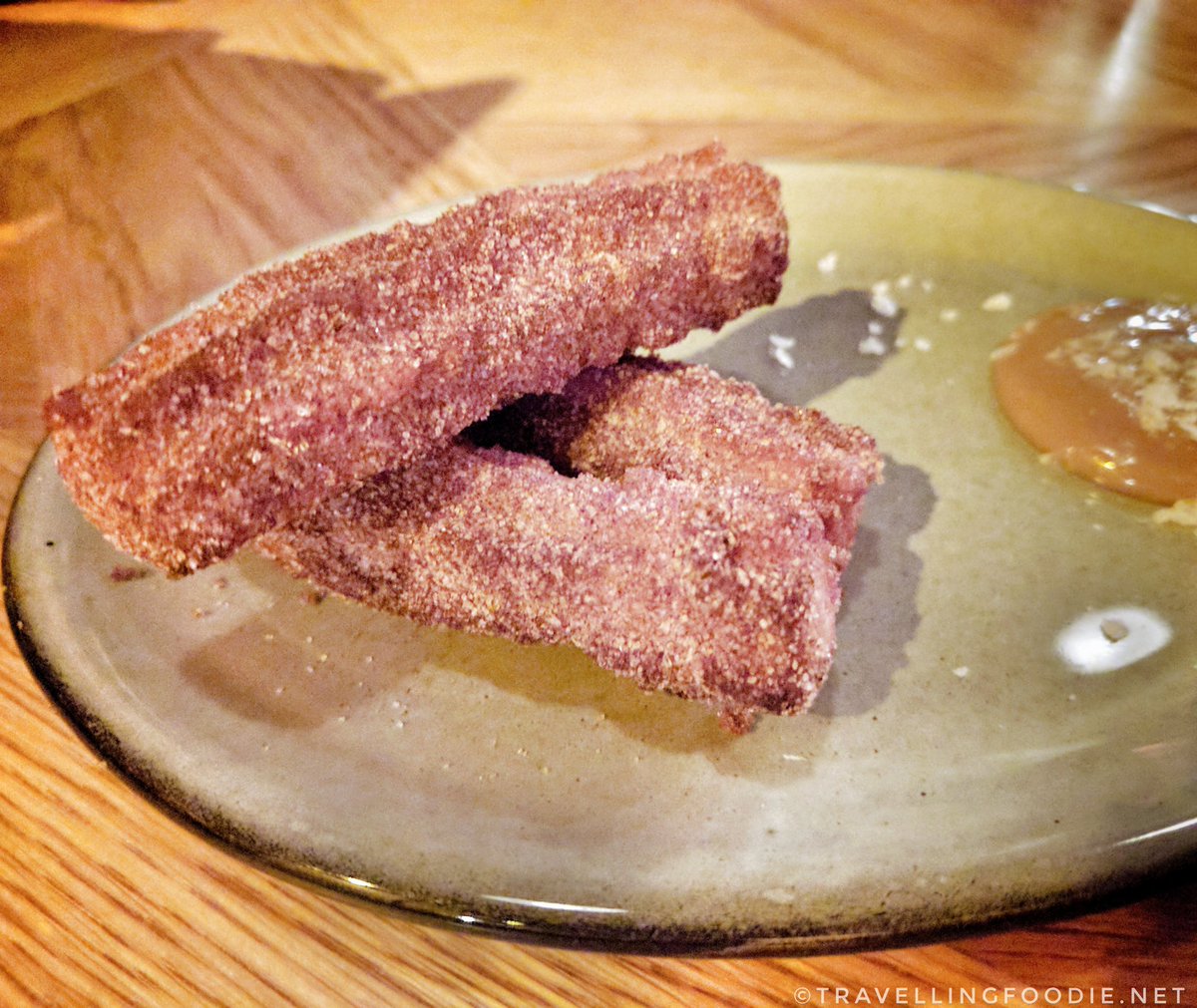 Ceviche Flight
TIRADITO – $20 – albacore tuna + passion fruit & lulo + squash + chile + cilantro + sesame seeds
CÓCTEL – $19 – shrimp + mayo + ketchup + horseradish + avocado + lime + plantain
TRUCHA – $20 – trout + pineapple agua chile + lemon + fresh cucumber + avocado + cilantro
NIKKEI – $26 – hamachi + ponzu + lime + tofu + edamame + lotus root + radish + nori
MIXTO – $22 – octopus + scallops + calamari + squid ink + sweet potato + chulpes + onion + wakame + pepper
Drinks
THE BARO SOUR – $15 – Gobernador and Pancho Fierro Piscos + Passionfruit + Guava + Raspberry Blossom Honey + Ginger + Lime + Egg White + House Vanilla Almond Bitters 1.5 OZ
CAVENDISH NO. 2 – $14 – Coconut Oil-washed Buffalo Trace Bourbon + Banana + Vanilla Gomme + House Spiced Cacao Bitters 2.5 OZ
FIVE FLOWER – $15 – Eristoff Vodka + Violet + Mango + Wildflower Honey + Lemon + Guanabana Foam + Edible Flowers 2 OZ
---
More photos of Baro Toronto
---
Baro
Website / Address: 485 King Street West, Toronto, Ontario, Canada M5V 1K4
---
Disclaimer: Although the food was complimentary as provided by Baro Toronto, all opinions are my own.