June is BC Seafood Month, and what better way to showcase seafood excellence than attending the BC Seafood Festival in Comox Valley, Western Canada's largest seafood festival.
2023 BC Seafood Festival is happening June 23 – 25, 2023!
With over 100 different seafood species harvested in BC waters, the value of #BCSeafood industry and its importance to the provincial economy, families and coastal communities need to be recognized.
Did you know? Comox Valley is not a city – it's a region in Vancouver Island that includes the city of Courtenay, town of Comox, village of Cumberland, and other settlements and communities.
BC Seafood Festival is a seafood heaven in Western Canada much like Nova Scotia Lobster Crawl Festival is in Eastern Canada.
Also Read: Great Canadian Kayak Festival & Challenge in Timmins, Ontario
---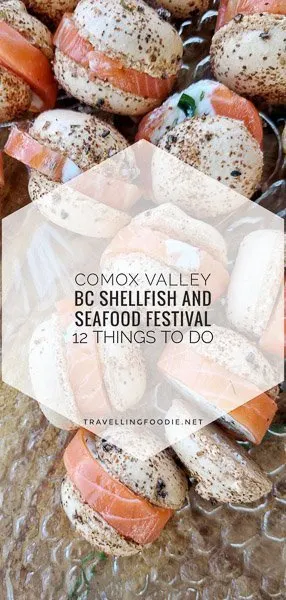 ---
BC Seafood Festival 2017
On its 11th year in the Comox Valley, on the east coast of Vancouver Island, the BC Shellfish & Seafood Festival (now called BC Seafood Festival) ran from June 9-18, 2017.
It was a good 10 days filled with over 40 culinary events, seafood tours, celebrity chef demos, tasting dinners with wine pairing and more, with a trade show at the BC Seafood Expo.
As you know, I love shellfish and seafood.
My Food Instagram is flooded with seafood. Among my favourites are lobster, scallops and calamari, and, if you know me, you know I'm a sushi addict.
I was so ecstatic when I got the opportunity to attend the BC Seafood Festival as media among other domestic and international media journalists.
---
Bayview Hotel
All of us attending the BC Seafood Festival stayed at the Holiday Inn Express & Suites Comox Valley (now Bayview Hotel) in Courtenay so we got to bond and end up becoming friends.
Check Availability & Pricing for Holiday Inn Express Courtenay in Booking.com / Agoda
When I checked-in, there was a gift bag full of goodies including wine from 40 Knots Winery, chocolate from Hot Chocolates, and smoked oysters from Fanny Bay Oysters!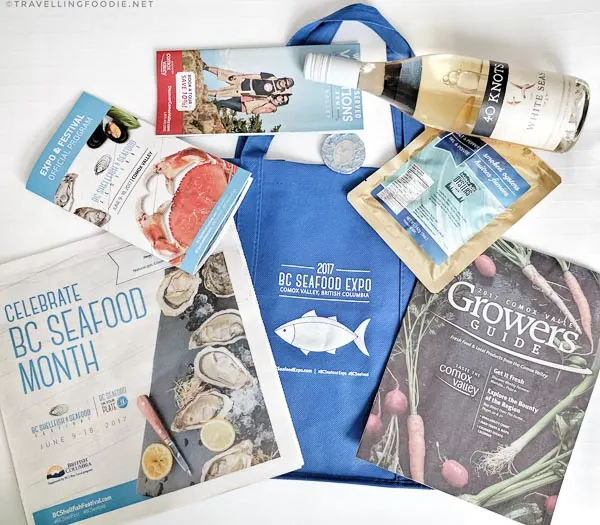 ---
BC Seafood Festival Video Recap
I attended the BC Seafood Festival from June 9-14 with a jam-packed itinerary of educational tours, beautiful sights, meet and greets, and, what I do best, eating and drinking.
In the three full days plus one night I was there, we did a total of 12 things!
Here's a video recap of what we did, which I'll be going into detail in this post.
---
12 Things To Do in BC Seafood Festival
There are some many attractions, activities and delicious things to do during BC Seafood Festival.
Here are 12 things we got to do!
Visiting Media and Chefs Dinner and Meet & Greet at Locals Restaurant
I arrived in the afternoon on June 9 to check-in and unwind. The first agenda for the BC Seafood Festival trip was the Visiting Media and Chefs Dinner + Meet & Greet at Locals Restaurant, one of the participating restaurants for BC Seafood On Your Plate.
Chefs and the team from Fresh Fest were at the dinner, along with select locals as well as the Ministry of International Trade and International Seafood Buyers Delegates.
We got to meet Locals Restaurant's Chef Ronald St. Pierre whose menu showcases local foods from Vancouver Island producers.
Did you know? In its commitment to close the producer-consumer gap, the menu at Locals Restaurant actually identify their local suppliers.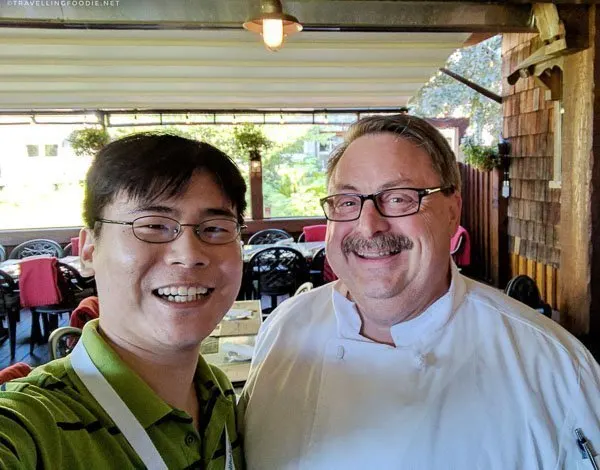 I also got to meet Chindi Varadarajulu from L'Attitude 49 Restaurant in India who flew all the way from India to take part in cooking for the BC Seafood Expo's International Buyers & Media Reception!
Also Read: 4 Day Trip in Kerala, India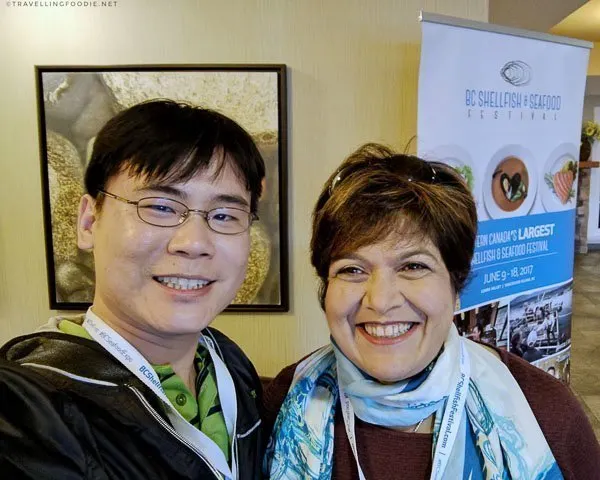 For dinner, we got to choose anything from their dinner menu or BC Seafood On Your Plate menu.
Fruit de Mer (BC Seafood On Your Plate appetizer) – Medley of Chinook Salmon Gravlax, Humboldt squid, shrimp, and scallop ceviche, served with local organic greens and Romesco sauce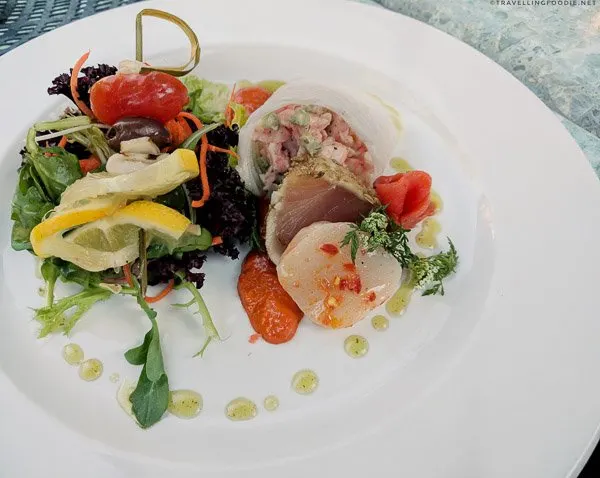 Seared Jumbo Scallops – Pan seared jumbo scallops and fennel seed infused Tannadice Farms pork belly served on a smooth carrot & ginger puree, wilted winter kale and a lemongrass sauce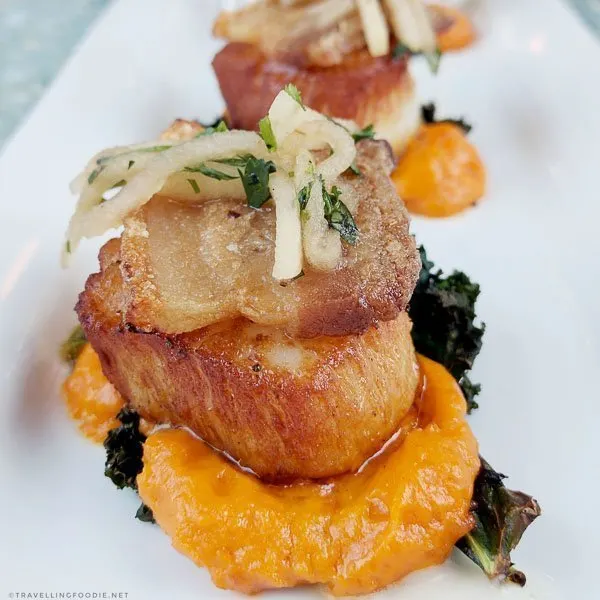 Did you know? Sablefish is Black Cod. I love black cod served in Japanese restaurants and didn't know it was called Sablefish as well.
Miso Glazed Sablefish – Pan-roasted sablefish fillet served on a mushroom and rice timbale with toasted pumpkin seed and Nori crumble and seasonal vegetables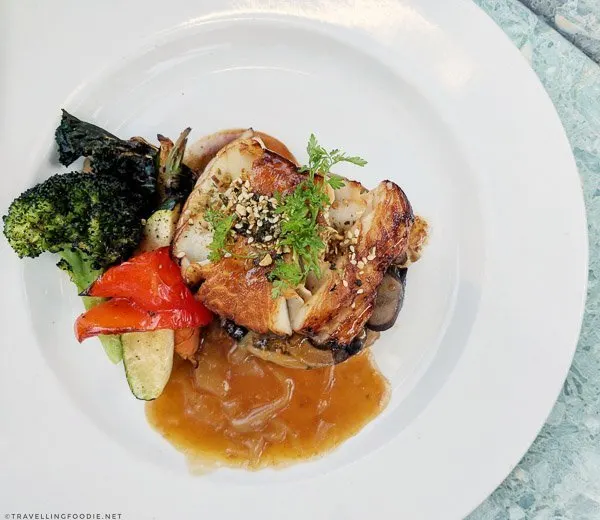 Gourmet Taster Platter – Pastry Chef Laurel's selection of a frozen Lemon Meringue Soufflé, Forget me not Cake, Mini Fruit Tartelette, and French Vanilla crème brulée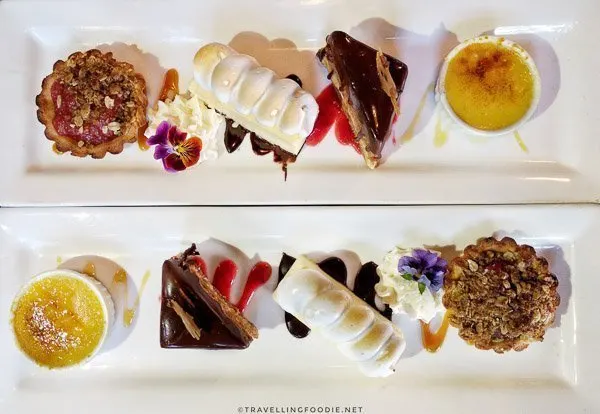 Also Read: Best Restaurants in Seattle, Washington
---
Big Animal Encounters with Pacific Pro Dive & Marine Adventures
If you're in such a beautiful island, you definitely want to explore its surroundings.
The best way to do this during BC Seafood Festival than doing a Whole Day Wildlife Tour to explore local inlets, bays and tidal rapids to search for wildlife.
I actually did the Big Animal Encounters with Pacific Pro Dive twice.
The first one was a full day from 9am-4pm.
We were picked up at 8:15am at the Holiday Inn by Bill Coltart who is the owner of Pacific Pro Dive and who toured us around.
We arrived at the Campbell River Discovery Harbour by 9am.
After the boat setup and signing of waivers, we got on the boat and explored from Quadra Island and headed north.
The first area was Copper Cliffs named because of the copper colors you see on the rocks.
We passed by whirlpools and Bill would go on them so we can get a feel what it's like!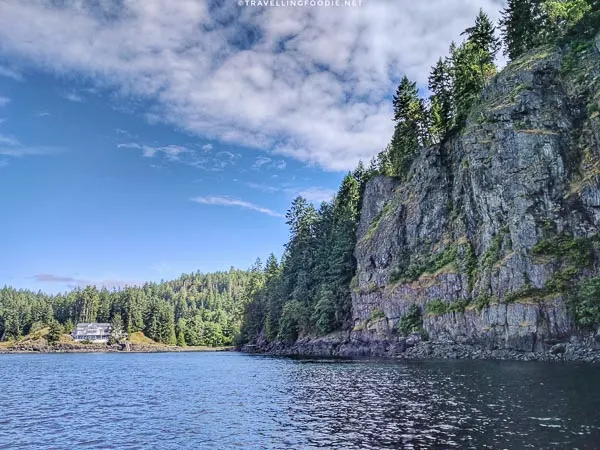 The second stop was Seymour Narrows which is popular because of the explosion of Ripple Rock on April 5, 1958.
This explosion caused 635,000 metric tons of rock and water were displaced, making it one of the largest non-nuclear planned explosions on record.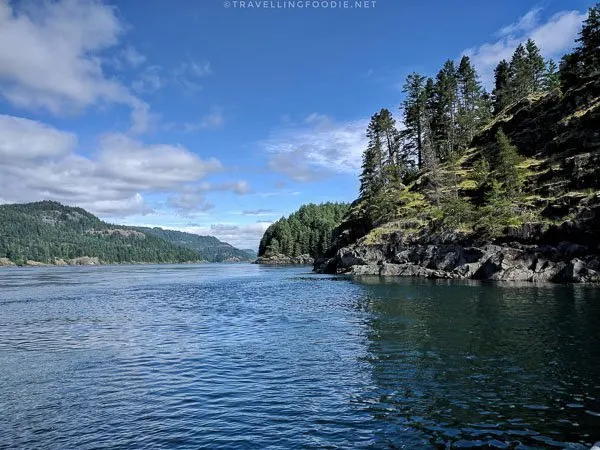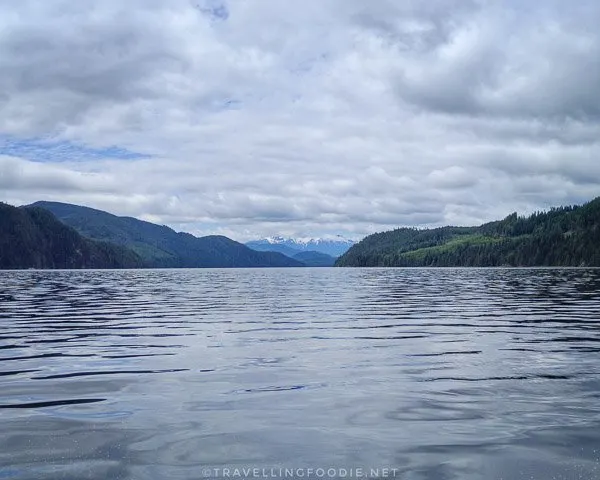 We reached Frederick Arm where fellow tourmates shout that they saw dolphins.
From what I learned, dolphins are very friendly and love human interaction.
They normally will come near people and make a show.
Unfortunately, it wasn't in our case, we only saw their fins bob up and down the waters as they swam away.
Luckily, my tourmates came prepared as two of them brought binoculars and were excited and looking out for animals.
One of them spotted a Grizzly Bear from afar, which we wouldn't have went to if he didn't point it out.
So on we headed to Phillips Arm to see the grizzly bear, which was my first time!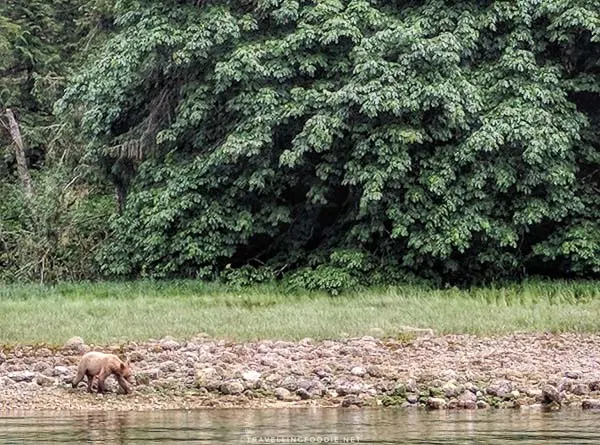 Lunchtime! We headed to St. John's Point to dock for lunch.
As Bill prepared lunch, we explored the area.
There's a beach right off the dock as well as picnic tables and actual BBQ Grill (you just need to bring your gas!)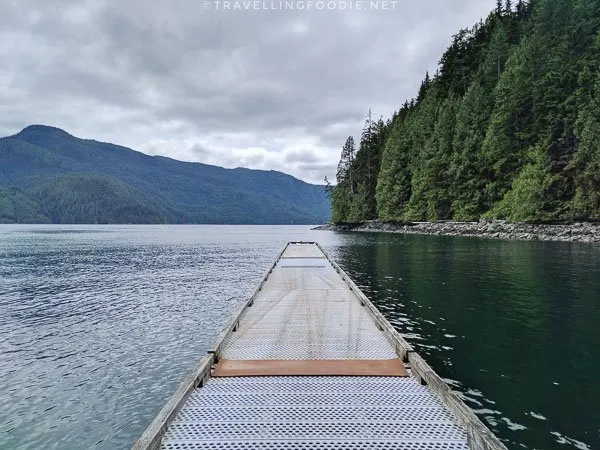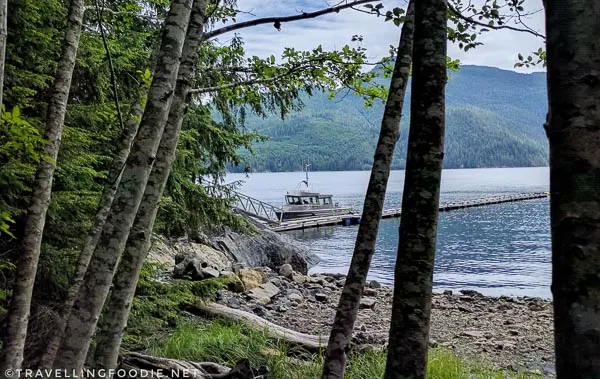 Bill told us that there's a small trail that leads to another side with a beach.
It is a very short walk as I reach the beach in a few minutes.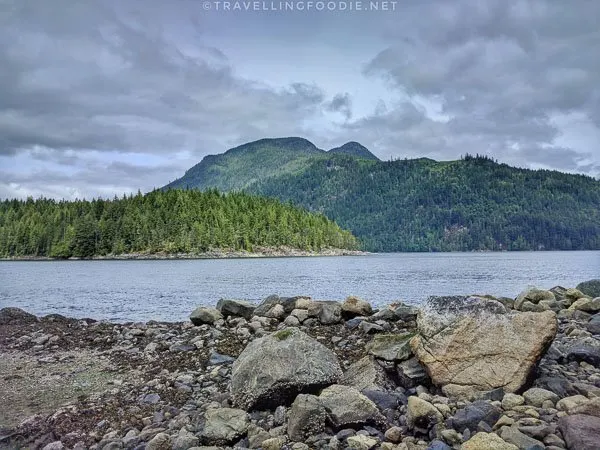 Lunch was finally ready.
I was surprised to see that we didn't use the grill on the island.
Bill actually brought his own portable grill and barbecued sausages for us on the boat.
In fairness, he said he uses portable because you don't usually know where you'll be docking for lunch, which makes total sense.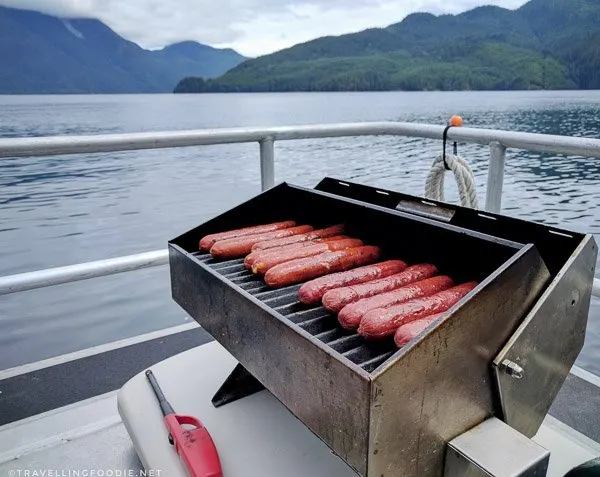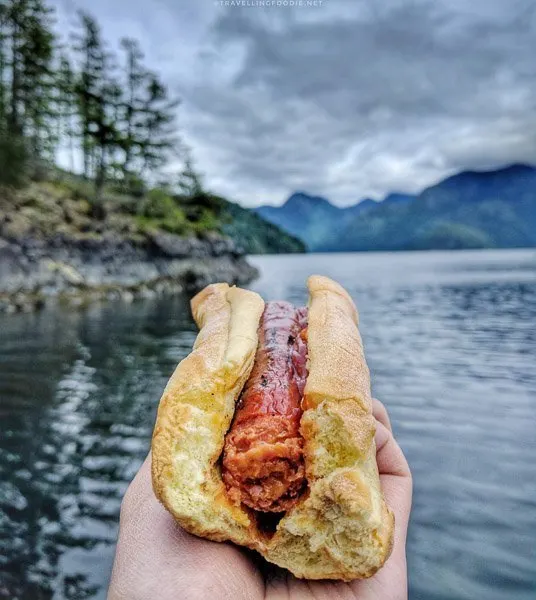 After lunch, we headed to Jimmy Judd Island and Big Bay area and spotted sea lions and eagles.
There were so many eagles in the area trying to feast on fishes.
We actually saw one eagle able to catch a fish but then get attacked by another eagle, resulting in the fish getting dropped back to the waters.
We didn't see any whales, but at least we saw the grizzly bear!
We headed back to the harbour, passing along some other areas like Hole in the Wall.
The second time I attended was on my last day.
We did a half-day tour with Chris Broadbent.
This time, we explored south of Quadra Island, where we spotted the Cape Mudge Lighthouse.
I also made sure I brought the DSLR which I regretted so much after seeing the grizzly on the first tour.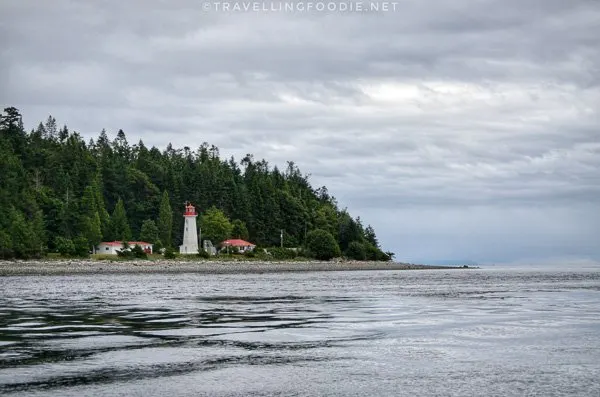 We head south all the way to Mitlenatch Island where we first spotted a group of seals lying on the shore.
Interestingly enough, some are colored white.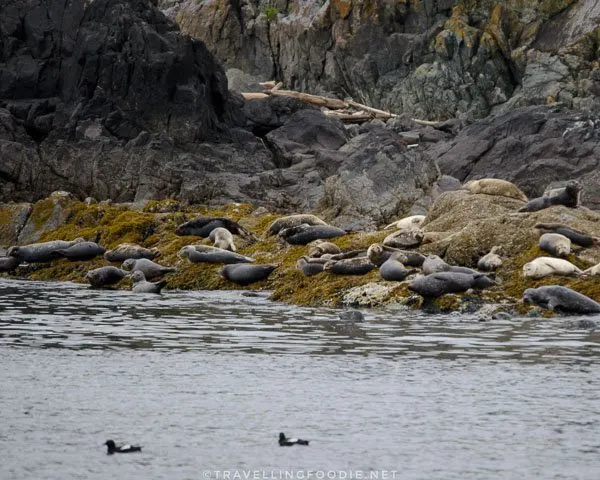 Birds were flying all over the island!
A good way for me to test the DSLR.
We get to a part on the island with two groups of sea lions in nearby areas.
The sea lions we saw here were better than the first tour as they were putting on a show for us: moving around, making noises, jumping to the water.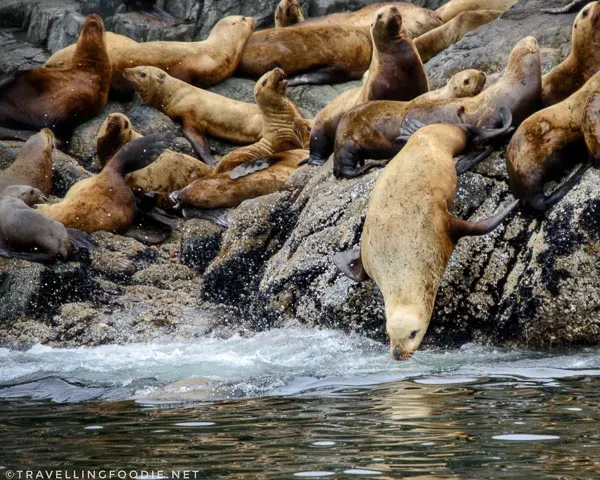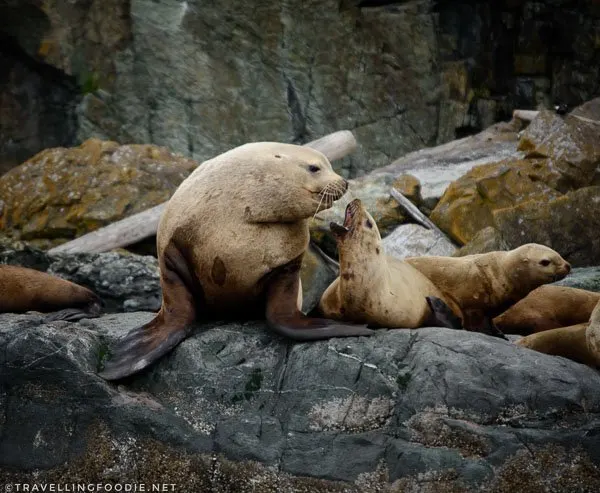 We didn't see whales this tour too!
Oh, mother nature!
I'm 0 for 3 in Whale Watching Tours.
The first time I did a whale watching tour was in Newfoundland with O'Brien's Boat Tours.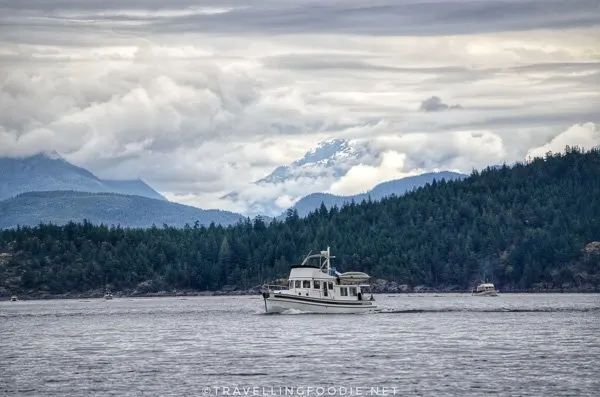 ---
Fresh Fest at Coastal Black Winery
One of the signature events for the BC Seafood Festival, Fresh Fest celebrates BC Seafood by showcasing farm-raised seafood culinary tasting stations and BC wine pairings, featuring renowned BC Chefs and BC Shellfish and Seafood producers.
Fresh Fest was held at Coastal Black Winery, an award-winning 600-acre estate fruit winery famous for their mead and blueberry/raspberry sparkling wine.
I was able to try all the food stations, but not all the wines.
My favourite dish was Darren McLean's Shime Salmon Tosa-Mi with its complex flavours but retaining the fresh salmon taste!
I love oysters so I loved Nathan Tymchuk's Oyster Rockefeller, as well as Stellar Bay's Kusshi Oysters.
Jinhee Lee & Duncan Ly (Foreign Concept, Calgary)
Marinated Fanny Bay Mussels and Pentlatch Seafoods Clams in Tom Yum Tomato Water
Trevor Bird (Fable Kitchen, Vancouver)
Westcoast Paella featuring Kyuquot Sound Sablefish, Fanny Bay Mussels and Pentlatch Seafoods Clams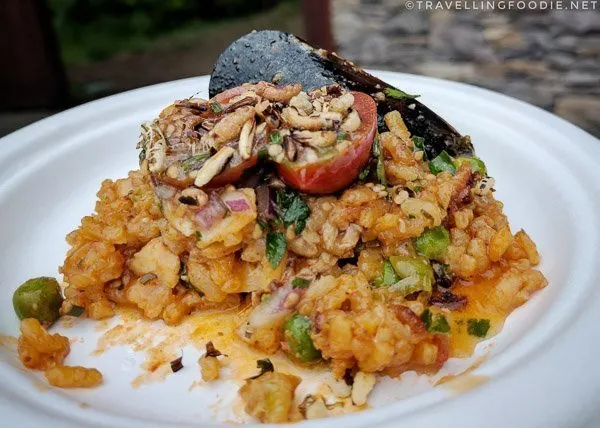 Rod Butters & Brock Bowes (RauDZ Regional Kitchen, Kelowna)
Northern Diving Sturgeon Pastrami with Okanagan Maple Buds, Rye Crisps, Northern Divine Caviar, Crème Fraîche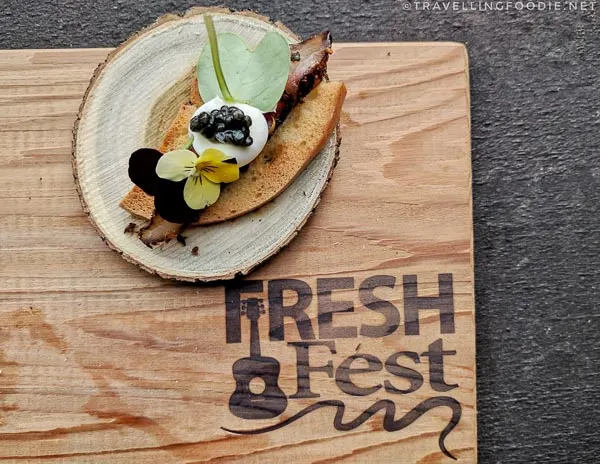 Ned Bell (Vancouver Aquarium, Ocean Wise, Vancouver)
Chilled Lois Lake Steelhead Rillette with Lime & Dill Aioli on Sourdough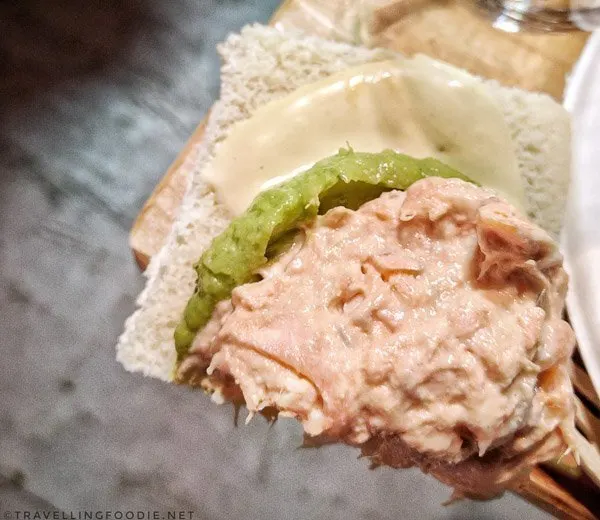 Nick Nutting (Wolf in the Fog, Tofino)
Marinated Fanny Bay Clams, Orange, Chili, Almond, Saffron
Ronald St. Pierre (Locals Restaurant, Courtenay)
Cured Creative Salmon Chinook Gravlax with Unruly Gin Shooter, Pickled Rhubarb and Garlic Scape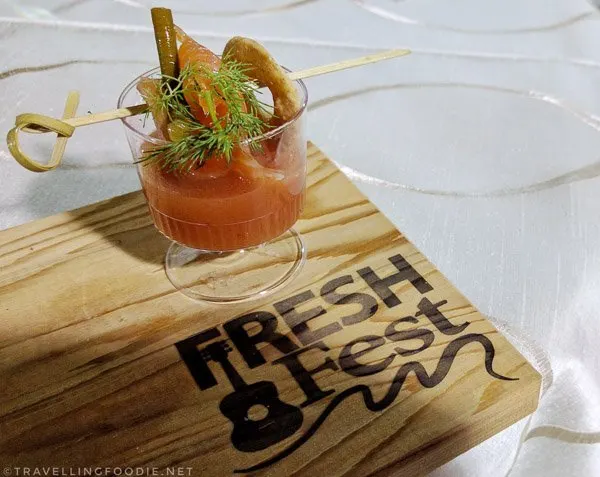 Siddharth Choudhary (Siddhartha's Indian Kitchen, Vancouver)
Cardamom and Saffron-Marinated BBQ Cermaq Atlantic Salmon with a Coconut & Roasted Tomato Sauce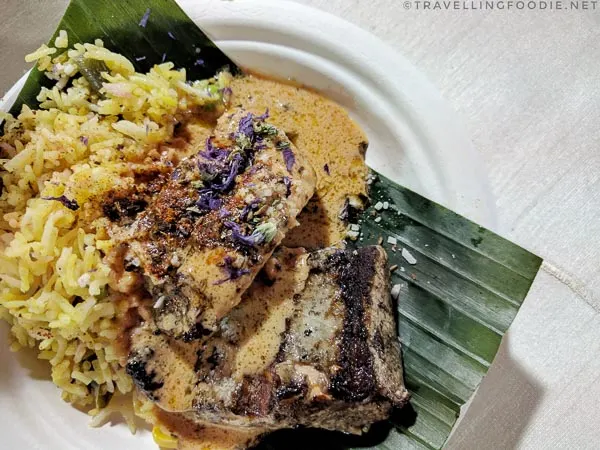 Darren McLean (Shokunin, Calgary)
Shima Salmon Tosa-Mi: Vinegar & Konbu-Cured Skuna Bay Salmon, Shiso Pesto, Chamame Puree, Farmers Ponzu
Nyle Petherbridge (Kingfisher Oceanside Resort, Courtenay)
Golden Eagle Coho Salmon Tartare with Preserved Lemon, Crème Fraîche, Pickled Sea Asparagus, Crispy Salmon Skin, Pumpernickel Toast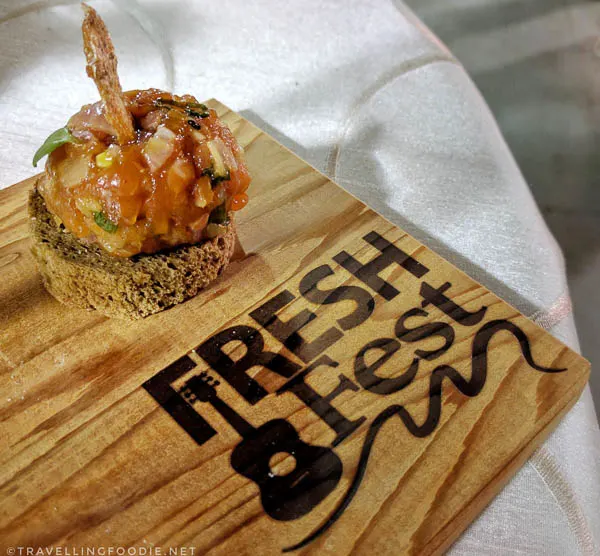 Nathan Tymchuck (Save-On-Foods/Lion's Den, Victoria)
Oyster Rockefeller with Herb Panko, Goat Beurre Blanc and Dehydrated Cocktail Sauce. Oysters were provided by Effingham Oysters.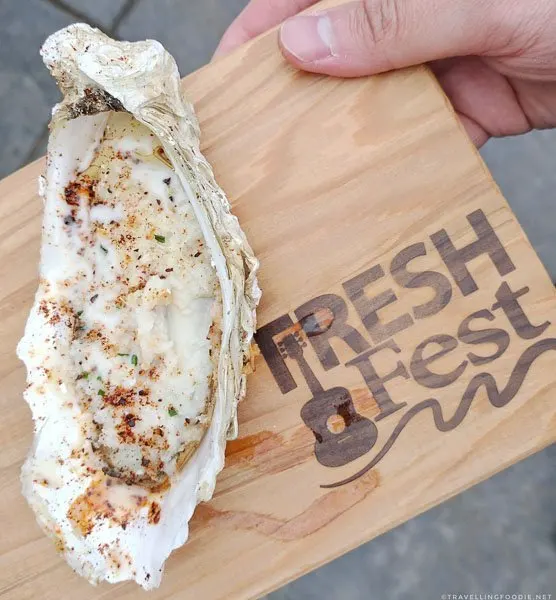 Keith Reid (Stellar Oysters, Bowser)
Kuushi Oysters – Coming from Baynes Sound, BC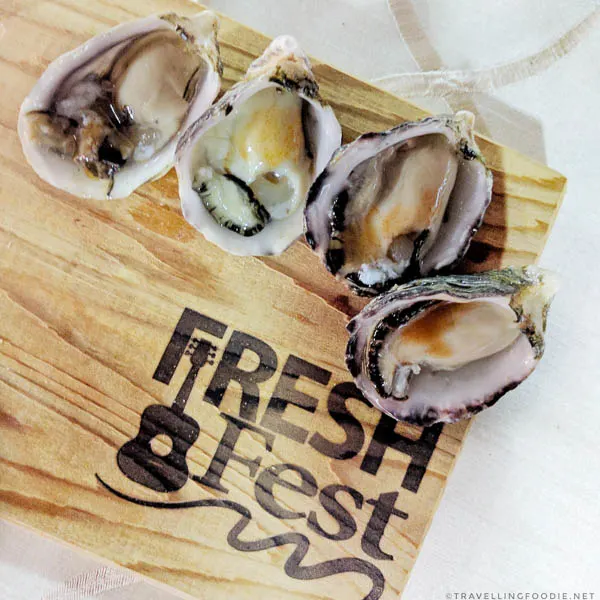 These ultimate petit oysters, smooth tumbled shell with a deep cup, plump meat and a bright, mild finish are renowned as one of the highest quality oysters in the world.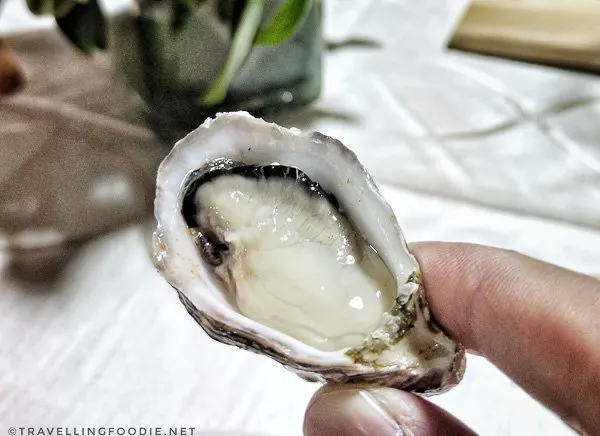 Zanatta Winery (Cowichan Valley, BC)
Singletree Winery (Abbotsford, BC)
Also Read: Wineries on Niagara-on-the-Lake
---
Fisherman's Wharf Vessel Tours
We got to visit the Comox Valley Harbour Authorities Fisherman's Wharf for a guided tour on the commercial fishing industry, stopping at various fishing vessels for a wide range of seafood including salmon, halibut, tuna, shrimp and more.
Did you know? Fishing licenses can costs between 180-200K for a lifetime license. Salmon are sold to stores for around $5/lb in Fall, and filleted ones can go for $15/lb.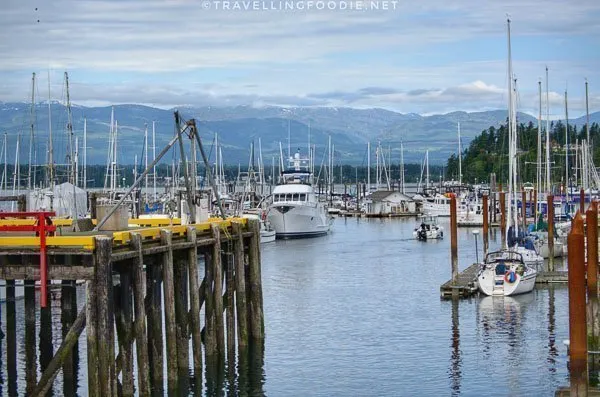 ---
Salmon Capital Seafood Taste
For the BC Shellfish & Seafood Festival, Campbell River hosted its first ever Salmon Capital Seafood Taste to showcase its aquaculture industry through a taste of B.C.'s fresh farm–raised fish created by BC chefs.
The event featured Courtenay's rhythm and blues musician, Luke Blu Guthrie.
With a minimum donation of $5/person, all of which got donated to Campbell River Hospital Foundation, people were able to sample from chef-inspired food stations.
Did you know? Campbell River is considered the Salmon Capital of the World!
Some fun facts about BC Farm-Raised Salmon:
Worth over $1.14-billion to the province's economy
BC's #1 agricultural export and the province's highest valued seafood product
Accounts for 60% of the salmon raised in Canada and 3% of the world's salmon production, making it the fourth-largest global producer
30% of BC's annual harvest is sold in Canada, 70% is exported
Chef Xavier Bauby, International Chef/Culinary Instructor (North Island College)
Chinook Gravlax Macaron stuffed with Apple Goat Cheese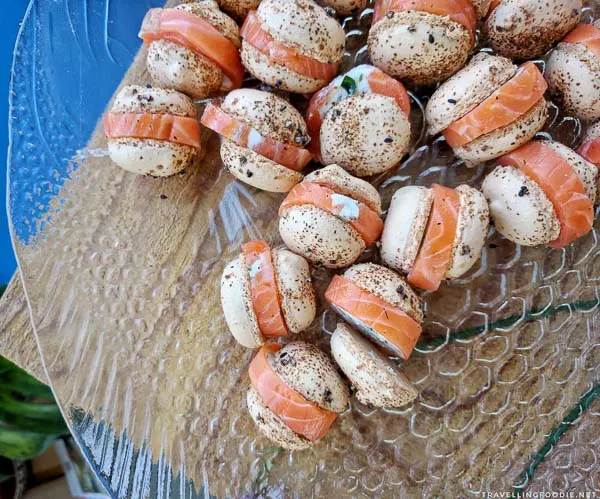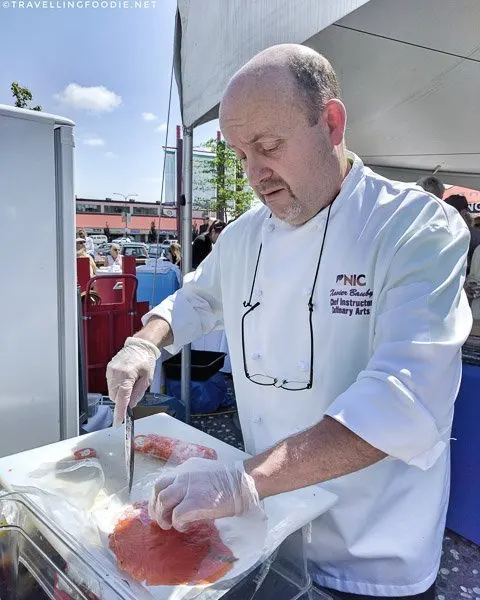 Canned Chinook Salmon with pink peppercorn, rillette with carrot and lemon jam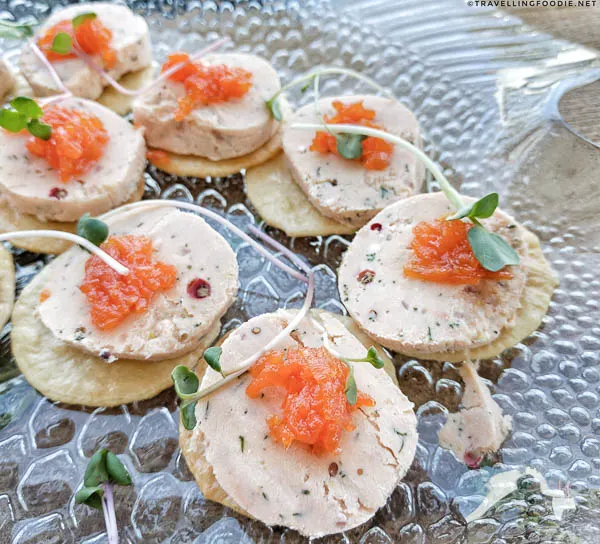 Marinated Steelhead Salmon Salad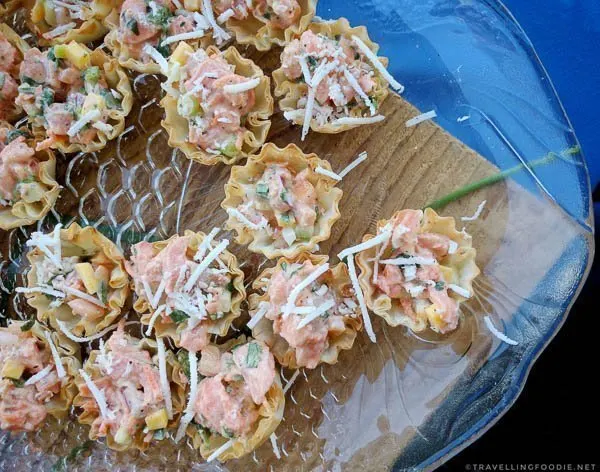 Chef Kathryn Guenette, Wild Blueberry Gourmet Eats
Sake Marinated Kyuquot Sound Sablefish over Crispy Rice Crackers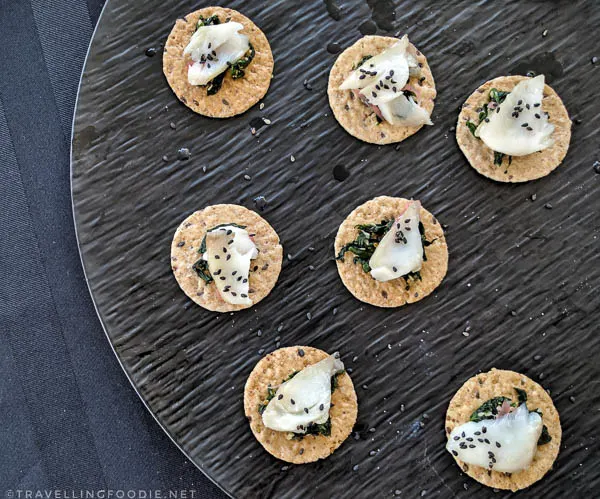 Chef Dave Ryan, Culinary Team Canada Champion
Layered Cermaq Atlantic Salmon Cocktail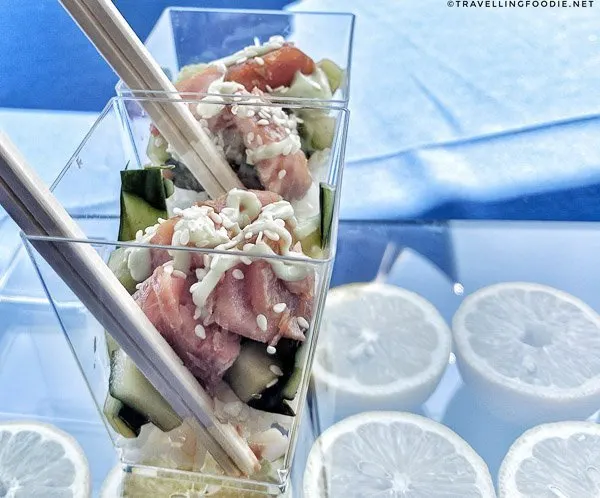 Chef Siddharth Choudhary, Siddhartha's Indian Kitchen
Barbecued "Indian Style" Marine Harvest Atlantic Salmon with Rice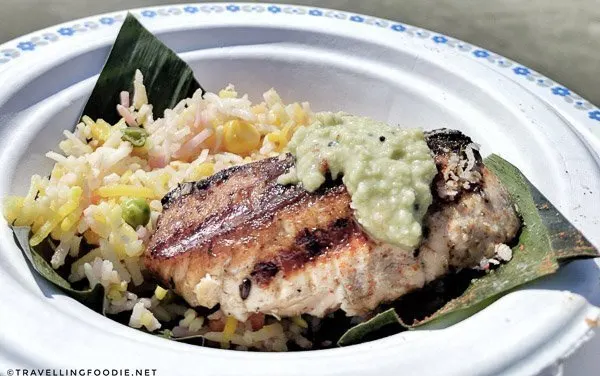 Marine Harvest and Flurer Smokery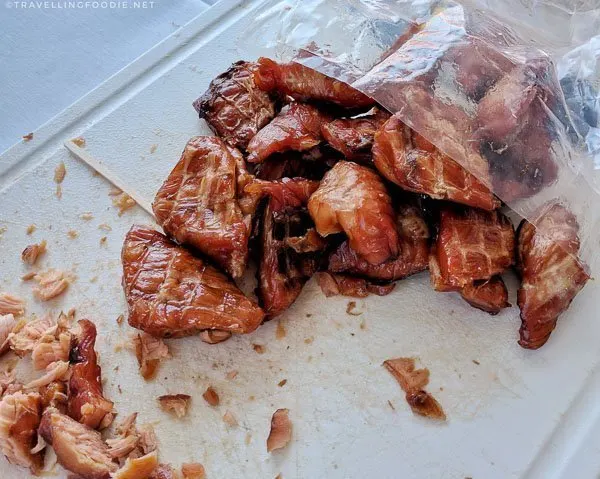 ---
BC Salmon Farmers Association Tour
The BC Salmon Farmers Association Tour was very exciting as it was the first time for me to visit a salmon farm.
For BC Seafood Festival, we went all the way to the marina at Sayward, BC and took a water taxi to the Hardwicke Island Salmon Farm, while passing through the Seymour Narrows.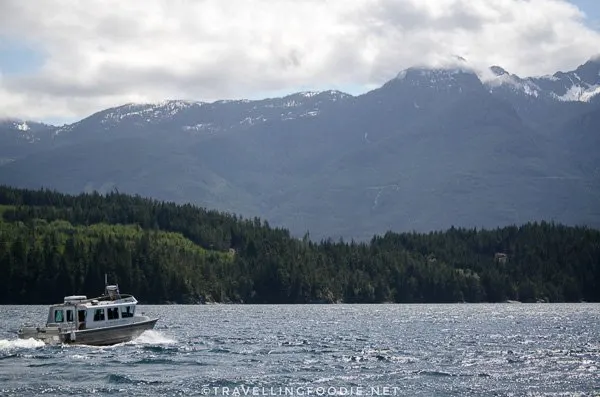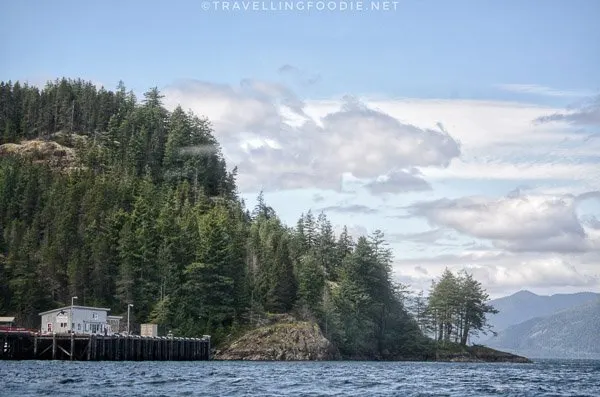 We learned about salmon and the farm, and how sustainable farming is done to meet the demand for salmon while protecting the natural environment.
There are 10 square pens (36M long x 36M wide x 20M deep), placed in two rows of five.
They have nets on top to prevent birds from swooping down on them, but also at the bottom to prevent marine animals from preying on them.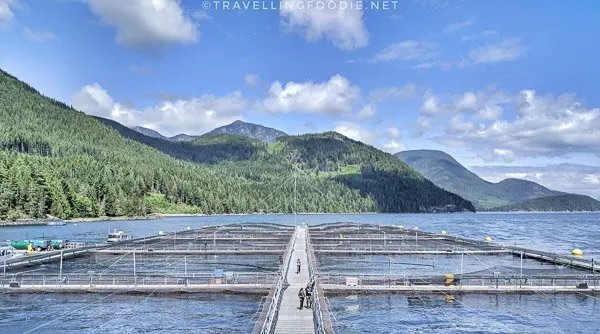 The current inventory is 742,000 fish at an average weight of 4kg.
The fishes are fed with 17 tonnes of feed per day.
They actually stay from 18-24 months in the pen.
It was amazing to see the salmon actually jumping out off the water.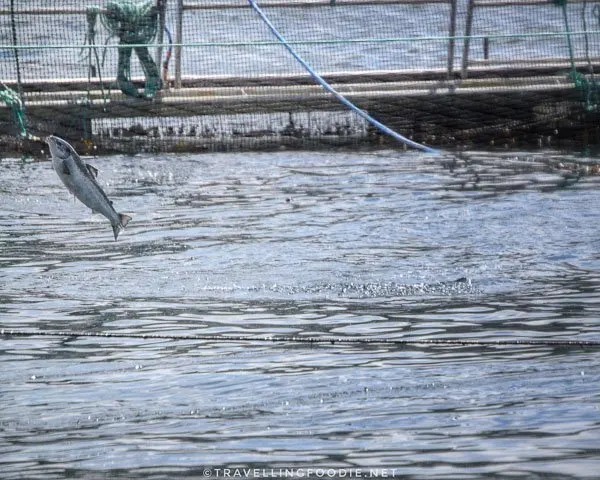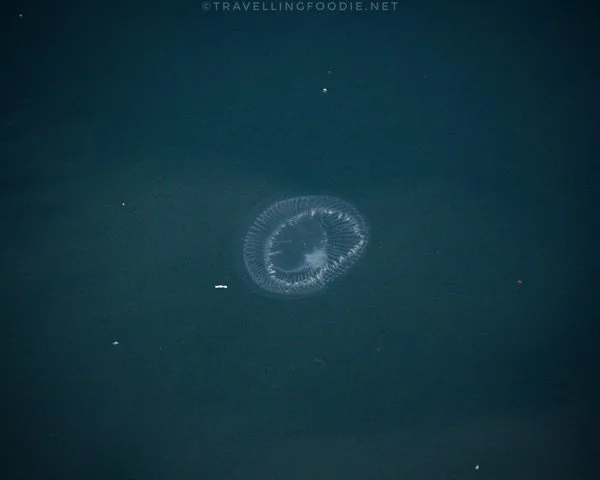 Despite being on the water, there are actually 5 employees that live on-site and rotate shifts.
We got to see upstairs where it's set up like an apartment would be with bedrooms, living room, kitchen and balcony looking out into the pens.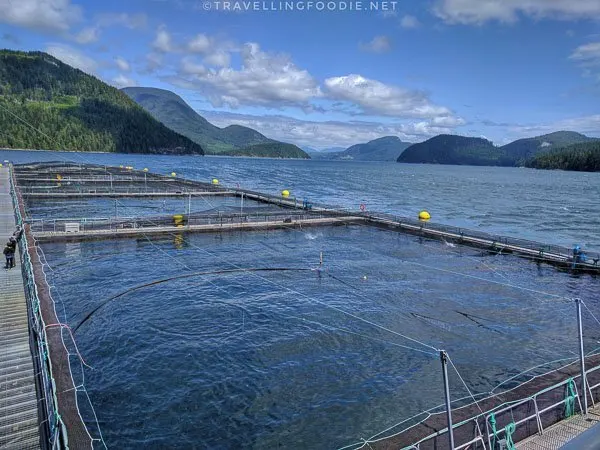 Also Read: Best Restaurants in Halifax, Nova Scotia
---
Chef's Shellfish Showdown at 40 Knots Winery
During the BC Seafood Festival, the Chef's Shellfish Showdown was a gala of 9 specially prepared courses from renowned chefs paired with 40 Knots wines.
The event is held at 40 Knots Vineyard and Estate Winery, the largest grape winery in the Comox Valley and one of the largest on Vancouver Island with its 24 acres.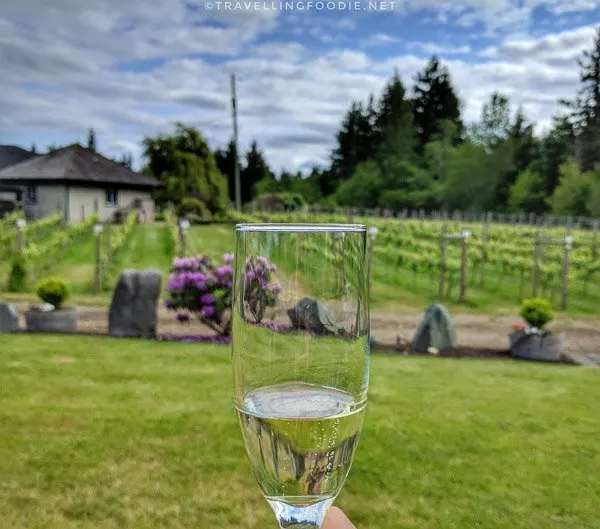 Live jazz style music was played by Easy Street: Annie Handley and Dave Devindisch who have teamed together playing songs from the 1940's to the current songs of today.
The three chefs who battled that night were:
Chef Alain Chabot of Chez Vous Artisan Foods, Black Creek
Chef Andrew Shepherd of Vancouver Island Salt Company, Cobble Hill
Chef Ian Blom of The Old Firehouse Wine & Cocktail Bar, Duncan
For the showdown, the chefs actually battled to be the diners' favourite: we got to vote at the end on which one is our favourite by putting a shell among 8 different jars (8 non-dessert courses).
My favourite was Chef Alain's Chez Vous Rockefeller, then Chef Andrew's Cowichan Pasta Crab & Shrimp Ravioli, which ended up winning the showdown!
Sea Salt Cured Spot Prawns 2 Ways by Chef Andrew Shepherd
Atop Ancient Grain Crostini with Tequila Citrus Cream Cheese, finished with Local Hazelnut Oil, Lime & Cracked Pepper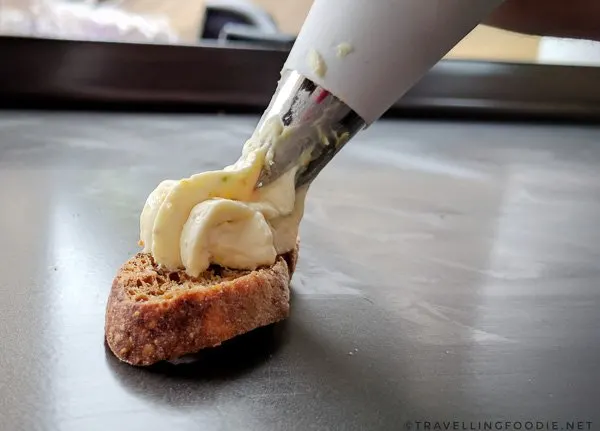 Accenting Local Quail Eggs, Devilled with Pickled Ginger Infused Aioli & Cilantro Paired with Spindrift Brut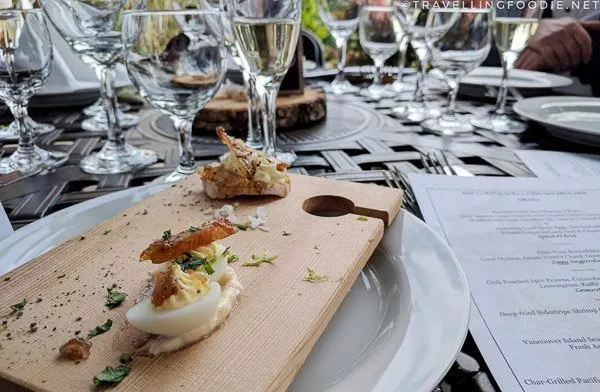 Chez Vous Rockefeller by Chef Alain Chabot – local oysters, Amara Farm's Chard, Gunter Brother's Pork Jowl Paired with Ziggy Siegerrebe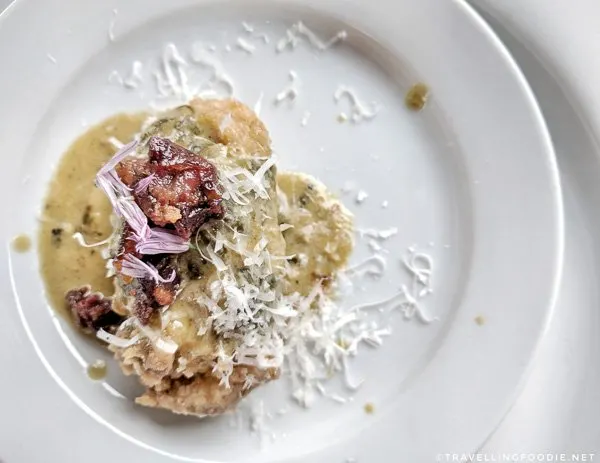 Chili Poached Spot Prawns by Chef Ian Blom with Cucumber Noodle, Coconut Vinaigrette, Lemongrass, Kaffir Lime & Cilantro Paired with Gewürztraminer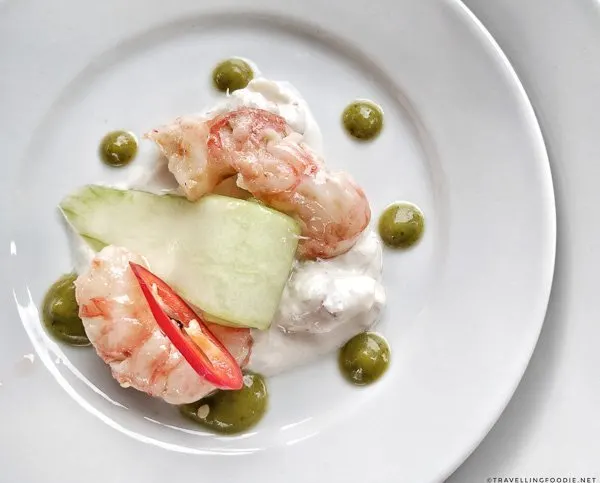 Deep-fried Sidestripe Shrimp & Grits, Creole Sidestripe Shrimp Bisque by Chef Alain Chabot Paired with Rosé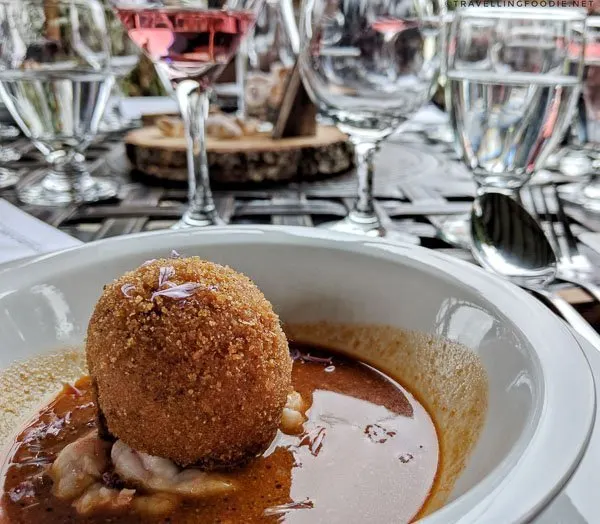 Vancouver Island Sea Salt Cured Wild Pacific Salmon by Chef Andrew Shepherd with Crisp Latke, Fresh Asparagus & Lime Hollandaise Sauce Paired Pinot Gris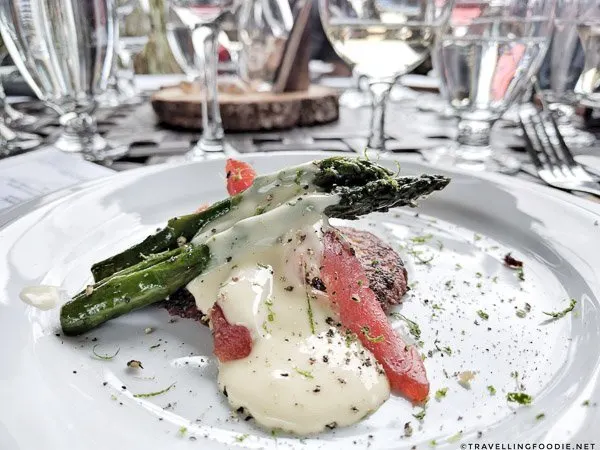 Char-Grilled Pacific Octopus by Chef Ian Blom with Oyster Salsa Verde, Fennel & Pickled Ramps Paired with White Seas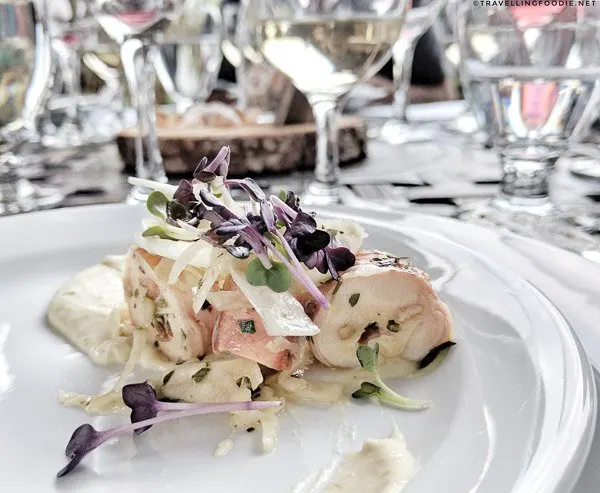 Halibut by Chef Alain Chabot with Natural Pasture's Ricotta, Merville Organics Spinach Gnudi, Local Wild Mushroom & Spring Vegetable Fricassee Paired With Uncloaked Chardonnay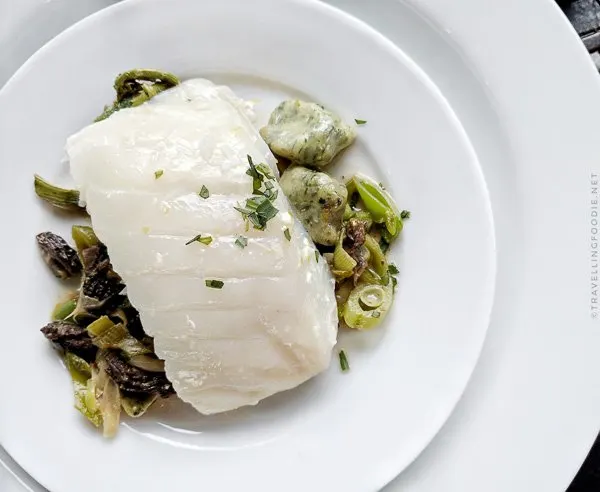 WINNER: Cowichan Pasta Crab & Shrimp Ravioli by Chef Andrew Shepherd with Wild Morels, Spring Onions & Brown Butter Paired with Gamay Noir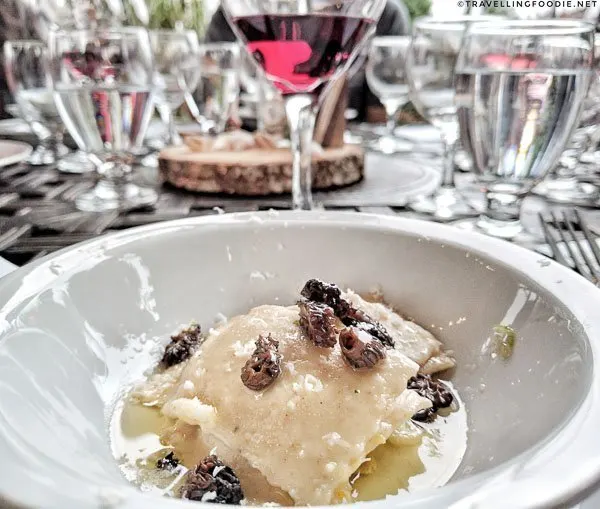 Desserts from Hot Chocolates & Cakebread Artisan Bakery
Champagne & Cassis Ganache in Dark Chocolate Shells and Parisian Meringue with a white chocolate, Lavender & Strawberry Centre Paired with Safe Haven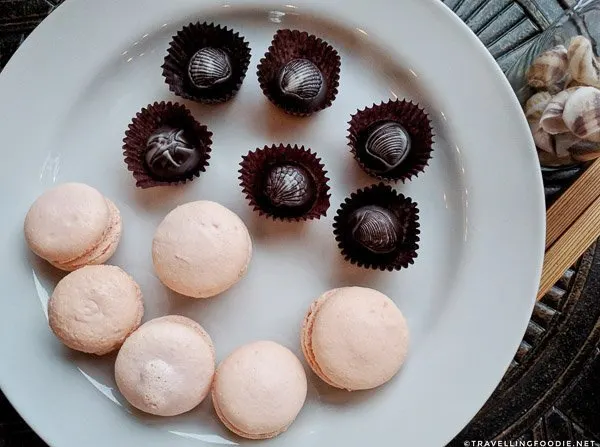 ---
Fanny Bay Oysters Plant Tour
Fanny Bay is home to the world-famous Fanny Bay Oysters, owned by Taylor Seafoods (USA).
Aside from being growers, processors and exporters of Pacific oysters and Manila clams, they are also owners of hatcheries, nurseries and farms.
I love oysters, and I've been a big fan of Fanny Bay Oysters so I was excited to be visiting the processing plant for a tour and learn about them during BC Seafood Festival. General Manager, Brian Yip, gave us the tour.
Though the processing plant and farm are in BC, the hatchery is actually in Hawaii because of the warm weather.
They are able to draw water from the ocean at varying temperatures which allows them to maintain a steady flow of water and temperature to produce the larvae and seed.
Outside the plant, you'll see a beach with a lot of empty oyster shells.
Some of them are crushed to be used as chicken feed or for landscaping and other things. But it is also used to grow oysters.
The larvae from Hawaii along with the empty oyster shells, thoroughly cleaned, are set on a big pool.
When the larvae swim, they will attach to the shell.
Once they attach, they are given 2-3 months until being harvested to ensure there are other oysters in the shell.
A good ratio is 6-8 baby oysters per shell. After this, they are spread around the beach to grow.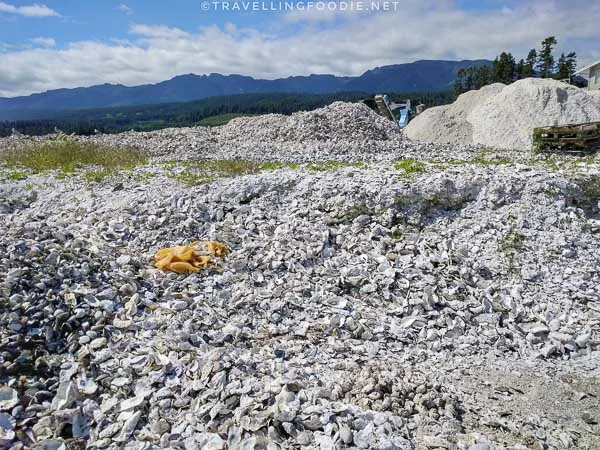 When the oysters are harvested from the beach, they are brought to the processing plant, and refrigerated – nothing is frozen.
The products get processed in the day time, and, at night time, are taken to Vancouver and goes to the airport to be shipped.
Did you know? Patrick McMurray, aka Shucker Paddy, holds the Guinness World Record for the most oysters shucked in 1 minute: 38 oysters.
---
Manatee Holdings Hatchery Tour
For the BC Seafood Festival, we also got a tour and overview of Manatee's Royston Hatchery operation including Geoduck, Sea Cucumbers, Scallops and Oysters.
Eric Gant is the owner of Manatee Holdings and is considered to be a world authority on Geoduck Clam Aquaculture, having pioneered the wild Geoduck Clam Fishery in British Columbia.
On a rooftop overlooking the site, he explained his mission and vision, and the issues in today's seafood industry.
His site has 20 hectares of ground that are under cultivation, and 60 more to go which will take an estimated $14 million to develop.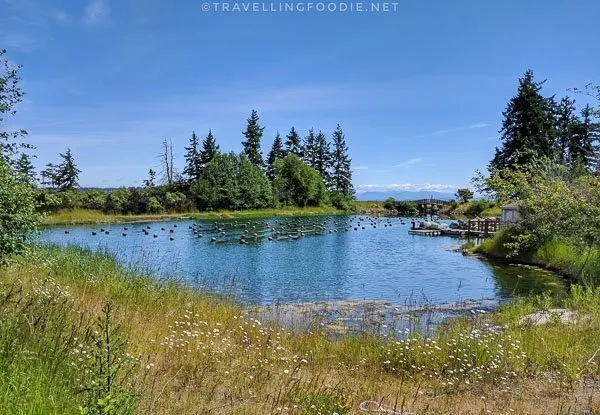 According to Eric, they recognize that destroying the surrounding ecology may show you short term profit but it is a long term disaster.
Therefore, their mandate is to "create the most environmentally beneficial food production operation on land or sea anywhere in the world", and they have hard pragmatic ways to do that.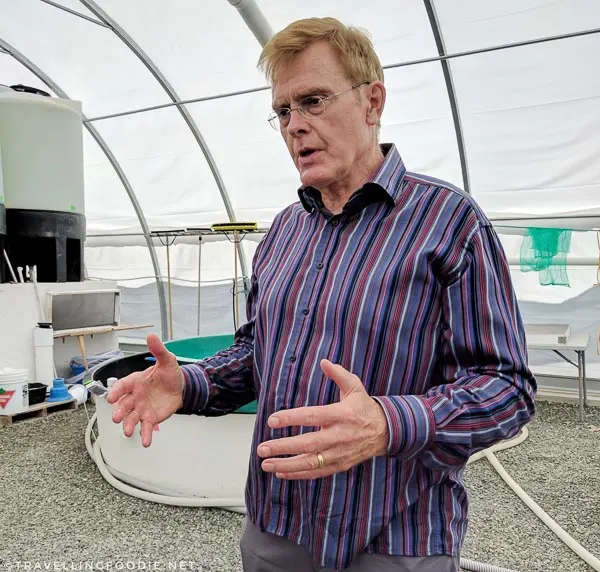 Their advantage is having a long history as fishermen so they fully understand the animal and the wild so they know what the animals are like and what helps in their surrounding ecology.
As an example, Eric himself has put in 8,000 hours (~334 days) as a commercial diver.
This helps them, as an agriculturalist, to create the kind of environment needed.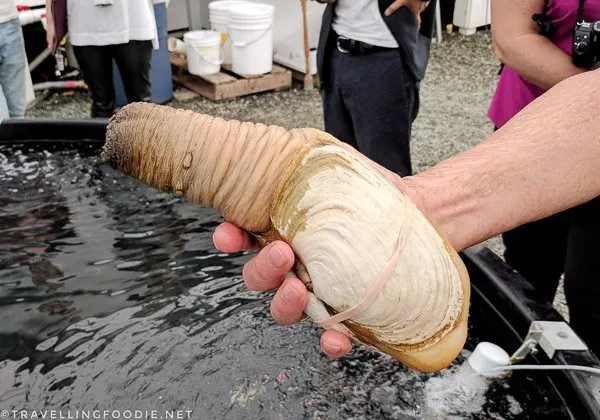 One big thing I learned from Eric during the tour: Fisheries are collapsing and we need to move towards an environmentally beneficial form of aquaculture as the cure.
In Canada alone, 36 species have been driven to commercial extinction.
In a recent paper just published, 300 species worldwide are recognized as commercially extinct.
Commercially extinct differs from totally extinct wherein the species still do exist, but not at harvestable quantities e.g. abalone on the west coast.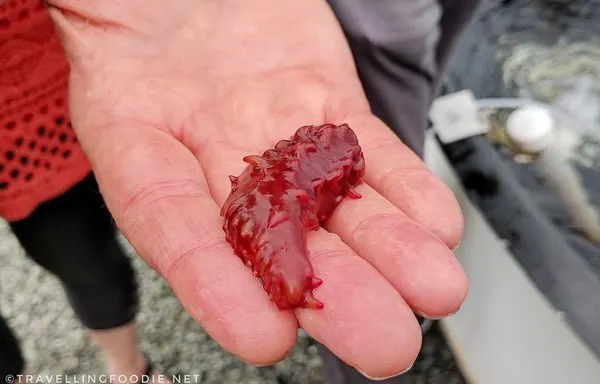 ---
BC Seafood Expo Trade Show
One of the main events of BC Seafood Festival is the BC Seafood Expo.
Hosted in downtown Courtenay Filberg Centre and Native Sons Hall, BC Seafood Expo held industry seminars and speakers, business development networking events bringing together renowned seafood and aquaculture industry leaders, businesses and educators.
There was a keynote speaker on each day of the expo:
Marketing BC Seafood with Terry O'Reilly, host of CBC Radio's Under the Influence
Farmed & Wild Fish, It's All Seafood with Chef Ned Bell, Ocean Wise Executive Chef
There was a lunch and networking session where we got to check out various exhibitors in the Trade Show.
Omega Pacific Hatchery
Established in 1987, Omega Pacific Hatchery has a variety of species of fish grown exclusively in freshwater like Thunder Mountain Trout, Gold Coho and Chinook Salmon, Silver Coho and Chinook Salmon, and White Sturgeon.
They've been dedicated to advancements in Pacific Salmon Culture since 1980.
Coastwise Organics
Coastwise Organics produces gourmet canned certified organic and humanely harvested king salmon that is canned fresh in British Columbia.
Coastwise showcased 3 different cans that can be enjoyed straight out of the can: Skinless and Boneless, Traditional Style (Skin On/Bone-In), and With Organic Maple Syrup (Skinless & Boneless)
Pacific Urchin Harvesters Association
Sea urchins from BC's Pacific waters are harvested by scuba divers.
The Pacific Urchin Harvesters Association is committed to providing the highest quality and best value of sea urchin possible by having a model of sustainability and innovation in their processes.
Sea urchins are one of the world's most highly sought after seafood because it is appreciated around the world as a delicacy especially in Japan where it is a premium sashimi item.
Did you know? There are two species of sea urchins present in BC: the Green sea urchin, and the Red sea urchin which is the largest sea urchin in the world.
BC Coastal Grilling Planks
BC Coastal Grilling Planks specializes in cedar based products, prouced from West Coast Western Red Cedar, including cooking wraps, gourmet grilling planks, roasting boards and applying plates with wine glass cut-out, which are all proudly made on Vancouver Island, B.C.
Salish Sea Foods
Wholly owned by the K'omoks First Nation, Salish Sea Foods is a 7,000 square foot, HAACP certified processing plant committed to providing seafood from BC, from Pacific Salmon, oysters and clams, to sustainably raised aquaculture fin fish.
Walcan – SeaChange Seafoods
SeaChange Seafoods offers Canadian seafood gifts including West Coast Smoked Salmon and a variety of seafood pates.
---
BC Seafood Expo: International Buyers & Media Reception
On the first day of the BC Seafood Expo, the venue got transformed at night for the International Buyers & Media Reception where BC Seafood Expo delegates, VIPs, plus 30+ Ministry of International Trade & Seafood Buyers and visiting media got immersed in a seafood tasting journey.
There were 14 Chef Stations where international and domestic chefs presented an array of shellfish and seafood dishes, with some locally produced pork, bison and beef stations.
There were 7 drink stations as well.
Among my favourites were the Coho Salmon in pepper masala by Chef Chindi, the Mirin & tamari marinated sablefish by Chef Nigel, the Garlic prawns by Chef Ikeda, and the Barbecued Chinook with Pesto by Chef Ronald.
The most unique would be Chef Chindi's station where you get to watch her and Chef Ganesh in action as they twirl, twist and flip the paratha and make them fresh.
On a drinking note, I was really impressed with the spirits from Wayward Distillation House, especially the Wayward Order – Depth Charge: Cacao Bean Liqueur with Cold Pressed Coffee, Espresso and Organic Cocao Nibs, which was perfect for the coffeeholic in me!
All their spirits are made with 100% BC Honey.
Dishes tried at International Buyers & Media Reception
Ronald St. Pierre (Locals Restaurant, Courtenay) – Barbecued Chinook with Pesto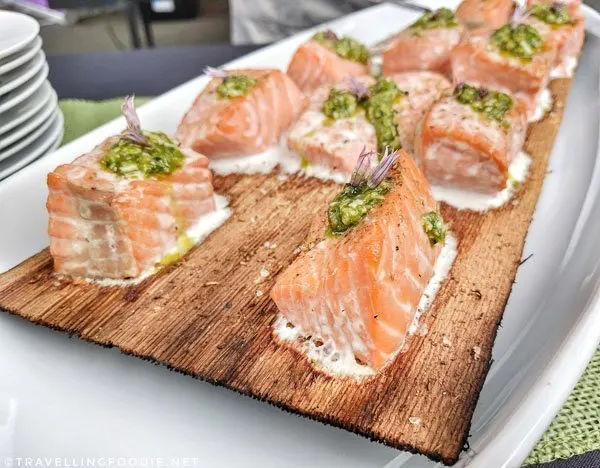 Billy D's Pub & Bistro (Courtenay) – Clam Bake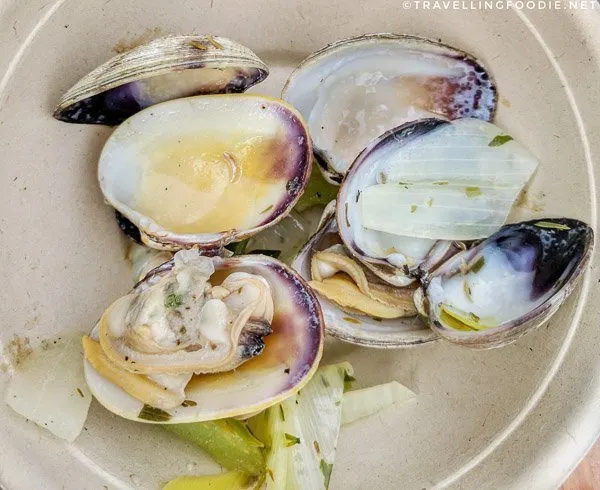 Parallel 49 Brewing Co. (Vancouver) – Tricycle Beer
Nigel McMeans (Blackfin Pub, Comox) – Mirin & tamari marinated sablefish, fiery gingered yam puree, hibiscus reduction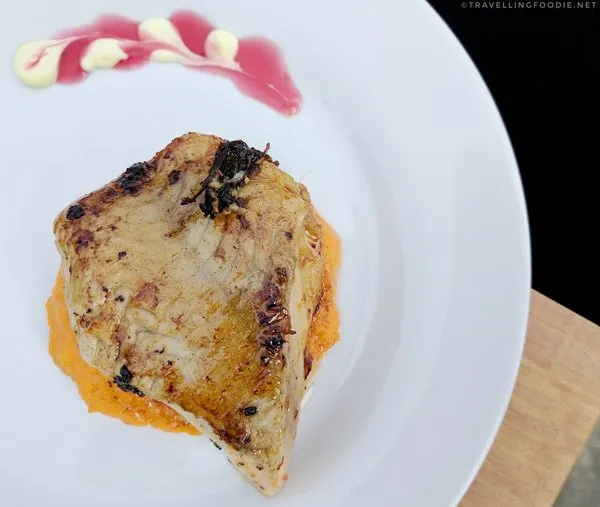 Ikeda Kenji (Ban Dao Pearl Restaurant and Peninsula Seafood Restaurant, Vancouver) – Albacore tuna sashimi and garlic prawns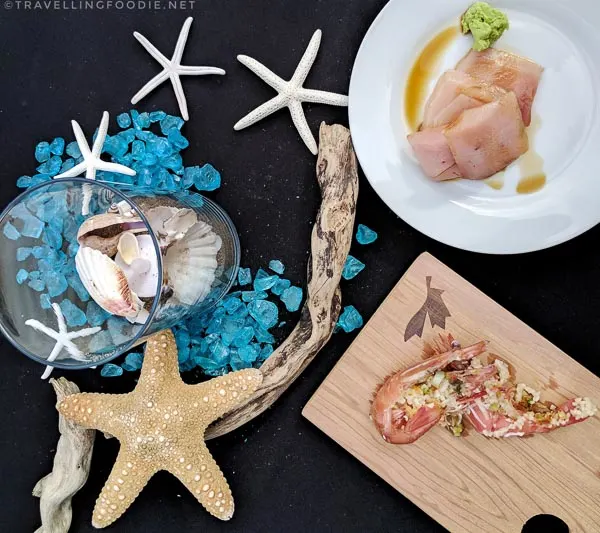 Aaron Rail (White Whale Restaurant, Courtenay) – Marinated Spot Prawn Salad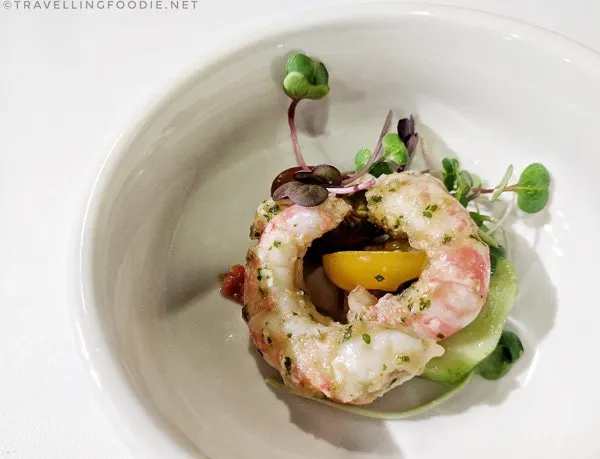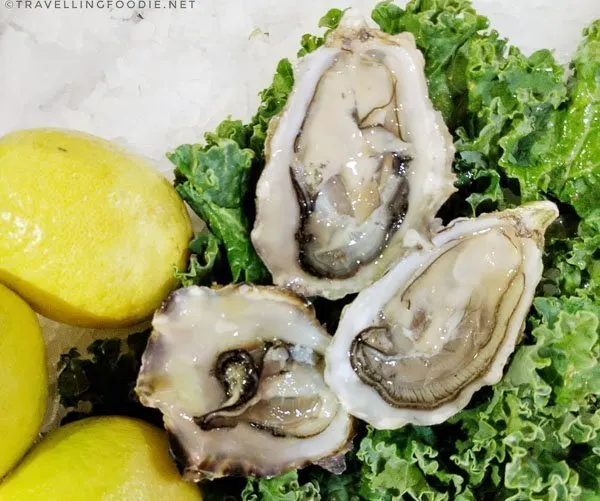 Geoffrey Davidson (Harbour Towers Hotel, Victoria) – Half Shell Light House Oysters, Tabasco Slush, Horseradish & Pickled Bull Kelp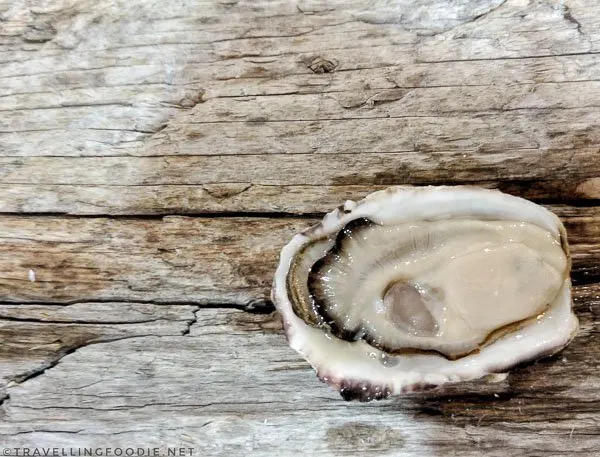 Laura Agnew (As You Like It Catering, Courtenay) – Smoked Salmon, Bison, Beef and Pork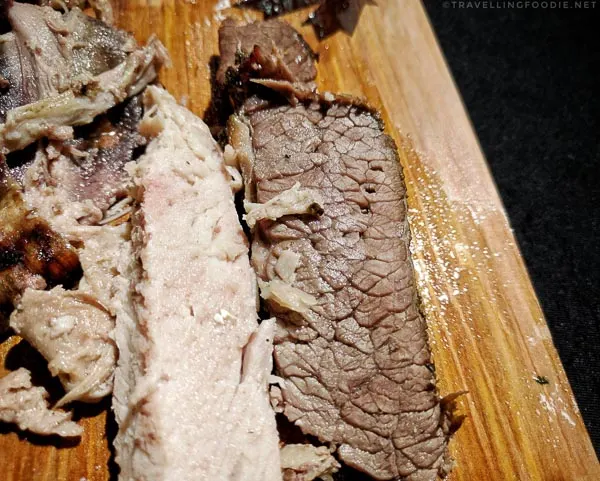 Nathan Fong (Fong on Food, Vancouver) – Sauteed Razor Clams with Ginger Scallions and Fermented Black Bean on Crostini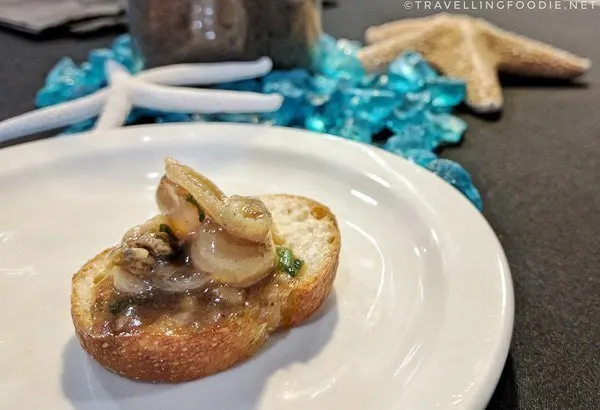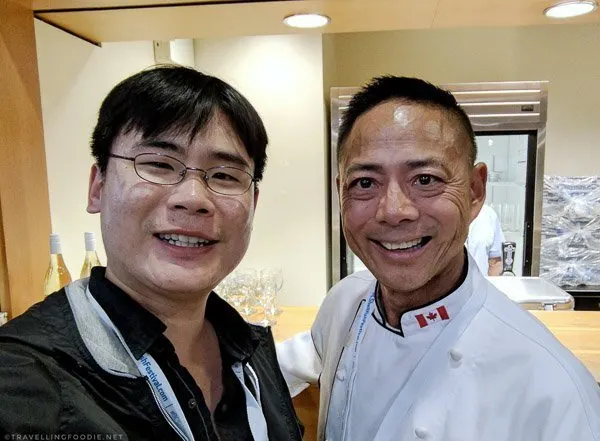 Quail's Gate Winery
Blue Grouse Estate Winery (Duncan)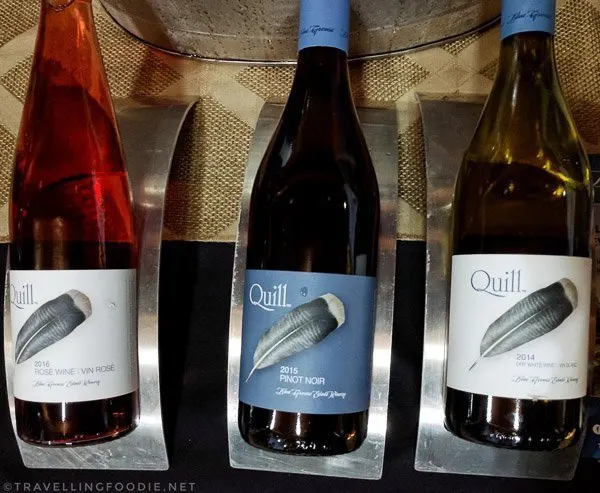 Chindi Varadarajulu (L'Attitude 49, India) – Coho Salmon in a pepper masala, poached in a mild curry of spices, pepper and coconut milk topped with crispy curry leaves served on fresh paratha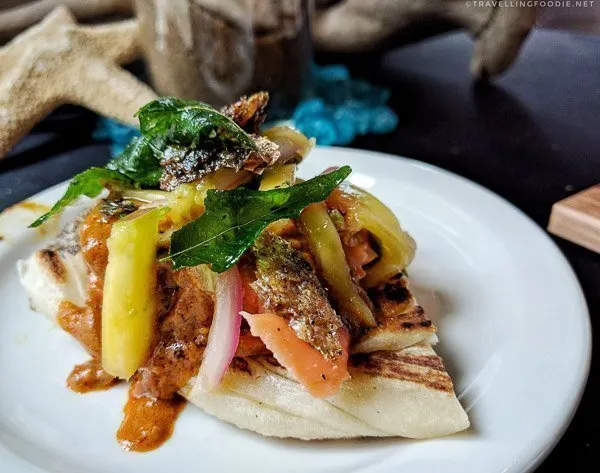 E Michael Reidt (Pilgrim Culinary, Miami) – Geoduck Ceviche, smoked avocado, freekeh, spiced corn nuts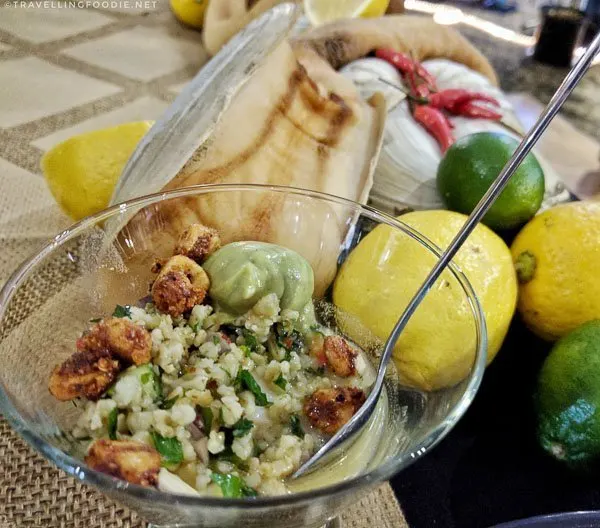 Chance Wilke (Avenue Bistro, Comox) – Incredible Black Cod Creation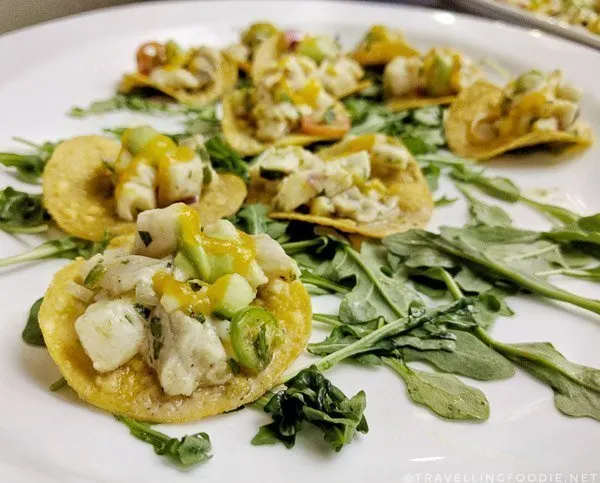 Averill Creek Vineyard (Duncan)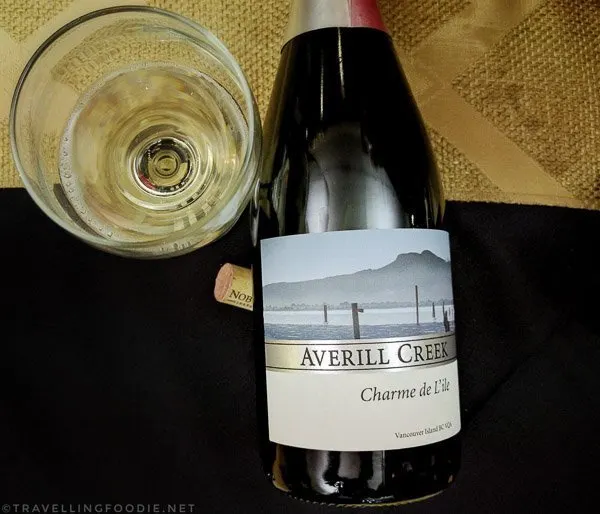 Freddy Raoult (The Nest, Shanghai) – Steamed clams with sake-lemongrass-lime leaves and ginger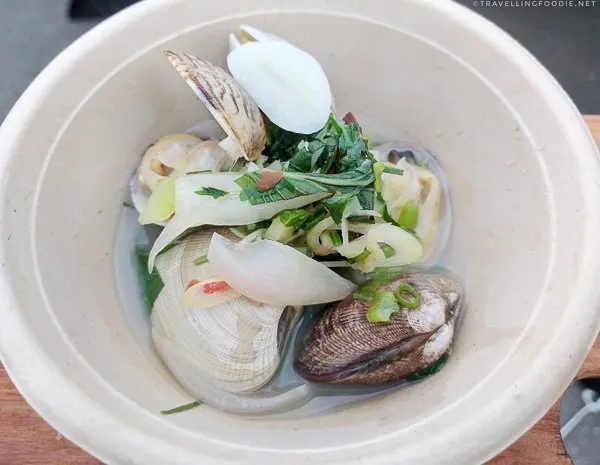 Wayward Distillation House (Courtenay) – Unruly Gin and Vodka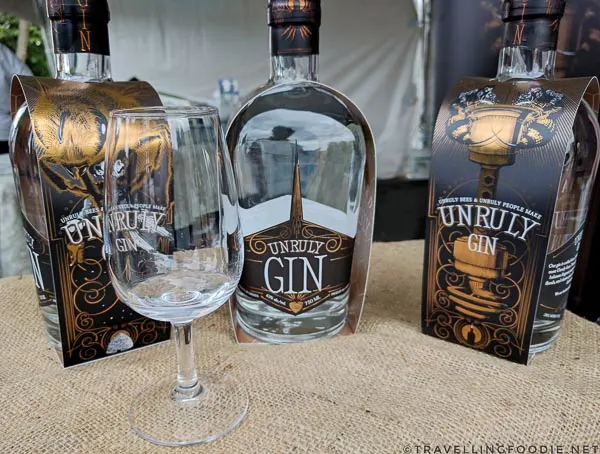 ---
BC Craft Beer & Exhibitor Reception at Gladstone Brewery
The last event I did for BC Seafood Festival was the BC Craft Beer & Exhibitor Reception at Gladstone Brewery, a relaxing kick-back type of reception where you can try some Gladstone beer, some wines and some Mac's oysters while mingling with the exhibitors.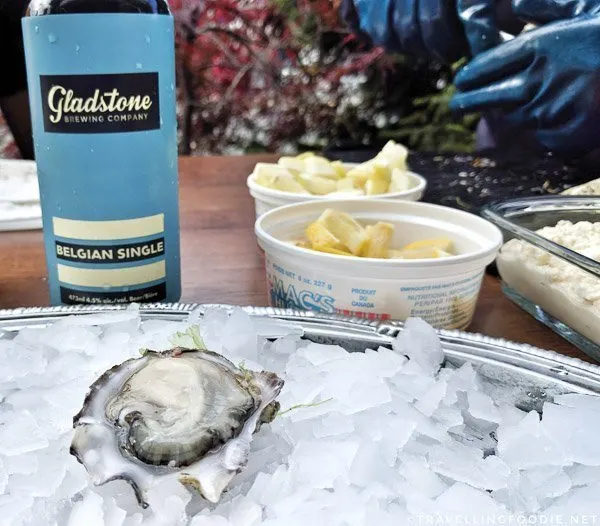 Gladstone Brewery
Originally started in a garage in Victoria, BC, Gladstone Brewing Company has established its brewery in Comox Valley, focusing on Belgian ales, European lagers and Pacific Northwest style IPAs.
I tried their Belgian Single because I prefer light less-hoppy beers, and I tend to love Belgian beers with Stella Artois being my favourite.
The Belgian Single was light, dry body and very refreshing, reminding me exactly why I love Belgian beers.
Macs Oysters
Owned and managed by the original farms, the McLellan family, Mac's Oysters is an integrated shellfish farm, processor and exporter.
We got to try both some freshly shucked Signature Beach Oyster and the Ship Point Oysters.
---
Hope this recap of BC Seafood Festival in Comox Valley gets you excited Western Canada's largest festival! I know I am being a seafood lover.
---
Discover Comox Valley
Website | Instagram
---
DISCLAIMER: Though this was a press trip with Discover Comox Valley, all opinions are my own.