Love tortilla wraps? You'll enjoy this beef and cheese wrap made using the viral TikTok Tortilla Wrap hack.
It's crispy, cheesy and delish!
A new way to eat quesadilla and so easy to make under 30 minutes.
---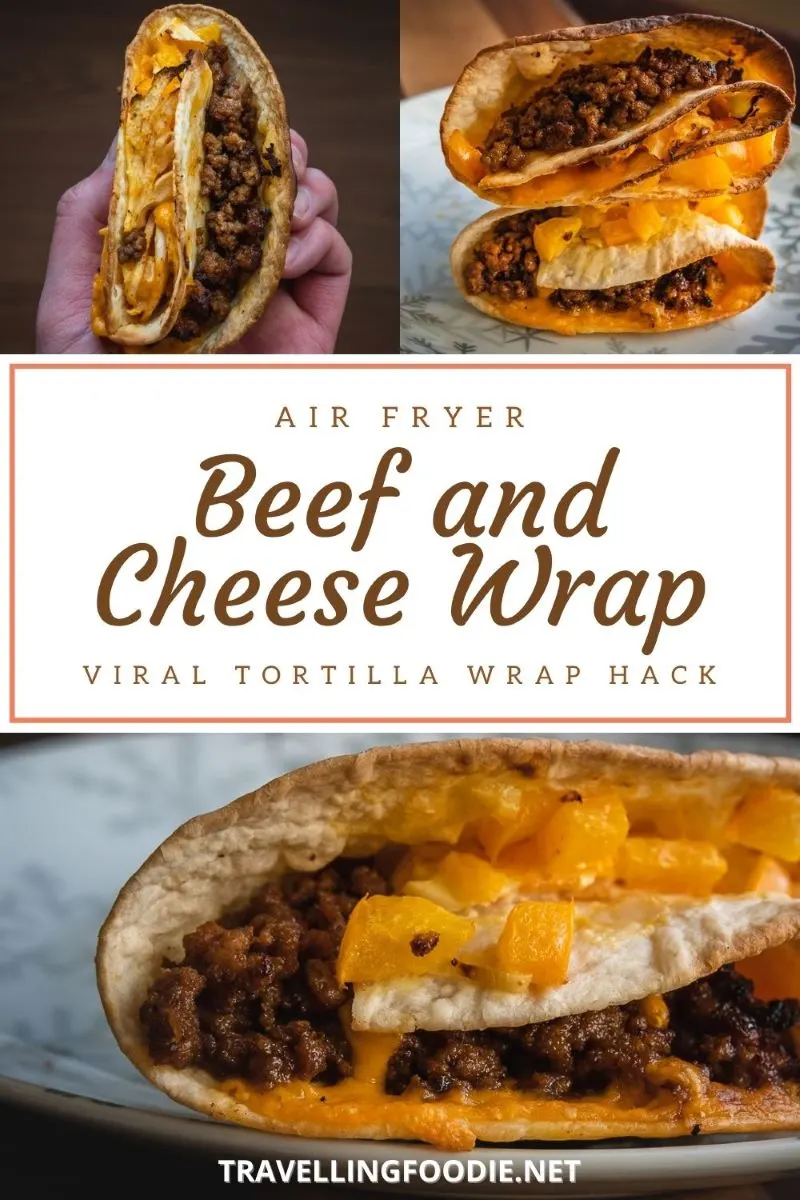 ---
What is the Viral TikTok Tortilla Wrap Trend?
With the lockdown happening around the world in 2020, people spent more time in the kitchen and were looking for recipe and cooking ideas.
Where? TikTok, of course!
On December 29, a unique way of preparing tortilla wraps was shared on TikTok by @crystalscookingfun!
From that one video, others started sharing their creations using that technique and a new #foodtiktok was born.
During that time then into the new year, you cannot miss seeing this viral #TortillaWrap trend all over TikTok.
Soon enough, it was all over Instagram as well as the news.
The technique is really genius and makes wrap-making easier going forward, which I will be showing step-by-step in the instructions section.
The topping combinations are endless, which is why it was so fun seeing what others did with the tortilla wrap trend.
I saw savoury options, dessert options, even a sushi version!
If you've been following my blog posts or Instagram @TravellingFoodie, you know I love air fryer and share a lot of air fryer recipes.
So I decided for this recipe to combine both!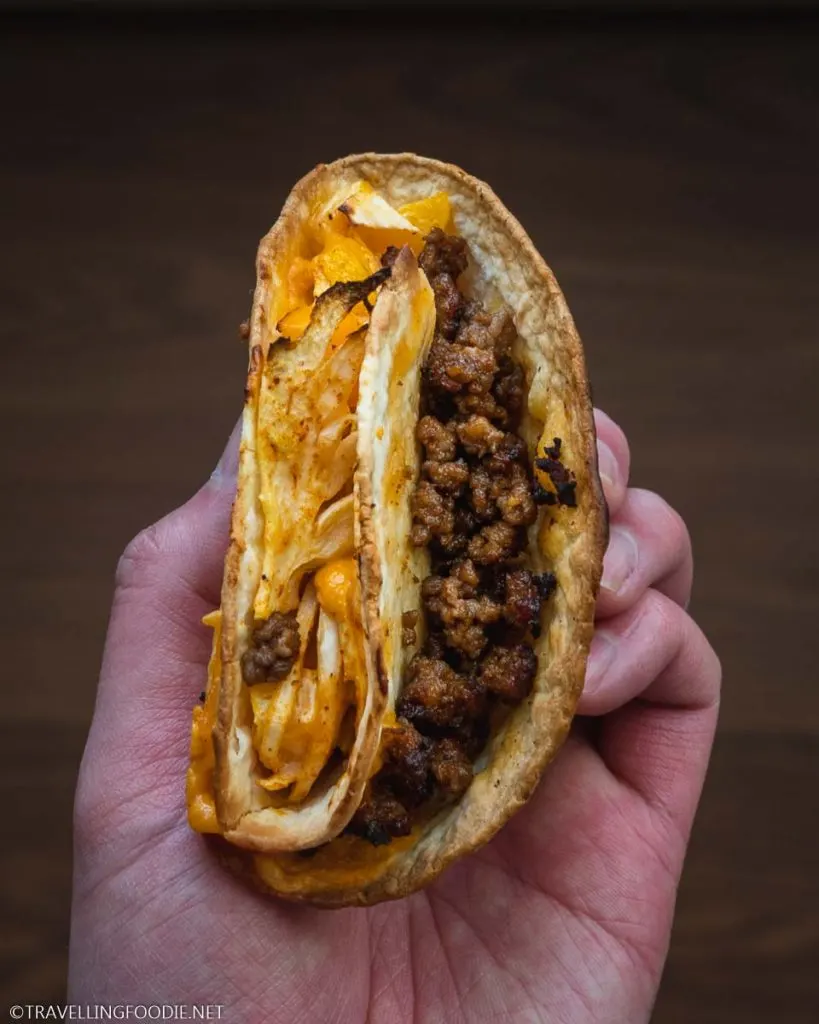 ---
Why Beef and Cheese Quesadilla Wrap?
I love quesadilla! Having visited Puerto Vallarta, I was surprised with the stark difference between quesadillas in Mexico versus USA.
The barbacoa quesadilla I had in Puerto Vallarta was so simple. It was pretty much just cheese and beef inside.
But SO GOOD!
In the USA, where it's commonly Tex Max, quesadillas are always loaded with cheese and filling inside to the point that it usually oozes out.
And the quesadilla is usually topped with sour cream, and more cheese and toppings.
For this beef and cheese wrap recipe, it's a mix of both.
It uses Tex Mex ingredients but has less ingredients than the American version.
I also had to make sure it would work for the Tortilla Wrap hack and the air fryer.
You cannot have too much ingredients. Otherwise, the wrap technique might break.
Similarly, it can't be too fat because it might not fit the air fryer.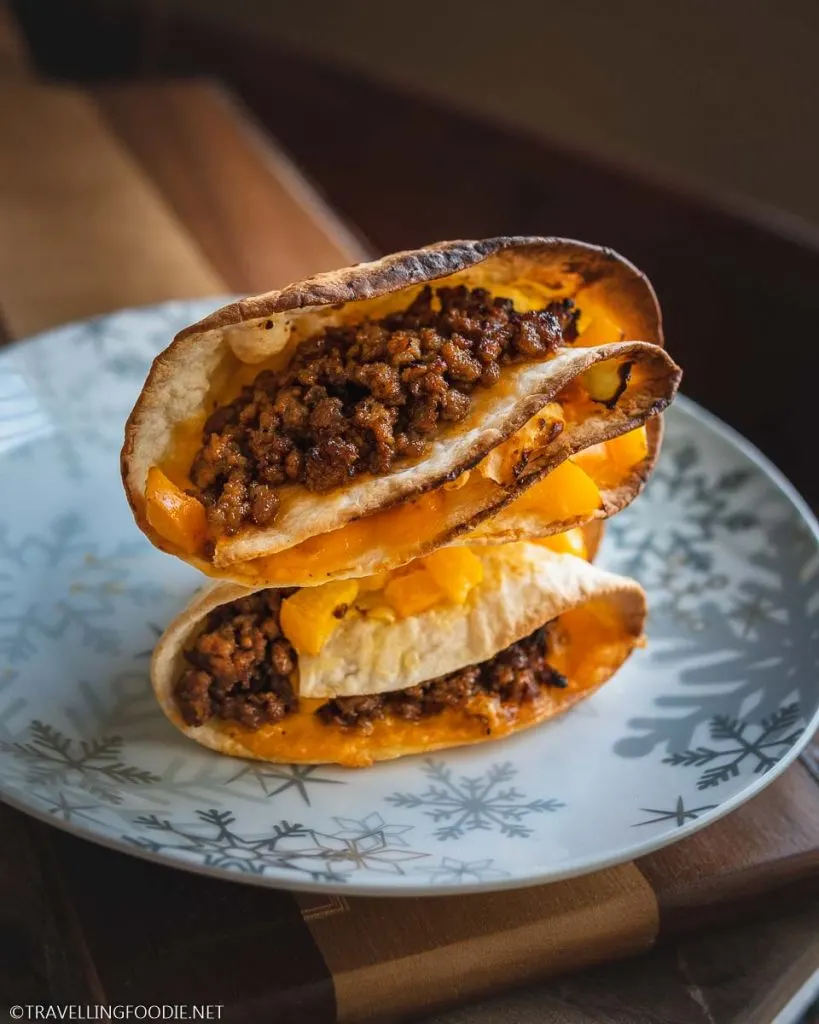 ---
What You Need For Air Fryer Beef And Cheese Wrap
Equipment
I used the Cuisinart Air Fryer Toaster Oven TOA-60 for this recipe.
Other air fryer types or brands of air fryer will work, but you may need to adjust the temperature and time to fit your model.
If you don't have an air fryer, I also included other options.
Ingredients
Ground Beef – You can substitute to any your choice of protein. E.g. Use steak if you want steak and cheese quesadilla.
Flour Tortilla – I used 6-8″ tortilla for this recipe. You can use a bigger tortilla, but it means the recipe will yield less wraps. Also, make sure the wrap will fit your air fryer.
Cheddar Cheese – You can mix with mozzarella if you want to have that stretch.
Garlic
Sweet Bell Pepper
Sour Cream
Lime
Shredded Cabbage
Taco Seasoning
---
How To Make Beef and Cheese Quesadilla Using The TikTok Tortilla Hack
My beef and cheese quesadilla can be broken down into making three parts: the seasoned ground beef, the sweet bell pepper lime crema and the cabbage coleslaw.
If you want a topping alternative, air fryer bacon would go amazing here too!
Make the sweet bell pepper lime crema
Small dice the sweet bell peppers and add to bowl.
Mince the garlic and add to the bowl.
Zest and juice the lime, then add to the bowl.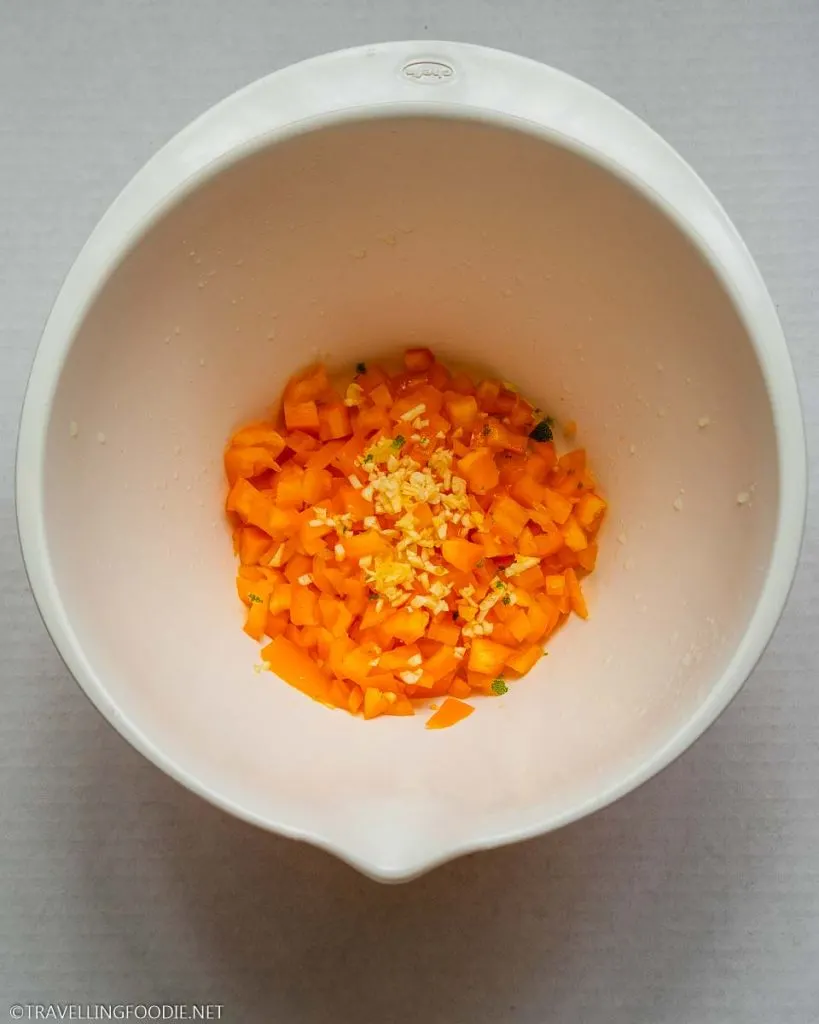 Add sour cream.
Mix the bowl.
Yes, we're having these vegetables raw because they are healthier raw (and lightly cooked during air fry).
Make the cabbage slaw
On another bowl, mix the cabbage, sour cream and taco seasoning.
Cook the beef
Heat oil on pan over medium-high heat.
Add beef and taco seasoning.
Cook until the beef isn't pink anymore.
Break apart beef with a spoon while cooking.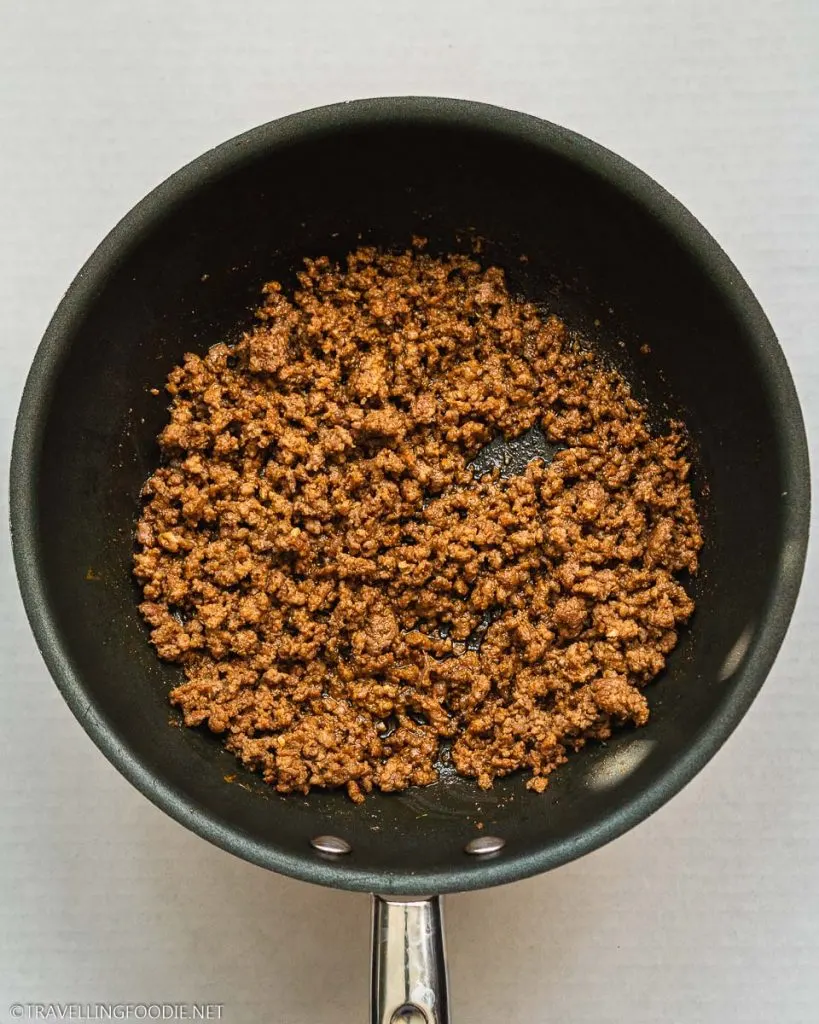 The TikTok Tortilla Wrap Hack
With a knife, cut a straight line from the center of the tortilla all the way down.
Now think of it as a tortilla with four quarters.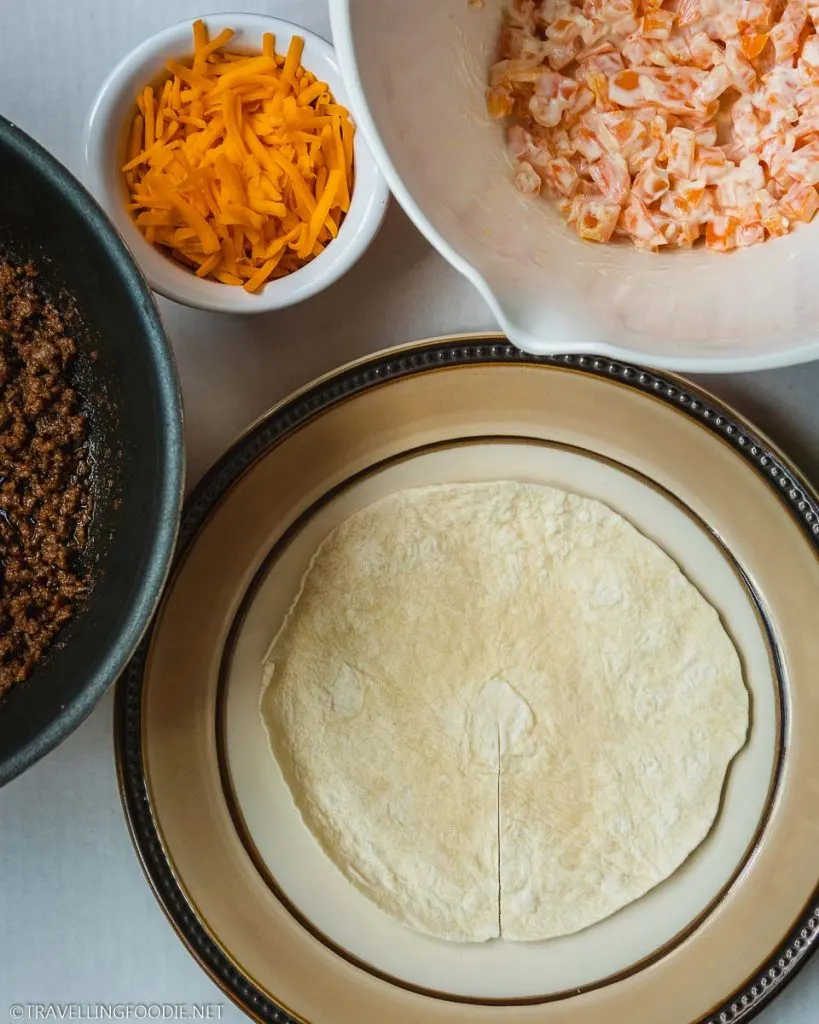 Starting from the lower left quarter: On the first quarter, add the cabbage slaw.
On the second quarter, add the sweet bell pepper lime crema.
The first two quarters of the tortilla will always be at the center of the quesadilla wrap.
On the third quarter, add the seasoned beef.
On the fourth quarter, add the cheddar cheese.
The last two quarters of the tortilla are the top and bottom of the quesadilla wrap.
You'll want the toppings to be evenly spread as possible to make the next part easier.
Now fold the first quarter into the second.
Fold the second quarter into the third.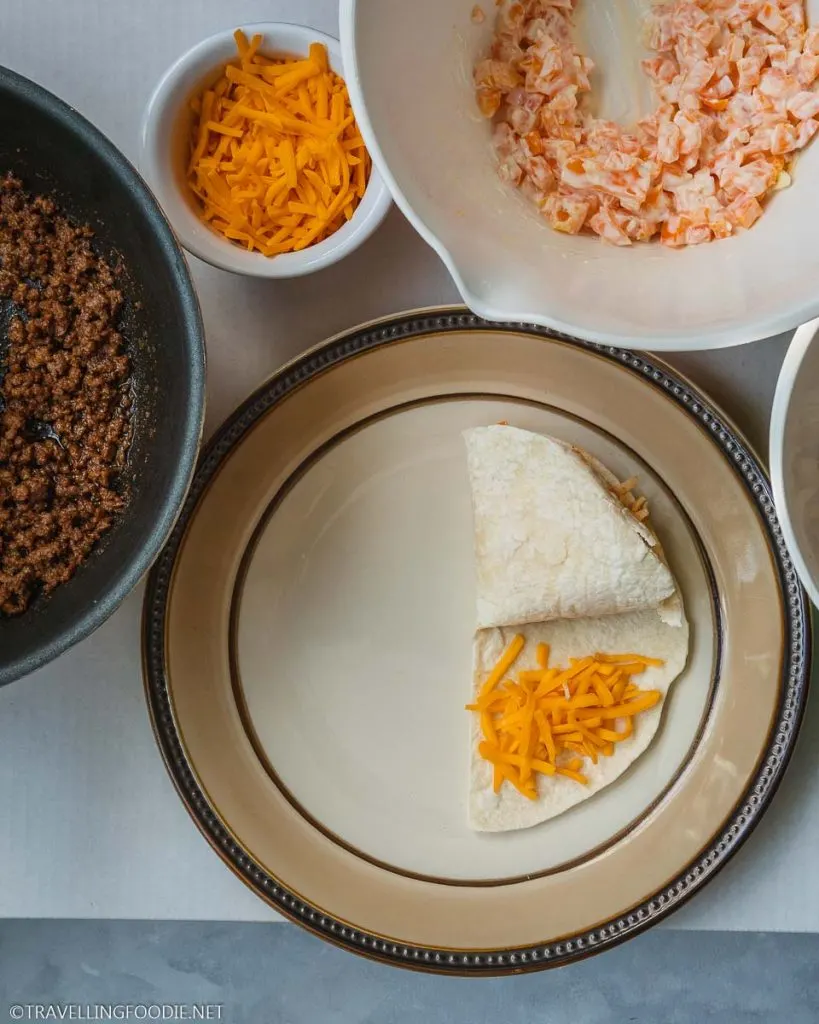 Then the third into the fourth.
And that's the viral TikTok Tortilla Hack!
It ensures the tortilla won't bulge and explode like a burrito nor will it drip at the bottom as you eat.
Air fry the wrap
Air fry the beef and cheese quesadilla wrap for 5 mins at 425F or 218C.
Comes out tasting like a crispy ground beef taco!
No air fryer?
Use a pan/skillet!
Put oil/butter on both sides of the wrap and cook each side on a hot pan for 3-4 minutes until brown and crispy.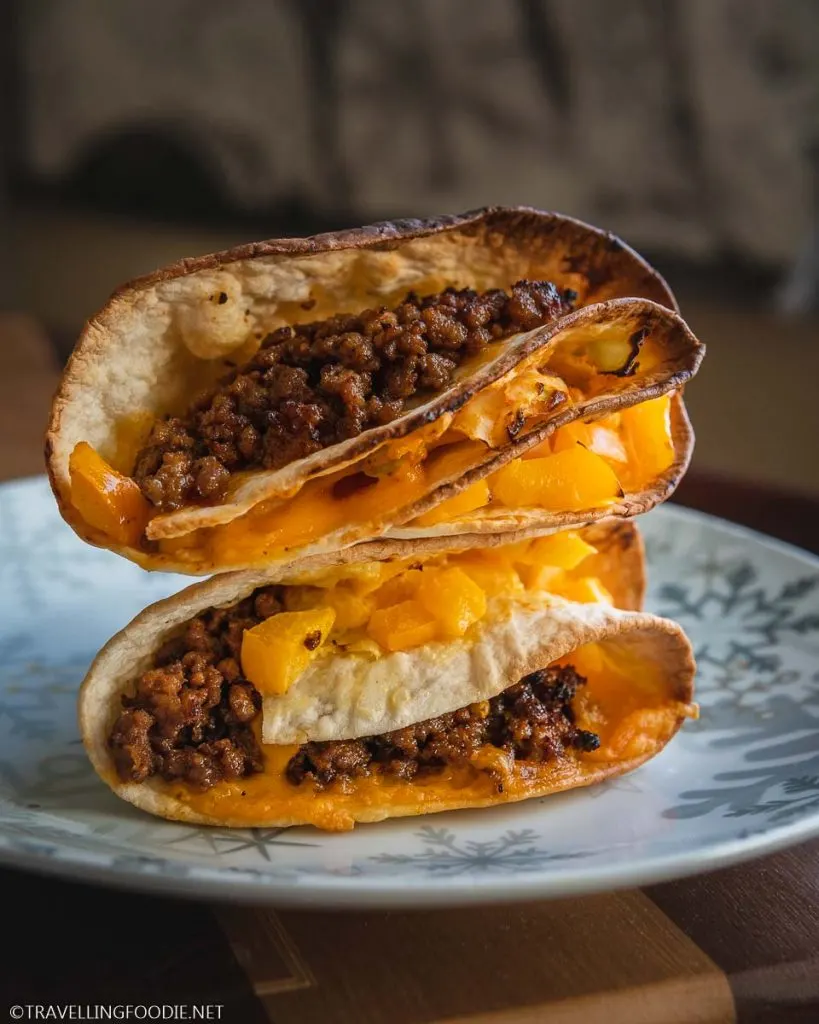 ---
Air Fryer Beef and Cheese Quesadilla Video
If you prefer to watch, here's a video on how to make the viral tortilla hack with beef and cheese wrap in air fryer!
---
Other Beef and Cheese Wrap Ideas for TikTok Tortilla Hack
The combinations are endless with the viral tortilla hack.
Here are a few ideas similar to the beef and cheese wrap:
Philly Cheesesteak Wrap
Cheeseburger Wrap
Beef Taco Wrap
Beef Crunchwrap Supreme
Steak and Cheese Wrap
Cheesy Roast Beef Wrap
BBQ Ribs and Cheese Wrap
Steak Fajita Quesadilla
---
Other Air Fryer Recipes You'll Love
---
Easy Beef and Cheese Wrap Recipe
Be sure to bookmark/save/pin this post so you can easily make this Beef and Cheese Quesadilla using the TikTok Tortilla Wrap Trend!
I would love to see how this recipe worked for you! Please share your creations with me on social media and tag me so I can check them out: @TravellingFoodie on Instagram & Facebook and @TravellinFoodie on Twitter.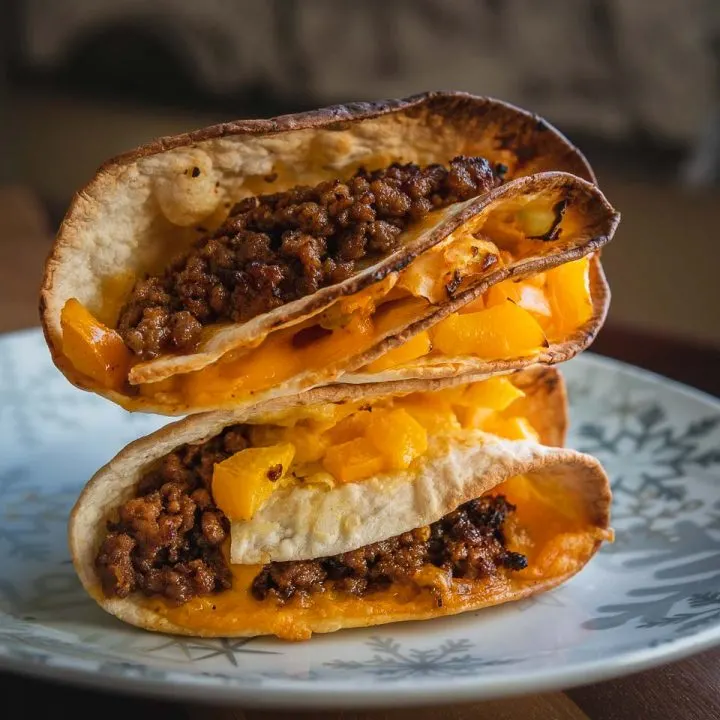 Beef and Cheese Wrap
Crispy, cheesy and delicious beef and cheese quesadilla using the viral tortilla wrap trend from TikTok with 3 ways to enjoy: air fryer, pan/skillet, warmed.
Instructions
Mince the garlic. Dice the sweet bell pepper. Zest and juice the lime.
In a bowl, mix shredded cabbage, half the sour cream and half the taco seasoning.
In another bowl, mix diced pepper, minced garlic, lime zest and juice.
Heat a pan over medium high heat with oil. Add the ground beef and taco seasoning. Cook the beef until the pink disappears. Break up the beef while you cook.
With a knife, cut a straight line on the tortilla from center to bottom.
Place an even amount of toppings for each quarter: diced pepper, cabbage slaw, ground beef, cheddar cheese.
Options To Enjoy:
Air Fryer: Air fry the wrap for 5 minutes at 425F (218C).
Pan / Skillet: Brush oil/butter on both sides of the wrap. Cook on a hot pan/skillet for 3-4 minutes on each side until brown and crispy.
Warmed: Quickly microwave for 10 seconds to warm up the tortilla and melt the cheese a little.
Recommended Products
As an Amazon Associate and member of other affiliate programs, I earn from qualifying purchases.
Nutrition Information:
Yield:

6
Serving Size:

1
Amount Per Serving:
Calories:

378
Total Fat:

18g
Saturated Fat:

8g
Trans Fat:

1g
Unsaturated Fat:

8g
Cholesterol:

60mg
Sodium:

474mg
Carbohydrates:

33g
Fiber:

3g
Sugar:

2g
Protein:

20g
Please note that nutrition information you see is provided and automatically calculated by Nutritionix. This may vary depending on the specific ingredients that you use. To ensure the most accurate information, I suggest entering your specific ingredients into a nutrition calculator.
---
Hope this Beef and Cheese Wrap recipe gives you an idea if you're looking for easy lunch or dinners with ground beef! It's so much fun making it using the viral tortilla hack from TikTok.