Looking for the best things to do in Barcelona, Spain? If you go to Barcelona, one thing's for certain is you'll learn about Antoni Gaudi. In this travel guide, we're featuring the best Gaudi attractions in Barcelona.
Several of the best things to do in Barcelona are made by Antoni Gaudi. His unique and personal architectural works are among the best in this world.
Gaudí is nicknamed "God's architect" because he has referred to God as his client and that all his work were designed and built for the glory of God.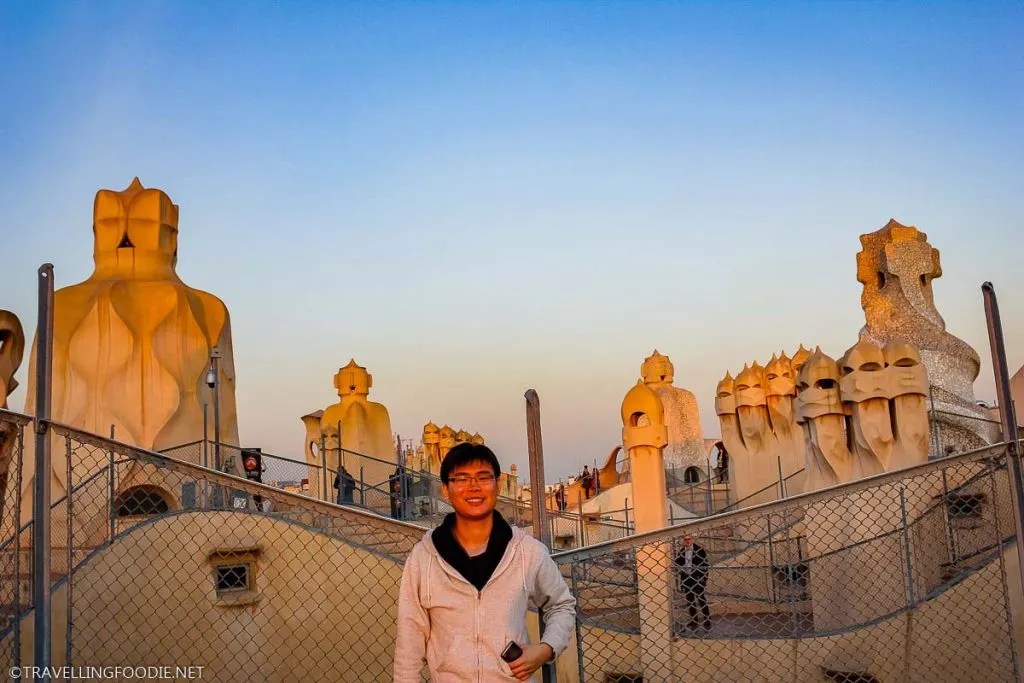 Did you know? One of the turning points in Gaudi's architectural career is meeting Eusebi Güell, who has a strong taste for the arts. Güell commissioned a lot of Gaudi's popular works including the obvious Park Güell and Palau Güell.
A trip to Barcelona is not complete without checking out Gaudi's works. Here are the Five Must-See Gaudi Buildings, all of which are UNESCO world heritage sites and are some of the best attractions & things to do in Barcelona!
Follow on Instagram @JourneyTraveler for more travel inspirations.
---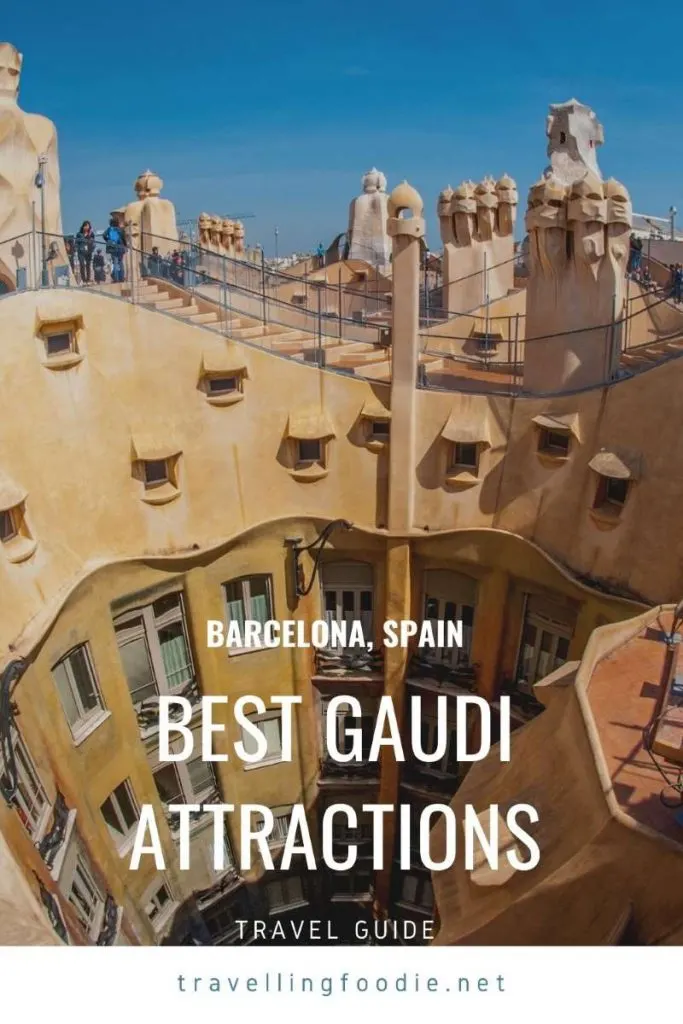 ---
Best Gaudi Attractions in Barcelona
Here are the best Gaudi attractions in Barcelona. And while you're in the city, be sure to try the best churros at Churreria Manuel San Roman!
I've also included links to discounted or skip-the-line tickets for each Gaudi building attraction so you can save time and money during your trip!
Sagrada Familia
Home to history, culture and tradition, Spain is a country filled with monuments, artifacts and breath-taking cathedrals. One of those Spanish jewels, La Sagrada Familia, is an architectural marvel.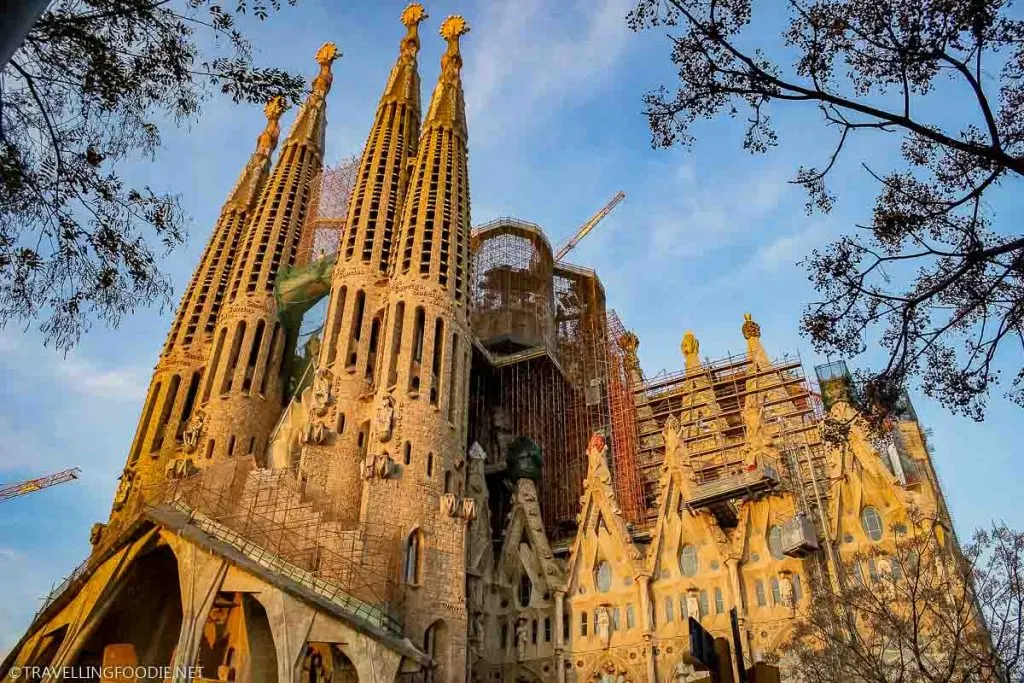 As known to the world, Antoni Gaudi's masterpiece is one of the most famous monuments and the No. 1 attraction in Barcelona.
This colossal 170-meter tall Roman Catholic church is designed with elements of design through the ages and still under construction since 1882!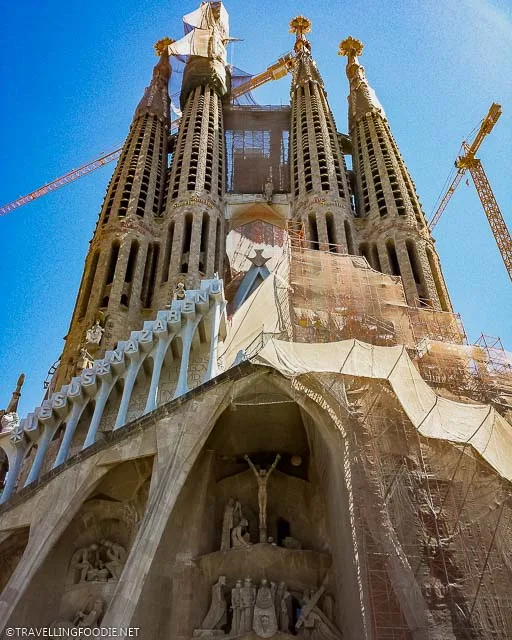 Though the monument is dominantly designed in the Nouveau and Gothic art style, its construction was halted during the Spanish Civil War and thereafter, it has adapted many features of emerging styles.
The façade is designed with fine details and is rich in symbolism, with luxurious naves, grand windows and breath-taking arches.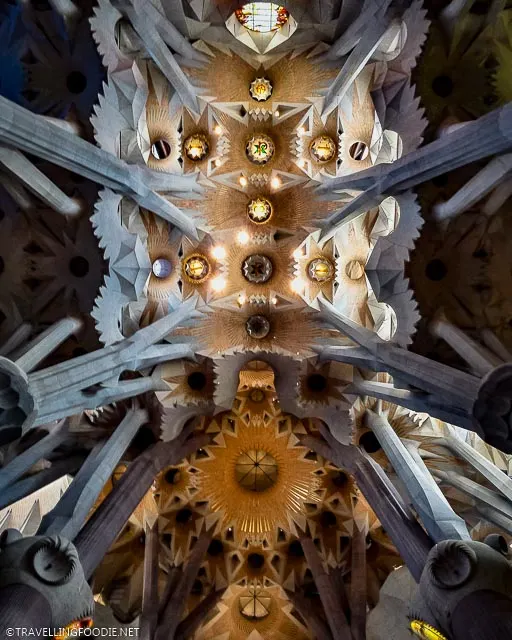 I'm in awe by the intricate details of the architecture at Basilica of the Holy Family.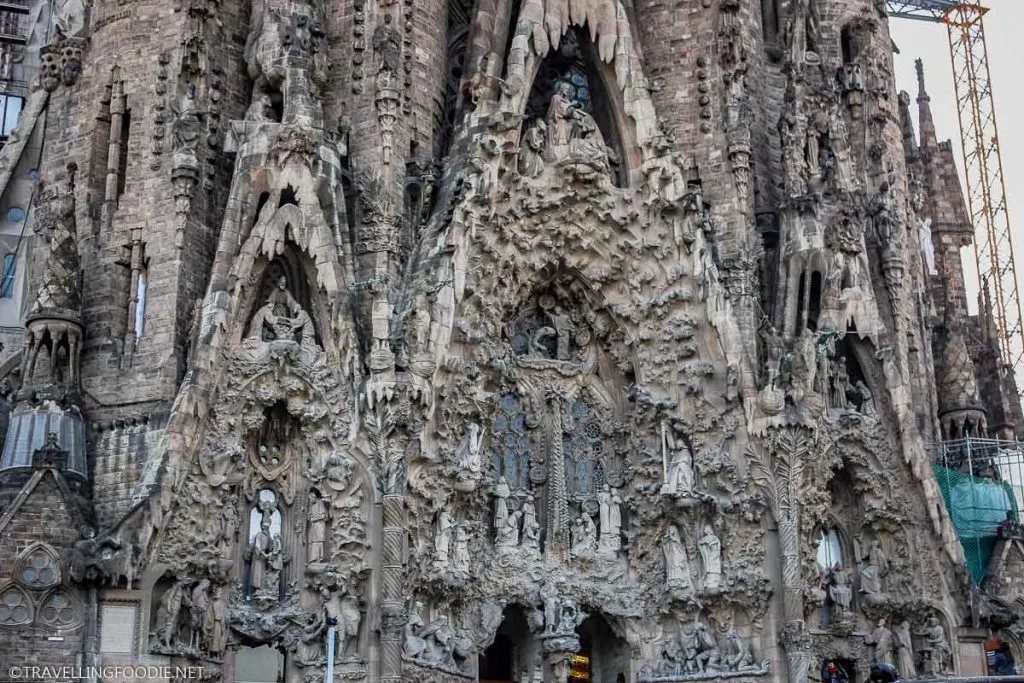 The beautiful Basílica de la Sagrada Familia is acclaimed as a UNESCO World Heritage Site and has become the universal symbol of Barcelona, Spain.
The intricate carvings on the walls deeply remind me of India's Group of Monuments at Mahabalipuram, which is also a UNESCO World Heritage Site.
Sagrada Familia will be the tallest religious building in all of Europe when it completes construction.
Did you know? La Sagrada Familia is home to the tomb of Antoni Gaudi who died a few days after being hit by a tram on June 7, 1926.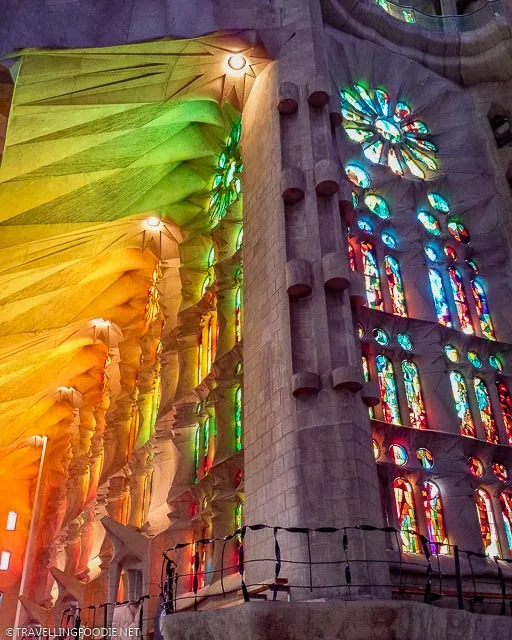 Be sure to also check out Sagrada Familia at night. A sight to behold, this Gaudi building towers the city in the beauty of night.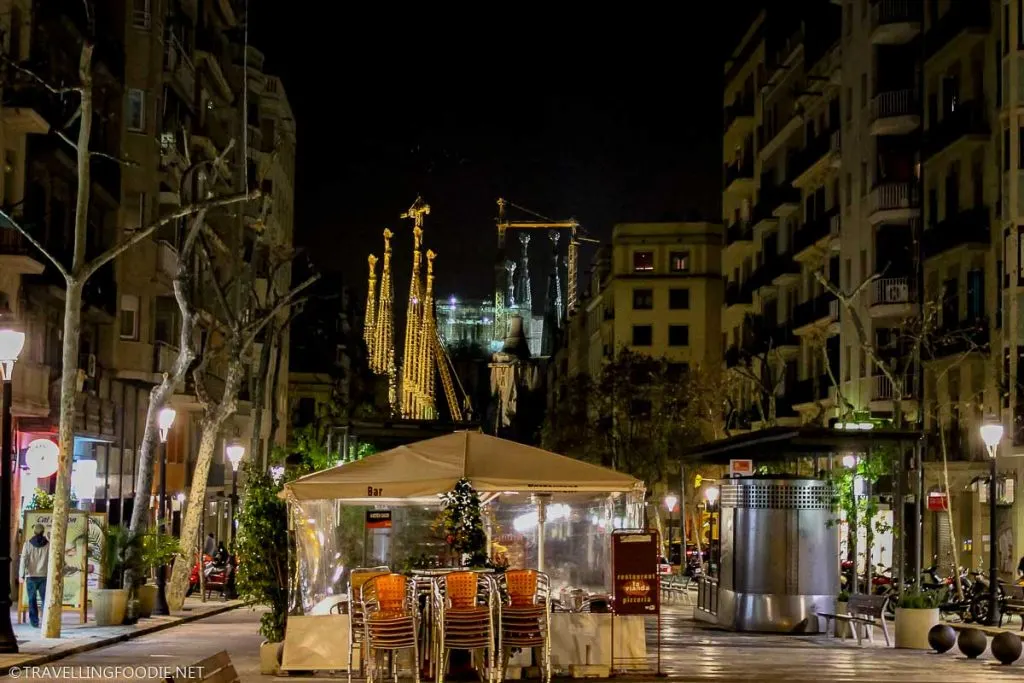 So out of all the Gaudi attractions in Barcelona, if there's only one building you can visit, it's Sagrada Familia.
Travelling Foodie Tip: Pre-book your tickets online you can skip the long lines to buy tickets, which runs out fast. Check discounts on skip-the-line tickets to Sagrada Familia on GetYourGuide / Viator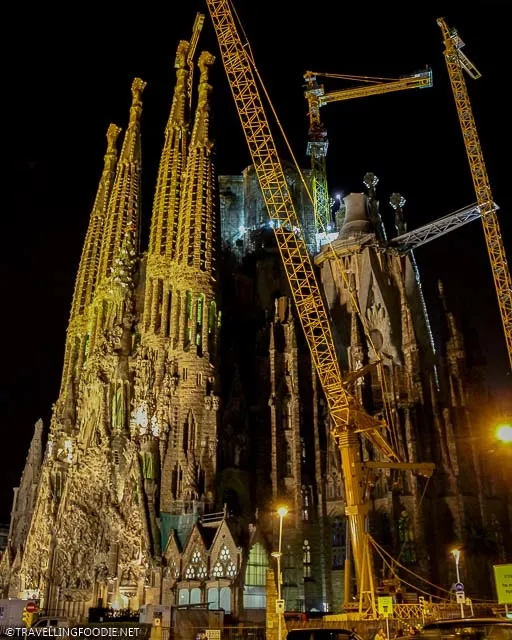 Website / Address: Carrer de Mallorca, 401, 08013 Barcelona, Spain
---
La Pedrera / Casa Milà
Casa Milà, more commonly known as La Pedrera, is one of the architectural marvels designed by Antoni Gaudi for Pere Milà and his wife Roser Segimon in 1906 as a family home in the boundary of Barcelona and the old town of Gràcia.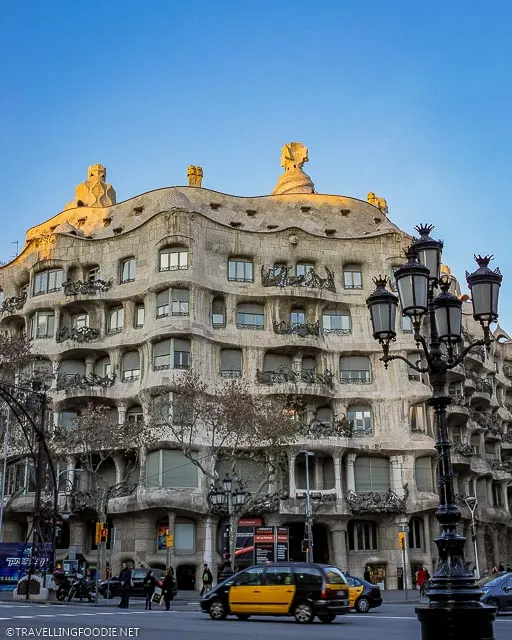 Did you know? Casa Mila is popularly known as "La Pedrera", which literally means "stone quarry, because its exterior resembles an open quarry, reflecting the abstract stone structure of the building.
One of the most famous buildings in Catalan Modernisme period, Casa Milà was considered a breakthrough work of Gaudi and one of the most imaginative houses in the history of architecture.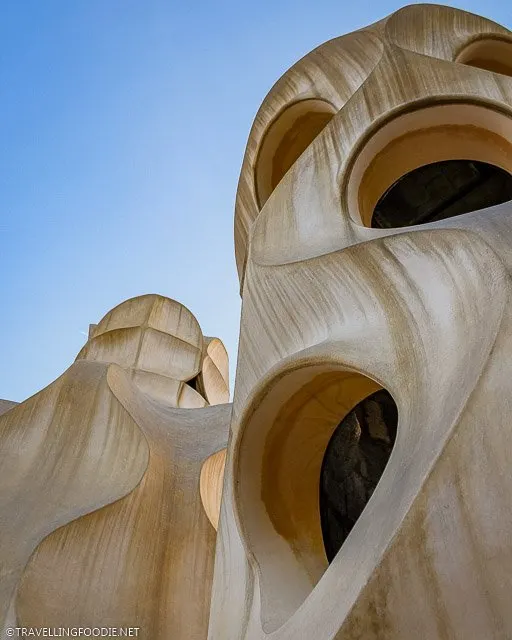 It was one of Antoni Gaudi's last buildings before dedicating himself completely to Sagrada Familia.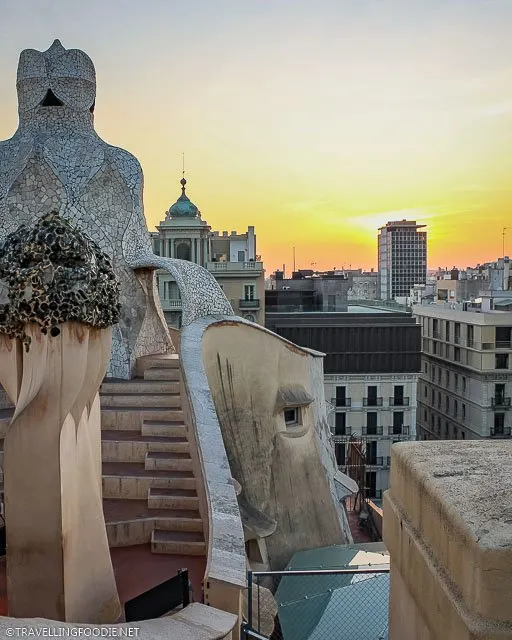 Gaudi was intrigued by curves and refused to use straight lines, giving La Pedrera the curvature it possesses. The combination of the two building apartments flowing around a mutual courtyard has now become one of the best Gaudi attractions in Barcelona.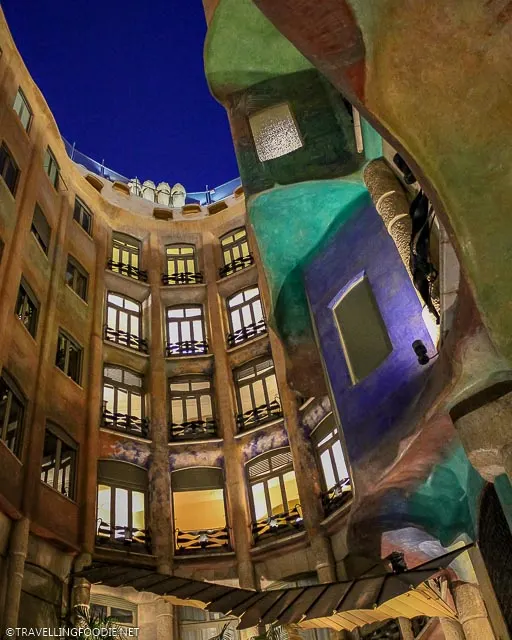 The limestone façade is self-supporting and features a stunning wavy rooftop with an extravagant view of the entire city. The rooftop terrace at Casa Mila hosts 28 dancing chimneys to tie the structure together into a precious masterpiece.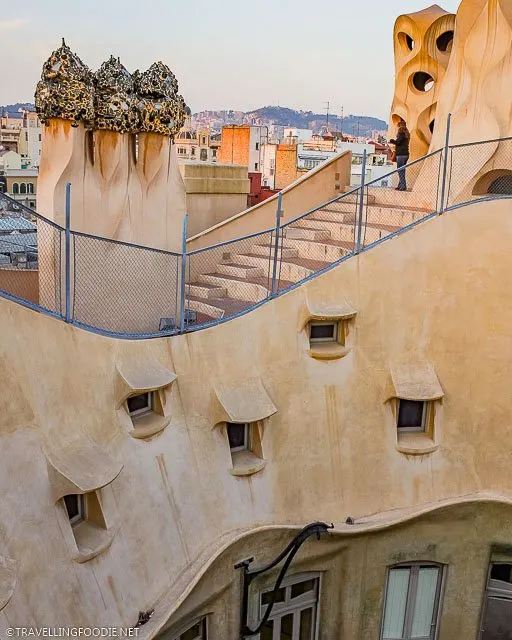 La Pedrera is open for visiting with audio-guides to provide complete information of the work of art and its contribution to history, featuring authentic rooms with beautiful grand windows.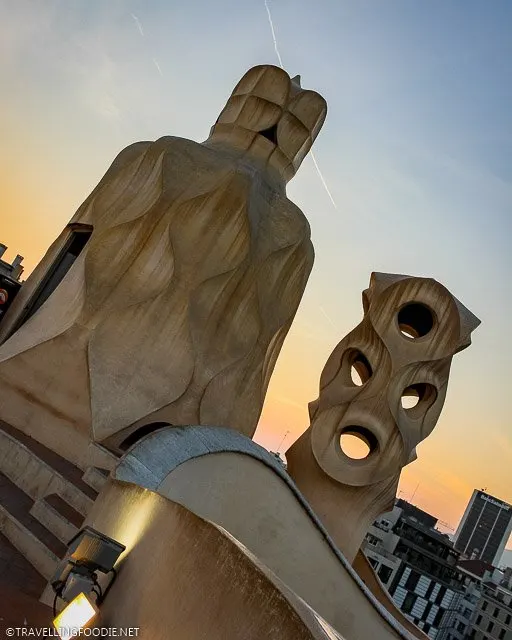 'Guadi's space' gives insight on the architect's techniques and explanations behind his theories.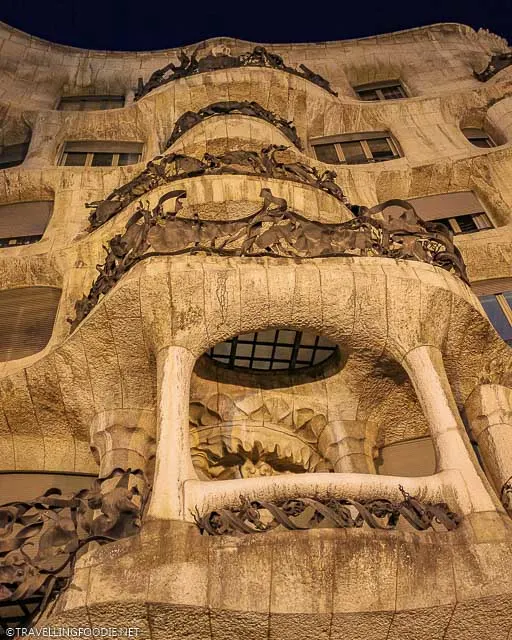 Check discounted skip-the-line tickets to Casa Mila on GetYourGuide / Viator
Website / Address: Provença, 261-265, 08008 Barcelona, Spain
Also Read: Instagrammable Things To Do in Seattle, Washington
---
Park Güell
Treasured at northern Barcelona, Park Guell is the work of Antoni Gaudi and Spanish entrepreneur Eusebi Guell's imagination. It is an acclaimed UNESCO World Heritage Site and was commenced as a housing project for the elite in 1900.
Perhaps the most popular Gaudi building commissioned by Eusebi Güell, Park Güell was built as a private estate for families, including both Gaudi and Güell.
Did you know? The name Park Güell came about because Güell, with urbanization in mind, wanted to recreate the British residential parks.
After Güell died in 1918, Park Güell opened as a municipal park in 1926 after his heirs sold the park to City Council.
The park combines symbolic design elements with natural elements such as hills and trees for the perfect blend of art and nature, creating a cherished recreational space for the masses.
Not being a typical museum, Park Guell features aspects representing both designers Gaudi and Guell with walls, columns, shapes, colors and designs that flow away into an imaginative paradise.
A monumental staircase with sculptures, towers, halls, slanting columns, mosaics and a thousand other colorful details and elements designed with great intricacy, make Park Guell one of the best Gaudi attractions in Barcelona.
Check discounted skip-the-line tickets to Park Guell on GetYourGuide / Viator
Website / Address: 08024 Barcelona, Spain
---
Palau Güell
Acclaimed as a UNESCO World Heritage Site, Palau Guell is a medieval-styled palace designed by the famous Antoni Gaudi for the businessman Eusebi Guell.
This extravagant structure is one of Gaudi's earlier works and first masterpieces, making it one of the best Gaudi attractions in Barcelona.
Before Güell moved his residence to Park Güell, he was living in Güell Palace as an extension of Güell's family home.
The building, planned like a typical palace, embodies a great example of Art Nouveau with grand and luxurious fundamentals while still proving to be the brain-child of Gaudi's unique imagination.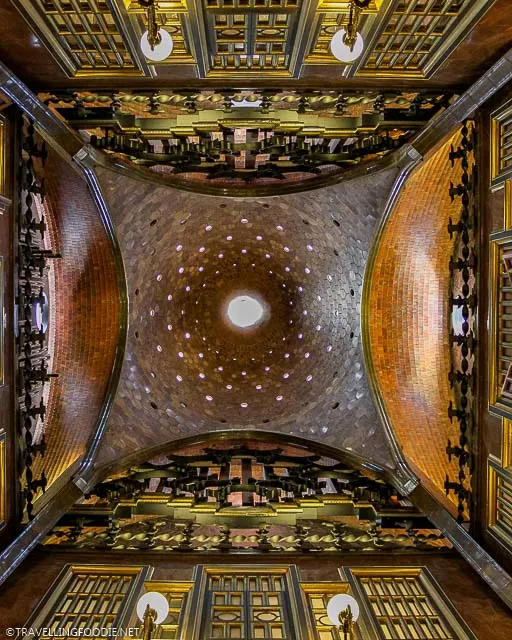 The dark interiors with an old-world charm offer artistic flair blending with design elements such as stained-glass windows, wrought iron gates and grills, mezzanine floors and glass components.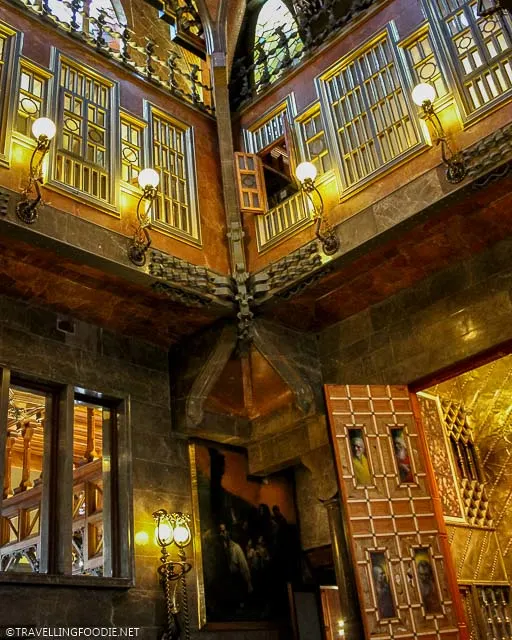 Amidst colorful chimneys, extravagant staircases, luxurious windows, central halls and chapels, the authenticity of Guell's life is captured perfectly.
Attention to detail is not compromised even in the tiniest of spaces in the palace. From as small as peepholes to as magnificent as dining halls, the entire palace is laden with striking precision to make it a Barcelona attraction not to be missed.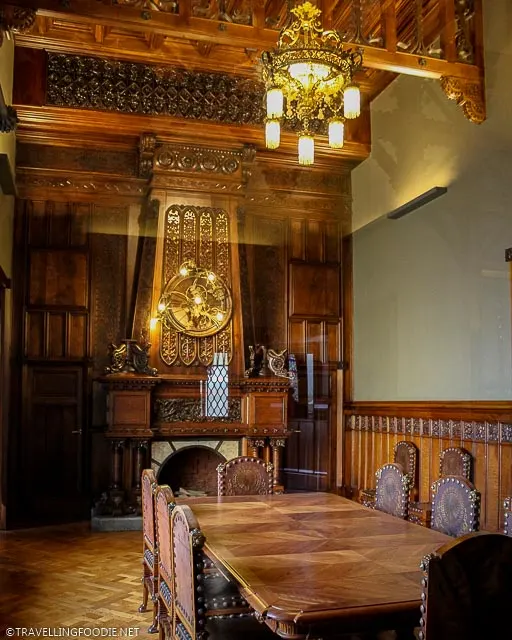 There are also nature influences in the architecture with the 20 rooftop chimneys.
Check discounted skip-the-line tickets to Palau Guell on GetYourGuide / Viator
Website / Address: Carrer Nou de la Rambla, 3-5, 08001 Barcelona, Spain
Also Read: Best Fall Attractions in Virginia
---
Casa Batlló
Located at the heart of Barcelona, Casa Batlló is home to Josep Batlló who hired Gaudi to renovate the building in 1904 after being originally constructed by one of Gaudi's architecture professor, Emilio Sala Cortés, in 1877.
Casa Batllo is the perfect representation of the Batllo family with curvy oak-wood doors, stained windows, wavy ceiling and luxurious chandeliers.
Referred by locals as 'Casa Dels Ossos' meaning house of bones, the structure has a skeletal feel with bone-like columns and a wave-like construction.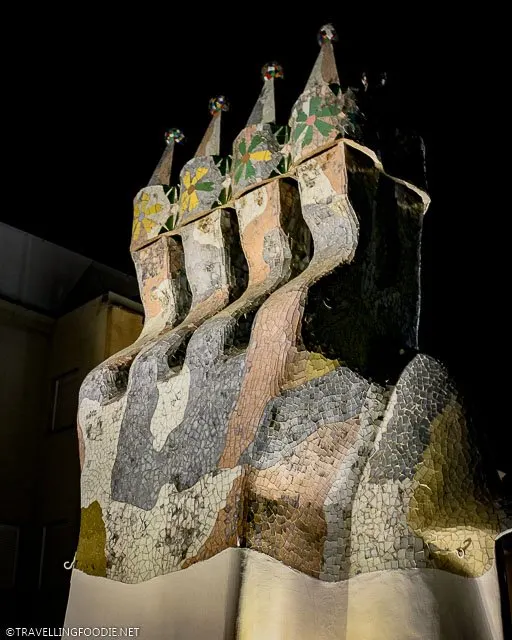 The flowing curves, abstract elements, attention to fine details and originality in each and every element of the building adds to the list of characteristics Gaudi's architecture embodies.
Symbolisms of marine life were the biggest inspiration in this house, evoking nature elements to bring a perception of water all around.
The entire colorful facade gives a perception of water ripples with the wavy shape of the external walls, which is covered with mosaic from pieces of coloured glass pieces and ceramic discs.
Check discounted skip-the-line tickets to Casa Batllo on GetYourGuide / Viator
Website / Address: Passeig de Gràcia, 43, 08007 Barcelona, Spain
---
MAP: Best Gaudi Attractions in Barcelona
Here's a map of all best Gaudi buildings in Barcelona covered in this travel guide.
---
Hope this travel guide gave you an idea on the best Gaudi attractions, which are among the best things to do in Barcelona. Which one was your favourite?