I was only there for 2.5 days, and, with so many places to eat, how does one decide where to eat in Singapore? I'm here to feature some of the best restaurants in Singapore!
It's amazing how a 277.6-square-mile island city-state that is Singapore can be so food-obsessed.
From hawker centres and casual eateries to Michelin Restaurants and World's 50 Best Restaurants, the food scene in Singapore is just flourishing.
There is no shortage of great restaurants wherever you go.
In speaking with locals, one important thing I learned about Singapore and food is that they tend to stick with classic dishes and are less adventurous in trying new things.
Follow on Instagram @TravellingFoodie for more food inspirations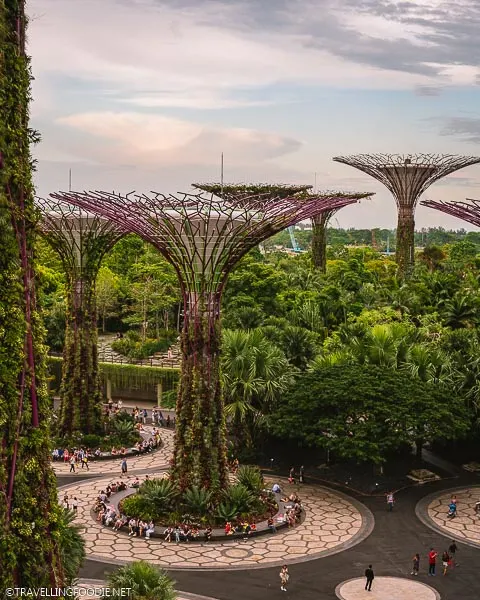 Since it was my first time exploring the food scene, I tried to cast a wide net on the places to eat in Singapore based on different criteria.
Best Restaurants, Michelin-starred Restaurants or World's 50 Best Restaurants in Singapore
Different cuisines
Varying price range
Must-Eat Local Dishes
Different neighbourhoods
Unique themes/concepts
I obviously barely scratched the surface in discovering where to eat in Singapore, but I did cover quite a bite for the amount of time I had.
In this food guide, you'll learn about 8 of the best restaurants in Singapore including Hainanese Chicken Rice, Michelin Restaurants, Tasting Menu, Buffet.
Also Read: Where To Eat in Tokyo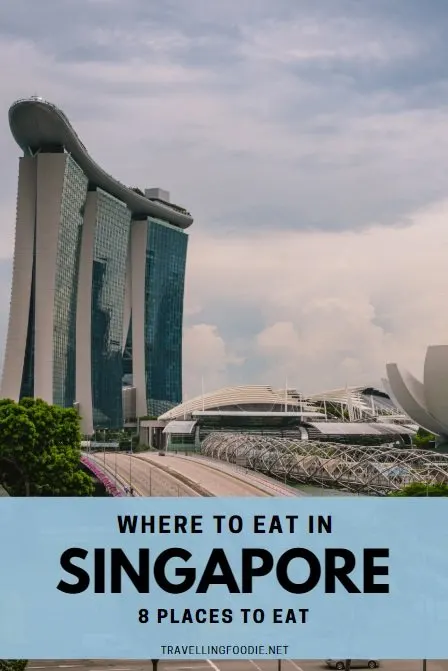 ---
How to get around the best Singapore restaurants?
If you're coming from Changi Aiport or want to get around the city, here are the different ways to visit the best restaurants in Singapore.
Travelling Foodie Tip: Here's what I typically do when planning my route. Once you decide where to eat in Singapore, create a Google Map (similar to what I include at the end of this article) and add all the restaurants.
This map gives a bird's eye view to better visualize the nearby subways stops, the best paths to food crawl, and how to plan your daily schedule.
Want WiFi or SIM Card when travelling in Singapore? Get the best and discounted options here!
Mass Rapid Transit (MRT)
Pretty much all the main spots in Singapore is covered by the MRT.
Pricing is based on the distance between stops.
The MRT ticket is reusable up to a certain number of trips, and you get discounted fares when you use the ticket multiple times.
I only took the MRT during my trip so all the restaurants listed are definitely accessible by MRT.
I was honestly surprised how efficient and technologically advanced their subways are.
There is an MRT station for Changi Airport too.
This is what I took to get from the airport to my hotel.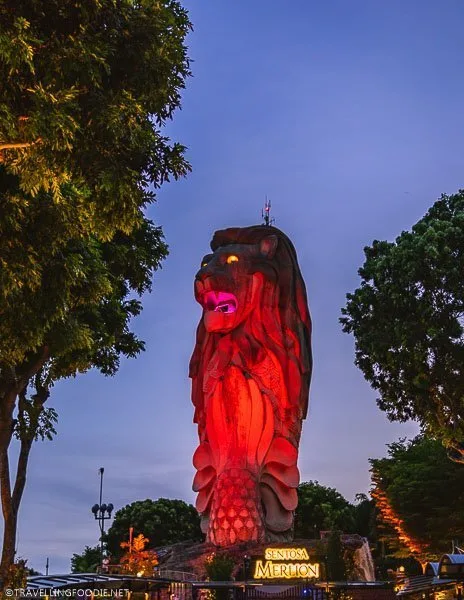 The Singapore Tourist Pass
If you know you'll be commuting a lot of times during your trip, you can consider the Singapore Tourist Pass, which allows unlimited rides on public transit (MRT, LRT and buses) for one, two or three days.
Taxi
Taxis in Singapore are quite a reasonable way of travelling.
Unlike other countries where rideshare apps like Uber and Lyft end up being the cheaper choice, taxis tend to be cheaper in Singapore.
Hotel Shuttle
Depending on where you're staying, your hotel might have free shuttle already so be sure to inquire. Some hotels provide free shuttle to/from the airport.
Similarly, when I stayed at Park Hotel Alexandra, they provided a complimentary shuttle that stops in major landmarks and stations.
Get the iVenture Singapore Flexi Attractions Pass for discounts and "skip the line" benefits on Singapore's attractions!
---
Best Restaurants in Singapore
Here are some of the best restaurants in Singapore!
Hainanese Delicacy
One of the must-try local dishes in Singapore is Hainanese Chicken Rice as it is the national dish.
Though chicken is my least favorite of meats, I definitely wanted to try Hainanese Chicken Rice to know why it's so popular.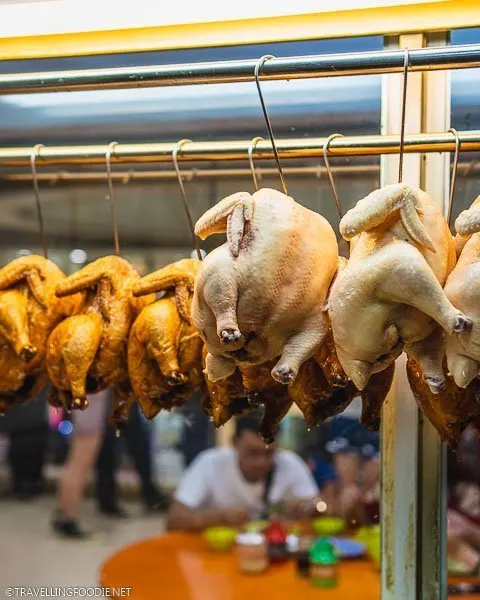 I loved the one at 海南美味佳肴 Hainanese Delicacy, located on the 5th floor of the Far East Plaza in Orchard Road district.
Considered one of the best restaurants for Hainanese Chicken in Singapore, this hole-in-the-wall joint is popular among locals (though not as much for tourists) and a line-up is typically expected.
I've had Hainanese Chicken before but never really understood what's so good about it until I had the one here. It's definitely the best one I've had so far. And it's so cheap at SGD4.80!
The rice is what made it a winner!
Chicken broth and some herbs are used to make the rice, and it's so fragrant and flavourful you don't even need any meat to enjoy it.
The chicken here was very tender and juicy.
It tastes deliciously simple but enhanced when you add the garlic and chili.
I was savouring each bite.
Now you know where to eat in Singapore for some delicious Hainanese Chicken Rice!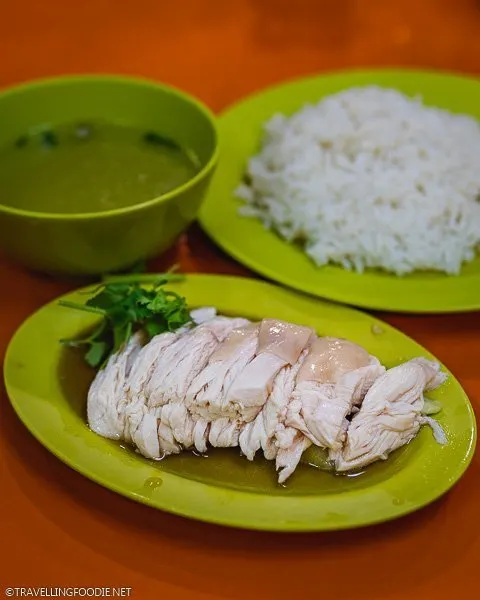 Address: #05-116 Far East Plaza, 14 Scotts Rd, Singapore 228213
Accolades: The Strait Times' 12 best places for chicken rice, picked by ST food writers; The Finder's 12 Best Places For Chicken Rice In Singapore, According To Local Food Writers; Malay Mail's Where is the best chicken rice in Singapore?; Foursquare's 15 Best Places for Hainanese Chicken Rice in Singapore
---
Liao Fan Hawker Chan
Google "Where To Eat in Singapore" and you'll most likely find Hawker Chan in the list.
It's definitely one of the popular places to eat in Singapore.
Why? This hawker stall became popular worldwide for being the world's first hawker stall to be awarded one Michelin star and the world's cheapest Michelin-star meal!
With its claim to fame, Liao Fan Hawker Chan has been on travelling foodie's check-list when visiting Singapore.
This unassuming hawker stall was opened by Chef Chan Hon Meng in 2009 at the Chinatown Complex Food Centre.
Since being awarded one Michelin Star in July 2016, Hawker Chan has opened multiple quick-service restaurants and franchises worldwide.
The original hawker stall is the one awarded with Michelin star, and the quick-service restaurant also in Chinatown is awarded Michelin Bib Gourmand.
Despite the Michelin recognition, Hawker Chan still maintained its low price point at SGD5 for a Soya Sauce Chicken Rice.
An important thing to note is they serve Hong Kong Soya Sauce Chicken Rice, not Hainanese Chicken Rice.
Unlike Hainanese Chicken where the oily rice is a main selling point of the dish, the Soya Sauce Chicken Rice focuses on the chicken marinated in soya sauce as the rice is just plain rice.
Website / Address: 78 Smith St, Singapore 058972
Accolades: One Michelin Star, Michelin Bib Gourmand; Bloomberg's Where Top Chefs Go Out to Eat in Singapore; The Telegraph's best cheap places to eat in Singapore
Also Read: Kame Omakase, Best Omakase in Las Vegas
---
NOX – Dine in the Dark
Where to eat in Singapore that's unique? Located in Bugis area, NOX – Dine in the Dark is one of the best restaurants in Singapore with a very unique concept.
Have you ever tried eating without lights?
At NOX, you dine in complete darkness and it is a great experience. Having no visibility on the food makes you really think about what you're eating.
All the staff in the dining room are visually impaired so this puts you in their shoes of what dining is like.
You'll even learn how to pour water in the dark.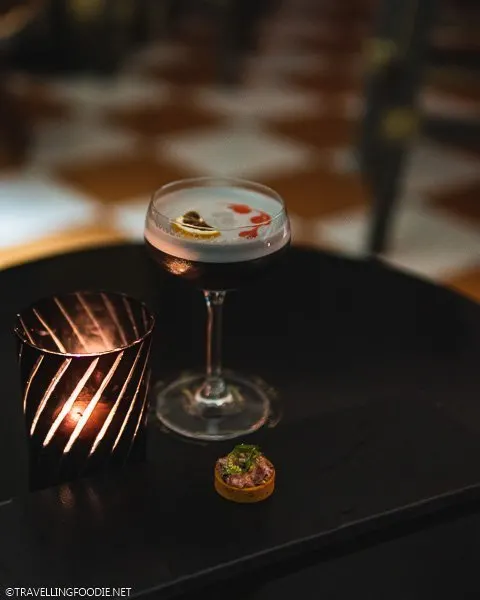 Dinner at NOX is a 3-course meal for SGD88.
In actuality, it's like a 12-course tasting menu since each course has 4 items for you to try.
Overall, the food and drinks (I did cocktail pairing) were really good, and I was surprised the dishes were fine dining level.
The menu changes every 2 months.
At the end of the dinner, they have a questionnaire for you to list your guesses on what the dishes were, and then they'll show you what they served.
It's very interesting to see if you got them right.
You leave all your belongings in the locker, including phones and camera, so it was refreshing to really just focus on the dining experience.
You can only take photos at the bar area where you can order cocktails before your dinner and where the amuse-bouche is served.
Get this Prix Fixe Dinner package at NOX – Dine in the Dark for discounts plus a post-dinner cocktail!
Website / Address: 269 Beach Rd, Singapore 199546
Accolades: The Asia Collective's Best Restaurants in Downtown Singapore; The Culture Trip's 10 Best Restaurants in Bugis, Singapore; Channel News Asia's 10 best date night restaurants in Singapore; Visit Singapore's 6 unique dining experiences; Wine & Dine's Top Restaurants in Singapore – Best New Concept 2014
---
Sawadee Thai Cuisine Restaurant
With the strong diversity in Singapore's food scene, you don't need to travel to other countries to try delicious authentic food.
Located in Bugis, Sawadee Thai Cuisine is one of the best restaurants in Singapore for Thai food, bringing Thailand to you from the interior decorations, clay plates and pots to ingredients all coming from Thailand.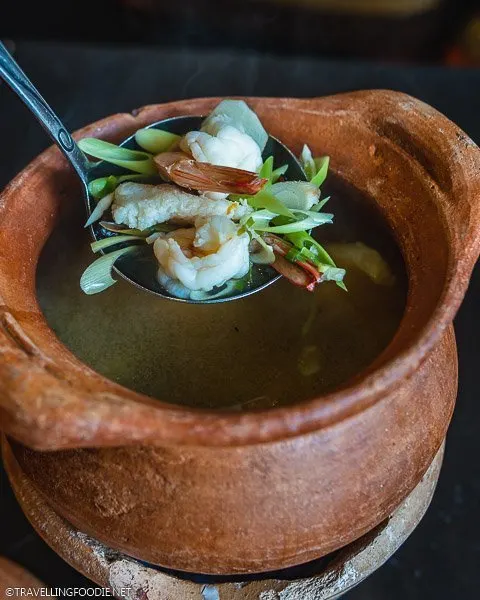 Did you know? The restaurant's interior designers are architect graduates from the famed Chulalongkorn University of Thailand.
To beat the heat in Singapore, you can't go wrong with either the Thai Milk Tea or Lemongrass Iced Drinks to cool off!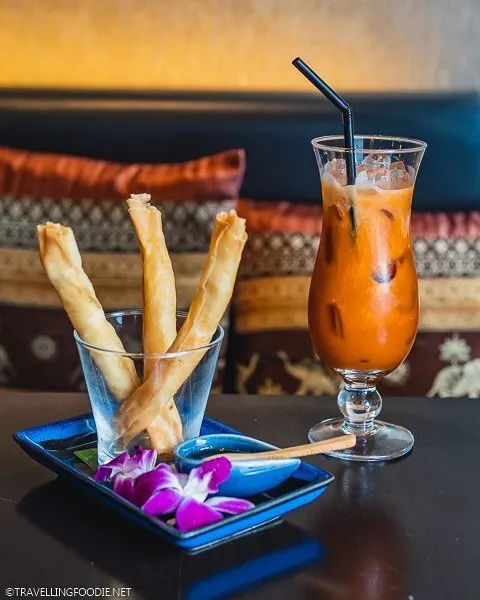 What I love about this 18-year-old Thai restaurant is it offers so much more than the usual pad thai and curry found in typical Thai restaurants.
They serve dishes from different regions in Thailand.
For example, the Grilled Kurobuta Pork Collar is a Northern Thai dish, and the Otah On Claypot are a Central Thai specialty.
At Sawadee, the food is prepared daily from scratch and cooked ala-minute, with the Grilled Kurobuta Pork Collar and Thai Style Otah on Clayplate were unique standouts.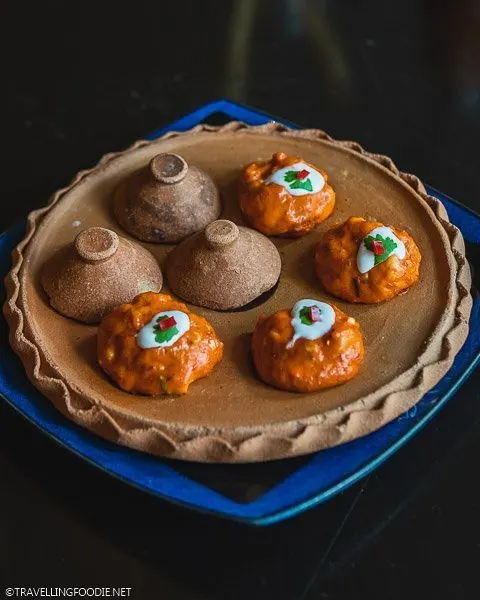 Seriously, if you haven't had Berkshire Pork, you must try the Grilled Kurobuta Pork Collar.
It tastes like wagyu but pork version!
This take on modern Thai food uses premium Kurobuta Pork, which is Berkshire Pork coming from Japan. It's very well-marbled, tender and juicy.
The grill taste with the jaew sauce (dried chili dipping sauce) just enhances the dish even further!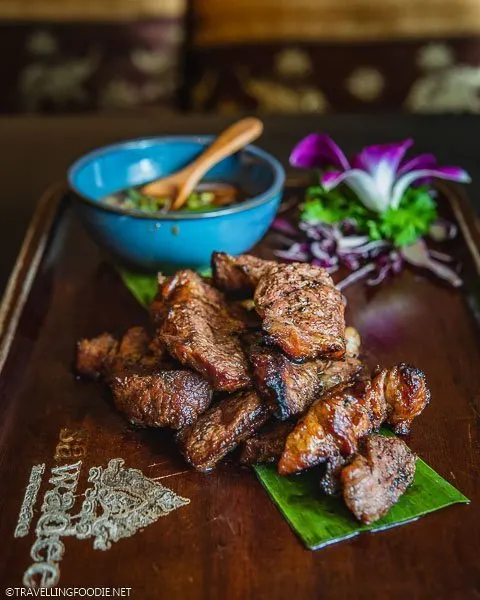 Website / Address: 9 Tan Quee Lan St, Singapore 188098
Accolades: Time Out's 50 Best Restaurants in Singapore You Must Try; Aspirant SG's Top Thai Restaurants For Best Siam Cuisine In Singapore
---
Spring Court Restaurant
Spring Court is the oldest Chinese and oldest family-run restaurant in Singapore, opened in 1929.
This Chinatown institution specializes in Singaporean Chinese cuisine served family-style.
Being of Fujian decent, I loved the fact that they serve a variety of Hokkien dishes like the Popiah and Misua, which I fondly remember a lot as birthday noodles.
Spring Court is known for their traditional Popiah, a Hokkien fresh spring roll that I remember having when growing up in the Philippines.
The Popiah here is prepared meticulously with a whopping 15 ingredients.
It starts with boiling soup stock of pork, pork bone and whole chicken, then simmer on low heat for 2 hours along with these items: Turnips (沙葛), Leek (生蒜), Chinese Cabbage (包菜), Carrot (干笋), Fried Tofu (豆干), Snow Peas (荷兰豆)
It is then made along with these condiments: Xiamen Dried Seaweed, Sliced Prawn, Fried Fish Meat, Shredded Omelet, Minced Garlic, Chinese Parsley, Bean Sprouts, Fried Minced Sole Fish (大地鱼), Popiah Skin, Sweet Sauce, and Chilli Sauce.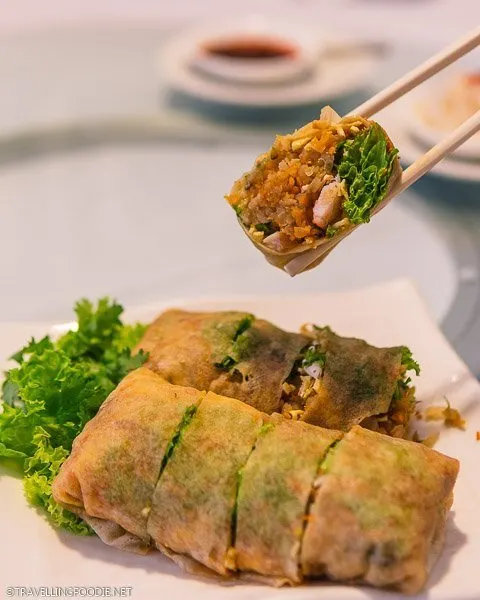 A unique dish you'll want to try at Spring Court is their Roasted Chicken Stuffed with Minced Prawns.
Because of how hard it is to make, the dish is limited to 5 orders for weekday lunch and dinner and 10 orders for weekend lunch and dinner.
The entire dish takes a total of 3 hours to make from start to end.
They pound the shrimp by hand to tenderize it and take out the protein so it becomes sticky to chicken.
Timing is crucial when cooking because shrimp and chicken cook differently.
The result is a tender juicy chicken with crispy skin and a nice moist shrimp paste layer.
One thing to note is I would call this "Layered" than "Stuffed" (as per the menu) because the shrimp is not really inside the chicken, but rather in a separate layer stuck to the chicken.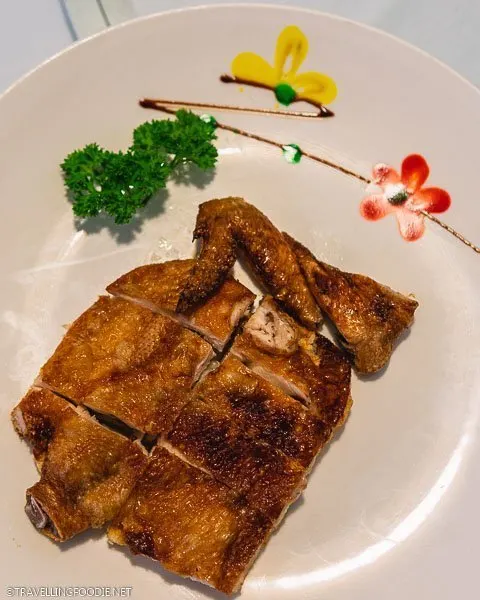 You cannot go wrong with the classic Roasted Pork Belly with a crispy layer of skin and mouthwateringly tender meat.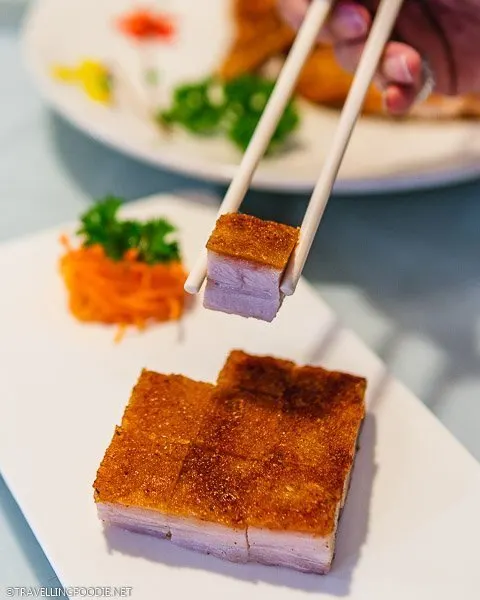 For seafood, one of Spring Court's signature dishes is the Deep Fried Live "Soon Hock" (Marble Goby) Fish.
Emphasis should be put on Live as you can see from the dish: the fish is still in flapping form, unlike a typical flatly laid fish when it's dead before being cooked.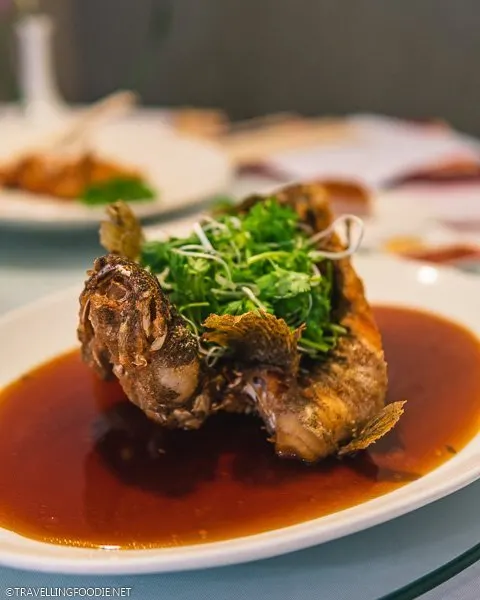 Did you really go to Singapore if you didn't have Singapore Chilli Crab?
Aside from Hainanese Chicken Rice, the other most popular dish in Singapore is the Chilli Crab.
At Spring Court, their Singapore Chilli Crab is also quite unique compared to the usual Singapore Chilli Crab restaurants.
For one thing, it's served in a claypot.
But, more importantly, they do not use fermented shrimp paste (belacan) in their recipe unlike most restaurants.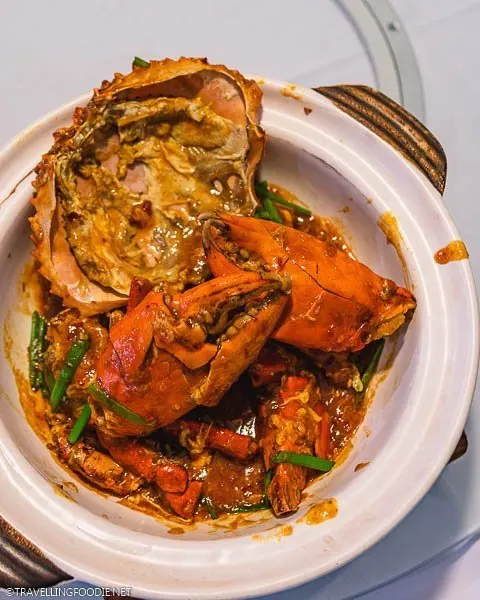 Get your bib ready and get messy with the deliciousness.
You'll also get Chinese buns (mantou) to mop the sauce after.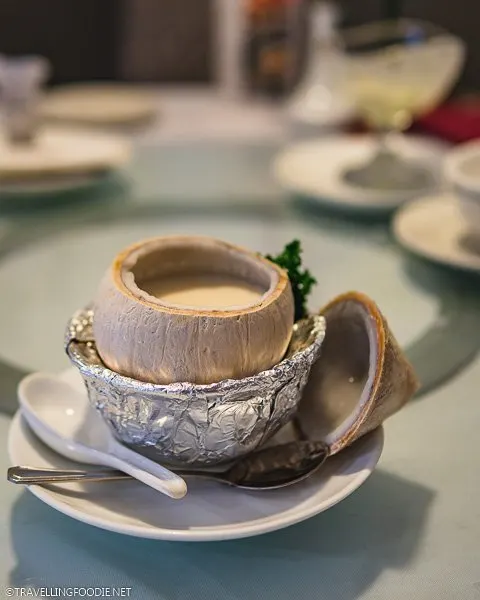 Want to try more dishes? Get discounted cash vouchers for Spring Court Restaurant!
Website / Address: 52-56 Upper Cross St, Singapore 058348
Accolades: CN Traveler's 28 Best Restaurants in Singapore
---
The Carvery at Park Hotel Alexandra
In Asia, buffets are a big deal, unlike in North America.
A lot of hotels do buffets, which actually get very competitive with their offerings including lobster, wagyu, foie gras, crabs, and other high-end meats and seafood.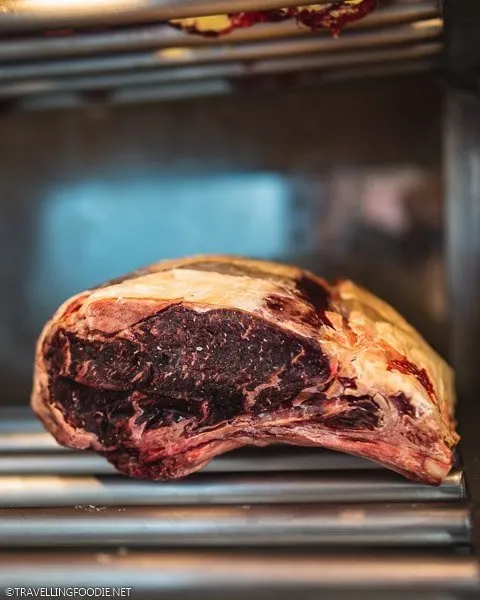 The buffet here is perfect for premium meat and seafood lovers, set in an urban oasis outside of downtown with beautiful views.
Read the rest of the review of The Carvery at Park Hotel Alexandra.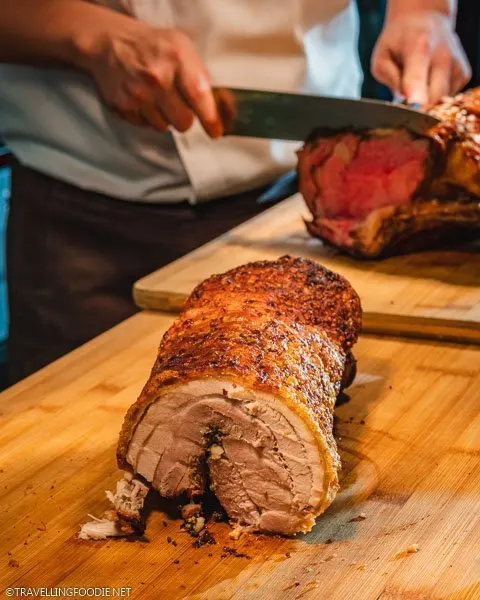 Website / Address: Level 7 Park Hotel Alexandra 323, Alexandra Rd, Singapore 159972
Accolades: AsiaOne's Best hotel buffets in Singapore: 10 restaurants with quality spreads to get stuffed
Price: Dinner Buffet (SGD62 Weekend, SGD58 Weekdays)
Also Read: Eastwood Richmonde Hotel in Manila, Philippines
---
The Knolls at Capella Hotel
Located in the 5-star luxury hotel & resort, Capella Singapore Hotel, The Knolls offers a taste of the Mediterranean!
Here you'll feel like you've escaped the city, as you enjoy your meal overlooking cascading pools and the South China Sea in the popular Sentosa Island.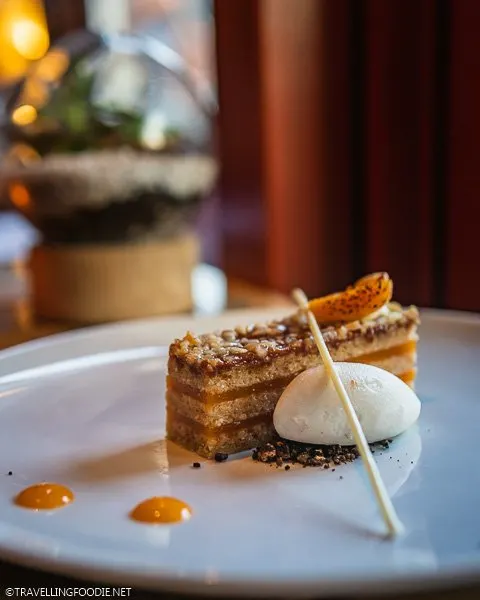 Though they offer Regional Favourites menu like Hainanese Chicken Rice and Singapore Laksa, they specialize in Mediterranean cuisine with a mix of classic and modern dishes.
Expect prices to be higher since this is in a luxury hotel in a tourist spot.
A refreshing dish to start your meal at The Knolls is the Rock Melon With Wagyu Bresaola which is a twist on the Spanish tapas, Melon con Jamon Serrano, replacing the serrano ham with Australian wagyu bresaola.
You'll love the mix of sweet and salty, and dry and wet combination.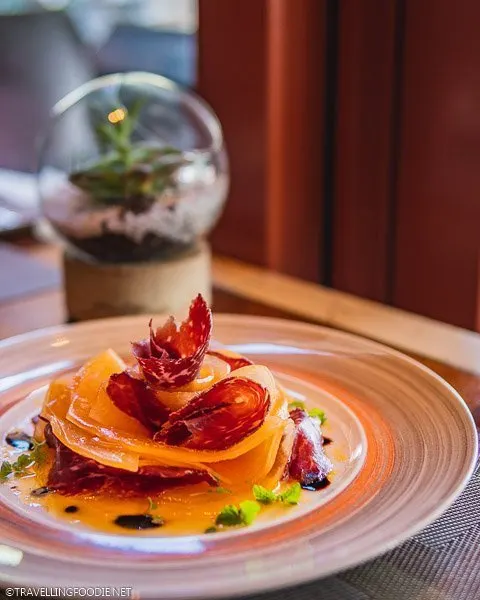 You can't go wrong with the classic Chargrilled Atlantic Octopus with sauce romesco, a roasted red pepper and almond spread originating in the Catalonia area of Spain.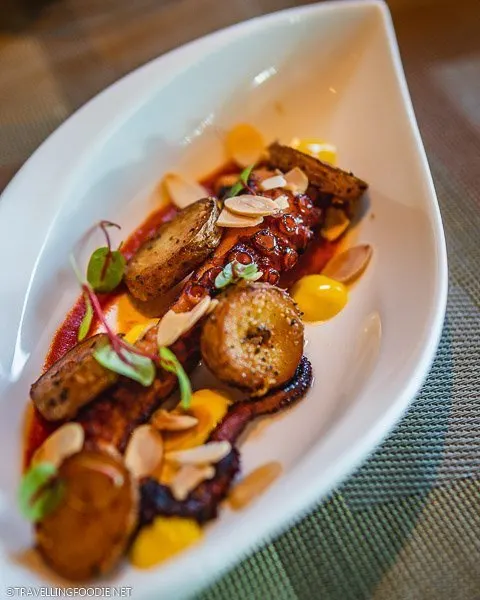 An uncommon dish is the Slow Cooked Iberico Pork as Iberico Pork is more widely known for the cured version, Jamon Iberico.
This is the second time I've had Iberico Pork in a "steak" form (the first time was in a Spanish restaurant in Seattle).
Here, they provide pork soup with ratatouille.
I recommend trying the pork before and after you pour the sauce so you can compare and contrast.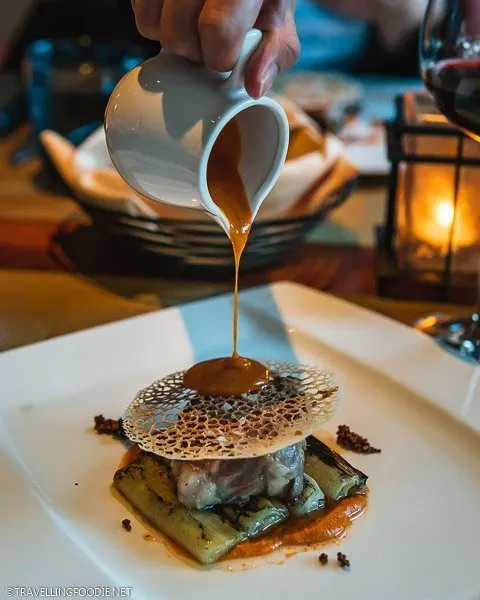 Website / Address: 1 The Knolls, Capella, Singapore 098297
Accolades: The Culture Trip's Top 8 Restaurants in Sentosa Island; Sentosa's Best Restaurants to Dine with Family in Tow; The Epoch Times' 20 Best Hotel Buffets in Singapore
---
The Song of India
If you're looking where to eat in Singapore that's Michelin-starred, you'll want to try The Song of India because it is both Southeast Asia and Singapore's only Michelin Star Indian Restaurant.
Did you know? This fine dining Indian restaurant has been awarded a Michelin star for the third consecutive time (to date) since 2016.
Also Read: n/naka, Two Michelin Star Restaurant in Los Angeles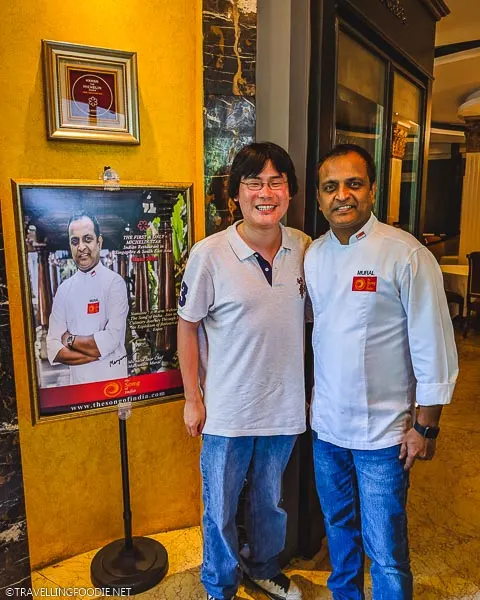 Like most Indian restaurants, they do offer a gourmet weekday buffet lunch.
But unlike most Indian restaurants, they offer a Sunday brunch with signature items and live stations.
Travelling Foodie Tip: Children under 12 dine for free.
The Song of India is the most fine dining Indian restaurant I've been to so far, and definitely serves the most beautifully presented Indian dishes I've had.
Be sure to check their drinks menu which has unique Indian inspired mocktails and cocktails.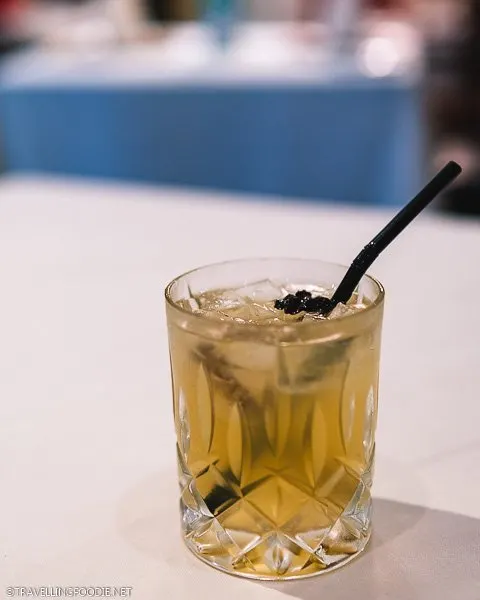 A must try in The Song of India is their Journey Through India tasting menu (SGD112), which is a 5-course meal incorporating authentic recipes from varying regions in India.
Note: There are more dishes from Northern India than Southern.
Also Read: 4 Day Trip in Kerala, India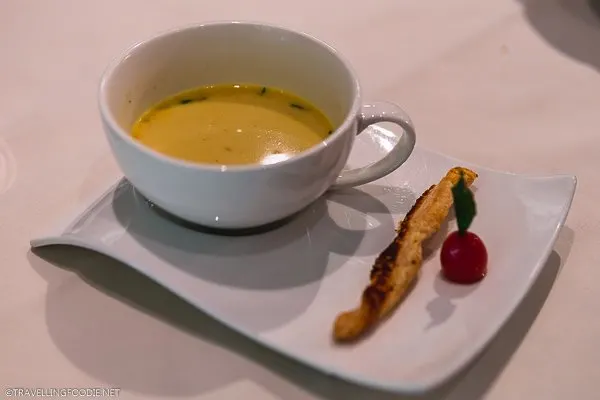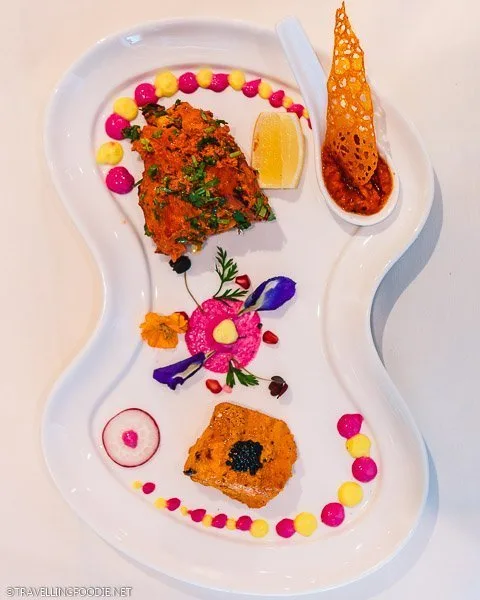 Classic Indian dishes made perfectly well is what you can expect at The Song of India.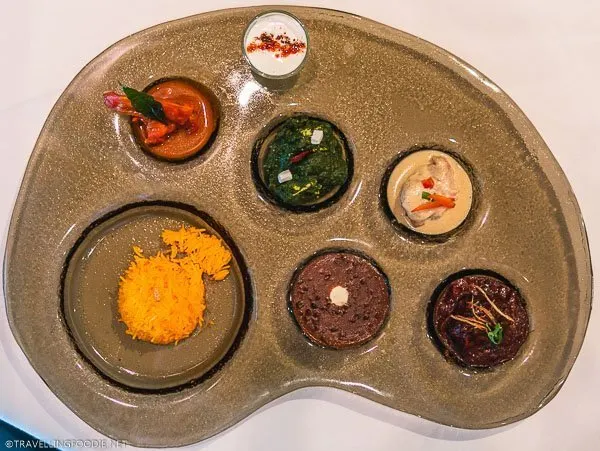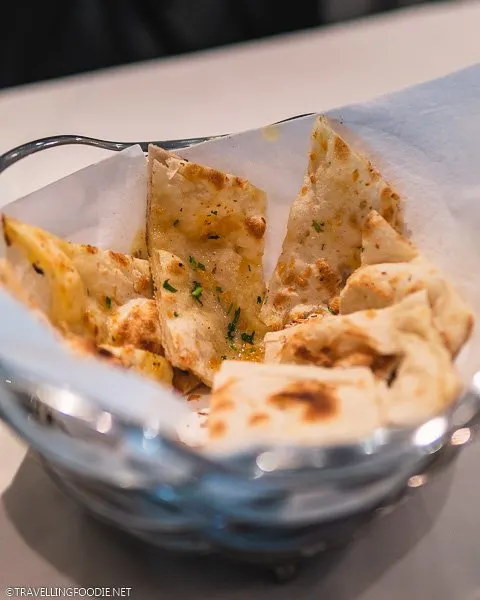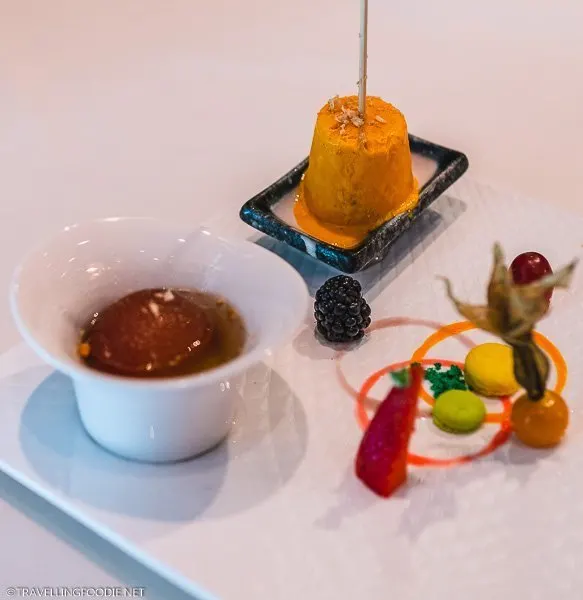 Website / Address: 33 Scotts Rd, Singapore 228226
Accolades: Time Out's 50 best restaurants in Singapore you must try; One Michelin Star; Wine & Dine Magazine SG's Singapore's Top Restaurants 2018/2019
---
VIDEO: 8 Places To Eat in Singapore
Watch what it's like to dine at some of the best restaurants in Singapore featured in this guide.
---
MAP: Best Restaurants in Singapore
Here's a map of the best Singapore restaurants covered in this food guide.
---
Hope this food guide gives you an idea on where to eat in Singapore and the must-try dishes!
I'm always open to restaurant recommendations so please tell me what you find are the best restaurants in Singapore so I can check them out on my next visit.
If you enjoyed this, you might also like to read Where To Eat in Toronto: 60 Food and Drinks To Try!