Want a change of scenery from the Las Vegas Strip? Then you'll want to visit downtown which has retained the old school Vegas charm. Here are the best things to do in Downtown Las Vegas.
I stayed in Downtown Las Vegas for 3 nights from January 8-11, 2017 after attending the CES, Consumer Electronics Show. It was an amazing experience staying at Golden Nugget because I can literally just walk out the casino to the Fremont Street Experience.
In this travel guide, I'm covering 3 of the best things to do in Downtown Las Vegas including attractions, activities and restaurants.
Also Read: Best Things To Do in Las Vegas
---
Fremont Street Experience
Ask people about best things to do in Downtown Las Vegas and for sure Fremont Street Experience will be at the top!
Every night, I would walk the entire Fremont Street as a way to unwind, digest the food I ate, and check out what's happening. This street really comes alive at night!
I never get tired of it as there's something different every night: be it the entertainment (live music), the Viva Vision Light Show, the street entertainers, and even just the crowd of people every night!
The Fremont Street Experience is really a very different atmosphere and vibe from The Strip.
One thing I enjoyed most is seeing the people here just having fun and enjoying the street: dancing and singing to the live music, drinking, and posing with the street entertainers.
Probably the most popular thing at the Fremont Street Experience is the Viva Vision Light Show which only starts at night (starting dusk) and continues until midnight. The screen is 1,500-ft long, 90-ft wide and 90-ft above the street.
When I was there, I got to see it play Green Day and Imagine Dragon songs.
One of the best activities in Downtown Las Vegas is the SlotZilla zip line where you get to zip across the Fremont Street.
They have two routes: the lower Zipline, which takes you half way across the street, and the upper Zoomline which takes you across the entire street.
The SlotZilla zip line is highly popular at night when all the lights are there, especially when the Light Show is happening.
A couple of times when I was walking around at night, I would see some people getting stuck towards the end of the Zoomline which I found amusing because they would try to rock themselves back and forth hoping to move forward.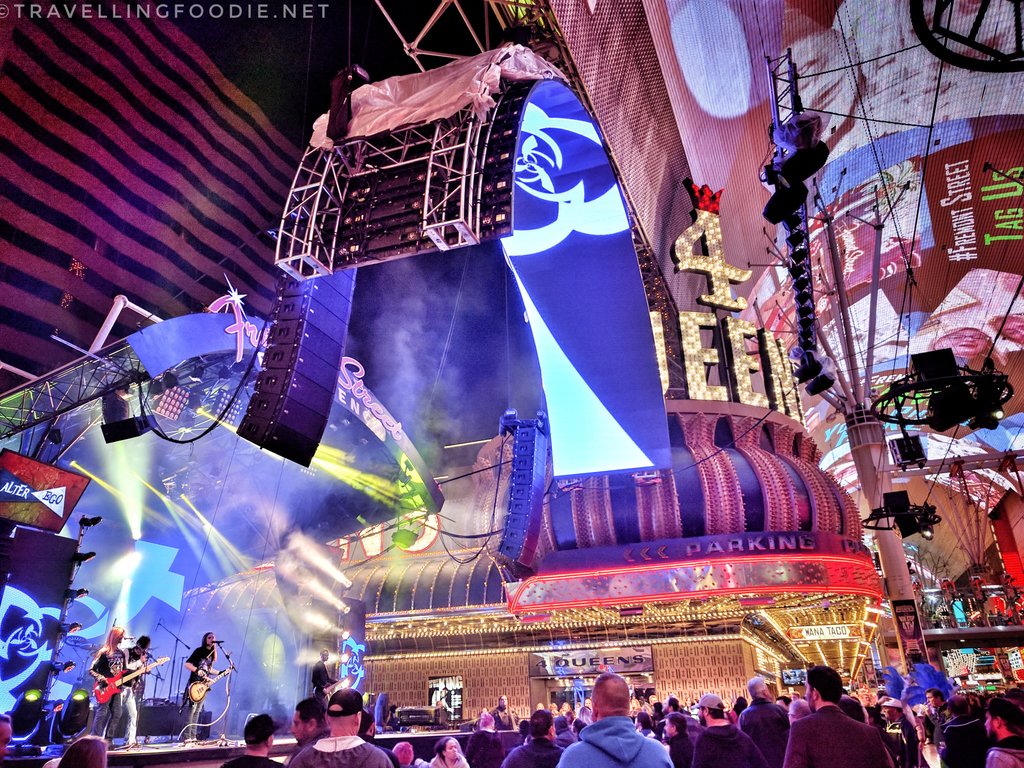 There are three main stages on Fremont Street Experience, and some nights there would be performers playingL bands or dancers.
Travelling Foodie Tip: Check the calendar to find out who's doing live entertainment and what will be playing at the Viva Vision Show.
During the day, the scenery of Fremont Street is very different. It is very brightly white due to the Viva Vision screen, as well as the casinos and shops not having their bright yellow lights.
There are still a lot of people which is a testament to how popular this street is. However, it is less lively without the bright lights, live music and the "happier" people who's had their drinks at night.
Some of the best hotel and casinos in Downtown Las Vegas are on the Fremont Street. This includes Golden Nugget, Binion's Gambling Hall, The D, Four Queens, Fremont and Golden Gate.
Website / Address: Fremont St, Las Vegas, NV 89101, United States
Also Read: Kame Omakase, Best Omakase in Las Vegas
---
Fremont East Entertainment District
Across the Fremont Street, where SlotZilla ends, is Fremont East Entertainment. This District offers comedy clubs, hip restaurants, blues and jazz night clubs and other entertainment venues.
I went to this side on my first night to try the recently opened pizza place, Evel Pie, which I highly recommend when you're in the area.
Learn more about Fremont East Entertainment District on their website.
---
Food Trip in Downtown Las Vegas
Aside from checking out Evel Pie, the rest of my foodie experiences in Downtown Las Vegas was dining at Golden Nugget. In the 2 days I was there, I tried six restaurants! Can you imagine?
---
Hope this travel guide gives you an idea of the best things to do and restaurants in Downtown Las Vegas! It's really a great area to check out and a nice change from The Strip.
Always open to suggestions for my next visit. What do you find are the best attractions in Downtown Las Vegas?