Some posts on this site contain affiliate links. If you book or purchase something through one of these links, I may earn a small commission at no extra cost to you. Read the full disclosure policy here.
West Volusia is such a hidden gem in Florida similar to what I felt about Conejo Valley in Southern California. With its Old Florida vibes, we've captured the best things to do in West Volusia for nature lovers!
When I told people I was visiting West Volusia County, Florida, pretty much everyone had no clue where it was. I didn't know what to expect myself going there, but I left loving it!
West Volusia is situated between Orlando and Daytona Beach, with 14 distinct communities along the St. Johns River and the lakes it connects including DeLand, DeLeon Springs, Pierson and Orange City.
With the motto "Old Florida, New Vibe", West Volusia brings you the old Florida of being one with nature. Think freshwater springs, vast forests and wetlands filled with tropical plants and wildlife in its natural habitat instead of the usual beaches and amusement parks that people associate Florida to.
Nature and outdoor attractions are some of the best things to do in West Volusia. That's definitely what I focused on in my 3 nights.
Also Read: Where To Eat in West Volusia, Florida
---
---
Skydive DeLand
What's more exhilarating and adrenaline pumping than jumping off a plane? One of the best adventurous things to do in West Volusia is Skydive DeLand.
I was super excited to skydive in West Volusia. This was my second time skydiving with the first time being 10 years ago!
Having only done tandem skydiving, I was surprised to learn that tandem skydiving was conceived and developed in DeLand.
Travelling Foodie Tip: If it's your first time, tandem skydiving is the best way to experience your first jump.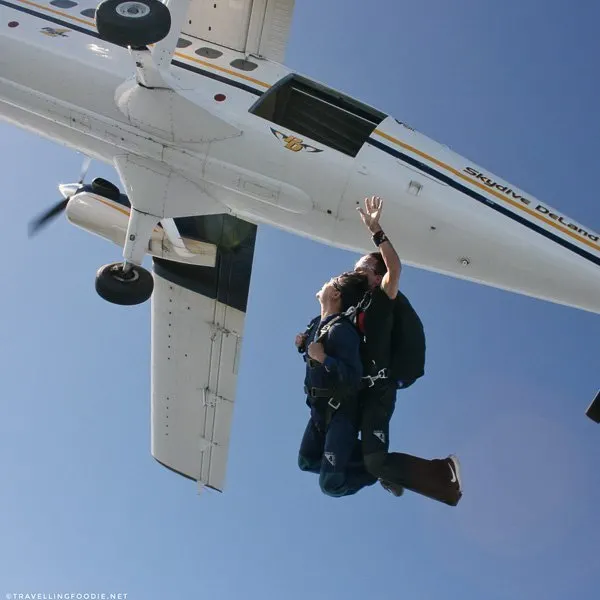 Established in 1982, Skydive DeLand is one of the busiest drop zones in the world! When I went, both the China and Qatar national teams were actually on-site for their training.
My instructor Trevor Cedar was such a great tandem partner. He not only told me the instructions, but also demonstrated how it would look like to do it.
He also repeated the steps on the plane right before the jump so the steps were fresh on my mind. During the canopy ride, he would also point out what I'm seeing in this majestic view.
I love how they do the video and stills at Skydive DeLand because a separate videographer actually jumps alongside you to take the action. If you got the video and stills package, you'll be viewing the video at the on-site restaurant and bar, The Perfect Spot.
Seriously though, skydiving is one of the best experiences you can do in your lifetime. It's not just about doing something extreme.
You get to see the world's beauty in a unique perspective which can only be done with skydiving.
Check out my full skydive video with Skydive DeLand here. This will help you see what to expect.
Website / Address: 1600 Flight Line Blvd, DeLand, West Volusia, Florida 32724
Price: $189/Tandem Skydive, $90/Video and Stills Package
Also Read: Best Nature Attractions in Washington State
---
Smooth Waters Wildlife Park
It's all "Fun, Smiles and Crocodiles" at Smooth Waters Wildlife Park. Established in 2016, this interactive zoo and park features exotic crocodiles and wildlife from around the world dedicated to its conservation, education and preservation.
What makes Smooth Waters Wildlife Park so unique is that it's very interactive as you can get up close and personal with the animals.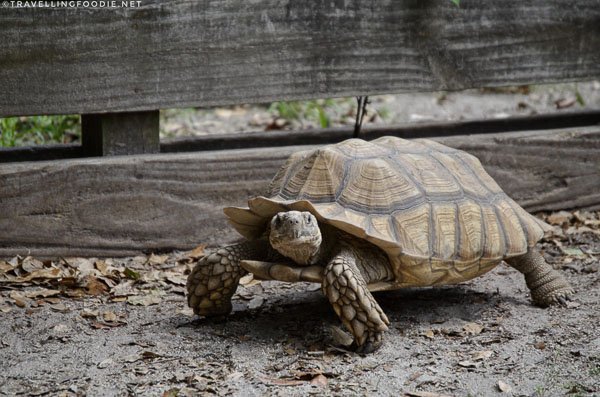 The tortoises are roaming freely in their space, and you are free to pet them. For an extra $5, you can also feed them with lettuce.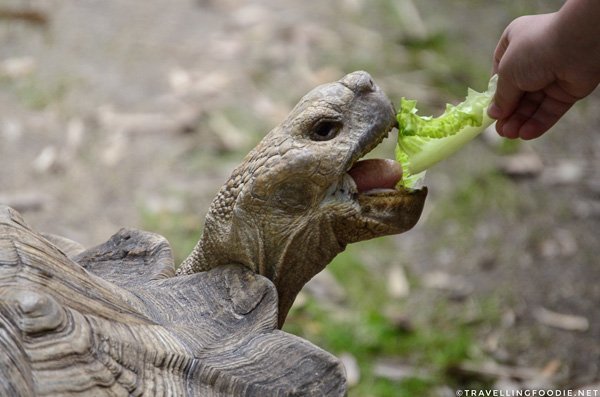 Another cool thing you can do is hold a baby alligator for $5. Say Hello to Baby Walter!
Travelling Foodie Tip: If you know you want to do both the feeding of tortoises and holding the alligator, they offer an Adventure Pass where you get a $3 off the total price.
Smooth Waters Wildlife Park owner Nathan Sweeting has been in the zoo and wildlife industry for a long time and is very knowledgeable about the animals.
We even had the opportunity to see him demonstrate how to interact with crocodiles inside the enclosure, including one with a 13-foot Florida gator named Trapper.
Check out this video where Nathan releases a crocodile from a bag, and also feeds Trapper up close.
I also had the opportunity to be inside the enclosures with Trapper! It was definitely scary even though I was behind Trapper and Nathan was in front distracting him.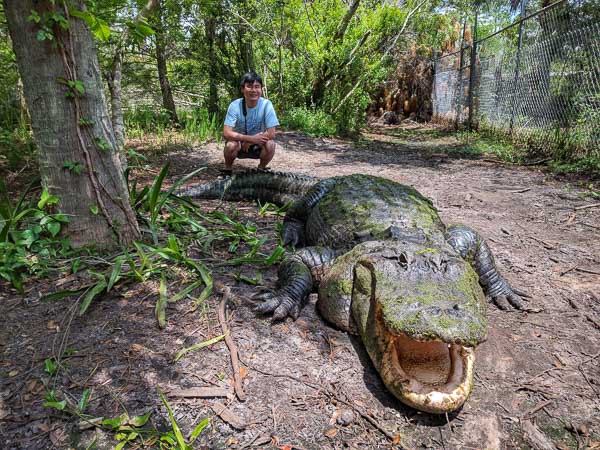 I almost made a dash when Trapper started moving with its mouth open towards Nathan, but Nathan knew what he was doing being the expert he was.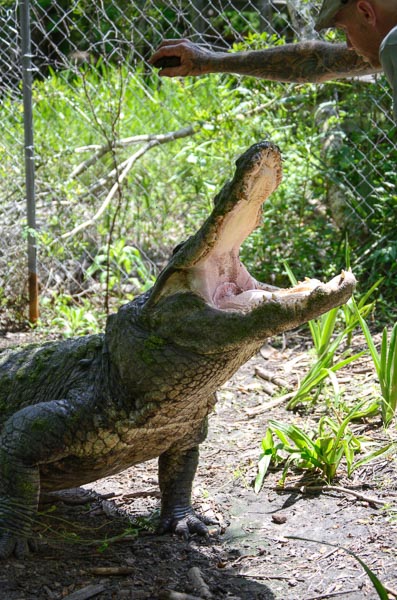 Website / Address: 4500 Reed St, De Leon Springs, Florida 32130
Price: $10/adult, $5/child (12 and under), free/child (3 and under)
Also Read: Best Fall Attractions in Virginia
---
Deep Creek Stables
Giddy up in 18,000 acres of the Lake George State Forest! Horseback riding in Deep Creek Stables is one of the best things to do in West Volusia to experience Old Florida, complete with an authentic Florida ranch.
You can even do a full day Cowboy experience complete with skeet shooting, followed by a cook out then a bonfire.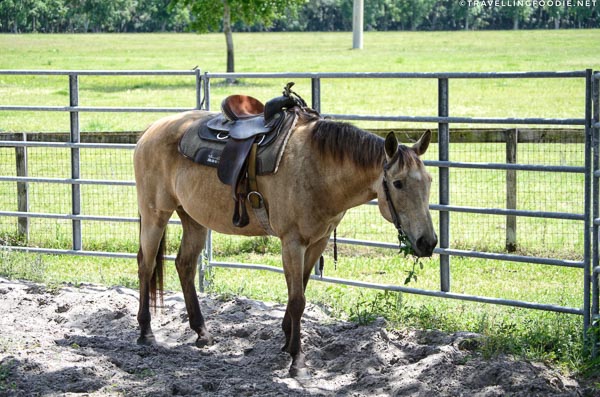 I did the one hour trail ride with Owner Terry Grenier and her daughter Madison, and it was such a fun ride of being surrounded by nature while coming to grips in riding your horse.
We did the easy trail because I am inexperienced, but the rides are normally customized based on your riding ability from casual, adventure to aggressive rides.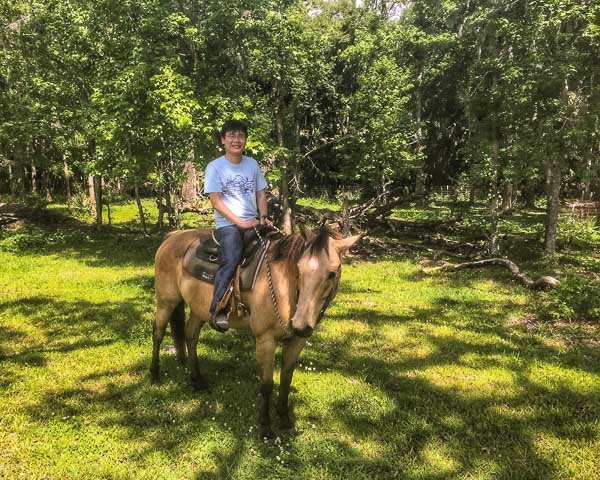 Website / Address: 2270 S Co Rd 3, Pierson, West Volusia, Florida 32180
Price: $50/person guided 1 hour trail ride
---
Blue Spring State Park
If you're looking for a relaxing lazy activity, what better way than lazy tubing down the largest spring on the St. Johns River in Blue Spring State Park, one of the family fun things to do in West Volusia.
With over 2,600 acres, the Blue Spring State Park is a popular destination especially during manatee season where several hundred manatees can be found in the springs from November to March.
Did you know? The park is a designated manatee refuge to a growing population of more than 200 West Indian Manatees.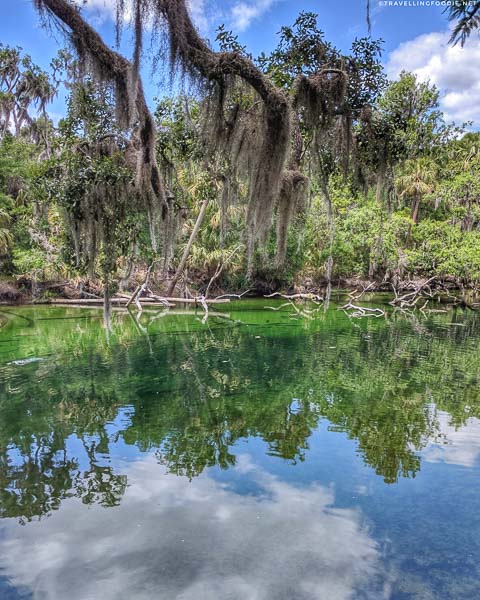 Travelling Foodie Tip: During holidays or manatee season, be sure to arrive before the park opens at 8AM because the park gets full fast, and they stop entry once they reach the maximum capacity.

Though the park is in West Volusia, it's one of the popular things to do in Orlando since it is less than an hour away to experience Old Florida.
It's free to swim on Blue Springs. But, why swim if you can go tubing? It was a lot of fun to tube down Blue Spring.
You can rent the tube from the park's concessionaire for $5 for the first hour ($2.5/hr after). In an hour, you can tube down about 2-3 times since the float runs about 1/8 of a mile.
If you don't want to go tubing, there are other activities to do including snorkel, cave dives, boat tours or nature hikes.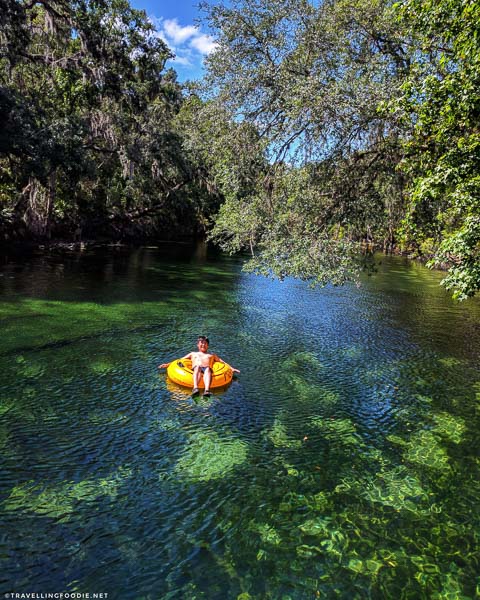 Website / Address: 2100 W French Ave, Orange City, West Volusia, Florida 32763
Price: $6/vehicle (2-8 people, otherwise $4 for one person)
Also Read: 2 Day Trip in Ocala/Marion County, Florida
---
Fountain of Youth Eco/History Tours
If you're looking for things to do in West Volusia with a combination of relaxation, education and wildlife, you'll want to do the Fountain of Youth Eco/History Tours at the De Leon Springs State Park, a 625-acre park with a spring overlooking the Spring Garden Run.
Did you know? The park is named after Juan Ponce de Leon, the Spanish explorer who sought the Fountain of Youth in the 1500s.
Travelling Foodie Tip: De Leon Springs State Park is popular for The Old Sugar Mill Restaurant which usually has line-ups. People on the restaurant waitlist don't lose their spot when taking the boat tour!
This 50-minute (or 1.5-hour) narrated cruise aboard the M/V Acuera takes you along the St. Johns River thru the Lake Woodruff National Wildlife Refuge.
You'll get to learn fun facts about the Fountain of Youth's "healing waters", history dating back to ancient Indian and Spanish civilizations, and the river's eco-system and wildlife. The best part is you get to see wildlife in their natural form.
Our guide was so good in spotting wildlife. She was able to spot birds from afar and was even able to tell us what it was.
Did you know? The Spanish moss which you'll see a lot of is neither a moss nor from Spain.
Website / Address: 601 Ponce Deleon Blvd, De Leon Springs, Florida 32130
DeLeon Springs State Park: Website
Price: $14/person (free for children under 4); Park Entry: $6/vehicle (2-8 people, otherwise $4 for one person)
---
That's how Old Florida is done in West Volusia! Hope this travel guide gave you an idea on the best attractions and things to do in West Volusia for nature.
If you love nature and outdoor adventures, West Volusia is definitely a place you'll want to visit especially since it's so close to Orlando and Daytona Beach. Which of these activities do you want to do? I bet it's all!
---
Huge thanks to West Volusia Tourism Advertising Authority for sponsoring this post. As usual, reviews and opinions are entirely my own.
You can learn more about Visit West West Volusia thru their website, or find them in Facebook, Twitter and Instagram.
Updated: