Bose QuietComfort 35 is the latest headphones from Bose released in June 2016. The QC35 adds wireless Bluetooth functionality to the QuietComfort alongside the QC25.
I've been a big fan of Bose ever since my Bose TriPort Around Ear Headphones, and was very excited to get my hands on the Bose QuietComfort 35, which you can buy here.
After using the Sudio Vasa Blå, I learned to appreciate wireless headphones. The freedom you get to be able to move around without getting tied up with a cord is just amazing.
Therefore, I'm glad that Bose QuietComfort 35 gives the same wireless freedom.
Also Read: CES, Consumer Electronics Show in Las Vegas
---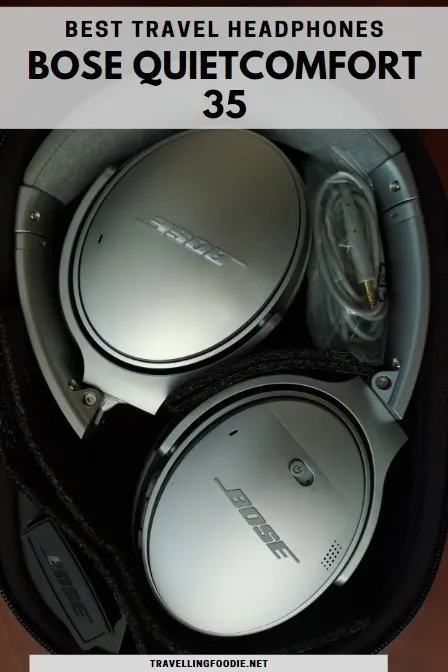 ---
5 Things To Love About The Bose QuietComfort 35
Long Battery Life
The issue with the Sudio earphones was the 8-hour battery life because it doesn't even last me a day in the office.
I'm very happy that the Bose QC35 lasts for 20 hours on a full battery. I've used it for 3 days already and had only charged it once.
It charges via micro USB that plugs to the right earcup. What's amazing is a 15-minute charge gives the headphones juice for 2.5 hours, meaning it takes 2 hours for a complete charge.
Noise Cancelling, the Quiet in Bose QuietComfort 35
The Bose QuietComfort 35 was my first time using a noise cancelling headphones as the Bose TriPort wasn't. My initial impression? I was blown away.
Once you place the QC35 on your ears, turn the power on and play some sound, you suddenly feel isolated in your own audio bliss.
To test this, I tried listening to music from my laptop at my usual sound level. On the side, I played music on my phone in full volume.
Guess what? I hear NOTHING from my phone despite being right beside it, even when I try to get closer to the phone. This really puts the Quiet in QuietComfort!
I tried this on flights and the QC35 was good in removing the white noise from the airplane. Best of all, I did not hear any babies crying!
Why is their Acoustic Noise Cancelling technology so good? With microphones inside and outside the earcups, which you can easily spot, the Bose QuietComfort 35 continuously measures, compares and reacts to outside noise by sending an opposite signal to cancel them.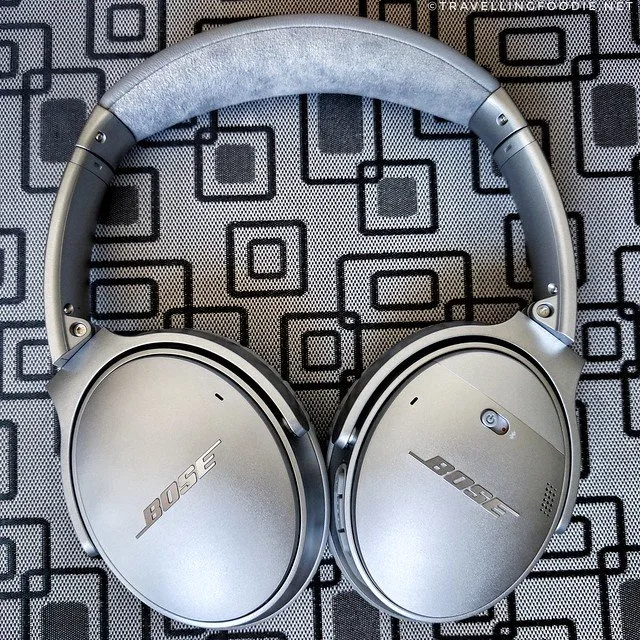 Wired Capability
Another big issue they solved for me was being able to use the QC35 as wired headphones, using the 1.2m audio cable that comes with it.
This means the Bose QuietComfort 35 can still be used even when the battery runs out. The only difference is you don't get the noise cancelling and Active Equilizer (Active EQ) technologies because those require the battery.
Did you know? When you still have battery, you can do both noise cancelling and Active EQ with the wired connection! This actually gives you 40 hours of battery life since you are saving from bluetooth.
Pure Comfortability, the Comfort in Bose QuietComfort 35
What's one of your biggest issues in using headphones? It becomes quite uncomfortable after wearing it for long periods as you feel the earcups pressing against your ear or face.
Putting the Comfort in QuietComfort, the QC35 is super comfortable, the most comfortable headphones/earphones I've had! This is the longest time I've ever used an earphone or headphone without feeling discomfort.
I've used the Bose QuietComfort 35 on long 18-hour flights, and it didn't feel uncomfortable! The only potential issue was sometimes it felt sweaty around the cups.
What brings this comfort? The headband is wrapped in Alcantara, the soft covering material used by international companies for yachts and high-end automobiles, providing a welcome comfort around the head for all-day listening.
The ear cushions, made of memory foam, are wrapped in a synthetic protein leather, and have a silicone bead for passive noise reduction.
Portable
The QC35 carrying case is very compact but holds everything including the cables and adapter that comes with it.
Best of all, it fits nicely in my messenger bag, making it so much easier to bring around.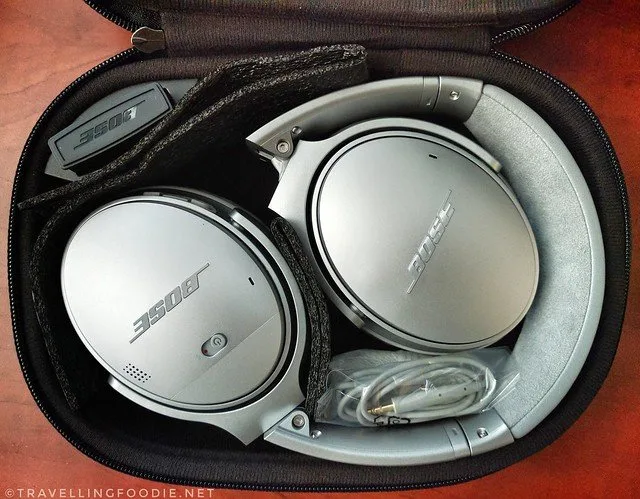 ---
What's inside the box of Bose QuietComfort 35
What's in the box?
The QC35 wireless headphones
30.5cm USB cable
1.2m audio cable for wired connection
airline adapter (something unique)
carrying case
manual (in various languages).
---
Hope this travel gadget review of the Bose QuietComfort 35 headphones helps you decide if this is the right headphones for you. What are you using right now?
You can buy the QC35 headphones on Amazon.
---
DISCLAIMER: Though the Bose QuietComfort 35 was provided complimentary by Bose to replace my TriPorts, all opinions are my own.