Brothers Food and Wine is one of Toronto's gems that made it in #8 of enRoute's Canada's Best New Restaurants 2017. Located in Yorkville neighbourhood, you'll feel the ground shaking while you dine because the restaurant is right above Bay Subway station, and actually beside subway entrance.
Seating around 30 people, the inside of Brothers Toronto is small, narrow and intimate, yet casual. There are only three high chair seats by the window if you're looking to take photos.
There's a long bar counter which seats about 18, and then some dining tables that have views of the open kitchen.
Did you know? Brothers Food & Wine Owners Chris White and chef Jon Nicolaou, who both met at Terroni Queen West, have been best friends since the age of 16. They wanted to name the restaurant "Best Friends", but ended up with "Brothers" instead because it looked better on the window.
Note: As of July 2020, Brothers Toronto has permanently closed.
Also Read: Top Restaurants in Toronto
---
---
Brothers Toronto Menu
The best way to describe the food at Brothers Toronto is simple yet executed perfectly, using seasonal and local ingredients. The menu is a simple one-pager from the cheapest (snacks and appetizers) to priciest (main entrees).
There is no tasting menu option, but portions are reasonably generous. I recommend you to order a couple of dishes to share so you can try more.
One of the popular dishes at Brothers Food & Drink and one that I'd recommend you to get here is the Sweetbreads, which is quite uncommon to find.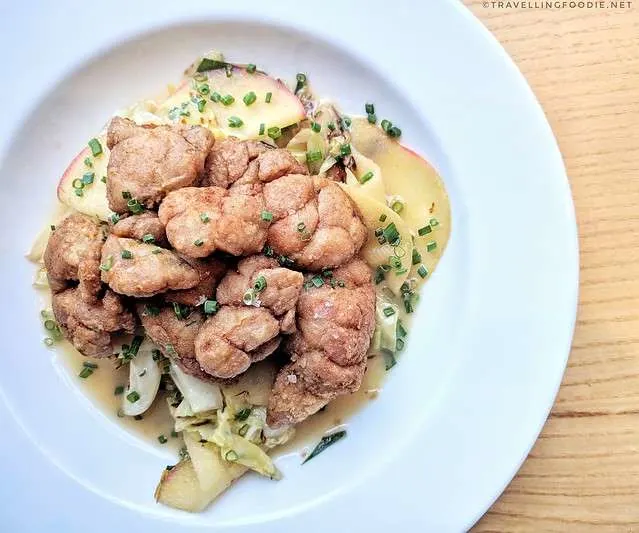 They are actually not bread that is sweet, but the thymus or pancreas of a calf or lamb. You'll find the taste somewhat resembles that of foie gras, but with a rough texture.
Dishes at Brothers have some Mediterranean influences as can be seen with the use of tarragon.
The same can be said for their Steelhead Trout with manzanilla, which was perfectly cooked having moist and tender meat and crispy skin.
Also Read: Best Restaurants in Halifax, Nova Scotia
The sea bream crudo was very fresh. It tasted refreshing with a slight hint of sour from the dill and a nice crunch from the fried sunchokes.
You might fight over this one since it's very light.
For pasta lovers, you can't go wrong with the Tagliatelle with its al dente homemade noodles going so well with the soft, fresh stracciatella. Note that you might find the dish a bit bitter due to the dandelion.
There's not a lot of these kinds of restaurants in Toronto so Brothers Food and Wine is a must-try in the city. It is definitely one of Toronto's best new restaurants.
Also Read: Alo Restaurant, Michelin Star Tasting Menu Restaurant in Toronto
---
Brothers Food and Wine
Instagram / Address: 1240 Bay St, Toronto, Ontario M5R 2A7