Love Brown Sugar Milk Tea? Now you can make this popular Taiwanese drink at home!
Brown Sugar Milk Tea has been taking over the world by storm, and people are lining up but you don't have to!
No need to go out to get your bubble tea fix anymore by making this easy brown sugar boba recipe with only 4 ingredients.
---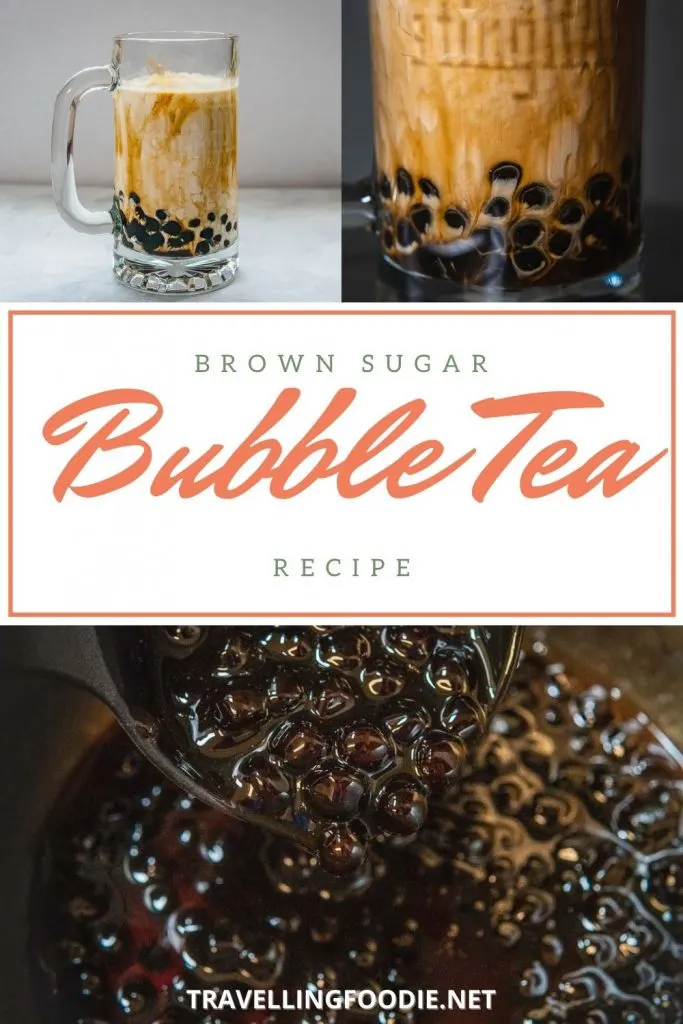 ---
What is Milk Tea or Bubble Tea or Boba?
Milk tea, also known as bubble tea or boba tea, is one of the most popular Taiwanese drinks that originated in the early 1980s in Taichung, Taiwan, and has now become popular worldwide!
It's basically a tea drink that includes a wide range of toppings with the tapioca pearls (called bubbles or boba) being the most popular.
The drink can use plain brewed tea or milk that's been steeped with tea leaves – the latter of which is milk tea.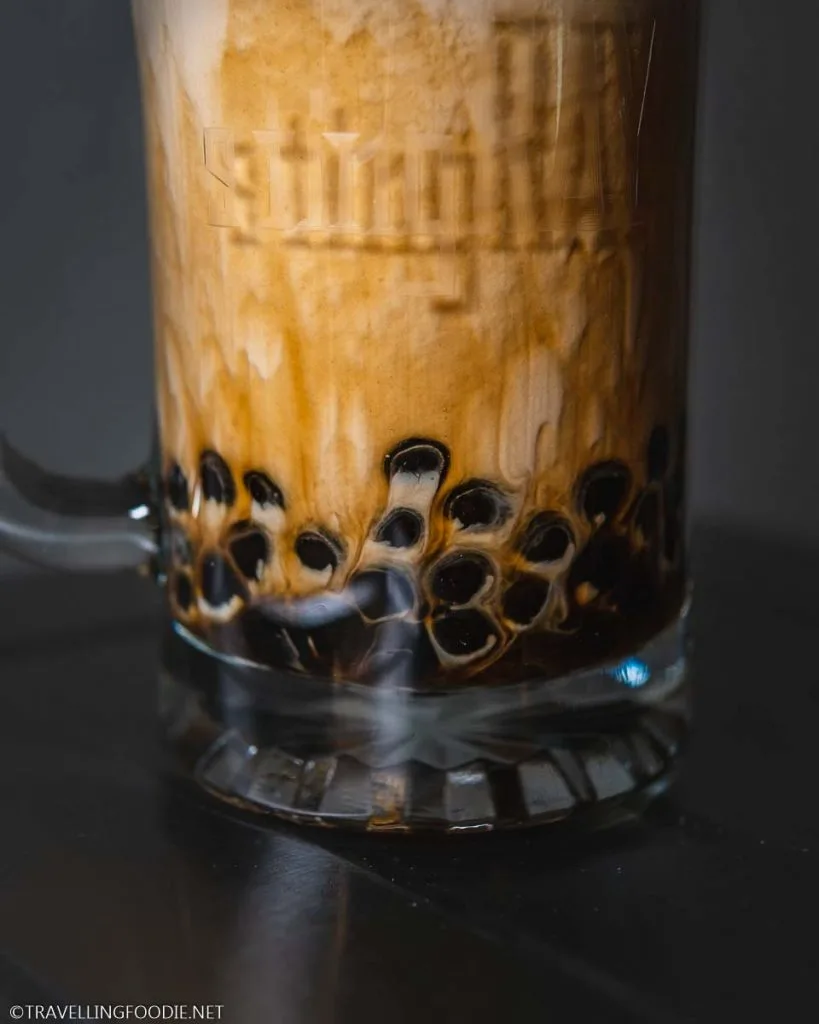 The drink is more commonly called as bubble tea or milk tea in Asia and Canada.
Whereas in the United States, it's called boba or boba tea.
Did you know? Boba is a slang for "breasts" in Chinese, referencing the spherical shape of tapioca pearls.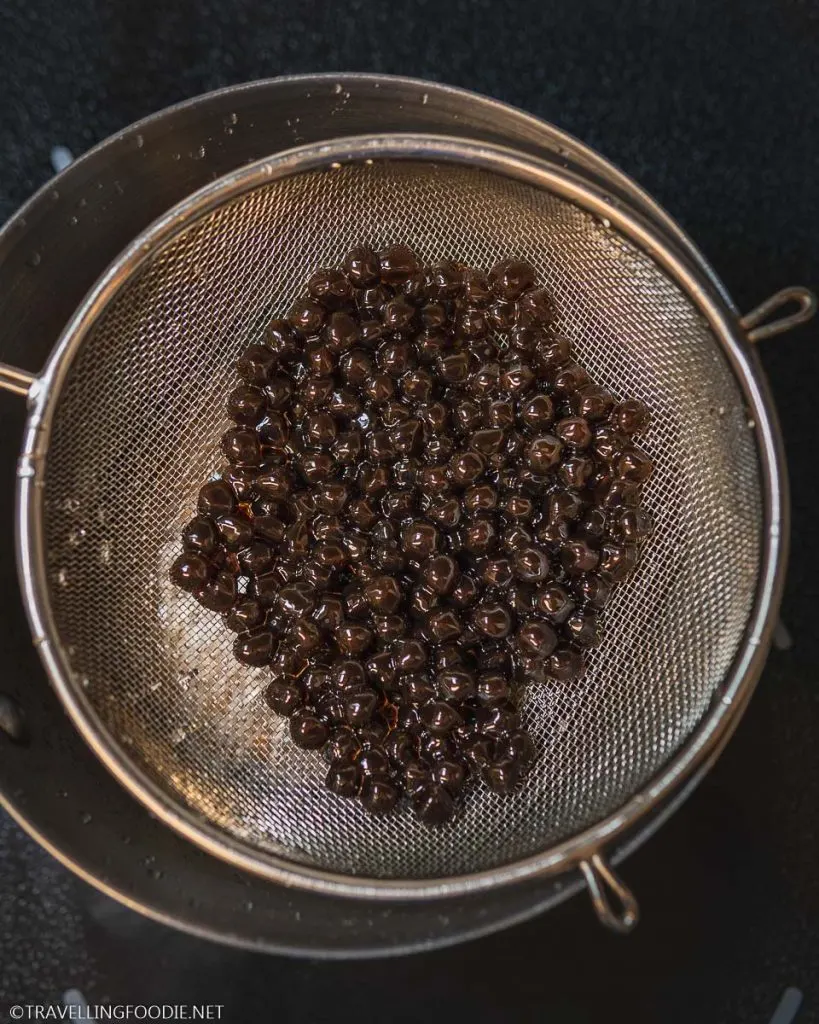 I remember when the bubble tea craze started in Manila during my high school days.
I was hooked and, when my mom picked me up from school, I would usually ask her if we can stop by to get bubble tea on the way home.
Who would've thought that, when I moved to Canada in 2006 for university, bubble tea wasn't much of a thing yet and it was quite hard for me to find them.
Now, there are so many bubble tea shops in Toronto, and you can find blocks and plazas with mostly bubble tea shops.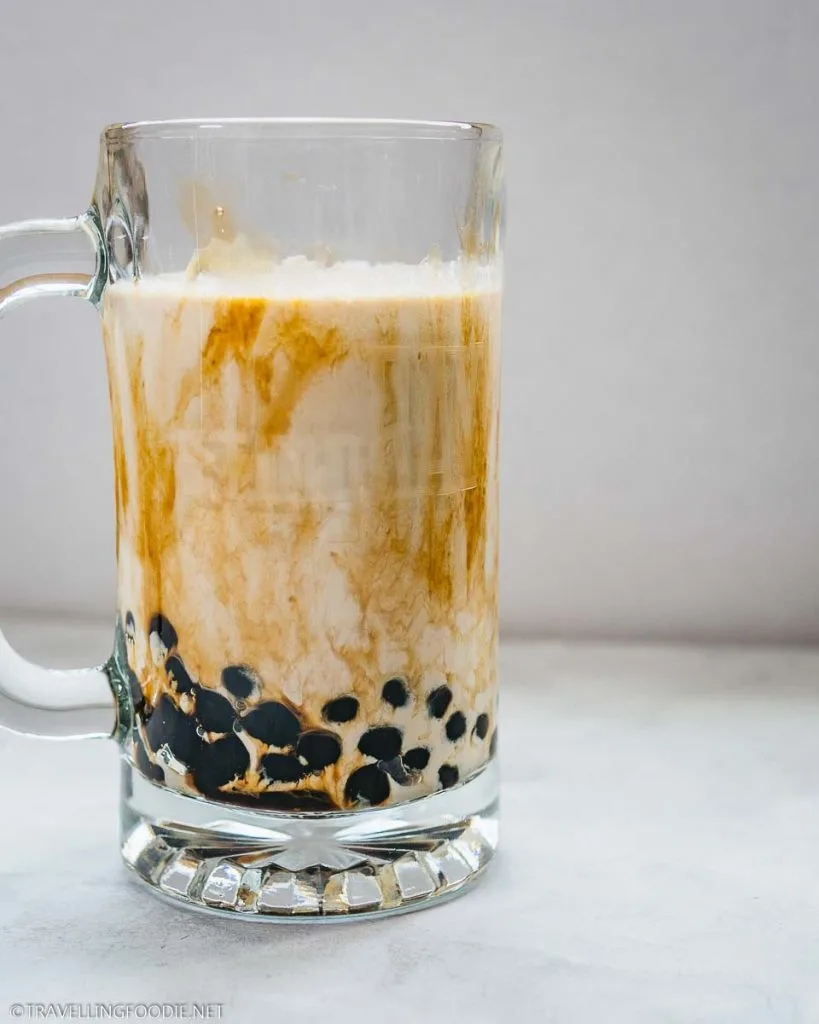 Also Read: Best Taiwanese Popcorn Chicken Restaurants in Toronto
---
What is Brown Sugar Milk Tea?
With different kinds of teas and all sorts of toppings, the variations of bubble teas are unlimited.
One of the most popular milk tea drinks is the Brown Sugar Milk Tea, which consists of brown sugar syrup, tapioca pearls and milk tea.
What makes brown sugar bubble tea standout is that the tapioca pearls are slow cooked or braised with brown sugar syrup for hours.
This makes the boba very soft and chewy plus have an inherently sweet taste to it.
With slow cooking, the brown sugar syrup becomes quite thick, making the milk tea consistency thicker and adds a different kind of sweetness than the usual sugar or sweetener used for regular milk tea beverages.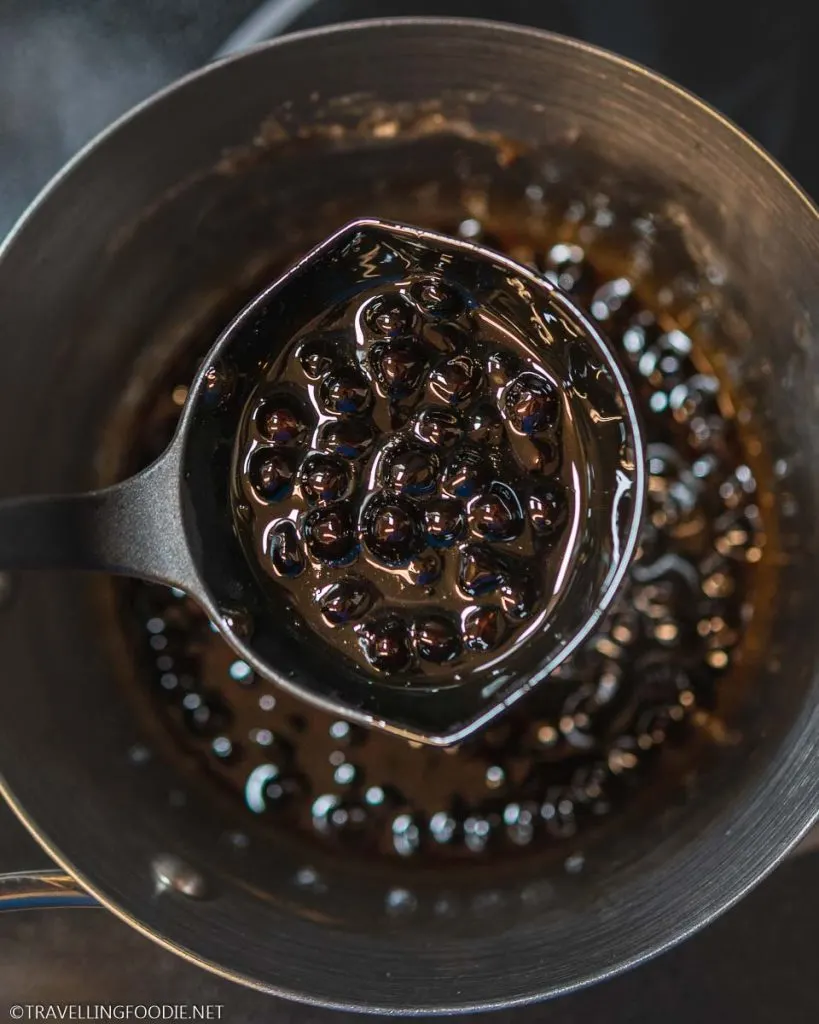 Aside from its creamy sweet taste, brown sugar boba also gained popularity because of how beautiful it looks.
It's definitely one of the most Instagrammable milk teas such that you can easily identify the drink just by looking at it.
Brown Sugar Milk Tea is normally served with brown sugar syrup streaks that blends with the milk color, making it look like art work.
Similarly, it is because of these smears of brown sugar syrup where it also got its name Dirty Milk Tea.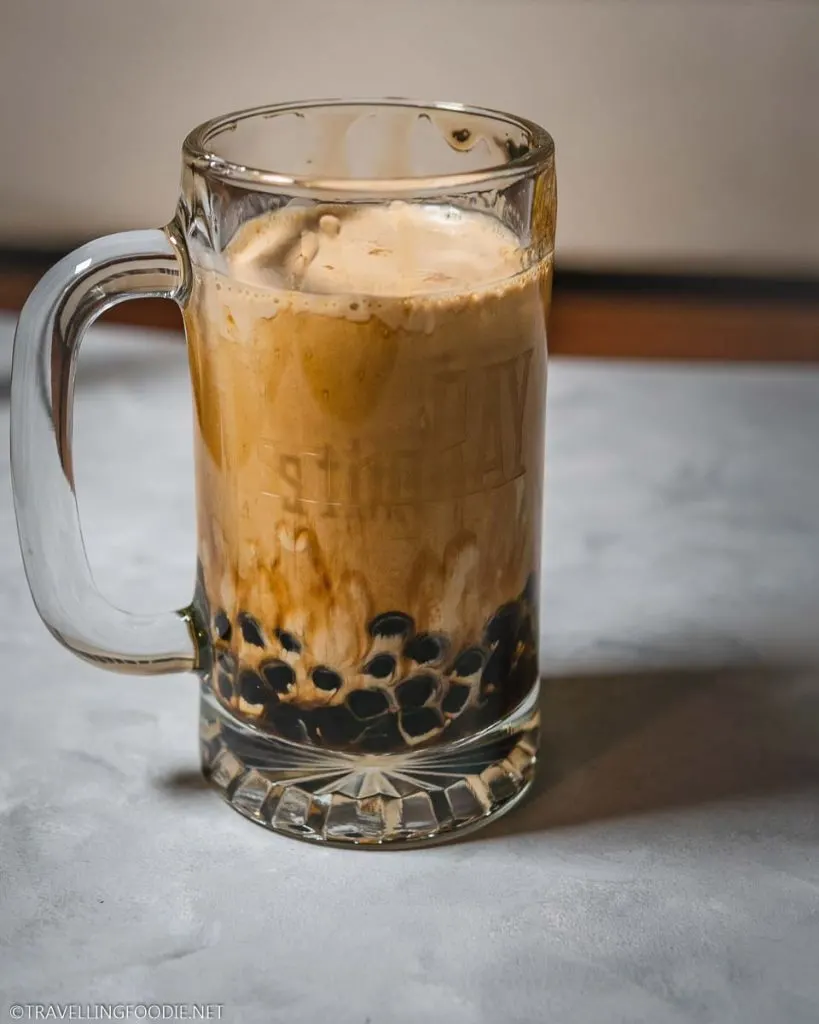 In Toronto, the first store to serve brown sugar bubble tea was The Alley where it's called The Deerioca.
It's sold in very limited quantities due to the long process to make it and sells out quite fast.
The Deerioca was my first time having brown sugar milk tea and I remember loving the taste of the brown sugar tapioca syrup so much.
But it can be quite expensive and not easily accessible due to line-ups or selling out.
I learned after that this popular drink actually started with Tiger Sugar, who specializes in all things brown sugar boba drinks.
The term "Tiger" in its name refers to the brown sugar stripes on the drink which resembles that of the tiger.
I was able to try Tiger Sugar's Brown Sugar Boba + Pearl with Cream Mousse for the first time on my trip to Manila in 2019, and it was addictingly good!
I actually liked it more than The Alley's Deerioca because the drink was creamier and had a mix of both big and small tapioca pearls.
With this brown sugar milk tea recipe, you can "travel to Taiwan" by making this popular Taiwanese drink at home!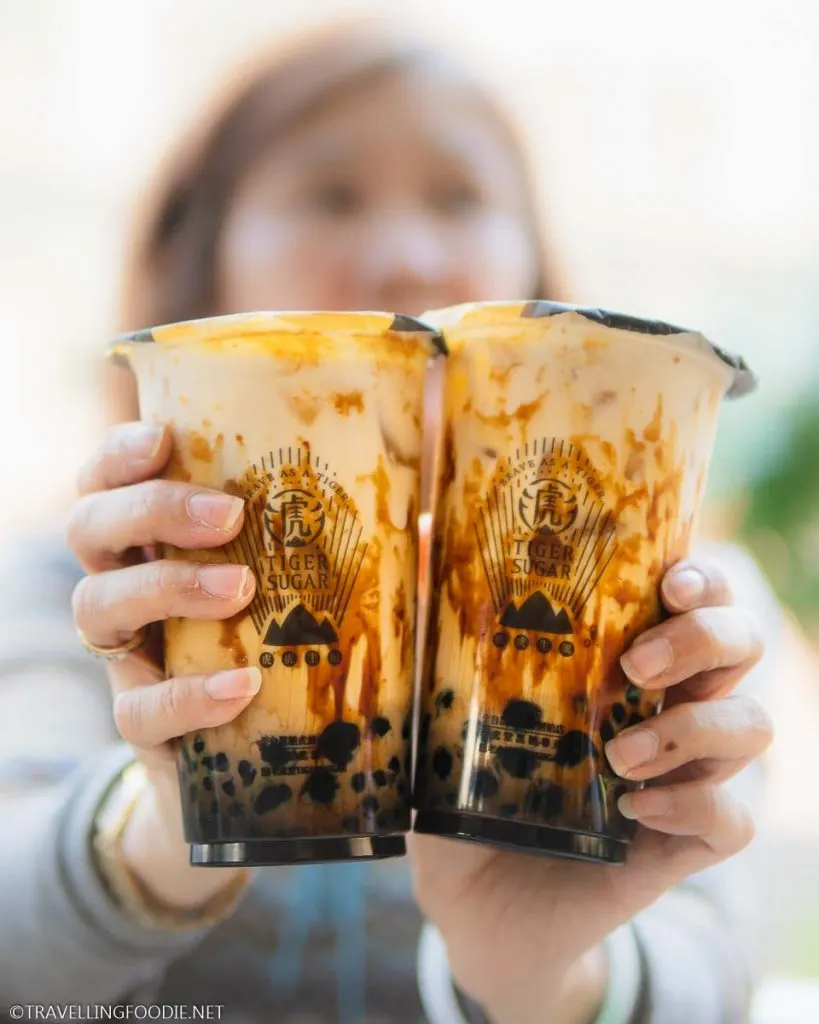 Also Read: Easy 30-Minute Recipes: Meals and Snacks in 30 Minutes or Less
---
What You Need For Brown Sugar Boba Milk Tea
Making brown sugar boba milk tea is so simple. It only needs 4 key ingredients.
Brown Sugar Tapioca Syrup
Tapioca Pearls – I used a pre-made package. You can typically buy tapioca pearls in Asian grocery or Amazon.

You can also make homemade tapioca pearls from scratch here. People who want to avoid carbs can skip the boba.
Brown Sugar
Water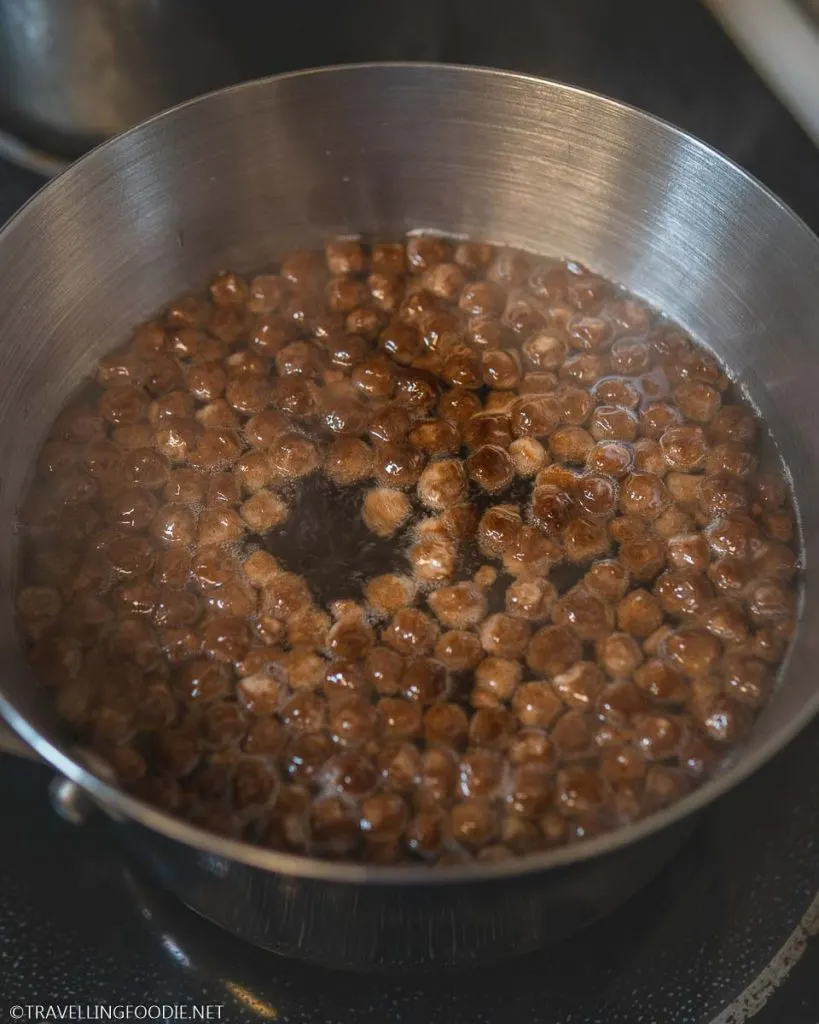 Milk Tea
Tea Leaves – You can use your favourite tea. I used roasted Oolong tea, which is my favourite for bubble tea.

You can skip the tea leaves if you don't want caffeine or you are making Brown Sugar Boba Milk.
Milk – You can use your choice of Milk. Brown Sugar Boba Milk typically uses fresh milk.

You can skip the milk to make Brown Sugar Boba Tea.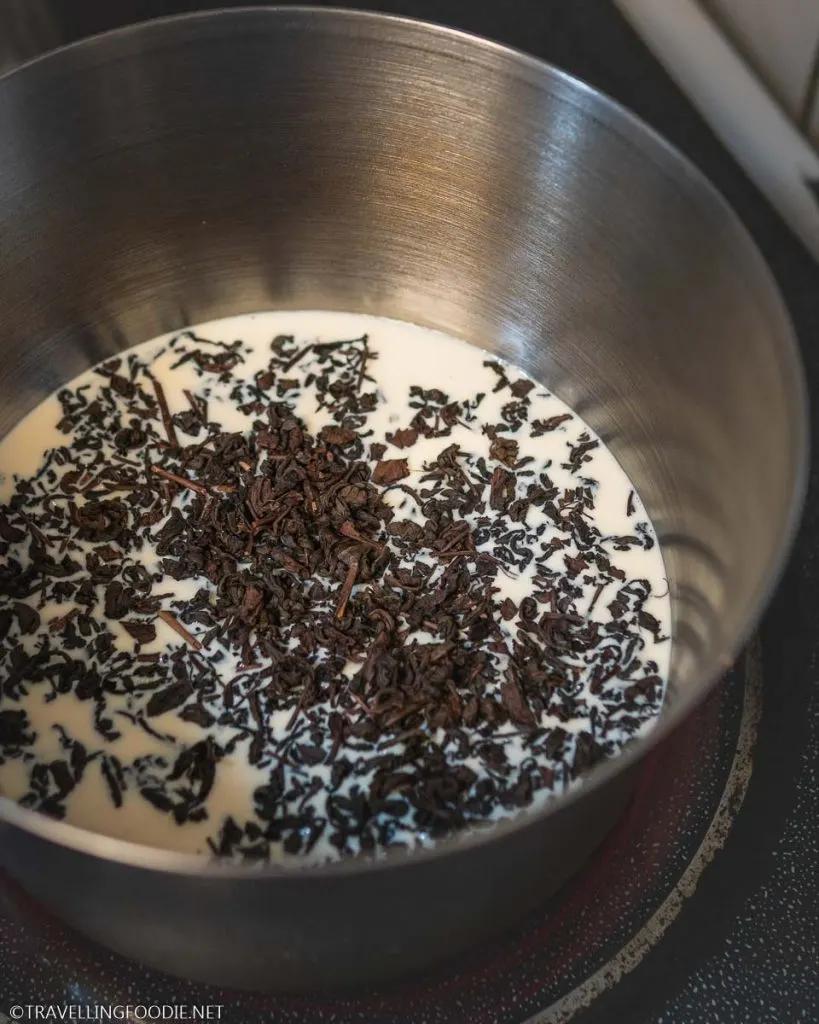 ---
How To Make Brown Sugar Milk Tea with Tapioca
Making brown sugar milk tea at home is so easy! We'll break it down into different parts:
How to cook tapioca pearls
Put the tapioca pearls on a pot of boiling hot water.
Let it simmer on medium high heat for 20 minutes while stirring occasionally so they don't stick to the bottom or clump together.
Note: do not rinse the tapioca pearls before cooking.
Turn off the heat and let it rest for 20 minutes.
Rinse the tapioca pearls in cold water to stop the cooking. This also removes the starch outer layer.
Set aside.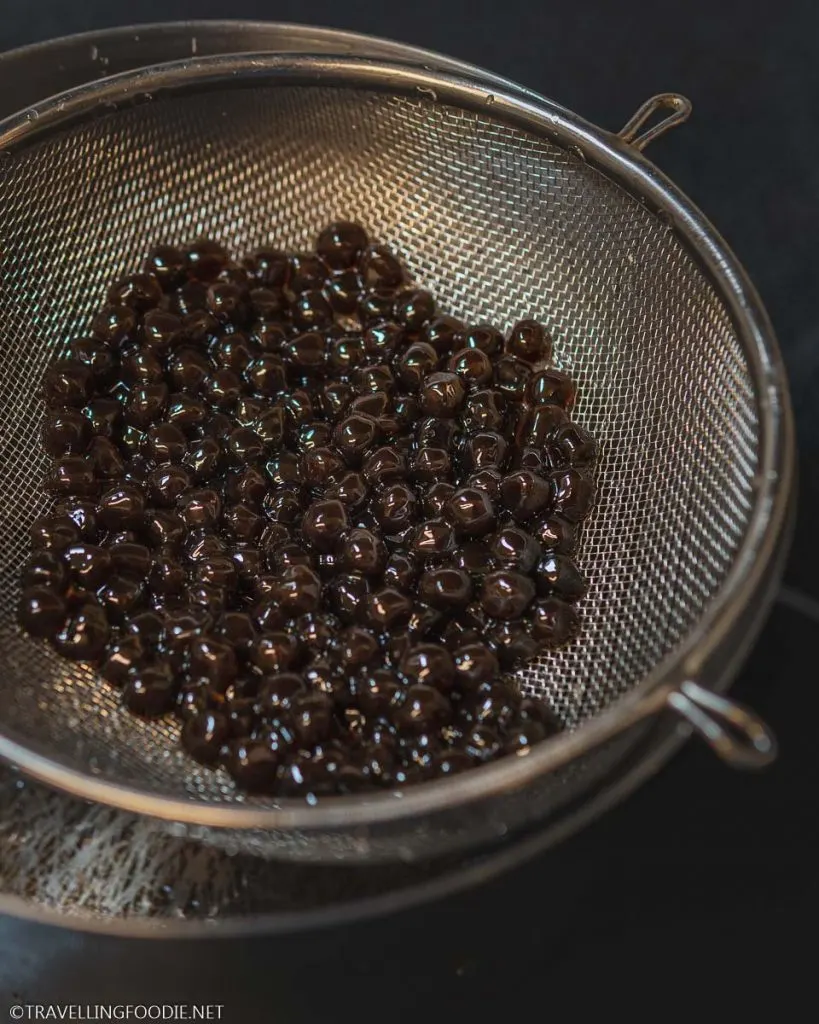 How to make brown sugar syrup with boba
On the same pot used to cook the tapioca pearls, mix water and brown sugar until it dissolves then bring to a boil.
Travelling Foodie Tip: You can adjust the amount of brown sugar based on your preferred level of sweetness.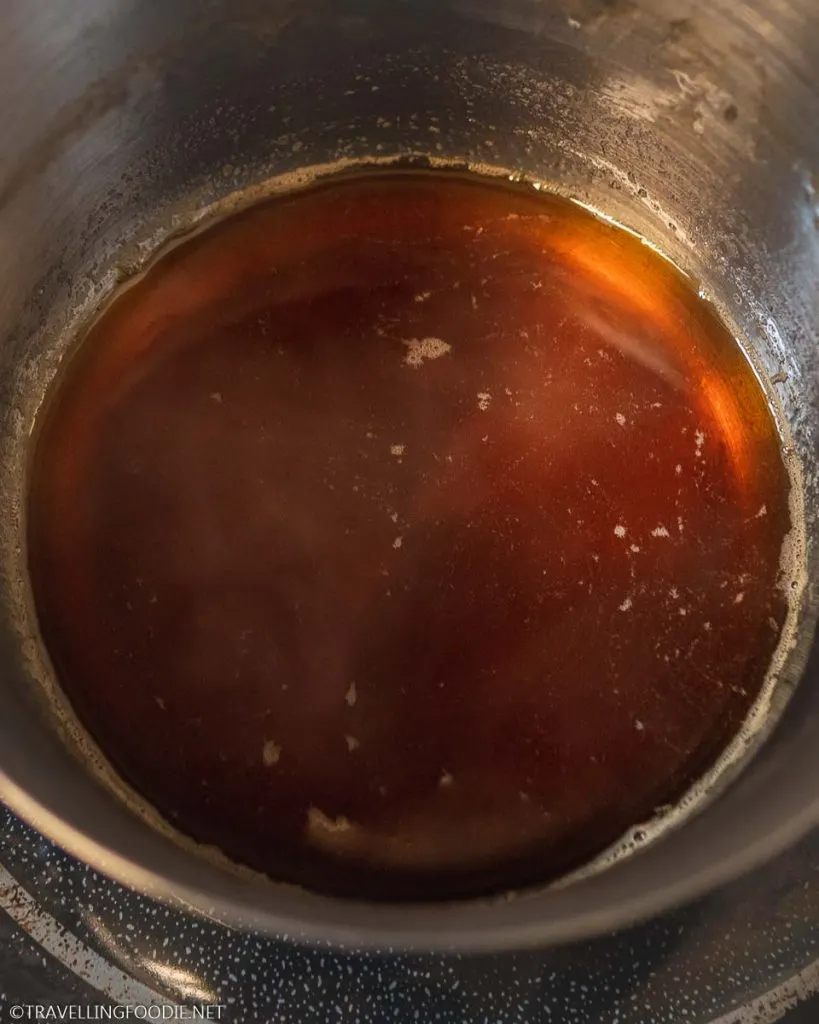 Add the cooked boba to the mixture.
When the pot starts to boil again, bring it down to medium low heat and simmer for 20-25 minutes until syrup has thickened.
Set aside.
How to make milk tea
Combine milk and tea leaves in a pot and bring to a boil.
Once boiling, remove the pot from the heat and let the tea leaves steep for 20 minutes.
Travelling Foodie Tip: You can adjust the amount of tea leaves or the steep time based on how strong you want the milk tea.
Strain the milk tea to separate the tea leaves.
Optionally, you can chill the milk tea if you want it cold.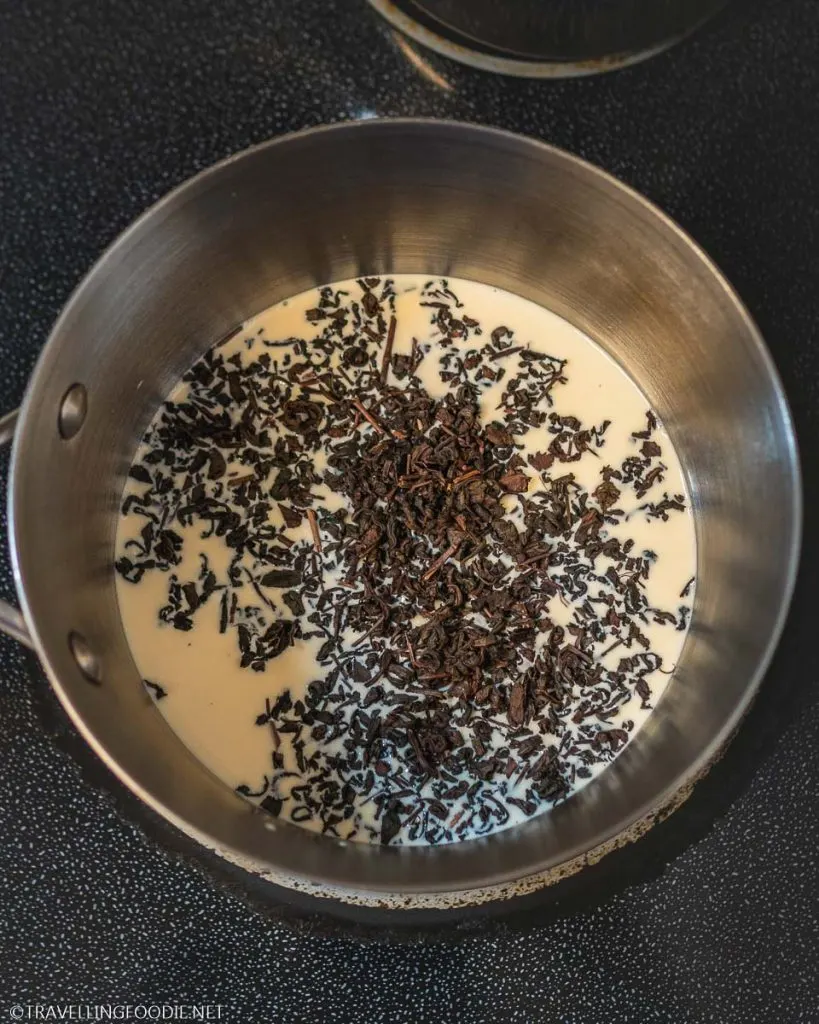 Assembling the brown sugar bubble milk tea
Since you have all the components for brown sugar boba ready, it's time to assemble!
Pour brown sugar tapioca syrup on a glass or cup.
If you want your drink cold, add ice.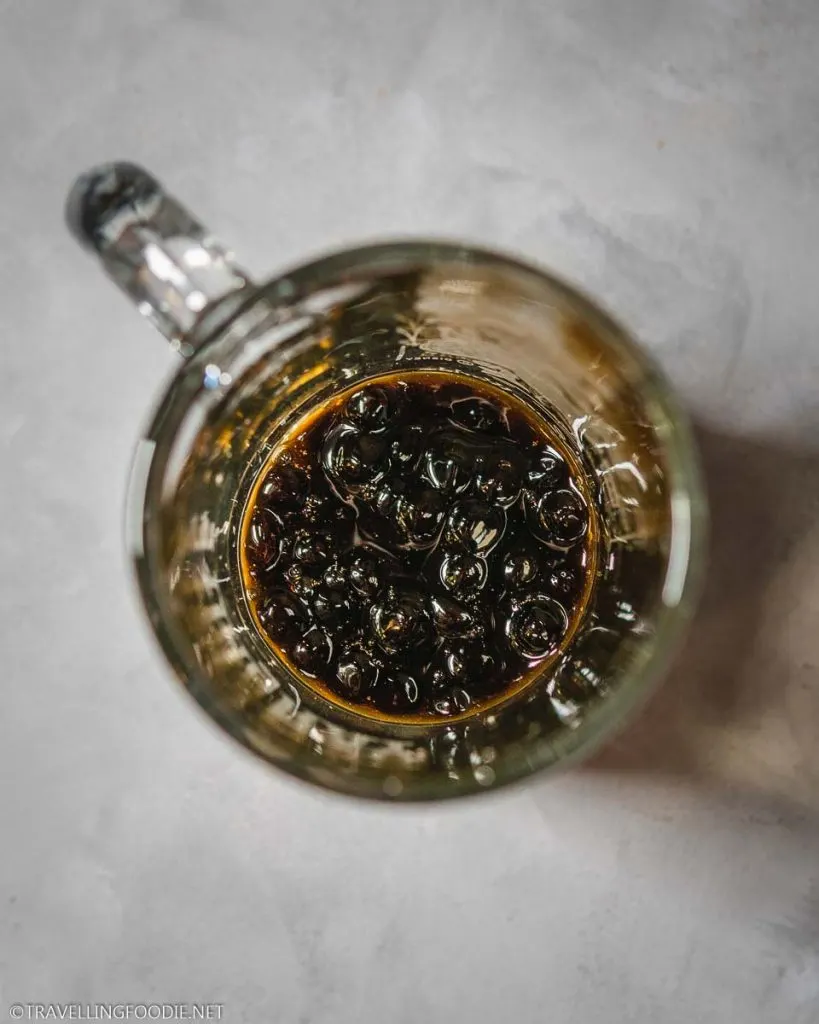 Here's how to get the streaks (marble effect) on brown sugar milk tea like in bubble tea shops
We all want our brown sugar boba look pretty for photos right?
After pouring the brown sugar tapioca syrup, tilt the glass in a 45 degree angle so the syrup starts sliding towards the lid.
Once it reaches the lid, start rotating the glass until all sides are coated with syrup.

This is a quicker way to get the brown sugar streaks than letting the syrup slide down from the lid as you're pouring.
Pour the milk tea on top.
You'll typically want to drink this with a straw that's big enough to drink the tapioca pearls with.
When you're ready to drink (after taking photos for social media), stir to mix everything together.
And then enjoy your delicious brown sugar milk tea!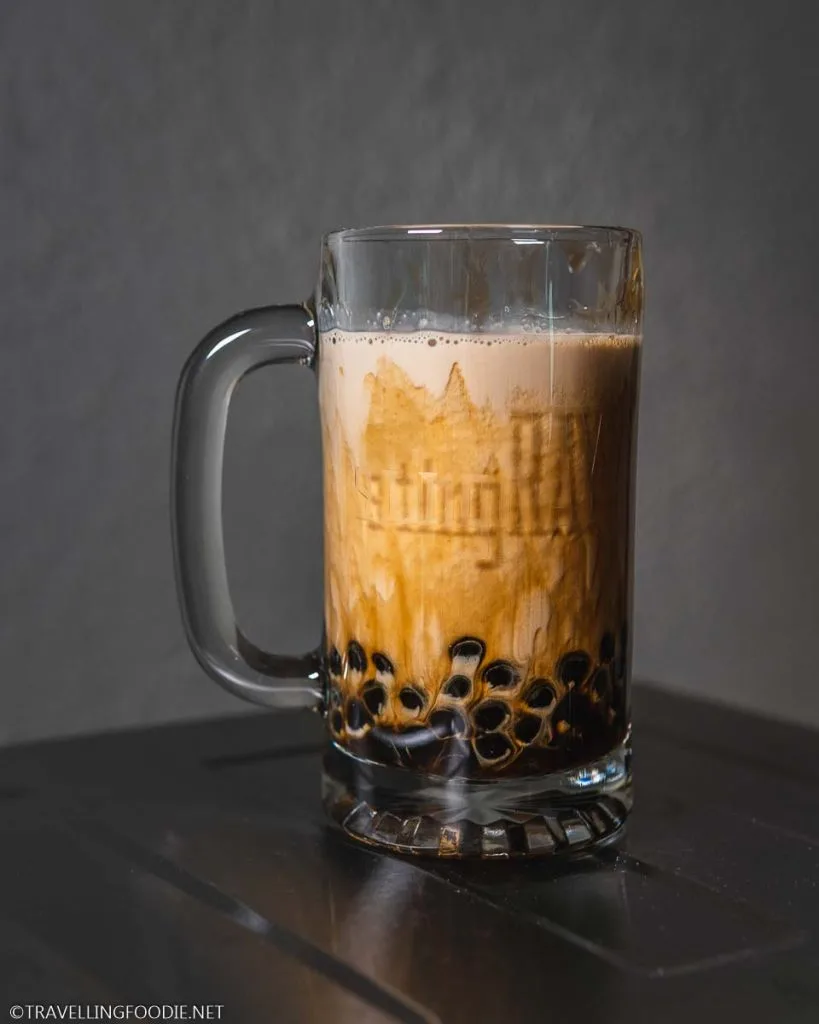 ---
DIY Bubble Tea Kits
In case you don't want to go grocery for the individual ingredients, there are stores that are selling DIY Bubble Tea Kits which contains all the necessary ingredients to make bubble tea.
Here's a YouTube video where I made a Brown Sugar Roasted Oolong Milk Tea with Tapioca using a bubble tea kit from @teacup.to in Toronto.
---
Other Quick and Easy Recipes You'll Love
---
Brown Sugar Milk Tea Recipe
Be sure to bookmark/save/pin this post so you can easily make Brown Sugar Bubble Tea at the comfort of your own home!
I would love to see how this recipe worked for you! Please share your creations with me on social media and tag me so I can check them out: @TravellingFoodie on Instagram & Facebook and @TravellinFoodie on Twitter.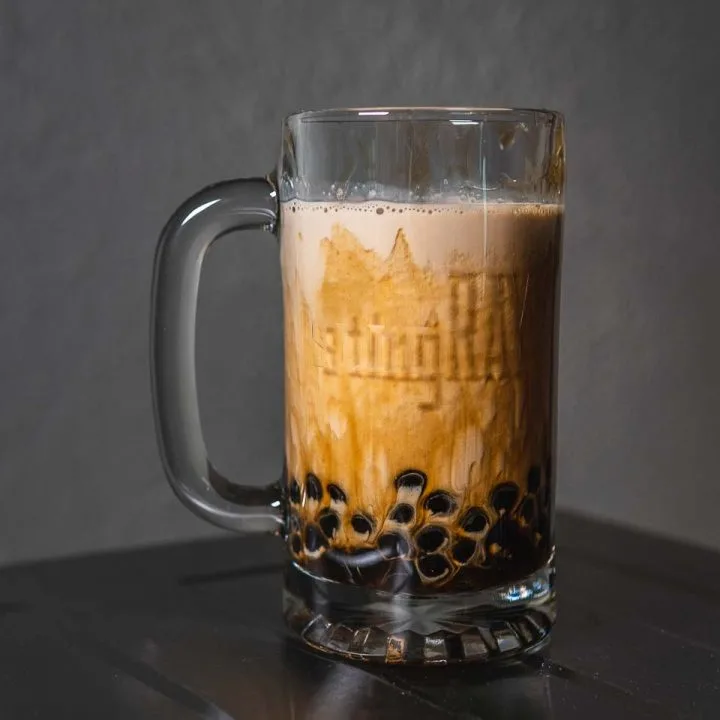 Brown Sugar Milk Tea
Additional Time:
25 minutes
Make one of Taiwan's most popular drink at home, Brown Sugar Milk Tea with Tapioca! You'll love this refreshing, creamy, sweet and chewy drink!
Ingredients
Milk Tea
Brown Sugar Tapioca Syrup
Instructions
Brown Sugar Tapioca Syrup
In a pot, bring 3 cups of water to a boil then pour the tapioca pearls.
Simmer on medium high heat for 20 minutes and stir occasionally to prevent sticking.
Turn off heat. Set aside and let it sit for 20 minutes.
Strain and rinse tapioca pearls in cold water then set aside.
Add brown sugar and 120ml water on the same pot and bring to a boil.
Add cooled tapioca pearls then simmer on medium low heat for 20 minutes.

Milk Tea
While making the Brown Sugar Tapioca Syrup, mix milk and tea leaves on another pot.
On high heat, bring the pot to a boil. Remove from heat then steep for 15 minutes.
Assembling Brown Sugar Milk Tea
Add brown sugar syrup with boba.
(Optional) Add ice if you want it cold
Add Milk Tea

Notes
You can reduce the amount of brown sugar if you want the syrup less sweet.
You can reduce the tea leaves if you want the milk tea less strong.
Recommended Products
As an Amazon Associate and member of other affiliate programs, I earn from qualifying purchases.
Nutrition Information:
Yield:

2
Serving Size:

1
Amount Per Serving:
Calories:

541
Total Fat:

7g
Saturated Fat:

4g
Trans Fat:

0g
Unsaturated Fat:

2g
Cholesterol:

29mg
Sodium:

204mg
Carbohydrates:

108g
Fiber:

0g
Sugar:

46g
Protein:

13g
Please note that nutrition information you see is provided and automatically calculated by Nutritionix. This may vary depending on the specific ingredients that you use. To ensure the most accurate information, I suggest entering your specific ingredients into a nutrition calculator.
---
Hope this Brown Sugar Milk Tea recipe lets you satisfy those bubble tea cravings at home!
It can be quite expensive buying in boba shops so making this popular Taiwanese drink on your own is the way to go!