Located in Yonge and Lawrence, The Burger Cellar is Toronto's trendy gourmet burger restaurant and wine bar combined.
You can't really compare them to the likes of Burger's Priest or Holy Chuck because they're not trying to be a fast-food burger joint, but an upscale family-friendly bar/pub where you'd want to bring your family or friends and have a good time.
I've been meaning to try this place for a while due to it's more gourmet burgers like the duck confit burger so I was glad when @myfoodnation invited me to the media tasting, which happened on November 30, 2016.
Also Read: Top Restaurants in Toronto
---
Must-Try Food at The Burger Cellar
Here are my favourites among the items I tasted:
Calamari
The calamari had big pieces of squid rings and tentacles with a crispy light breading with herbs that didn't overpower the squid. Though it was good with tzatziki, I'm already happy eating it on its own.
Duck Poutine
The duck poutine at The Burger Cellar was so good! They gave generous portions of tender braised duck.
I loved that the fries still remained crispy even with all the gravy on top, and us taking time for photos.
One thing I noticed was that the cheese curds didn't quite melt so we couldn't do a cheese stretch shot. I guess the gravy wasn't hot enough.
As with my love of duck comes my love for their Duck Dynasty Burger as well.
Alan's Own BBQ Ribs
Alan's own BBQ Ribs is a must-try for rib lovers! Fall of the bone tender ribs with a very delicious sauce.
I like that they didn't slather the ribs with too much sauce so the flavour of the ribs is still intact.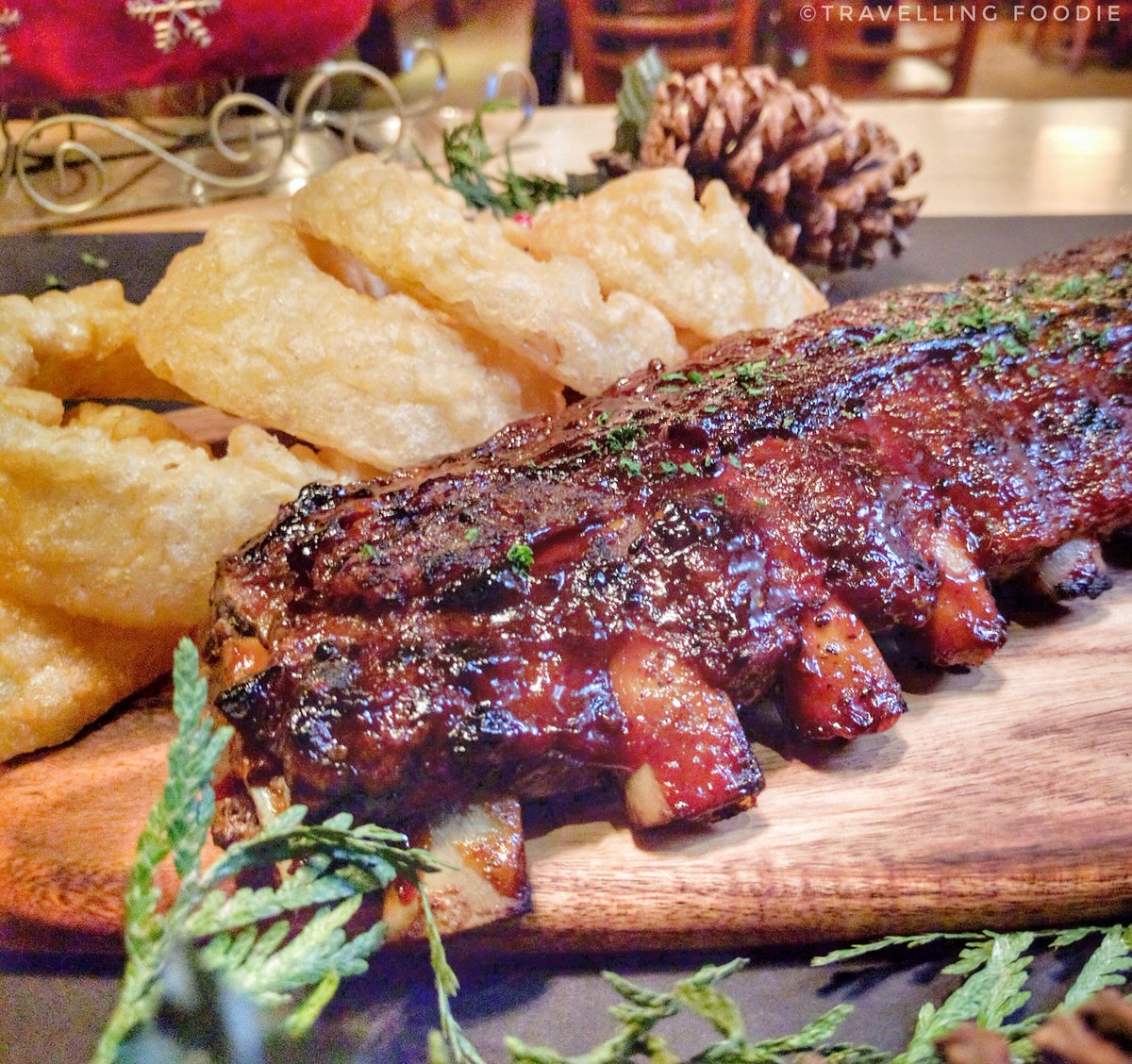 Beer-Battered Onion Rings
The Burger Cellar is now one of my favourite places for onion rings, along with Olde York Fish and Chips!
The batter was perfectly crisp outside and fluffy on the inside. The beer taste is on-point and the onion rings were huge and sweet!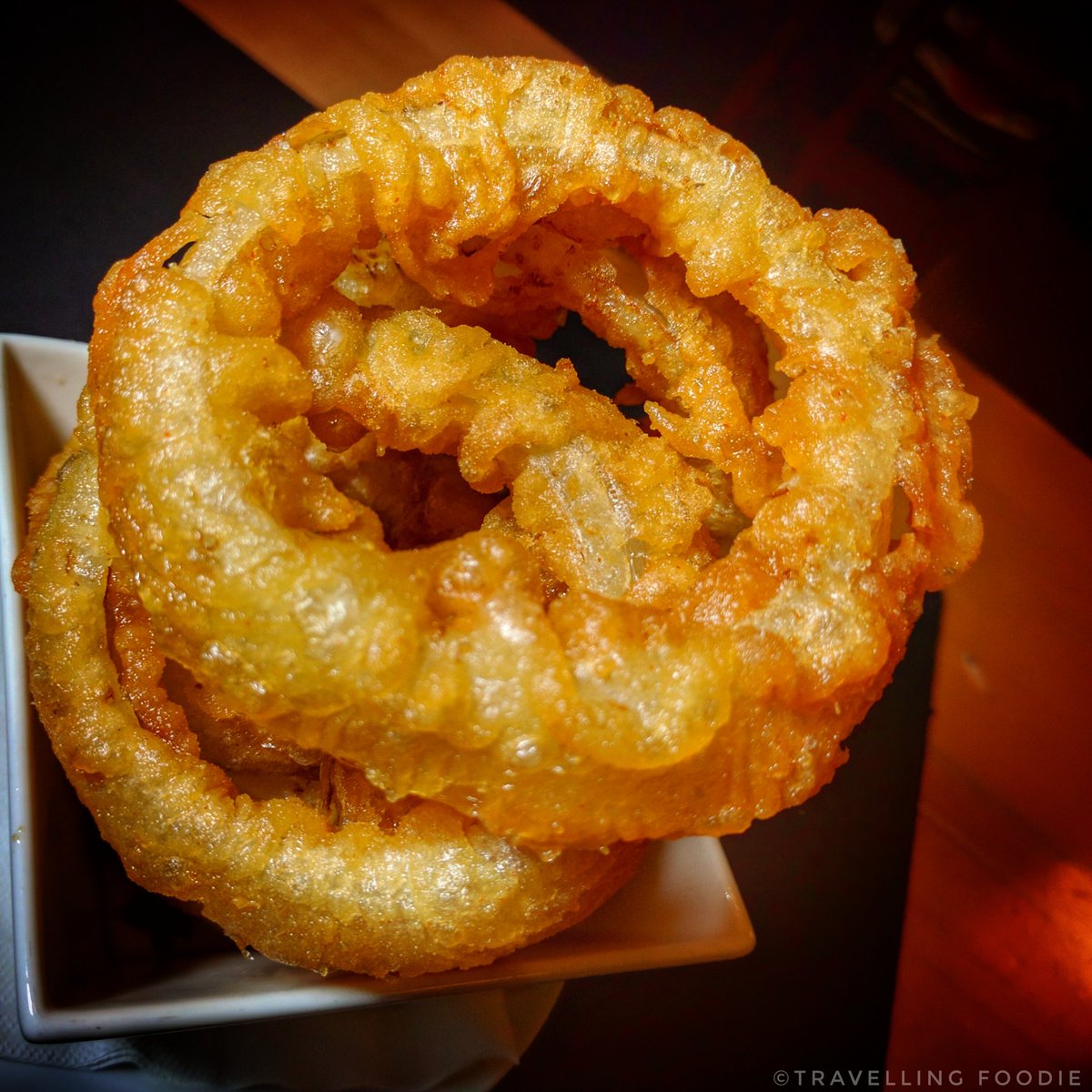 Also Read: Best of Windsor-Essex County, Ontario
---
Food at The Burger Cellar
For the tasting, we were given various plates of dishes to share. We were served slider versions of the burgers, in which each plate consisted of 4 sliders, so not everyone can really try everything.
We also had one rack of ribs to share so I made sure I got a bone to try since I love ribs since not everyone can try it.
CELLAR COBB – $14.95 – grilled chicken breast tossed in dijon mayo, blue cheese, grape tomatoes, avocado, crisp bacon, romaine & bibb lettuce, lemon-sherry vinaigrette
CRISPY CALAMARI – $11.95 – served with classic tzatziki sauce
DUCK POUTINE – $11.95 – hand-cut fries, braised duck, cheese curds, Burger Cellar gravy
THE BURGER CELLAR BURGER (THE BCB) – smoked cheddar, applewood smoked bacon, sautéed mushrooms, chipotle BBQ sauce, beer-battered onion ring
VEGETARIAN BURGER – golden fried patty of roasted peppers, zucchini, red onions, baby spinach, pumpkin, cream cheese, chickpeas,kidney beans, topped with avocado-tomato salsa and goat cheese
DUCK DYNASTY BURGER – BBQ duck confit, creamy coleslaw, mild cheddar, crispy onions, chipotle mayo
BRUSCHETTA FLAT BREAD – $10.95 – vine-ripened diced tomatoes, goat cheese, fresh garlic, arugula basil pesto, balsamic reduction, naan bread
ALAN'S OWN BBQ RIBS – braised smoky BBQ brushed ribs, served with hand-cut fries and creamy coleslaw
Beer-battered onion rings – 4.95
---
The Burger Cellar
Website / Address: 3391 Yonge St, Toronto, ON M4N 2L8
---
Disclaimer: Although the food was complimentary provided by The Burger Cellar, the opinions expressed here represent my own and not those of the companies.