Along Oregon's coast, Cannon Beach is actually a coastal city. It is most known for its long sandy beach of nearly four miles and the iconic Haystack Rock, one of Oregon's most popular attractions.
Haystack Rock is a 235-feet majestic rock towering the shoreline. With various rock formations and tidepools, the area is home to diverse bird life and intertidal animals.
Last September, when I visited Seattle, we did a road trip to Oregon as well. I've always wanted to explore Oregon after seeing all the beautiful nature photos on Instagram.
To be honest, my bucket list Oregon attraction for this trip was the Multnomah Falls. Unfortunately, during our trip, there was an out-of-control wildfire that was happening so the highway going there was completely blocked off.
With our plans completely changed, we had to think where we wanted to go next. Our relatives who visited Portland earlier this year recommended Cannon Beach as one of the best things to do in Oregon.
Since we wanted to see nature, we decided to go there. It's a 1.5-hour drive from Portland, but I'm so glad we visited!
---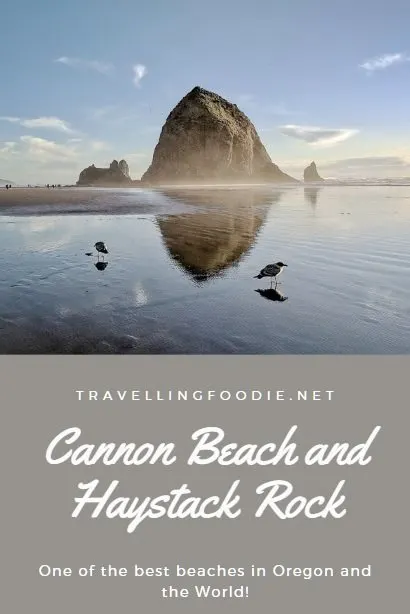 Watch Cannon Beach and Haystack Rock on YouTube here.
---
I was in awe by Cannon Beach. When you enter the beach from afar, you can already spot the majestic Haystack Rock in the distance.
This is unlike other beaches where it's mostly for having fun in the sand and water.
People were there to admire the rock, the birds, and other things about the beach. There were so many photographers standing by waiting for the sun to set for that perfect shot.
This is definitely another bucket list attraction in Oregon, and one of the best beaches I've been to.
It was perfect timing that I got to visit because, when FlightNetwork approached me to be a judge for The World's 50 Best Beaches, I definitely voted this as well as El Nido, Palawan. Cannon Beach ended up taking a spot at No. 50!
Also Read: Best Restaurants in Seattle, Washington
The photos of Cannon Beach and Haystack Rock alone should convince you to go! But here are some interesting facts about this natural wonder as well.
Volcanic lava flows from the mountains more than 15 million years ago formed the Haystack Rock.
Three surrounding rocks formations around Haystack Rock are called The Needles.
Also Read: Best Things To Do in West Volusia for Nature Lovers
Did you know? Haystack Rock can be seen in the following movies: The Goonies, 1941, and Kindergarten Cop.
Also Read: Best Nature Attractions in Washington State
---
I can definitely see why Cannon Beach is one of the best beaches not just in Oregon but in the world! It's really a breathtaking sight of natural beauty.
I'm always on the look for beautiful nature attractions. What do you find are the best things to do in Oregon for nature lovers?