Looking for best things to do in Oregon? Cannon Beach and Haystack Rock is one of the best Oregon attractions.
This natural beauty is a sight to behold!
Along Oregon's coast, Cannon Beach is actually a coastal city.
It is most known for its long sandy beach of nearly four miles and the iconic Haystack Rock, one of Oregon's most popular attractions.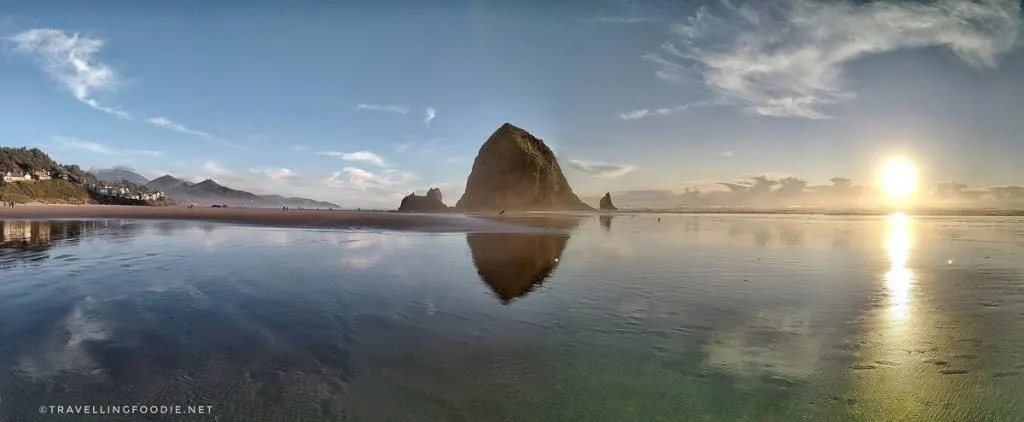 Haystack Rock is a 235-feet majestic rock towering the shoreline.
With various rock formations and tidepools, the area is home to diverse bird life and intertidal animals.
During a trip to Seattle, we did a road trip to Oregon as well.
I've always wanted to explore Oregon after seeing all the beautiful nature photos on Instagram.
---
---
Cannon Beach, Oregon Coastal City
A cozy coastal city located on the northwestern coastal of Oregon and 1.5 hours from Portland, Cannon Beach is a quaint off-shore town with the ocean waves washing up its banks.
Listed among one of the most beautiful 100 places in world by National Geographic, this beach city harbors numerous aspects of a fresh and nature-laden sanctuary.
With waterfalls, marine life, grand waves and a homely beach charm, Cannon Beach hosts many art galleries, boutiques, eateries, ocean-view accommodation and other amenities to make your stay as convenient as it would be serene and peaceful.
The place makes a perfect getaway from your busy schedule or the most aesthetic wedding destination, serving to be a stunning nirvana for any purpose.
Majestic Haystack Rock
One huge element of this coastal city, amongst all the attractions, heritage and nature, is the striking Haystack Rock.
On the sandy shores of Cannon Beach is its crowning glory, a 235 feet high sea-stack formed of basalt deposits and volcanic lava flow from the mountains more than 15 million years ago.
This is one of the two Haystack Rocks in Oregon – the other being in Pacific City, which is less popular.
When you enter the beach from afar and are wondering what is the rock at Cannon Beach, that's the majestic Haystack Rock in the distance.
I was in awe!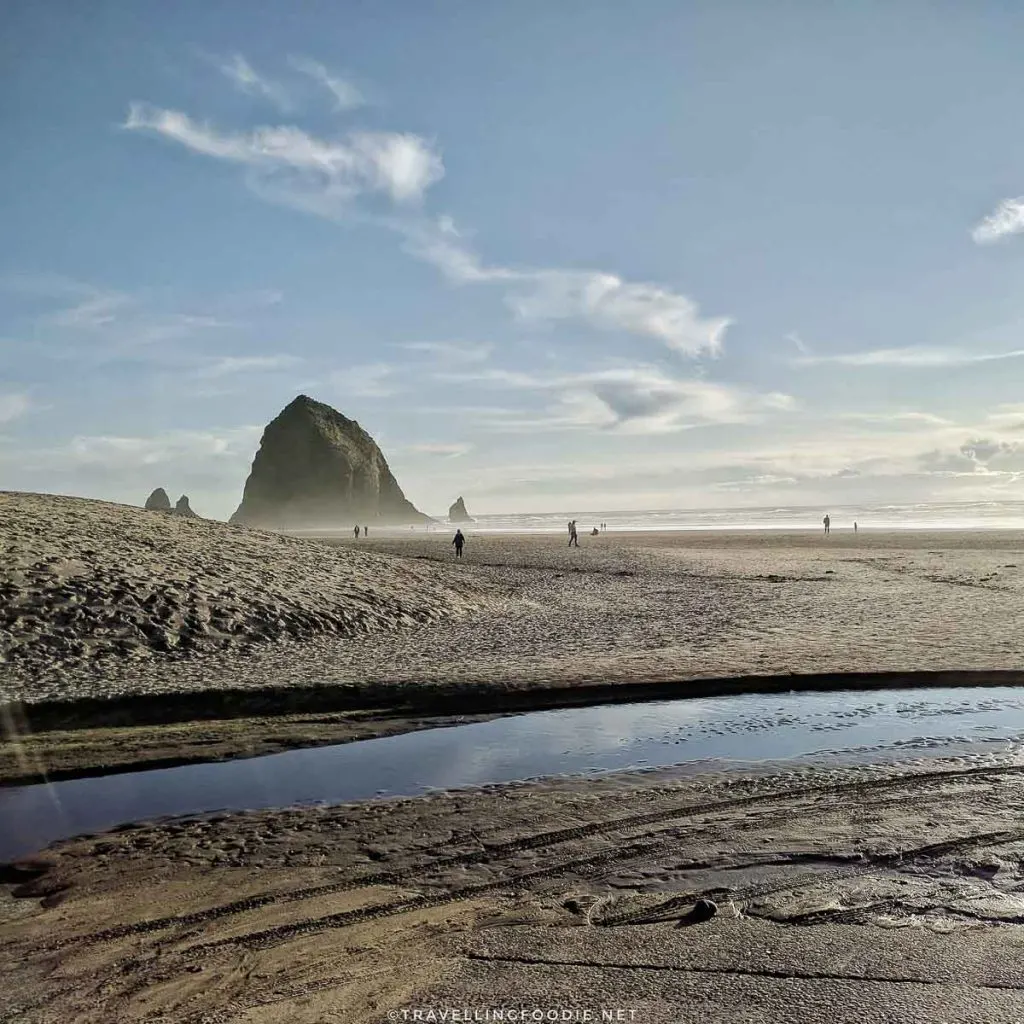 I also visited Ruby Beach in Washington on the same road trip.
And though Rub Beach also has haystack rocks, it doesn't compare to the ones at Cannon Beach.
It has now become a distinct landmark on the beach and visitors from all over the world tide in to see the grand monumental composite-stack.
The three surrounding rocks formations around Haystack Rock are called The Needles.
Along with its old-world charm and aesthetic appeal that lures in visitors of all ages, the attraction is also a haven for wildlife and preservation of nature.
The Haystack Rock is known for being a part of the Oregon Islands National Wildlife Refuge, with the innumerous variety of animal species flocking in for a safe and secure survival habitat.
Haystack Rock is definitely another bucket list attraction in Oregon, and one of the best beaches in the world I've been to.
Did you know? Haystack Rock can be seen in the following movies: The Goonies, 1941, and Kindergarten Cop.
It was perfect timing that I got to visit because, when FlightNetwork approached me to be a judge for The World's 50 Best Beaches.
I definitely voted for Cannon Beach and El Nido, Palawan, and Cannon Beach ended up taking a spot at No. 50!
Home to a wide range of birds, the rock is an acclaimed bird watching spot, a delight for all nature enthusiast.
Wondering if you can walk to the Haystack Rock? You can always walk to it but the feasibility depends on the tides.
During low tides, you can walk right up to it!
The summers see puffins and other migrated species while the winters and springs are adorned with other rare animals.
Best time to see puffins active at Haystack Rock is from April to early July.
It is surrounded by tide pools that are full of marine life: crabs, chitons, limpets and even sea stars at the time of low tides along with other such delicate sea-life creatures fascinate passers-by and those visiting for a tranquil holiday amidst the nature.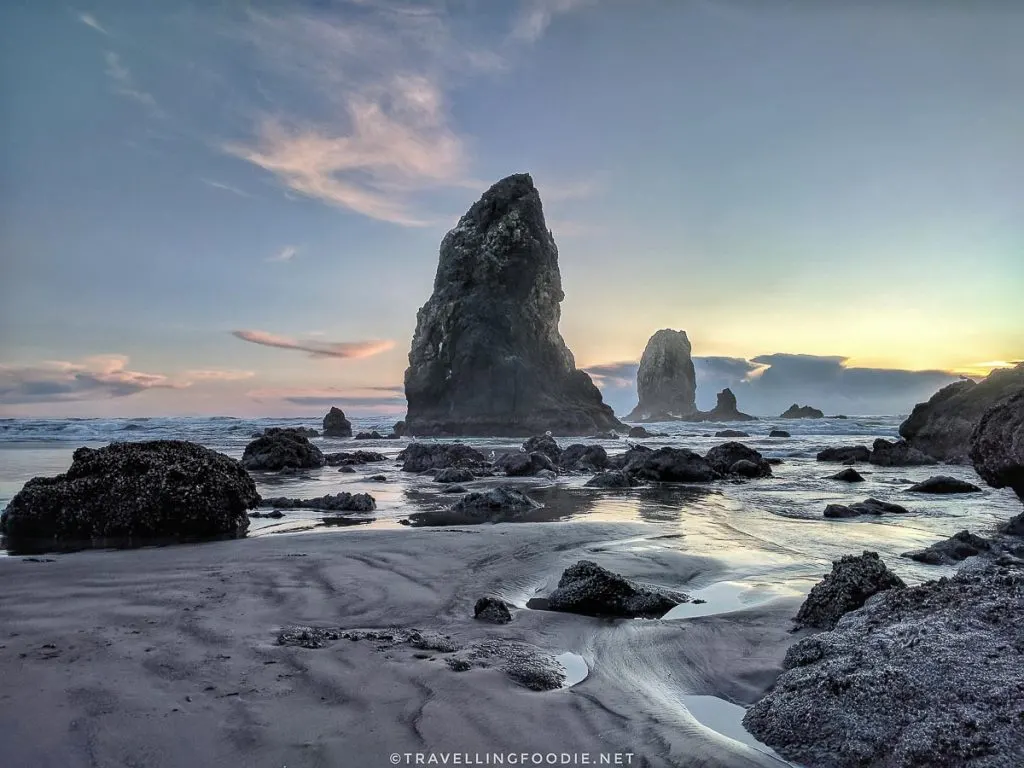 The nine-mile-long coastline of Cannon Beach with its magnificent Haystack Rock is popular for a myriad of activities that are enjoyed there on holidays and vacations with friends and families.
They can indulge in bird-watching and intimate picnic-lunches or family picnics.
The beach is highly popular for its kite-flying activities with the clear skies and pollution-free winds for the perfect experience.
Also Read: Best Restaurants in Seattle, Washington
Photography is one hobby that pays off on a trip to the area and can really help you capture some great shots for your wildlife, landscaping or marine-life photography portfolio.
This is unlike other beaches where it's mostly for having fun in the sand and water.
When I went, people were there to admire the rock, the birds, and other things about the beach.
There were so many photographers standing by waiting for the sun to set for that perfect shot.
Also Read: Best Things To Do in West Volusia for Nature Lovers
Indian Beach Near Cannon Beach
For all the wildlife lovers and animal enthusiasts, it is also recommended to explore the Indian Beach nearby.
This is a well-known area for some quality time in peace and tranquility, with the sandy beach to let you calm yourself and enjoy the lashing waves.
Local wildlife such as deer and eagles are far from shy here, and often emerge to pay their regards to swimmers, surfers and those enjoying the beach vibes.
---
Is Cannon Beach and Haystack Rock worth visiting? It most definitely is!
I can definitely see why Cannon Beach is one of the best beaches not just in Oregon but in the world! It's really a breathtaking sight of natural beauty.
So be sure to stay in the best beach hotels when you visit this coastal city and enjoy the surroundings with a combination of fun activities and relaxation with your loved ones, friends or family!
For best parking locations for visiting Haystack Rock, visit this guide.
I'm always on the look for beautiful nature attractions. What do you find are the best things to do in Oregon for nature lovers?
Note: This post was first published on December 4, 2017.