Do you like chocolates and oatmeal? Start your morning with this healthy chocolate oatmeal breakfast!
In this homemade oatmeal recipe, you'll learn how to make chocolate oat meals in two ways, both in 15 minutes or less.
It's quick, easy and yummy!
---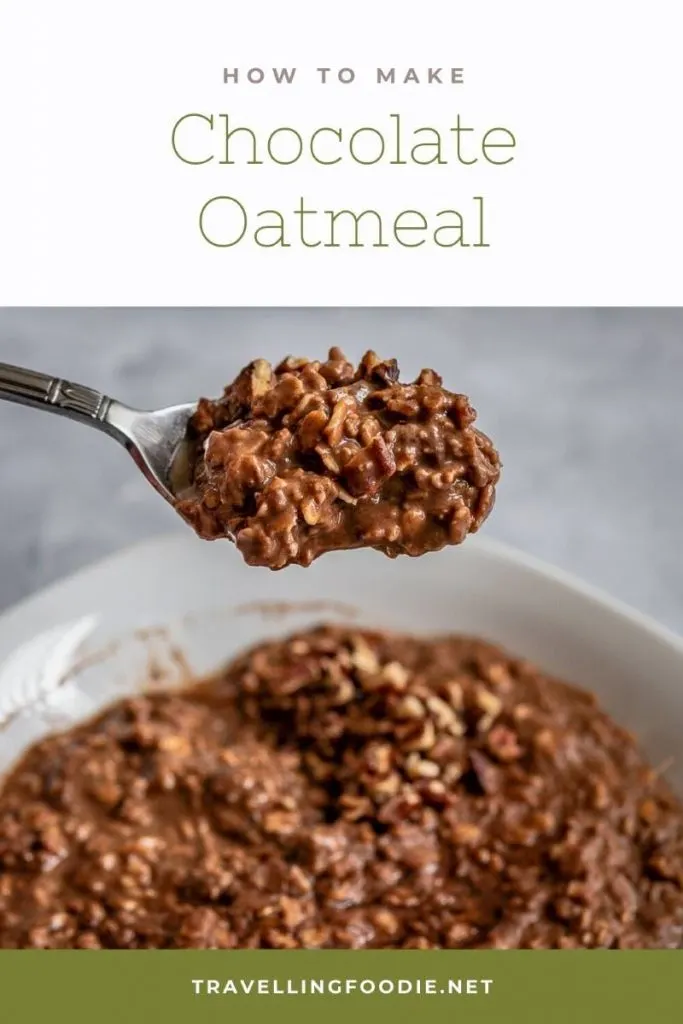 ---
Why Chocolate Oatmeal?
People often find oatmeal to be bland and boring.
How do you make oatmeal taste good?
Make chocolate oatmeal!
After making Filipino hot chocolate, I wondered what else I can make with Tablea.
I remember growing up in Manila, I ate a lot of oatmeal for breakfast so I figured why not make chocolate oatmeal but using Tablea instead of the usual hot chocolate powder.
Chocolate Oatmeal is great for both chocolate and oatmeal lovers because it can be enjoyed not just as a healthy oatmeal breakfast but a delicious dessert as well.
Now you can justify having an oatmeal diet.
Chocolate is healthy when you use the real kind.
I know cacao tablets are less common so this oatmeal recipe can also be made with raw cacao powder or cocoa powder.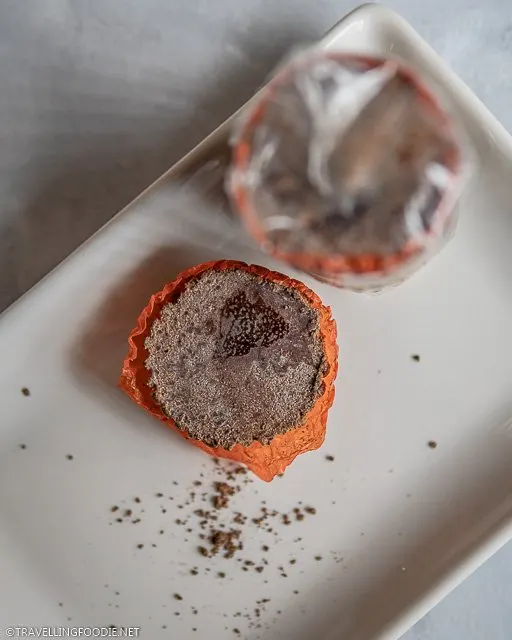 ---
What Makes This Chocolate Oatmeal Recipe So Good?
This chocolate oatmeal recipe teaches you how to make homemade oatmeal porridge, not the instant ones where you just add water and heat in the microwave.
We used rolled oats (aka old fashioned oats) for this recipe so it cooks quicker, but you can also use other types of oats.
If you're using cocoa powder instead of cacao tablet, you can even use this rolled oats recipe to make overnight oats.
This makes it great for meal prepping the night before for an oatmeal breakfast.
You might be wondering: is eating oatmeal good for you?
Oatmeal is very healthy because oats are among the healthiest grains available.
Aside from being a gluten-free whole grain, oats have many health benefits and are a great source of vitamins, minerals, fiber and antioxidants.
This chocolate oatmeal porridge makes it even healthier if you use cacao tablets/powder or cocoa powder because they are rich in antioxidants and nutrients.
Now you have an excuse to have a chocolate breakfast!
---
What You Need For Homemade Chocolate Oatmeal Breakfast
Equipment
Oatmeal Ingredients
Liquid: Milk or Water – You can use any kind of milk or even water for oatmeal. If you want a vegan-friendly oatmeal recipe or if you're lactose intolerant, then stick with nut-based milks or water.

If you don't have milk or want to save on cost, then use water. My chocolate oatmeal was oats recipe with milk because I wanted to have a creamier texture.
Oats: You can use Rolled Oats or Steel Cut Oats. I used rolled oats because it cooks faster while still having the same nutritional value.

As a travelling foodie, I am time conscious in cooking and typically prefer easy quick recipes.
Chocolate: I used Batangas Tablea for mine so you can even say this is a Tsokolate Oatmeal (or Filipino Hot Chocolate Oatmeal).

You can use other Cacao Tablets, Cacao Powder or Cocoa Powder. You can even use Hot Chocolate Mixes but it means you will lose some of the health benefits.
Cinnamon: Aside from adding a touch of spice to the taste, cinnamon has high anti-inflammatory properties, controls blood sugar levels and lowers risk factors of heart diseases.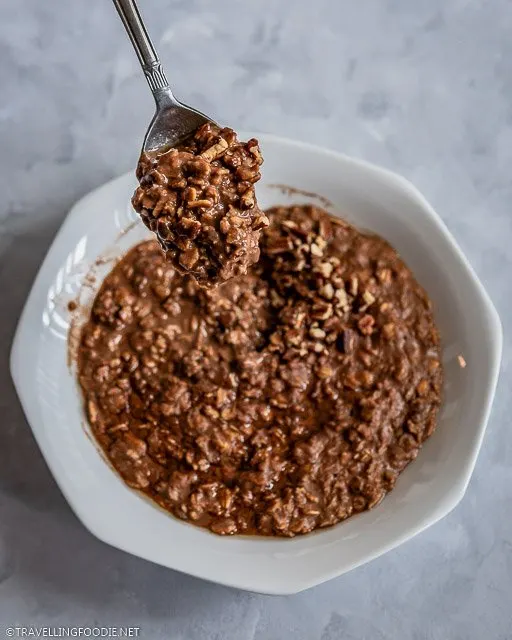 Optional Oatmeal Toppings
Shaved Nuts: Nuts are a good source of fat, fiber and protein. I used pecans in mine because I love pecans, and are easier to bite than other nuts like almonds.

I also didn't want to use peanuts for the oatmeal recipe in case of peanut allergies.
Sweetener: You can use honey, syrup or even brown sugar. Being in Canada, I definitely wanted to use maple syrup, which is high in nutrients and antioxidants.

I used Acadian Maple's pure maple syrup that I got during my trip to Nova Scotia for the Lobster Crawl festival, where Acadian Maple made lobster gelato.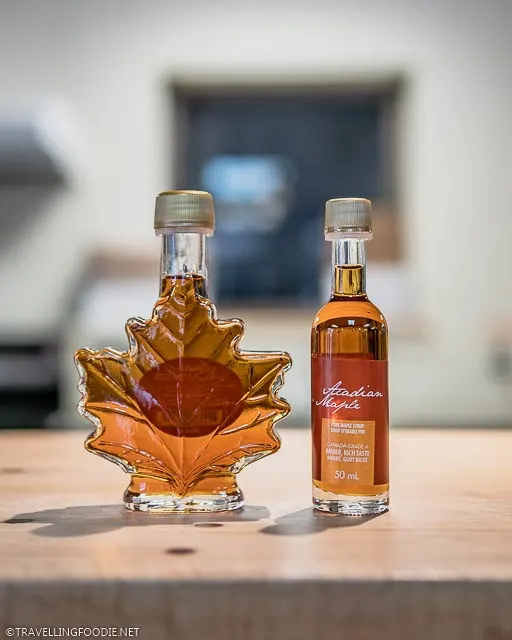 ---
How To Make Homemade Chocolate Oat Meals
Chocolate Oatmeal is so easy to make.
It's really as simple as mixing everything into the pot in medium heat until the oatmeal reaches your desired texture and creaminess.
Then garnish with oatmeal toppings after.
I go into more details on measurements and timing in the actual chocolate oatmeal recipe below.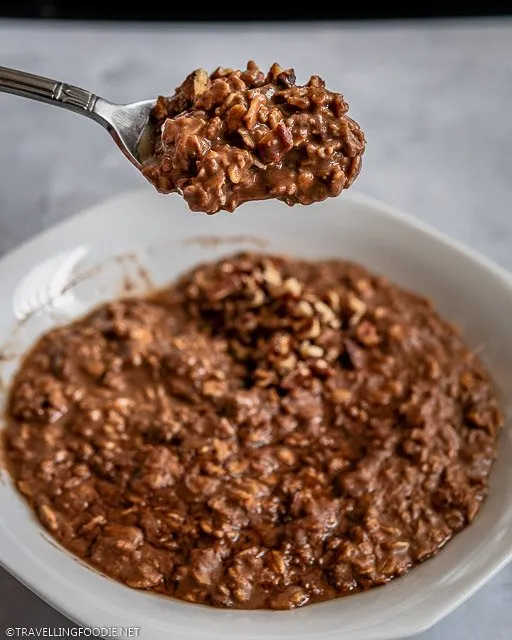 ---
Other Easy Homemade Recipes You'll Love
---
Healthy Chocolate Oatmeal Recipe
Be sure to bookmark/save/pin this post so you can easily make homemade chocolate oat meals!
I would love to see how this recipe worked for you! Please share your creations with me on social media and tag me so I can check them out: @TravellingFoodie on Instagram & Facebook and @TravellinFoodie on Twitter.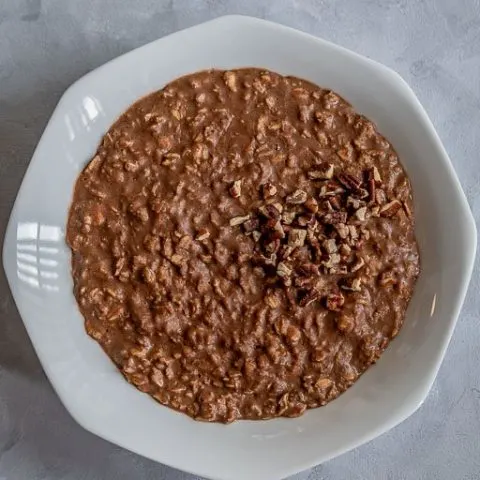 Chocolate Oatmeal
Additional Time:
3 minutes
Start your day with a healthy homemade oatmeal breakfast with this Chocolate Oatmeal recipe which you can make in two ways using cocoa powder or cacao tablet (Tablea).
Ingredients
Chocolate Oatmeal
Oatmeal Toppings
Instructions
Add oats, milk (or water), cacao tablet (or powder) and cinnamon to a small pot.
Cook over medium heat on stove top until thick and creamy. For cacao tablet, cook for 10-12 minutes until fully dissolved. For cocoa powder, cook for 8-10 minutes,
Stir frequently so oats doesn't burn at the bottom of the pot.
Remove the pot from stove and let sit for few more minutes.
Scoop into bowl.
Garnish with crushed almonds/pecans and drizzle with maple syrup.
Nutrition Information:
Yield:

1
Serving Size:

1
Amount Per Serving:
Calories:

513
Total Fat:

17g
Saturated Fat:

6g
Trans Fat:

0g
Unsaturated Fat:

9g
Cholesterol:

28mg
Sodium:

218mg
Carbohydrates:

76g
Fiber:

8g
Sugar:

28g
Protein:

18g
Please note that nutrition information you see is provided and automatically calculated by Nutritionix. This may vary depending on the specific ingredients that you use. To ensure the most accurate information, I suggest entering your specific ingredients into a nutrition calculator.
---
Hope this homemade cacao oatmeal recipe gives you an idea for a healthy oatmeal breakfast!
It's so easy to make and you can enjoy with your favourite oatmeal toppings.