Looking for the best churros in Barcelona? You'll have to try Churreria Manuel San Roman!
One of the must-eat items in Spain is churros, a fried-dough pastry that the Spanish and Portuguese eat as snacks all-day long from breakfast to after parties.
Ask locals on where to eat churros in Barcelona, and you'll most likely hear them say Churreria Manuel San Roman as it is one of the oldest and most traditional churrerías in Barcelona.
Opened back in 1969, Churreria Manuel San Roman in Barcelona has been run by Manuel San Román who has been making xurros for 55 years and is widely acknowledged to be one of the city's masters of this craft.
I was so excited to visit here back in 2011 because I love churros. They are quite popular in the Philippines as well since the country was colonized by Spain. I used to be obsessed with the one at Dulcinea, growing up in Manila.
Traditional churros are simply drizzled with sugar and served on a paper bag.
The shop is a small grab-and-go place. Inside you'll see the churros being made fresh from the fryer.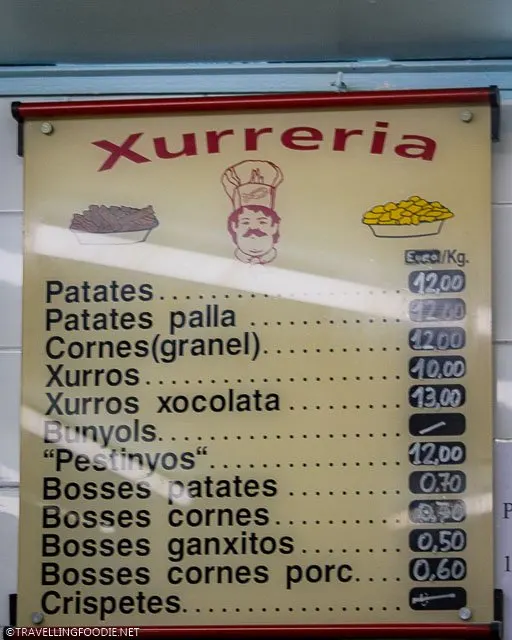 Aside from traditional plain churros, they also serve churros coated in chocolate and other products: pork rinds, fried almonds, cod fritters, chips (patatas), pastissets de tortosa and many more.
We definitely wanted Churros con Chocolat (Xurros de Xocolata) instead of the Churros coated in chocolate. Since we wanted to savour and enjoy this fresh, we opted for a different strategy.
Right beside the shop is La Granja 1872 Cafe, one of Barcelona's long-running cafe. We ended up ordering plain churros at Churreria Manuel San Roman then headed to La Granja 1872 and ordered Spanish chocolate and cappuccino so we can enjoy the churros inside.
The churros was perfectly crispy outside and moist and fluffy on the inside just how I love my churros. The chocolat is rich as what you would expect from Spanish chocolat.
The perfect breakfast with a side of Cappuccino! ❤️
This is definitely one of the best places to eat churros in Barcelona! So while you're checking out some of the Gaudi buildings, be sure to visit here too!
---
Churreria Manuel San Roman / Xurreria Manuel San Román
Hours: Open every day, Monday to Sunday, 8AM-10PM
Website / Address: Baixos, Carrer dels Banys Nous, 8, 08002 Barcelona, Spain