Why should Cincy Region be your next foodie destination? In this guide, we're dishing out 12 things to love about the Cincinnati-Northern Kentucky food scene!
The Cincy Region is such a special place.
When you hear "Cincy Region," you're probably only thinking of Cincinnati.
But there's so much more to this historic region on the banks of the Ohio River.
Divided by the 981-mile Ohio River, you have Cincinnati (aka Queen City) on one side and Northern Kentucky (or NKY) on the other.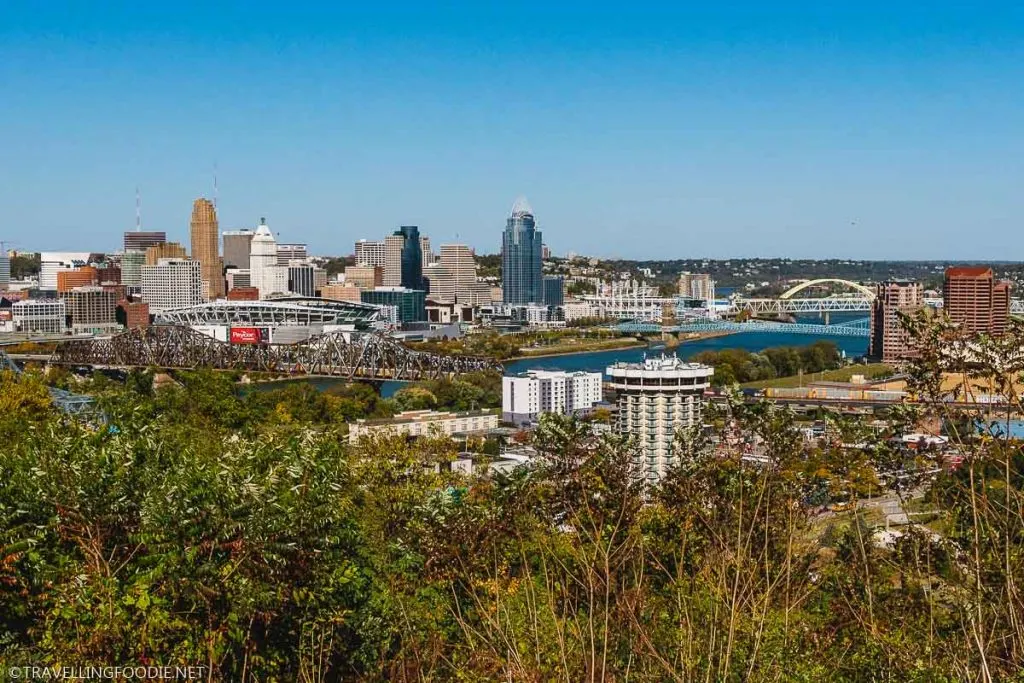 A trip to the Cincy Region means you'll get to experience the cultures and cuisines of both destinations, an overlooked culinary gem.
The food scene in the Cincinnati and Northern Kentucky region is booming!
In the Cincy Region, you'll find locally-owned restaurants from many award-winning chefs and cocktail mixologists, unique local foods and a thrilling drink scene of beer, bourbon and craft cocktails.
I did a 4 day 3 night trip in Cincinnati and Northern Kentucky to explore the BLINK Festival, food, drinks and fun.
There's so much to love about the Cincinnati-Northern Kentucky food scene and I cannot wait to share them with you.
Welcome to the Cincy Region!
---
---
How To Get To Cincy Region
Cincy Region is a year-round destination, making it a great destination for your vacation whether you're doing a day trip, a weekend getaway or a Ohio and Kentucky road trip.
Here are some driving times to the Cincy Region:
If you don't want to drive, Cincy Region also has an international airport, CVG Airport, which has 50+ non-stop flights to major hubs including Austin, Los Angeles, Seattle, Tampa and Toronto.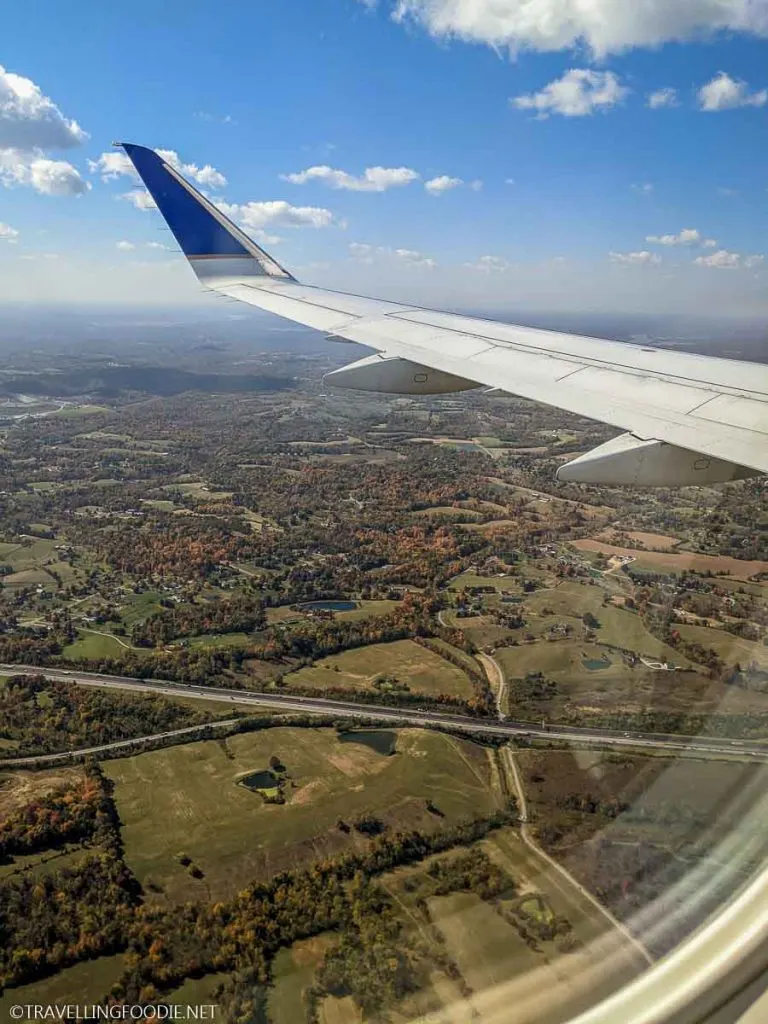 ---
Cincinnati and Northern Kentucky Food Scene Guide
Here's why you'll love the culinary scene in Cincinnati and Northern Kentucky (aka Cincy Region)!
Did you know? The Cincy Region was named One of the "The 23 Best Places to Go in the U.S. in 2023" by Conde Naste Traveler.
Experience 2 States in 1
In just a 10-minute walk on the popular John A. Roebling Suspension Bridge, which connects Cincinnati and Covington, you're able to visit both Ohio and Kentucky states and enjoy the best of Cincinnati and Northern Kentucky.
Cincinnati has culinary roots to Greek and German immigrants which is reflected in their local food.
Northern Kentucky has Southern and Midwest cuisines and, of course, bourbon!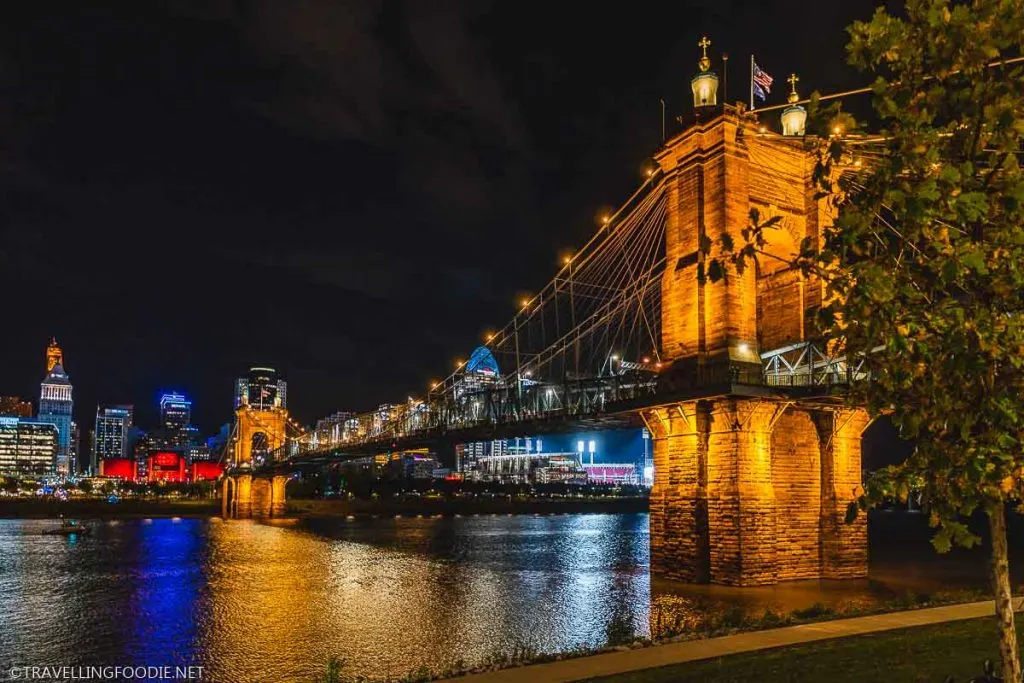 The Cincy Region is very walkable.
I found myself walking all over and only taking the occasional Uber/Lyft when I'm too tired to walk anymore.
For travelling foodies, this makes Cincy Region an awesome food crawl destination since you get to walk off your food and drinks in between stops.
Largest Art and Light Festival in the US
Taking place every 2 years in October, the BLINK Festival is the largest art and light festival in the US!
This popular Cincinnati event attracts over 2 million people in a span of four days.
If you love nightlife and want to see the Cincy Region become hyper bustling at night, you'll want to plan your visit during BLINK.
The Cincy Region is LIT for BLINK as 30 blocks of downtown Cincinnati and Northern Kentucky gets illuminated with light showcasing various exhibits involving projection, light and music.
Food trucks, food and drink stalls are set throughout the festival grounds so you can find people eating and drinking on the streets in every direction.
There's even an Asian-inspired night market, Asianati, during BLINK with lit-up lanterns, Asian street food stalls and Asian-inspired art installations.
Restaurants and bars join in on the fun with some offering BLINK-exclusive cocktails and food menu.
The stunning Roebling Bridge is beautifully illuminated for foot-only traffic during BLINK so you can cross between Cincinnati and Covington.
People lined on either side on the river to see lit skylines, and also to watch the epic drone show where 300 drones flew the air for a well choreographed light spectacle.
Don't blink or you'll miss it!
BLINK Cincinnati
Website / Address: Various spots in downtown Cincinnati and Covington
Also Read: Montreal en Lumiere / Montreal Festival of Lights
Taste foods unique to Cincinnati Region
Most people are surprised to learn that the Cincy Region has its own local foods.
German and Greek immigrants have brought their cuisine and created dishes to adapt to the region.
Foodies will not want to leave Cincy Region without trying these iconic dishes like the Cincinnati chili, goetta and buckeye candies.
At Anchor Grill, you can try different goetta dishes including goetta omelette.
In fact, New York Times food critic Helen Rosner listed Anchor Grill's double decker GLT (Goetta, Lettuce, Tomato) as one of the best things she's eaten in the decade.
This 24-hour diner was named best diner in Kentucky by Food & Wine Magazine.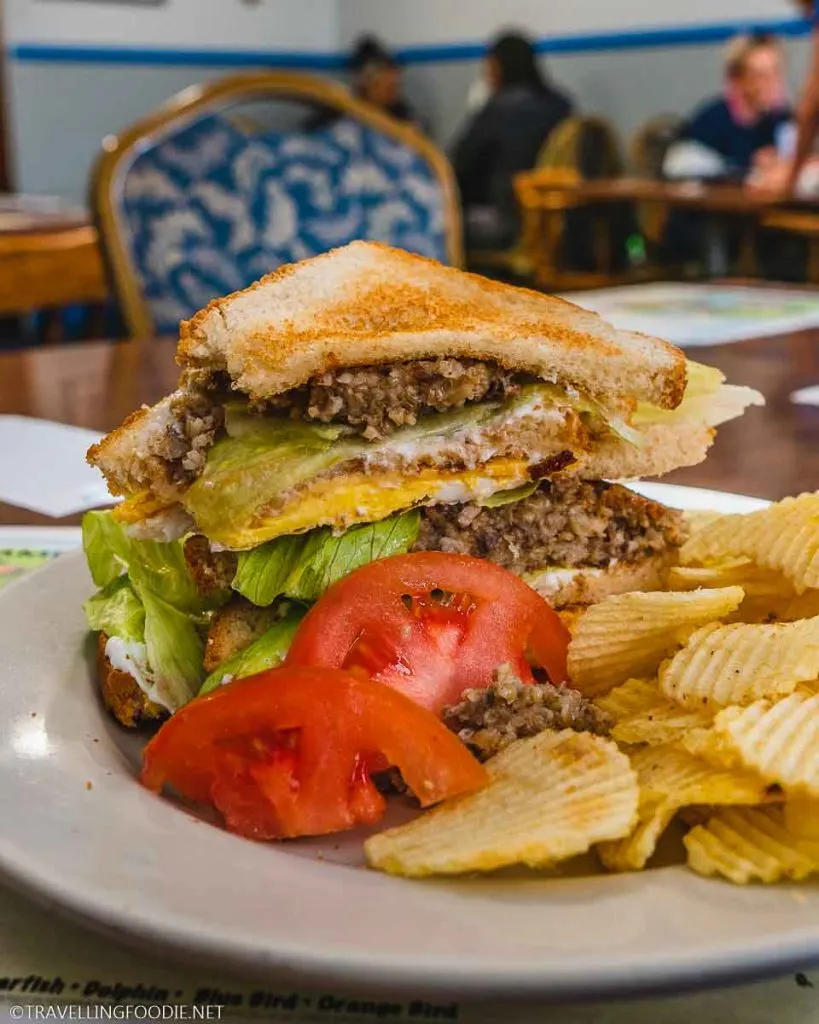 Anchor Grill
Website / Address: 438 W Pike St, Covington, Kentucky 41011, United States
At Gold Star Chili, you can try different dishes of the iconic Cincinnati chili from chili salad and loaded chili cheese fries to cheese coneys (hotdog sandwich with chili) and the classic 3-Way (spaghetti, chili and shredded cheddar cheese).
If it's your first time, I recommend going big and get the 5-Way which is the 3-Way plus beans and onions for the full Cincinnati chili experience!
Gold Star Chili
Website / Address: 504 W 4th St, Covington, Kentucky 41011, United States
Kentucky Bourbon
Did you even visit Kentucky if you didn't have bourbon?
Kentucky is the Bourbon Country after all!
And Northern Kentucky is the North's Gateway to Bourbon Country.
In the Cincy Region, Northern Kentucky makes it easy for you to enjoy Kentucky Bourbon by having The B-Line.
This NKY self-guided Bourbon Trail is comprised of 5 Craft Distilleries, 8 Bourbon Bars and 6 Bourbon-centric Restaurants, including Coppin's at Hotel Covington.
If you're a bourbon or spirit lover, you have to visit New Riff Distilling in Newport, one of the best craft distilleries in Northern Kentucky and an award-winning anchor of the Kentucky Bourbon Trail Craft Tour.
At New Riff Distilling, they not only serve bourbon but also rye whiskey and gin.
They also have some unique and specialties whiskeys like the New Riff Winter Whiskey made with malted oat and chocolate malt, and the Balboa Rye Whiskey made with a local heirloom grain (balboa rye) grown by their corn farmer in Indiana.
For the full experience, I highly recommend doing their Bonded Tour, which includes a tour of the distillery and a tasting of six New Riff whiskeys from straight and single barrel to bourbon and rye.
New Riff Distilling
Website / Address: 24 Distillery Way, Newport, Kentucky 41073, United States
Stay and dine in the Best Hotel in Kentucky
Looking for where to stay in Cincy Region?
Named the Best Hotel in Kentucky by U.S. News and World Report, Hotel Covington is conveniently located in downtown Covington.
This boutique hotel is located in the historic Coppin's Department Store, and pays homage on its namesake restaurant Coppin's Restaurant and Bar.
I stayed at their Coppin King, a charming 350 square feet room with Flat screen LCD, a stocked mini fridge, in-room safe and a desk.
An extra touch in the room was having two tokens for complimentary coffee at the Artisan Coffee Bar in the Hotel Covington lobby.
You'll also want to dine at Coppin's, one of the best restaurants in Covington, for some hyper-local dishes like the Farmer's Omelette.
Check reviews, availability and pricing of Hotel Covington on Booking.com / Agoda
Hotel Covington
Website / Address: 638 Madison Ave, Covington, Kentucky 41011, United States
Enjoy farm-to-table dining
Farm-to-table dining has grown as people become more interested in knowing where their food comes from, and the Cincy Region has plenty to offer.
When you dine at farm-to-table restaurants, it's not only about eating what's fresh and seasonal, you're also supporting the local farmers and growers that produce them.
Chef David Willocks and designer Wendy Braun put Newport, Kentucky into the culinary map with their farm-to-table restaurant The Baker's Table which was in both USA Today and Eater Magazine's list of Best New Restaurants in the US.
The Baker's Table started as a simple concept of being a brunch restaurant that uses local produce and makes 100% of their bread, and has transitioned into a dinner restaurant serving Prix Fixe dining only.
But don't fret because, in October 2021, they opened a casual neighbourhood spot, a bakery, cafe and pizzeria, just across The Baker's Table so you can still enjoy their farm-to-table options for breakfast and lunch.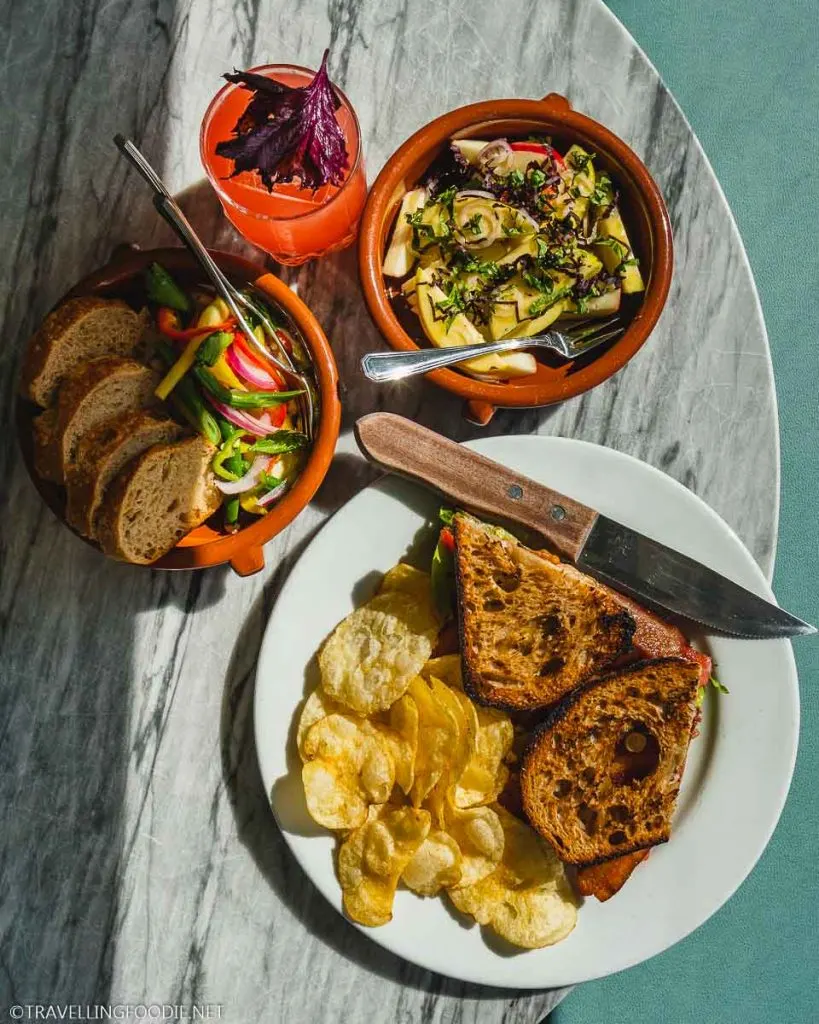 At The Baker's Table Bakery & Pizzeria, all the breads are made with organic, stone-ground, whole grain flour, and they feature local flour exclusively.
With all the bread and kitchen setup, it was a natural extension to make pizza which gives them a way to incorporate local produce from their farmers.
While in Cincy Region, you definitely must-try their farm-to-table pizza (the dough is very flavourful on its own!) and treat yourself to some airy fluffy doughnuts.
The Baker's Table Bakery & Pizzeria
Website / Address: 1001 Monmouth St, Newport, Kentucky 41071, United States
Surround yourself with historic culinary tradition in one of the top fine dining restaurants in the United States
One thing I was surprised to learn about Cincinnati is its legacy for fine dining.
Back in 1970s, Cincinnati was home to three Five-Star restaurants in the Mobile Travel Guide (now called Forbes Travel Guide).
One of them was the Maisonette, which was a 5-star restaurant in the Mobil Travel Guide for 41 consecutive years, and it still holds the record for the longest streak.
Since closing its doors in July 2005, this historic space lives on through Boca, which offers an elegant fine dining French cuisine.
Boca fills the Masionette's shoes as it continues to be a spotlight for fine dining, being recognized as one of the top French Restaurants in the United States by Travel and Leisure as well as Top 100 Restaurants in the United States by OpenTable.
Owner and Chef David Falk even carries the culinary legend's torch by serving Pommes Soufflés "1949", a Maisonette classic revisited.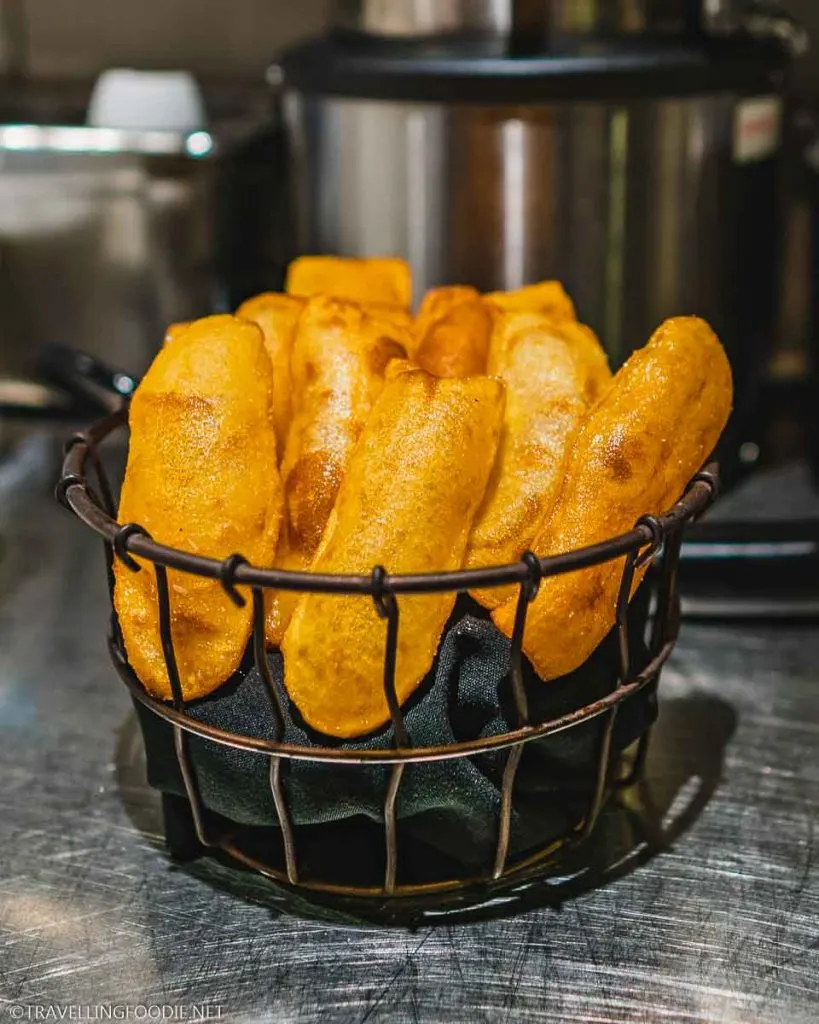 This signature French fry is the most difficult dish they execute, and they're one of only three restaurants in the US that serve these magical potato puffs.
Other must-try dishes when dining at Boca:
Amish chicken with an addicting wild mushroom truffle risotto
Seared scallop with caramelized brown butter Brussels sprouts which goes back 21 years when they opened their first location in 2001
Bottled Old Fashioned
Boca Restaurant
Website / Address: 114 E 6th St, Cincinnati, Ohio 45202, United States
Imbibe in rare spirits older than 50+ years
Cincy Region is home to one of the most unique liquor shops I've been to.
When you step inside Revival Vintage Spirits, it's literally like a museum for impossible-to-find antique spirits and spirits from a bygone era.
You feel like you're in a Willy Wonka shop but for rare spirits.
In this case, Willy Wonka is co-owner Brad "Dusty" Bonds, America's foremost vintage spirits collector and one of the most passionate people I've met for spirits.
Revival Vintage Spirits is also female-owned with co-owner and Covington City Commissioner Shannon Smith, which is quite refreshing to see in a male-dominated industry.
"We shop in people's trash and make it your treasure," says Brad while showing me dusty old bottles of whiskeys from the 30s and 40s.
The oldest I saw in their collection is a 1870 rye with a deteriorating cork leaving a low filled rye as most have evaporated.
What's amazing about Revival Vintage Spirits is, while restaurants and bars charge highly for vintage spirits, Revival makes these rare spirits very accessible and affordable to the common person.
At Revival, you can try a vintage 1986 Jim Beam pour for $5, or a rare Cuban cordial from the 30s for $25 per half ounce (where it might cost in the hundreds elsewhere).
You can spend hours just sitting at the bar, enjoying a vintage spirit tasting surrounded by rare spirits while chatting with Brad!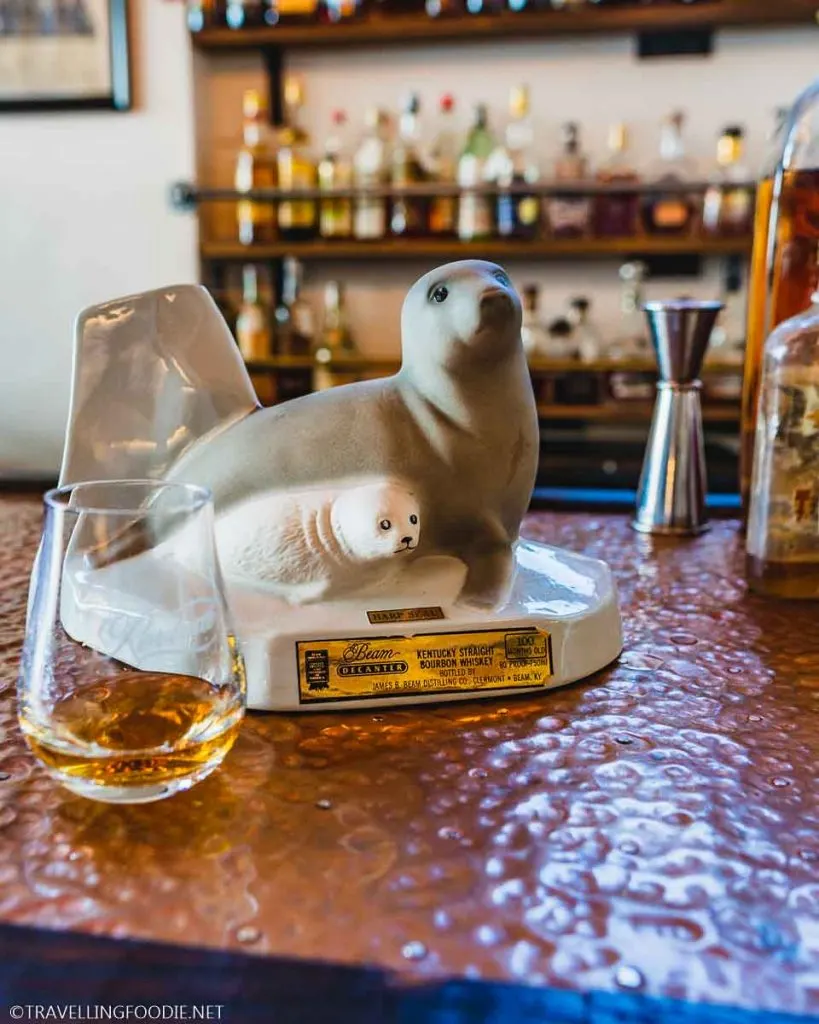 Revival Vintage Spirits and Bottle Shop
Website / Address: 5 E 8th St, Covington, Kentucky 41011, United States
Try ice cream made with the uncommon French pot process
Ask any local where to have ice cream in the Cincy Region, and you'll most likely hear Graeter's Ice Cream.
Graeter's Ice Cream is a local institution in Cincinnati where the original location started in the 1900s.
What's special about Graeter's is they're the only commercial ice cream in the world that does the French Pot freezing process.
This means that each small batch of hand-crafted ice cream is rotated until smooth and frozen in a 2.5-gallon steel pot, which is the smallest in the industry.
With the total absence of whipped-in air, the ice cream is very rich and dense.
Must-try flavour at Graeter's is their Black Raspberry Chip Ice Cream!
Graeter's Ice Cream
Website / Address: 1401 Vine St, Cincinnati, Ohio 45202, United States
Taste the only Bourbon released by a female in the state of Ohio
The world of spirits and bourbon is male-dominated, and 95% of bourbon is from Kentucky.
Michele Hobbs is doing amazing things in paving way to increase women's presence and influence in the spirits industry in Ohio.
Knox Joseph Distillery at OTR StillHouse is not only the first (and only) female-owned distillery in Ohio, but it also makes the only bourbon released by a female in Ohio.
On top of that, OTR StillHouse is the largest independently owned space in the Over-the-Rhine neighbourhood.
And aside from being a distillery and indoor/outdoor space, OTR StillHouse is also a winery and brewery so there's something for everyone in a drinking perspective.
Keep an eye out for their special rotating chef events where they partner with a chef for a multi-course menu paired with OTR StillHouse spirits, wines and beers.
If you see an event featuring Chef Paul Liew of Citrus & Sago, you'll want to jump on it because you are in for a treat!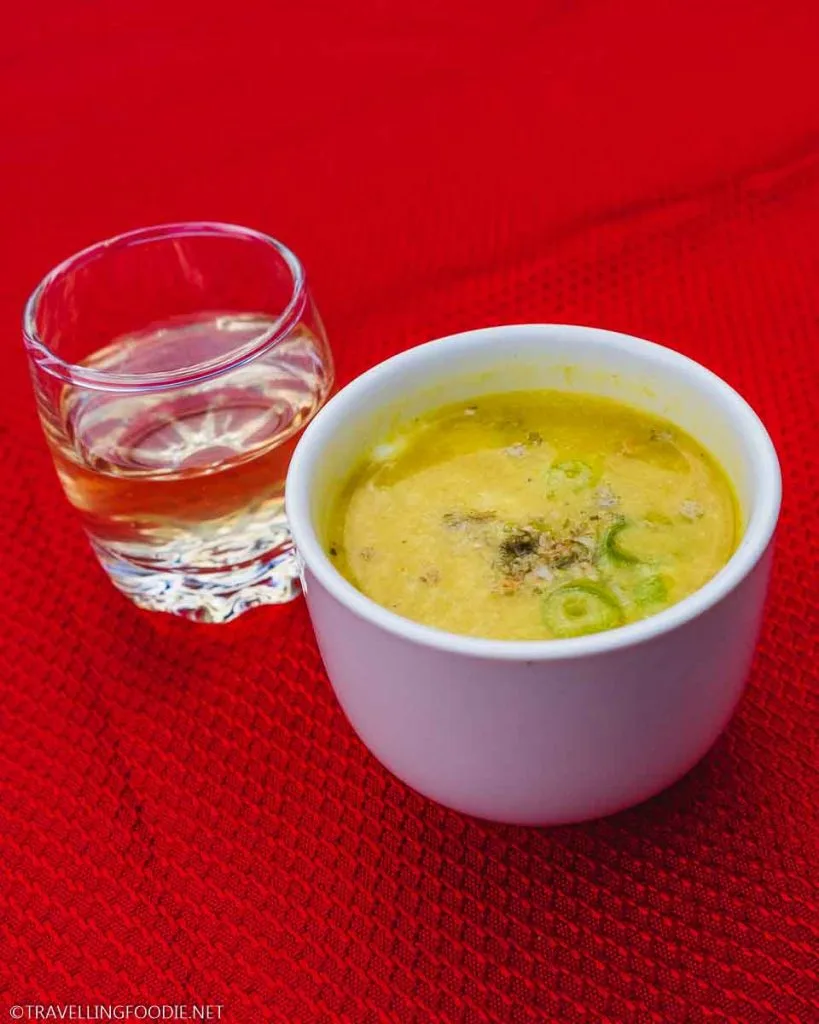 OTR StillHouse & Knox Joseph Distillery
Website / Address: 2017 Branch St, Cincinnati, Ohio 45214, United States
Enjoy meals from James Beard nominated chefs
Much like the prestigious Michelin Star, the James Beard award is the most coveted U.S. award for chefs and restaurants in America.
Cincy Region is home to James Beard nominated chefs:
Chef Elaine Townsend of Cafe Mochiko is nominated in the category, "Outstanding Bakers"
Chef Jose Salazar of Goose & Elder, Mita's and Salazar is nominated in the category, "Best Chef: Great Lakes (IL, IN, MI, OH)"
At Salazar Restaurant, you can enjoy farm-inspired New American cuisine from James Beard nominated chef Jose Salazar in the Over-the-Rhine neighbourhood, dubbed one of five "Great Neighborhoods in America" by the American Planning Association in 2017.
The Little Fried Oyster Sandwich at this popular brunch spot is a must try with its flavour explosion of kimchi, radish sprouts, garlic mayo and a burst of the ocean from the oyster.
Salazar
Website / Address: 1401 Republic St, Cincinnati, Ohio 45202, United States
Sip on craft cocktails five stories below the street
If you love speakeasies, Ghost Baby is the best bar to visit in Cincy Region!
Instead of a password, you descend five stories below street level in Cincinnati's Over-the-Rhine neighbourhood to an underground bar in a 170-year-old lagering tunnel.
Inside is dimly lit, cozy and intimate with lights, art, design and live music.
The vibes are immaculate and the craft cocktails are mean.
It's not surprising that Ghost Baby is recognized as one of the Best Bars in America 2022 by Esquire.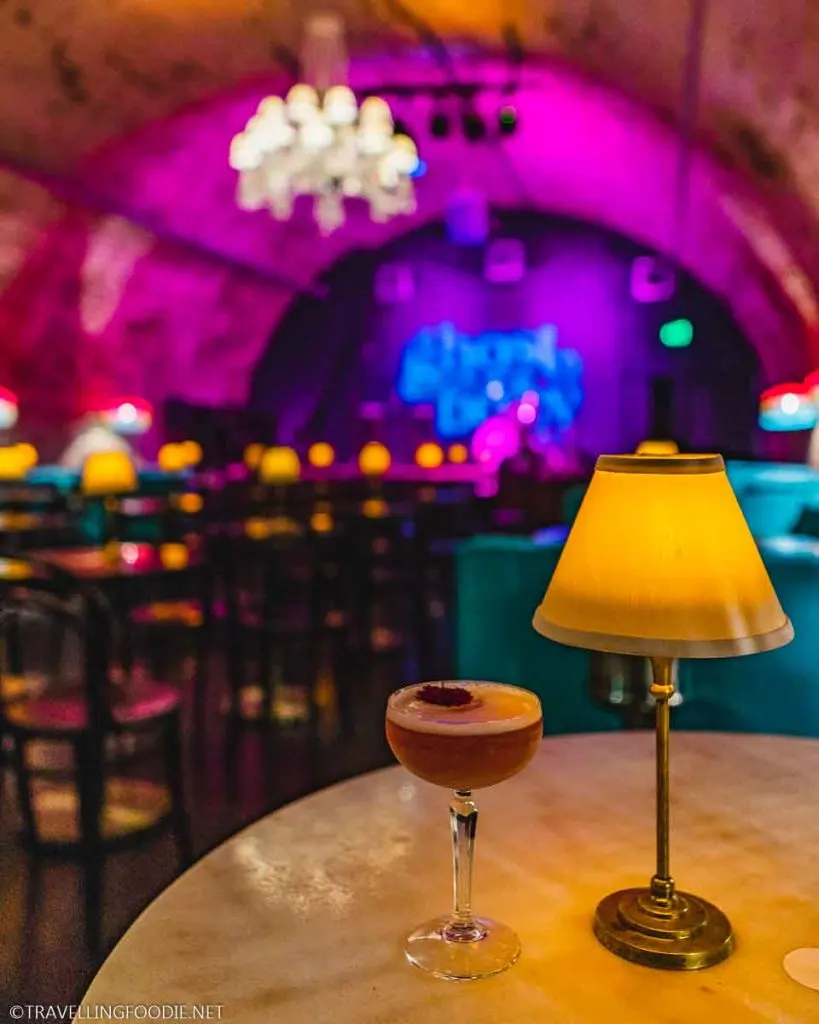 Ghost Baby
Website / Address: 1314 Republic St, Cincinnati, Ohio 45202, United States
---
WATCH: Cincinnati and Northern Kentucky 4 Day Trip – Travel Vlog
Watch the full travel vlog of my trip to Cincy Region where I spent 4 days in Cincinnati and Northern Kentucky and experienced all the spots covered in this guide.
You'll find exclusive content and behind-the-scenes footage including the making of the famous Pommes Souffle from Boca!
And get immersed in the the Cincy Region nightlife during BLINK Festival!
---
MAP: Northern Kentucky and Cincinnati Food Scene
Here's a map with all the best restaurants and places to eat & drink in Cincinnati and Northern Kentucky featured in this Cincy Region Food Guide.
---
What I really loved is how the Cincy Region is it has unique attributes and offerings in a culinary perspective.
There are more than enough places to keep any travelling foodie happy for a long time, especially with all the spirits involved.
I hope this Cincy Region culinary guide gives you a great idea on what makes Cincinnati and Northern Kentucky so special.
I had such a fun and delicious time here, and I'm sure you will too!
Cincinnati and Northern Kentucky's food scene has much more to discover, and I barely scratched the surface!
There are so many amazing restaurants in Cincy Region so I'm always looking for recommendations on where to eat and drink for my next visit.
If you are a local or have been there before, please let me know what you find are the best places to eat & drink Cincinnati and Northern Kentucky!
---
If you enjoyed this Cincinnati-Northern Kentucky Food Guide, you might also enjoy:
---
Huge thanks to Visit Cincy and meetNKY for hosting me and sponsoring this post! As usual, all thoughts and opinions are 100% my own.
You can learn more about Visit Cincy on their website here and meetNKY on their website here.