This creamy salmon pasta will take you back to Italy! Pasta with creamy tomato sauce with sun-dried tomato pesto and spinach along with pan-seared salmon in 30 minutes.
---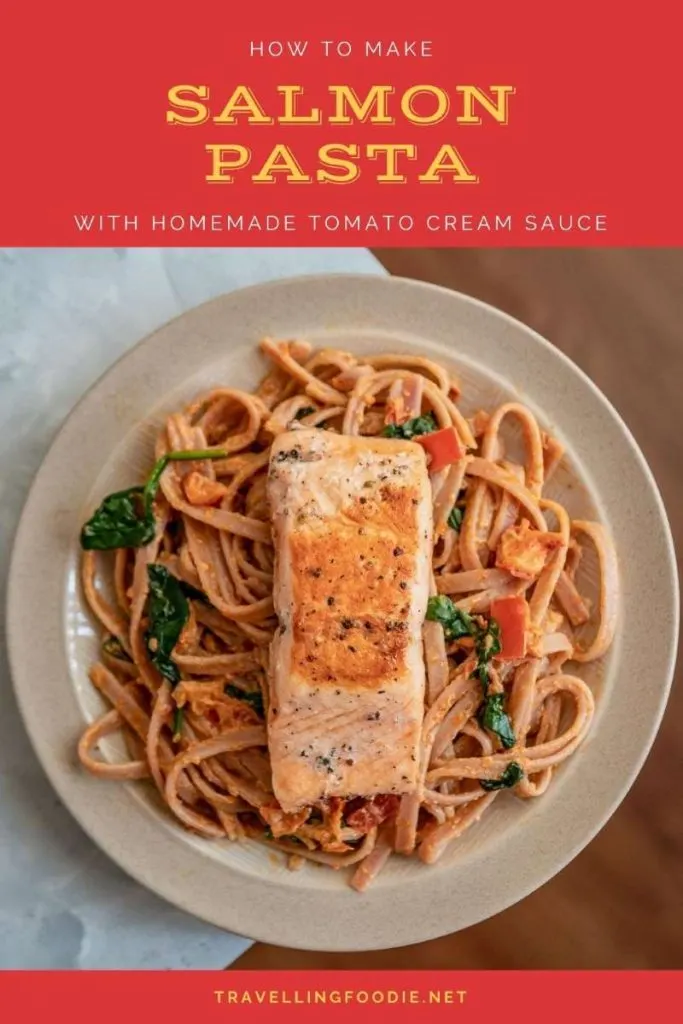 ---
Creamy Sun-Dried Tomato Pesto and Salmon Pasta
Creamy Tuscan pasta is quite popular in North America where the cream sauce typically has a mix of sun-dried tomatoes and spinach.
Why is it called Tuscan? I don't really know since it's not an authentic nor traditional recipe from Tuscany. I tried researching the background online to no avail other than the fact that there's a very popular Tuscan chicken dish in the US from Olive Garden.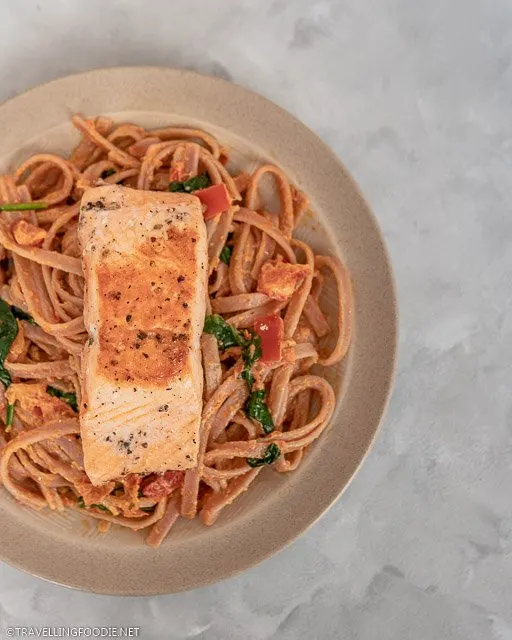 Nonetheless, the combination is GENIUS!
This pasta sauce with cream ends up packed with flavour! It's perfect especially for people who aren't big fans on tomato sauces.
Being one of those people, I made this creamy Tuscan salmon pasta with sun-dried tomato pesto. And it's a easy and quick recipe!
Follow on Instagram @TravellingFoodie for more food inspirations
---
What Makes This Creamy Pasta Recipe So Good?
Flexible: You can change the main ingredients like the choice of seafood and pasta based on your preferences. You can even substitute the cream.
Easy: It's a simple recipe where you basically make three different things which you then combine. You'll learn how to cook pasta, how to cook salmon and how to make cream sauce.
Quick: You can make this in 20 minutes!
Homemade Pasta Sauce Recipe: This recipe also teaches you how to make your own pasta sauce with cream instead of using store-bought pasta sauce.
Scalable: Make this creamy salmon pasta for 1, 2 or even a party!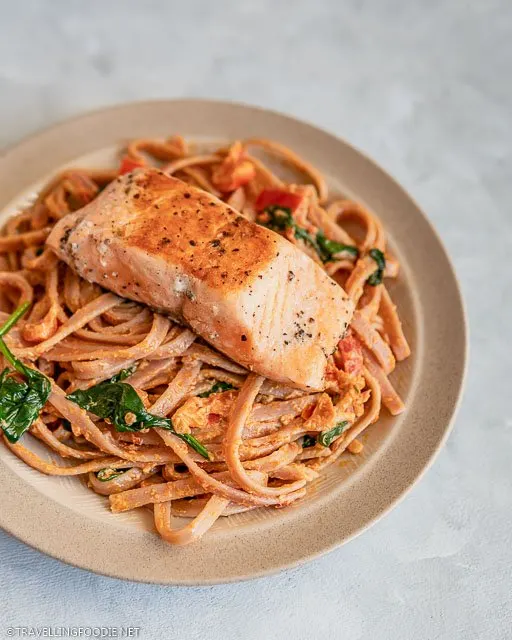 ---
What You Need For Creamy Tuscan Salmon Pasta
Equipment
Pot for cooking the pasta
Pan for cooking the salmon and homemade pasta sauce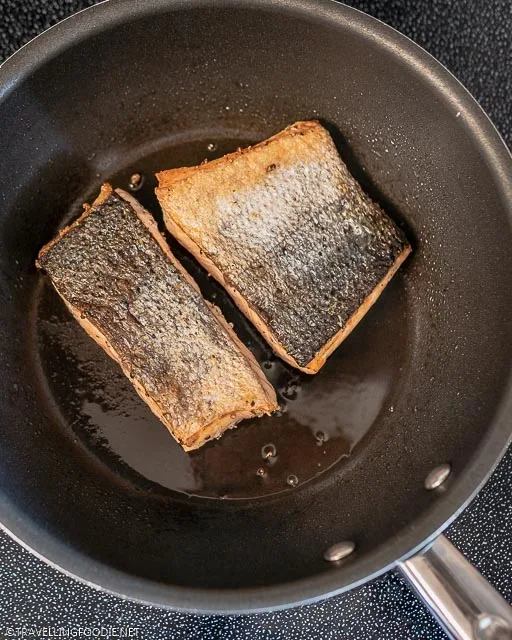 Salmon Pasta Ingredients
Salmon Fillets – You can use other seafood. I chose salmon because it is healthier and cheaper than others like shrimps and scallops. And who doesn't like a crispy salmon skin?
Pasta – You can use other kinds of pasta, and can be store-bought or homemade. I used store-bought tagliatelle for this recipe.
Cream – I used 15% table cream so that the pasta sauce can still be thick and creamy but without having too much milk fat unlike other cream. If you want to substitute the cream, I added a list below.
Sun-Dried Tomato Pesto – I used store-bought sun-dried tomato pesto but you can definitely make them homemade.
Tomato – To have actual chunks of tomato to the pasta.
Spinach – To have a leafy green vegetable. This superfood's bitter taste balances the tomatoes sourness.
Basil – Garnish on top to add extra fragrance and flavour.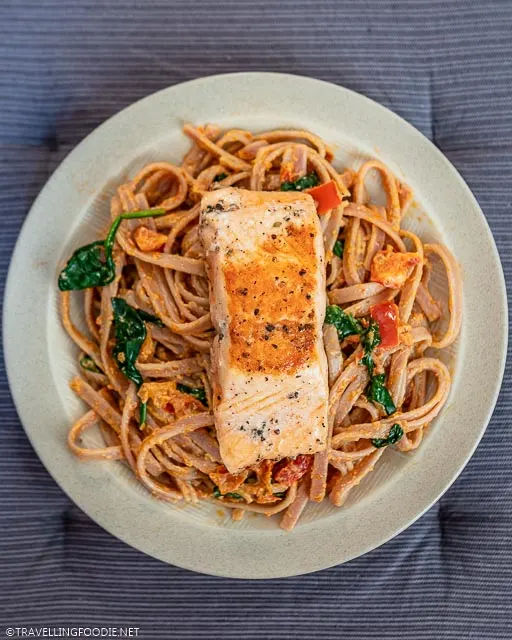 ---
How To Make Salmon Pasta with Homemade Creamy Sun Dried Tomato Pesto Pasta Sauce
In high heat, boil water in a large pot and cook pasta according to package instructions (or up to your desired texture). When pasta is cooked, drain and set aside.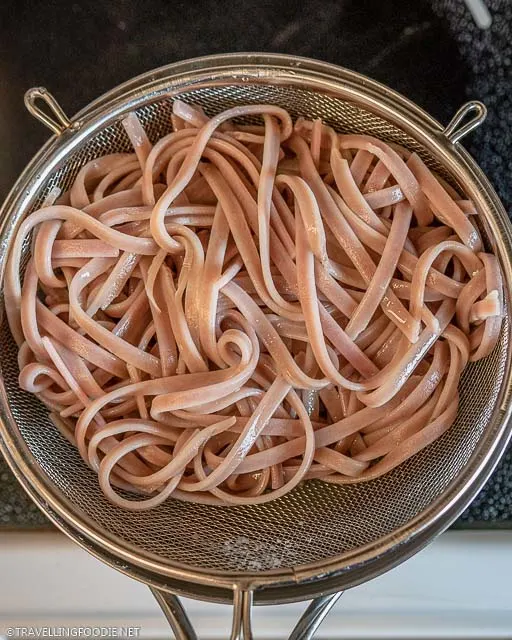 While you're doing the pasta, you can start doing the other parts. Drizzle pan with some oil and heat in medium heat.
Pat salmon fillets dry and season with salt and pepper.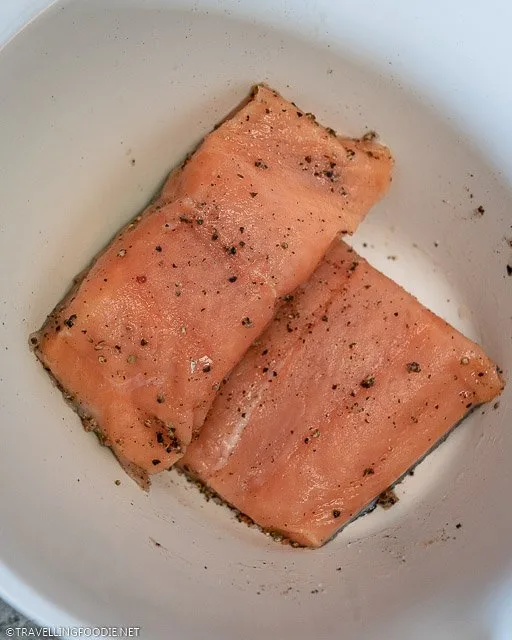 Cook salmon on the pan, searing it for 4-5 minutes on each side.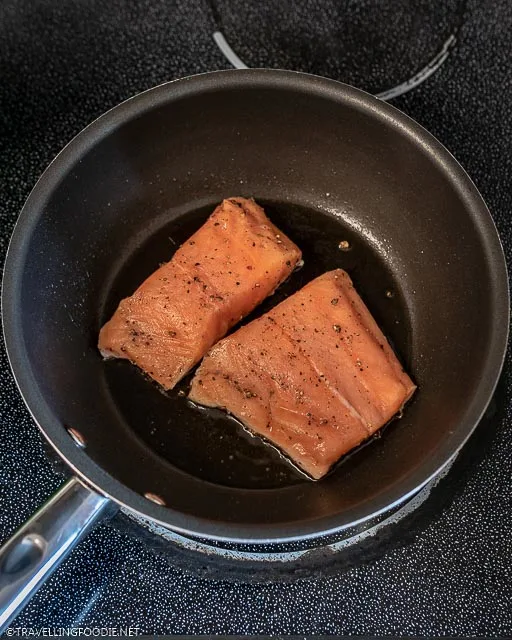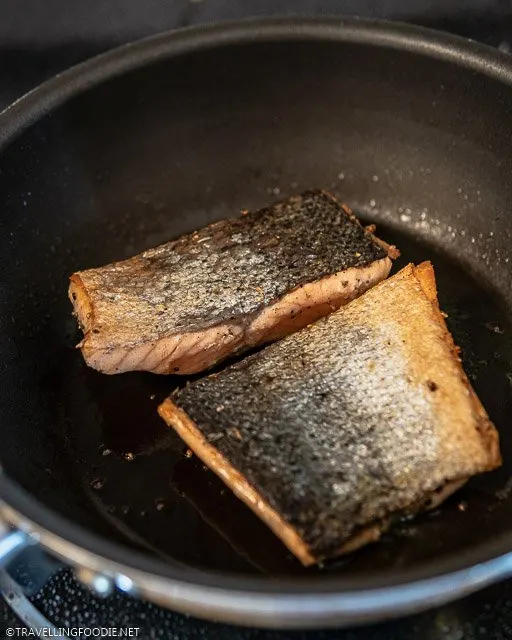 While salmon is cooking, chop the tomato. When salmon is done, remove and set aside.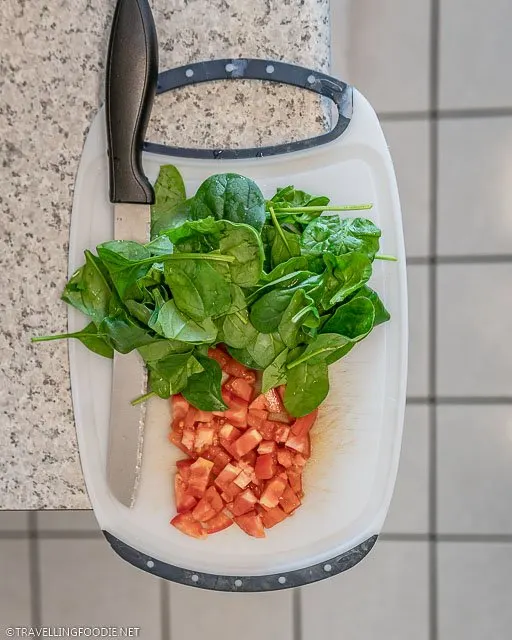 Add the tomato and spinach to the pan and saute for 1 minute.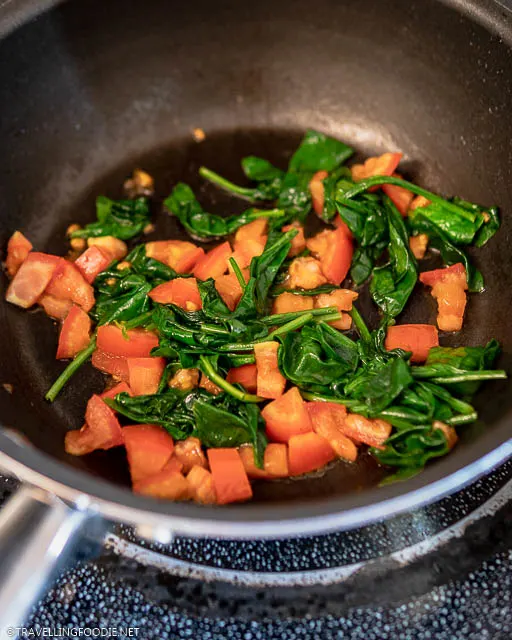 Set the pan to low heat then add the cream and sun-dried tomato pesto. Mix until the sauce has thickened.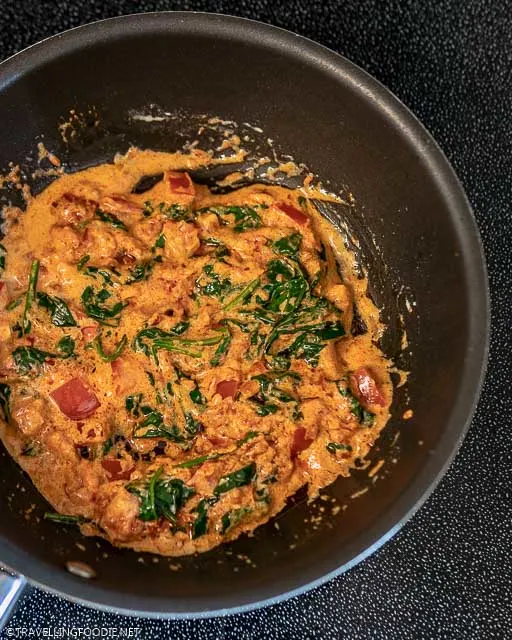 Add the pasta to the pan and combine with the sauce.
Serve the pasta and top with salmon and basil leaves. You can also break apart the salmon and mix with the pasta.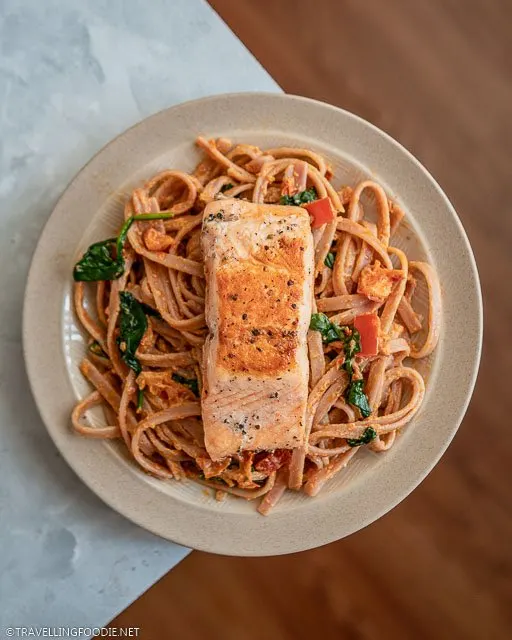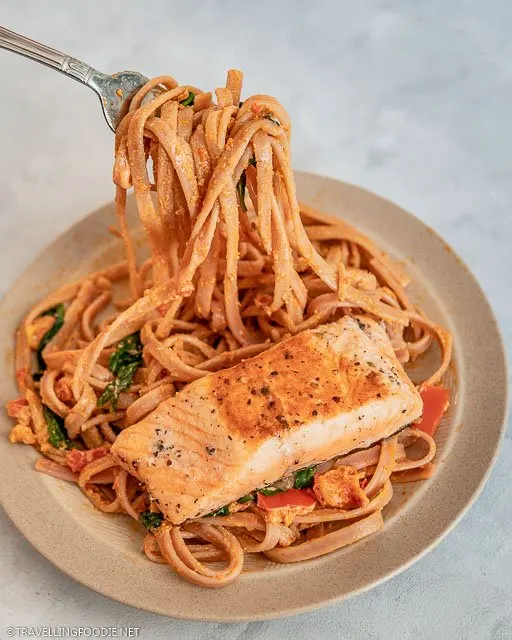 ---
Tips & Tricks For Creamy Salmon Pasta Recipe
Can I replace the cream in the creamy sun-dried tomato pesto sauce?
There are other great cream substitutes for this salmon pasta recipe. You can use milk and butter, evaporated milk, yogurt and milk, sour cream and even creme fraiche. Creme fraiche is an amazing substitute for thick sauces because it doesn't curdle when heated.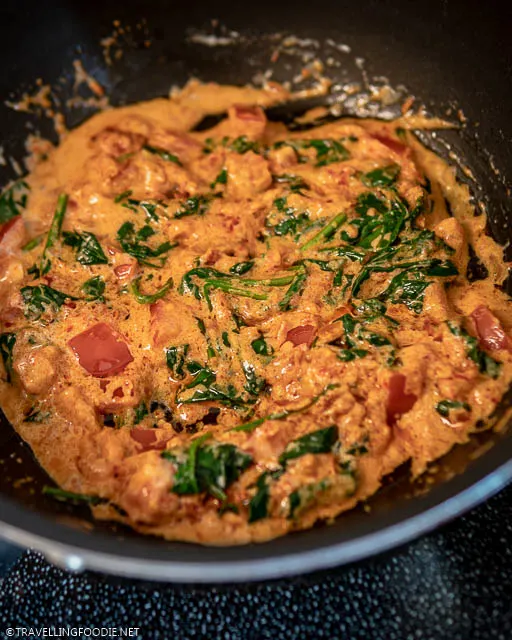 Which pasta is best for this creamy sun-dried tomato pesto sauce?
In general, cream sauces go best with thinner flat noodles like linguine, tagliatelle or fettuccine because its flat surface mops the sauce better.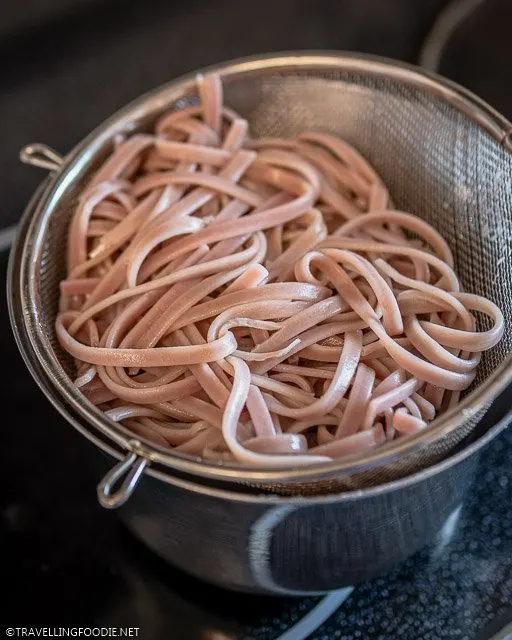 Which side of the salmon fillet do I cook first?
Rule of thumb is to always cook salmon fillet with the skin on the pan. In this way, the skin receives the initial sear, which is the strongest, making it more toasted and crispier. This also makes the meat less prone to overcooking and sticking.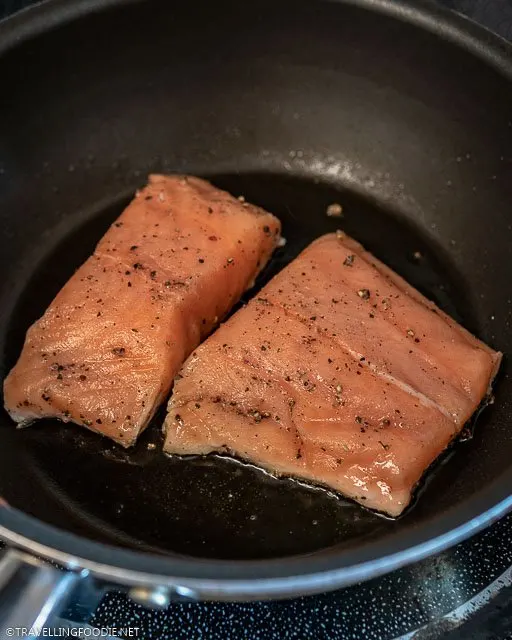 How do I know when to flip the salmon fillet?
You will notice as the salmon cooks that it starts to cook from the base going up. When the salmon gets cooked halfway through upwards, flip the salmon.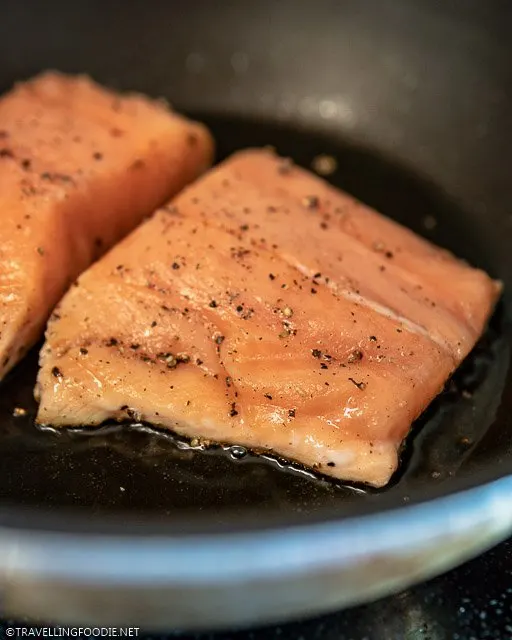 The salmon is fully cooked when the second side cooked upward and connects with the other half.
---
Other Pasta and Noodle Recipes You'll Love
---
Creamy Salmon Pasta Recipe with Sun Dried Tomato Pesto
Be sure to bookmark/save/pin this post so you can easily make this creamy sun-dried tomato pesto pasta with pan-seared salmon!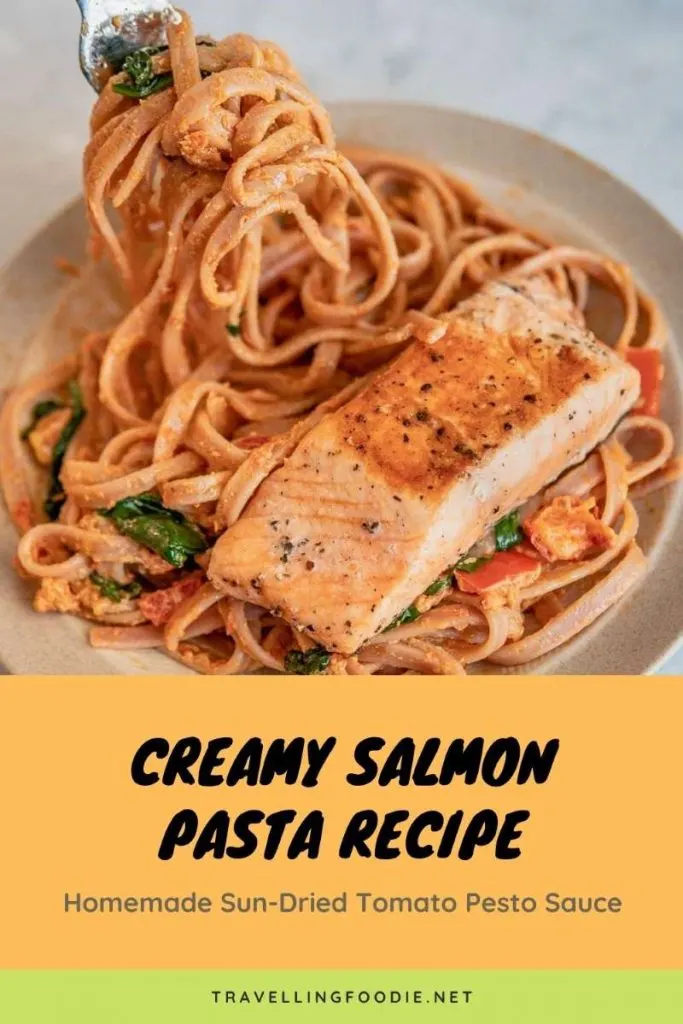 I would love to see how this recipe worked for you! Please share your creations with me on social media and tag me so I can check them out: @TravellingFoodie on Instagram & Facebook and @TravellinFoodie on Twitter.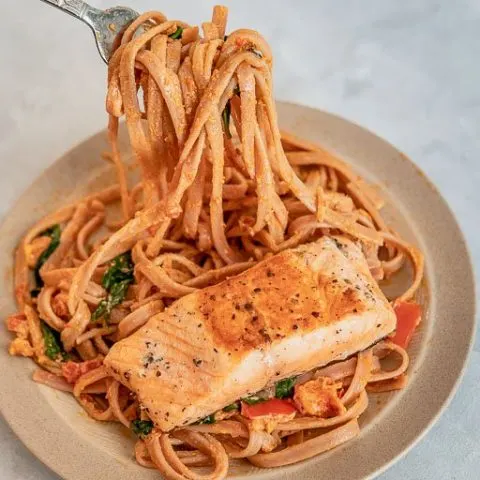 Creamy Salmon Pasta with Sun-Dried Tomato Pesto Sauce
Get a taste of Italy with this creamy salmon pasta. An easy Italian pasta recipe with salmon tagliatelle and sun-dried tomato pesto cream sauce.
Instructions
In large pot, boil water and cook the tagliatelle until al dente, drain then set aside.
Dice the tomatoes.
In a large pan, drizzle oil over medium heat.
Season salmon fillets with salt and pepper.
When pan is hot, pan-sear the salmon for 4-5 minutes on each side, then set aside.
On the same pan, saute the tomato and spinach for 1 minute.
Set to low heat then mix in the cream and pesto.
When the sauce has combined and thickened, mix in the pasta.
Serve the pasta and top with basil leave and salmon.
Recommended Products
As an Amazon Associate and member of other affiliate programs, I earn from qualifying purchases.
Nutrition Information:
Yield:

2
Serving Size:

1
Amount Per Serving:
Calories:

994
Total Fat:

65g
Saturated Fat:

17g
Trans Fat:

0g
Unsaturated Fat:

42g
Cholesterol:

210mg
Sodium:

564mg
Carbohydrates:

41g
Fiber:

6g
Sugar:

11g
Protein:

65g
Please note that nutrition information you see is provided and automatically calculated by Nutritionix. This may vary depending on the specific ingredients that you use. To ensure the most accurate information, I suggest entering your specific ingredients into a nutrition calculator.
---
Hope this creamy salmon pasta recipe gives you an idea on dish to make when you're craving Italian food! You'll love the homemade Italian pasta sauce with cream and sun-dried tomato.