Daura Damm has integrated in the Toronto premium restaurants and food community to target diners who are living gluten-free, looking for gluten-free options or just want another beer option.
What better way to showcase this than gather a group of food-loving people for an ON THE MENU dinner in Toronto's Kanpai Snack Bar paired with Daura Damm beer.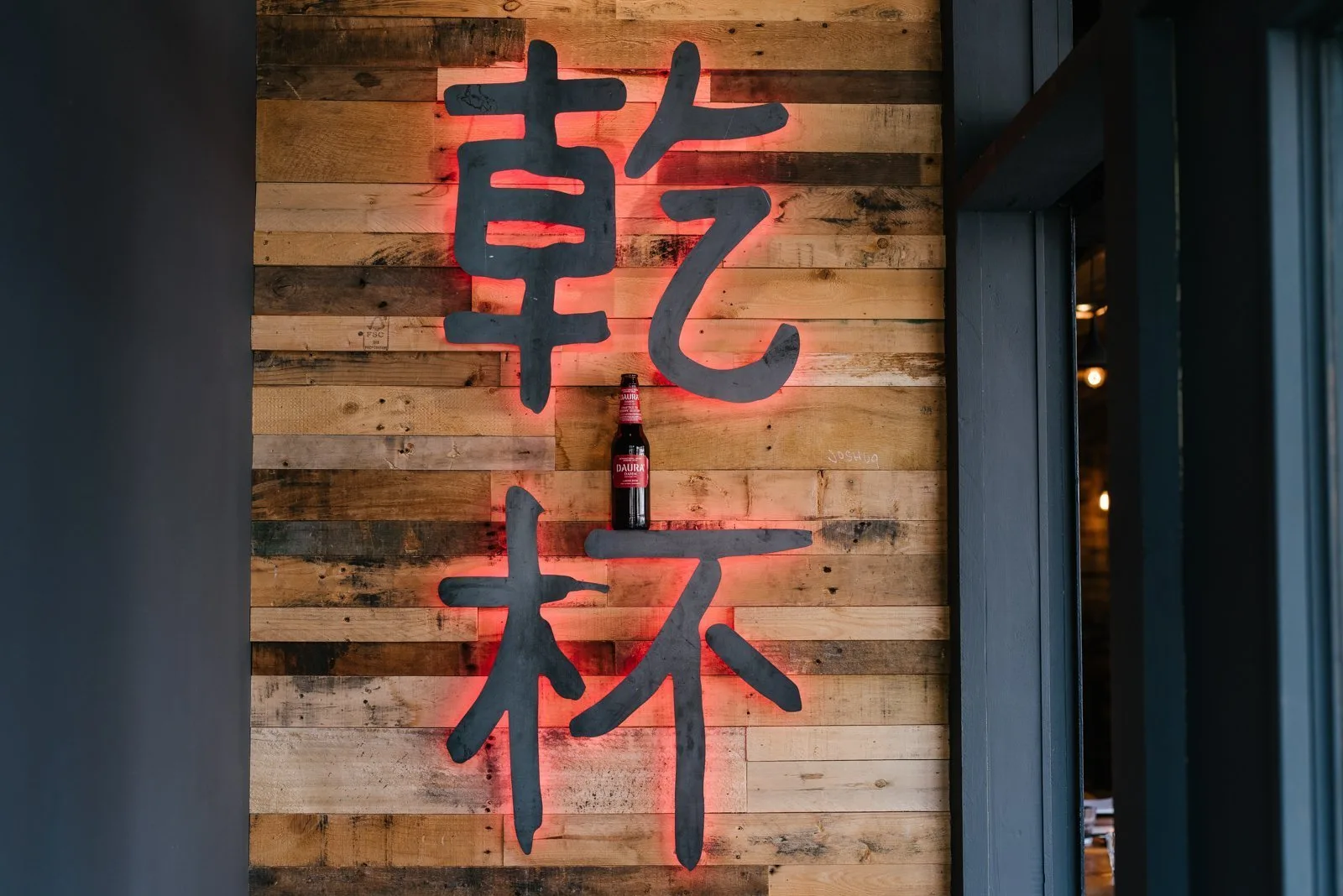 Also Read: Top Restaurants in Toronto
---
About Daura Damm
As a background, Daura Damm is crafted to remove gluten beer from Damm. It is the first beer in Spain to guarantee a gluten content below 3ppm, which is very low considering Health Canada's threshold for gluten-free food is up to 20ppm.
On The Menu Dinner
The event started with an introduction about Daura Damm from Floris van Neerrijnen (Brand Manager for North America), a talk on gluten-free by Rachael of GlutenFreedom Inc, and welcoming remarks from Owner & Chef Trevor Lui of Kanpai Snack Bar and Marian Staresinic of Branding and Buzzing.
Then it was dinner! Trevor Lui has come up with a 10-course meal, with one bonus course, for the ON THE MENU Dinner.
TAIPEI TATER SLAW – julienned potato tossed in spicy Szechuan peppercorn dressing
CABBAGE PATCH KIDS – Brussel sprouts salad, pork belly, bacon bits, bell peppers, cilantro, mint, flaxseed and bird's eye chili in a citrus-sesame-soy vinaigrette, topped with kewpie drizzle
PIGGIE SMALLS – small chunks of pork belly with big flavor, deep fried and tossed with secret spices
FU MANCHU – crispy morsels of fried tofu tossed in a light sweet-chili sauce
NOTHING BUT A GREEN THANG BABY – wok-fired Asian greens in a light garlic sauce
MO MONEY – rich green spinach puree with mixed vegetables
(BONUS) MC HAMMER – Taiwanese popcorn chicken with fried basil leaf in Ike's secret blend of herbs and spices


SCHRICKEN SATAY – chicken and shrimps, with mixed vegetables in savoury satay sauce
TAIWANESE FRIED CHICKEN – infamous deep fried chicken smothered in Taiwanese spices with a mix of fresh toppings


PING PONG BEIGNETS – purple yam and sweet potato beignets sprinkled with sugar crystals
LET YOUR BACKBONE SLIDE – house battered black sesame mochi with seasonal fruit compote and chopped peanuts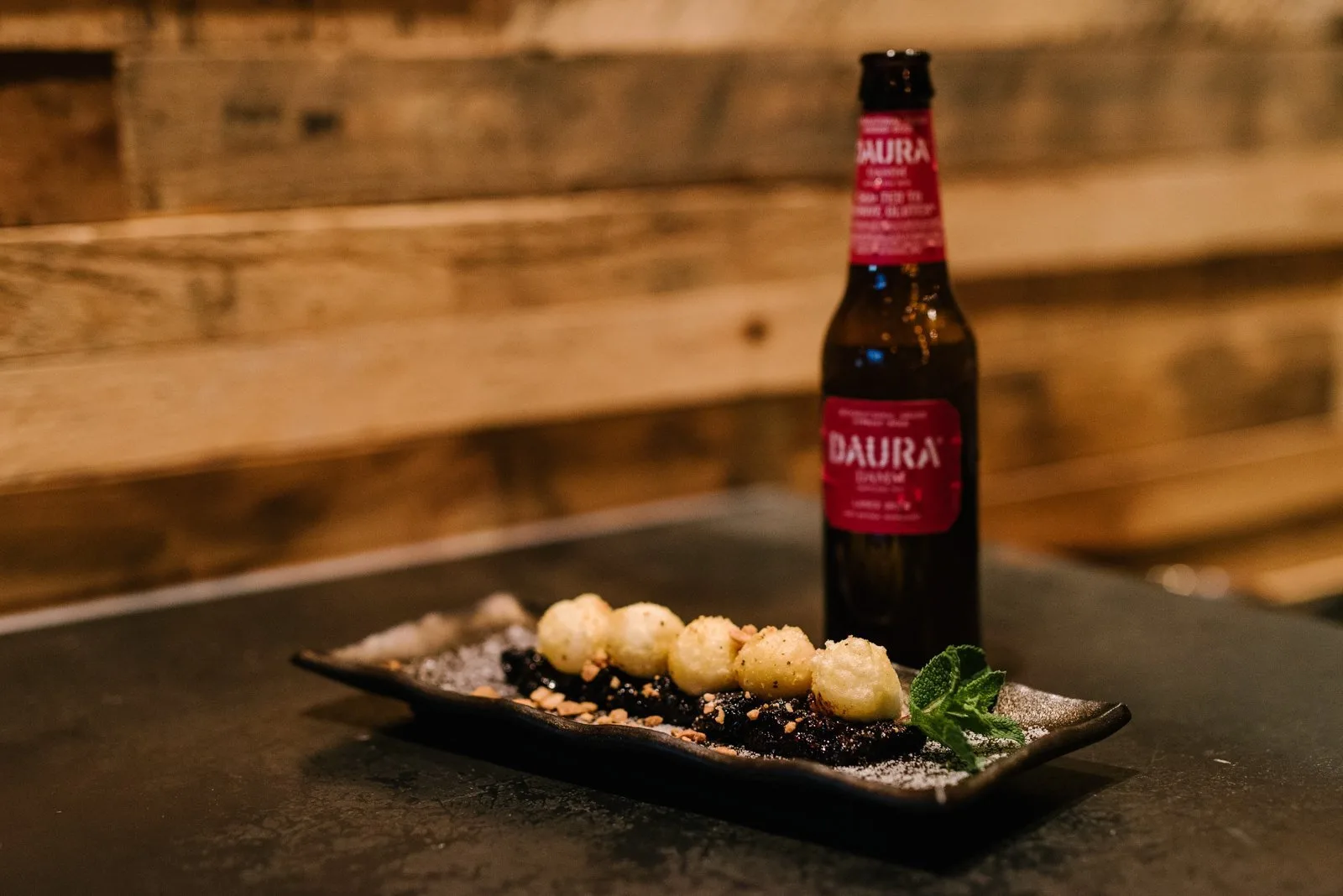 Also Read: Quidi Vidi Brewery in St. John's, NL
---
Pairing with Daura Damm
Daura Damm went so well with the menu. It was light, smooth and refreshing, and the BEST part was it tasted like normal beer.
What I learned from others in my table was that other beers that have been crafted to remove gluten didn't taste like beer anymore.
For the spicy dishes like the Taipei Tater Slaw, Daura was just perfect to cool the burn without overpowering the flavor.
For the savoury dishes like MC Hammer, Piggie Smalls and Taiwanese Fried Chicken, Daura enhances the flavor of the spices. Daura's carbonation and slight bitterness help refresh the palate between bites of chicken and pork.
For the desserts like the Ping Pong Beignets and Let Your Backbone Slide, Daura helps change the overall experience by adding bitterness to it. It helps reduce the sweetness level, and at the same time gives a new unique flavor profile.
At the end of the event, each of us gets to go home with a Daura goodie-bag with a 6-pack of Daura and a "Straight Outta Cabbagetown" cap. What a way to end the night!
---
Photo Credit: All Non-Instagram Photos are credited to Jeffrey Chan, Courtesy of Daura Damm.
---
Daura Damm / Website
---
DISCLAIMER: This post is sponsored by Daura Damm. As always, all opinions are 100% my own.