Welcome to Daytona Beach, the "World's Most Famous Beach" stretching 23 miles of white-sand beaches! Here's how we spent a 2 day trip in Daytona Beach.
There is much to love about Daytona Beach, offering a unique combination of sports, racing, entertainment and dining on a beautiful beach setting.
Did you know? Daytona Beach ranked for Travel Channel's 2017 Top 10 Attractions in Florida, TripAdvisor's Best Weekend Getaway in Florida and USA Today's Top 10 Best Reader's Choice travel award for Best Florida Attractions.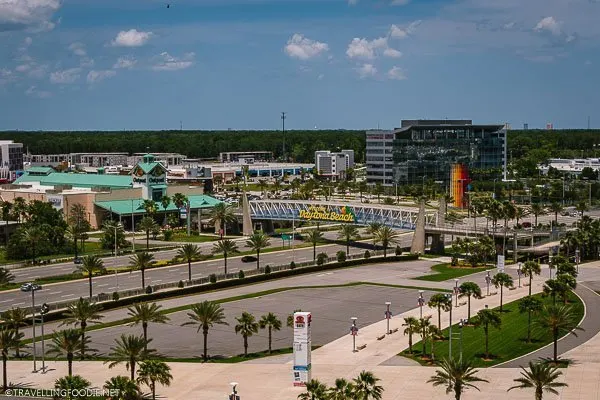 Daytona Beach is also conveniently located so it's 30 minutes away from West Volusia for some old Florida adventures, and 1 hour from the oldest city in USA, St. Augustine.
I have had a strong affinity to Daytona Beach ever since I was a kid. Back in 1996, one of the very first PC games I played was Daytona USA, which I was hooked on as a kid, never realizing that one day I would be standing on the actual speedway.
I was very excited to have a two day trip to the Daytona Beach area, which I'm sharing all about here. Suffice to say, two days is definitely not enough!
The Daytona Beach area consists of seven cities: Daytona Beach, Daytona Beach Shores, Ormond Beach, Ormond By The Sea, Ponce Inlet, South Daytona and Holly Hill.
To put things to perspective, the Riverfront Shops of Daytona Beach alone has more than 60 shops and restaurants to explore and try! Plus, there's also a new multi-million dollar world-class entertainment district, ONE DAYTONA, that offers retail, dining, entertainment and lodging options.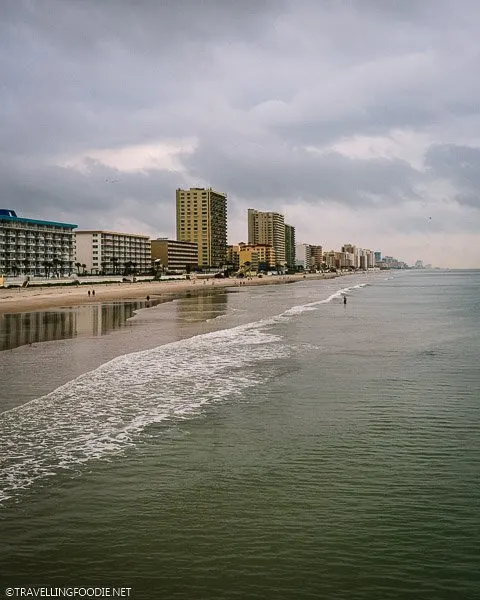 This 2 day trip itinerary will showcase some of the best things to do, restaurants and accommodation in Daytona Beach area including Daytona Beach, Daytona Beach Shores, Ormond Beach and Ponce Inlet.
Perfect for a Weekend Getaway to Daytona Beach!
Also Read: A Day Trip in Jacksonville, Florida
---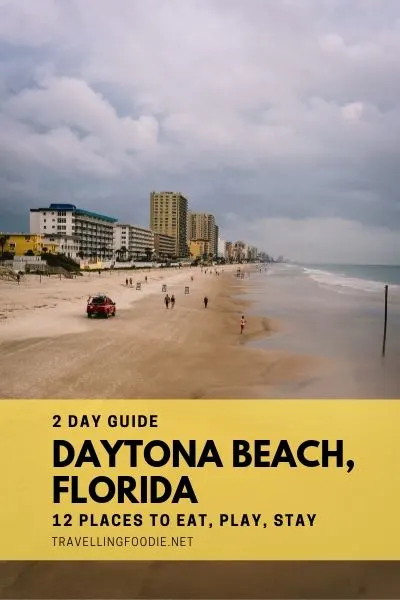 Watch the Daytona Beach, Florida in 120 Seconds on YouTube.
---
Daytona Beach Day 1 Trip Itinerary
Daytona International Speedway
When people hear Daytona, racing is one thing that comes to mind. Aside from its beaches, Daytona Beach area is widely known for racing, being the birthplace of speed in Ormond Beach.
Did you know? Speed racing started on the beach in 1903 when two people wanted to see whose cars were faster.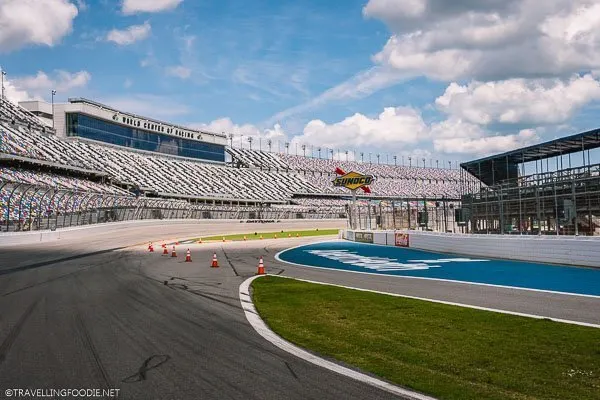 You cannot miss the Daytona International Speedway, one of the most popular attractions in Daytona Beach and home to the most prestigious race of NASCAR, the Daytona 500.
Start your day by taking the Daytona International Speedway All Access Tour at 11:30am (or 10:30am). This 90 minute-tour takes you around the near 500-acre motorsports complex while learning all about racing, the speedway and more.
This tour is one of the best things to do in Daytona Beach outdoors.
Travelling Foodie Tip: Allot at least 2 hours to fully appreciate the tour.
I highly recommend doing the Daytona International Speedway tour as this is a great experience even if you're not into racing. I felt the rush and excitement just being there, and can only imagine the energy when races are happening.
As part of the tour, you'll actually get to be on the 2.5-mile infield track. The guide will even drive on the track so you can feel how steep it is.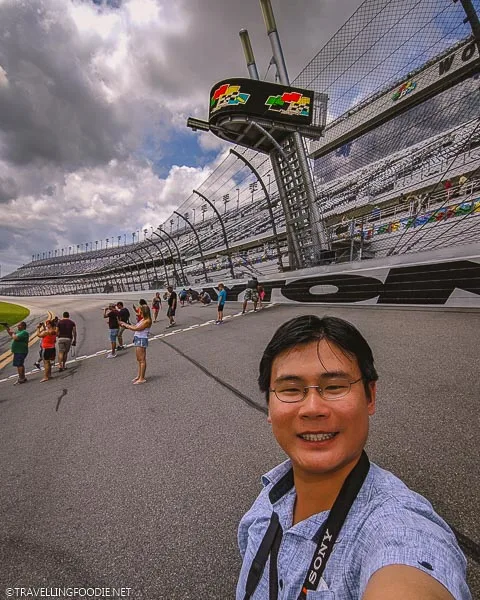 You'll also get to visit the popular Gatorade Victory Lane, where the winning driver celebrates after.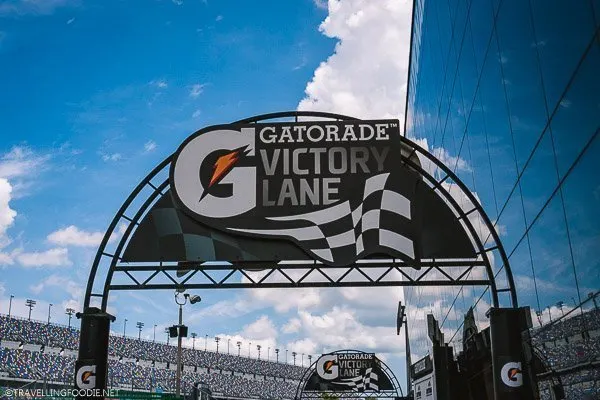 Visit the Fan Zone where fans get to watch the race at ground level up-close on the track. You might even get the opportunity to enter one of the garages to see real race cars.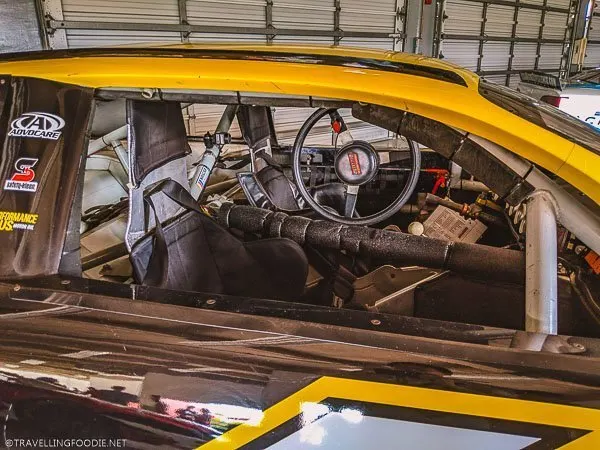 Step into the media room to see where your favourite racers are interviewed, and how the media work to share the news.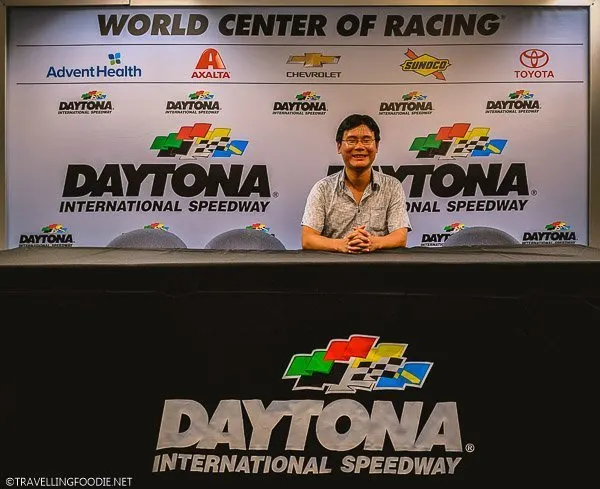 You'll end the tour at the Motorsports Hall of Fame of America, a 10,000 sq-ft hall dedicated to American motorsports: cars, motorcycles, off-road, powerboats and airplanes.
The Daytona International Speedway is definitely one of the best things to do in Daytona Beach!
Website / Address: 1801 W International Speedway Blvd, Daytona Beach, Florida 32114
All Access Tour Price: $26 (Ages 13+), $20 (Ages 5-12)
---
Hard Rock Hotel Daytona Beach
Have lunch at Sessions, the beach restaurant inside the Hard Rock Hotel Daytona Beach. Be sure to sit outside so you'll get panoramic views of the beach and Atlantic Ocean.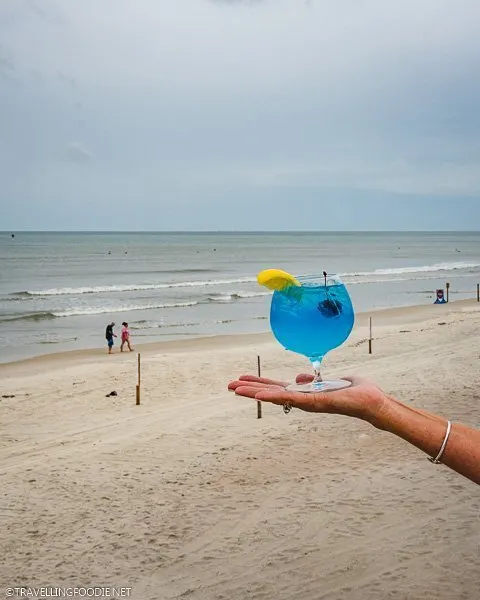 When in Florida, you'll want to try the Rock Shrimp as it's mostly found in the Gulf of Mexico. They are quite different in bite and texture, which is more similar to that of lobster than regular shrimp.
The Bleu Cheese Glazed Tater Tots are also a must-order if you love tots or fries! It's full of flavour from the bleu cheese, balsamic drizzle and bacon.
A great appetizer that doubles as a main is the Mussels which was so delicious with the Pernod cream sauce and parmesan.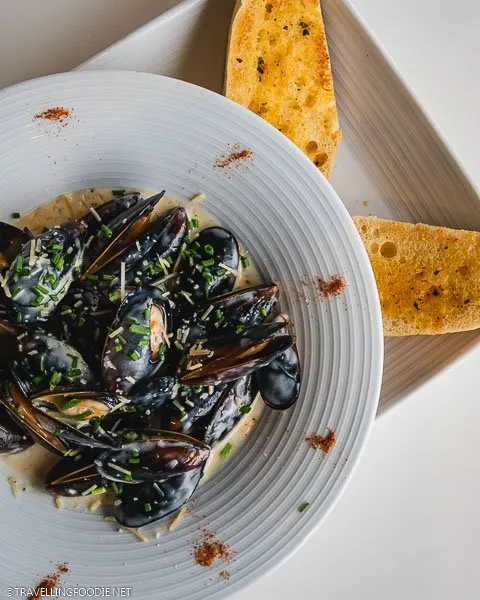 After lunch, check-in to the Hard Rock Hotel, one of the best hotels in Daytona Beach. This luxury modern hotel has 200 rooms.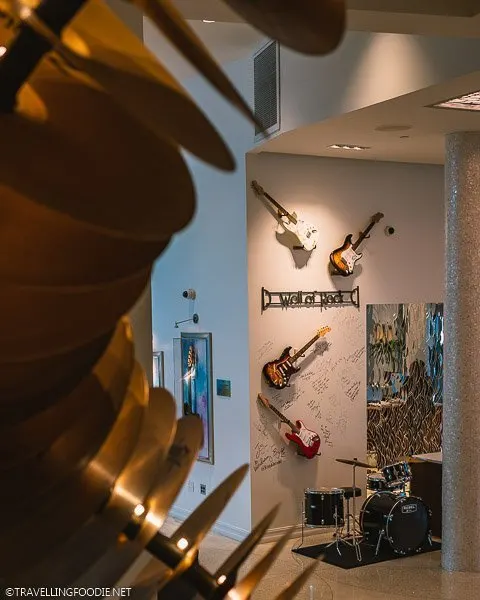 Make sure to book an Oceanfront room at the Hard Rock Hotel Daytona Beach because the views are just amazing!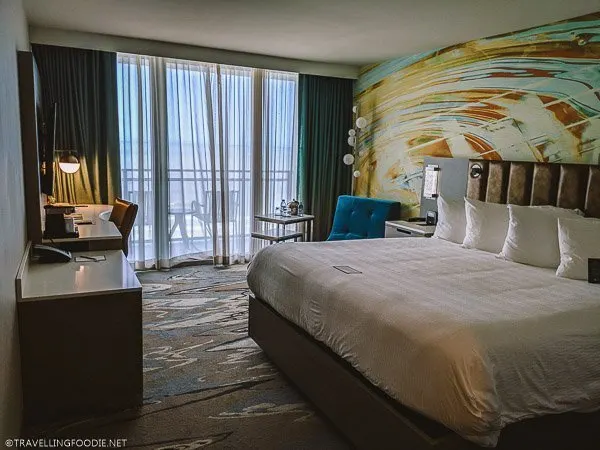 Before dinner, enjoy the hotel's swimming pool or head straight to the beach (the hotel has direct access to it).
Check availability and pricing of Hard Rock Hotel Daytona Beach on Booking.com / Agoda
Website / Address: 918 N Atlantic Ave, Daytona Beach, Florida 32118
---
Wine-Me (CLOSED)
Head to Daytona Beach Downtown to Riverfront Shops of Daytona Beach in the historic Beach Street. Start your night by wine-ding down at Wine-Me, a locally owned wine and tapas bar.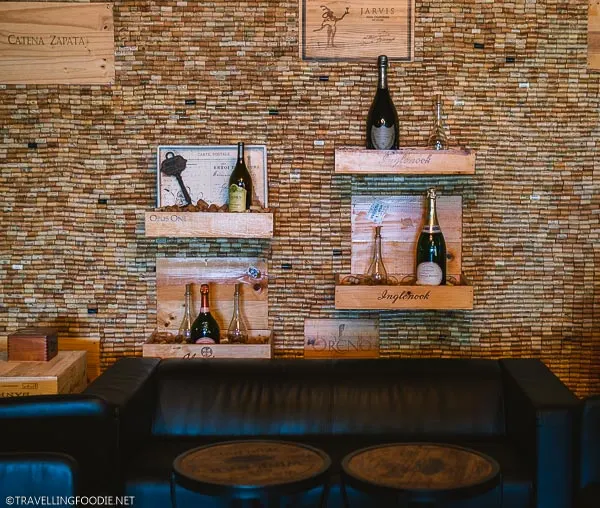 Wine-Me carries a wide variety of wines from all over the world, and the selection changes monthly. They also server cheese and charcuterie platters, tapas, fondue and flatbreads to pair with your wine.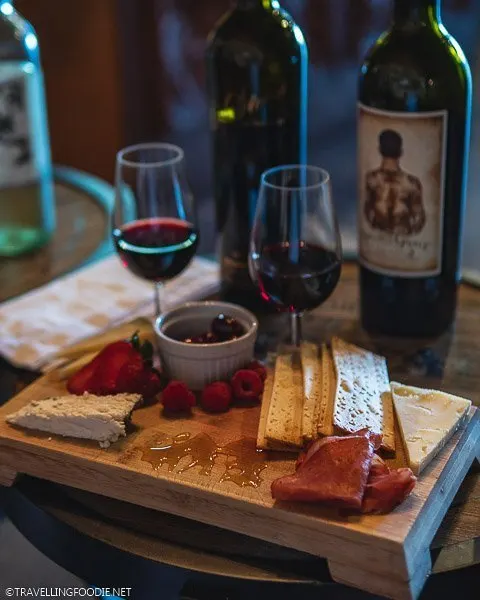 Travelling Foodie Tip: On Wednesdays, they have free wine tasting from 5-8pm!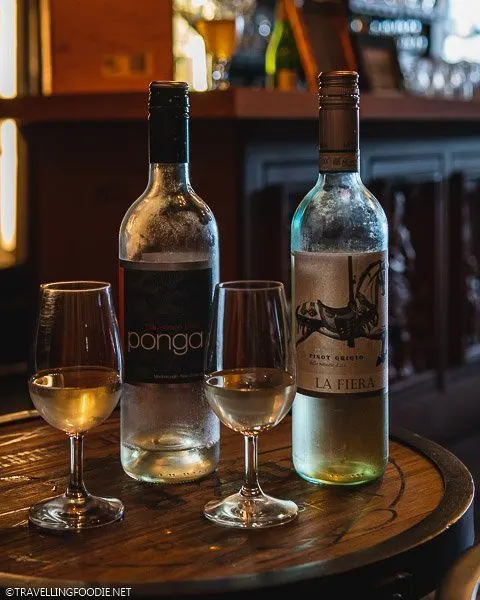 Address: 204 S Beach St, Daytona Beach, Florida 32114
Also Read: St. Augustine, Florida Food Scene
---
Ichi Ni San Asian Grilled Ramen & Sushi
Head one street along the Riverfront Shops of Daytona Beach for dinner at Ichi Ni San, one of Daytona Beach's new restaurant which opened in July 2018.
Ichi Ni San Asian Grilled Ramen & Sushi serves Asian food specializing in Thai and Japanese cuisine with the owners themselves are Thai and one of the chefs is Japanese.
Be sure to check out the Special Menu at Ichi Ni San. When you see Wild Caught Blue Fin Tuna, order it!
I love sushi and blue fin tuna is my favourite. I was so happy when I saw the Blue Fin Lover Set from the Special Menu.
The fish was very fresh and melts, and the fish-to-rice ratio was right.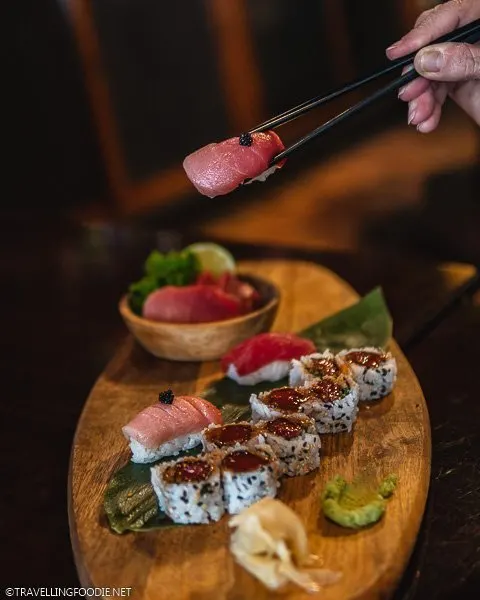 If you like raw fish, you'll love it here because the fishes are very fresh. We enjoyed the Sear Sesame Tuna and the Signature Poke Bowl, which had salmon, tuna and yellowtail (hamachi).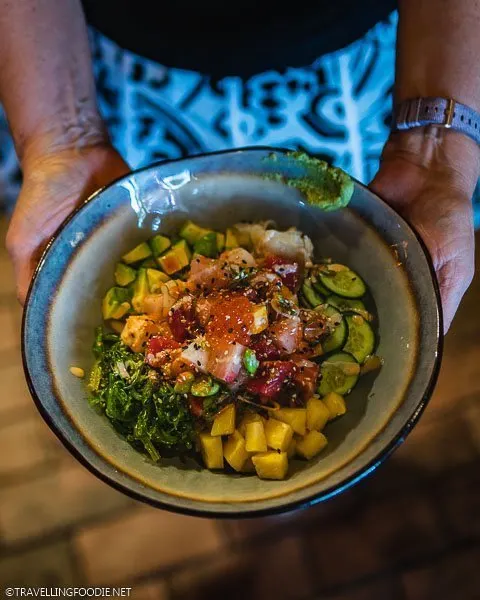 Travelling Foodie Tip: I recommend going through the Special Menu paper and the Special Menu boards on the walls first. The regular menu can be quite overwhelming with over 5 pages of dishes to choose from.
When I looked through the Special Menu boards at Ichi Ni San, I saw what I wanted and that was the Soft Shell Crab Stir-Fried with Thai Curry Sauce.
I love soft shell crab, but it's not common to find in restaurants. When I do find it, it's usually in a Japanese restaurant made deep-fried tempura style.
Therefore, I was curious when I saw it was made as a Thai dish that wasn't deep-fried. This one didn't disappoint. The dish was full of flavour with the Thai curry that I loved mixing it with the rice.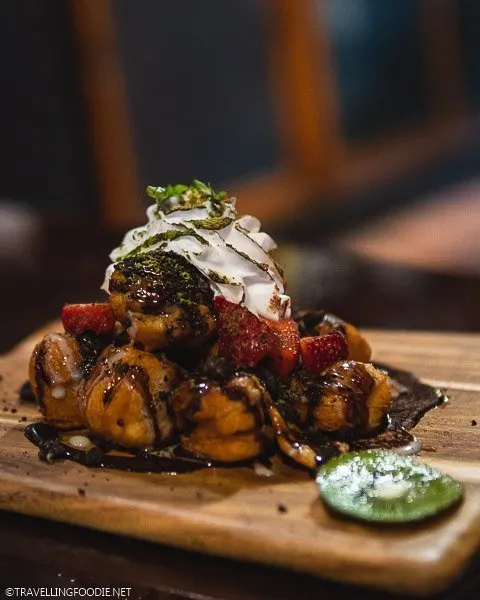 Website / Address: 246 S Beach St, Daytona Beach, Florida 32114
---
Daytona Beach Day 2 Trip Itinerary
Crabby Joe's Deck & Grill
Wake up early on your next day to catch the beautiful sunrise over the Atlantic Ocean! Best of all, you don't even need to get out of your room at the Hard Rock Hotel Daytona Beach. You just open your balcony.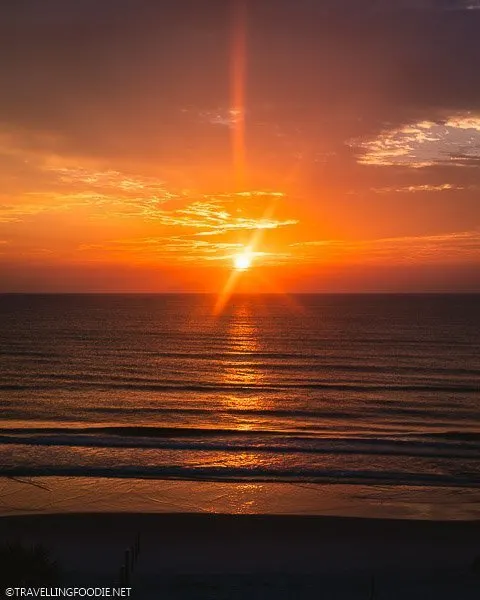 I love how restaurants in Daytona Beach maximize the beach setting. At 7am, head to Crabby Joe's Deck and Grill, an over-the-water restaurant at the Sunglow Pier.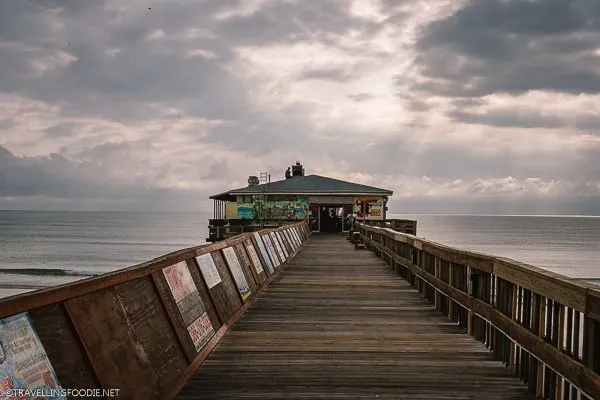 Enjoy breakfast with a view at Crabby Joe's Deck & Grill!
Crab Cake Benedict is not common to find as well since most eggs benedict options are typically bacon, ham or salmon. The crab cake was full of sweet crab meat and little to no fillers.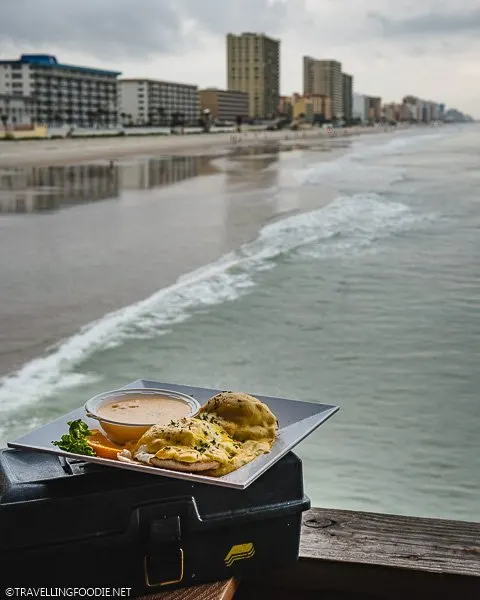 Be sure to check out the Sunglow Fishing Pier as well which is directly behind Crabby Joe's. It has great views looking into the city.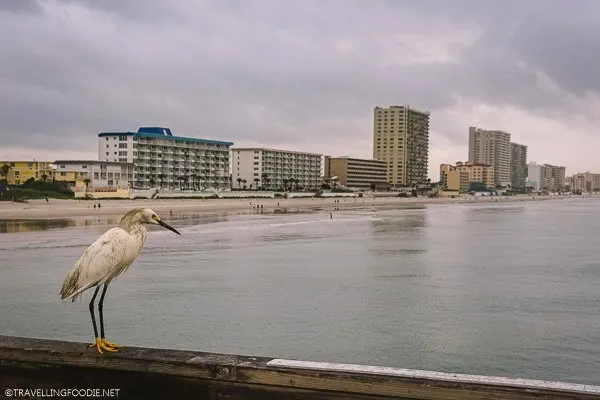 You can buy baits and rent a rod there to go fishing. The best part is you can get Crabby Joe's to cook the fish you caught too!
Website / Address: 3701 S Atlantic Ave, Daytona Beach Shores, Florida 32118
---
Daytona Beach Parasail
Arrive 9am at Daytona Beach Parasail for a unique way of seeing Daytona Beach! Though I've done skydiving in West Volusia, this was my first time parasailing, and I LOVED IT!
The Daytona Beach Parasail experience is so different from skydiving! It's not what I expected at all, and definitely one of the best things to do in Daytona Beach.
Once you're high up, it actually becomes peaceful and still. It's actually rockier on the boat. Plus, the 360 views of Daytona Beach was just breathtaking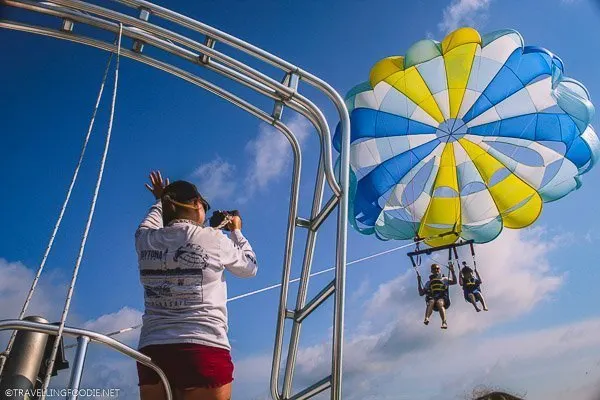 This adventure is fun for all ages (minimum 5 years old)! No maximum limit.
They said the oldest they had was someone in their 90s. When I did it, there were two 75 year old ladies (best friends) who were trying to check it off their bucket list.
If you don't want to do it, you're still able to join the boat ride (as long as there's space).
I still think it's a good idea because you'll get a nice boat ride on the water, get to see how parasailing works, get a chance to see some wildlife (we saw dolphins), and even see some funny antics the guide do when someone's parasailing.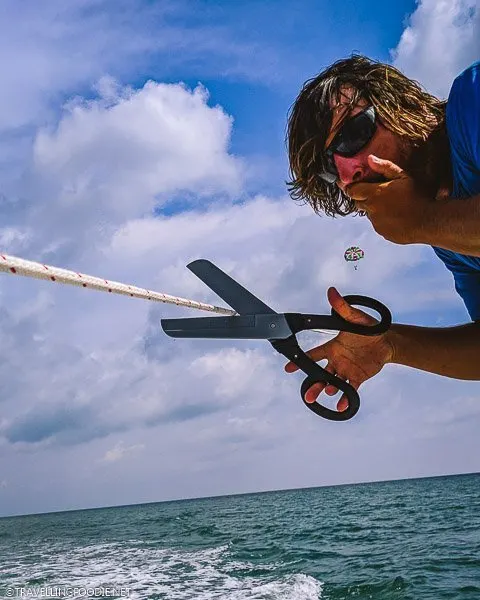 End Daytona Beach Parasail with a splash! The guides will ask if you want to dip into the water before they bring you back to the boat.
I recommend you do! It's just fun, and also a nice way to cool off if the weather is hot.
As an extra bonus, your parasailing ticket gives $5 off at Ocean Deck Restaurant & Beach Club when you spend $25 or more. Limit 2 per party.
Website / Address: 4936 S Peninsula Dr, Ponce Inlet, Florida 32127
Price: $69 (600 ft), $79 (800 ft), $89 (1000 ft), $99 (1200 ft)
---
Ponce de Leon Inlet Lighthouse and Museum
Just next door from Daytona Beach Parasail is the Ponce Inlet Lighthouse and Museum, a National Historic Landmark visited yearly by over 170,000 people.
Did you know? Ponce Inlet Lighthouse was first known as Mosquito Inlet Lighthouse because of the large amount of insects in Ponce Inlet.
Unlike its neighbour St. Augustine Lighthouse which is the oldest lighthouse in Florida, this 1887 Ponce Inlet Lighthouse is Florida's Tallest Lighthouse and the second tallest masonry lighthouse in the USA at 175 feet with 203 steps!
It is also a National Historic Landmark.
Aside from the lighthouse, the museum also gives access to the lighthouse keepers' dwellings and other historic light station buildings.
One of the most popular building is the Ayers Davies Lens Exhibit Building which showcases restored fresnel lenses from around the world.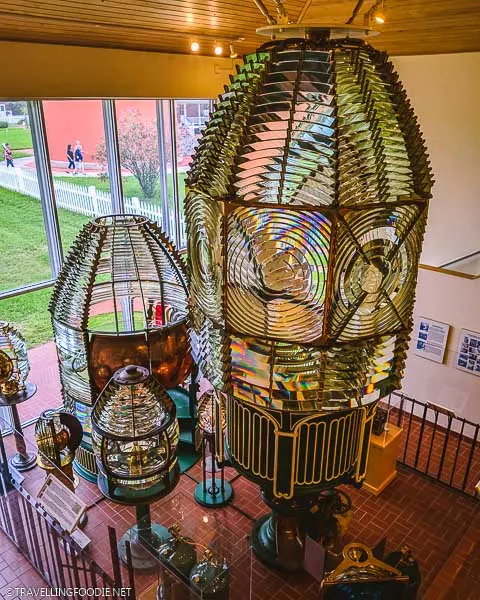 Website / Address: 4931 S Peninsula Dr, Ponce Inlet, Florida 32127
Price: $6.95 (Age 12+), $1.95 (11 and under), Free (up to 2 years old)
---
Off The Hook at Inlet Harbor
For lunch, head to Off The Hook at Inlet Harbor, a waterfront restaurant that opened in January 2018 as the second location to its original New Smyrna Beach location.
The restaurant is huge with a seating capacity of 400 people: 220 on the 6,500 sq. ft. outdoor deck and 180 inside. Boaters can even access the restaurant through the dock.
As Off The Hook at Inlet Harbor's name implies, definitely do seafood here since fresh local seafood is what they do best! You'll find the list of Fresh Catch of the Day on the chalkboard by the main entrance.
Make sure to try their Rock Shrimp which were fresh and shrimply delicious with just the simple garlic butter.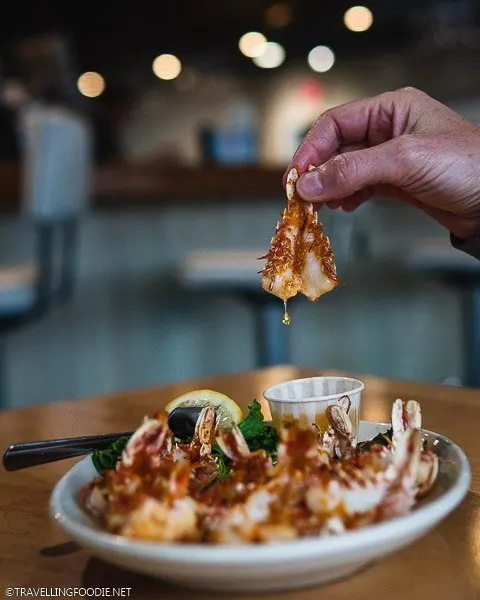 I enjoyed my first poke taco in St. Augustine, and I'm back at it again here! I'm still surprised I haven't seen this much in Toronto.
The poke taco was very flavourful and I loved the tropical taste with the pineapple mango chutney.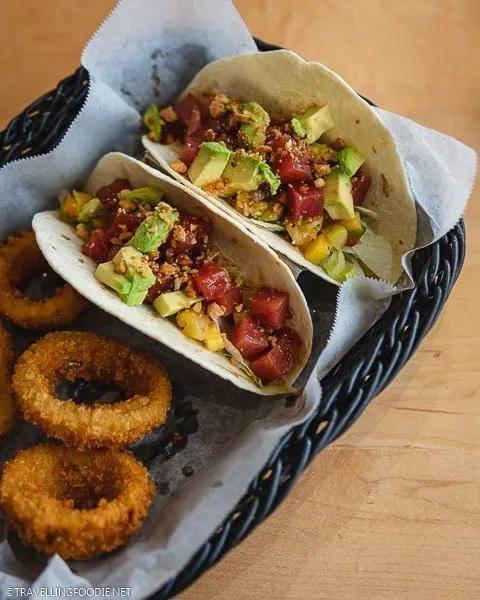 Grouper is one of the most popular fishes in Florida because it's available to catch all your round.
You'll always find it on seafood restaurants as Fresh Catch. Since Off The Hook specializes in Caribbean-infused flavours, I had the Blackened Grouper, which was blackened with Cajun spices.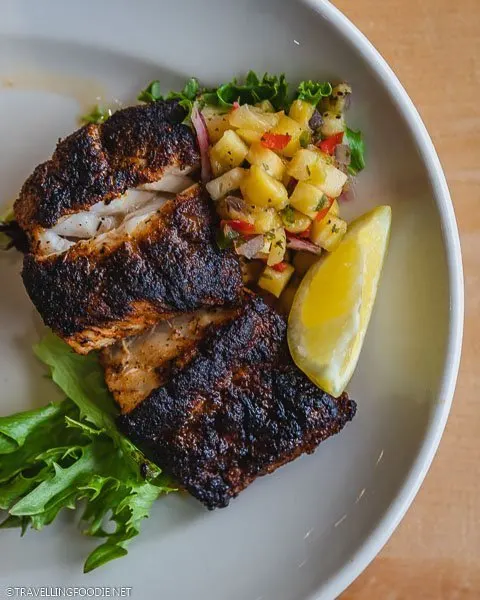 Enjoy the food with their selection of beer from Florida breweries like Ormond Brewing Company and New Smyrna Brewing Company.
Travelling Foodie Tip: They have Live Music on Friday to Sunday.
Website / Address: 133 Inlet Harbor Rd, Ponce Inlet, Florida 32127
---
Sweet Marlays' Coffee
Head to the Riverfront Shops again for coffee at Sweet Marlays' Coffee, a locally owned coffee shop that's one of the best coffee shops in Daytona Beach.
Sweet Marlays' Coffee can also be considered a bakery as they make pastries and desserts in-house daily.
Try a Cuban con Leche which is not common to find in coffee shops. You can enjoy some board games while sipping on your coffee too!
Website / Address: 214 S Beach St, Daytona Beach, Florida 32114
Also Read: Where To Eat in West Volusia, Florida
---
Angell & Phelps Chocolate Factory
Love chocolates? One of the best places to eat chocolates in Daytona Beach is at Angell & Phelps Chocolate Factory.
Angell & Phelps Chocolate Factory has been a Daytona Beach staple for chocolates since original owners Riddell Angell and Cora Phelps closed their original Michigan location after World War II and moved to Daytona Beach to open the store.
When you enter, you enter chocolate heaven! I loved browsing through the different chocolates they have. They have some uncommon ones like chocolate covered applewood smoked bacon and chocolate covered chips.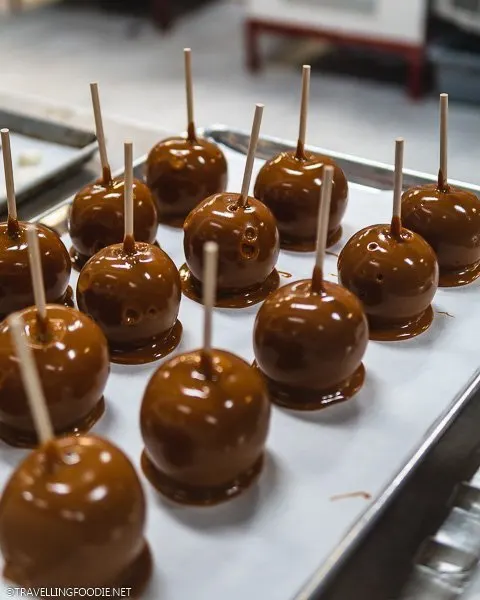 Perhaps a first time for me was hearing of chocolate treats for dogs. They use white chocolate for these treats since white chocolate doesn't have cocoa so it is not bad for dogs.
Catch the complimentary factory tour of Angell & Phelps Chocolate Factory at 3pm. In this 20-minute tour, you'll learn about the history of chocolates, lessons in chocolate making and see how they are made at Angell & Phelps through large windows overlooking the factory.
I was surprised to learn that they still do everything by hand, which makes their chocolates even more special.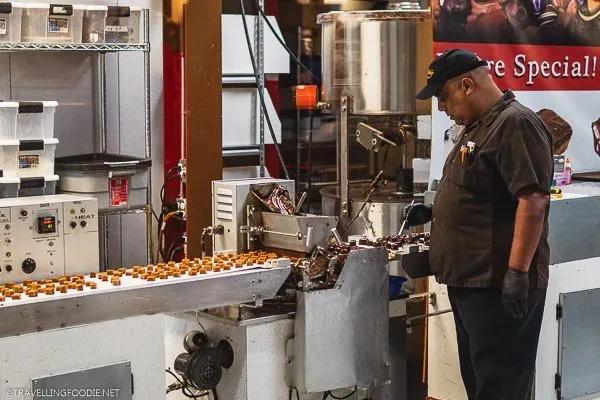 The best part is, after the tour, you'll get to sample two chocolates of your choice from the platter.
As a bacon lover, I just had to try the chocolate covered bacon. Bacon makes everything better, and it is still the case here!
I highly recommend trying it to see. I love the mix of sweet and salty flavours.
The same goes for the chocolate covered chips, which I ended up buying a bag to take home. They use Martin's Sea Salt Potato Chips for these.
And they've found a way to perfect the procedure so the chip stays crispy and doesn't crumble when being coated by chocolate.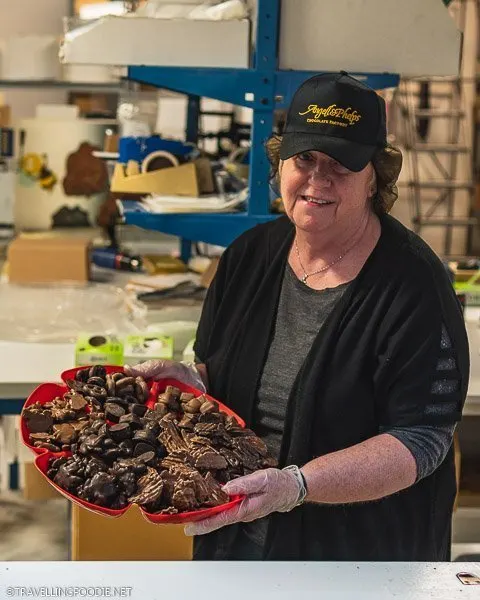 Website / Address: 154 S Beach St, Daytona Beach, Florida 32114
---
Grind Gastropub & Kona Tiki Bar
Take a break by exploring more of the Riverfront Shops, or go back to the hotel to rest or head to the beach.
Head to downtown Ormond Beach and start your night with cocktails at Kona Tiki Bar at the Grind Gastropub. This outdoor tiki bar is the largest of its kind in the area.
I loved the atmosphere here with its intricate tiki masks and carvings, palm leaf thatch roofing, and the fun casual vibes. It's definitely a place I see locals hanging out regularly.
Travelling Foodie Tip: You don't have to worry about parking because there is complimentary valet parking off of New Britain Avenue.
Try specialty cocktails at Kona Tiki Bar while enjoying live music, which they have nightly except Sundays.
Website / Address: 49 W Granada Blvd, Ormond Beach, Florida 32174
Also Read: Where To Eat in Jacksonville, Florida
---
Rose Villa Restaurant, Southern Table and Bar
For dinner, head next door to Rose Villa Restaurant, a historic hotel turned restaurant serving Southern-inspired cuisine. Ask locals for the best fine dining restaurant in Daytona Beach or Ormond Beach, and Rose Villa Restaurant would be a common answer.
As you enter, you feel like you're transported back to a Victorian house in the 1920s with custom wallpapers and ceilings, and multiple artworks reminiscent of Florida's history hanging on the walls.
Make sure to check out the washroom. It's a casual restaurant, but the atmosphere is intimate and fine dining.
It shares the same valet parking as Grind Gastropub and Kona Tiki Bar so you don't need to worry about moving your car.
Upstairs they have a Parisienne bar, the Upstairs Absinthe and Dessert Bar, where you can try house-made desserts and absinthe cocktails.
The good thing is you can still order them from the dining room. It's rare to find Absinthe cocktails in restaurants.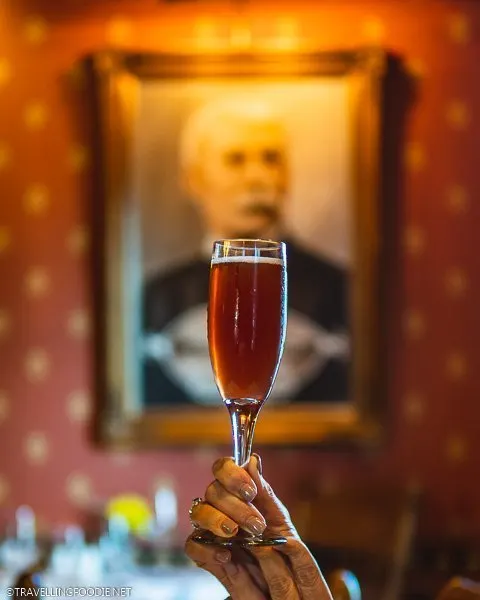 Their most popular appetizer is the Rose's Deviled Eggs which you have to try! Before dinner, when locals learned we were going to Rose Villa, they immediately tell us to order this.
Our server at Kona Tiki Bar even told us she gets three of this when she dines there.
The egg yolk was creamy but you get a crunch from the crispy pork belly, which adds a nice salty flavour to the egg as well. Highly addicting!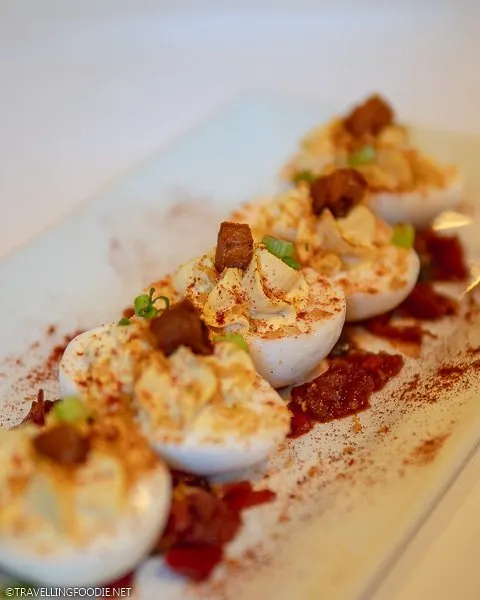 I wanted to try the Scallop Marsala since I've only had Marsala as Chicken or Veal Marsala in Italian restaurants so this was quite unique.
The Marsala cream sauce was different than what you'd be used to in chicken marsala. You'll even notice this in the color where the one here is white when it's typically brown.
Traditional marsala sauce has a mix of garlic, onions, mushrooms and herbs to create the sauce. The marsala cream sauce here focuses more on the marsala and the cream for a lighter tasting sauce, which is perfect for the scallops since it doesn't mask the scallop's taste but adds to it.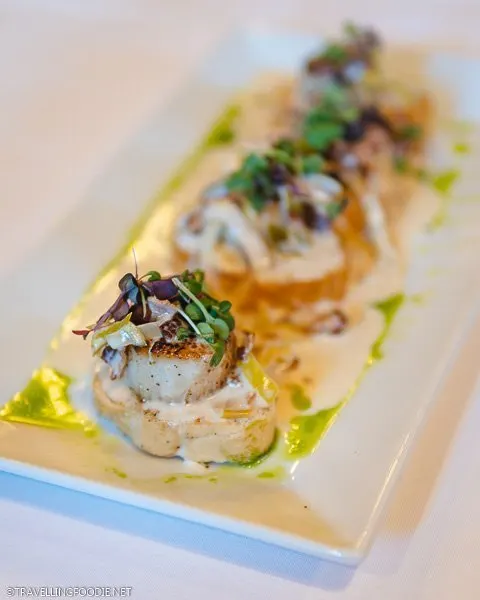 Rose Villa Restaurant is popular for their Signature Fried Chicken. If you love those, you'll want to visit Monday night when they have all-you-can-eat Signature Fried Chicken.
Be sure to ask what the Chef's Fresh Catch is! I loved the Chilean Sea Bass at Rose Villa Restaurant.
It was perfectly cooked with the meat still oily but not falling apart.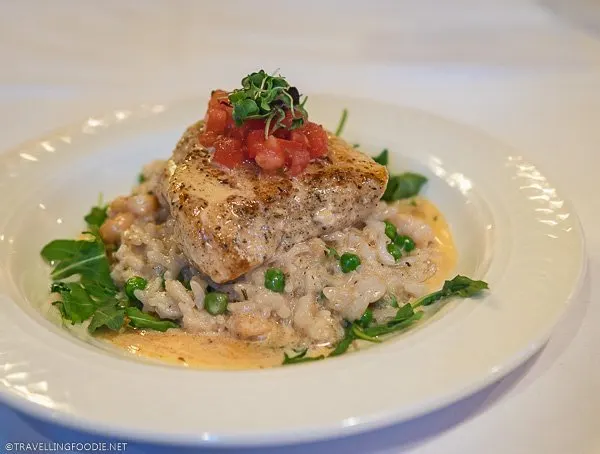 Their most popular dessert is The Hummingbird, a unique cake that's a combination of banana and pineapple. It feels like eating a carrot cake and a banana cake combined.
I was surprised that it was a small sized cake instead of a slice, so it's perfect for sharing.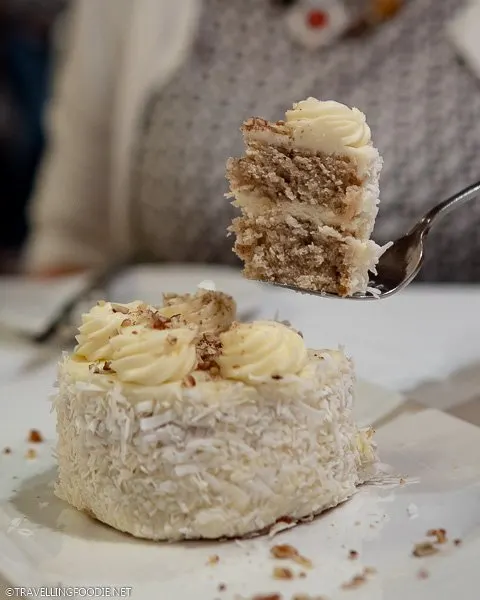 Website / Address: 43 W Granada Blvd, Ormond Beach, Florida 32174
---
MAP: 2 Day Trip in Daytona Beach, Florida
Here's a map of all the places to eat, play, stay in Daytona Beach covered in this travel itinerary and guide.
---
Hope this travel guide to Daytona Beach, Florida helps you plan your next 2 day trip with the best things to do, where to eat and stay in the Daytona Beach Area! Time to plan that weekend getaway!
I'm always looking for new places to visit so please let me know what you find are the best attractions, restaurants and places to stay in Daytona Beach.
---
This post was sponsored with Visit Florida. As usual, reviews and opinions are 100% entirely my own.
You can learn more about Visit Florida thru their website, or find them in Facebook, Twitter and Instagram.