Located in uptown Toronto, Diwan is Aga Khan Museum's Restaurant where the menu is developed by Chef Mark McEwan, owner of popular restaurants such as Bymark, North 44, and Fabbrica.
Diwan's patio typically opens during the summer with a new menu and lounge seating. I was invited to the Summer Menu Tasting Event at Diwan on June 27, 2017 where we got a complimentary sampling of some of their new dishes.
Also Read: Fabbrica by Chef Mark McEwan in Toronto
---
Aga Khan Museum
We also got a tour of Toronto's Aga Khan Museum and its current feature exhibit, Syrian Symphony: New Compositions in Sight and Sound, which offers an immersive, multi-sensory response from artists to the current situation in Syria.
This was my first time visiting Aga Khan Museum and, as I walked from the parking lot, I was already impressed by the spacious surroundings, architecture and a garden which turned out to be the Aga Khan Park.
Aga Khan Museum is right across from the Japanese Canadian Cultural Centre where Toronto's $300 tasting menu restaurant, Kaiseki Yu-zen Hashimoto, is located.
I really enjoyed the Syrian Symphony as it's a very unique concept that combines both art and music. The music played while admiring the art evokes strong emotions on the struggles in Syria and the mission to protect and rebuild its cultural heritage.
---
Diwan Restaurant
Where you see the sign that says "Aga Khan Museum", you'll find Diwan to the right with its open restaurant concept and big patio.
Since the Aga Khan Museum is all about appreciation of Muslim civilizations, Diwan Restaurant is no exception with the interior highlighting the luxury of a private 19th-century Syrian home with its wooden wall panels, hand-carved and painted in Damascus in 1799.
Diwan's patio officially opened in May 20, and it was amazing to see that the sunlit patio has a spectacular view of Aga Khan Park. What a way to dine!
Note though that both Diwan and the patio are only open for lunch Tuesday to Sunday and holiday Mondays, from 11:30 am – 2:30 pm.
The new lunch menu is inspired by flavours from Iran, Iraq, Lebanon, North Africa, and Turkey. One thing I learned about Diwan's menu is it changes to reflect the feature exhibition at that time.
Also Read: Top Restaurants in Toronto
Diwan Summer Menu 2017
We got to try seven items from the new menu at Diwan Toronto. I was quite surprised by how good the food was.
Each dish brings different Middle Eastern flavours to traditional items that aren't boring nor not what you'd commonly find in Middle Eastern restaurants.
Diwan Restaurant is participating in this year's Summerlicious which runs from July 7-23, 2017. You get a three-course pre-fixe lunch for $28.
Must-Try Dishes
My favourites at Diwan Restaurant's new Summer Menu were the Chicken Jalfrezi Poutine and the Lamb Kofta. The Lamb Kofta was very tender, yet packed with so much meat.
But what made it a winner was the coconut curry, yogurt and red chili that came on top of it and made it unique from any other kofta I've had. It's so addicting to dip with the naan!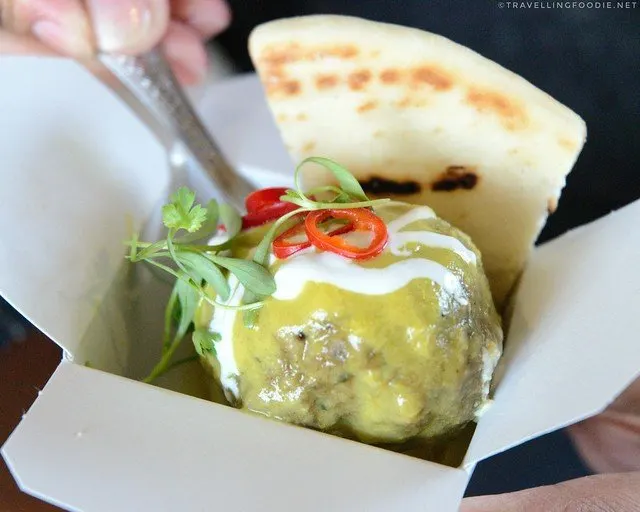 The Chicken Jalfrezi Poutine was something I didn't think would work, but it did! It sort of reminded me of butter chicken poutine, but the tomato-based curry and masala fries brought it to a whole new level.
What I loved as well is the masala fries remained crispy despite the curry on top and taking time for photos.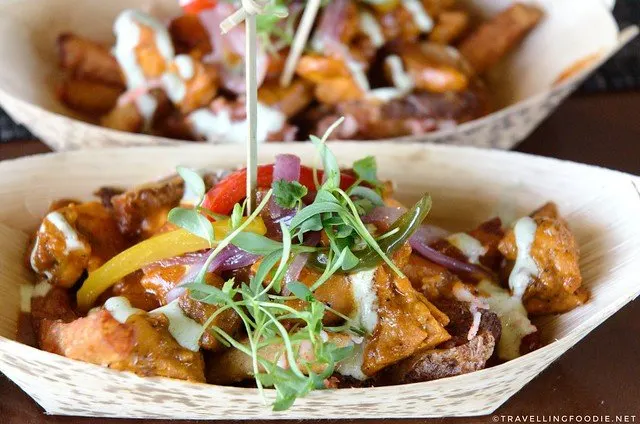 Other Dishes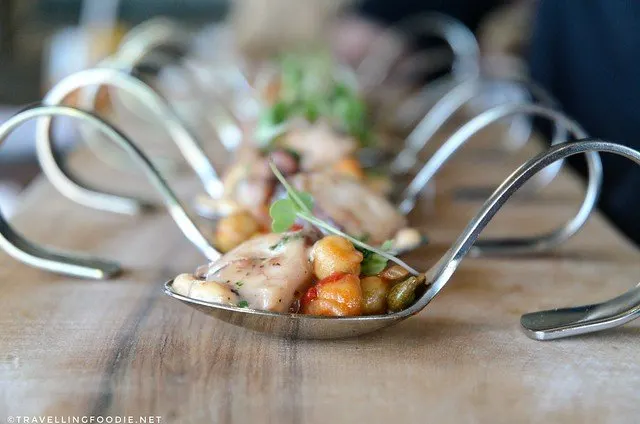 Mocktails
---
Hope this Toronto Restaurant Review of Diwan in Aga Khan Museum helps give you an idea on what it's like to eat there!
---
Diwan
Website / Address: Aga Khan Museum, 77 Wynford Dr, Toronto, Ontario, Canada M3C 1K1
---