Some posts on this site contain affiliate links. If you book or purchase something through one of these links, I may earn a small commission at no extra cost to you. Read the full disclosure policy here.
Eastern Townships, or Cantons-de-l'Est, in Québec is a beautiful gem an hour drive from Montreal with vast areas filled with lakes, mountains, farms and picturesque villages.
The region has so much to offer to Travelling Foodies, with over 70 attractions, 130 festivals and 3 Tours & Scenic Routes: the historic Townships Trail, the scenic Summit Drive, and the Wine Route.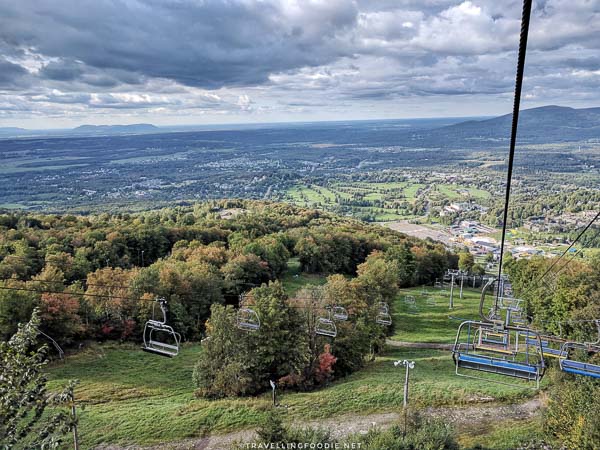 We did a 3 day trip in the region, making a great guide on where to eat and stay, plus things to do in the Eastern Townships. It's a great way for a quick getaway or to spend a long weekend.
Here's a video overview of the guide, which will be covered in detail in the article: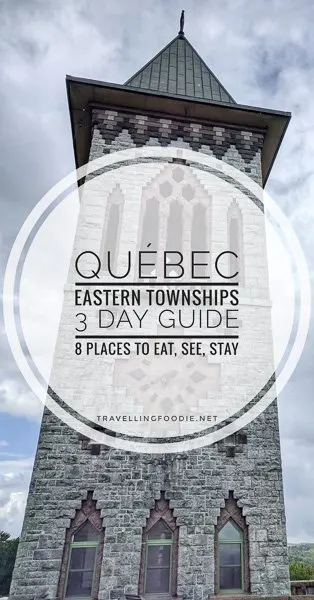 8 Things To Do, Restaurants and Accommodations in Eastern Townships, Québec:
Spa Eastman
Website: Spa Eastman
Address: 895 Chemin des Diligences, Eastman, Quebec, Canada J0E 1P0
Latest Prices: Booking.com | Agoda
If you're looking to relax and unwind, plus get a boost in health and wellness, Spa Eastman is definitely your getaway. This 320-acre destination spa and wellness resort is situated mountainside facing Mont Orford offering an all-inclusive stay which includes meals, hydrotherapy, daily physical activities, 15-km of hiking trails and more.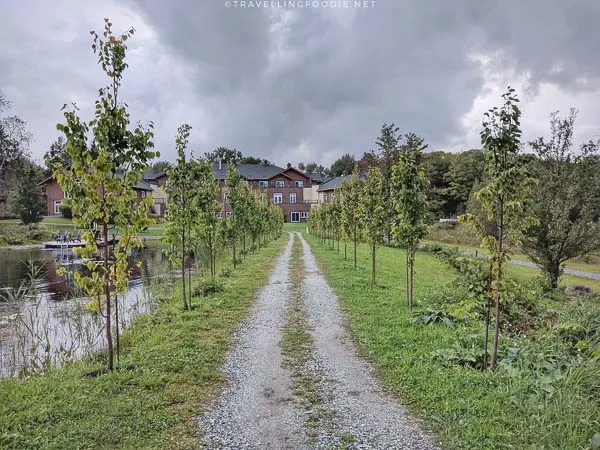 Schedule of daily physical activities are displayed on the TV in the lobby – plus you'll have a printed schedule in your room if you're staying. I was able to join the Classical Stretch – Essentrics class, presented by Martha Au, which combines dynamic strength and stretch exercises that rapidly changes the shape of your body.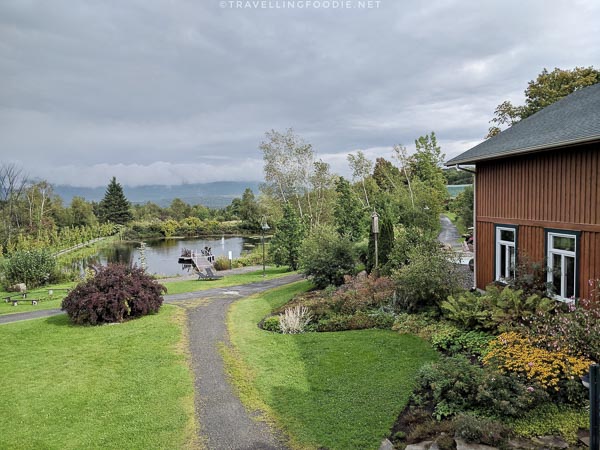 They also offer at least 70 spa treatments including massages, facials, and body wraps. One person I was with said the massage ($98) she got was the best she's had. And, you can even get a massage outdoors by the pond!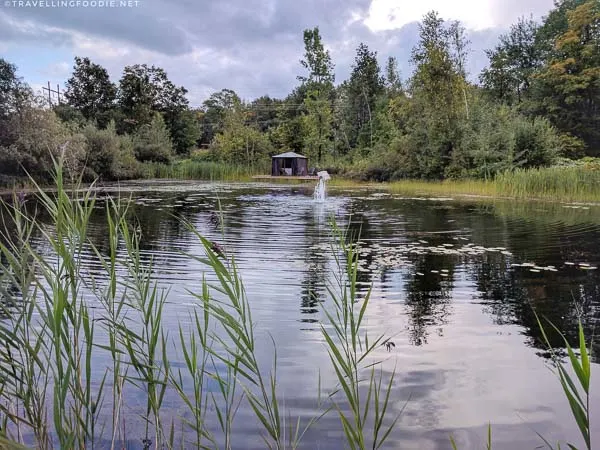 One of the most popular things to do here, and my favourite, was the thermotherapy where complete cycles of hot (infrared, Finnish, and Hammam saunas, and outdoor jacuzzi), cold (igloo shower, Knepp baths), rest and hydrate.
This concept of thermotherapy is known to detoxify the body, improve blood circulation and immune system, and relieve stress, mental fatigue and muscle tension.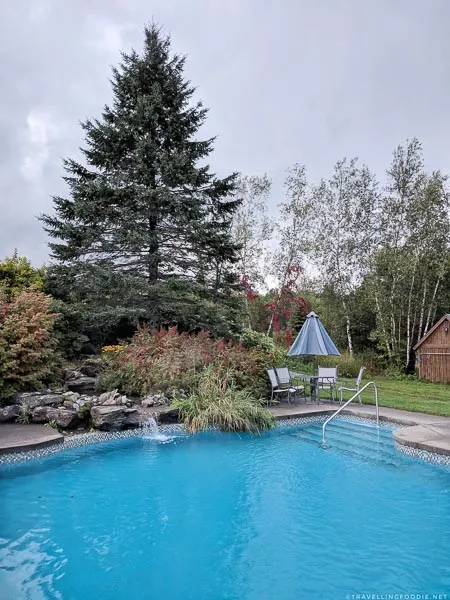 Did you know? Infrared Sauna works deeper in removing toxins because the infrared actually hits your body, making you sweat more despite being less hot than regular saunas.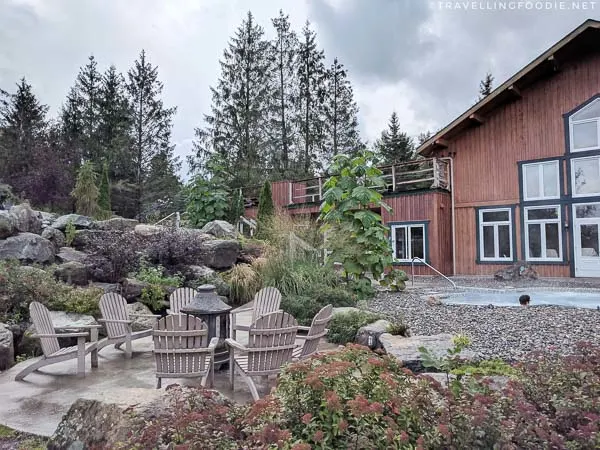 Spa Eastman also has its own restaurant focused on tonic cuisine. If you haven't heard of tonic cuisine, neither did I until my visit here.
Tonic cuisine uses non-dairy, gluten-free, organic and local products. Instead of cow's milk, nut-based milk is used like almond or cashew milk. Butter and oil are replaced with duck fat, coconut oil or other alternatives are used.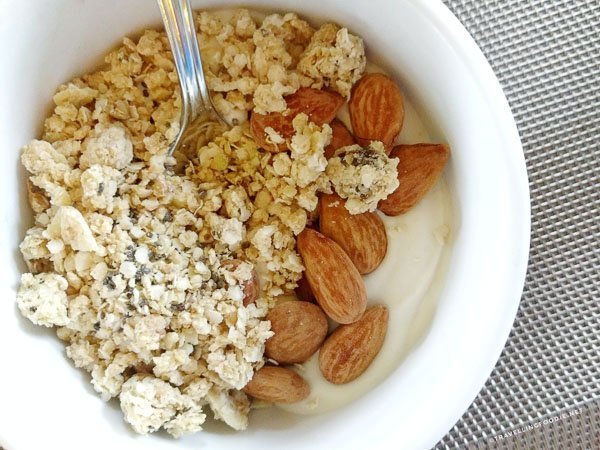 Quebec-born, Francis Cloutier is the Chef de Cuisine and has worked in Michelin restaurants in France before coming to Spa Eastman.
Spa Eastman has a vegetable and herb garden and you can spot Chef Francis in the garden picking ingredients for the day.
With the all-inclusive stay, you get breakfast, lunch and dinner. Breakfast consists of buffet (yogurt, nuts, cereal, salad) and a choice of menu item. Their most popular dish is the eggs benedict, which is quite unique because the hollandaise sauce doesn't use butter.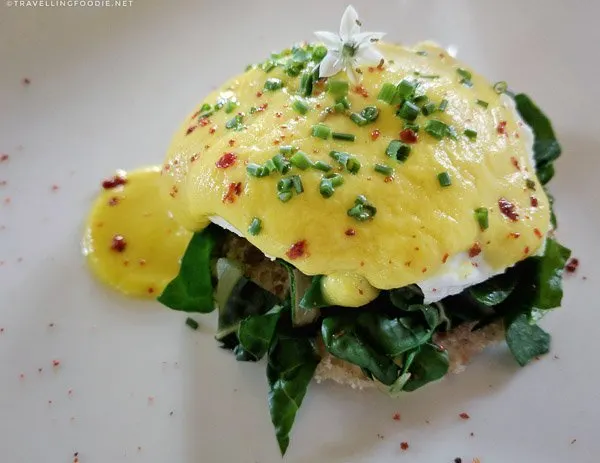 Lunch is buffet style with a meat or fish item, vegetables, soup and bread.
Dinner is a seasonally changing 3-course meal consisting of access to the salad bar and soup, a choice of main course and a dessert. Did you know? They even have their own selection of organic wines made from grapes grown without any chemical additives.
The most popular dinner dish is the Albacore Tuna, and I must say I was really impressed with this dish especially the cream of cashew and coconut sauce on it.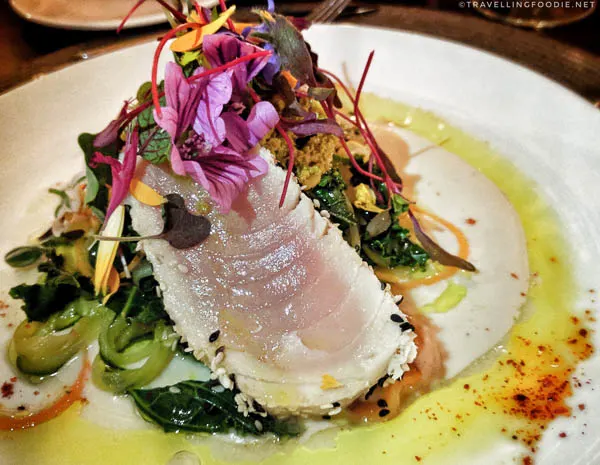 Chef Francis' favourite dish is the Lamb Gigot because of its complexity in making.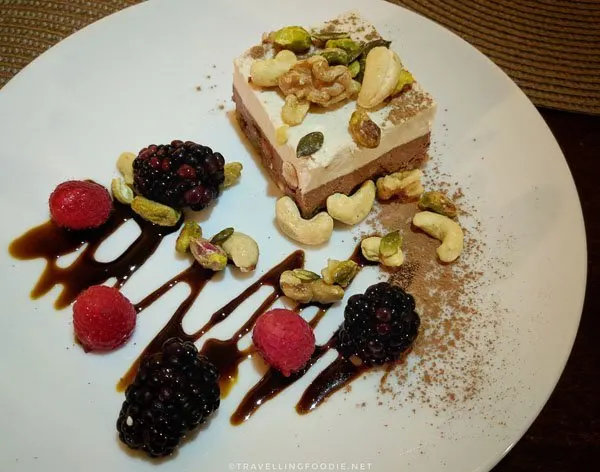 After all that food, you're going to want to stay here. Their rooms are nice and spacious – some of which have a balcony offering views of Mont Orford.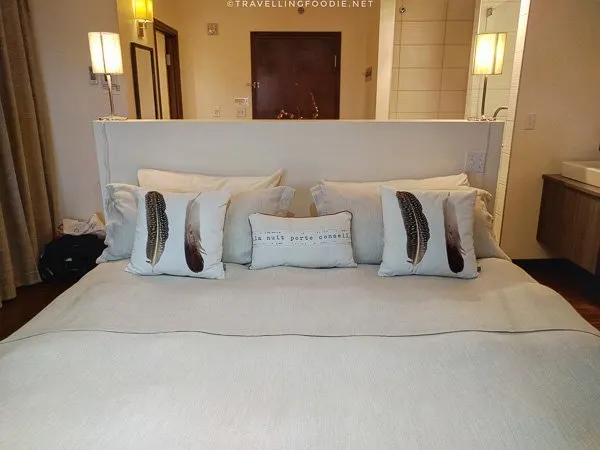 Abbaye De St-Benoit-Du-Lac (Saint Benedict Abbey)
Website: Abbaye De St-Benoit-Du-Lac
Address: 1 rue Principale, Saint-Benoît-du-Lac, Quebec, Canada J0B 2M0
Overlooking Lake Memphrémagog, the Saint-Benoît-du-Lac Abbey was built starting 1912 by Benedictine monks from France. Did you know? The monks are called Benedictines because they live under the monastic Rule written by St. Benedict.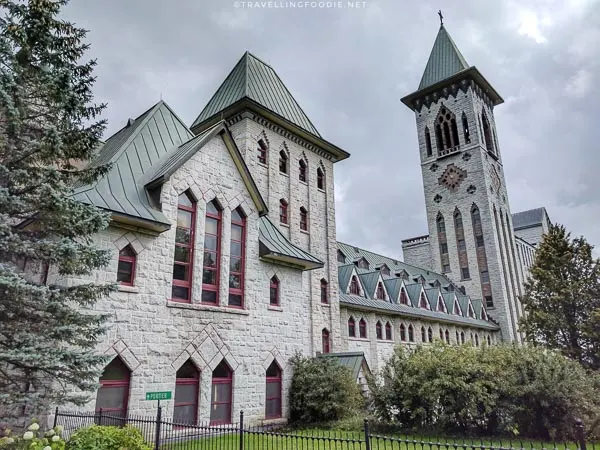 Designed by Dom Bellot, the abbey's modern architecture pays tribute to the harmony of natural geometric forms and makes splendid use of multicoloured bricks.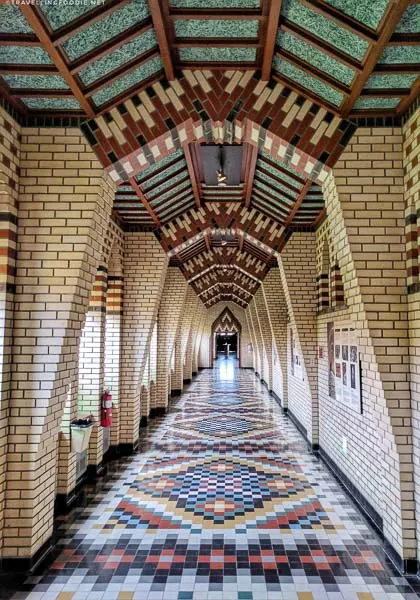 Tour Saint-Benoit is a small chapel inside the monastery with services in Gregorian chant, the most ancient form of Christian church music. The chapel also has a Baroque-style church organ.
You can spend a few days in the monastery for prayer retreats for meditation and spiritual renewal. At $65/night, men can stay in one of the thirty rooms in the monastery, and women can stay at the Villa Sainte-Scholastique on the grounds of the monastery. Three meals are included in the price.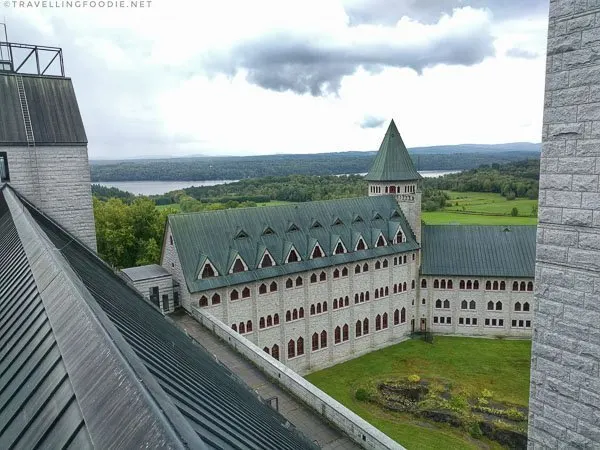 For foodies, this is also a great destination. The abbey has its own cheese factory. They make their own cheeses which are sold in the on-site store.
Did you know? Two-thirds of the abbey's income comes from their cheeses which 12 varieties are available.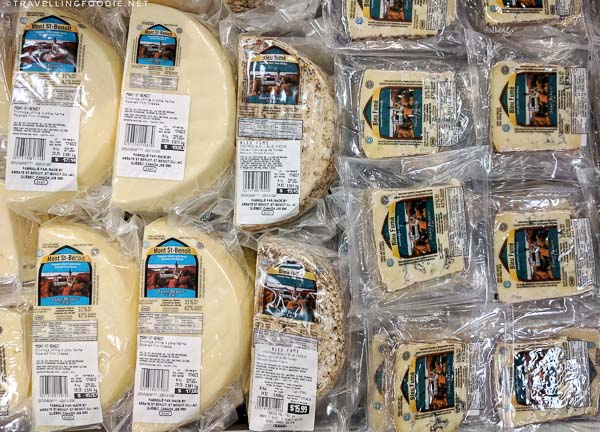 Aside from cheeses, the abbey also makes its own ciders. They are the only one selling champagne-style Calvados (cider brandy) in Quebec.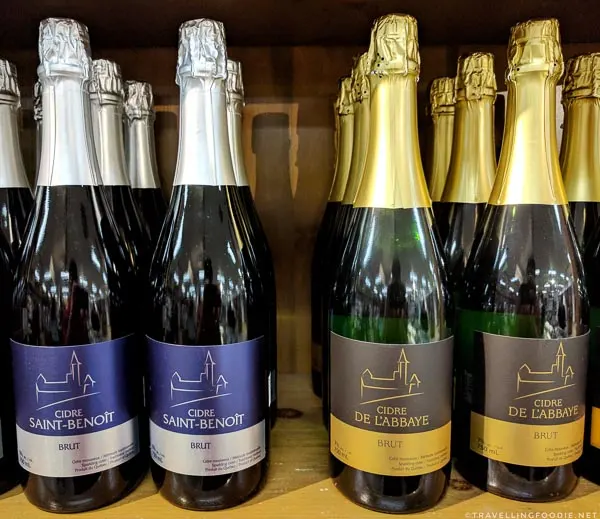 Sherbrooke Murals Circuit
Website: Circuit des Murales de Sherbrooke
Address: Rue Frontenac & Rue Wellington N, Sherbrooke, Quebec, Canada J1H
An interesting way to explore the city, downtown Sherbrooke has been transformed into a street art museum with wall-to-wall murals scattered throughout the area.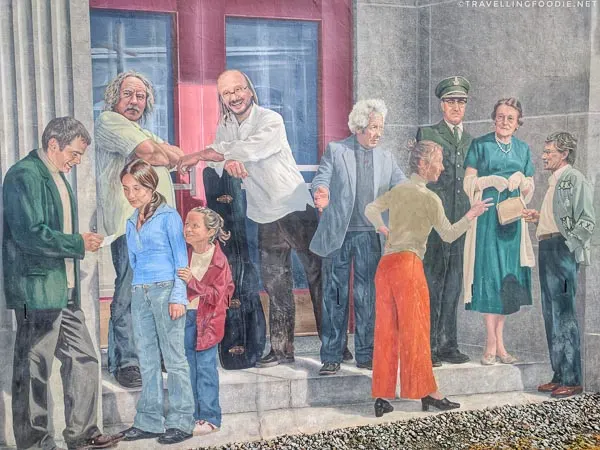 The Sherbrooke Murals Circuit currently has 16 murals, with one new mural per year, that depicts the city's art, history and culture.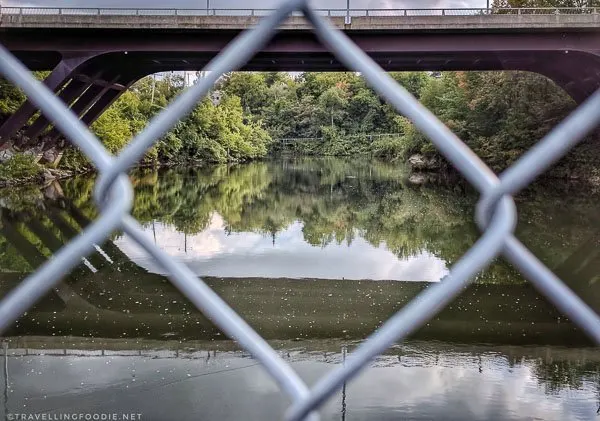 One really cool thing about this is you can do the tour using MURALIS, the Grand Sherbrooke Murals Experience created by Space and Dream. When you use your smartphone or tablet and point the camera to the murals, the characters pop-out and come to life.
Did you know? There is a hidden gnome in each of the murals – sort of like a "Where's Waldo?".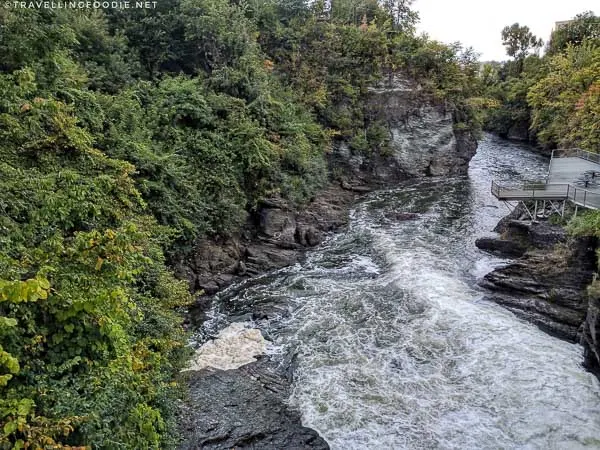 Another cool thing about this tour is the circuit takes you along the river walk where you'll get great views of the Magog River.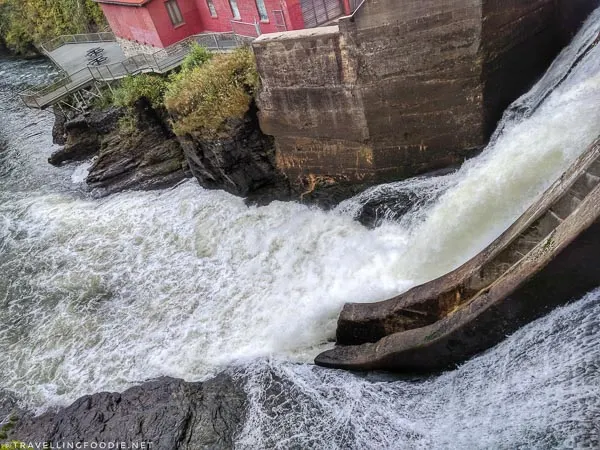 Auguste Restaurant
Website: Auguste Restaurant
Address: 82 Rue Wellington N, Sherbrooke, Quebec, Canada J1H 5B8
When you're in Quebec, you definitely want to hit up some French bistro. Eastern Townships makes it easier for you to find restaurants run by chefs focused on creative recipes using regional products and flavours by designating them as Chefs créateurs (Creative Chefs) restaurants.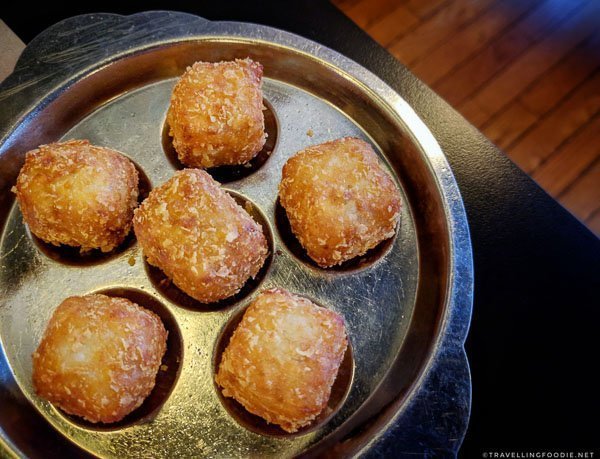 One such place in downtown Sherbrooke is Restaurant Auguste, which focuses on locally sourcing its products from producers.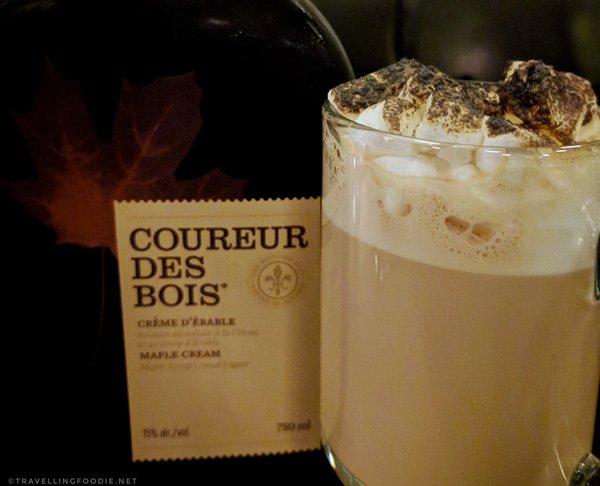 Dinner here is table d'hôte menu consisting of 3-courses: First Course, Main Course and Dessert. Price is based on the main course you choose, and supplemental charges depending on what you order.
Travelling Foodie Tip: Make sure to also ask about the daily specials. These items are not on the menu!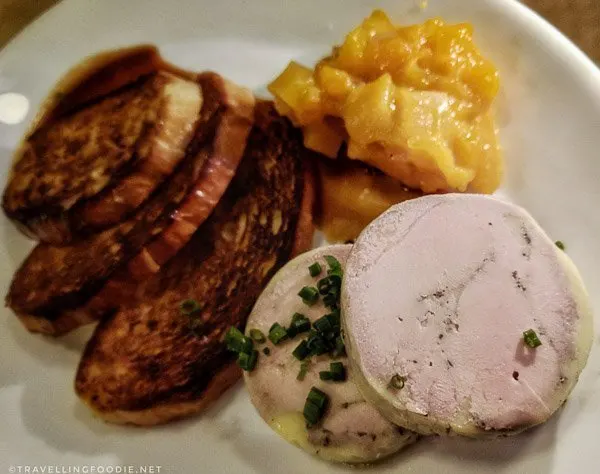 I highly recommend their Risotto which was very flavourful with the parmesan and white truffle oil, contrasted with the subtle bitterness of the spinach. Be sure to add the scallops!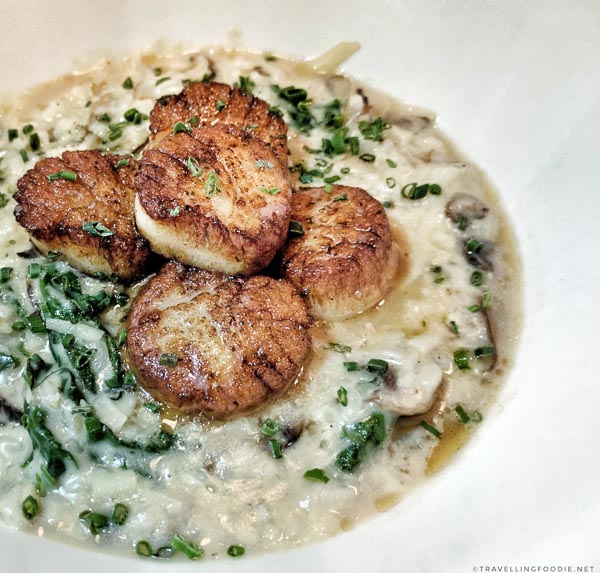 While you're there, be sure to the popular traditional French-Canadian dessert, Poor Man's Pudding.
Grand Times Hotel Sherbrooke
Website: Grand Times Hotel Sherbrooke
Address: 1 Rue Belvédère S, Sherbrooke, Quebec, Canada J1H 0G8
Latest Prices: Booking.com | Agoda
Located in downtown Sherbrooke, Grand Times Hotel Sherbrooke transports you to New York City into Broadway with its music and artistic atmosphere.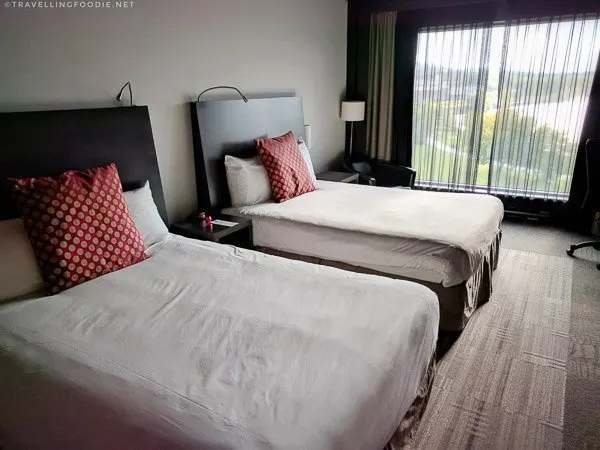 Travelling Foodie Tip: Make sure you book the room with views of the lake, Lac des Nations.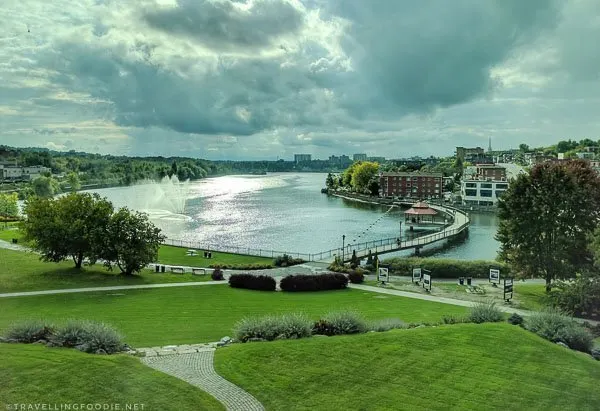 The hotel has an outdoor patio close to the Lac des Nations with views of Mont Orford. Perfect for photography.
Fête des vendanges Magog-Orford
Website: Fête des vendanges
Address: Parc de la Pointe-Merry, Magog, Quebec, Canada J0B
Quebec's biggest gourmet festival, Fête des vendanges Magog-Orford (Magog-Orford Harvest Festival) gives you a taste of Quebec featuring wines, ciders, and food from local producers.
There are various programs including chef demonstrations, musical performances, wine lectures, and other activities.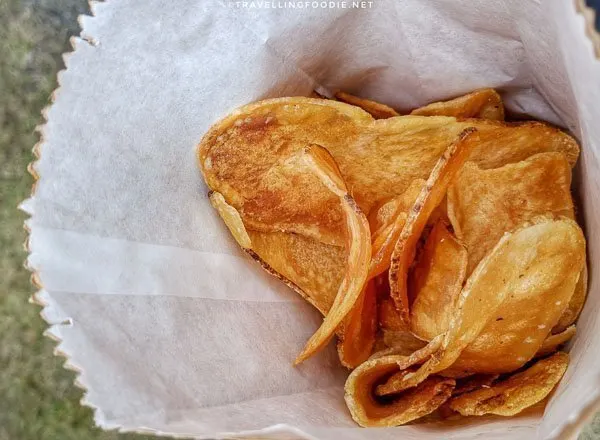 Here, you'll get to see how big Eastern Townships' culinary side shines with its abundance of Créateurs de saveurs (Flavour Creators), designated agri-food producers that guarantee quality and flavours of the Townships.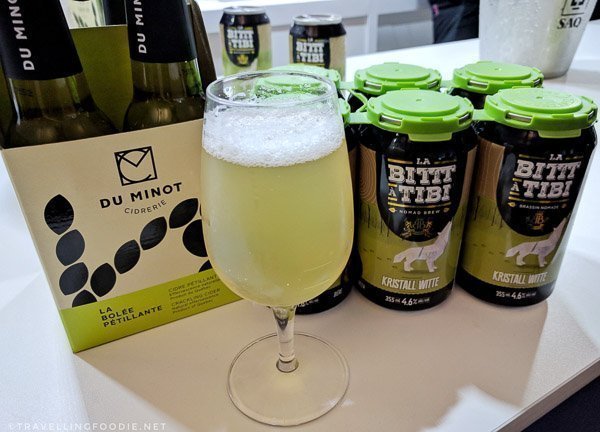 Did you know? Eastern Townships is Quebec's first wine-growing region.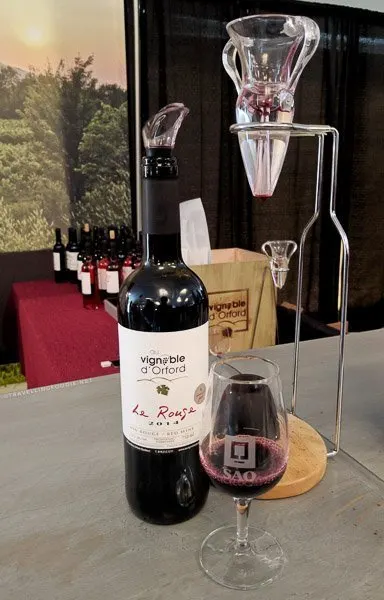 Le Cep d'Argent Vineyard is popular for making "champagne"-style wines like their Blanc de Blancs Brut (White on White Sparkling Wine).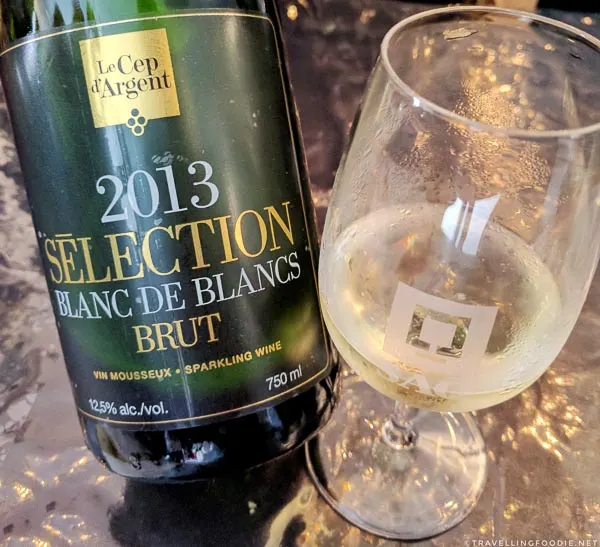 Pair your wine with some of the food trucks on site.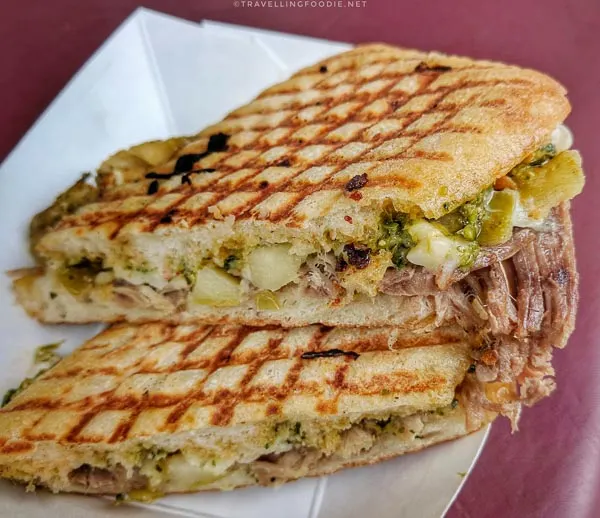 Le Pain Voyageur brought their mobile bakery to serve up some fresh bread, pastry and their delicious Le Grande Suisse!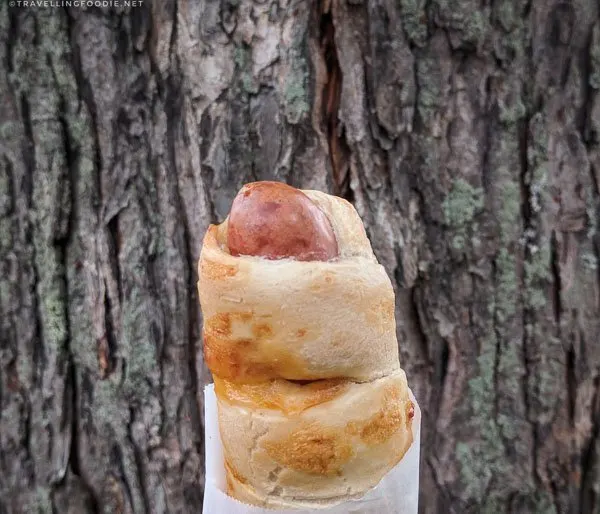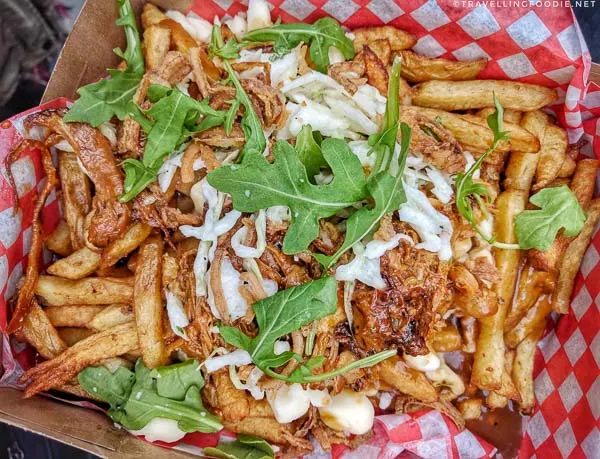 When you're in Quebec, you should definitely try ice cream from Laiterie Coaticook, one of the largest ice cream makers in Quebec founded in 1940. They are known for their Maple Sugar ice cream which definitely satisfies a sweet tooth!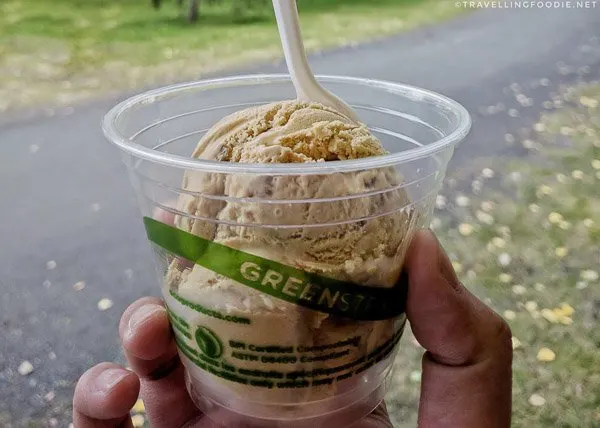 Bromont, montagne d'expérience (Ski Bromont)
Website: Ski Bromont
Location: 150 Rue Champlain, Bromont, Quebec, Canada J2L 1A2
The largest lit skiable area in America, Bromont, montagne d'expérience is a large outdoor adventure area for skiers, mountain bikers, swimmers, or anyone who just wants to explore a great view.
You can take one of 9 chairlift routes to see amazing views. Did you know? Mount Brome is 565m high!
If you love mountain biking, this is the place to be as it has 24 downhill runs for all levels. Did you know? Bromont, montagne d'expérience has the largest mountain biking area in Eastern Canada.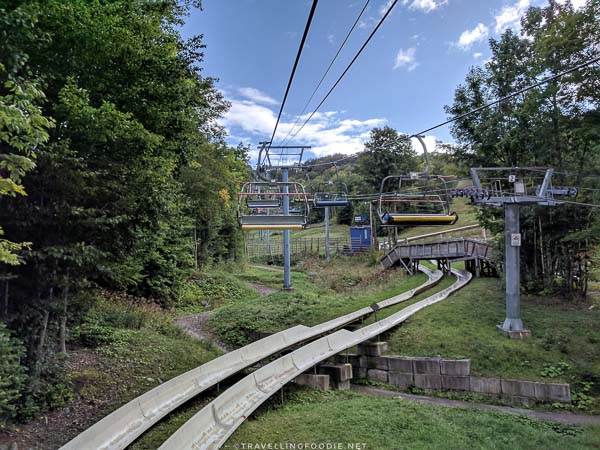 During the summer, the big waterpark is open including a ~24,000 square feet heated wave pool and 24 other aquatic attractions.
Domaine Château-Bromont
Website: Domaine Château-Bromont
Address: 90 Rue de Stanstead, Bromont, Quebec, Canada J2L 1K6
Latest Prices: Booking.com | Agoda
Located at the base of Mount Brome next to a golf course, Domaine Château-Bromont has both a hotel and an auberge set in a rustic atmosphere with a restaurant and spa.
Travelling Foodie Tip: On the 2nd floor is the outdoor terrace which has a patio, bar, and jacuzzis with a beautiful view.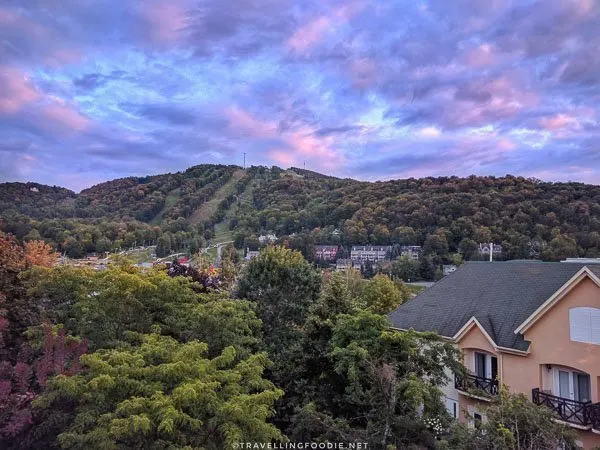 Junior Suites have a queen/king-sized bed and a sofa bed, and a mezzanine.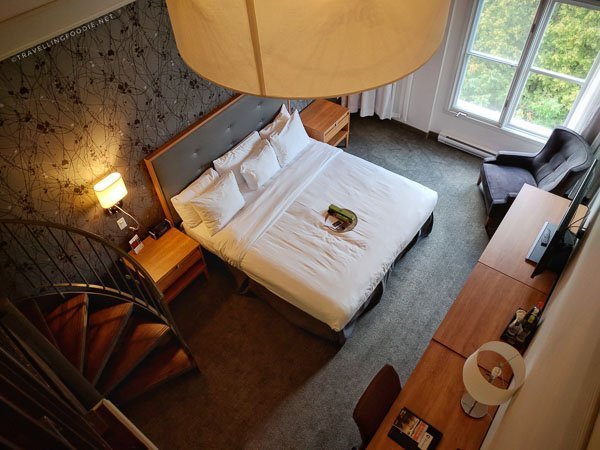 Inside the hotel is (Les Quatre) 4 Canards restaurant a Chefs créateurs (Creative Chefs) restaurant run by Chef Fabrice Piquet.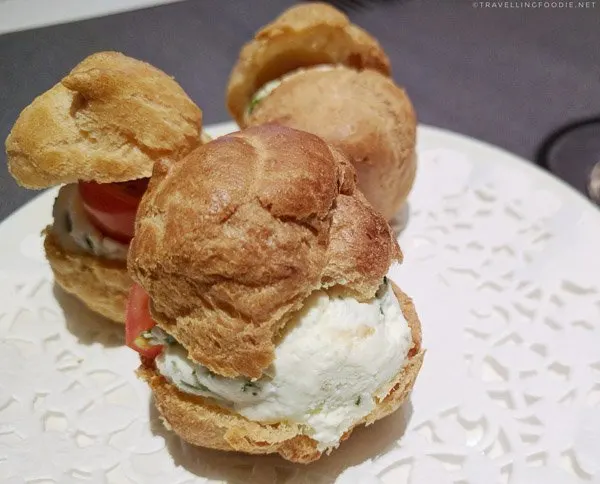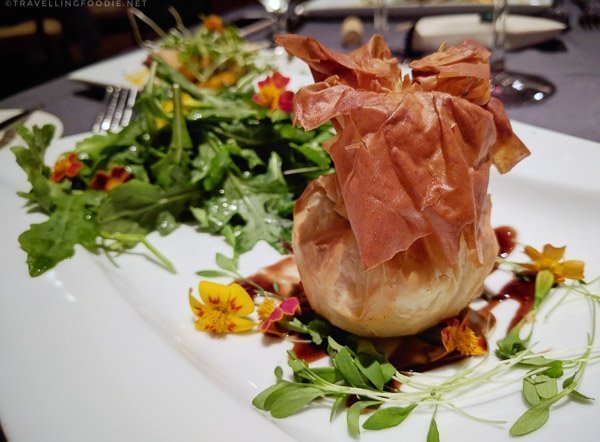 Dinner is à la Carte with an option to make into a 4-course table d'hôte.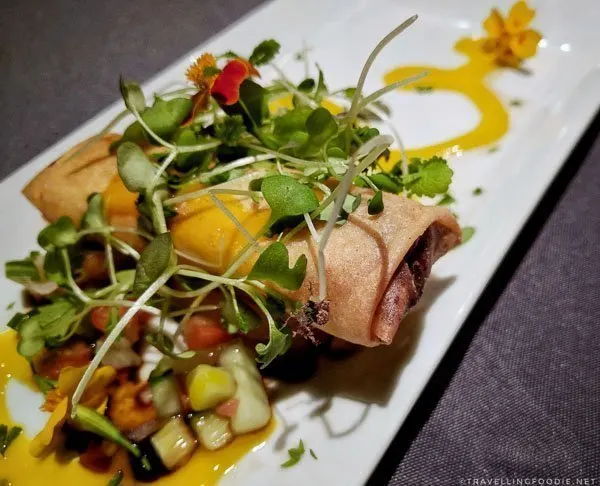 Their menu changes seasonally based on regional products and Chef Frabrice's inspiration.
I had the Bison Flank Steak and it was very tender and juicy, and, surprisingly, without the gamey taste!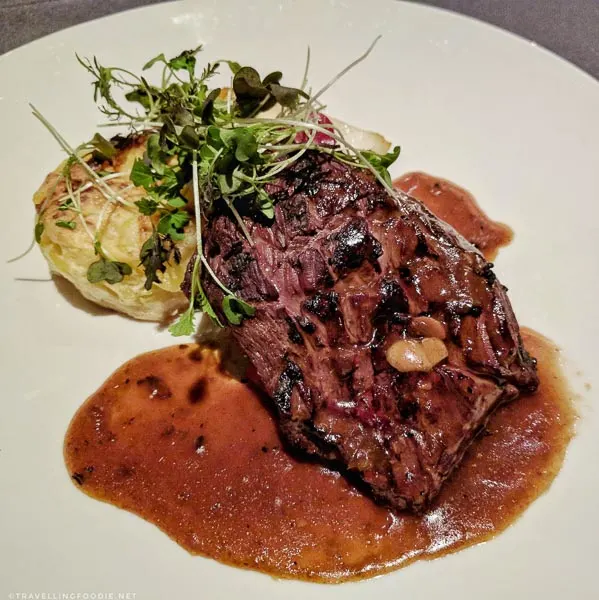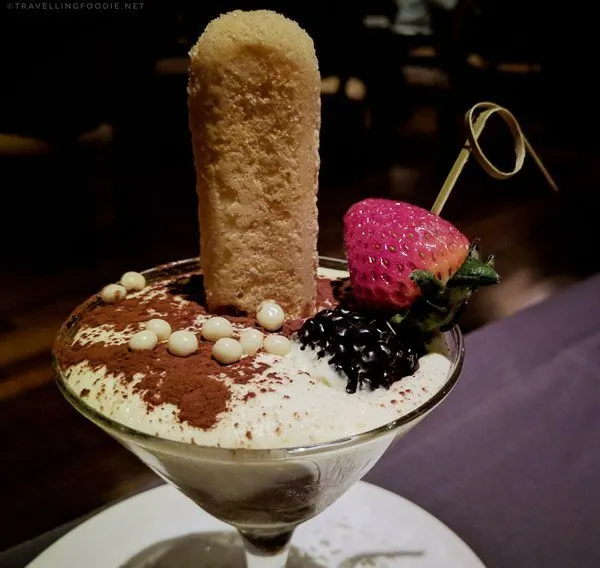 ---
Hope this travel guide gave you an idea on things to do, where to eat and stay in Eastern Townships, Quebec for a 3 day trip! I always love recommendations for the next time I visit, so please let me know what you find are the best attractions, restaurants and accommodations in the region?
---
---
---
DISCLAIMER: This article was created in partnership with Quebec Original (Tourism Quebec)
Updated: