Edulis is a One Michelin Star tasting restaurant in Toronto known for its seasonal menu made from scratch by husband-and-wife team Michael Caballo and Tobey Nemet.
Did you know? Edulis Toronto is listed No. 8 in Canada's Best 100 Restaurants in 2016 and No. 6 in Post City Toronto's Joanne Kates Best 50 Restauants "Spend A Lot" List.
Located in downtown Toronto's west end neighbourhood, Edulis has a homey feel like visiting your aunt's home for a homecooked meal.
The multi-course set meal focuses on seasonality with Spanish cooking traditions.
On September 13, 2022, Edulis was awarded One Michelin Star on Toronto's Michelin Guide, the first Canadian edition, making it one of the first Michelin restaurants in Toronto and Canada.
On September 27, 2023, Edulis returned as one of the One Michelin Star restaurants in Toronto in the 2023 Michelin Guide.
---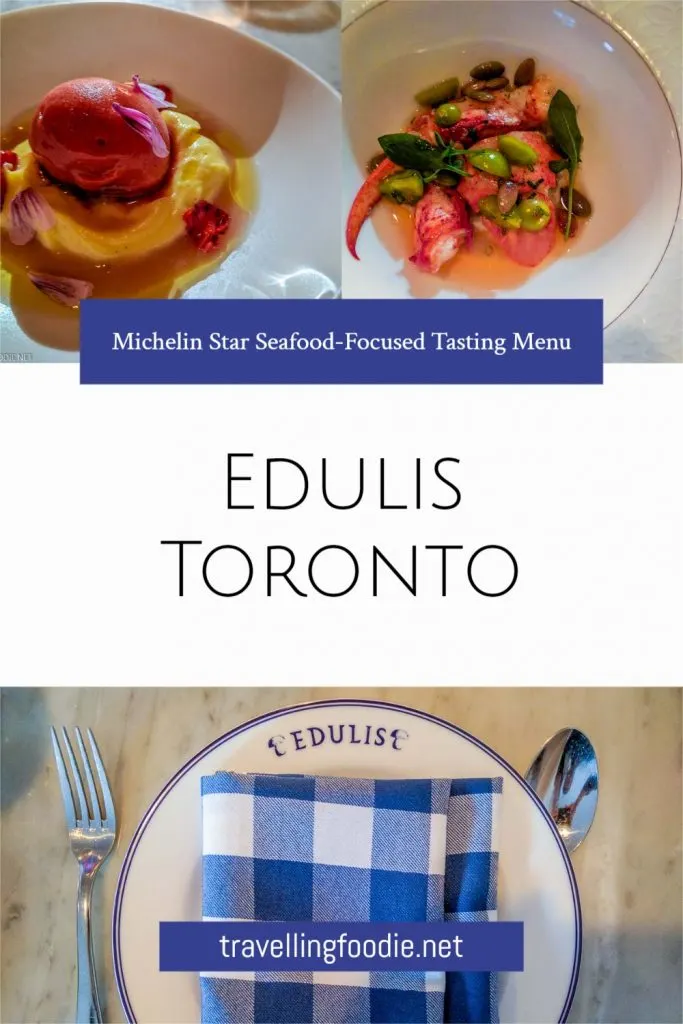 ---
Edulis Restaurant Menu and Price
Edulis offers a seasonal tasting menu only.
They are one of the few Michelin Star tasting menu restaurants in Toronto that offers both Lunch and Dinner options.
When I dined back in 2016, Edulis had two tasting menus: 5 courses ($85) and 7 courses ($105).
This has since changed and the tasting menu is only one menu.
As of Michelin Guide Toronto 2022, Edulis prices were Dinner for $185 per person and Lunch for $85 per person.
As of Michelin Guide Toronto 2023 in September, Edulis prices were Dinner for $200 per person and Lunch for $100 per person.
What's great is they have adopted a no tipping policy, and all bookings are prepaid.
Dessert is not included in the tasting menu at Edulis so you can decide how you want to finish your meal based on your appetite.
Supplemental add-ons are also available like cheese, dessert, etc.
---
Tasting Menu at Michelin Star Edulis Toronto
I dined at Edulis Toronto back in 2016 so this post is based on that experience.
It's very good for seafood lovers as most of the courses are seafood.
I did the 7 courses since it's a better value on a price-per-course basis, and you will most likely not get full with 5 courses as they are tasting portions.
My favourites during the tasting menu at Edulis were the Nova Scotia bigeye tuna and the poached Lobster.
Note: as the menu changes frequently, these dishes may not be available anymore.
The Poached Lobster with Pumpkin Seeds was very fresh and delicious and goes so well with the sauce!
I even finished the sauce on its own!
The Nova Scotia bigeye tuna with tomatoes sauce & black garlic was, again, very fresh.
It was also very fatty and melt-in-your-mouth, which went great with the tomato sauce and black garlic to bring out the freshness even more.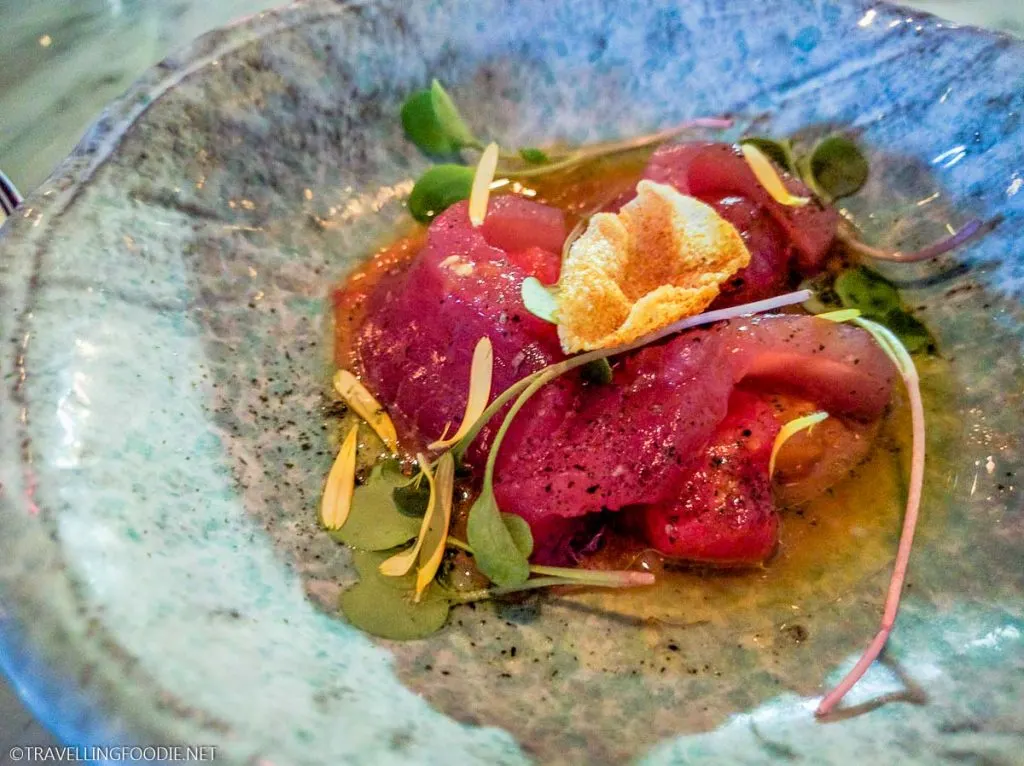 One thing I love about how Edulis Restaurant made their dishes is the sauces or condiments were all subtle and were mainly there to enhance the main item, be it the seafood or meat.
With seafood especially, I find it important that the natural flavour of the seafood to be intact because seafood can get overpowered easily.
Edulis Restaurant executed this perfectly!
Unfortunately, I found the desserts at Edulis Toronto were particularly underwhelming.
The Rum Baba was heavily soaked in rum such that the cake had no texture and bite anymore, which was a shame considering the flavour was actually quite good especially with the mix of chantilly cream.
The other dessert, strawberry and chamomile sorbet, was nothing special and quite unremarkable.
Also Read: Restaurant Pearl Morissette in Jordan Station, Ontario
---
Service at Edulis Toronto
Normally, I focus on the food more than the service.
However, we were quite disappointed with the service at Edulis Restaurant that it deserves a mention.
For this caliber, I expected service to be on-par with Toronto restaurants of similar type and ranking like Alo, Kaiseki Yu-zen Hashimoto and Frilu, which are also all 1 Michelin Star restaurants in Toronto.
However, what we got at Edulis was rude and condescending, plus a slow service.
A major incident for our table was when we selected our tasting menu and the server asked for allergies/restrictions.
Our friend told the server that she doesn't eat meat so she can't have meat in her tasting menu, and she had indicated that on the reservation.
Our server responded: "You know the menu is seafood, right?"
My friend said she's reminding just in case there is still a meat course.
It turns out there was a rabbit course.
Another thing to note is Edulis Restaurant is the first tasting menu restaurant in Toronto I've been to that doesn't give a copy of the menu at the end of the meal.
When we asked for it, we were told they don't do it, but we can email Edulis after so they can send it to us.
However, we never received them after my friends emailed Edulis Restaurant and followed-up a couple of times.
Also Read: Top Restaurants in Toronto
---
Courses at Edulis Restaurant
Here are the courses for the tasting menu we had at Edulis Toronto back in 2016.
Since Edulis is a seasonal tasting menu, these dishes are most likely not available anymore, but will still give you a great idea on what to expect on the menu.
Complimentary Bread
Nova Scotia bigeye tuna with tomatoes sauce & black garlic
Poached lobster with pumpkin seeds
Scallops and mushrooms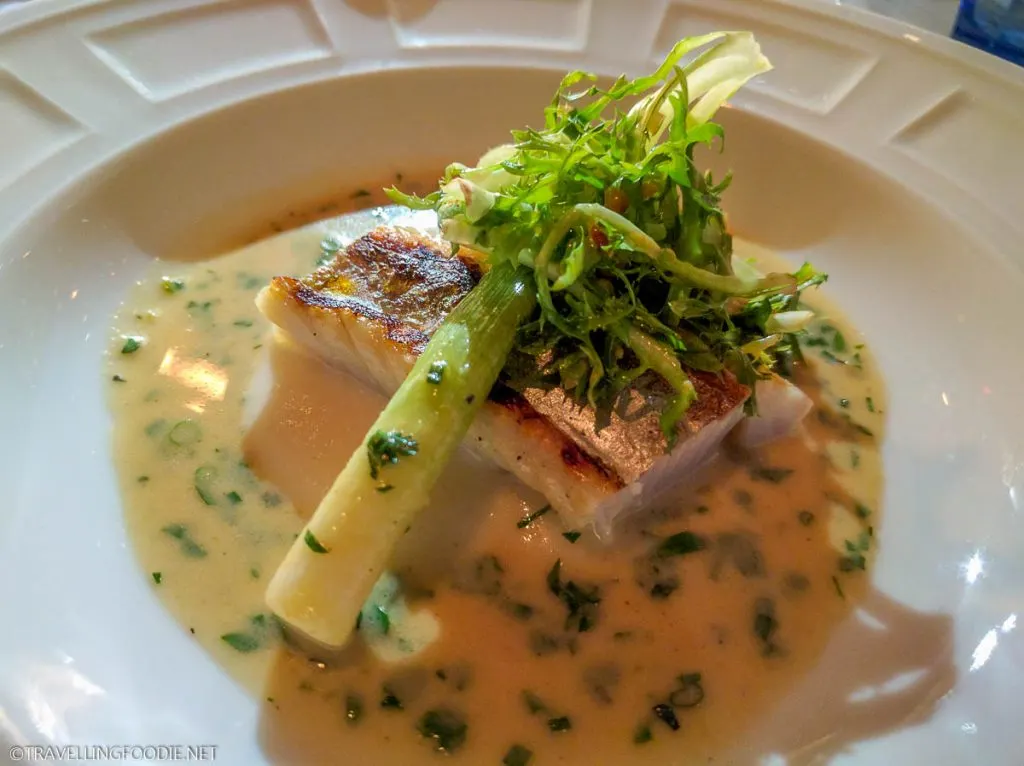 Spanish rice & halibut cheeks
Rabbit two ways: porchetta and pressed, served with mashed potatoes
Strawberry and chamomile sorbet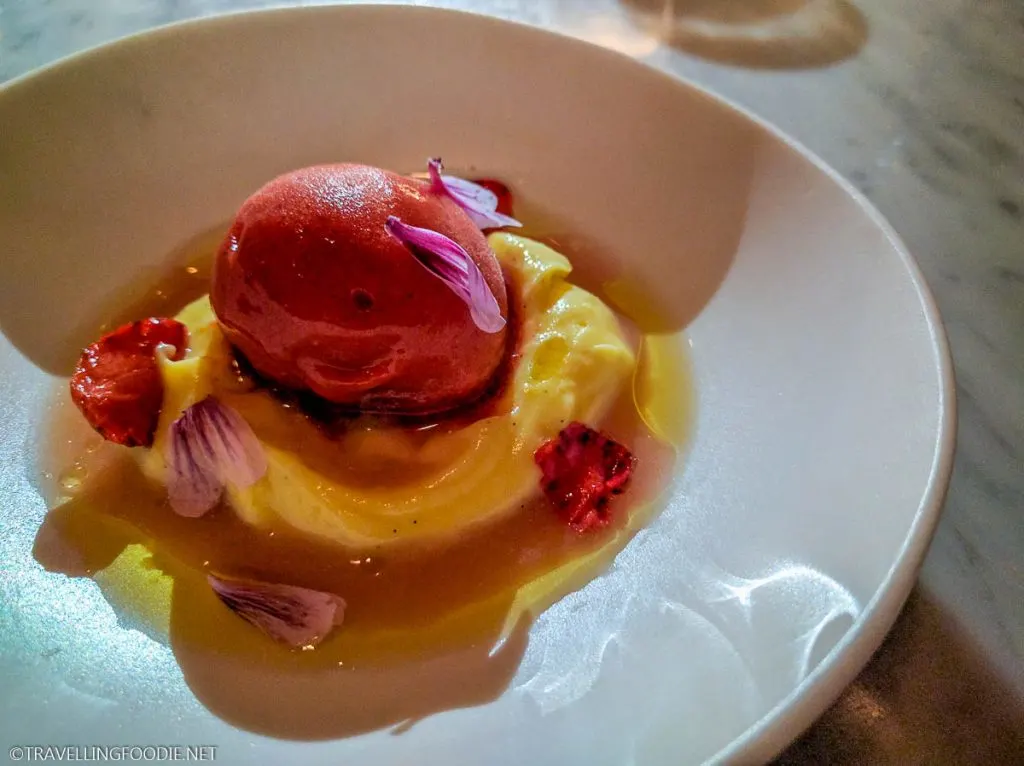 Baba au Rhum cake with Chantilly Cream
---
Edulis Reservations
Being a Michelin Star restaurant, reservations are a must for Edulis Toronto.
They open reservations a month before e.g. November dates open on October.
You can make reservations online here.
---
Verdict of Michelin Star Edulis
Overall, I enjoyed the tasting menu at Edulis Restaurant, but not its service.
It's a great culinary experience especially for seafood lovers.
The price is pretty reasonable for what you're getting too.
Hopefully, the service we got at Edulis was a one-off situation.
---
Hope this restaurant review of Edulis Toronto gives you an idea of what it's like to dine here!
Let me know if your thoughts on the restaurant, and if you have any questions.
---
Edulis Restaurant
Website / Address: 169 Niagara Street, Toronto, Ontario M5V 1C9
---