The much highly anticipated Est Restaurant opened its doors on September 3, 2019, offering a progressive tasting menu in Toronto's Riverside neighbourhood on Queen and Broadview.
NOTE: As of Aug 25, 2022, Est Restaurant in Riverside has relaunched under new ownership and management of Chef Jordan Diniz and Andre Harricharan, bringing a new array of Italian-French courses and cocktails & wine.

Until we can revisit the brand new concept, we have left the original article published on September 16, 2019 on the tasting menu at Est by Chef Sean MacDonald.
---
The mastermind behind Est is Chef Sean MacDonald, formerly of Hexagon, who is world-renowned for being a San Pellegrino Young Chef award recipient.
A native Calgarian, he is also the only Canadian currently on the Best Chef Awards list (2018 World Ranking of #221 at "The Top 300 Chef Awards" in Milan) and one of 36 rising talents by the Art of Plating.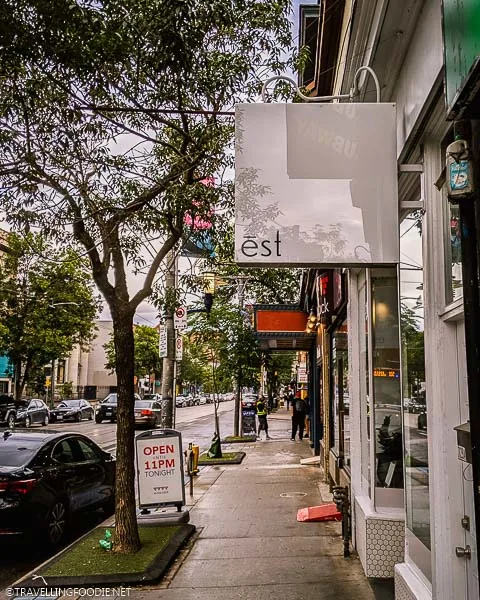 Est is a small and intimate restaurant that seats 30 in total: 24 in the dining room and 6 at the bar.
This Creative Union-designed space is narrow and minimal.
When you enter the restaurant, it is an easy straight line with the dining room on the left with two private booths at the back, and the Caesarstone bar on the right.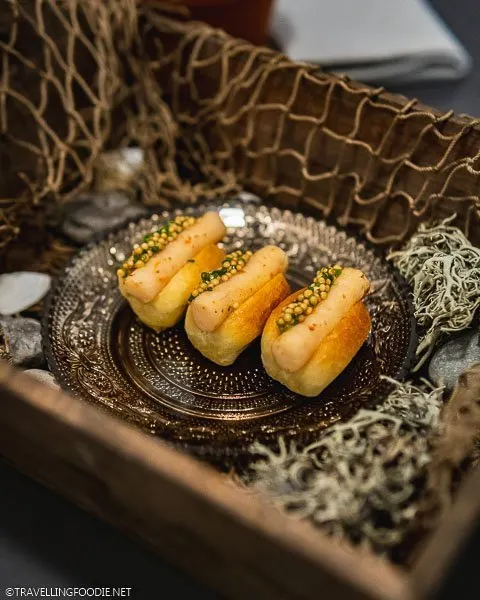 I first met Chef Sean MacDonald, after his departure from Hexagon, where he did a collaboration tasting menu with Chef Richard Singh for the Taste of the 6ix culinary series at the Shangri-La Hotel in 2018.
During that time, he told me he was working on opening his own restaurant to which I've been keeping a lookout for since meeting him.
As a fan of tasting menu restaurants and having tried most of the ones in Toronto like Alo, Canis, and Kaiseki Yu-zen Hashimoto, Est Restaurant was the restaurant I was most excited to try in 2019.
Chef Sean MacDonald takes you on a culinary journey with his tasting menu, a curated six courses carefully crafted and beautifully presented to bring what he believes is truly Canadian.
These courses are influenced by the many cultures within Canada's borders – all the while using as many Canadian ingredients as possible.
---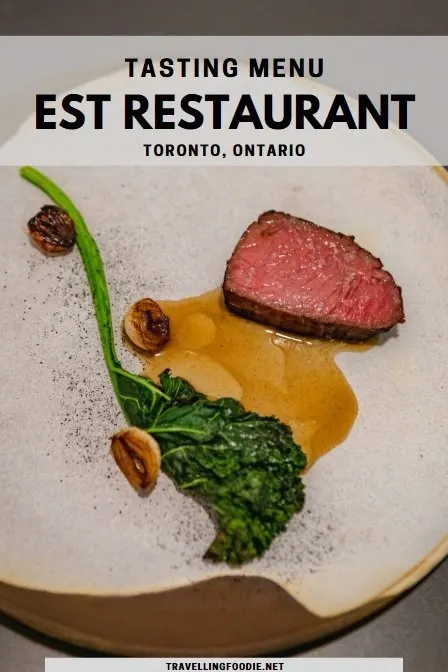 ---
At Est Restaurant, you have three options for menu: two for the dining room and one for the bar.
The dining room only offers tasting menus: Traditional Tasting Menu and Vegan Tasting Menu.
Both are 6 courses at a cost of $90 with an optional wine pairing of $75 for traditional and $100 for premium.
The bar menu features tapas-style dishes from an ala carte menu, some of which are snacks found on the tasting menu.
Tasting room dining is by reservation only. The bar is open seating.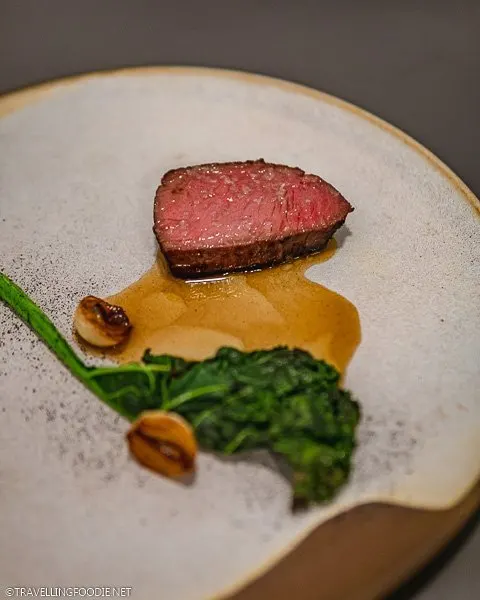 Traditional Tasting Menu at Est Restaurant
The Traditional Tasting Menu has a mix of meat, seafood and vegetables.
Though the tasting menus at ēst is six courses, you are actually getting more because of the snacks, bread, palate cleanser and final petit four served throughout dinner.
Snacks: Sea, Land and Plant
For Sea, the prawn hot dog is an elevated take on the popular game-day snack.
The prawn hot dog is cooked sous vide and placed in a butter brioche then topped with chive mustard and garlic aioli.
For Land, the Grilled Pork Cheek is sous vide for 18 hours, lightly grilled and brushed with caramelized maple fish sauce that's bursting with umami.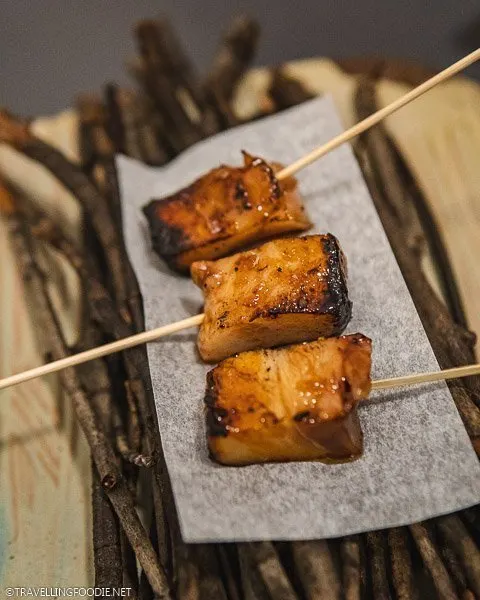 For Plant, this snack is all about the sunflower in one bite!
The Sunchoke Skin has whipped sunchoke, fried sunchoke skin, sunflower condiment and sunflower seed oil.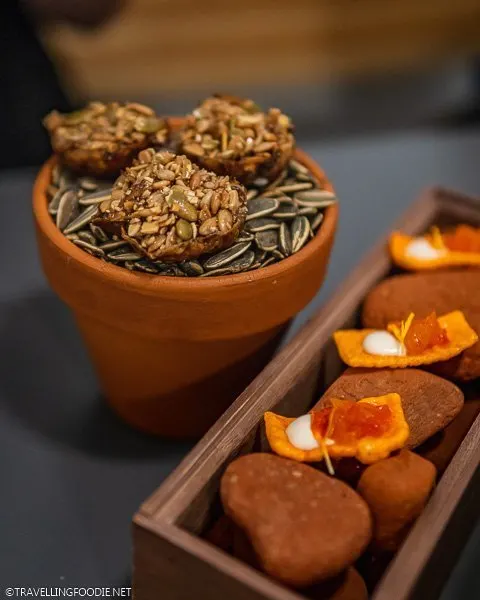 The fourth snack pays homage to the brickyards in the 1800s.
The Red Pepper Chip has fermented red pepper relish, cashew sour cream and dried grated strawberry.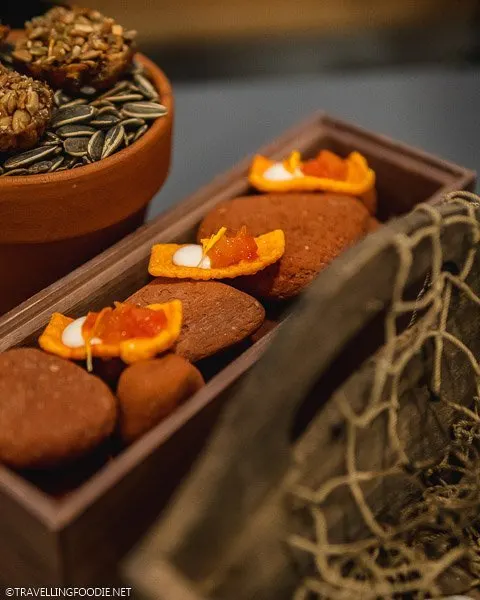 Bread Course: Leak Scones
You'll get to try the fresh homemade bread at ēst.
This was Leak Scone with a side of cultured butter.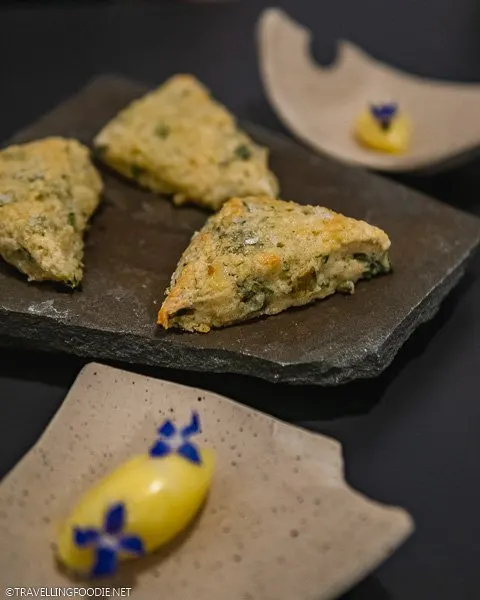 Following the bread starts the beginning of the six courses.
First Course: Squid
The Squid is marinated in nuoc cham sauce (Vietnamese dipping sauce) made from prawn garum, cooked on the grill and served over charred cabbage and vegan XO sauce, bringing an explosion of flavours.
Second Course: Fresh Tomato
The Fresh Tomato has preserved green garlic conserva, mint, spelt tofu, roasted tomato vinegar and pickled garlic scape oil. A clean and refreshing taste!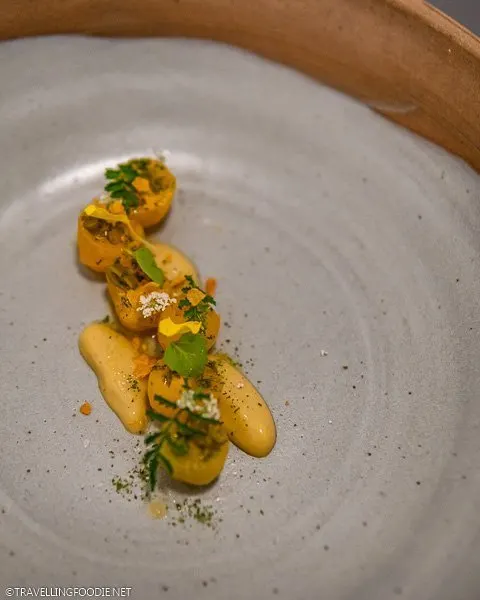 Third Course: Potato Dumplings
The Potato Dumplings (or Gnocchi) comes with sauce made from dried potato skins, aged parmesan rinds and bay leaf, emulsified with cultured butter and topped with chives.
These soft pillowy balls are hand-rolled individually.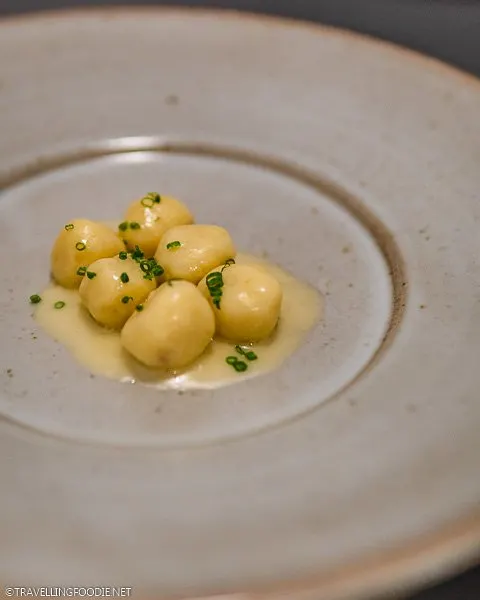 Fourth Course: Cod
The perfectly cooked Cod is cured with shio kombu, steamed inside sliced zucchini and confit leek, then cooked "en papillote" in cabbage leaves
Table-side, the server unwraps the cabbage and pours the spiced almond sauce split with fine herb oil.
The spiced almond sauce was quite interesting giving tastes of Indian or Moroccan spices.
Fifth Course: Beef or Duck
For the fifth and main course, you'll be given a choice of either Beef or Dry-Aged Duck Breast.
I would normally choose Duck but I was intrigued to try the beef because I saw Koji in the ingredients.
I had rib eye cured with koji at The Steakhouse in Tokyo before so was curious to see how it was used at Est.
Here, the Beef is garnished with koji, anchovy and prawn head oil.
The prawn head oil was very flavourful, but, suffice to say, I didn't really taste the use of koji.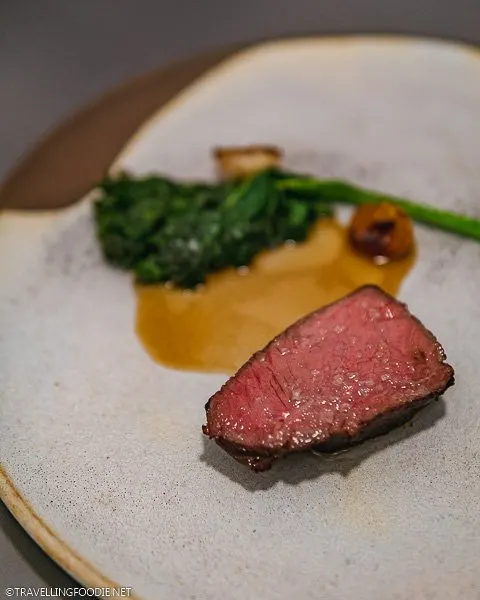 The Dry-Aged Duck Breast is topped with green chives and garnished with sweet potato hoisin, fermented coffee jus and pickled turnips.
Perfectly cooked, tender and juicy with nice flavours coming from the sweet potato and coffee.
Unless you're highly opposed to duck, I would recommend getting this.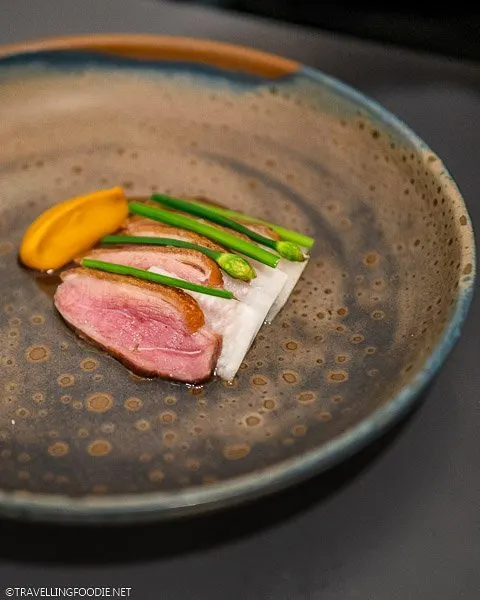 Following the savoury courses, you'll be given a palate cleanser before dessert: sea buckthorn made into a cream soda in a cute tiny pint glass.
Sixth Course (Dessert): Vanilla, Mint & Hazelnut
The dessert is a bed mix of vanilla, hazelnut and sesame crumbs topped with mint ice cream.
Underneath the bed is a custard made with caramelized banana and white chocolate.
The petit four, an Orange & Olive Caramel, comes as part of the bill.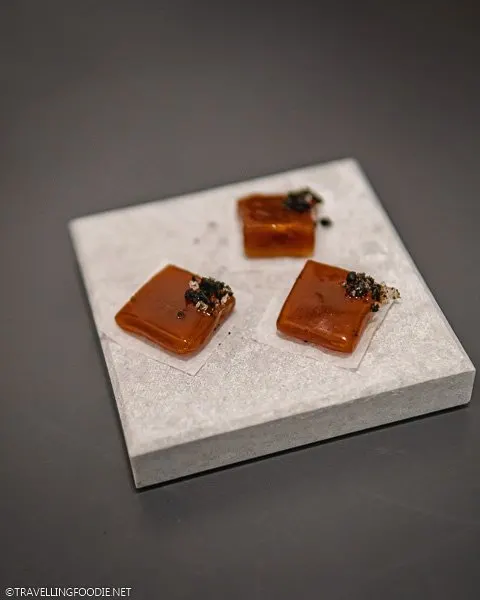 Overall Thoughts on Est Restaurant
Overall, I highly recommend dining at Est Restaurant.
The price-point is very reasonable for its calibre, making it one of the best tasting menu restaurants in Toronto for under $100.
Timing-wise, the entire meal took 3 hours so you definitely need to clear your entire night for this.
The pacing was slower than other tasting menus I've done.
There were long gaps of waiting in between courses.
Would I go back? Yes, I would but I'll wait when the menu has changed for the season so I'm not repeating dishes.
Looking for one of the best tasting menu restaurants outside Toronto? Check out The Restaurant at Pearl Morissette.
---
Hope this review gives you an idea of what it's like to do the tasting menu at Est Restaurant!
What do you typically look for when doing a tasting menu?
I'm always excited to try new places to eat! Let me know what you find are the best tasting menu restaurants in Toronto.
---
Est Restaurant
Address: 729 Queen St E, Toronto, Ontario M4M 1H1
Hours: Tuesday-Thursday (5pm-12am), Friday-Saturday (5pm-1am)