Evel Pie is downtown Las Vegas' pizza joint located along Fremont East district, specializing in New York-style pizzas with slices that are ready to go or can also be custom made with special in-house toppings like rattlesnake sausage, man candy, or homemade meatballs.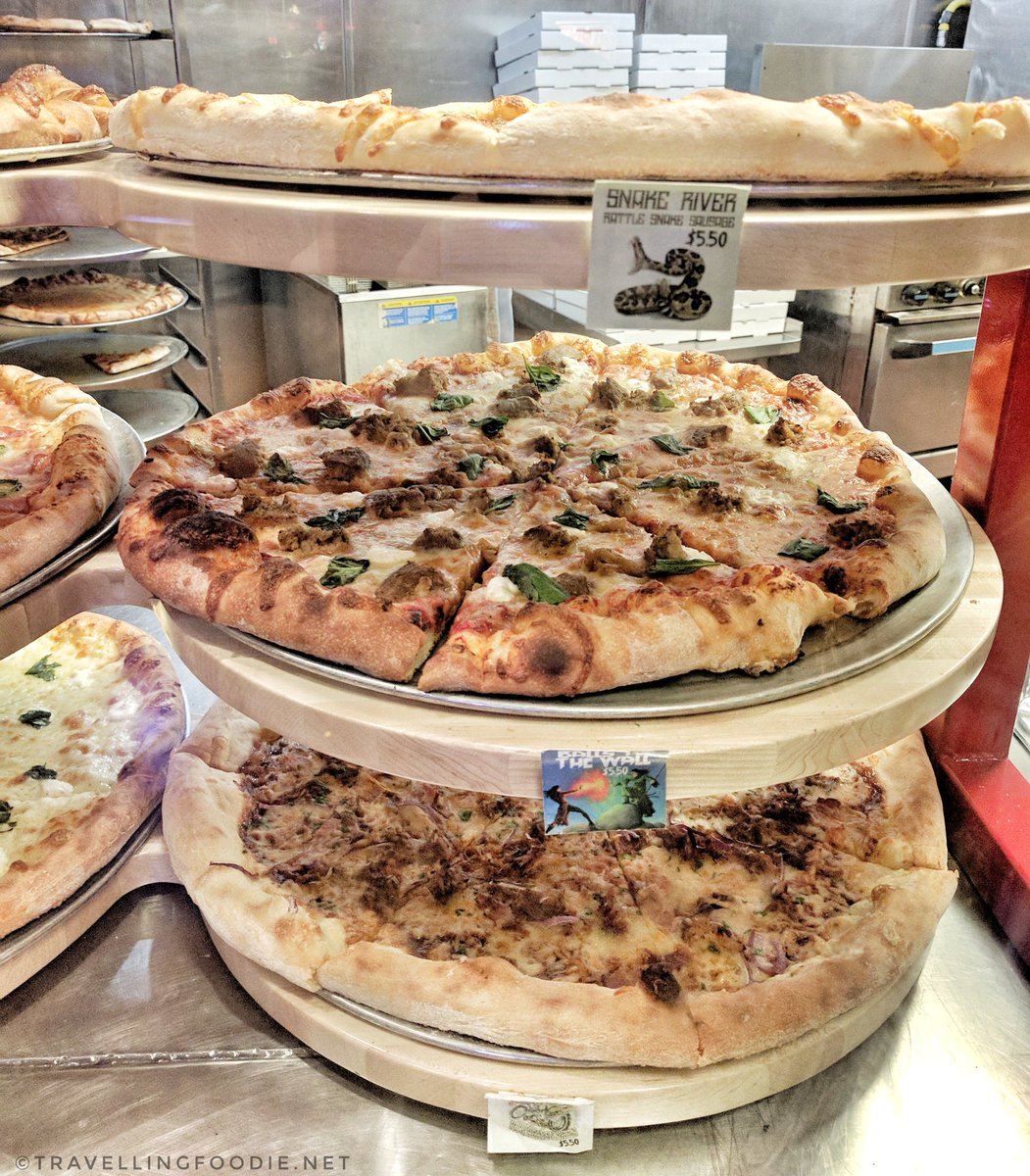 Also Read: Things To Do in Downtown Las Vegas
---
Evel Pie Interior
The atmosphere is very fun casual as the decors have retro-riffic tributes to daredevil and Vegas icon, Evel Knievel. You'll see his statue by the pizzas, and a replica of the billy goat by the booths.
There are also some retro arcade games and pinball machines.
---
Must-Try Food at Evel Pie
My favourites were the Evel Pie's Goblin Sausage Pizza and the White Pizza.
The Goblin Sausage Pizza was packed with different meat but still wasn't salty, which is very rare for most meat-heavy pizzas. The added fresh parsley enhanced the flavour of the meat.
Obviously, White Pie would be one of my favourite as I usually prefer white pizza over tomato-based pizza. I love the fact that it's a simple yet breaming in flavour four-cheese pizza!
Evel Pie also carries local beers and root beer. This was my first time trying the local root beer – it was very refreshing and goes very well with the pizza.
They also put it in a nice mug. It's cool that there's a local beer that's called Evel. It really matches the restaurant!
Also Read: Gold Club Room at the Golden Nugget Las Vegas
---
Pizzas at Evel Pie
Evel Pie's Goblin Sausage Pizza – Evel Knievel's tomato sauce, mozzarella, pepperoni, ham, Italian sausage, bacon and fresh parsley

World Famous Snake River Special – Evel Knievel's tomato sauce, mozzarella, rattlesnake sausage, caramelized onions, roasted red peppers and fresh parsley
Balls to the Wall Pizza – Evel Knievel's tomato sauce, mozzarella, fontina, Caramelized Onions, ricotta, house-made meatballs and fresh basil
White Pie – Mozzarella, pecorino, fontina, ricotta and fresh basil
Also Read: Prosciutto Arugula Pizza Recipe
---
More photos
---
Hope this Downtown Las Vegas restaurant review of Evel Pie gave you an idea of the menu and must-try food!
---
Evel Pie
Website / Address: 508 Fremont Street, Las Vegas, NV 89101
---