Evoo in the Courtyard is a Mediterranean inspired restaurant in St. John's located in the courtyard of the historic Murray Premises Hotel, where One11 Chophouse used to be.
The interior has a nice rustic ambiance. It feels like you are in a cottage with stone walls and wooden beams.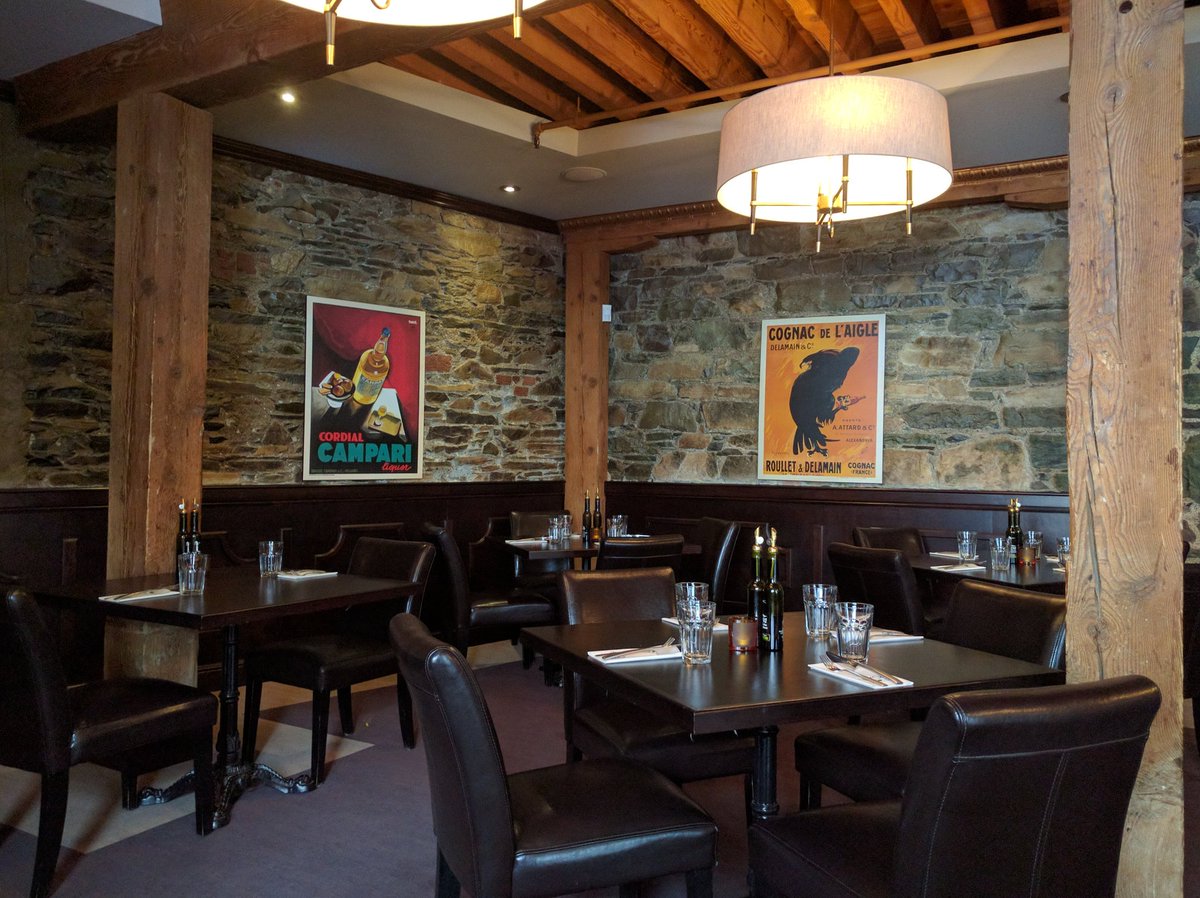 I had the great opportunity of meeting the masterminds behind Evoo: Executive Chefs Daniel Butler (middle) and Chris Chafe (right).
Executive Chef Daniel Butler is head chef of both Evoo and The Gypsy Tea Room.
Executive Chef Chris Chafe is a two time St. John's gold medal plates silver medalist, a competitor on Food Network Canada's hit show Top Chef Canada season 3, 2014.
Also Read: Where To Eat in St. John's, Newfoundland
Food at Evoo in the Courtyard
Appetizers
EVOO Arancini ($8) – crispy risotto croquette with ox tail, peas, wild mushroom and mozzarella, pomodoro sauce, Grana Padano
If there's one thing to get at Evoo in the Courtyard, it would be their EVOO Arancini. This blew my mind!
I was wondering why I never had arancini before when it's like the most obvious thing for me to love – deep fried and risotto. But it turns out I had tried it once but it wasn't memorable enough for me to remember it was arancini!
The croquette was crunchy on the outside and hot and moist inside. When you bite into, the croquette just bursts into flavours of risotto, oxtail, cheese and mushrooms.
You get 3 big pieces for $8 which is good to share since it can be quite heavy.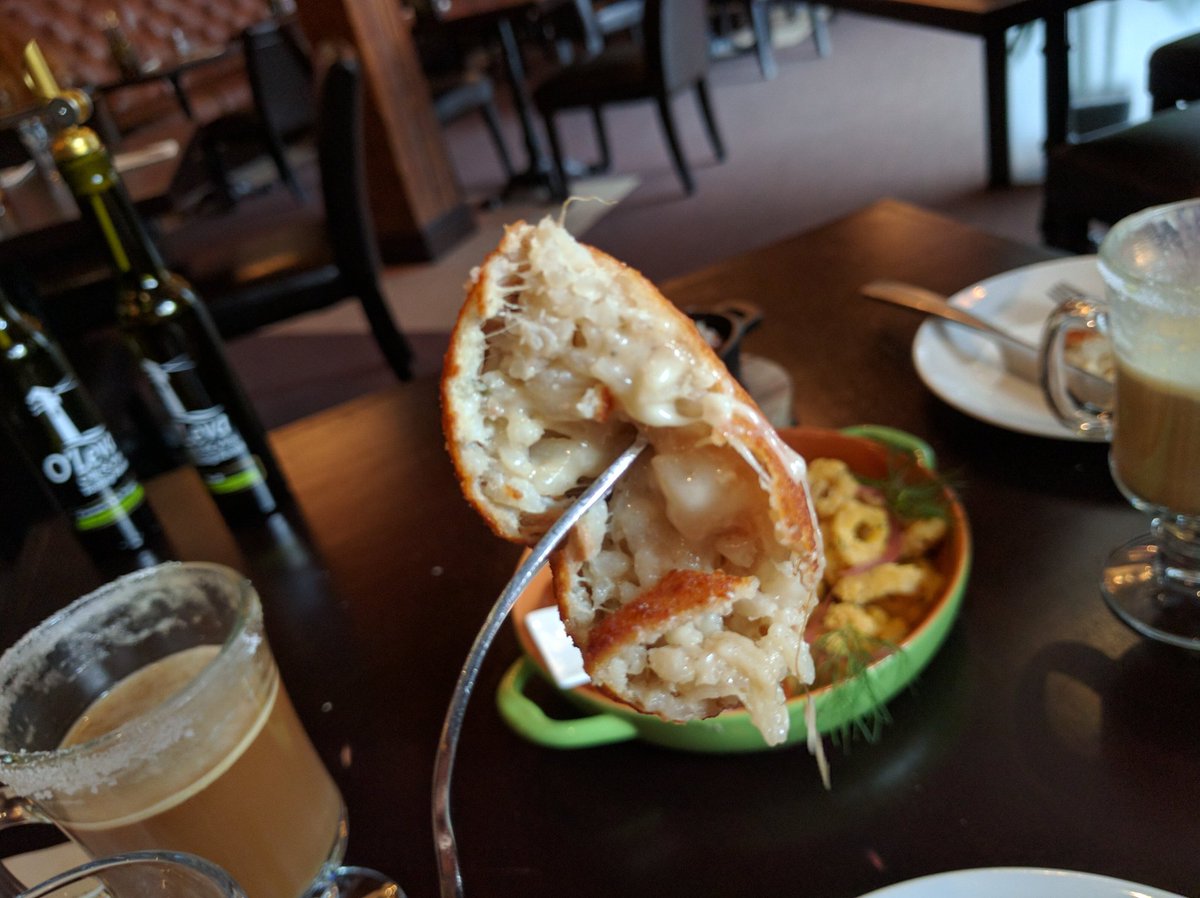 Calamari Fritti ($12) – corn flour fried squid, tzatziki, lemon
I'm a big fan of calamari so I can be a little picky. The squid itself didn't have the strong squid taste that I look for in calamari.
This may be good or bad depending on how you love your squid. But what it lacked in the squid taste for me, it made up with the herbs and spices used in the calamari which still made it enjoyable.
Entrees
Seafood Risotto ($24) – arborio rice, mussels, squid, cod, cold water shrimp, saffron tomato sauce
I really enjoyed the seafood risotto at Evoo in the Courtyard. It was just swimming in fresh and delicious seafood.
One thing I wished though is they used cream sauce instead of tomato sauce. I think cream sauce compliments seafood better since the seafood flavour sticks to the cream.
Even though it uses saffron tomato sauce, the rice still had the seafood flavour in it.
Lamb Shank Ossobucco ($24) – creamy polenta, Sicilian peperonata, kale
Unfortunately, this would've been an amazing dish had the lamb shank been fall-of-the-bone. It was actually a bit tough to get the meat out, despite the meat being very tender.
The creamy polenta was really good and was a good mix with the lamb shank.
Desserts at Evoo in the Courtyard
Authentic Italian Gelato (One scoop $4) – made by Yolande Modica – Pistacchio and Hazelnut
Gelato was one of the highlights on my trip to Italy. The best oh-so-creamy gelatos can be found there.
Unfortunately, I didn't find the gelato to be creamy for a gelato. It was quick to melt as well while we were taking photos when it wasn't even hot inside the restaurant.
Both flavours we ordered do not have the strong nutty flavour that it should have. It was actually quite sweet instead of nutty.
Zeppoli ($8) – Italian style donuts dusted with cinnamon suger served with nutella
First time having Zeppoli. These Italian donuts were baked fresh – crunch on the outside, and moist and chewy on the inside.
It went so well with the melted Nutella.
Tiramisu ($9) – layers of mascarpone cream with coffee & Frangelico soaked ladyfingers
Tiramisu is my favourite Italian dessert, and the one at Evoo in the Courtyard was delicious and refreshing!
I personally wished there were a bit more ladyfingers because I found it wasn't enough considering how much cream there was.
---
Hope this restaurant review of Evoo in the Courtyard helps you decide where to eat in St. John's! Let me know what you think if you went.
---
Evoo in the Courtyard
Website / Address: 5 Becks Cove, St. John's, NL A1C 6H1
Located between 313-315 Water Street. Entrance in the courtyard of the Murray Premises Hotel

---
Disclaimer: Although this was a complimentary tasting with Evoo in the Courtyard, the opinions expressed here represent my own and not those of the restaurant.