Fabbrica is the Italian Restaurant from The McEwan Group located at Shops at Don Mills, focused on making authentic rustic Italian dishes, in which many of the ingredients sourced from Italy.
Did you know? Fabbrica means "factory" in Italian.
---
Fabbrica Interior
We sat at the piazza in the front and it was a beautiful space with the bar at the end and glass windows all around for really good lighting – definitely, where you'd want to be if you're taking pictures of the food.
Fabbrica was designed by Giannone Petricone which also designed the likes of the popular Italian restaurant, Terroni.
---
Chef Missy Hui, Chef de Cuisine at Fabbrica
I didn't know this at that time but their Chef de Cuisine, Missy Hui, is a Chopped Canada winner on Season 1 – Episode 12, "Slippery When Wet".
She came out to greet us. She's very nice and humble which I really admired.
She explained Fabbrica's menu to us and also some of her favourites which include the burrata, agnolotti and papardelle.
Also Read: Alo Restaurant, Michelin Star Tasting Menu Restaurant in Toronto
---
Food & Drinks at Toronto's Fabbrica
Some of the menu items at Fabbrica change seasonally based on ingredients for that season.
Fresh bread with olive oil and balsamic vinegar
As we were still looking at the menu, fresh bread with olive oil and balsamic vinegar were provided.
My friend asked for freshly grated parmesan. The cheese was so good, and the bread was light and fresh!
I highly recommend asking for parmesan because it was amazing and went so well when you mix it with the olive oil and vinegar to add saltiness. We actually had two loaves because they were so good!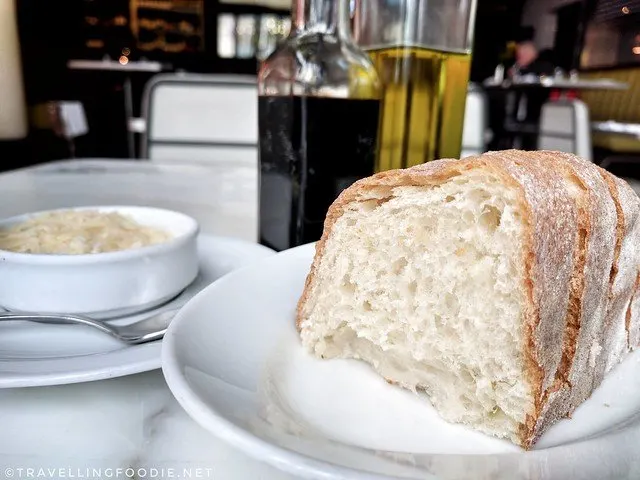 Burrata
We started with the Burrata which had walnut pesto, port stewed figs, roasted grapes.
This was one of Chef Missy Hui's favourite as she said it reminded her of winter with the stewed figs.
It was particularly refreshing as most burrata's I've had only came with the burrata itself, with maybe some herbs on top.
Though the burrata fell short on its own, it was the mix of everything that brought it to a whole new level which I really loved.
Also Read: Top Restaurants in Toronto
Casarecce Nero
Next was the Casarecce Nero: squid ink, shrimp, octopus, mussels, clams, squid, tomato, chili. One thing to note here is it's the noodles that are squid ink not the sauce, which I think they should indicate on the menu.
Nonetheless, though I couldn't really taste squid ink from the noodles, I was very happy with this dish. The seafood was generous.
The pasta was al dente. The sauce was so flavourful: you can even taste the seafood in the sauce!
Travelling Foodie Tip: Use the sauce to dip the bread. It's delicious!
This is definitely something I would order again when I come back at Fabbrica.
Roasted Red Pepper Risotto
For sides, we chose the Risotto, which has seasonal features. The time we went they had two options: we chose the Roasted Red Pepper Risotto (forgot what the other option was).
When made properly, the risotto was breaming with the flavour of roasted red pepper and the rice was nicely al dente.
Bistecca per due
Our last dish was the Bistecca per due: 28 oz. ribeye, confit onions and garlic, lemon, taleggio. One thing to note about this dish is it's 28oz of pure meat (no bones).
The beef was well-marbled and perfectly cooked. It was tender and juicy on its own, and was even more heightened by the confit onions and taleggio.
It's definitely an item worth sharing between 2-4 people at Fabbrica.
Unfortunately, we didn't get to try desserts at Fabbrica as we were too full already.
Chef Missy Hui told us that she actually wanted us to have tried the desserts because, as it turns out, they don't have a pastry chef so it's Chef Missy herself and the sous chef who makes desserts at Fabbrica.
I really wish we got to try them, but definitely next time!
---
Fabbrica
Website / Address: CF Shops at Don Mills, 49 Karl Fraser Rd, North York, Ontario, Canada M3C 0E5
---
Disclaimer: Although the food was complimentary as provided by The McEwan Group, all opinions and reviews are 100% my own.