Looking for an Ontario fall getaway? Then you'll want to check out fall in Stratford!
Fall is such a beautiful time in Stratford.
In this travel guide, we're featuring some of the best activities, things to do and restaurants in Stratford in the fall that you can safely experience.
---
---
Fall in Stratford
When most people think of Stratford, they always think of the Shakespeare Festival during the summer.
But there is so much to enjoy in Stratford in the other seasons as well, including Fall.
Autumn is such wonderful time as the weather gets cooler and the leaves start to turn.
It's not surprising why it's a lot of people's favourite season.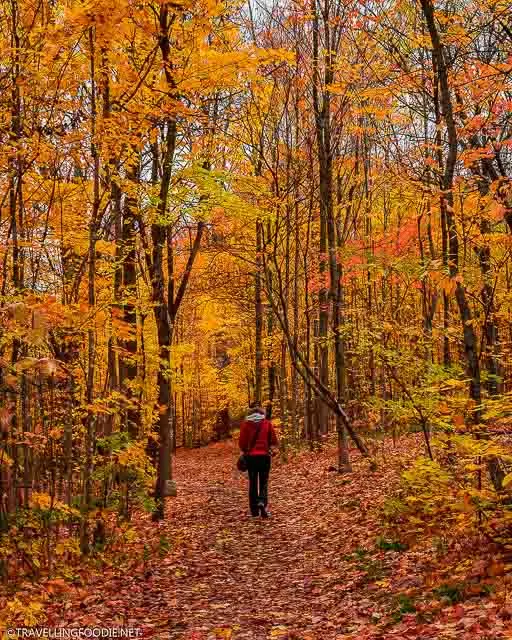 I've always loved visiting Stratford, having visited a lot of times especially when I was studying in the University of Waterloo.
For a small city, there's always something new and exciting to explore.
I love that it's such a walkable city so you can really walk everywhere in the city centre.
Most of the attractions found here we just walked except for the Stratford Perth Museum and TJ Dolan Natural Area.
Travelling Foodie Tip: Park at the free Municipal Parking Lot! We parked at the Cooper Parking Lot (105 St. Patrick Street).
I shared about Stratford in the Spring for food lovers and how to spend a summer day.
Now, I'm sharing why you'd want to visit Stratford in the fall!
Also Read: Best Fall Attractions in Virginia
---
Best Things To Do During Fall in Stratford
There are so many things to do in Stratford in the fall from its impressive food scene to discovering natural beauty.
Here are some of my favourites.
Enjoy hiking in nature trails to see fall foliage in Stratford
One of the most popular activities in the fall is checking out some fall foliage.
Stratford is a great place to visit for some fall colors.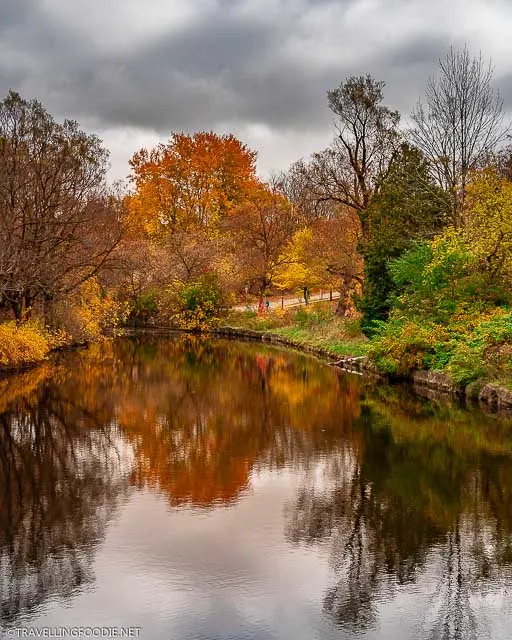 I found the best time to go is in the first two weeks of October when the colors have mostly turned but the leaves haven't fallen.
Stratford has a 13.4 km nature trail, which starts from the T.J. Dolan Natural Area and connects to the Avon Trail, a 113 km hiking trail from St. Marys to Conestogo, linking the Thames Valley and Grand Valley Trails.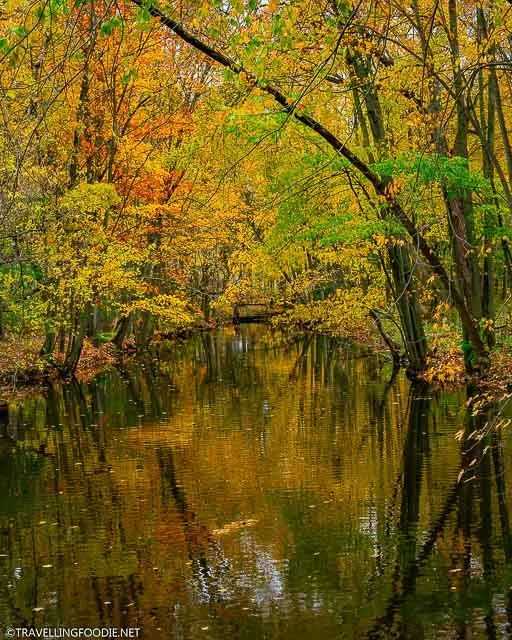 On this trail along the Avon River, you'll see amazing fall foliage while hitting some of the popular attractions in Stratford like Lake Victoria and the Festival Theatre.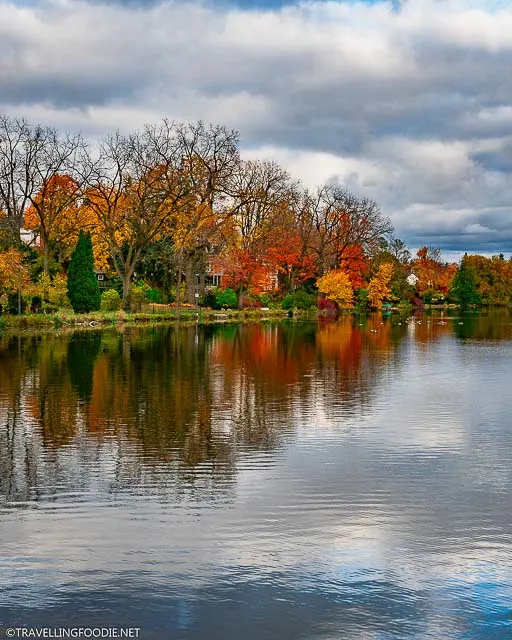 Learn more about the Stratford Side Trail, including a map, here.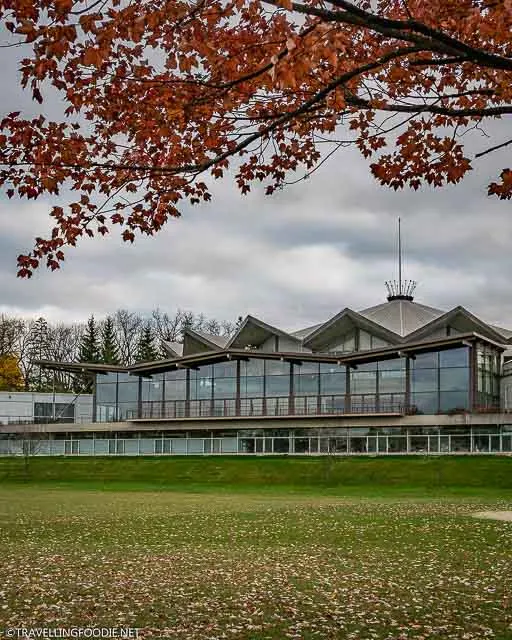 Also Read: 2 Day Trip in Norfolk County, Ontario
Discover the beauty of the Shakespearean Gardens
Being known for Shakespeare, it makes sense that Stratford also has the Shakespearean Gardens, one of the best attractions in Stratford with 60 varieties of herbs, flowers and shrubs that are all mentioned in Shakespeare's plays.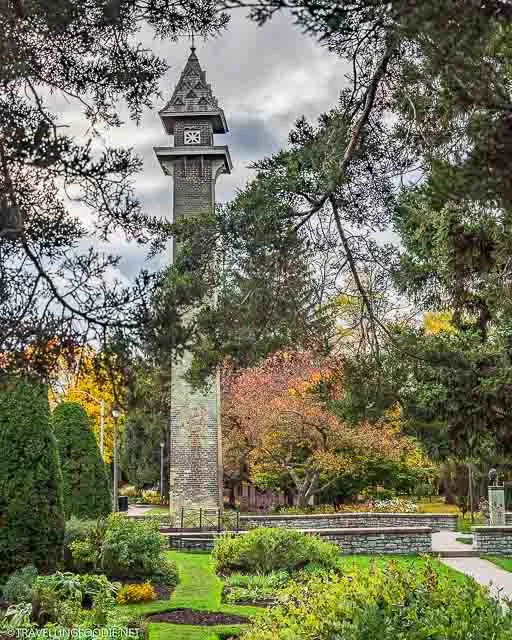 The Shakespearean Gardens is also where you'll find the oldest double-arch stone bridge in Ontario for some beautiful reflections and framing shots.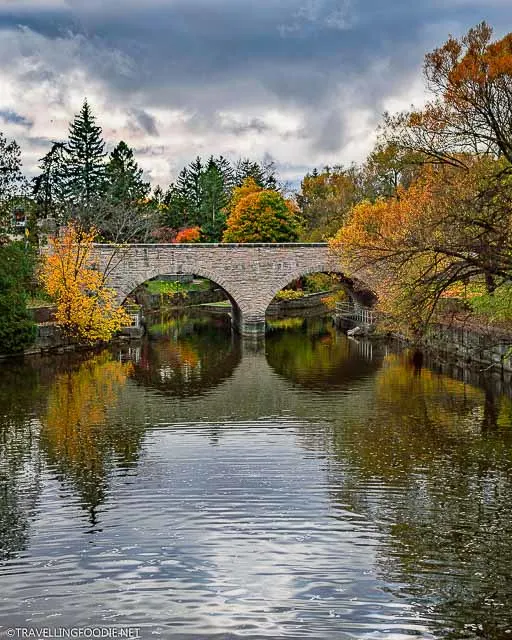 It's definitely one of the best places to see fall colors in Stratford without hiking, although the nature trails also passes through here.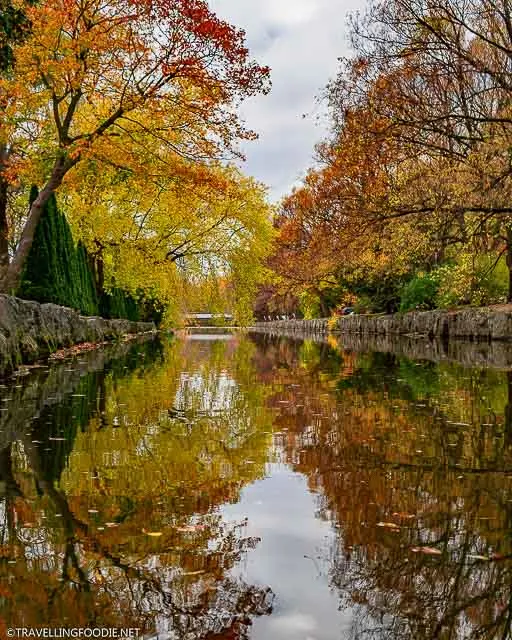 Shakespearean Gardens
Address: 5 Huron St, Stratford, Ontario N5A 2L6
Indulge in the Stratford Chocolate Trail
Love chocolate?
The Savour Stratford Chocolate Trail is one of the best fall activities to explore downtown shops while indulging on decadent treats from local confectioners and bakers.
And since downtown is such a walkable city, it's a great way to burn calories too!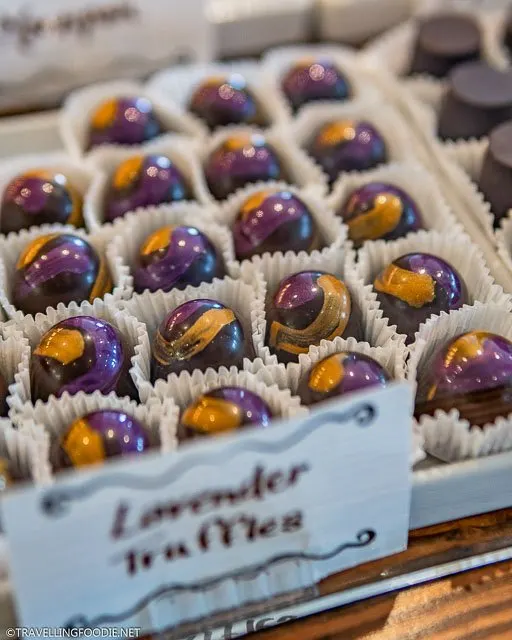 This year-round self-guided tour lets you choose six stops out of the 20 in the Chocolate Trail for some chocolate-based offerings. It only costs $30+HST.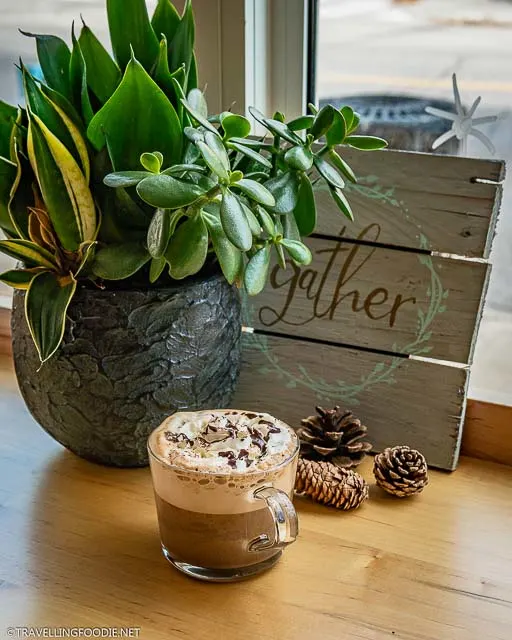 What I love about the chocolate trail is the stops and offerings change every year so it's a very repeatable activity that's great to do on your own, with friends or with the family!
Another thing is that a lot of goodies are ones you can bring back home.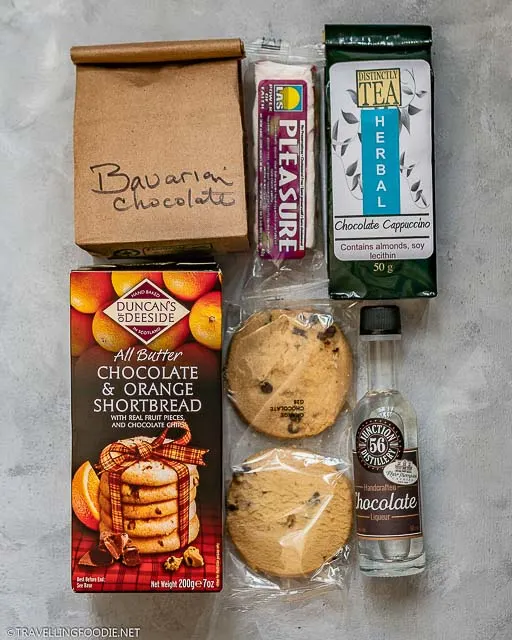 The Chocolate Trail is a great way to visit two of Stratford's local authentic chocolate shops.
At Rheo Thompson Candies, you can have your choice of 4 handmade creams, caramels, barks or specialty chocolates.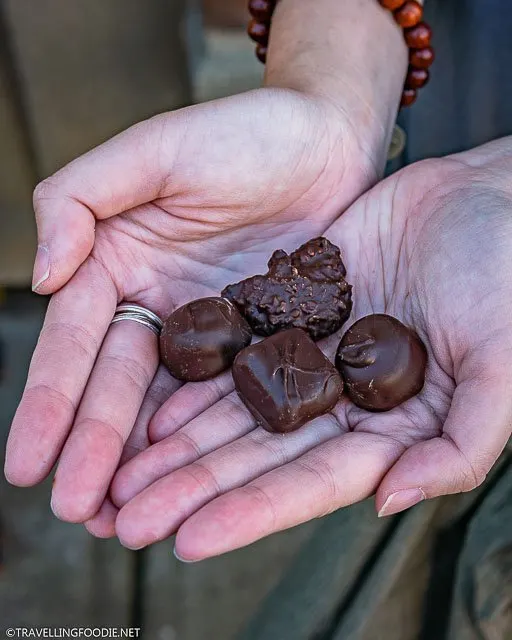 At Chocolate Barr's Candies, you can choose 3 handmade truffles from over 12 flavours.
Learn more about the Stratford Chocolate Trail with all the stops and offerings here.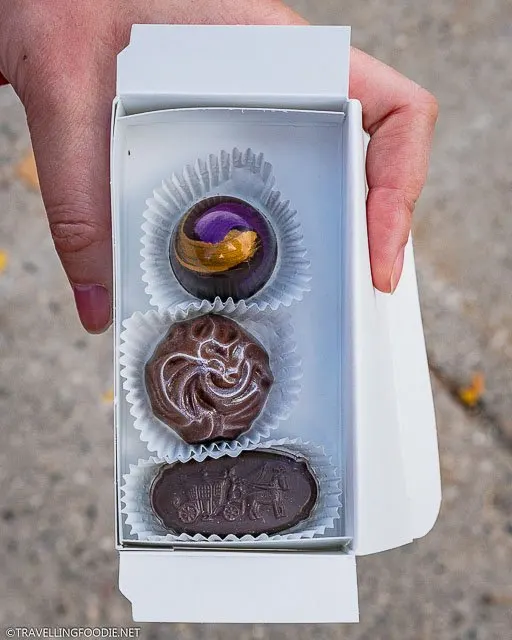 Also Read: Oxford County Cheese Trail in Ontario
Visit the Stratford Perth Museum
A short drive from downtown is the Stratford Perth Museum, one of the best things to do in Stratford bridging history, culture and nature.
Inside, you'll find permanent exhibits including:
"Such Stuff as Dreams" (history of the Stratford Festival)
"Railway Century" (history of rail and steam locomotive repair in Stratford and Perth County)
"You Are Here" (history of men and women that built Perth County as the agricultural hub of Ontario).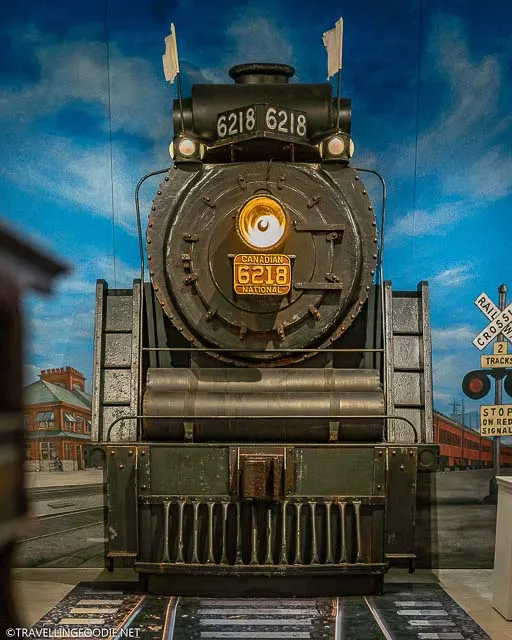 Did you know? Justin Bieber grew up in Stratford!
It's only fitting there's a tribute for him. The Justin Bieber Exhibit "Steps to Stardom" opened in 2018 as part of the temporary exhibit of the Stratford Perth Museum.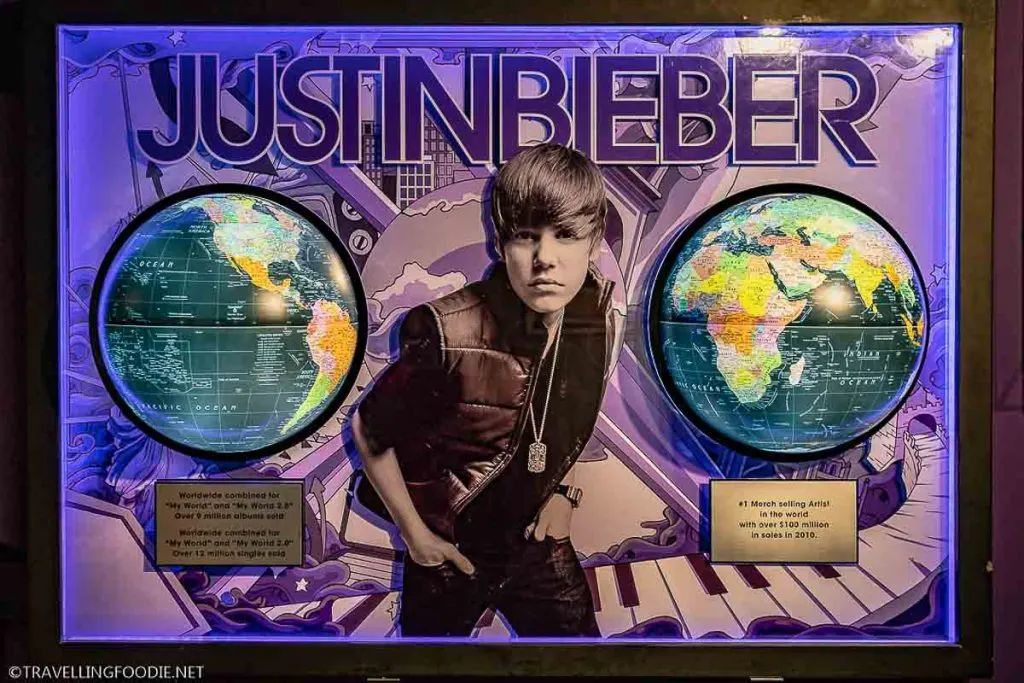 Here you'll learn about Justin Bieber's life from his childhood all the way to success.
You'll even find a copy of the wedding invitation of him and Hailey Bieber.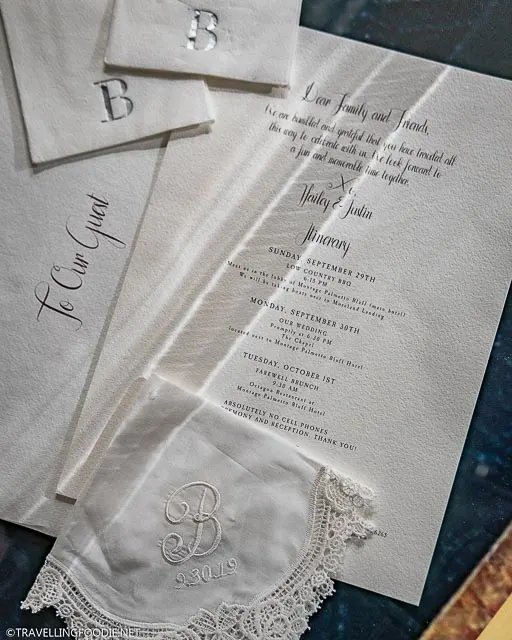 Just because it's a museum, it doesn't mean you're only staying indoors.
Stratford Perth Museum has a Historical Walk, a 0.7 km trail that combines nature and history through 15 story boards on the history of Stratford, Perth County and surrounding area.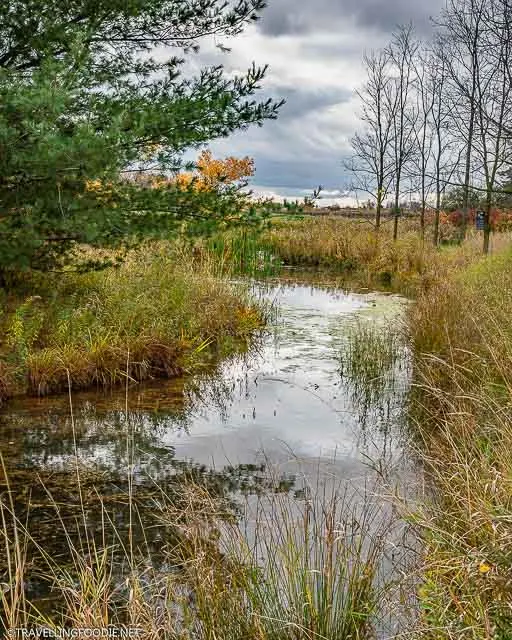 Stratford Perth Museum
Website / Address: 4275 Huron St, Stratford, Ontario N5A 6S6
Price: $7 Adults, $6 Students and Seniors, $5 Children
Hours: 10am-4pm seven days a week
Also Read: Best Things To Do in Timmins, Ontario
Taste the Stratford Food Scene
Every time I visit Stratford, there's something in their food scene that surprises me.
That's why I'm always excited when I make a trip here.
One unique thing the city has done for its food scene is the Stratford Al Fresco project where you'll find designated safe dining spaces at various spots: Market Square, Tom Patterson Island and Memorial Gardens.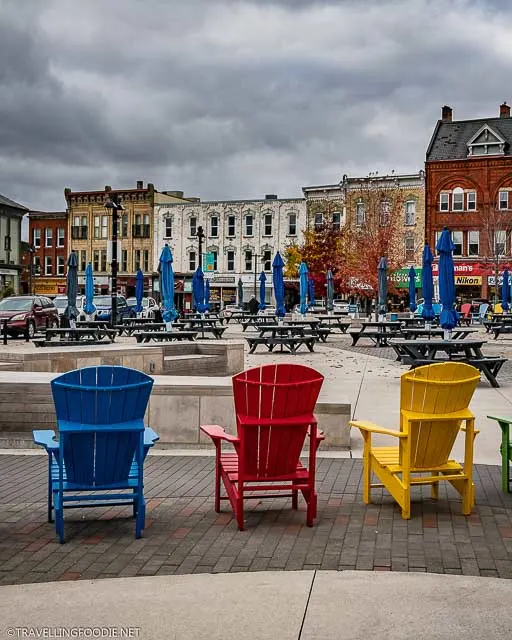 With picnic tables, hand sanitizer stations, garbage cans and recycling bins, it's a great way to get some cozy dining in Stratford during fall.
Also, alcohol is permitted when purchased from a restaurant with takeout food!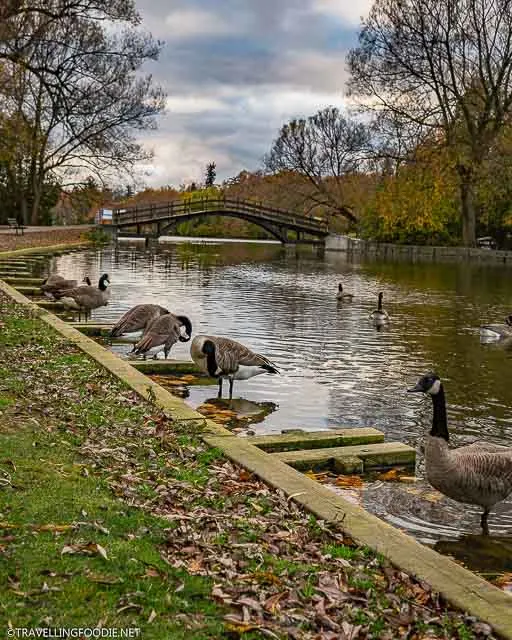 With local flavours and diverse cuisines, there's something delicious for everyone here.
I'm featuring some must-try dishes from my Fall trip from some of the best restaurants in Stratford.
AO Pasta (CLOSED as of May 19, 2023)
*Though AO Pasta has closed, we are keeping the write-up in case you are still interested to know what it was*
"Everything is better with Spaghetti!", according to the sign at AO Pasta, one of best restaurants in Stratford serving homemade pasta.
You'll definitely want to try their spaghetti and meatball, but also be on the look out for their daily features on the chalkboard.
If you see the Butter Nut Squash Cappelleti there, order it!
And save room for their tiramisu.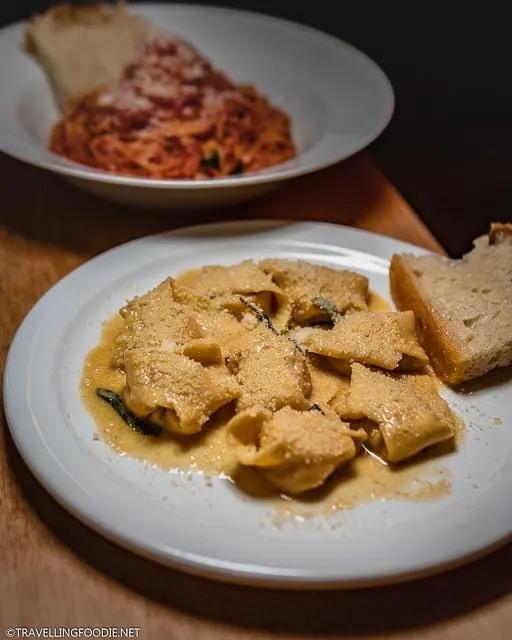 Braai House
I was so excited to try this South African inspired restaurant because I've never had South African cuisine.
There's not a lot in North America that specializes in South African cuisine, let alone South African BBQ (which is what Braai means).
Be sure to try the specific South African dishes Braai House offers!
During my first visit in 2020, I enjoyed the like Boerewors & Chakalaka, Dom Pedro cocktail and Malva Pudding.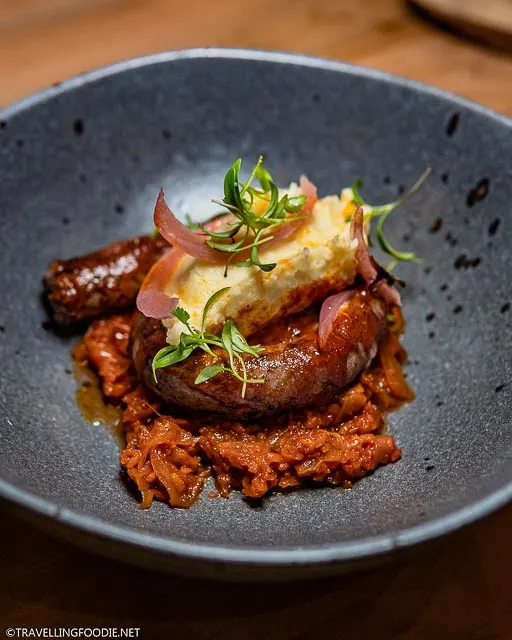 I visited again in 2023, and they had introduced a seasonal tasting menu.
I love tasting menus because it's a great way to taste more dishes at smaller portions.
At Braai House, you'll get some courses that are off-menu and ones enjoyed by owner Anthony Jordaan, growing up in South Africa.
Watch the tasting menu experience:
Braai House
Website / Address: 34 Brunswick St Second Floor, Stratford, ON N5A 3L8
The Common
With the motto of Eat Without Borders, The Common is the most diverse restaurant you can find in Stratford featuring dishes from all around the world from Thai and Indian to Italian and French.
During lunch, I loved Bruleed Chicken Liver Pate, which (trust me) is unlike any other chicken liver pate you've had before.
I also enjoyed the Thai Green Curry with Ping Gai (Grilled Chicken) which is a nice cross between the two Thai and Laotian dishes.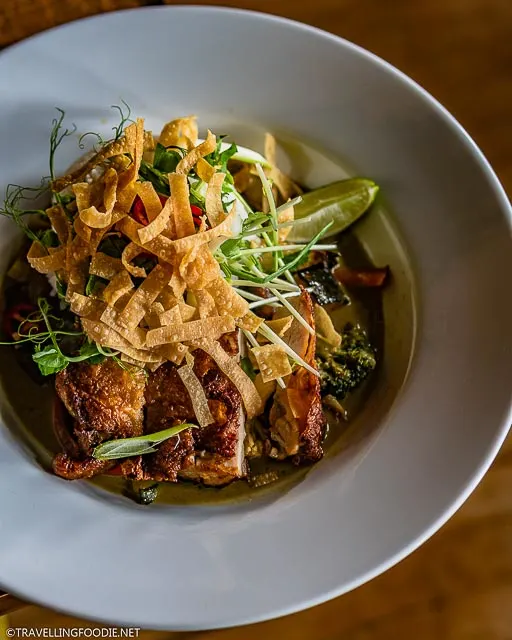 The Common
Website / Address: 80 Wellington St, Stratford, Ontario N5A 2L2
YSK Bistro
*YSK Bistro is temporarily closed for the remainder of 2023 due to major road construction*
You'll want to try the Hoagie sandwich at one of Stratford's best sandwich joint, YSK Bistro.
This signature sandwich comes with tender 3-day cured AAA beef on a freshly baked daily bun.
Save room for the gooey chewy homemade butter tart.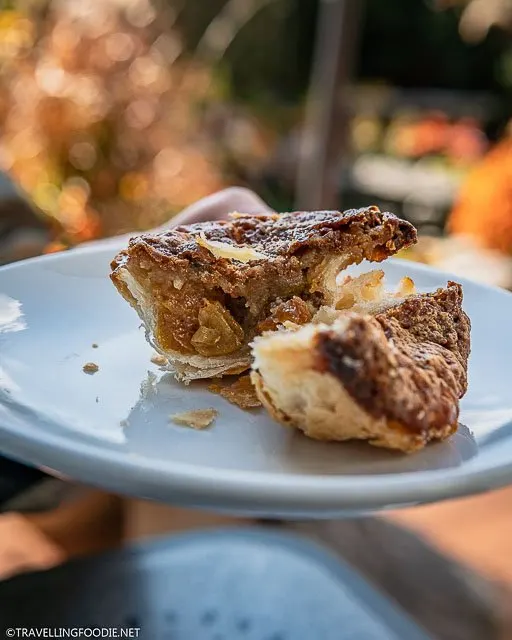 York Street Kitchen Bistro
Website / Address: 151 Albert St, Stratford, Ontario N5A 3K5
Foster's Inn Restaurant
Breakfast at Foster's Inn Restaurant is a favourite for many locals.
You'll want to try the breakfast poutine, their breakfast twist to this Canadian staple.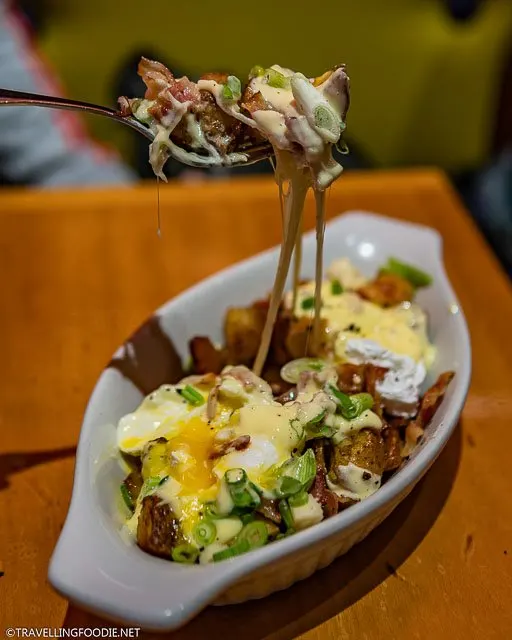 You can't go wrong with the Mexican classic, Huevos Rancheros, either as the mix of toppings give an explosion of flavour.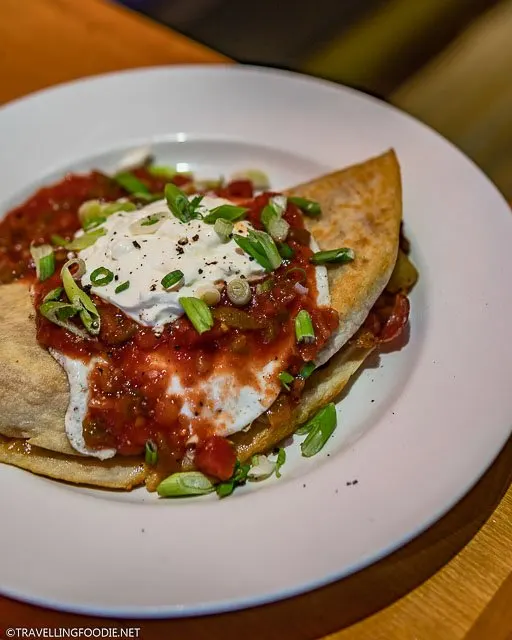 Foster's Inn Restaurant
Website / Address: 111 Downie St, Stratford, Ontario N5A 1X2
Also Read: Where To Eat in St. Thomas, Ontario
Grab a drink at local breweries and distilleries
Aside from a great food scene, Stratford also has an amazing drinks scene with local craft brewers and distilleries to check out during your fall getaway.
There are four breweries and one distillery in Stratford that you can visit:
Black Swan Brewing Co
Braai House Microbrewing
Heritage Hops Brew Co
Jobsite Brewing Co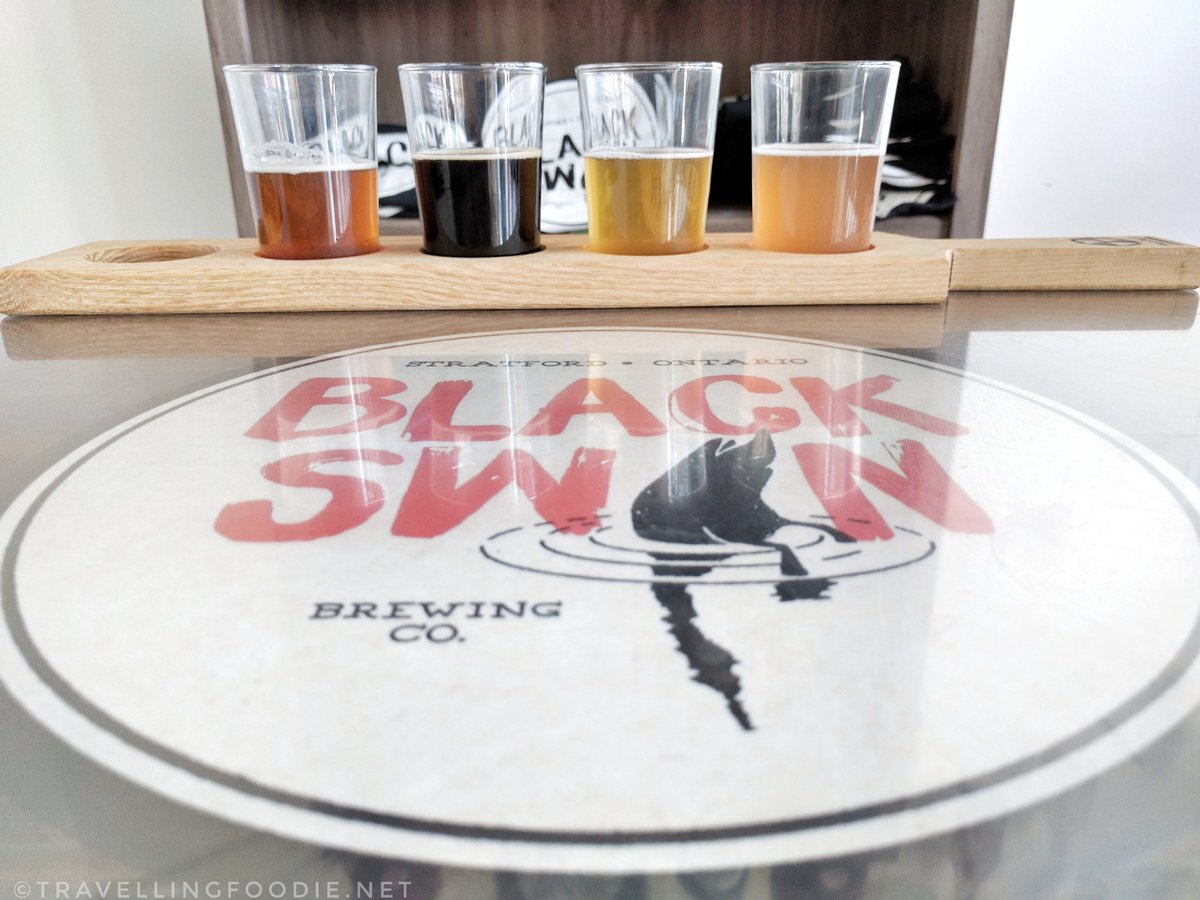 While three of the breweries are in downtown, Jobsite Brewing Company is a good 10-15 minute walk from downtown right next to Junction 56 Distillery.
It's great to visit these two places in one shot especially if you're doing the Chocolate Trail because Junction 56 Distillery is a stop too.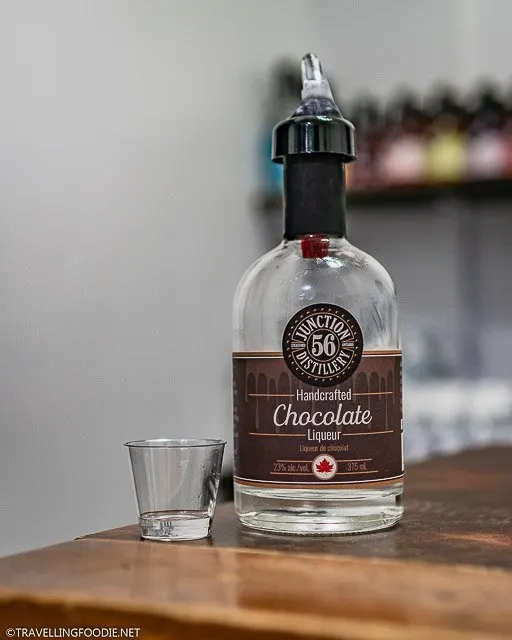 Also Read: Best of Windsor-Essex County, Ontario
Get your camera ready for Insta-worthy Spots in Stratford
Are you always doing it #ForTheGram?
Stratford is known for picturesque Instagrammable backdrops that make it perfect for your fall photos.
We visited some of the spots below, but you can find the full list of 15 Insta-worthy spots in Stratford here.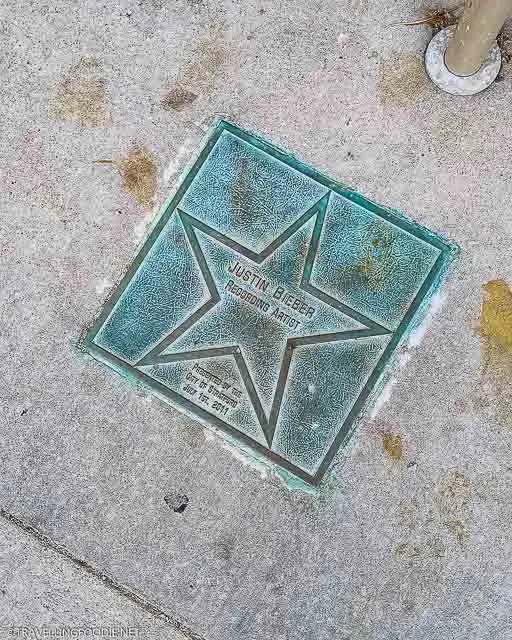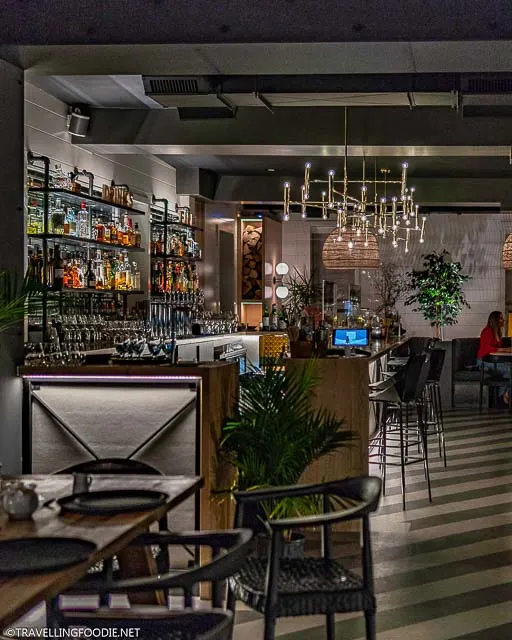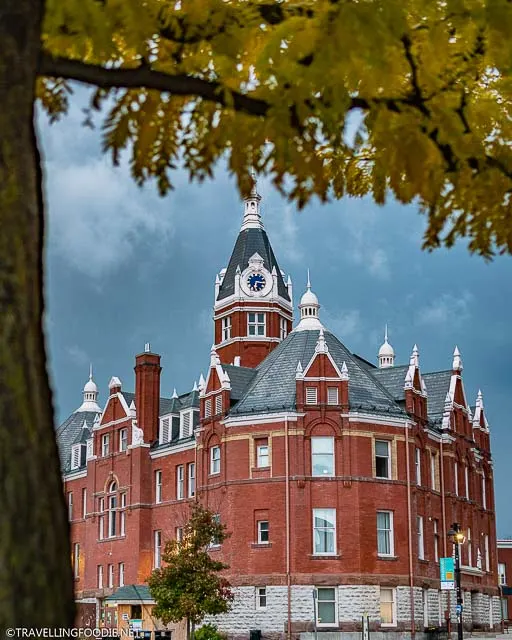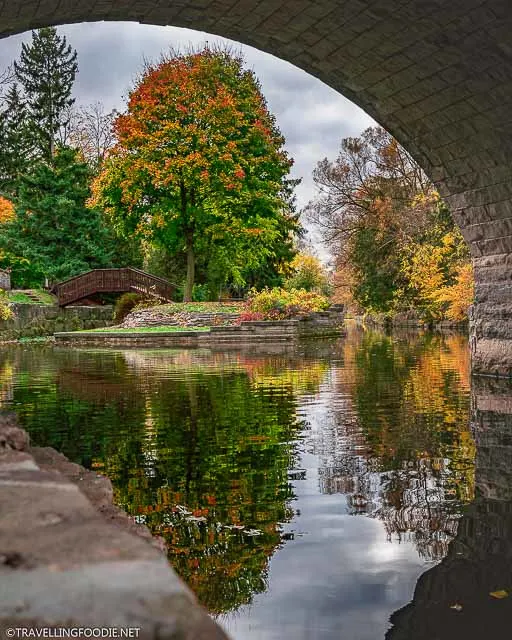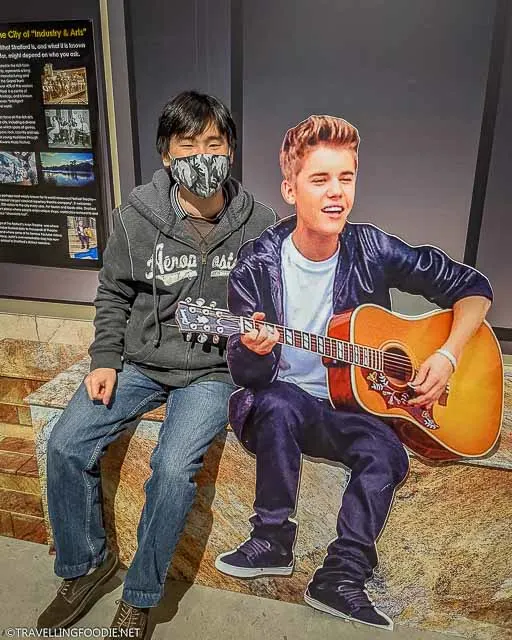 Also Read: Instagrammable Things To Do in Seattle, Washington
---
MAP: Fall Getaway in Stratford
Here's a map with all the Stratford attractions and places to eat covered in this fall travel guide.
---
Hope this travel guide gives you an idea on why you'd want to visit Stratford, Ontario in the fall! There's so many things to do in Stratford with the beautiful fall foliage while enjoying their delicious food scene.
Time to plan that fall getaway!
I'm always looking for new places to visit! Please let me know what you find are the best attractions and restaurants especially during Fall for my next trip.
Be sure to PIN/SAVE/BOOKMARK this Stratford fall travel guide since I will be keeping this updated with more!
---
Huge thanks to Destination Stratford for sponsoring this post. As usual, reviews and opinions are 100% entirely my own.
You can learn more about Destination Stratford on their website.