Love hot chocolate? Tsokolate is a Filipino version of hot chocolate made with 100% pure cacao.
This no frills traditional Filipino drink is quick and easy to make, only needing the tablea de cacao and water (or milk).
---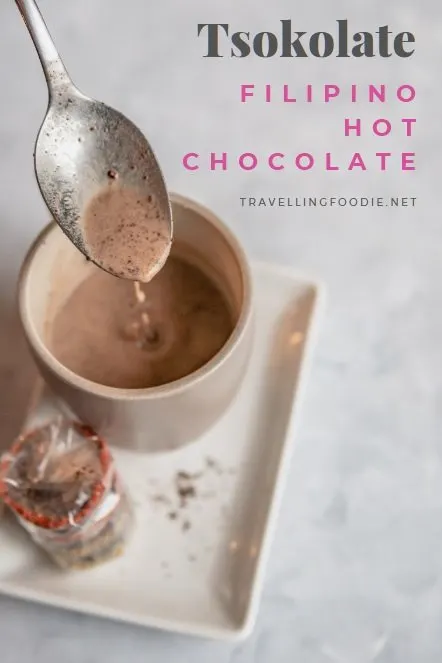 Also Read: Easy 30-Minute Recipes: Meals and Snacks in 30 Minutes or Less
---
What is Filipino Tsokolate?
I've had my fair share of Filipino hot chocolate growing up in Manila, but I haven't had tsokolate for a long time since living in Canada.
Luckily, my friend brought Batangas Pure Cacao back from her trip and gave me some during the holidays.
It brought back nostalgia.
Pronouced cho-ko-la-teh, Tsokolate, is a Filipino thick hot chocolate beverage made simply by dissolving tablea de cacao (cacao tablets) in hot water, traditionally mixed together using a batidor (a wooden baton).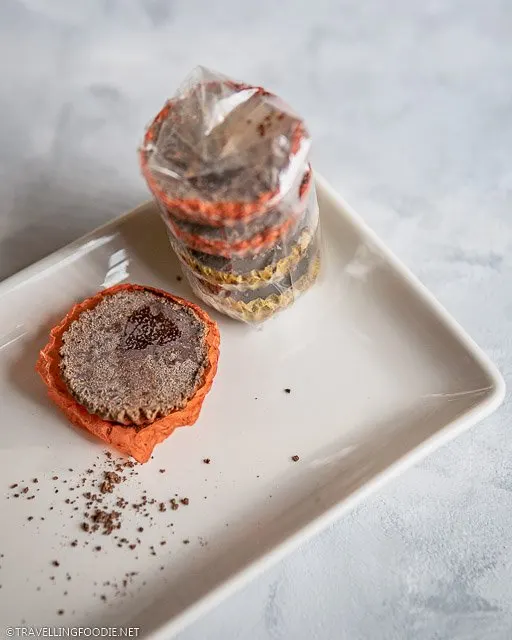 ---
What Makes Filipino Hot Chocolate So Great?
Enjoying the Filipino hot chocolate during winter made me realize how perfect tsokolate is in Canada because this rich cacao drink warms up the body nicely in a cold day.
While hot chocolate powder mixes are abundant in Canada, nothing beats the tablea de cacao (cacao tablets) because the tablet form preserves the fat content better.
Tableang Tsokolate is very quick and simple to make, requiring only 2 main ingredients.
Sure, it takes slightly longer to make than with hot chocolate mixes, but tablea de cacao is only made with 100% pure cacao unlike the powder mixes that have preservatives in them.
Also Read: Angell & Phelps Chocolate Factory in Daytona Beach, Florida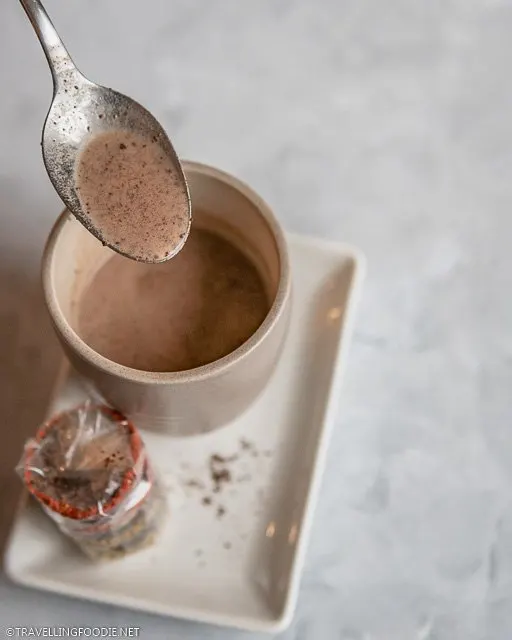 ---
What is Tablea de Cacao?
A distinct kind of chocolate in Filipino cuisine, Tablea de cacao are cacao chocolate tablets made from 100% pure cacao beans.
The fermented cacao beans are molded into tablets or round disks after being roasted and ground.
These Tablea Chocolate are rich in antioxidants, has anti-inflammatory properties, a mood elevator and a great source of iron, calcium, magnesium and manganese.
Much healthier than hot chocolate powder mixes.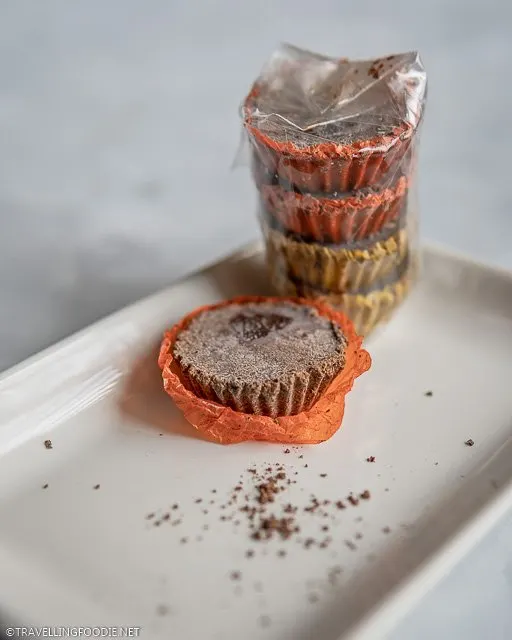 ---
Where To Buy Tablea Chocolate
Sometimes, you might get lucky and find tablea on Amazon.
In the Philippines, you can easily find Tablea de Cacao in supermarkets, specialty stores or even online.
Local supermarkets will even have a section dedicated for tablea.
My friend bought the 100% Batangas Pure Cacao from Manila for PHP185 (CAD5.13) for 8pcs (100g each). *Note, price is at the time of writing.
Unfortunately, it's hard to find Tablea Chocolate in other parts of the world because it is not a popular export product like Dried Mangoes.
But you might luckily find them in Asian grocery stores.
This makes Tablea Chocolate a more unique item to bring home after travelling to the Philippines.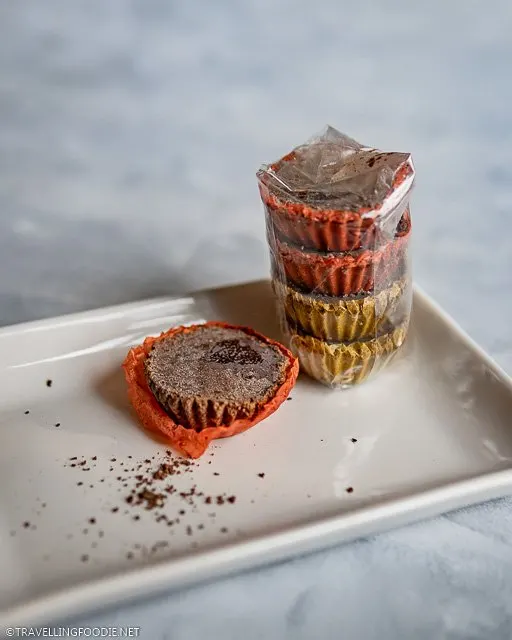 Some tips when buying Tablea de Cacao
Be sure to check the ingredients listed in the back of the package to ensure it is made from 100% cacao. It is not enough to just look at the front that states "Pure", "Natural" or "Native".
Typically, it would also state which city the tablea chocolate tablets are from. Davao City and Batangas are quite popular producers of Tablea de Cacao. The one my friend gave me is from Batangas.
There is a sweetened and unsweetened version of Tablea so you can choose based on your preference.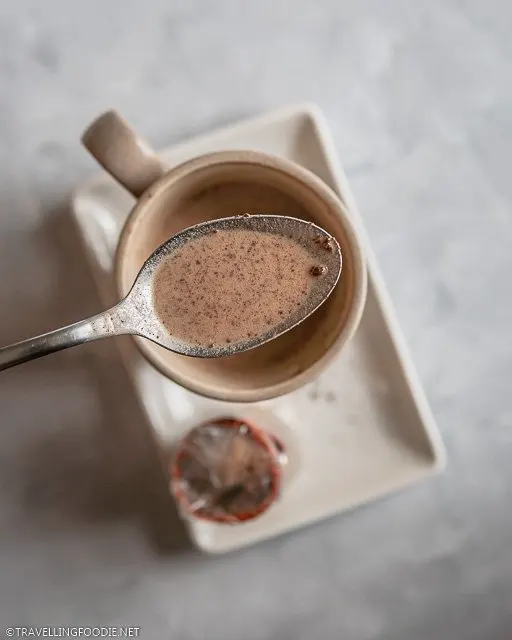 ---
Ingredients Needed For Tablea Tsokolate Recipe
Tablea de Cacao
Water or Milk
(Optional) Sugar, or some kind of sweetener. This is only needed if you drink your Filipino hot chocolate sweet and you didn't get the sweetened Tablea.
Also Read: Handcrafted Chocolates and World Teas at Chocolatea in Oxford County, Ontario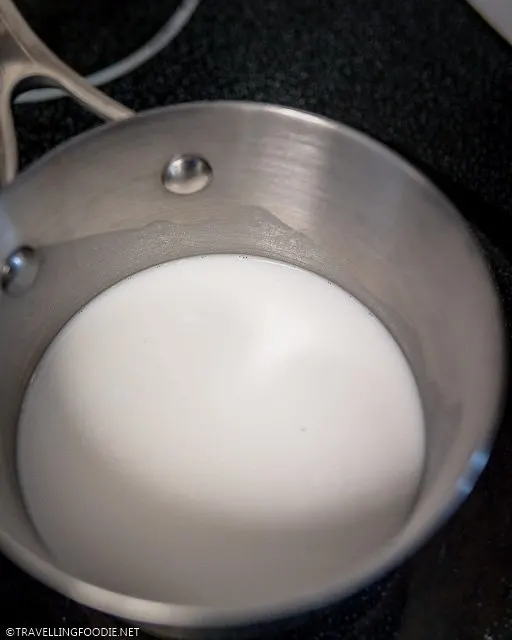 ---
How To Make Filipino Hot Chocolate (or Tsokolate Tablea)
It's so easy to make tsokolate using tablea.
Pour 1 cup of water or milk on a pot.
Bring to a boil.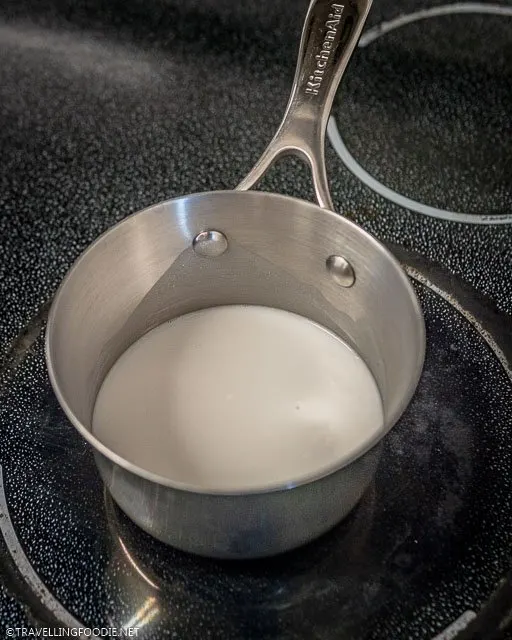 Add 1 piece of Tablea de Cacao (100g).
Set heat to Medium.
Stir occasionally until the Tablea has dissolved.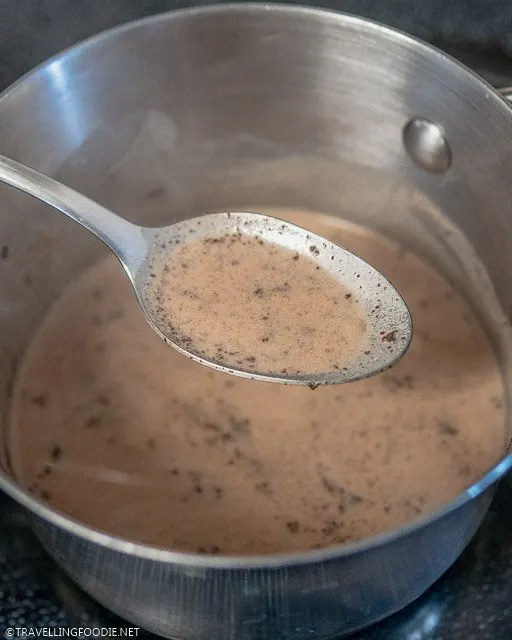 Pour the Hot Tablea Chocolate into a mug.
Enjoy!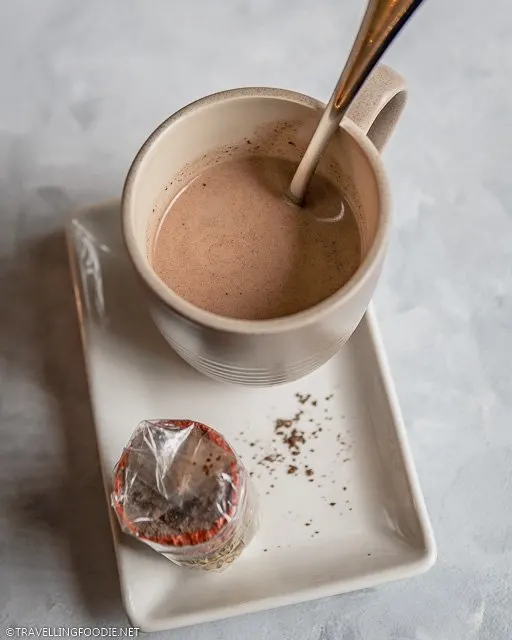 ---
Help! Why Are There White Spots On The Tablea De Cacao?
White spots or surface coating that can appear in chocolate, in general.
And they are normal.
This means you might also see them in Tablea de Cacao.
It doesn't mean they are bad.
It doesn't mean they are mold.
It will also not affect the taste of the tablea nor the tsokolate.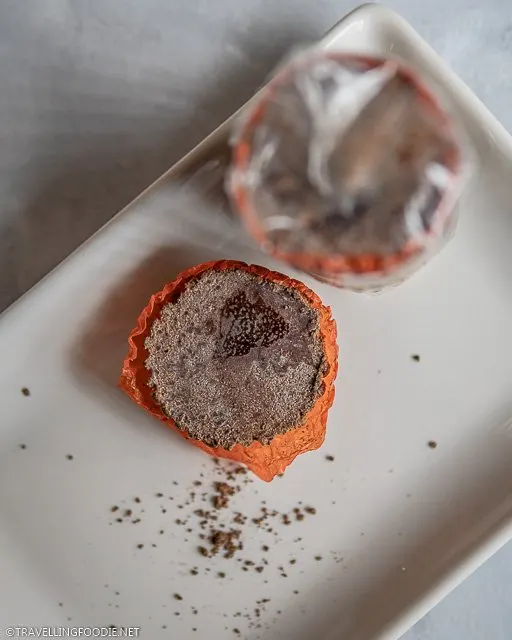 They are called chocolate bloom, and there are two types: fat bloom and sugar bloom.
Fat bloom in a chocolate happens due to changes in the fat crystals when the cocoa butter melts and solidifies usually when the chocolate gets warm.
Sugar bloom in a chocolate happens when crystals form due to moisture in the sugar when the chocolate is stored in a damp area.
What does this mean for Tablea de Cacao?
If you get sweetened Tablea de Cacao, chocolate blooms can occur due to both fat and sugar bloom, whereas unsweetened Tablea Chocolate can only have fat bloom.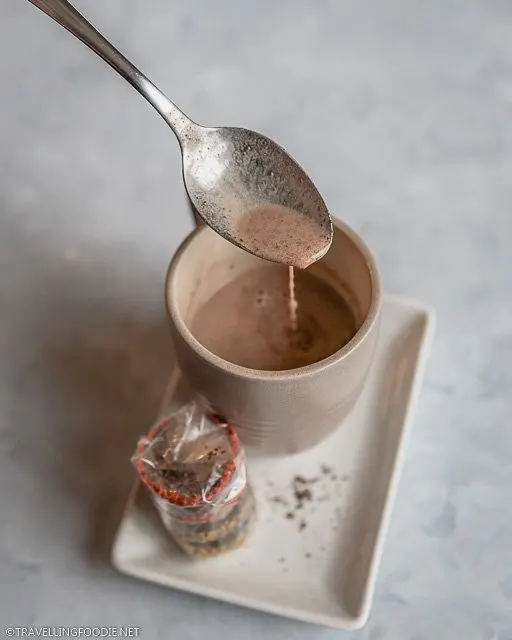 ---
What To Serve With Tsokolate / Filipino Hot Chocolate?
Filipino Hot Chocolate, or Tsokolate is quite versatile.
You can build on top of the drink itself, make another dish out of it, or pair with other dishes.
It's also treated as a Filipino dessert to end a meal.
Much like Spain has their Churros y Xocolat, Philippines has Tablea Tsokolate where it is typically served with pandesal (Filipino bread roll) during breakfast.
Tablea Chocolate also goes well with desserts because the sweet taste gets neutralized with the dark bitter taste of cacao.
Here are some popular toppings that you can add to Tsokolate:
Pinipig, or rice puffs
Cinnamon
Vanilla
Ice Cream
Liquor (rum or tequila)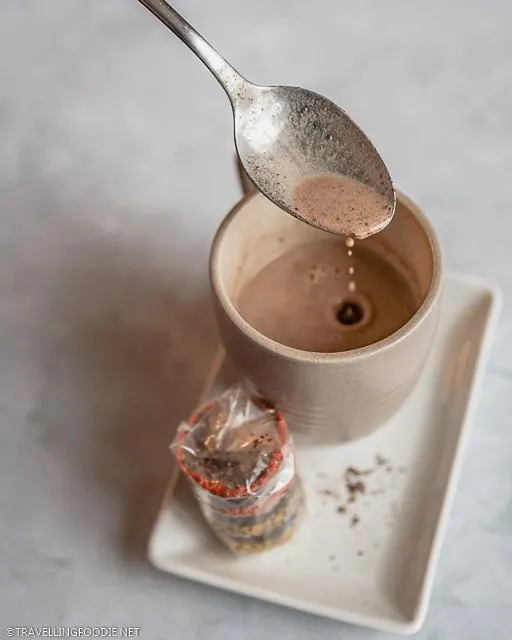 Here are some dishes you can pair with Filipino Hot Chocolate:
Pan de sal (Filipino roll bread)
Ensaymada
Brazo de Mercedes (traditional Filipino meringue roll)
Ube Cake
Churros
Puto Bumbong
Bibinka
Other Filipino desserts or kakanin
Recipes you can make with Tableang Tsokolate:
Champorado (Filipino Chocolate Rice Porridge)
Tablea Chocolate Brownies
Chocolate Cake
Tablea Torte
Basically desserts that typically use chocolate and water can be made with Tablea Chocolate!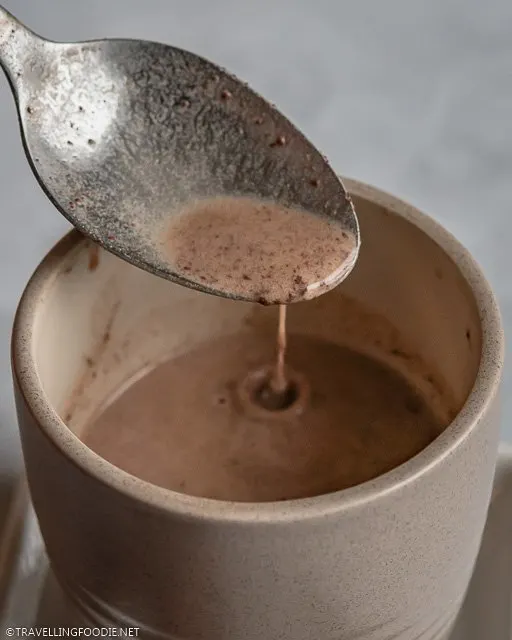 ---
Filipino Hot Chocolate / Tsokolate Recipe
Here is the recipe for the Pure Cacao Batangas Tsokolate.
I would love to see how this recipe worked for you! Please share your creations with me on social media and tag me so I can check them out: @TravellingFoodie on Instagram & Facebook and @TravellinFoodie on Twitter.
Be sure to bookmark/save/pin this post so you can easily make the Filipino Hot Chocolate or Tsokolate in the future.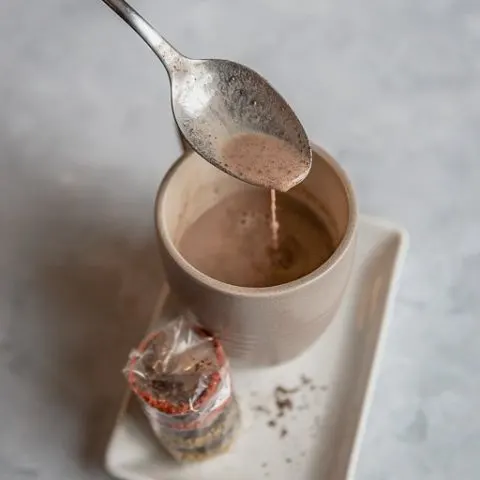 Filipino Hot Chocolate / Tsokolate
Tsokolate, or Filipino Hot Chocolate is a rich thick hot chocolate drink made with 100% pure tablea de cacao. This no frills traditional Filipino beverage is quick and easy to make, only needing the cacao tablet and water (or milk).
Instructions
Bring the cup of water in a pot to boil
Add the Tablea de Cacao in the pot.
Lower heat to Medium.
Stir the chocolate tablet until fully dissolved.
Serve in a mug and enjoy!
Notes
You may sweeten the Tsokolate to your preference as the raw Filipino hot chocolate can be dark and bitter. Some tablea de cacao can be bought sweetened already.
Some people mix both water and milk as well
You can add pinipig on top for an added crunch
Recommended Products
As an Amazon Associate and member of other affiliate programs, I earn from qualifying purchases.
Nutrition Information:
Yield:

1
Serving Size:

1 grams
Amount Per Serving:
Calories:

239
Total Fat:

8g
Saturated Fat:

5g
Trans Fat:

0g
Unsaturated Fat:

2g
Cholesterol:

28mg
Sodium:

170mg
Carbohydrates:

31g
Fiber:

1g
Sugar:

15g
Protein:

11g
Please note that nutrition information you see is provided and automatically calculated by Nutritionix. This may vary depending on the specific ingredients that you use. To ensure the most accurate information, I suggest entering your specific ingredients into a nutrition calculator.
---
Hope this Tablea Tsokolate recipe gives you an idea on this Filipino version of hot chocolate.
It's a great drink to enjoy everyday especially during winter.