Some posts on this site contain affiliate links. If you book or purchase something through one of these links, I may earn a small commission at no extra cost to you. Read the full disclosure policy here.
After the food coma on the first day of Bold Food Austin Tour, it was nice to be well rested for Day 2 of awesome eats! We met at the lobby at 10AM and on we went…
Here's a recap of Day 2:
Food Truck Tour
Our morning kicked off with a Food Truck Tour with Austin Eats Food Tours. Led by tour host Caron, we went to five different food trucks each with a unique offering.
Some fun facts I learned during the tour: there are about 700 food trucks in Austin, and most of them are not roaming food trucks because the city has so many designated food trailer parks where the food trucks can permanently reside. Also, a lot of them are BYOB (Bring Your Own Booze)!
Torchy's Tacos
First stop was Torchy's Tacos, one of the oldest food trucks in Austin which started in 2006. We had the ever popular Migas breakfast taco: scrambled eggs, crisp corn tortilla strips, green chiles, avocado, pico de gallo & shredded cheese. served with tomatillo sauce on flour tortilla.
We also got to try their famous Chips & Salsa. The story behind this was when Torchy's was first starting out, the owner was outside the street handing out free Chips & Salsa to attract customers. Once they had a taste of it, they were hooked!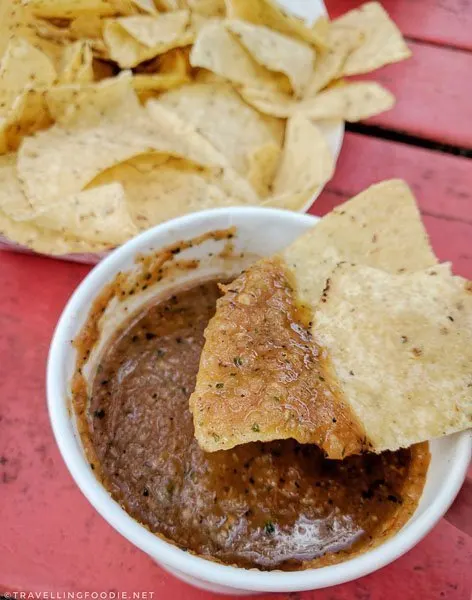 One of our tourmate, Amelia, ordered The Democrat Taco (not included) since it was recommended by her friend: shredded beef barbacoa topped with fresh avocado, queso fresco, cilantro, onions & a wedge of lime. served with tomatillo salsa on a fresh corn tortilla.
Boteco
Next stop was Boteco Food Truck for some Brazilian street food. Owners Lauren and Fernando's mission is to bring the laid-back Brazilian vibe to Austin. They actually play Brazilian music at the food truck which makes you want to just hang out and chill… or dance.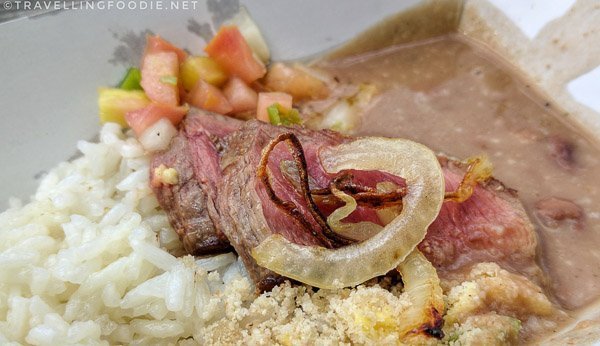 Travelling Foodie Trivia: On February 1, 2016, Matthew McConaughey and his wife Camila Alves dined at Boteco to celebrate Camila's birthday!
We got to try their Picanha Grelhada: grilled top sirloin steak with rice beans, Brazilian pico de gallo, farofa (toasted yucca flour) and caramelized onions.
La Barbecue
Our first exposure to Texas barbecue was with La Barbecue food truck. We arrived around noon and there was a long line-up already which can go more than 2.5 hours. Luckily, with Bold Food Tour, we didn't even have to wait in line.
Travelling Foodie Trivia: La Barbecue Founder LeAnn Mueller is the daughter of legendary Texas barbecue icon Bobby Mueller of Louis Mueller Barbecue in Taylor, Texas. Louie Mueller is her grandfather.
We got to feast on Brisket, Pulled Pork and Sausages. Suffice to say, these were the most flavourful briskets I've had!
Travelling Foodie Tip: There's free beer Friday through Sunday!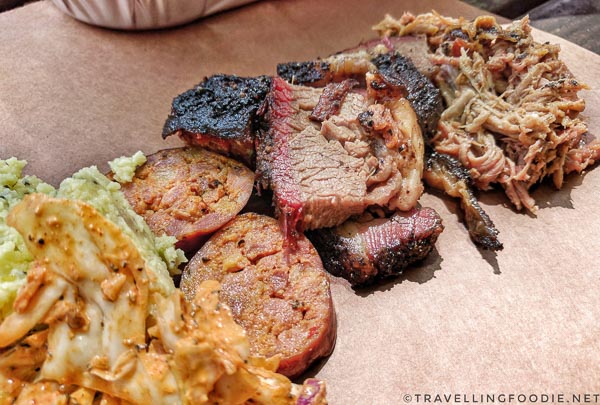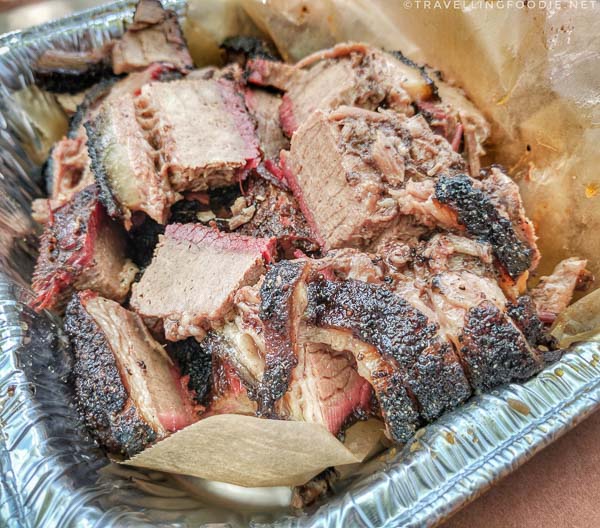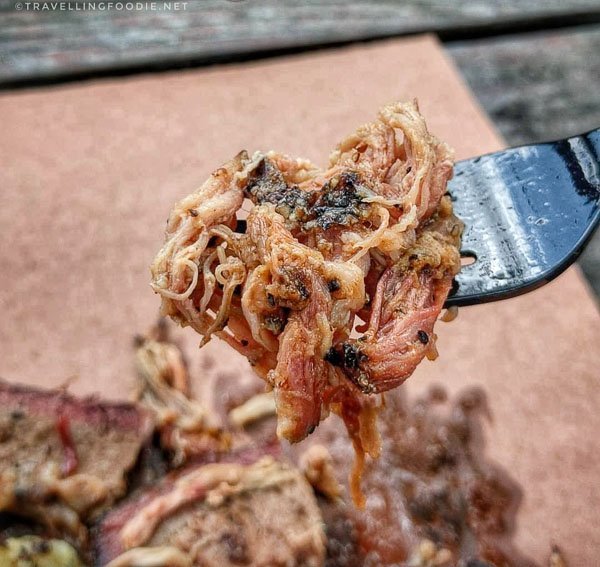 Lucky's Puccias and Pizzeria
Stop #4 was Lucky's Puccias & Pizzeria, a restaurant which start off as a food truck. Puccias (pronounced Poo + Chah) are wood fired Italian sandwiches which originated from Puglia, Italy. At Lucky's, puccia is brought to you by Lucky the Breadmaster who learned how to make puccia in the city of Taranto in Southern Italy.
We all shared two orders of the Lucky's Puccia: prosciutto, mozzarella, tomato, arugula, chipotle aioli.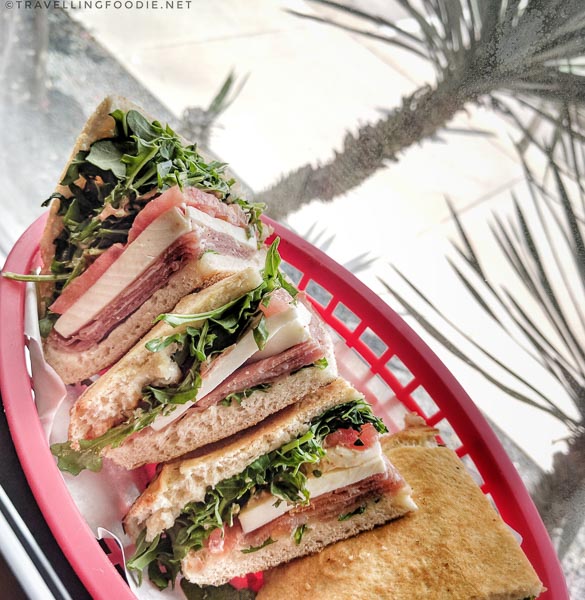 Gourdough's
Last stop was Gourdough's for desserts. Gourdough's came into Austin's food truck scene in 2008 and since then has opened bars which serve both donuts and booze.
Travelling Foodie Trivia: Gourdough's was profiled on Anthony Bourdain's No Reservations in the summer of 2010.
We shared four donuts because one donut eat just one.
Miss Shortcake: Cream Cheese Icing With Fresh Cut Strawberries
Mama's Cake: Yellow Cake Batter Filling With Chocolate Fudge Icing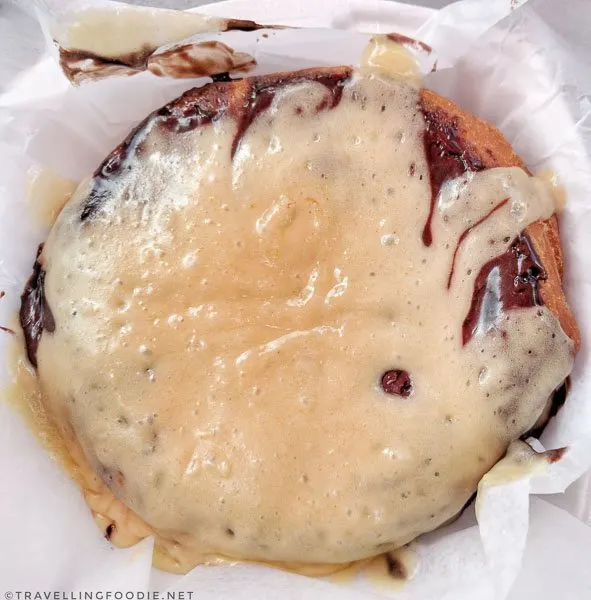 ODB: Cream Filled Doughnut Holes With Icing Rolled In Coconut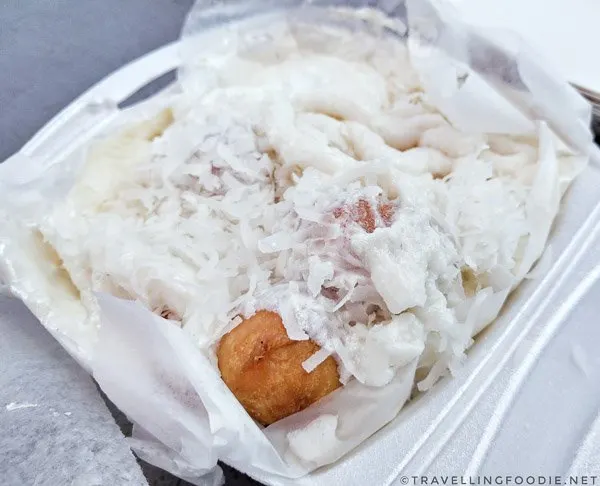 Black Out: Brownie Batter, Fudge Icing & Chocolate Covered Brownie Bites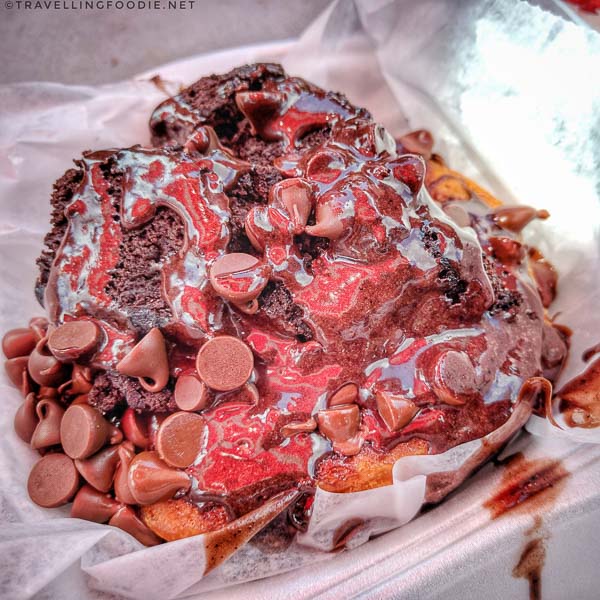 Regal Ravioli
Regal Ravioli is an extra stop because that's just how foodies in this tour roll. While we were waiting for our donuts from Gourdough's, tourmate Adrienne saw the food truck across the street. Upon finding the owners came from her hometown in New Jersey and knew her gold standard for ravioli, Severino, she had to try them.
This is the Cheese Ravioli: ricotta, mozzarella, asiago, lemon zest, fresh basil with with marinara sauce.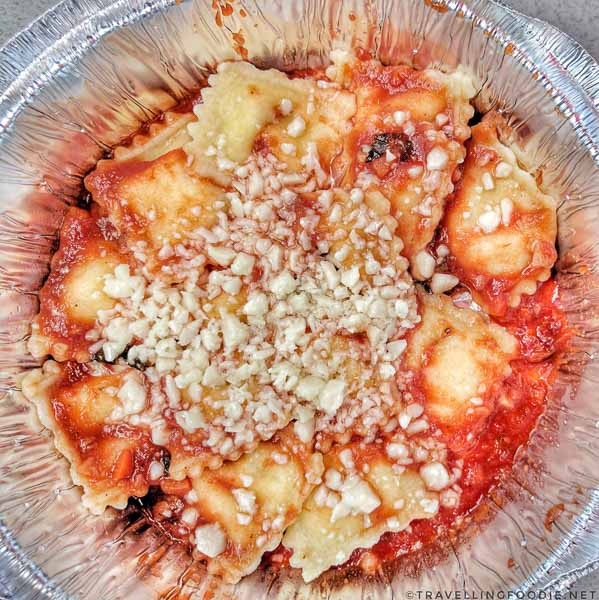 Weige Knives Demo
The only non-eating activity in the tour but still related to food is the visit to Weige Knives. Owner Travis Weige gave us a tour of the knife-making setup in his garage and gave a demonstration on how Weige Knives are made.
Their current waiting list is 16 months for customers to get a knife. Every knife is unique and only produced once, except steak knives.
Travelling Foodie Trivia: Anything fiber can be made into a knife handle.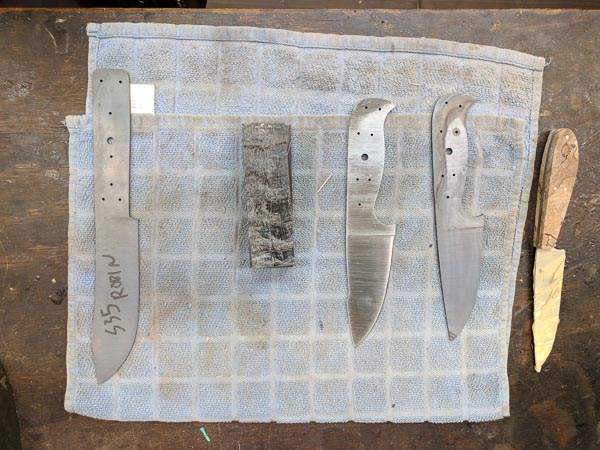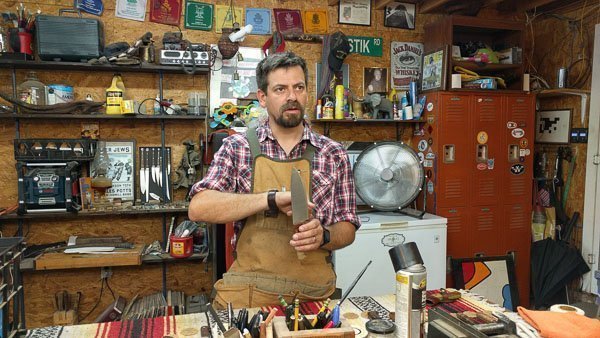 Free Time
After the Weige Knives demo, there was free time until dinner. What do a group of foodies do? Head to Prohibition Creamery. We saw Prohibition Creamery during the Food Truck Tour at Boteca. We actually wanted to check it out that time but they were closed so we decided to come here after the Weige Knives demo.
Prohibition Creamery combines two popular indulgences, alcohol and ice cream, into one intoxicating handcrafted ice cream. With a background in science and technology, owner Laura graduated from Penn State University's 120-year-old ice cream program and started infusing spirits into ice cream.
I got the Tiramisu Boozy Ice Cream.
Olamaie
Dinner that night was at the acclaimed Olamaie, founded by Chef Michael Fojtasek and Grae Nonas who were named Food and Wine Best New Chefs in 2015. Olamaie brings five generations of Southern food created with Chef Michael and Grae's love for vintage cookbooks and Southern cooking.
Chef Fojtasek created a special family-style meal just for Bold Food that contains all of the most famous Olamaie dishes, paired with wines chosen to highlight the food. It was such a feast again! What a way to end the night!
Before the actual tasting, we started off with cocktails and amuse-bouche:
Three kinds of ham: 2014 unsmoked ham, 2015 ham from Virginia, and an award-winning ham from The Hamery.
For cocktails, I got The French School because the Creole shrub ingredient sounded interesting: Bourbon, Swedish punsch, Creole shrub, lemon, Orange blossom water
First Course
First course was appetizers, paired by choice either white or rose wines. I chose the rose wine from Donkey and Goat Winery.
Off-Menu Biscuits – this was the best biscuits I've ever had!
Carolina Gold Rice Hush Puppies: Benton's country ham, charred garlic chive, onion dip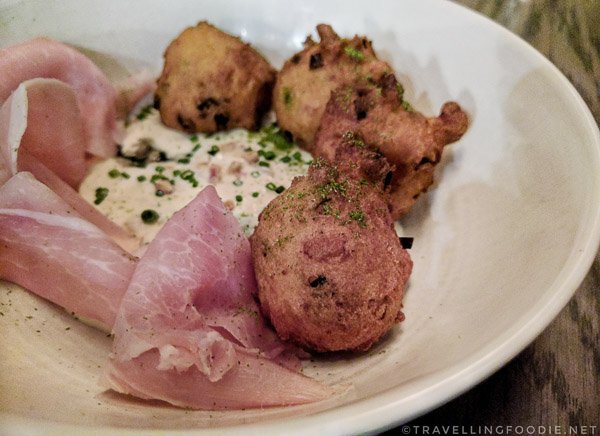 Texas Shrimp and Jefferson Red Rice: Tabasco, wild onion, butter cracker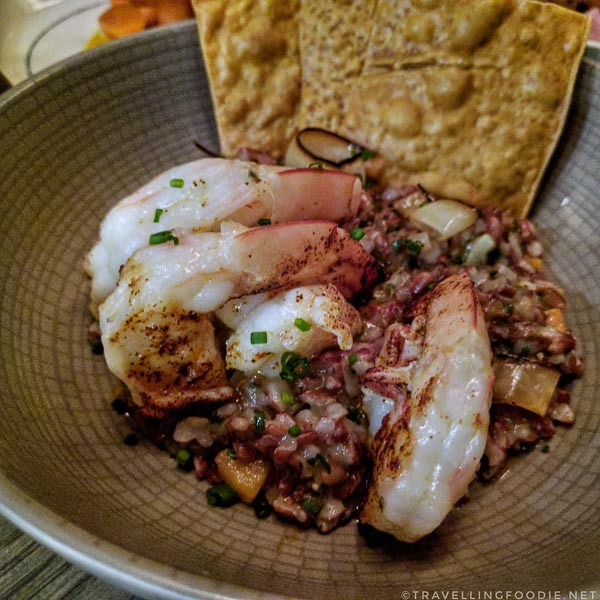 Kil't White Button Mushrooms: warm country ham vinaigrette, tarragon, catsup
Butter Poached Carrot Salad: citrus, caramelized buttermilk, lettuces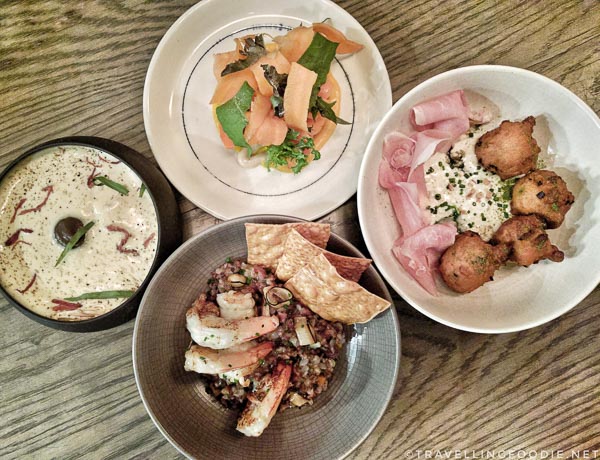 Second Course
Second course was entrees, paired with Cabernet Sauvignon from Buehler Vineyards.
"Hoppin' John": Sea Island red peas, smoky likker, soft-boiled eggs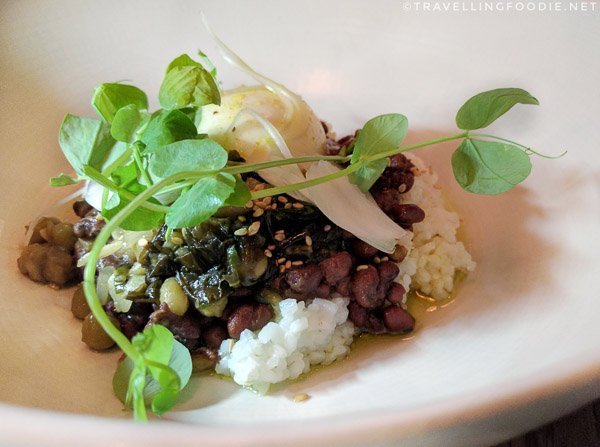 FL Red Snapper: Carolina Gold Rice, hickory smoked roe, herb fumet
Dewberry Hills Farm Chicken: Farro piccolo, parsnip, celery, peas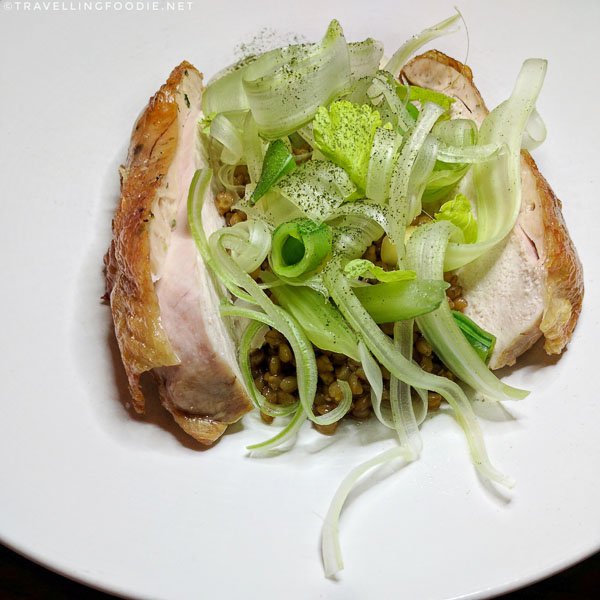 Bone-in Pork Chop: Escarole, strawberry, radicchio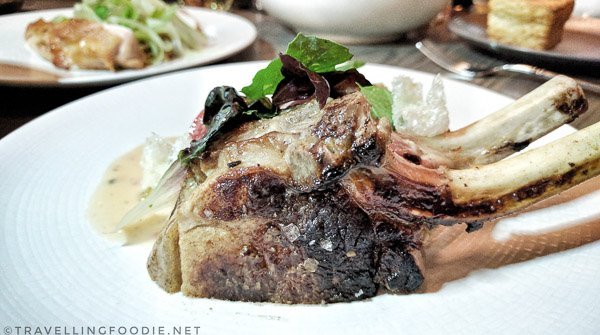 Strube Ranch 16oz Wagyu Ribeye: Souther sideboard
Third Course
Third course was desserts.
Angel Food Cake: grapefruit curd, vanilla bean ice cream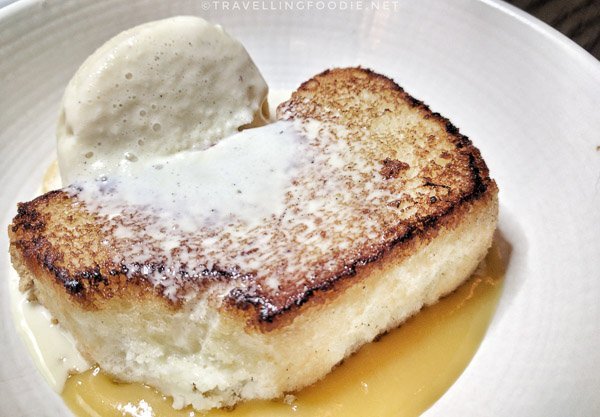 Strawberry Sorbet: winter savory chantilly, lemon shortbread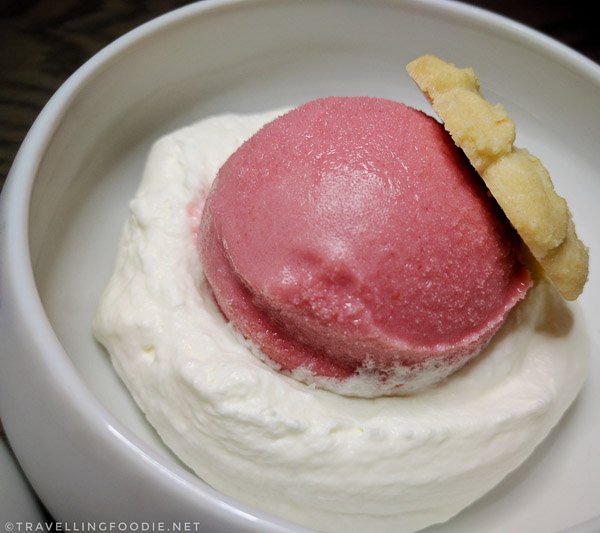 Benne Oil Cake: black cherry ice cream, Olamaie magic shell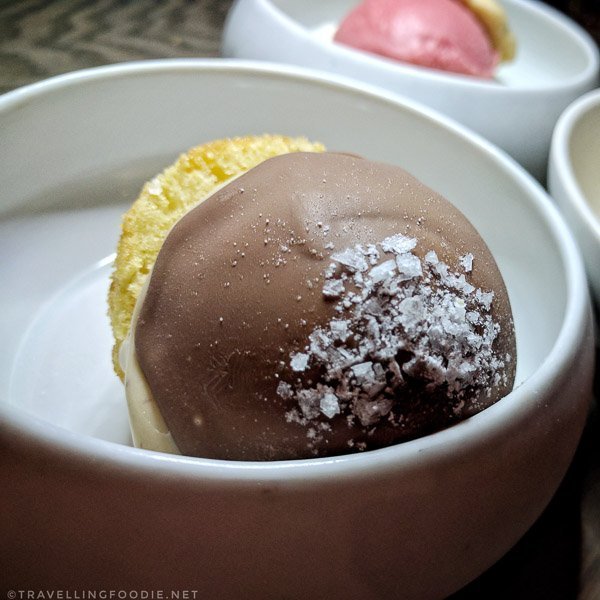 ---
Be sure to check out the rest of the tour: