Some posts on this site contain affiliate links. If you book or purchase something through one of these links, I may earn a small commission at no extra cost to you. Read the full disclosure policy here.
Frilu is the Canadian restaurant in uptown Toronto, specifically in Thornhill, offering an Asian-inspired seasonally changing tasting menu.
Did you know? The restaurant name's Frilu is short for "friluftsliv" which refers to the Scandinavian lifestyle of being outdoors and one with nature.
Opened in June 2018, Frilu is a welcoming change to the uptown food scene since most tasting menu restaurants are found downtown.
Executive Chef and Owner John-Vincent Troiano brings his culinary expertise from world-renowned tasting menu restaurants: Noma in Copenhagen, where he interned, 3-Michelin Star Benu in San Francisco, and Kaiseki Yu-zen Hashimoto in Toronto, where he shadowed Chef Masaki Hashimoto for three years.
Did you know? Frilu is one of the contenders for Canada's Best New Restaurants by Air Canada in 2019.
You can see these inspirations from his tasting menu at Frilu which combines the simplicities of local and seasonal ingredients with complex Asian flavours and techniques.
---
---
Inside Frilu Restaurant
Frilu's interior is small, intimate and minimalistic. The restaurant seats a total of 28 people inside: 6 on the bar and 22 in the dining room.
Travelling Foodie Tip: There is free parking behind the restaurant.
The space is designed similar to its namesake of being with nature. When you enter the restaurant, you'll find the dining room with the wood-panelled wall and copper-tipped light fixtures.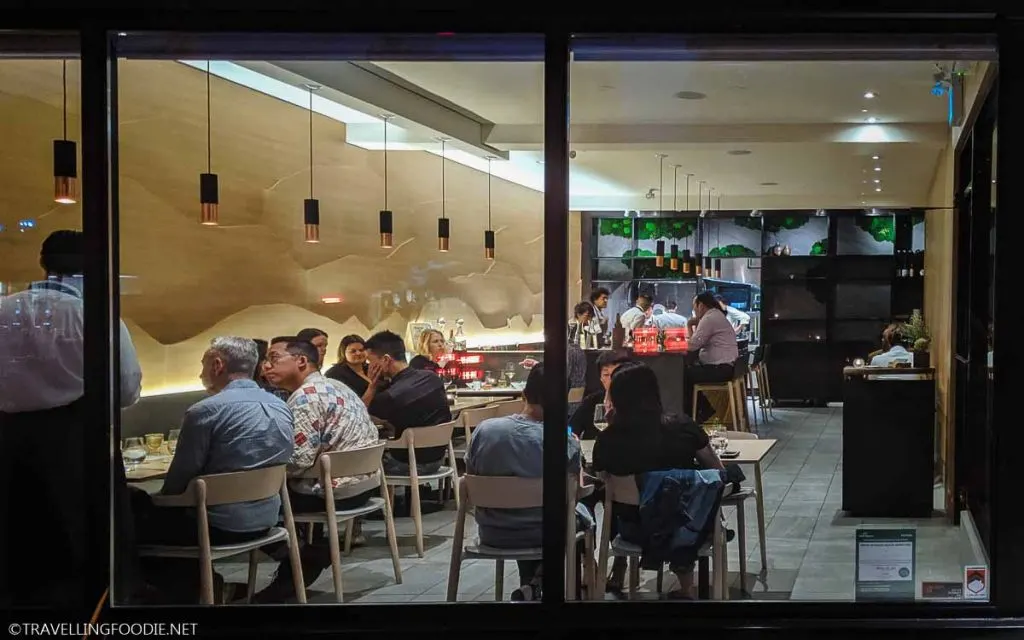 Turn right and you'll find the bar with the small kitchen right next to it. The back wall has real moss preserved by oil.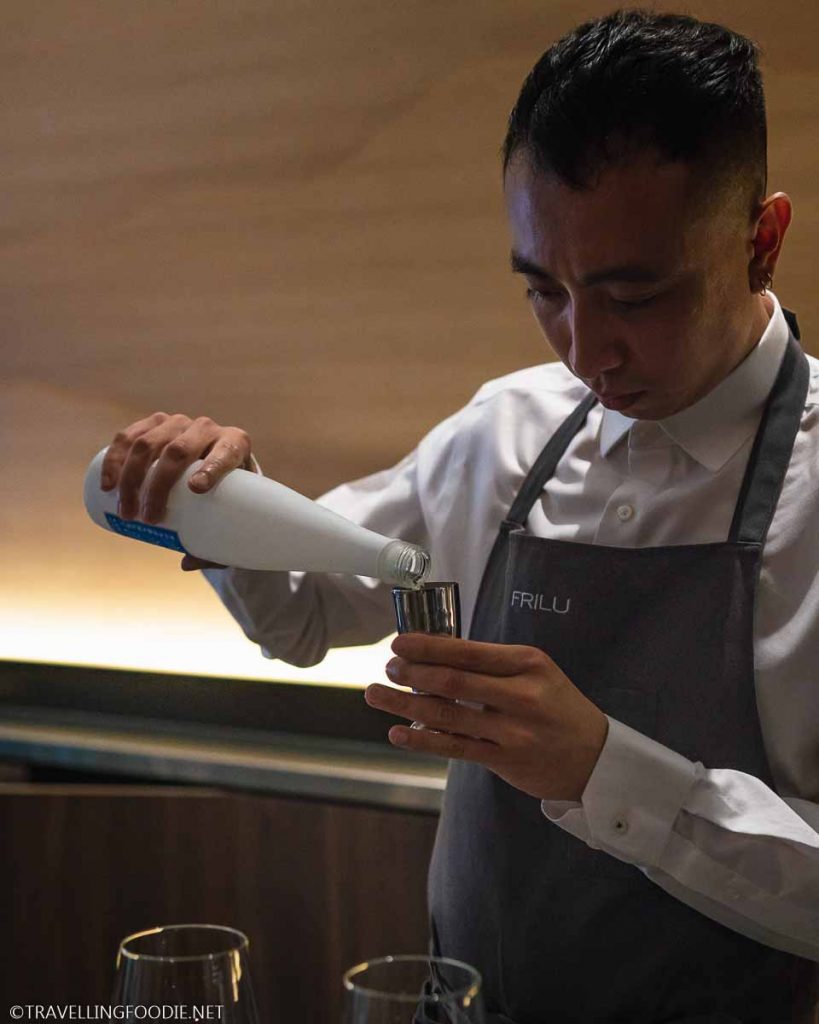 If you want to be where the action is, you'll definitely want to be sitting at the bar seat closest to the kitchen. This was my view from the right-most seat at the bar.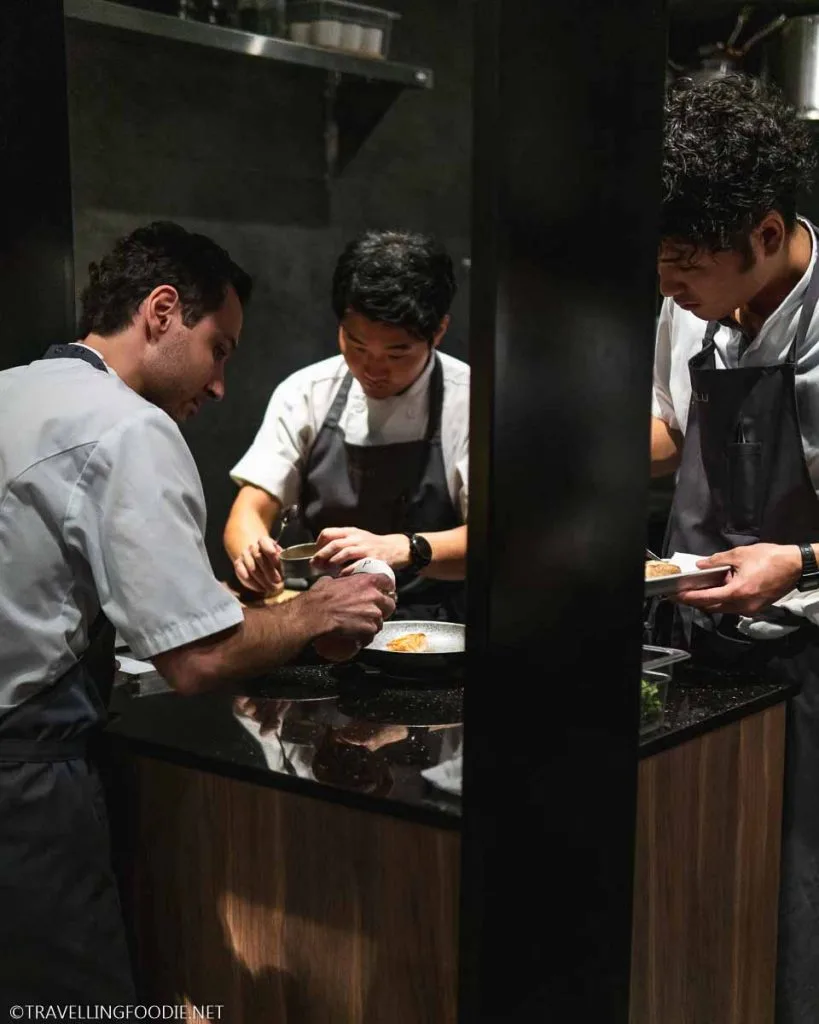 Also Read: Est Restaurant, Tasting Menu & Cocktail Restaurant in Toronto
---
The menu at Frilu is very simple. You can only get one thing for food, and that is the tasting menu that's available for the season.
The tasting menu changes seasonally, a total of five times: one per season, plus a Holiday menu during December and January to reflect Christmas and New Year.
For $95, diners enjoy 8-12 courses of contemporary Canadian tasting menu, a culinary journey curated by Chef JV Troiano that lasts roughly 2-3 hours. To provide a mature dining experience, children under 12 years old are not allowed.
Other pages on Frilu's menu are all for drinks which include sake, white and red wines, beers, scotch, tonic (produced in-house), juices, teas and coffees.
Another alternative for drinks is to do Frilu's curated beverage pairing. Alcohol pairing is $65. Non-alcohol pairing is $35.
Note: 18% gratuity is applied for groups of 6 and more.
Also Read: Canis, Canadian Tasting Menu Restaurant in Toronto
---
Frilu's Summer Tasting Menu
I visited Frilu in summer 2019 when the menu was a 9-course tasting menu: Warm Nights, Calm Skies. It had a very good mix of meat, seafood and vegetarian courses.
The menu showcases the season of Summer and the bountiful produce from Ontario farms and farmers' markets through dishes with bright and refreshing flavours.
Warm Nights, Calm Skies
There were no amuse-bouche or extra sides aside from the bread that came after the first course.
The drinks showed here are from the non-alcoholic pairing, which mostly consisted of teas and juices.
Re: Freshing
This scallop dish was a re: freshing way to start the tasting menu at Frilu.
The raw sea scallop is paired with sake gelee, Italian cucumber, musk melon ice, lime juice and shaved fresh horseradish.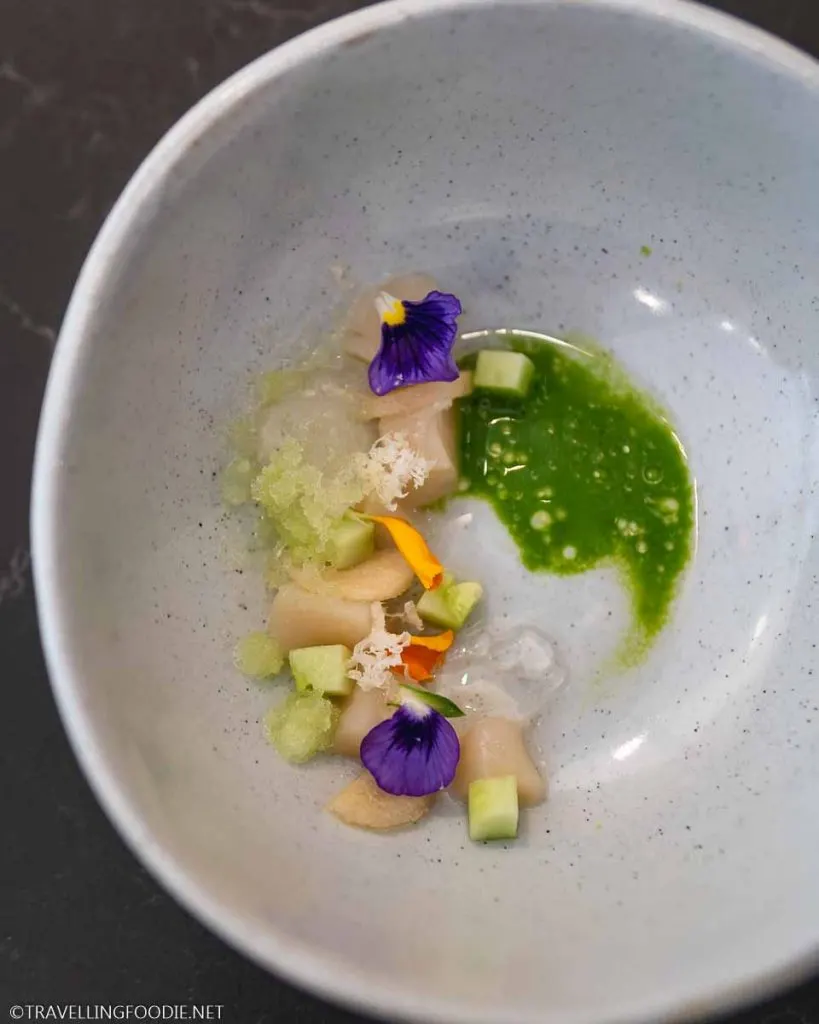 The sake gelee is made with sake and set with agar. The cucumber is made as nukazuke, pickled in fermented rice bran, which is a traditional Japanese way of making pickles. The pear is pickled in rice wine vinegar
Tableside, they poured a cucumber, dill and wood oil vinaigrette on top of the dish.
This course was paired with cucumber lemonade cut with honeydew purée.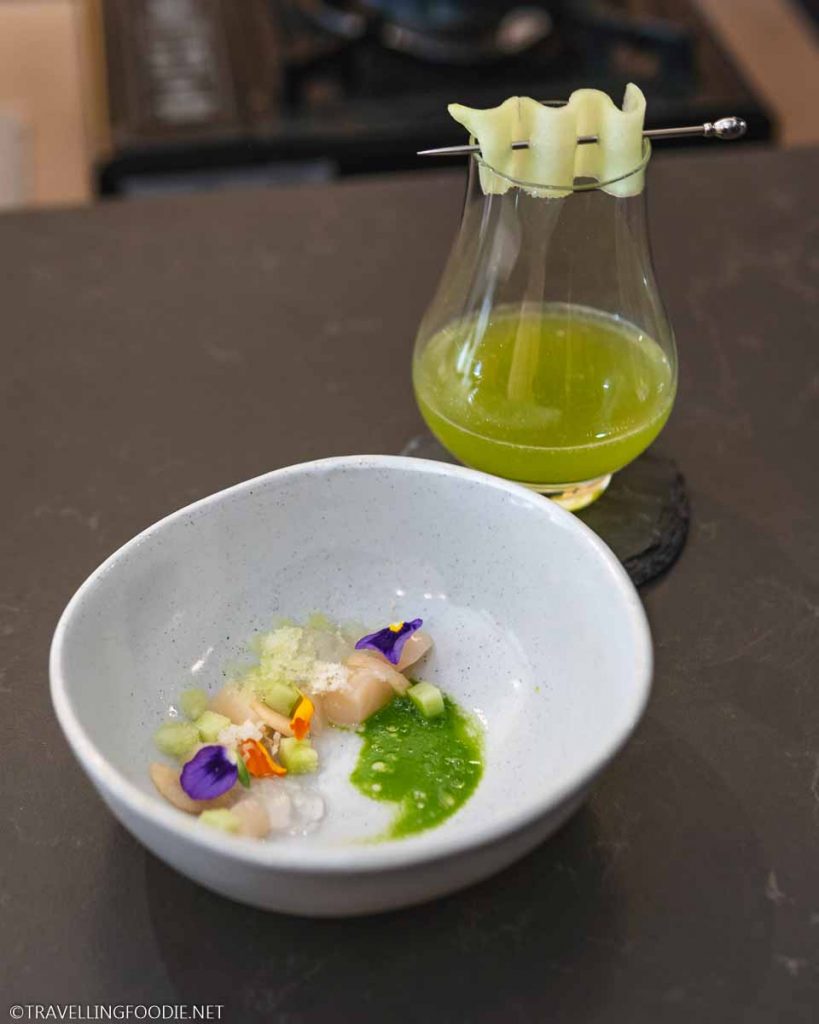 After this course came the bread course which was the only off-menu item. We received a Sourdough Bread made with hard whole wheat flour, white flour, buckwheat, and barley.
It was paired with their seasonal spreads:
pork fat mixed with cinnamon, nutmeg, and clove
black sesame butter
The pork fat spread was so addicting! It was like having the Chinese roasted pork but in butter form.
Filet Américain
The next course was playful and had a delicious layering of flavours. The Filet Americain was inspired by the traditional Belgium dish with thinly sliced horse carpaccio, sitting on top of a coddled Chanteclaire heritage egg.
The egg is sitting on top of a bread miso sauce made from bannock, and julienned endive and kale, and Romain. The dish is then finished with a roasted garlic and anchovy powder, and green onion oil.
The best way to eat it is to try a small taste of each layer, then mix everything to taste the difference.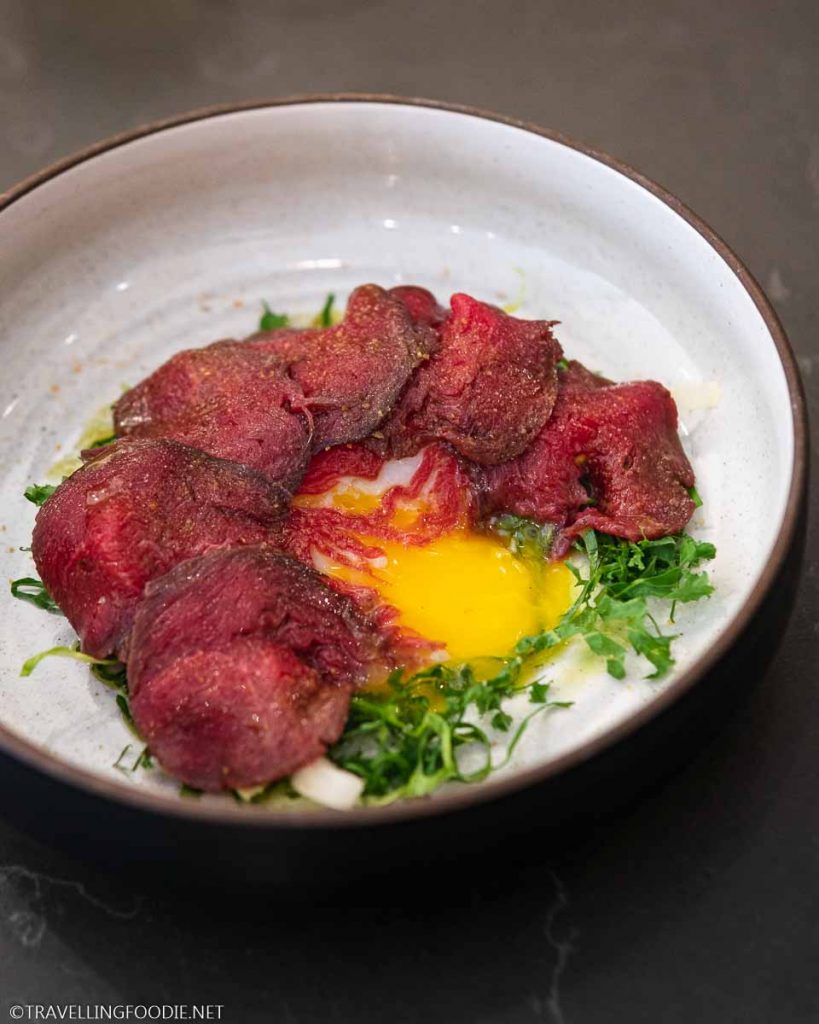 This course was paired with Gyokuro Gokou, a first harvest organic green tea from Japan. It is shaded for 30 days prior to harvesting and produced as a green tea with vibrant green colour.
Cold Claw / Swelling Fruit
Switching back to a refreshing yet umami-filled course with the Cold Claw / Swelling Fruit. This course is a cold dish made with crab, Farina Plus chitarrini, sea urchin and tomato.
At the bottom of the bowl is a tomato dashi broth, which was made by lightly cooking the tomatoes until they release their flavour.
Sitting in the broth is Farina Plus Chitarinni pasta, topped with fresh Dungeness crab that was mixed with a seafood bisque made of fermented tomato, crab shell, and shrimp shell.
The dish is finished with shrimp oil, then topped with raw uni.
"Little Pepo and Her Chicken"
This course reminded me of a vegetable version of the Chinese rice-stuffed cornish hens that I used to enjoy as a child.
The flower of pepo, a name for a female zucchini, is stuffed with sweet glutinous rice that has been cooked in chicken stock.
The rice was mixed with ground chicken, ginger, soya, sesame seed oil, chicken skin, and garlic scapes. The flower, lightly steamed, is set on top of roasted eggplant jus.
The dish is finished with a drop of roasted duck garum, which was made by mixing the roasted duck with salt and letting it ferment in the fermenting room of Frilu for a year.
This course was paired with sparkling grapefruit juice with a rosemary simple syrup.
Also Read: The Restaurant at Pearl Morissette, Canada's Best New Restaurant 2018
Haly Butte, Young Plume
The main seafood dish is the Haly Butte, Young Plume with halibut, Ontario plum, black garlic. Lightly roasted halibut paired with a young, green plum miso sauce.
The halibut was topped with Dried Tuscan kale (or Dinosaur Kale), which had been dusted with kombu powder made from soya sauce and sugar, and black garlic.
The dish is finished with a little prosciutto oil.
The star of this dish is the plum miso sauce, which brought complex bold flavours of sweet and savoury. It's highly addicting that you'd want a bottle of it at home.
The course is paired with a chilled Brandy Oolong tea from Taiwan blended with a touch of plum purée to enhance the flavour of plum in the dish.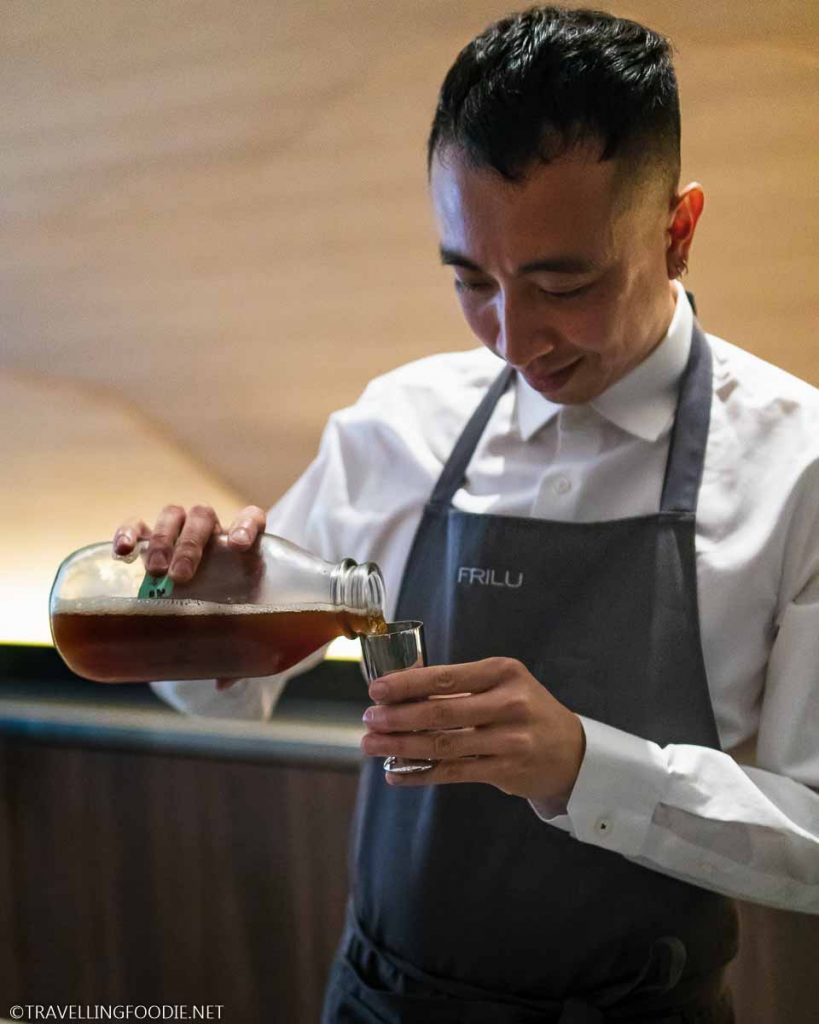 Peaches and Cream
The main meat course is Aged Duroc Pork done two ways: Northern Ontario Duroc pork tenderloin is aged in-house for 6-7 days and fried pork belly.
The pork sits on a bed of smoked peaches and a puree of cream corn, vanilla and saikyo miso.
This course was paired with peach & grapefruit juice.
Pulling Weeds
One typically doesn't enjoy mowing the lawn or pulling weeds. But Frilu will make you enjoy Pulling Weeds with this palate cleanser course.
I loved the playfulness of this dish. At the bottom of the dish is a traditional Italian custard dessert, zabaglione, with fresh Ontario Strawberries.
It is then topped with "dirt" made of lavender and brown butter shortbread crumbles. The "weed" is a pea shoot.
Did you know? Frilu used carbonized coconut husk to give the dirt it's colour.
The Pulling Weeds course is paired with lavender-infused sparkling water
Anguria con Ricotta
This next dessert was a medley of refreshing, savoury and nutty. It was my favourite dessert.
The watermelon was served three ways: watermelon ice, fermented watermelon, and watermelon syrup.
The dish is complemented with hazelnut purée, an addicting ricotta ice cream, and finished with olive oil, micro mint and a phyllo chip.
This was paired with watermelon Lemonade crushed with mint.
Some More'… …
The last course for the night was Some more'… Somemore… S'more! The Frilu s'mores are made with Hojicha marshmallow, smoked chocolate ganache, toasted graham cracker.
The hojicha is cooked into the sugar syrup and whipped it into the gelatine and water base.
The Smore was paired with coconut water & cashew milk, which brings back nostalgia of having graham crackers with milk.
Also Read: Gallery by Chele, Filipino Tasting Menu Restaurant
---
Verdict
Overall, I highly recommend Frilu. The tasting menu is quite unique as not a lot of tasting menu restaurants in Toronto use Asian influences in their courses.
I love that the flavours of courses have multiple layers that combine to create something new, which make it all the more special. This is typically what I look for in a tasting menu.
I wish Frilu can explore the same for the non-alcoholic pairing by having crafted mocktails instead of just juices and teas.
Service is quite attentive and a conversation. The staff at the bar were friendly and talking with us.
With its creativity and uniqueness, Frilu is definitely one of the best tasting menu restaurants under $100. But better go soon as I predict the prices will raise since it is one of Canada's Best New Restaurants, and will deservingly be on the list of Canada's 100 Best Restaurants.
Also Read: Alo Restaurant, #1 in Canada's 100 Best Restaurants
---
Hope this Toronto restaurant review helps you know what it's like to dine at Frilu Restaurant and have the tasting menu experience with non-alcoholic pairing.
---
Frilu Restaurant
Website / Address: 7713 Yonge St, Thornhill, ON L3T 2C4
Hours: Tuesday – Saturday from 5pm
Updated: