Previously known as Gallery VASK in 2013, Gallery by Chele re-opened its doors on May 2018 with a new concept while staying true to its vision of "Modern Cuisine. Local Ingredients".
Did you know? Before it closed in late 2017, Gallery VASK was listed in Asia's 50 Best Restaurants in 2016 and 2017.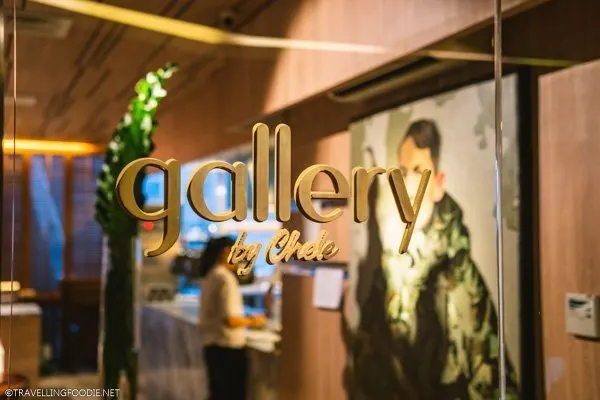 This time, Chef José Luis "Chele" Gonzalez teamed up with Chef Carlos Villaflor to bring cross-cultural innovations using modern techniques from his Spanish-European culinary background to local flavors of the Philippines and the Southeast Asian.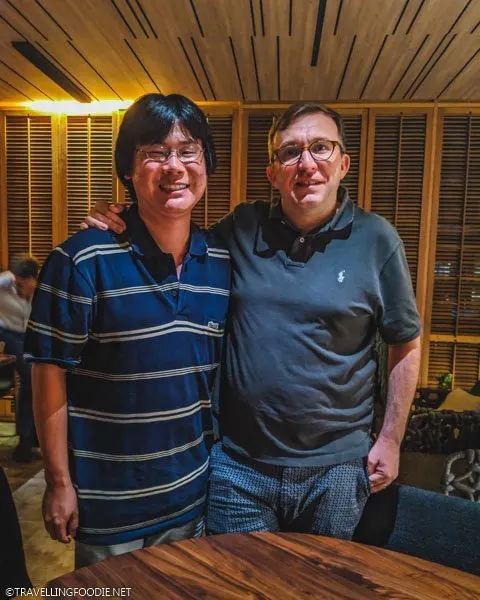 I've always been excited about tasting menu restaurants after trying some of the world's bests restaurants including El Celler de Can Roca, Alinea and Oud Sluis.
The experience of doing a tasting menu is unlike any other since you are brought into a culinary journey alongside the chef's masterful creations.
I knew I wanted to visit Gallery by Chele after learning that they were in Asia's 50 Best Restaurants and Chef Chele himself has worked at El Celler de Can Roca as well as other best restaurants in the world like El Bulli, Arzak and Mugaritz.
Also Read: Best Restaurants in Manila
---
Inside Gallery By Chele
Gallery by Chele's location is the same as where Gallery VASK was at Clipp Center in Fort Bonifacio. When you enter the restaurant, you'll find the bar area straight ahead, the open kitchen on the right, and the dining area to the left.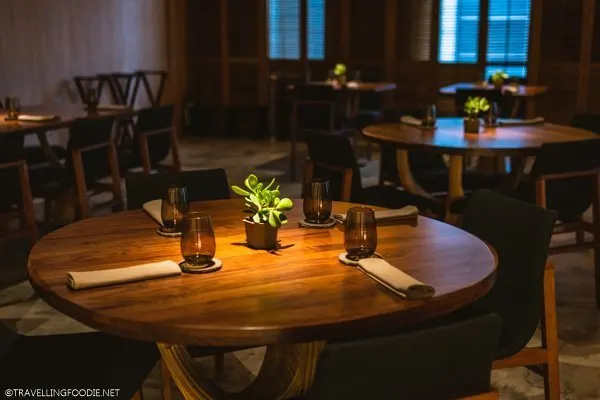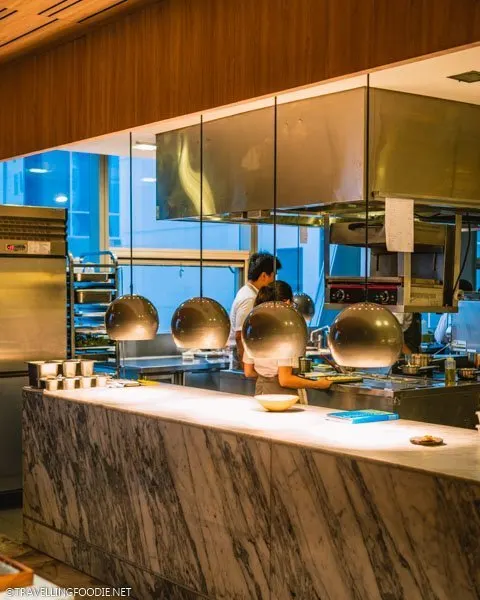 Designed by architect and partner Carlo Calma, the interior is both casual yet intimate at the same time. It's a great place for a date with its relaxed yet stylish atmosphere with dimly romantic lighting and warm wood textures.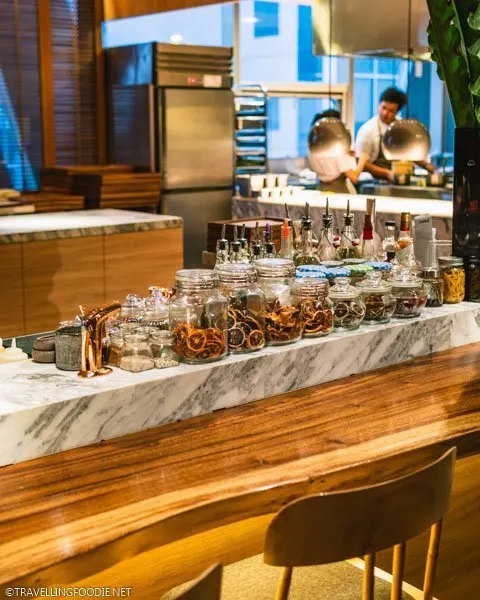 ---
Gallery By Chele Menu
Gallery By Chele's menu is broken down to A la Carte, Tasting Menus and Vegetarian Tasting Menus. The A la Carte menu offers bites, starters, mains, vegetarian options, desserts and steak.
For both Tasting Menu sections, you can choose between Five Courses or Nine Courses.
As with tasting menu restaurants, I always recommend going for the option with the most courses as this is the best way to get the full experience of the restaurant, and it's also more economical.
For the non-Vegetarian Tasting Menus, the Five Courses is PHP2,500 (PHP500/course) and Nine Courses is PHP3,300 (PHP367/course).
There are also drink pairing options available with the tasting menu: Cocktail Pairing, Wine Pairing, Cocktail & Wine pairing, and Non-Alcoholic Pairing. The price varies based on the number of courses you take.
Also Read: Alo Restaurant, Canada's Best Tasting Menu Restaurant
---
Nine-Course Tasting Menu at Gallery by Chele
I did the Cocktail Pairing (PHP1,600) with my Nine Course Tasting Menu. This meant having 7 cocktails getting paired with my dinner.
On each course, the server would explain the dish as well as the inspiration behind the dish. The same goes for the cocktail.
One thing to note about their tasting menu is that you are getting a lot more than the courses listed. This is because the journey will include amuse bouche, small bites, and some bonus dishes along the way.
In fact, I received 10 items outside the Nine Courses listed.
Let's go through the Nine Course Tasting Menu journey at Gallery By Chele!
It started with the amuse bouche which was Ube Pandesal.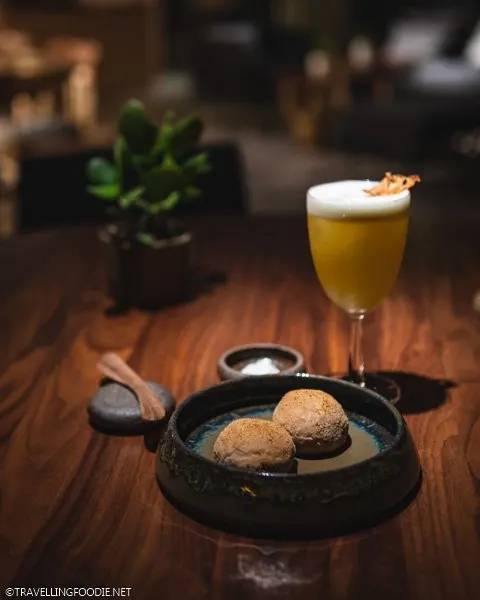 The next was 6 Bites (5 from the A La Carte Menu). The Bites were paired with the Perfume Cocktail, their localized version of pisco sour with the classic combination of pisco bauza and lemon juice, but with blue pea syrup and bay leaf tincture as a twist.
The Seaweed Cracker had fresh white fish ceviche contrasted with roasted garlic emulsion.
The Tomato Mochi was quite unique since it's the first savoury type of mochi I've had. The skin was made with tomato and inside was bursting of flavours of Kesong Puti and Smoked Fish.
The Meringue De Sal was a modern version of the traditional bread, Pandesal. They used toasted salty meringue with a chicken and soy emulsion to re-create the combination of adobo and pandesal, and it totally worked!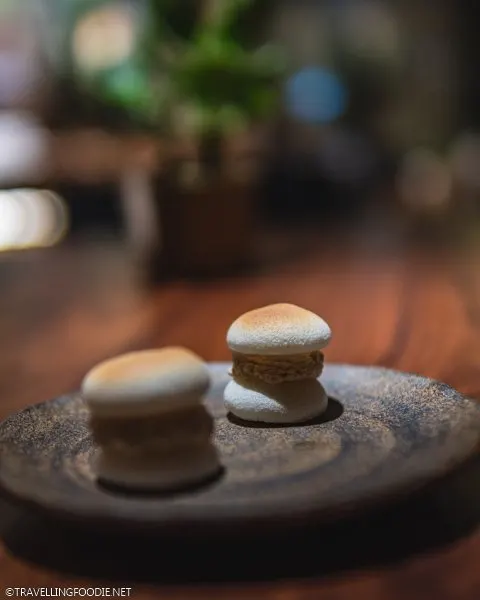 The Ikura Donuts was inspired from the typical Philippine donut then topped with creme fraiche and salmon roe. A delightful bite with bursts of flavour.
The Tortang Takoyaki was inspired from tortang talong (eggplant omelette). To modernize the dish, they made a takoyaki out of it. They made squid ink takoyaki with grilled eggplant and fermented green mango inside.
The fermented mango was fermented for 1 day to add a little bit of sourness. To complement the dish, they topped the takoyaki with garlic emulsion and deep fried papaya.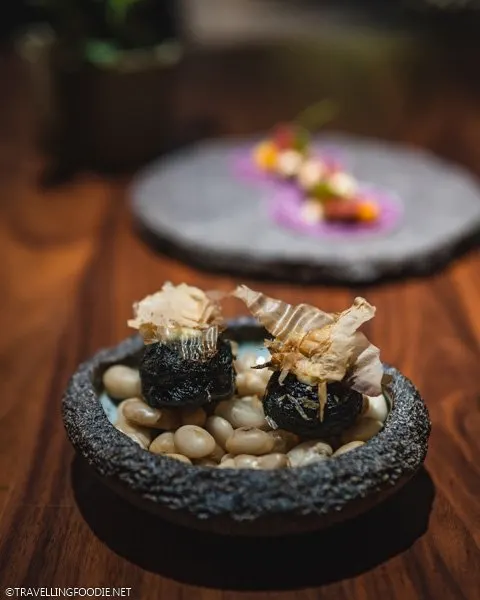 The Cebu Lechon Taco was their take on traditional Filipino food, Cebu lechon. The purple tortilla was made of tapioca and purple yam. The pork was cooked with local cinnamon from Davao called Kalingaba to have a sweet and smoky flavour.
On top, you have shimeji mushroom emulsion and sweet potato puree, pickled shallots and pansit-pansitan (peperomia pellucida) which was actually good for your kidneys.
After the Bites and before the actual courses started, they served Ube Chawanmushi which used egg to make the custard, ube, seaweed and pansit-pansitan.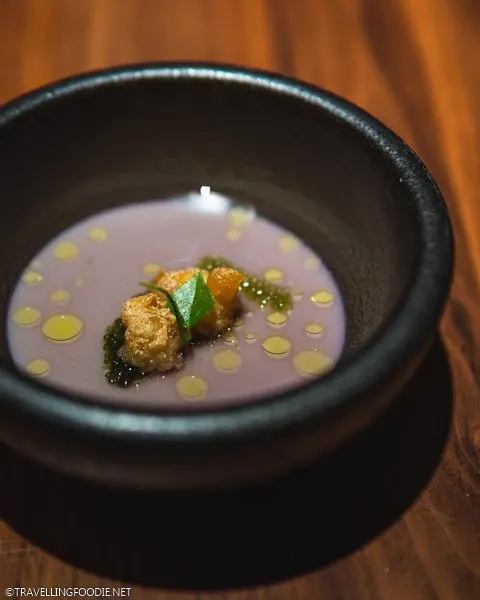 The First Course was Tiger's Milk which was their modern take for the local ceviche, Kinilaw.
The Tiger's Milk has scallops, ceviche sauce (tamarind-infused coconut milk), pickled kamias (bilimbi), roasted cashew and pili nuts, and coriander. This was very fresh and refreshing that I wanted seconds.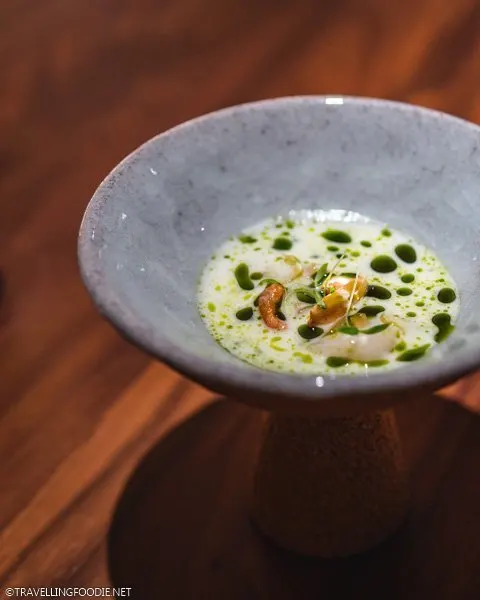 This was paired with the Silver Rush Cocktail, a gin and soda combination. What's unique was the gin was infused with bay leaf and rosemary for aroma and herbal uses.
Silver glitters were added for presentation. Lemongrass, calamasi and rosemary were added to the drink.
The Second Course was Truffle which has oyster covered with thick coconut truffle sauce topped with apple balls and freshly shaved coffee that they shave at the table.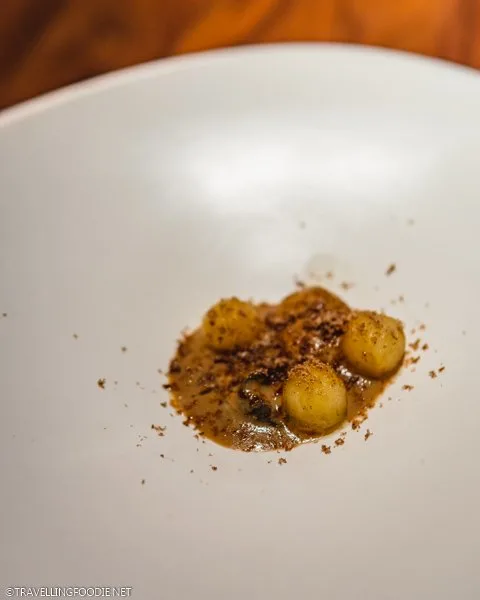 The Third Course was my most favourite course of the night. The Bana Lu was lobster wrapped in banana leaf then cooked directly in coals.
This was done table-side so it was kind of a show. The banana leaf preserved the moisture of the lobster, which was a local lobster from Sorsogon called Lobster Pitik (because it flips when you touch it).
Salt was added to the lobster as well as a drizzle of olive oil. It was served with charred okra seeds as a substitute to caviar.
They poured eggplant broth on the bowl. The eggplant was seared then steamed in a bag for 4 hours to extract the flavour of the eggplant.
It was then garnished with calamansi gel, pansit-pansitan and cilantro.
This course was inspired from the Philippine indigenous tribe, Aetas, because they usually wrap their food in banana leaf, or sometimes in bamboo.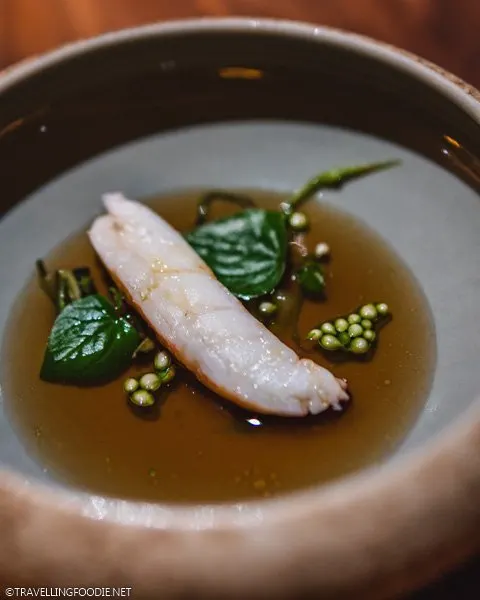 The Second and Third Courses were paired with Basil Rose Cocktail, a daiquiri type of cocktail to deviate from the initial pisco sour style. It used lime juice and smoked rosemary syrup for a balance of sweet and sour.
The Fourth Course was Home, a grilled baby squid with caramelized onion and bell pepper broth then topped with bell pepper emulsion.
This was actually quite a comforting taste having the sweetness of the caramelized onion with the charred taste of the octopus.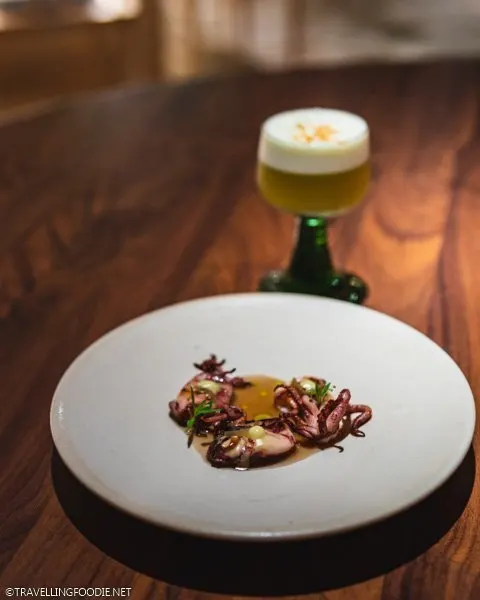 This course was called Home because, in the childhood days of Chef Chele, his mom used to make the caramelized onion and bell pepper broth on the side of his dish at home.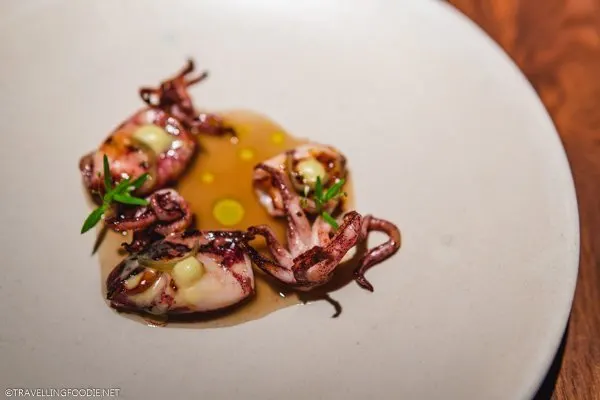 The Fourth Course was paired with Verde Cocktail, which was a very unique cocktail. To break the norms of having cocktails as a vice, it was made healthy like a salad cocktail.
It used a green syrup made of cucumber, kale, lemongrass, thyme, mead and rosemary. It was then mixed with Korean soju, house-made limoncello for the citrus notes, sour liquor and chilled ginger along with dehydrated basil powder and spiced paprika powder.
What you get is a flavour profile of sweet, sour, bitter and spice.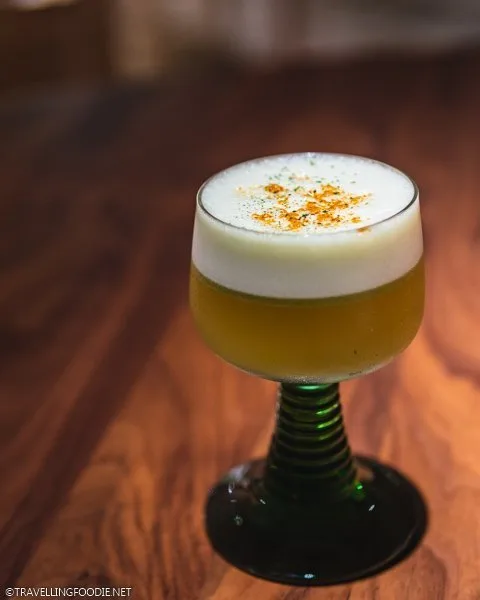 The Fifth Course was Calamansi Butter, which had pan-seared tiger prawn with calamansi, garlic emulsion, olive oil and upo seeds.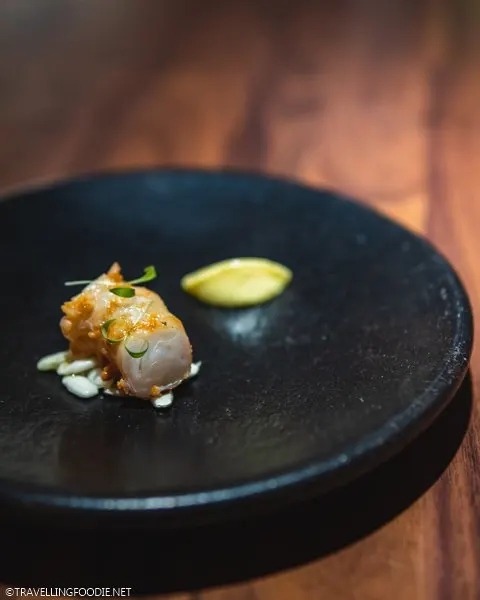 The Sixth Course was Fired! Pulpo, which was described by Chef Chele as an octopus that wants to be a chicken. This interesting course was inspired by the popular Bacolod chicken inasal, which is chicken barbecue marinated in vinegar and annatto oil.
I really enjoyed this dish at Gallery By Chele. It did actually taste like you're eating an octopus version of chicken inasal!
The octopus was cooked three times: soft boiled, pan-seared then charcoal grilled for the smoky taste and grill marks. It came with chicken jus with annatto oil (locally known as atsuete) to highlight the chicken inasal flavours.
Chicken Inasal is usually paired with atsara (pickled papaya), but, instead of the usual shredded papaya, they gave a sheet of papaya to give acidity to the octopus and boost the umami taste.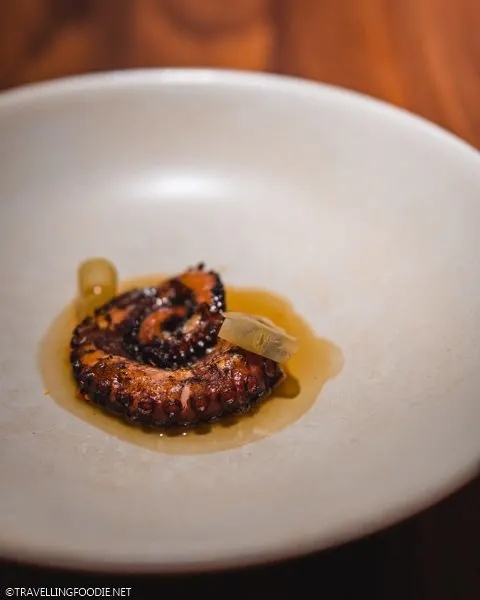 The Fifth and Sixth Courses were paired with Venus Gin & Tonic. To highlight the properties and emphasize the flavour profile of a local gin, Juan Brew Cosmic Carabao, they added cucumber slices, lime, calamansi, lemongrass, lemon seed, rosemary.
As a twist, they added fermented blue pea together with rosemary that brings the violet color.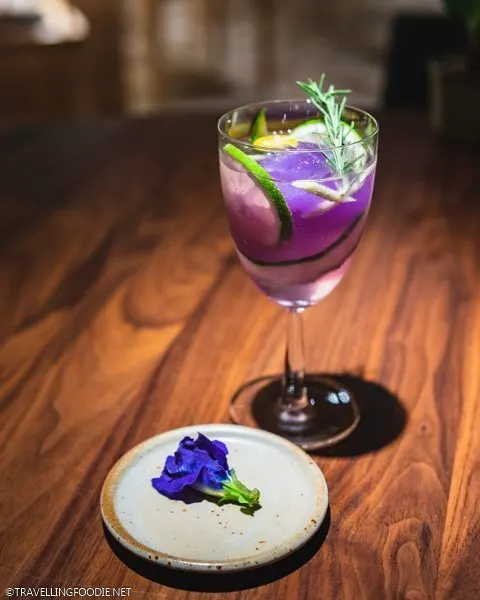 For the Seventh Course (Main Course), there were three options. One was to stick with the included Turf option.
The second was upgrading the Turf to use a higher quality Australian Wagyu MB7 for an additional PHP450.
The third was to replace Turf with another dish called Sour Ribs, which uses Snake River Wagyu, for an additional PHP400.
I tried both Turf and Sour Ribs. The Turf was inspired by the popular vegetable dish, Laing. The tenderloin was grilled in charcoal oven and then served with grilled carrots, pickled labanos (baby radish) and the creamy spinach sauce.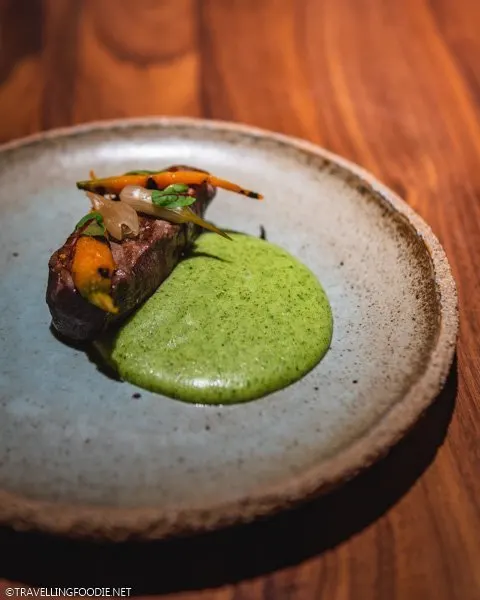 The Sour Ribs was inspired by the Filipino dish, Bistek (beef steak). The beef was slow cooked for 28 hours.
It was served with smoked onions, garlic puree and talinum leaf (waterleaf). The beef just has soy sauce and kalamansi like bistek.
Between the two, I liked the Turf better. The creative take on laing really went well on the dish, and the beef was really tender.
Considering the Sour Ribs was wagyu and slow cooked for 28 hours, I found it wasn't as tender as it should be. The cut was also quite sinewy, making it harder to slice.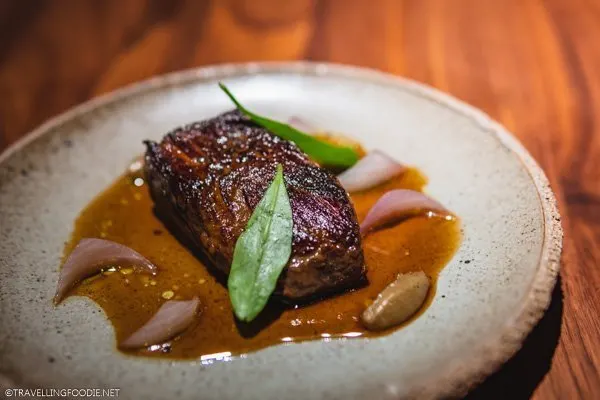 This was paired with the Rose and Boast Cocktail, which was a modernized version of margarita – not on the salty side but on the tangy.
Why Rose and Boast? Rose comes from the process of infusing purple rice with the Jose Cuervo tequila to get the taste and starchy texture along with the rose color.
Boast because Gallery by Chele is being boastful of the produce from local farmers used on the cocktail. A combination of local and organic beet root and cacao (from Davao) was added to the drink.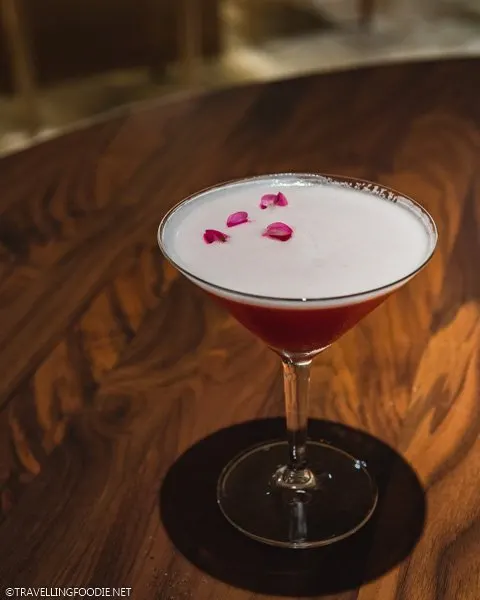 Before dessert, there was another bonus dish, Chicken Rice. This was a fusion of two dishes: the Filipino Tinola with its flavours of chicken, ginger and shallots along with the European dish, Risotto, but using local adlay (Job's tears) cooked with chicken broth and served with duck egg emulsion with ginger, shimeji mushroom and non-fried chicken skin.
They said the best way to eat this was to grab the chicken skin on one hand and a spoon of rice on the other, and eat them together. Be sure to mix everything first so the duck egg emulsion is mixed properly.
The chicken skin was nice and crispy for a non-fried skin, but the rice part was unfortunately too salty that I couldn't taste anything else. I actually heard the table beside me tell the server that it was too salty too.
The Eight Course was Tart, which was calamansi tart with basil and shiso ice cream, and yuba (milk skin).
The Ninth Course was Treasures, featuring treasures of the Philippines: chocolate, banana and coffee. There was caramelized banana and banana ice cream with some chocolate ganache, coffee almond mousse and coffee meringue added to it.
Mix all these treasures and be prepared for a satisfying sweet explosion.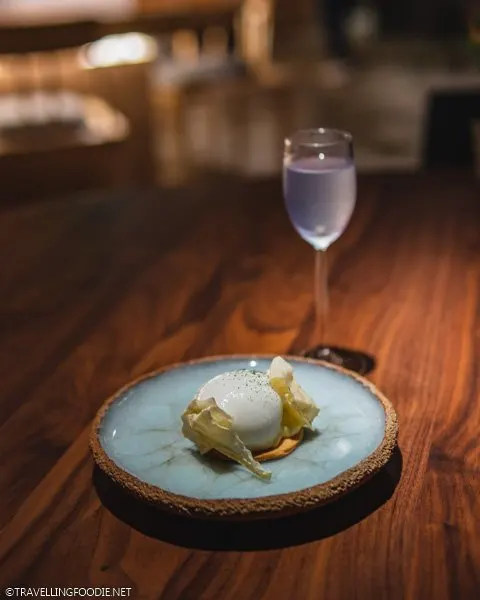 The last cocktail pairing for the dessert courses was the Puto Bumbong Cocktail. Puto Bumbong is Filipino purple rice cake made from steaming ground purple rice mixture inside a bamboo tube.
The cocktail was inspired by the Filipino culture of celebrating Christmas which starts as early as September. Usually after Misa de Gallo, the Catholic Mass held around midnight of Christmas Eve, families would go home and eat puto bumbong
The Puto Bumbong Cocktail at Gallery By Chele was seriously mind-blowing! Vodka was smoked in burnt banana leaf to capture the aroma and taste, then mixed with coconut liquor and purple yam syrup.
The purple yam was boiled to get color and sugar was added to make the syrup. If you like puto bumbong like I do, you have to try it!
Didn't I say there's a lot of extra dishes at Gallery by Chele? Just when you thought you're already done with dinner, an extra dessert that was served.
The Bibingka Cheesecake was bibingka made in Japanese cheesecake style with cured duck egg yolk and pili nut.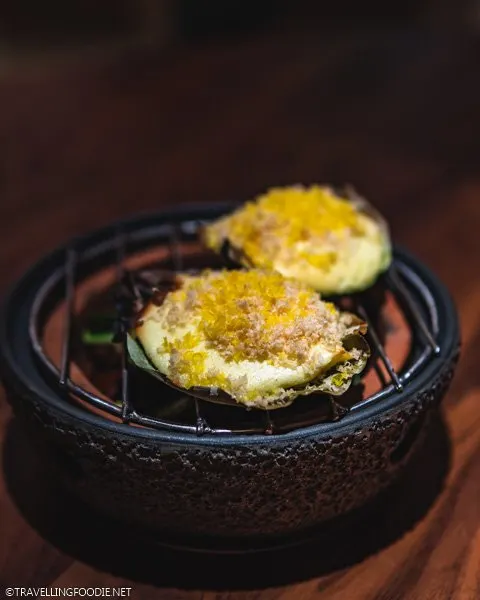 Also Read: Toronto's Most Expensive Tasting Menu Restaurant, Kaiseki Yu-zen Hashimoto
---
Overall Thoughts
Overall, I really enjoyed my experience at Gallery By Chele. What impressed me the most is they really nailed their mission of applying modern techniques to local ingredients and cuisine.
This is the first time I've seen Filipino cuisine in this kind of innovation and creativity both in the food and drink aspect.
Gallery by Chele definitely pushed the boundaries on how Filipino cuisine can be because Filipino food has always been viewed as something that doesn't belong in a fine dining experience.
It's quite rare to find a restaurant like that, which is why I recommend checking this place out!
Price-wise, it is definitely on a pricier side from a local perspective, but actually quite reasonable when compared to other tasting menu restaurants I've been to in other parts of the world, which is usually above USD100 (PHP3,300 is roughly USD64).
For example, the Feast Menu at El Celler de Can Roca is EUR205, which is roughly USD230.
Hope this restaurant review of Gallery by Chele helps you decide if it's the right restaurant for you to try in Manila!
---
Gallery by Chele Address: 5/F Clipp Center, 11th Ave cr 39th St, Fort Bonifacio, Taguig, 11th Ave, Taguig, Metro Manila, Philippines
---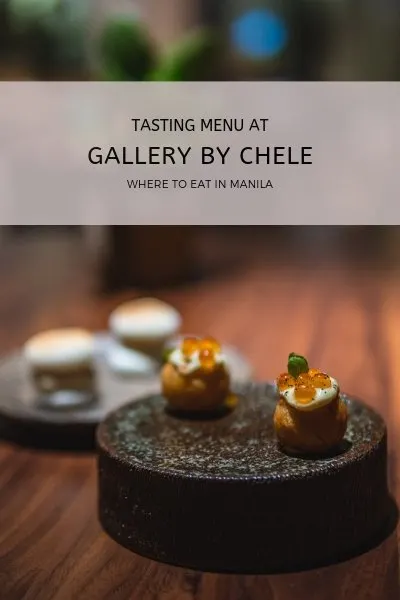 Huge thanks to Gallery by Chele for hosting me. As usual, reviews and opinions are entirely my own.
You can learn more about Gallery by Chele thru their website, or find them in Facebook, Twitter and Instagram.