Game Of Cheese is the cheese-inspired restaurant in Markham by KaKa All You Can Eat's Head Chef Frank. I've been a big fan of KaKa All You Can Eat as it is one of my favourite restaurants in Toronto so I have been excited about Game Of Cheese when they announced it.
Game Of Cheese enters the realm of Asian fusion with focus on one key ingredient, cheese (duh!). I was invited to the Grand Opening media tasting to Game Of Cheese to celebrate the occasion with an afternoon of Chef Frank's cooking and live cooking demonstrations.
Also Read: Moji Japanese Eatery, Japanese Comfort Food in Markham
The inside of the restaurant is very simple, but what will capture your eyes is the cute cartoon wall art depicting his Royal Cheeseness in his Game Of Thrones' (Cheese) Chair along with his minions as well as more cartoon art on the tables.
This amazing artwork was made by fellow food instagrammer, Evelyn Tsai.
NOTE: Game of Cheese is permanently closed.
---
Game of Cheese Media Tasting
Before the eating started, we got to try from their fruit slush menu: mango, guava, passion fruit and strawberry. My favourite fruit is mango so I chose the mango slush, and I really liked it!
It was very refreshing and have the sweet mango taste! If you've been to KaKa and are addicted to their mango slush (which I am), you'll love this since I think they use the same slush.
---
Top 3 Dishes at Game Of Cheese
1. Shrimp Tempura Pizza with Japanese Curry Sauce and Mentaiko Cream Sauce
Game Of Cheese offers 9 different Asian inspired pizzas with six slices. I got to try two of them for the tasting: Shrimp Tempura Pizza and Chicken Karaage Pizza.
Each slice of the Shrimp Tempura Pizza has a piece of shrimp tempura which is as long as the length of the slice. So you get shrimp on each bite!
The Japanese curry sauce is made in-house and is very flavourful without being spicy. It goes so well with the mentaiko cream sauce to bring a savoury spice flavour with an enhanced creamy texture.
It's highly addicting! The pizza also comes with premium-grade imitation crab meat from Japan to add to the bite.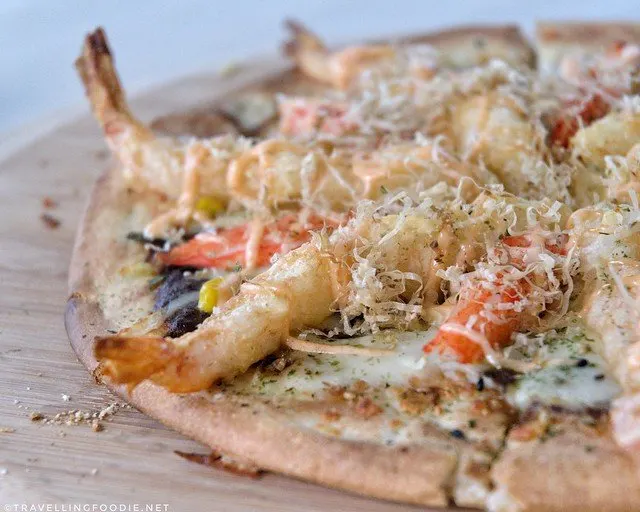 2. Black Truffle Carbonara Tagliatelle with Parmesan Cheese and Smoked Pancetta
Game of Cheese offers over 10 pasta dishes to choose from ranging from simple like Mac and Cheese to fancy like Black Truffle Carbonara Tagliatelle. I got to try the Black Truffle Carbonara Tagliatelle and Yuzu Miso Cream Sauce Seafood Angel Hair Pasta.
If there is only one thing I can get, I'd get the Black Truffle Carbonara Tagliatelle with Parmesan Cheese and Smoked Pancetta. The tagliatelle was nicely al dente and had a good amount of carbonara sauce.
The truffle oil was wafting to our nose as it was served, and it was strong enough that you can taste it. You get a sous-vide egg on top to break and mix with the carbonara to give a thicker consistency.
The smoked pancetta added the much-needed saltiness to the creamy carbonara. And the pasta comes with freshly grated parmesan and pecorino cheeses on top, and a dollop of grated black truffle.
If you don't like black truffle, the Black Truffle Carbonara might not be for you.
The Yuzu Miso Cream Sauce Seafood Angel Hair Pasta is also a great pasta dish with its creamy sauce with a hint of citrus taste and freshly grated cheese.
It also comes with generous portions of tiger shrimp, premium-grade crab sticks, squid, octopus and fish roe.
3. 3-Hour Slow Baked Cheesecake
There's always room for desserts, right? I got to try the Sake Jelly and the 3-Hour Slow Baked Cheesecake.
The cheesecake was creamy in texture with a reasonably good cheese taste. It also comes with berry compote and yoghurt sorbet.
---
Other Dishes
House Special Appetizer – deep-fried seaweed with noodles inside
Arancini Balls with Spicy Tomato Sauce
Chicken Karaage Pizza with Sweet Onion and Pineapple
Japanese Style Seafood Pizza with Wasabi Mayo
Sake Jelly – Layered Creme Fraiche Panna Cotta with Sake Jelly, Cherry Blossom & Lychee Raspberry Compote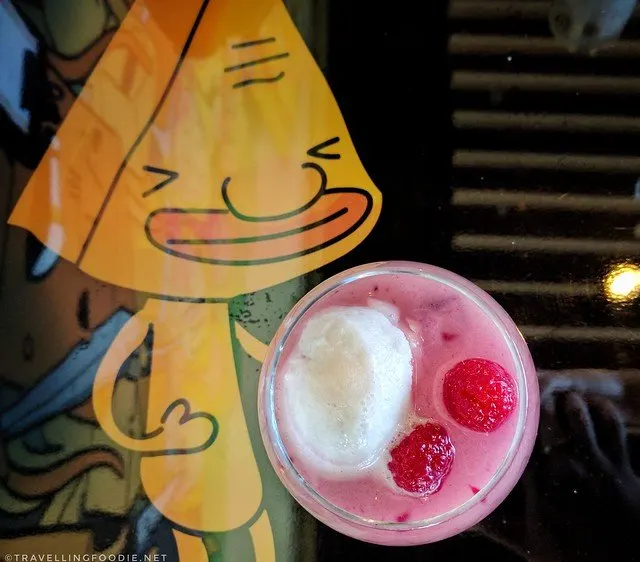 ---
Also Read: Zen Japanese Restaurant, Best Sushi Omakase in Toronto
---
Game Of Cheese
Address: 505 Hwy 7 Unit 50, Markham, Ontario L3T 7T1
---
DISCLAIMER: Though all the food was complimentary as part of the media tasting by Game Of Cheese, all opinions are my own.