Looking for a unique tasting menu experience in Toronto? George Restaurant is one of the Toronto's best restaurants for it!
Opened since 2003, George Restaurant is one of Toronto's best and long-standing restaurants known for globally inspired dishes with seasonally sourced "Toronto Cuisine" menus.
Executive Chef Lorenzo Loseto has been leading the kitchen since George Restaurant opened, combining his classical training and international influences to create dishes with bold flavours and textures.
Did you know? One of the best chefs in Toronto, Chef Lorenzo is an award-winning chef that has earned critical acclaim and several awards including the 2014 Gold Medal Plates Canadian Culinary Champion.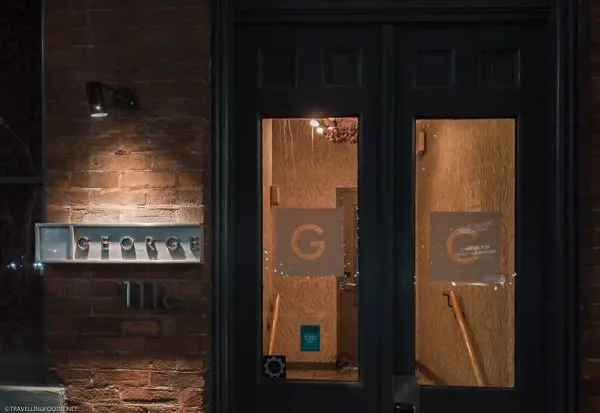 On September 13, 2022, George Restaurant was listed on the Michelin Guide Toronto as a recommended restaurant, making it one of the first restaurants in Canada to be listed in the Michelin Guide.
On September 27, 2023, George Restaurant returned as one of the Michelin Recommended restaurants in Toronto on the 2023 Michelin Guide.
Located in historic Queen Street East, the best way to visit George Restaurant is by TTC, taking the streetcar or walking from Queen Subway Station.
There is also a metered street parking in front.
Also Read: Top Restaurants in Toronto
---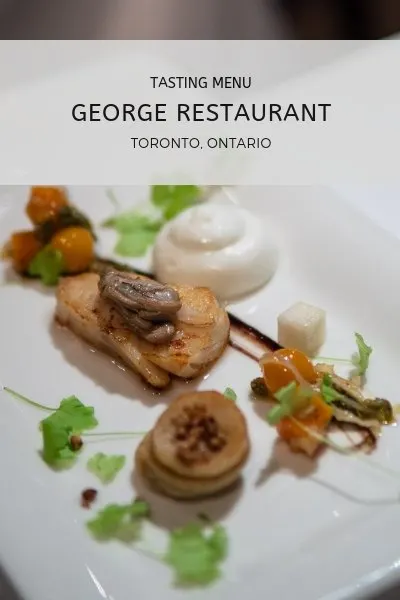 ---
Inside George Restaurant Toronto
George Restaurant is set in a restored 1950's chocolate factory with a decor that integrates a rustic industrial feel with a European flair, from its brick walls and modern chandeliers to its wrought iron screens.
The atmosphere in this Michelin Recommended restaurant is both intimate and casual at the same time.
Dress Code at George is smart casual and you can go upscale/formal as you wish, but definitely no athletic wear, including tank tops, jogging bottoms & tracksuits.
It feels like fine dining but makes you feel at home and doesn't feel intimidating to wear casual attire.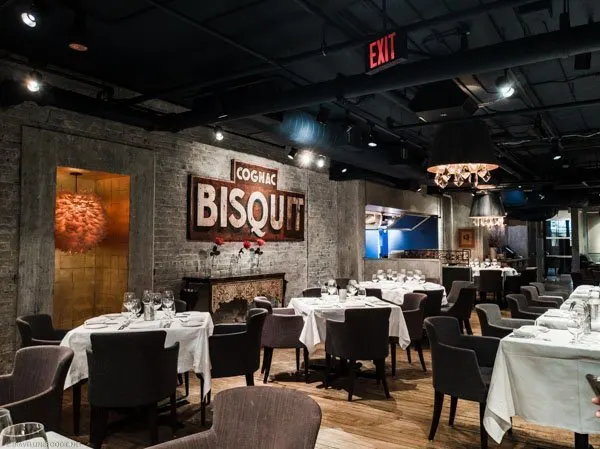 The kitchen at George Restaurant Toronto has an open concept so having a table next to the kitchen gives you a glimpse of the work that goes into each plate.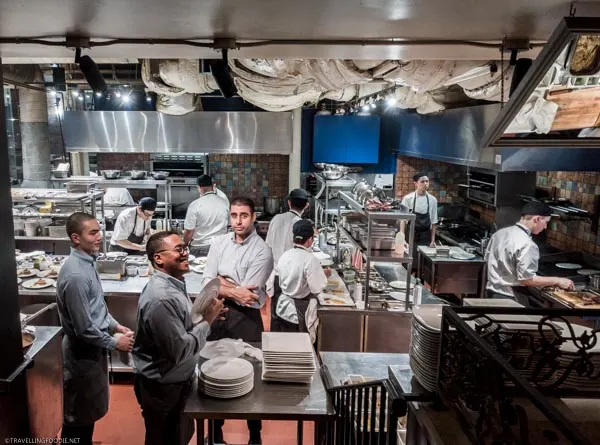 ---
George Restaurant Price and Menu
Toronto's George Restaurant offers seasonal lunch and dinner menus with à la carte or tasting menus including vegetarian, vegan and gluten-free options.
I highly recommend doing the signature Chef's Choice tasting menu here.
When I dined in March 2020, there are three ($65) or four ($80) course tasting menus for lunch, and five ($125), seven ($145) or ten ($165) course tasting menus for dinner. Wine pairing is available but only for the five and seven course tasting menus during dinner. Both at $95.
As of May 2023, here are the tasting menu prices at George Restaurant in Toronto:
Signature Chef's Choice tasting experiences are offered in five ($135), seven ($155), or ten ($175) courses.
Signature Vegetarian tasting experiences are offered in five ($100), seven ($115), or ten ($135) courses.
Wine Pairings are offered in five ($110), seven ($125), or ten ($135) courses.
Also Read: Restaurant Pearl Morissette in Jordan Station, Ontario
---
George Restaurant's Chef's Choice Tasting Menu
I've tried most tasting menu restaurants in Toronto and what makes the Chef's Choice tasting menu at George Restaurant's so unique is its "double-blind" tasting concept.
The tasting menu is custom-written based on the each guest's allergies, restrictions and preferences.
First of all, you have no idea what you are getting.
Second, the coup de grâce, each person in your group gets something different.
I highly recommend going with a group of at least two people who are willing to share and taste each other's dishes as it makes it more fun.
In this way, you get to try many dishes.
I went with two other foodie friends to George Restaurant Toronto, and we did the 7 Course Tasting Menu for dinner.
This meant we got a total of 21 different dishes for us to try!
It was mind-blowing how many combinations of dishes they can make in one dinner.
The food was done incredibly well and presented beautifully!
Portions of each course at George Restaurant are bigger than other tasting menu restaurants in Toronto like Alo.
I found the the 7 Course Tasting Menu here would be comparable to a 10-12 Course Tasting Menu somewhere else, portion-wise.
Personally, I wish there could be more courses at smaller portions instead.
But, given the blind tasting concept, I understand it would be less feasible.
Also Read: Frilu Toronto, Michelin Star Tasting Menu Restaurant
7 Course Tasting Menu Dinner at George
Here is everything we had during the 7-Course Chef's Choice Blind Tasting at George Restaurant Toronto.
Each course had an underlying "theme" even though we all got different dishes for it.
Because each person gets something different and there's no fixed menu, George Restaurant will not provide you a copy of the menu unlike a usual tasting menu.
We had to jot down notes for each dish as they were presented to us so that I can list them all here.
Bread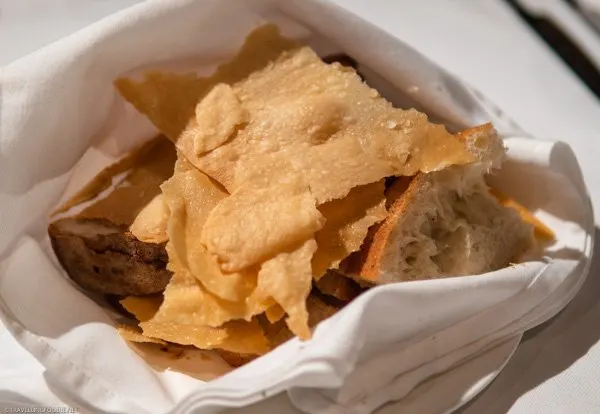 Amuse-Bouche
First Course: Appetizer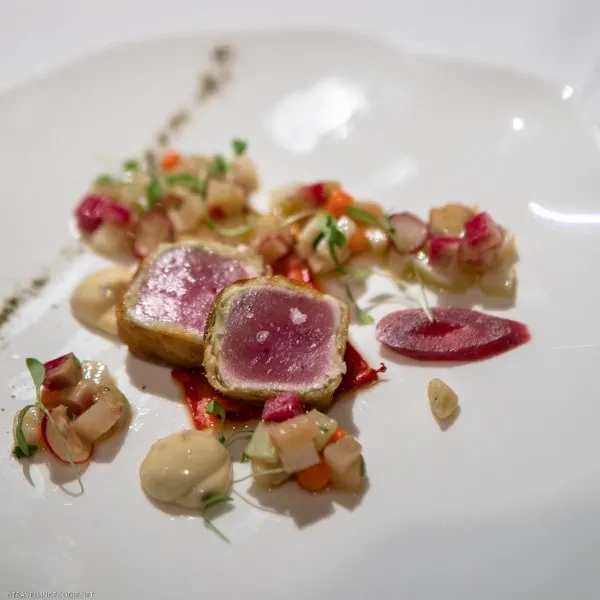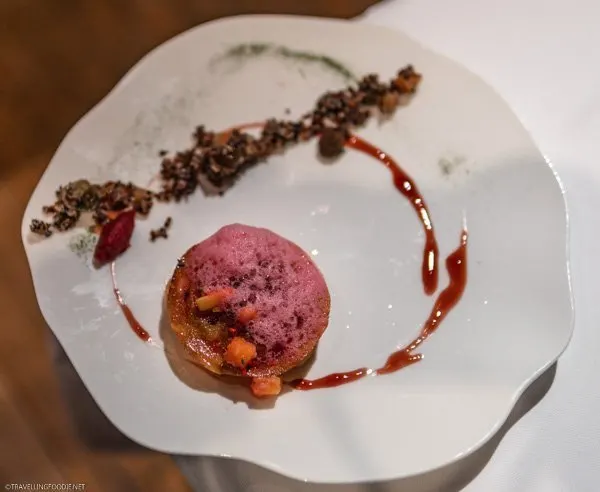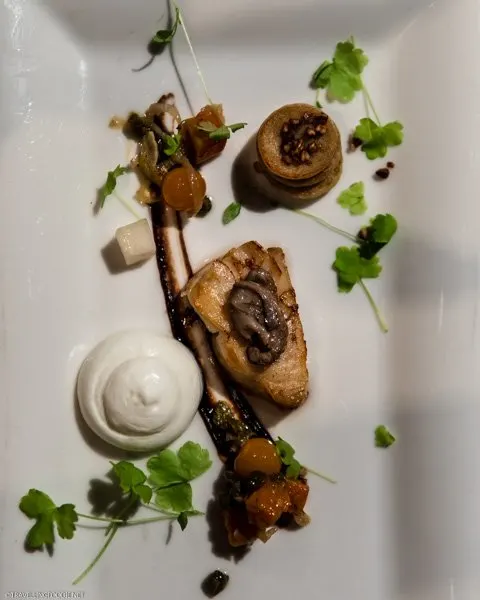 Second Course: Seafood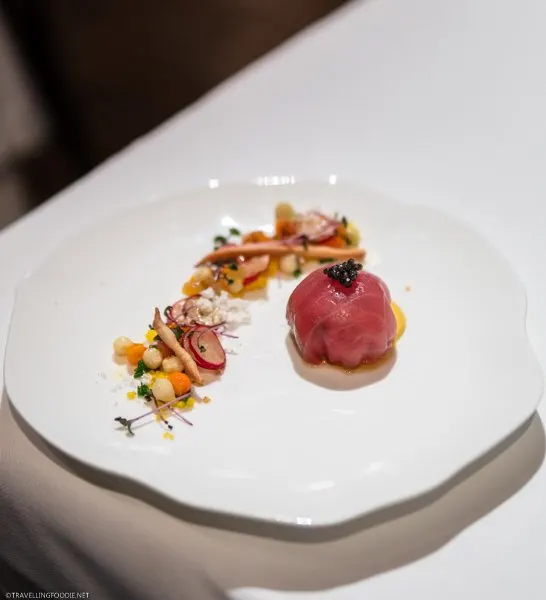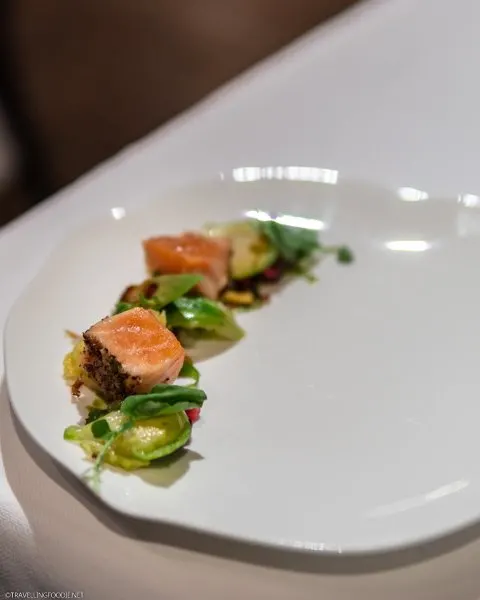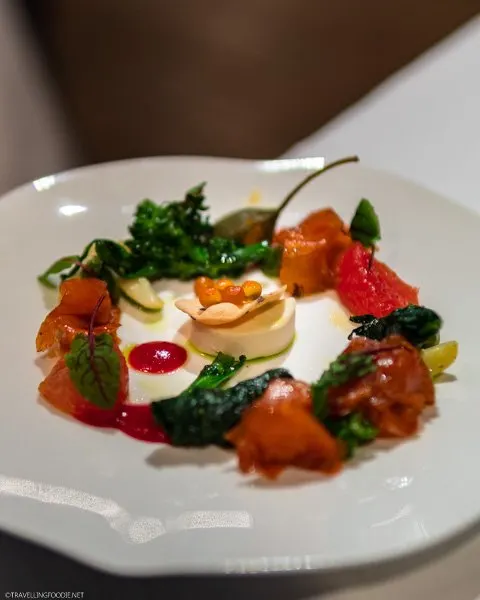 Third Course: Mousse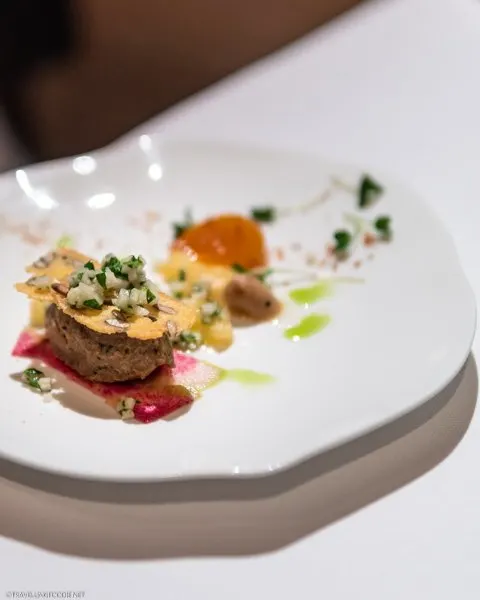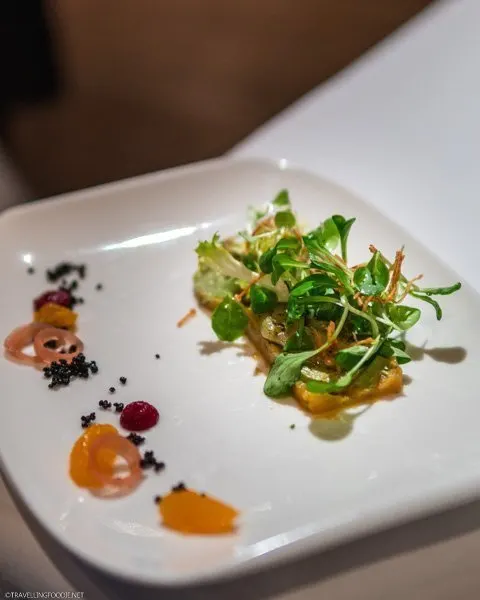 Also Read: Art of the Table, Locavore Tasting Menu
in Seattle, Washington
Fourth Course: Foie Gras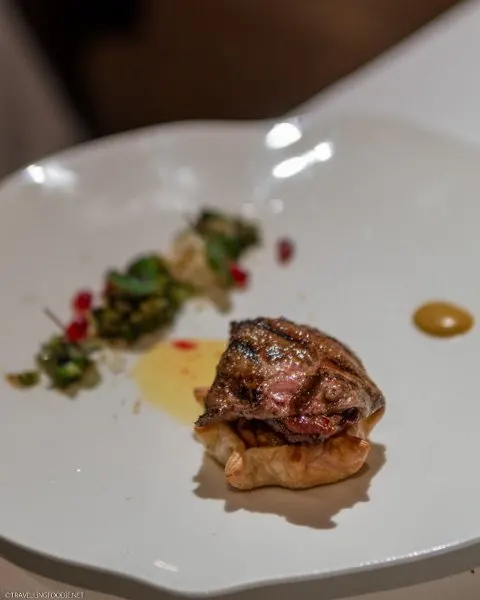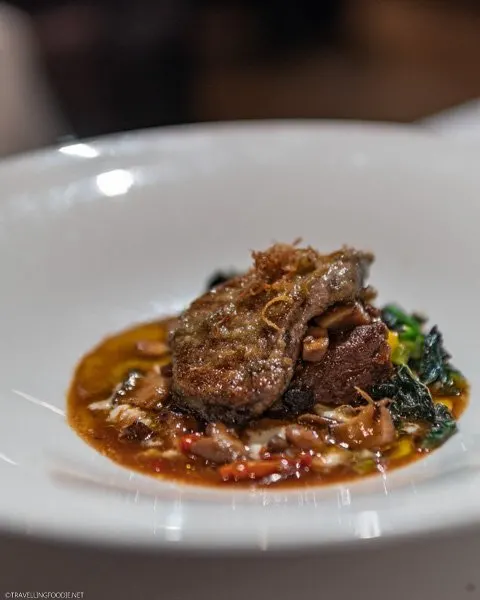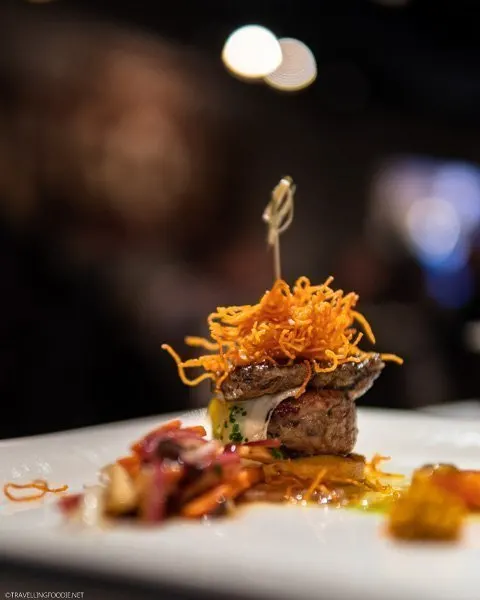 Fifth Course: Meat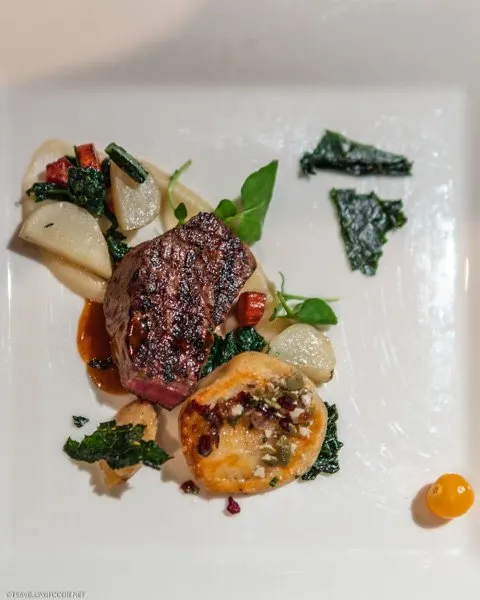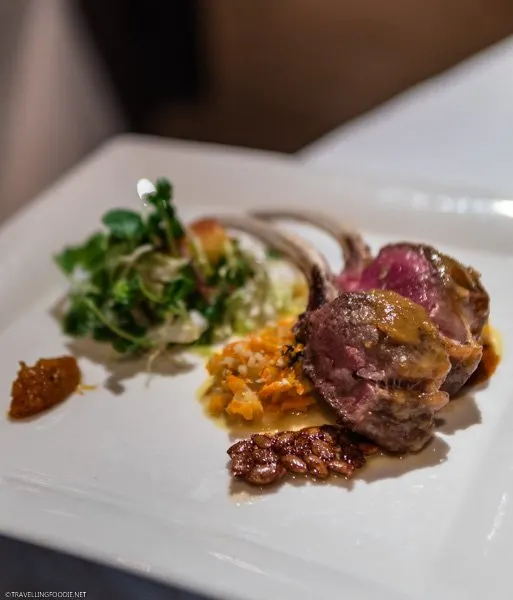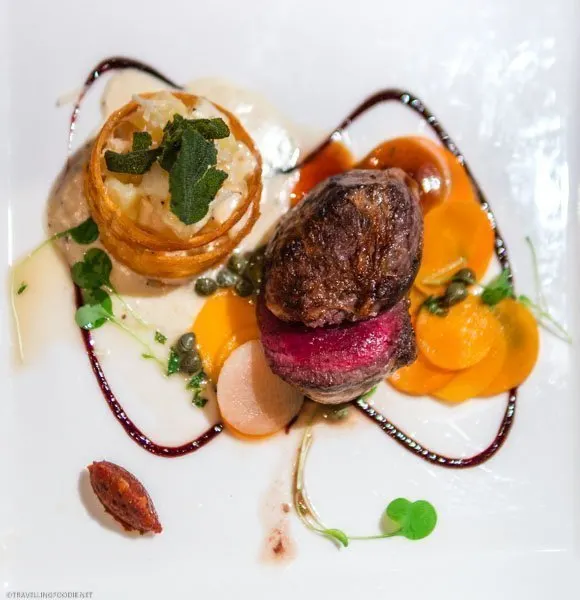 Sixth Course: Cheese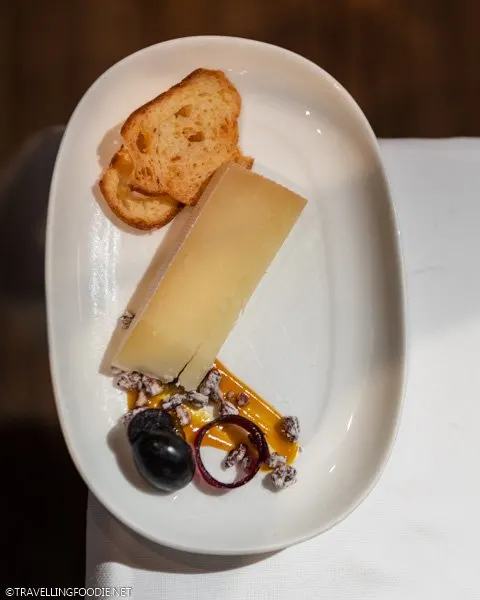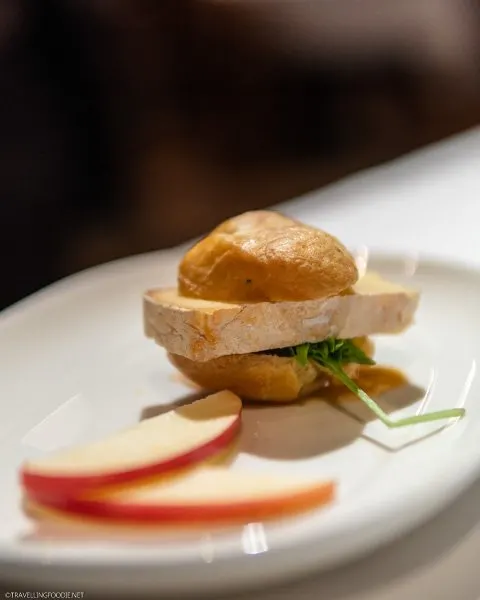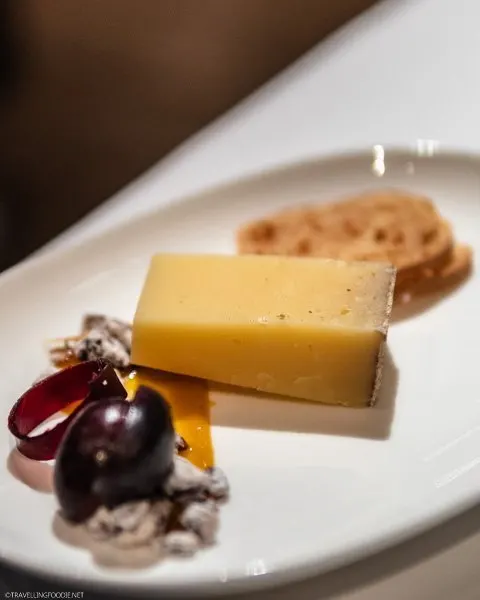 Seventh Course: Dessert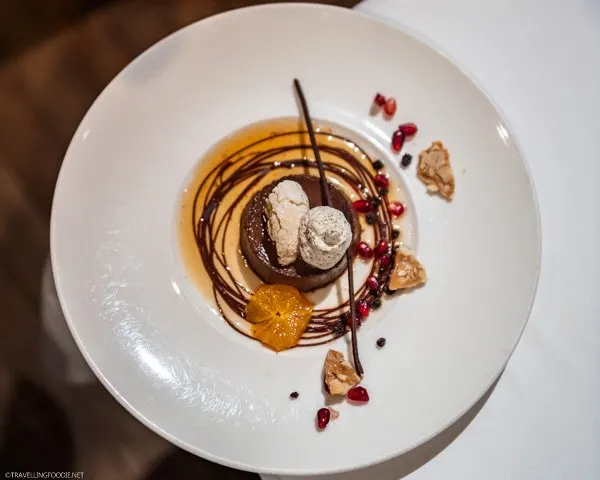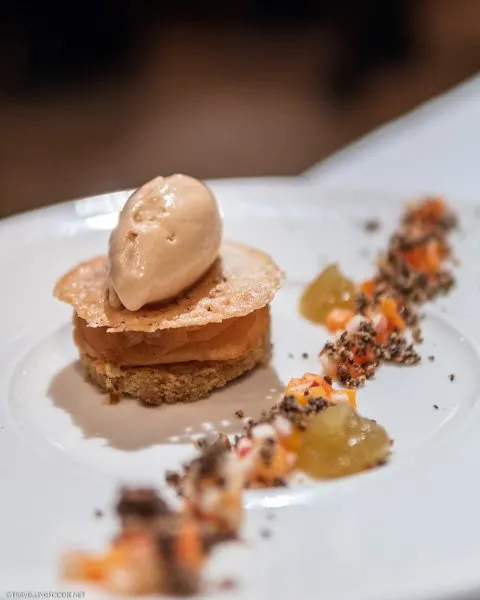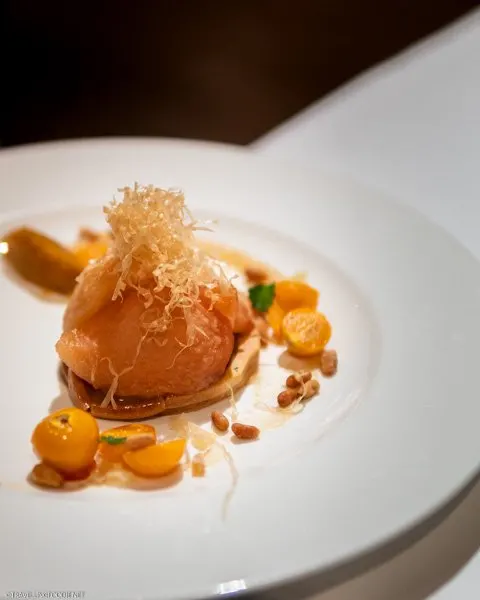 ---
Verdict on Michelin Recommended George Restaurant Toronto
George Restaurant is indeed one of the best tasting menu restaurants in Toronto.
Wonderful atmosphere, great food and the suspense of what each person would be getting makes it a fun experience.
I can definitely see why George Restaurant have been around for such a long time.
It's a great place to visit, not just for special occasions, but also regular occasions or to have a unique dining experience.
One room for improvement I found was, for the price, the server sometimes had trouble presenting the dishes and couldn't answer some of our questions about the dishes.
I can also understand they are presenting more combinations than usual so it is harder to remember every detail.
George Restaurant definitely deserves its Michelin Recommended status, and hopefully will get better to receive the coveted Michelin Star in the future.
---
Hope this Toronto restaurant review helps you decide if you'd want to dine at George Restaurant.
George Restaurant Toronto
Website / Address: 111C Queen St E, Toronto, Ontario M5C 1S2