Some posts on this site contain affiliate links. If you book or purchase something through one of these links, I may earn a small commission at no extra cost to you. Read the full disclosure policy here.
This year's Green Living Show is taking place at the Metro Toronto Convention Centre between April 6 – 8, 2018. This is the 12th year this show has taken place in Toronto and it is North America's largest consumer healthy & green living show showcasing exhibits, workshops and solutions for leading a sustainable lifestyle.
Over 350 exhibitors will be present and offering products and services that cover eco-home, green car, local food & drink, fashion & beauty, nature, and health & wellness.
The media preview was hosted by one of the event's sponsors, Propeller Coffee Co., on March 6, 2018.
As with last year, a sample selection of exhibitors showcased their innovative products and demonstrated how their products strive for sustainability to make the world a better place by leaving a smaller carbon footprint. We were also able to sample food and drinks from vendors participating in the Delicious Local Food & Drink Pavilion which represents different cuisines from around the world.
Here are 21 things in Innovations and Food & Drinks to look forward to in Green Living Show 2018.
Innovations
TinyFarm Countertop by Modgarden
Modgarden offers a seed-to-fork solution for you to grow your own organic vegetables in the comfort of your home. It also offers the ability for you to monitor the progress of the growth via mobile app.
Yoga Mat and Yoga Block by Mukta Being
Yoga products by Canadian company Mukta Being are made with premium cork, which is hypoallergenic, antimicrobial, anti-bacterial and antifungal. For every one mat purchased, Mukta plants one tree in Canada.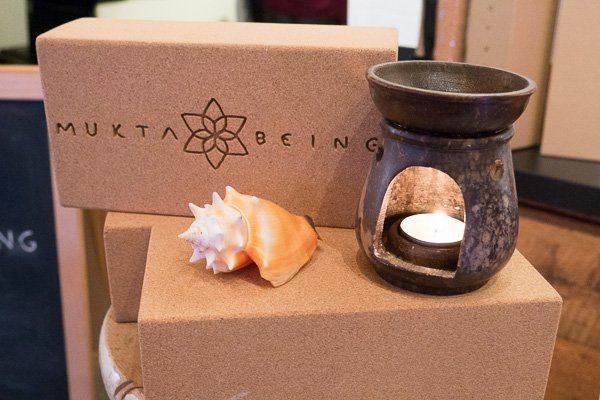 Handmade Reusable Beeswax Food Wraps by Sweet Green Studios
Sarah Fournier, founder of Sweet Green Studios, started making beeswax food wraps as a natural alternative to plastic wrap for her daughter. They last one year and are made with 100% cotton and Canadian beeswax.
Jocelyn's Soil Booster by Wastenot Farms
The best way to describe Jocelyn's product is a super charged probiotic for indoor/outdoor plants & vegetation. Her soil booster is natural worm manure soil booster derived from food waste collected from offices in the GTA, turning food waste into a product at Wastenot Farms, that directly goes back into helping the food chain.
What makes her product different from regular fertilizers is that it contains live microbes. The soil can be purchased individually, or in gift baskets that comes as a starter kit to grow your own edible garden.
Cold pressed raw juice by Pulp & Press
Pulp & Press uses industrial grade, hydraulic cold press juicer to put three to four pounds of fresh, organic fruits & vegetables into every bottle of their juices. The products can be purchased at most grocery retailers in Ontario.
Veggie-full patties by Wholly Veggie!
Soy free, gluten free, non GMO, vegetarian, dairy free vegetarian patties by Wholly Veggie! comes in box of four and in three different flavors – Sweet curry carrot, Herby garlic greens, and Southwest beet. They are available for purchase at select grocery stores which can be found here.
Skincare Products by Province Apothecary
Products from Province Apothecary are made from high quality, certified organic ingredients sourced from each of the Canadian provinces. They also offer a skincare clinic and a store location. Some of their products are also carried in various yoga stores as well.
Stylish Vegan Leather and Suede Pieces by Jonah Jay
100% vegan, and made in Canada, Jonah Jay reinvents crisp leather pieces – without the price tag. Stylish pieces are designed to be able to be worn from business meetings to cocktails with effortless style.
Contact-free Snoring Solution by Smart Nora
Smart Nora is a non-medical device designed to stop snoring. There is no uncomfortable masks or nose strips commonly recommended by snoring remedies required. When snoring is detected by Nora's sensor, the padding insert in the pillow simulates a gentle movement enough to allow natural breathing to resume.
Distilled non-Alcoholic Spirits by Seedlip
British brand Seedlip is a range of the world's first distilled non-alcoholic spirits based on the distilled non-alcoholic remedies from The Art of Distillation written back in 1651. Herbs, spices, peels and barks are carefully sourced and distilled in the north of England to produce this new category of drinks.
Delicious Local Food & Drink Pavilion
Below are the food samples we tried during the preview.
Belgium: Wafel Huis
Authentic Liege style waffles with Ontario raspberry coulis by Chef Jan Vanderbroeck from Wafel Huis.
Singapore: Lion City Restaurant
Salted Ontario Egg Potato Chips from Chef Eleanor Sim from Lion City Restaurant
Italy: Cucinato
Zeppola with Fresh Ricotta and Tomato Sauce (VG) by Chef Luciano Schipano from Cucinato Italian Culinary Studio.
Tibet: TC's MoMos
Vegetable Pasta Noodles (VG), Beef MoMos, and Vegan MoMos (VG) by Chef Tsewang Chodon from TC's MoMos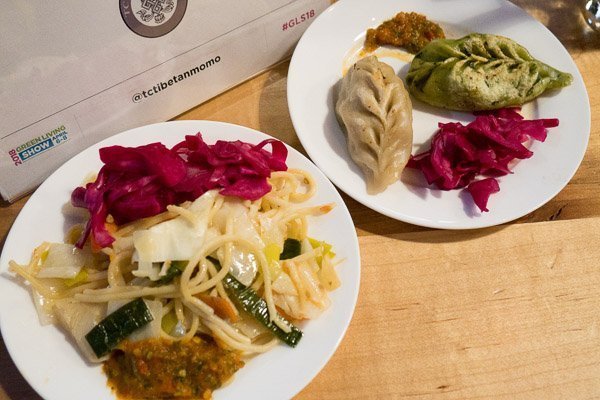 Scotland & Haiti: Urban Acorn Catering
House smoked salmon potato scone & cream edamame. Black bean accra with red pepper ti malice sauce, pikliz & parsnip chip (VG, GF) by Chef Daniel Holloway from Urban Acorn Catering
Canada: Farm'r
Montreal style BBQ brisket slider by Chefs Kyle Webster & Benny Chateau from Farm'r.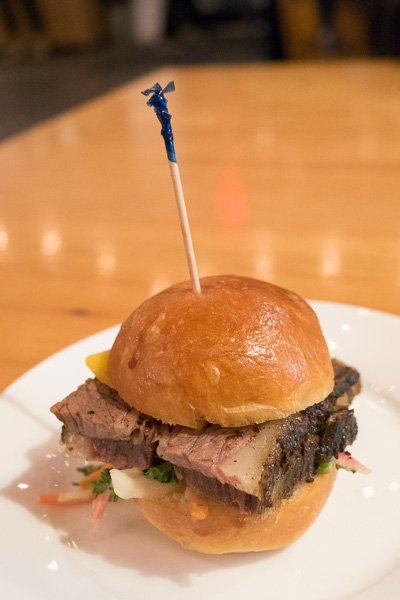 Central Mexico: Santo Pecado
Chicken Tinga Taco (GF) and Mushrooms Al Pastor Taco (VG, GF) by Chef Paola Solorzano from Santo Pecado.
India: 6ix Triangles
Ontario Root Veggie Masala with Chickpeas (VG, GF) by Chefs Abby & Tony Sabherwal from 6ix Triangles.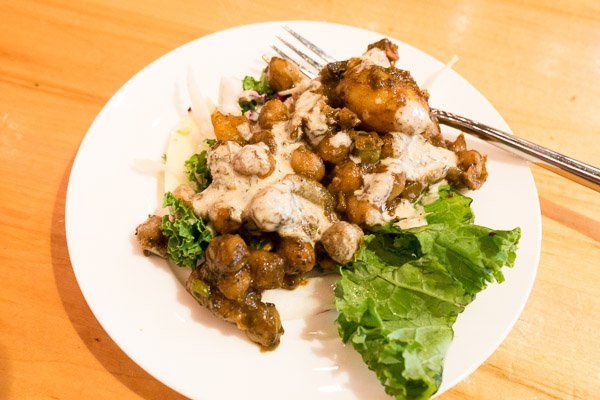 Rosewood Estates Winery
Rosewood Estates Winery from Niagara provided wine tasting:
Suss Riesling
Unfiltered Pinor Noir
Mead Royale
Legacy
Closson Chase Vineyards
Closson Chase Vineyards from Prince Edward County provided wine tasting:
Griffin Pub and Events
Griffin Pub and Events provided a wide variety of beers & ciders featuring Pommies Cider Co., Shiny Apple Cider, Sawdust City Brewing Co., The Steamwhistle, Whitewater Brewing Co., Spearhead Brewing Company, Muskoka Brewery, Clear Lake Brewing Co.
---
---
Article and Photos by Veronica Chiu.
Updated: